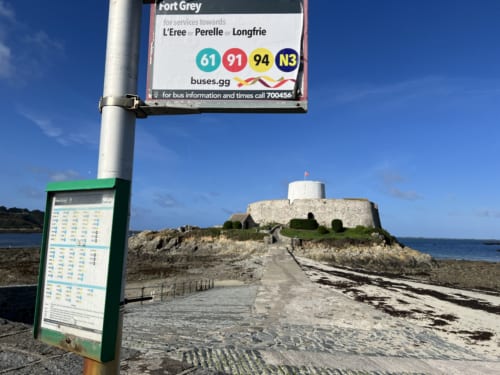 Where is Guernsey?
Guernsey island, known for being the setting of the 2018 film "The Guernsey Literary and Potato Peel Pie Society", is one of the islands that make up the Channel Islands off the coast of Normandy, France, and is an overseas territory of the United Kingdom. While the British government controls foreign affairs and defense, Guernsey has its own parliament and government and a high degree of independence, different from most overseas territories and colonies. The population is about 65,000. The local currency is pound sterling, or the Guernsey pound.
= Table of Contents =
---
◆The first Japanese Person to Stay in a Classic Guernsey Hotel
On my way to Guernsey from Jersey. The trip began with a one-hour delay due to airplane maintenance, but our small Blue Islands propeller plane made the trip to Guernsey in about 20 minutes.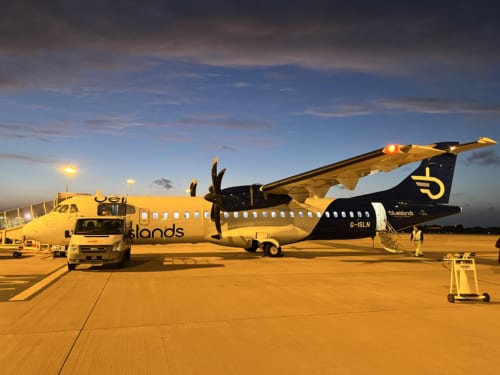 The airport is quite modern, despite James (my driver in Jersey), telling me that Guernsey is not a city.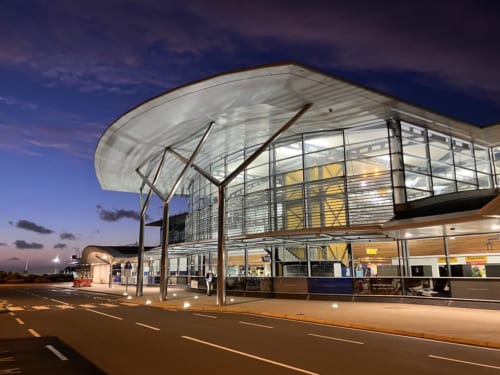 Let's head to the hotel by taxi. But… you could wait forever and a taxi would never come. I'd booked a restaurant, so I impatiently asked the airport staff for assistance. They called the company for me, but no one ever came.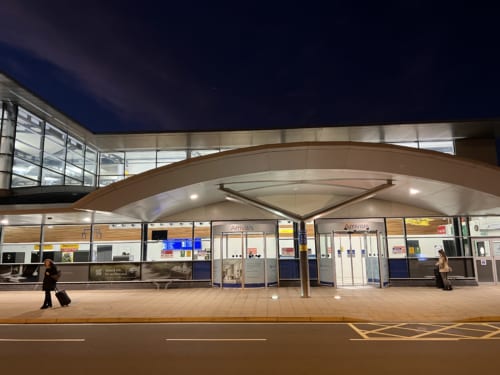 Walking around the area, I notice a bus stop. I board what is likely the last bus of the day.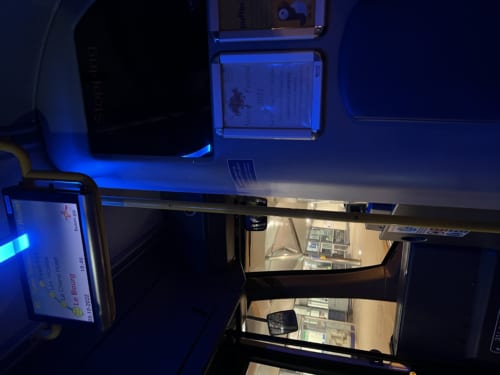 I get off at a bus stop that I presume is near my hotel. I walk about 20 minutes, with the help of Google Maps. At around 10pm, I finally reach the hotel. I have a late dinner at the hotel restaurant.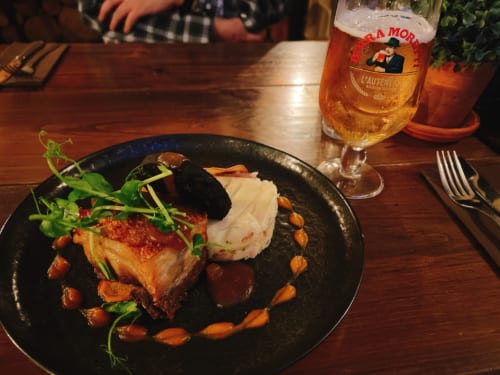 Oh, and incidentally, the restaurant I booked but missed out on was called "KOI KOI". It's a local well-known restaurant that offers Asian, fusion, creative Japanese cuisine, steak and sushi. I really wanted to check it out.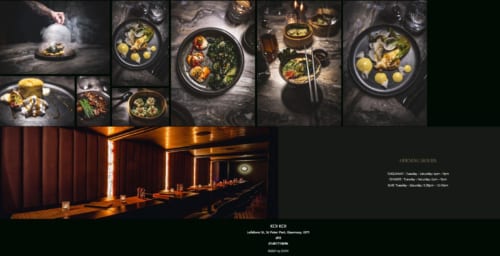 I'm staying at Les Douvres Hotel, a converted 18th Century manor house, previously owned by a lord or nobleman. It has a lovely, classic appearance.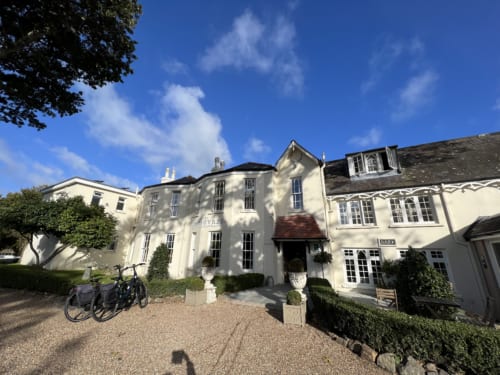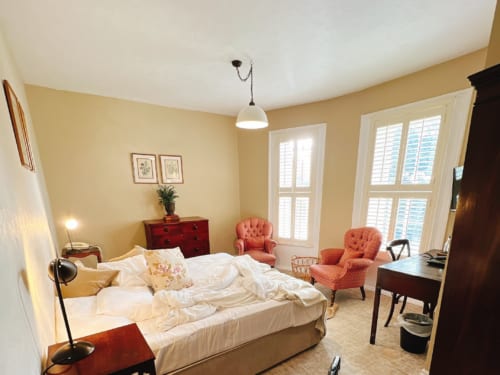 The staff told me I was the first Japanese person to stay there. It seems it's not visited by Japanese people, perhaps because it's located in the suburbs. They were very friendly and kind, and the English Breakfast was excellent! I really recommend this hotel. Why not be their second Japanese visitor?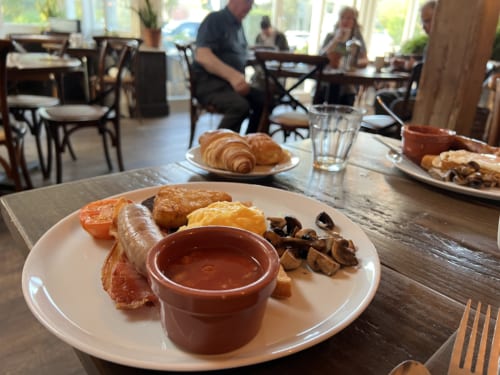 ---
◆First ever on a Domain Island Tour! Exploring by Local Bus
When I found the bus stop at the airport the night before, I also found a map of the island's public bus route. I've explored 29 islands so far, but this is the first time to see an island with a local bus route! So, I decided to explore Guernsey by bus. I'll visit 5 locations on the island.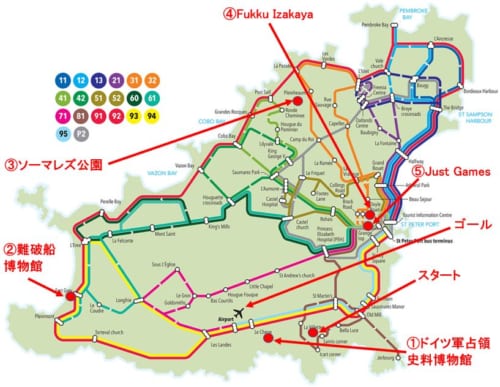 My starting point is the bus stop near the hotel. I plan to take the bus to the first location, the German Occupation Museum. However, it's proving difficult to find the bus stop. When I finally come across the bus stop, it simply has "BUS" written on the ground. I guess you tend to think a bus stop means a place with a timetable and a sign with the name of the bus stop, but in Guernsey, some bus stops only have the word "BUS" written on the ground.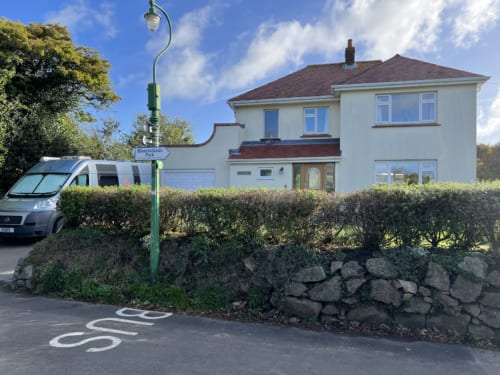 Here is the "Town Terminal" bus. I take this bus to the next connecting bus stop.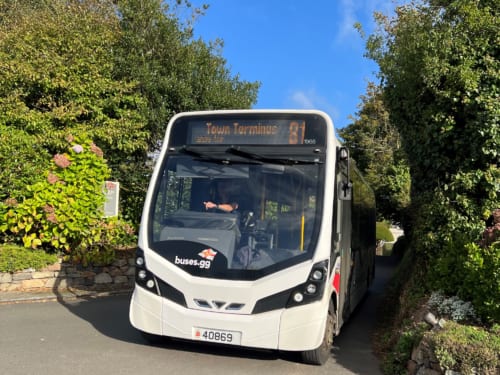 The bus fare was £1.25. It's easy to pay with just a swipe of your card.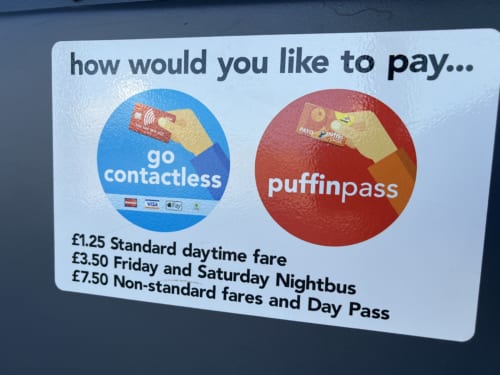 The bus was pretty empty.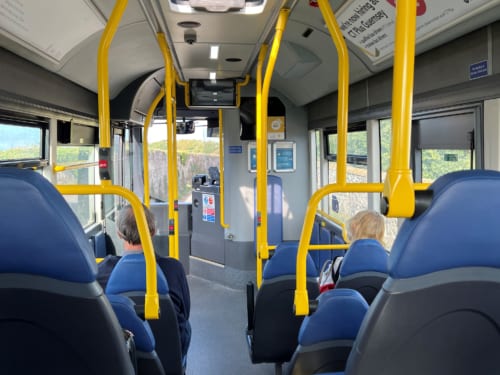 Once off the bus, I looked for the bus stop where the airport-bound buses depart.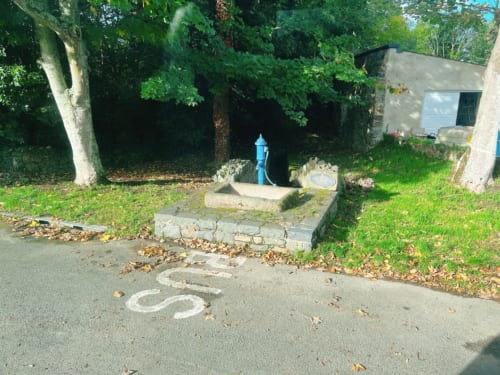 I found it! This one has a sign.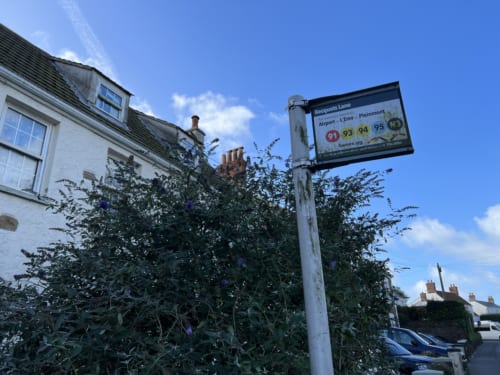 The bus turns up.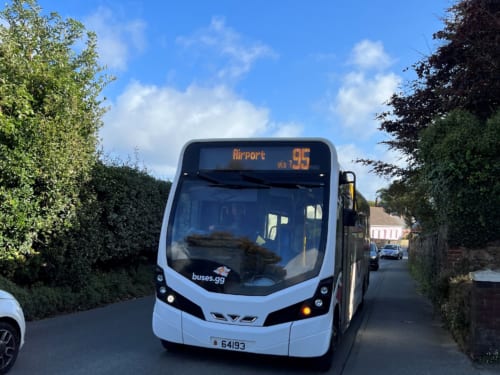 I arrive at the closest bus stop. There is a sign pointing the way to the German Occupation Museum. Everything is going well today.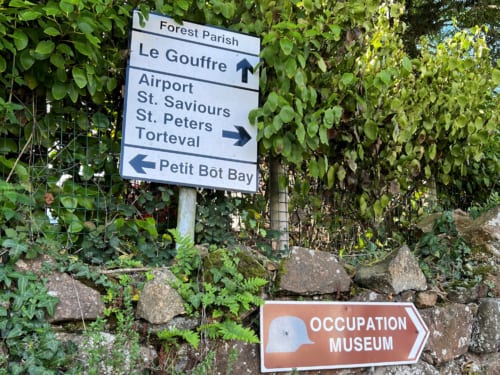 I arrive at the German Occupation Museum. It's open.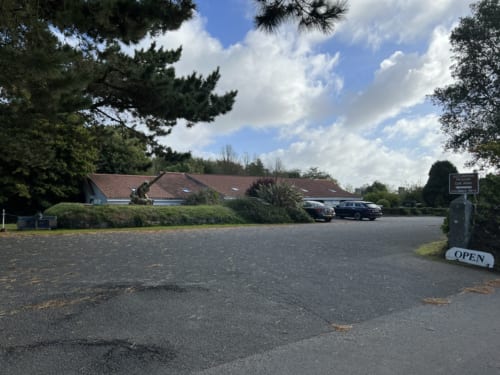 I walk around the grounds before entering the museum. Propeller wreckage is displayed in memory of the Royal Air Force's 153 Squadron and Allied aircrew who lost their lives over Guernsey waters.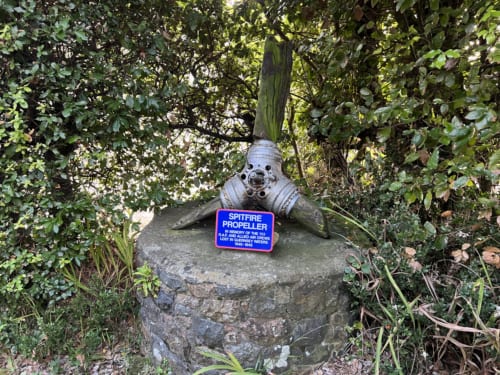 Let's go inside. Entry costs £6.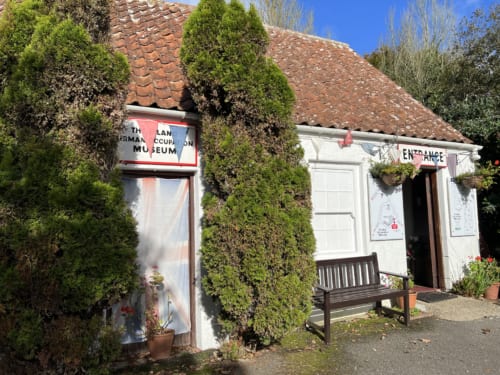 After the fall of France in May 1940, Hitler saw the Channel Islands as a springboard for an invasion of Britain. A large number of valuable documents are on display, showing what it was like in those days.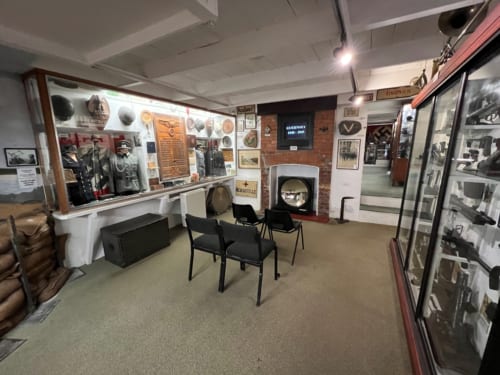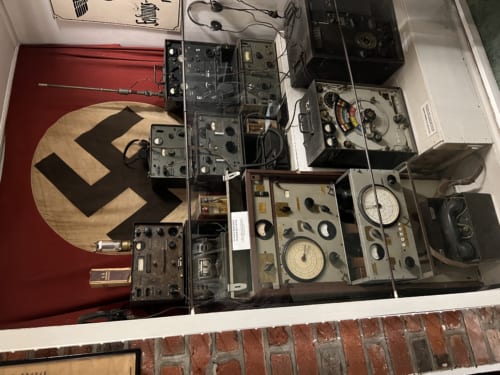 The Enigma machine and other communication devices used by the Germans look like the forerunner of modern laptop computers.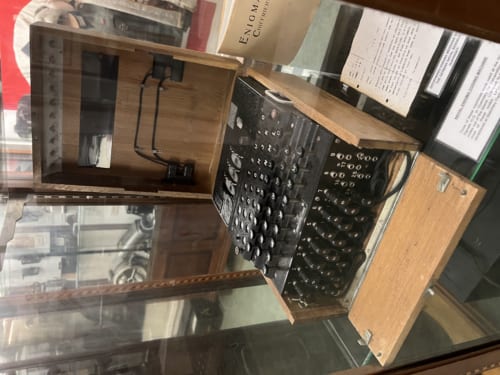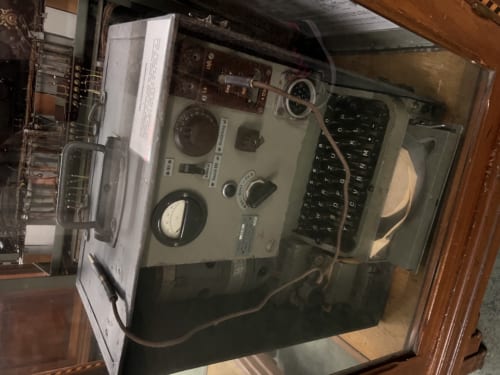 A sign reads "Keep Your Heads! Don't Be Yellow! Business As Usual", encouraging people to go about life as normal.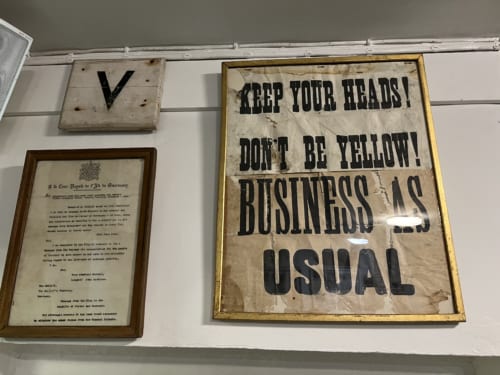 There was also a notice that said: "Anyone with a communication device will be punished."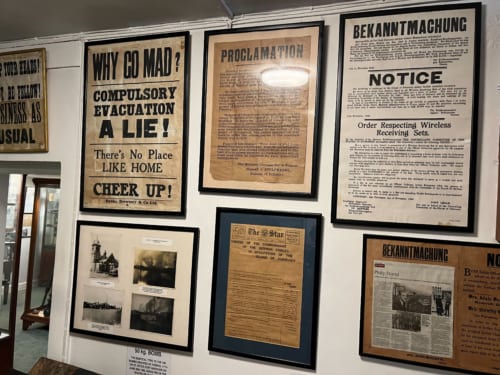 Due to the lack of facilities available, it seems that German soldiers and local residents had to live together.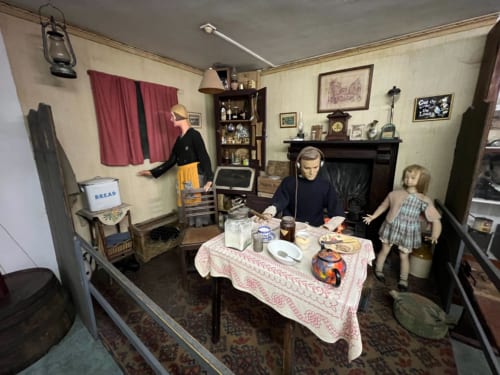 The Jersey War Tunnels told of the misery of life under German occupation and expressed negative feelings, but here at the German Occupation Museum there is also material that talks about the kindness of the Germans.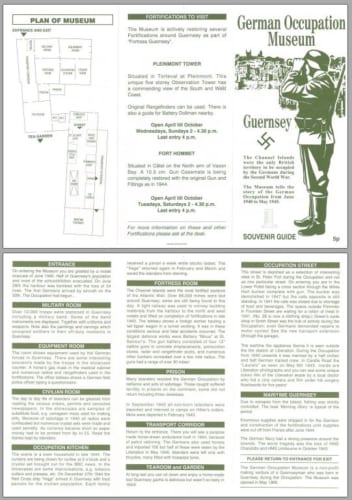 It's time to head to the second location. As I was leaving the museum, a man at reception told me to look upstairs as well. When I told him that I would miss my bus so I'd come back another time, he said "There are no buses to Japan". Since he was so enthusiastic to recommend the second floor, I hurried up and took a quick look. Anyway, was his comment about "no buses to Japan" the dry humor of a British gentleman, or was he really worried about me? Maybe it wasn't a joke as he was straight-faced and didn't smile at all.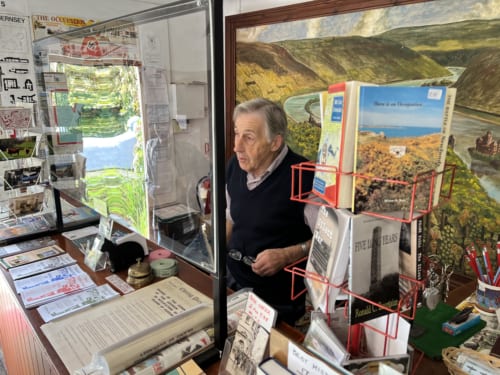 ---
◆The 2nd location, the Fort Grey Shipwreck Museum, once a Napoleonic Fort
I head to the 2nd location, Fort Grey Shipwreck Museum, which was once a Napoleonic fort. I'm traveling now to the west coast of the island. The local buses are very handy! Something that looks like a fort can be seen in the distance.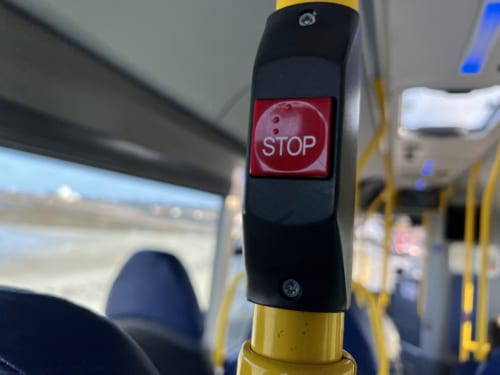 I've arrived at Fort Grey . Right in front of me is the Napoleonic fort. Where is the Fort Grey Shipwreck Museum?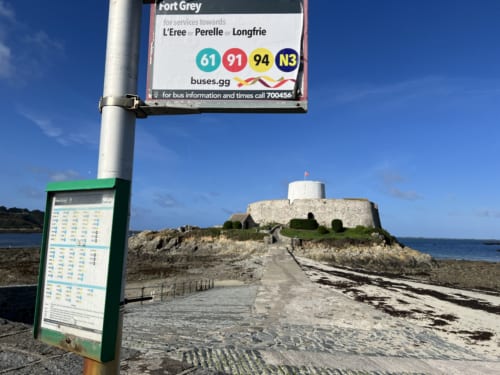 I walk in the direction of the fort.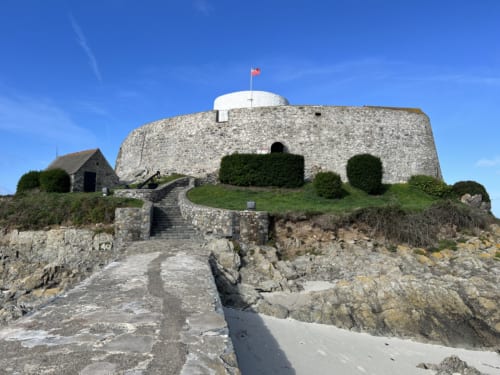 The museum is in the fort. Entry is £4.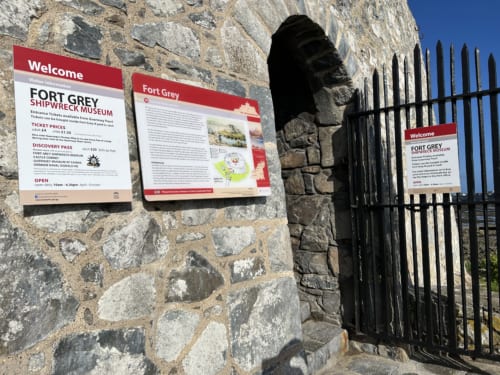 It's not that big inside. It's divided into two floors.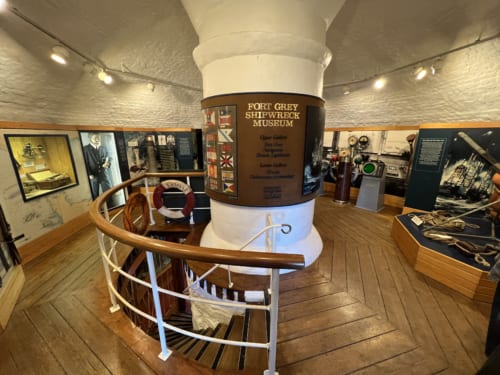 The Napoleonic Fort refers to Fort Grey, originally built as a defense by the British in 1804 during the Napoleonic Wars.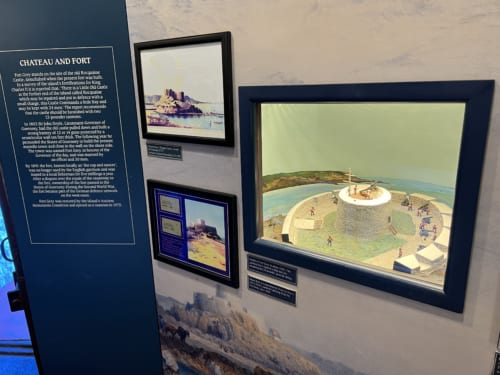 The west coast of Guernsey is rocky and many ships have suffered shipwreck here over the centuries.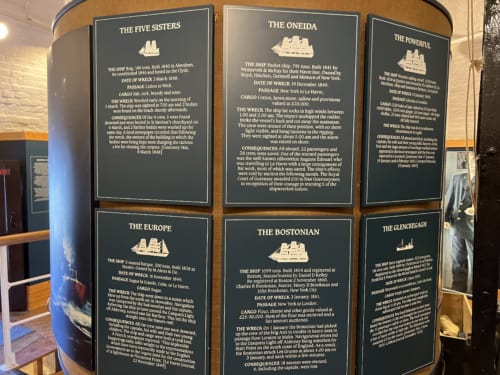 The museum displays the records and remains of these sunken ships.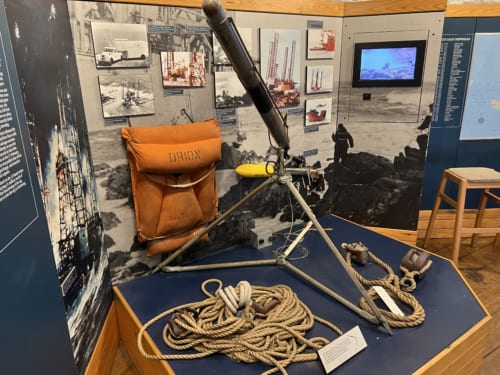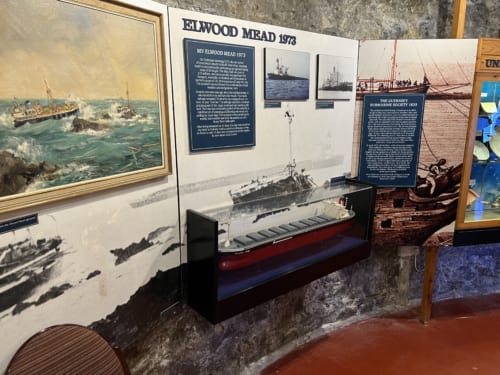 There's a reproduction of the cockpit of a sunken ship, using the remains of a shipwreck.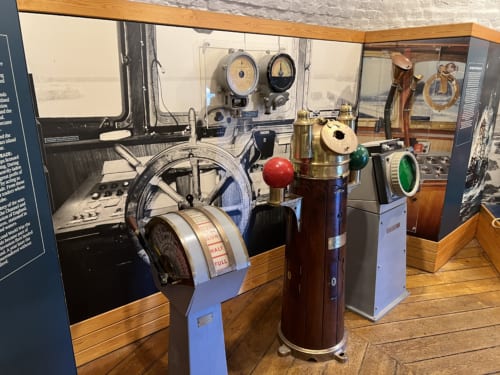 Let's go down to the first floor.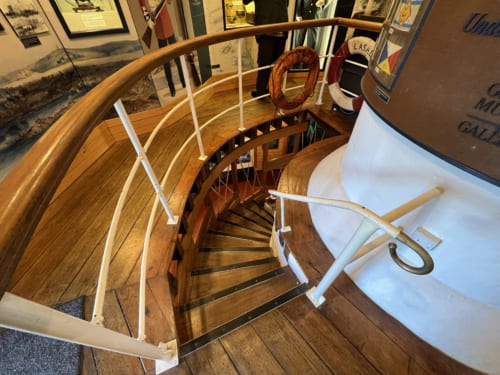 Dishes and portholes (small windows in the side of a ship) that have been recovered.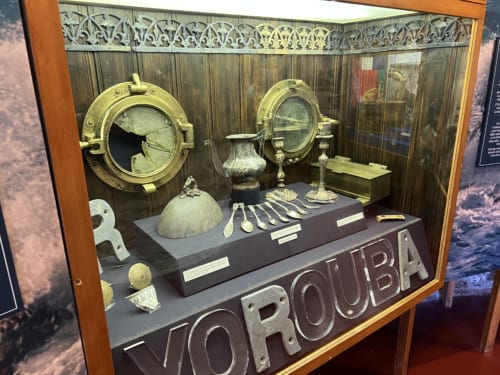 Life jackets are also on display. Huh? What's that? There's Japanese writing.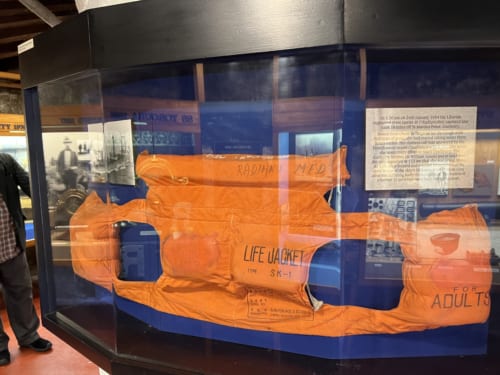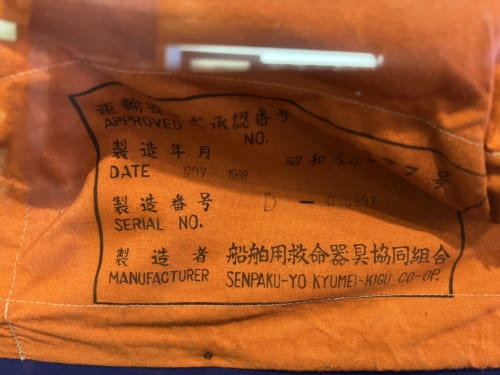 It's on a life jacket from the Liberian registered grain carrier M.V. Radiant Med, which capsized at 1:30am on the 24th of January 1984 and subsequently sank 18 miles off St Martin's Point, Guernsey. Why is there Japanese writing on life jackets from a Liberian registered ship? The ship was originally built in 1970 by Hashihama Shipbuilding, owned by "Murakami Kaiun" and called the "Shunseimaru". It changed owners in 1977. So, it seems the Japanese life jackets were kept as part of the ship's supplies.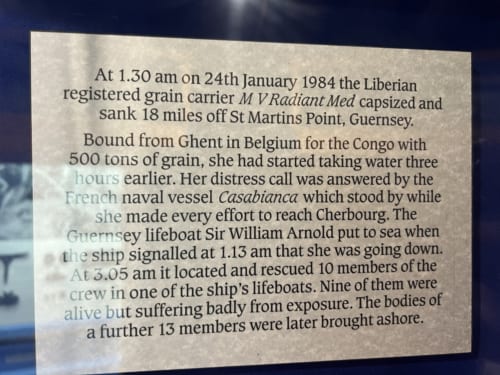 ---
◆A Japanese Garden at the 3rd Location, Saumarez Park
This time we are heading east, away from the west coast to Saumarez Park, our 3rd location, so I wait for bus 91 to Vazon Bay.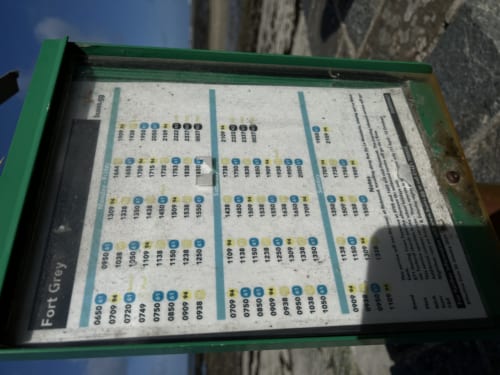 We can see the west coast on the left as we drive.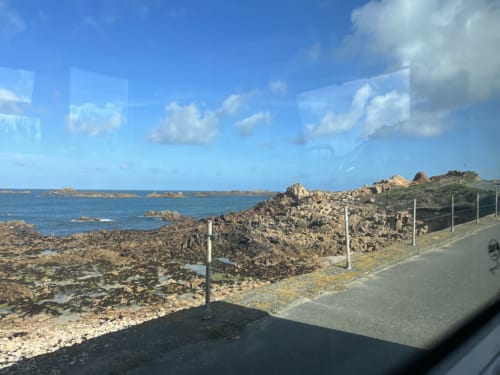 I need to transfer en-route.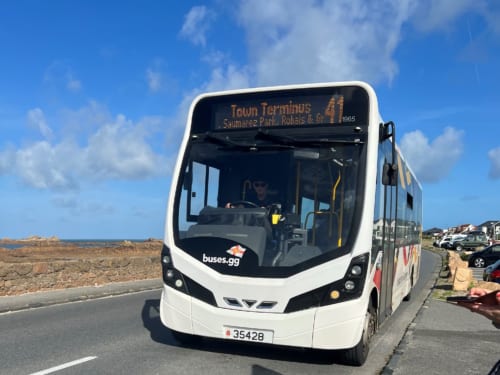 Saumarez Park is the largest public park on the island, with a museum of traditional costumes, a cafe, a playground, lawns and a pond.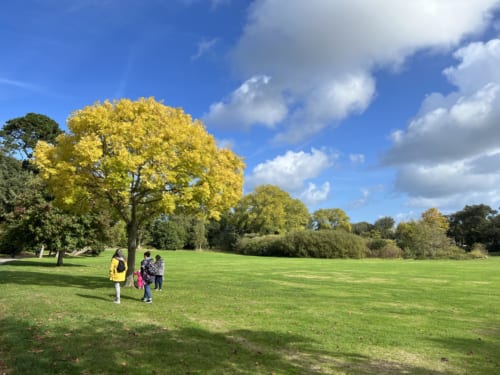 For the time being, I'll just walk around this large park.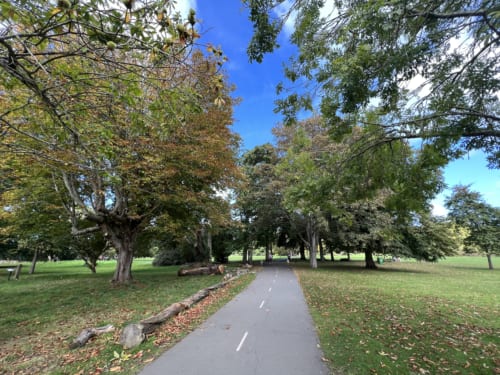 A lady walking her dog asks me if I am from Japan. "There's a Japanese garden here", she says. Let's take a look.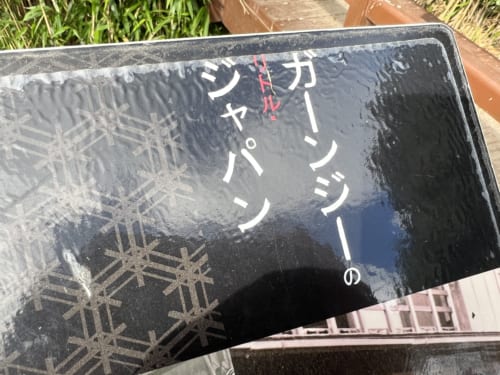 James St Vincent Saumarez (4th Baron Saumarez), who was posted to the British legation in Tokyo for three years from 1876, brought in Japanese carpenters and built a Japanese house in Guernsey.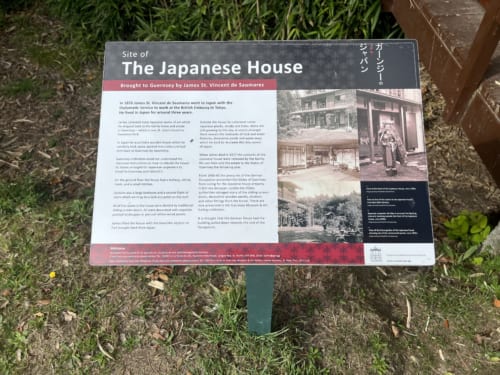 The building was removed after it was damaged in World War II. However, the Japanese plants he brought back with him still remain to this day.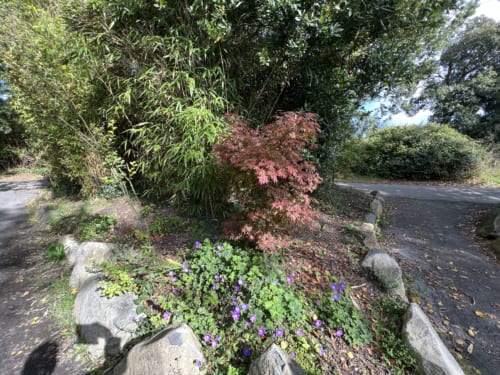 A nearby sign reads "Japanese Walk". Let's see what's that way.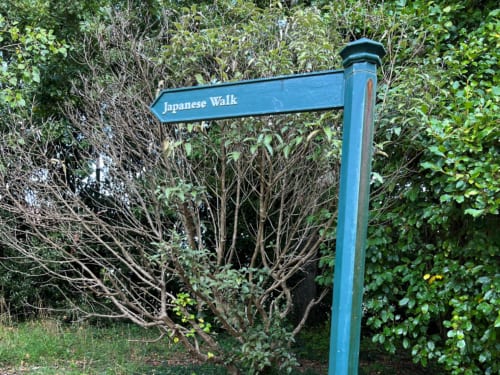 A turret-like building comes into view.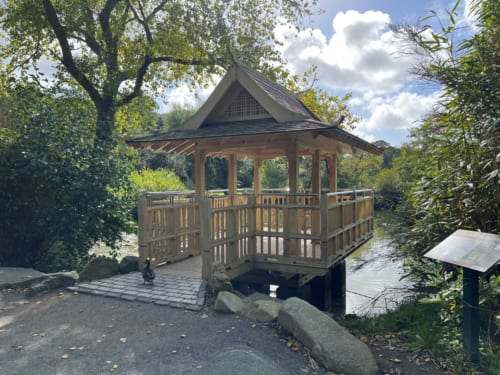 ---
◆Locations 4 and 5 – a Japanese Restaurant and a Game Shop Selling Japanese Anime Goods
Let's head towards the town center.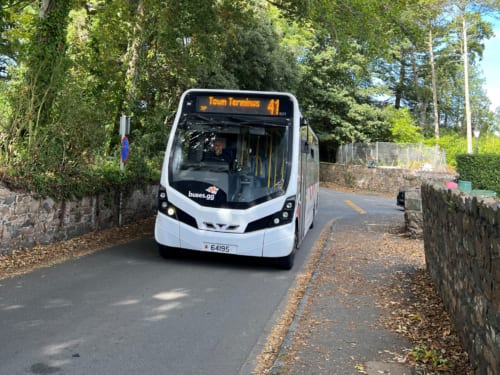 I'm now at St. Peter Port.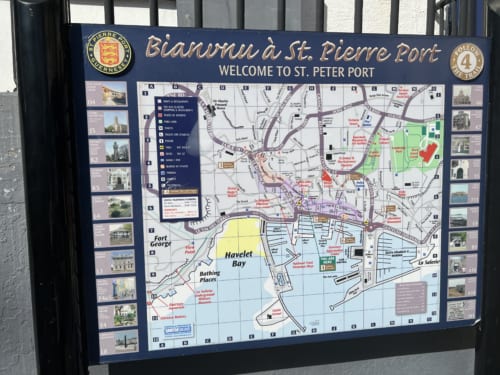 Looking for the Japanese restaurant.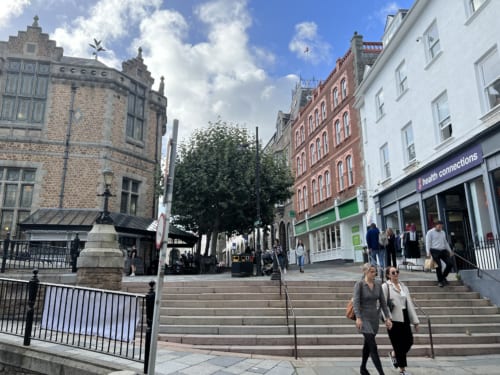 I've found it. Fukku Izakaya, a Japanese bar and restaurant that serves Japanese food. It just opened on April 29th of this year. It's pretty busy.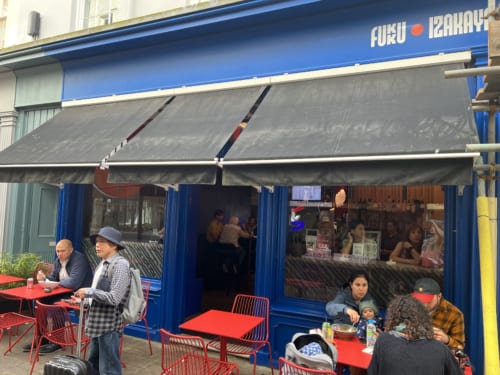 The inside doesn't really feel like Japan. Huh? What's that? Those lights hanging from the ceiling… pretty sure I've seen something like that before.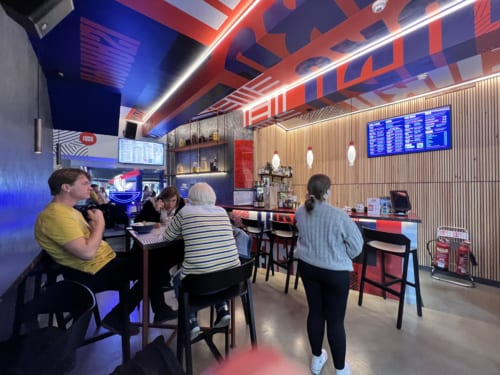 It's shaped like a soy sauce bottle. Nice touch. I was starving, so under the light of the giant soy sauce bottle, I ordered squid tempura, takoyaki, chicken katsu curry and miso ramen.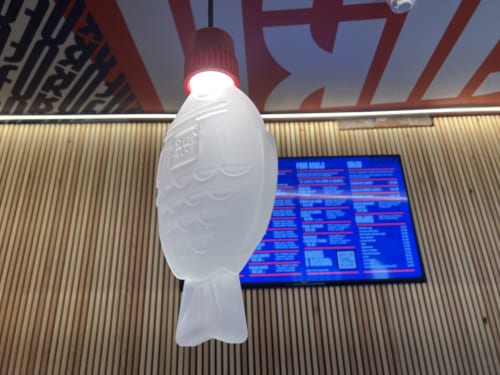 First to arrive was the squid tempura and takoyaki.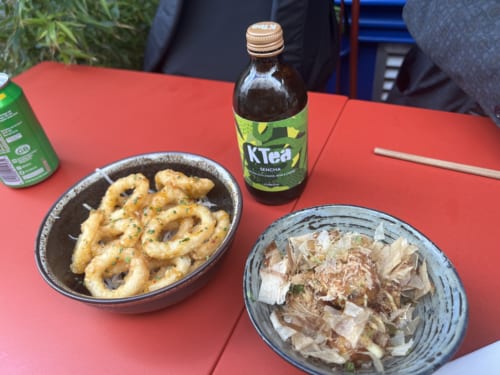 The katsu curry. On other islands, sushi, tempura, ramen and takoyaki are often found on the menu, but this was the first time I had seen katsu (cutlet) curry on offer.
Apart from being surprised that the green tea was fizzy, everything else was pretty good.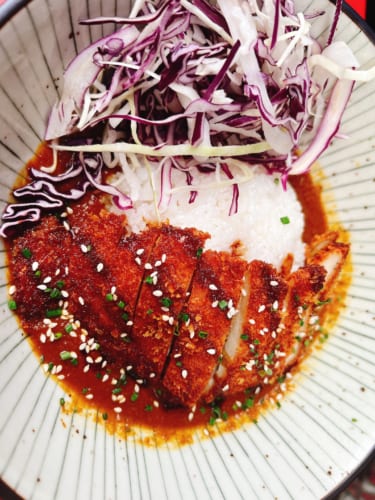 With a full and satisfied stomach, let's now move on to our final location, the game shop that sells Japanese anime goods.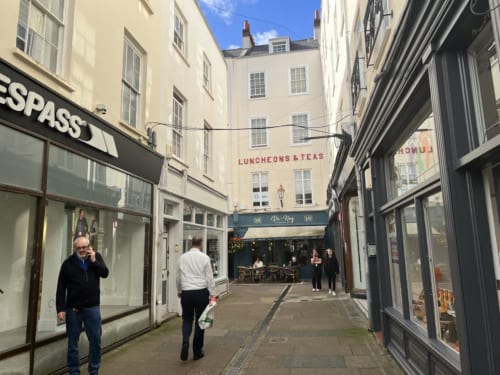 The store behind this statue of a Guernsey cow sells Guernsey milk. Jersey milk is more well-known in Japan, in fact there are only 3 Guernsey dairy farms in the whole country. Guernsey milk is said to have high nutritional value and a clean aftertaste.
I find our 5th location, "Just Games".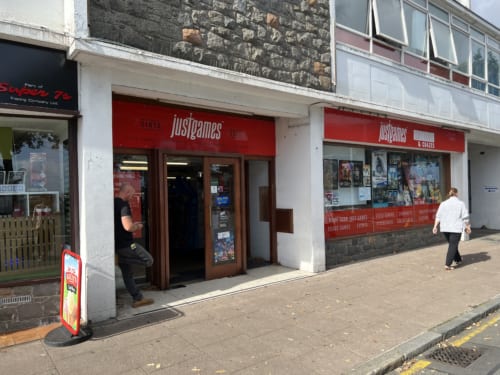 ---
◆Finishing on Time and Without Incident
I'm waiting for the bus to the airport, but there's no sign of it.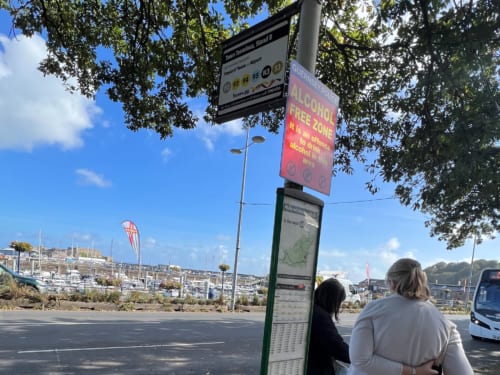 This could be a problem. The bus I had planned to take has been cancelled, and the buses now arriving were a bit chaotic because they either had the wrong destination sign or they'd forgot to display any sign at all.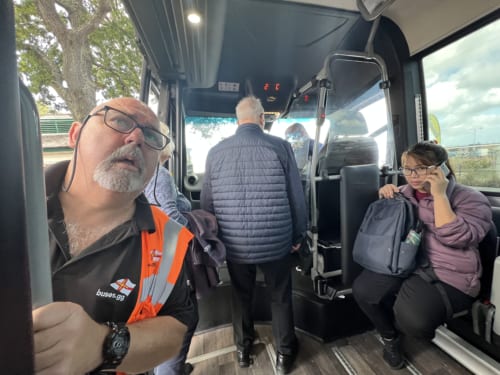 After asking other people waiting and the bus driver, I was finally able to board a bus heading to the airport.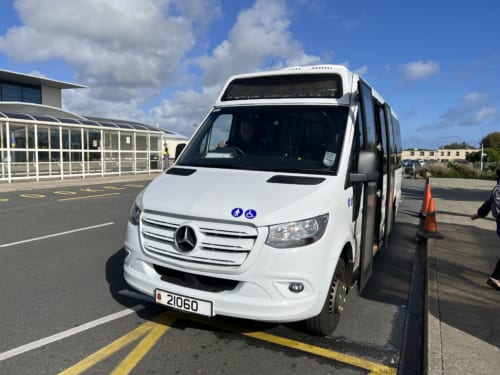 Local bus trip in Guernsey – finished successfully! I've made it in time for my flight.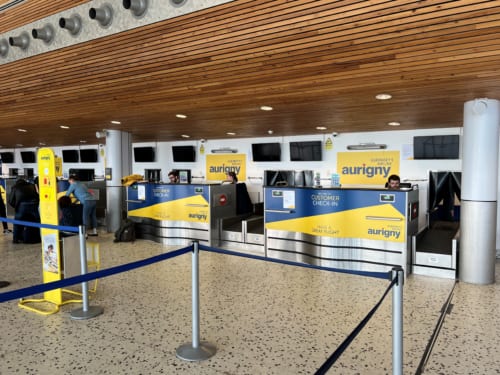 I leave the Channel Islands and set off for my next destination.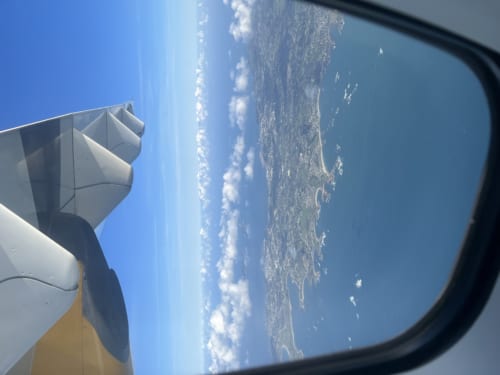 ---
◆Finding ".gg" Around Town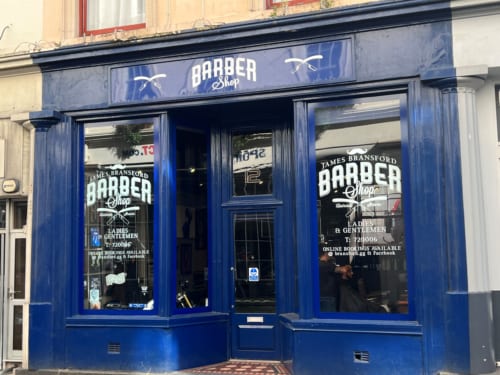 An organic specialty store.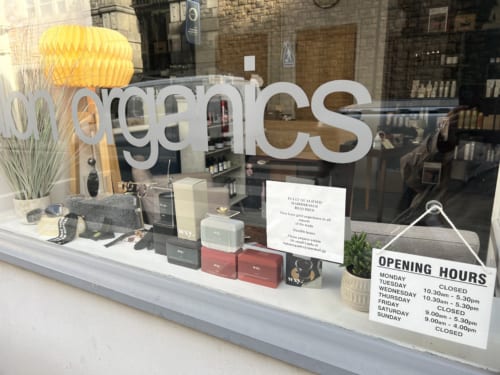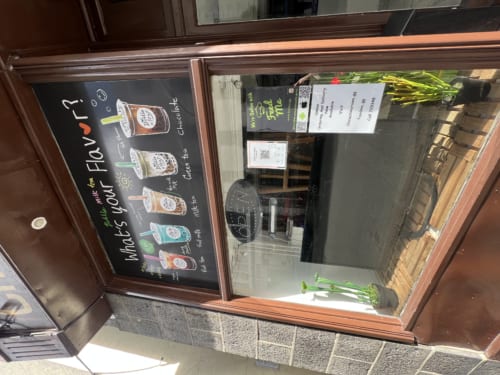 And, on the buses that helped me out today!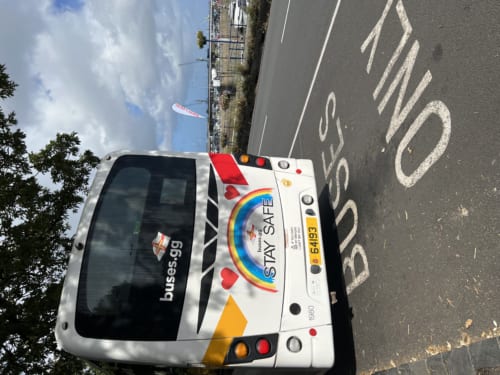 ---
◆How to Purchase an eSIM & Test the Internet Speed
Domain Island Tours have reported on how to find and purchase local SIM cards from June 2018 to September 2020. However, since it takes a surprisingly long time to find a store and buy one, from now on we'll use eSIMs. Switching to eSIM made it easy to sign up for a connection that works in Guernsey. Guernsey eSIM speeds as measured at Guernsey Airport. It was 74Mbps.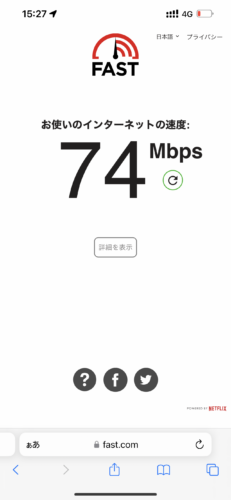 ---
■List of Places Visited
■For access to Guernsey click here
■For ".gg" domain details

click here
■For ".co.gg" domain details

click here
■For ".net.gg" domain details

click here
■For ".org.gg" domain details

click here