I started off this Island Domain tour series by first flying 40 hours one-way to get to Tuvalu. Now I'm on the 15th stop of the Domain Island Tour; Saint Vincent and the Grenadines (I will refer to both as Saint Vincent in this post.) The ccTLD (country code top level domain) is ".vc" often used for "Venture Capital". All dollar notations in the article are East Caribbean Dollars. * 1 ECD $ = 40.96 Yen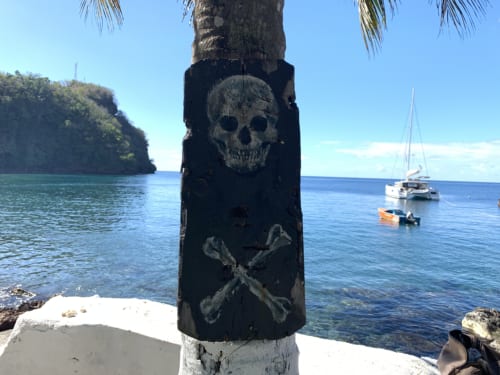 ◆Where is Saint Vincent?
Located in the Lesser Antilles of the Caribbean Sea, and made up of Saint Vincent, a volcanic island, and the Grenadines, which are coral reefs, this country is a part of the British Commonwealth.
= Table of Contents =
---
◆Taking a Walk Around "Dangerous" Saint Vincent
Saint Vincent was ranked eighth in the world for murder rates in 2016, and one must be on guard against theft and robbery in the streets. On high alert, I start my walk in the capital city, Kingstown.
An internet cafe caught my eye, almost immediately. In Tonga, I had to walk all over to find an internet cafe, how about in Saint Vincent?
I climb to the second floor on stairs that have the same color as the flag of Saint Vincent.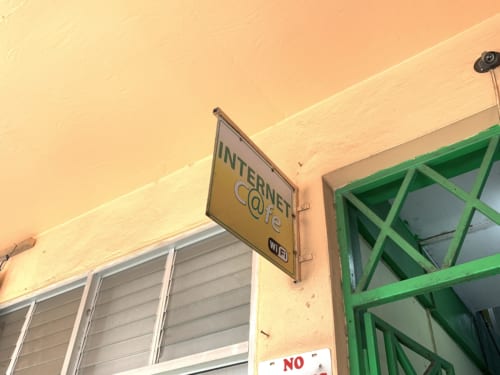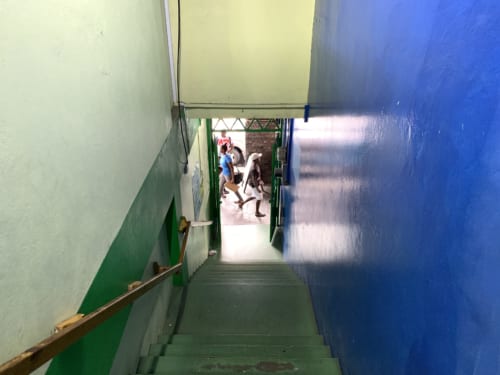 At the entrance.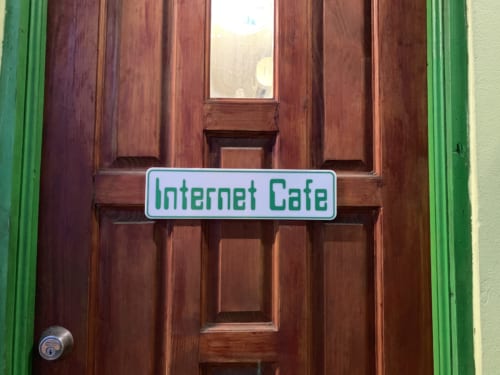 As I step inside, I can see that one corner of an electronics shop is an internet cafe.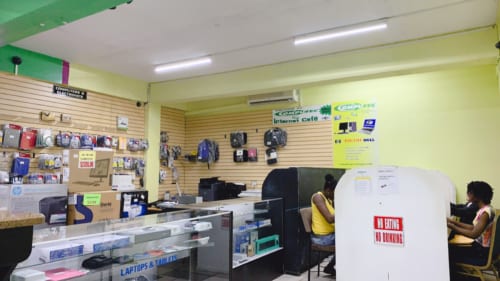 I got a 15 min. trial plan for $ 2 (about 80 yen). Opening up the browser.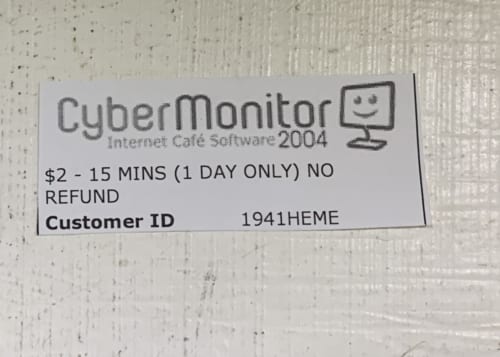 Checking the URL, and it was the Saint Vincent ccTLD ".com.vc". Next, to measure the connection speed.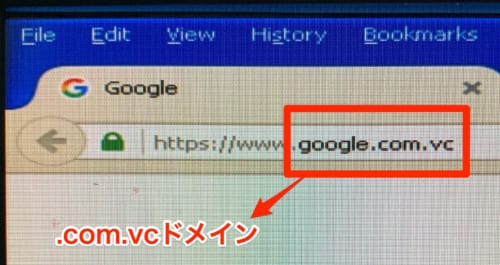 On the speed test site the speed was 10 Mbps. Unlike internet cafes in Japan, the surrounding people didn't seem to be watching video sharing sites like YouTube. To look something up, this speed is just fine.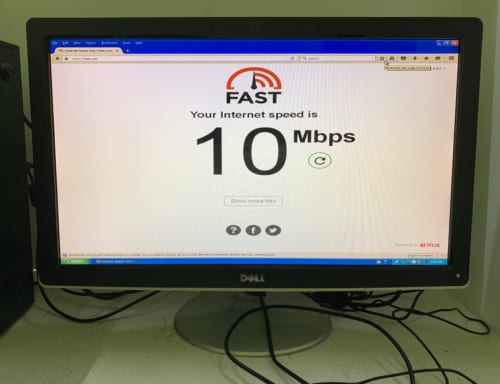 In Saint Vincent, I was able to find a comfortable internet environment.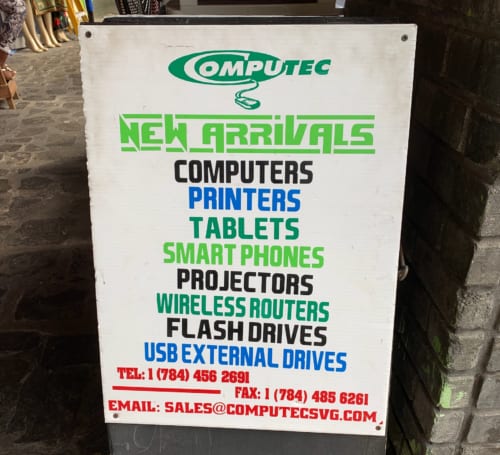 I found a shop with many people coming and going, it was a KFC like we have in Japan. I somehow feel relieved to see a shop I know. There's no McDonald's in Saint Vincent, so this KFC is a valued fast food restaurant.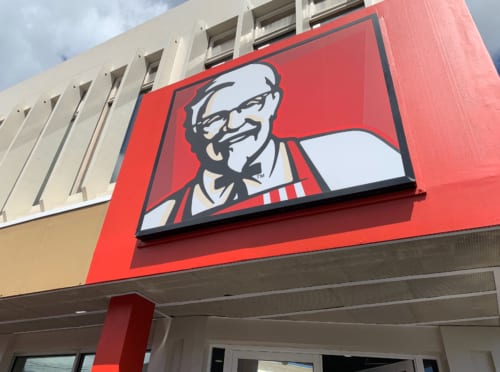 It was lunch time and there were many people.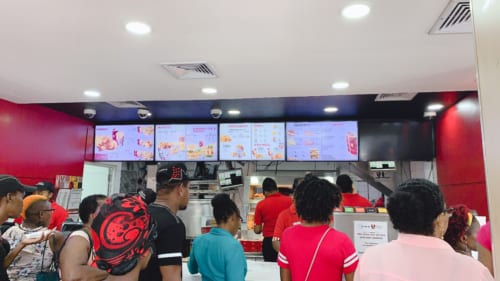 Glancing at the menu, there are many desserts too.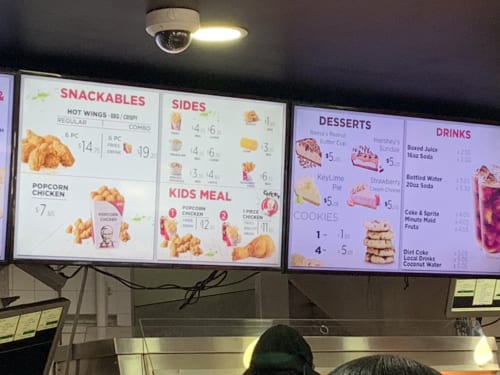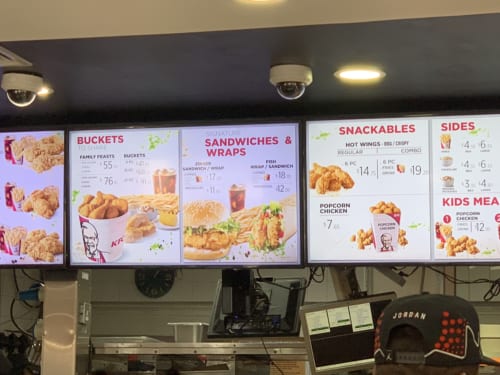 I ordered the "Zinger" similar to the Chicken Fillet Sandwich in Japan, with fries and a drink. $ 17.05 (about 700 yen).
The "Zinger" is universally loved, with freshly fried chicken and a spicy mayonnaise sauce.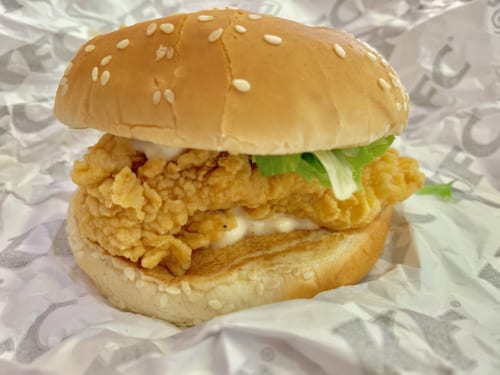 For my drink, I chose a fizzy drink called "Red Kola Champagne". I thought it was a Cola, but the spelling was not the same.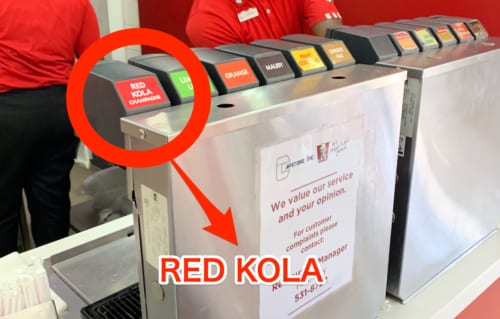 As red as strawberry syrup, I thought it would be very sweet, but actually it was a kind of sour fruit juice. Apparently, this drink comes from Trinidad and Tobago, another Caribbean country. I guess this is an item limited to the Caribbean.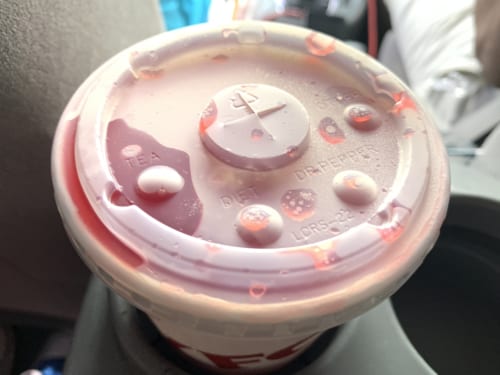 ---
◆Pirates Come Back to Life
My image of the Caribbean is strongly connected to Pirates. From 1660 to 1730, Pirates were the most active in the Caribbean. Nowadays, there are many anime series, movies etc. that draw inspiration from pirates, such as ONE PIECE, with its Shirohige (Whitebeard) and Kurohige (Blackbeard), modeled on a real pirate named Edward Teach who overran the Caribbean. Although some may think that pirates are a thing of the past, in fact, there were 71 maritime incidents of piracy in Latin America and the Caribbean in 2017, an increase of 163% over the previous year. Saint Vincent is also considered a hotbed of piracy.
Do you think I might actually meet a real pirate here? !
First, I went to Wallilabou Bay, where "Pirates of the Caribbean" was filmed, to learn about pirates.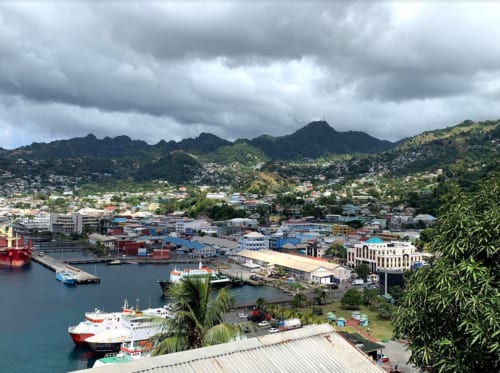 It's about 30 minutes drive from Kingstown.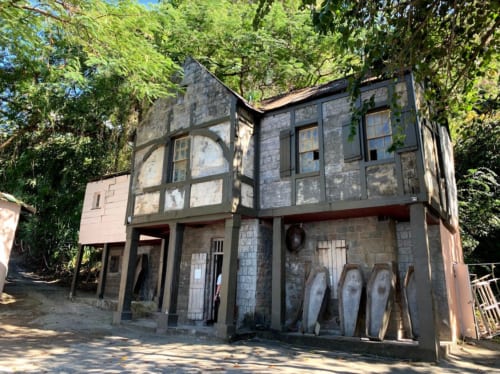 This is a very ancient-looking building. On the door says "Port Royal Set Buildings". Port Royal is a town in Jamaica, and in Pirates of the Caribbean, this building was a film set for a scene supposed to take place in Port Royal.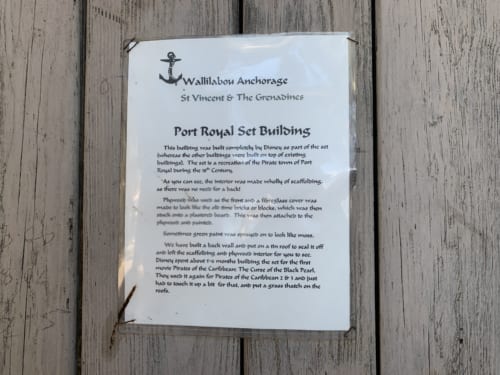 Leaning on the wall like that, the coffins remind me of beach parasols.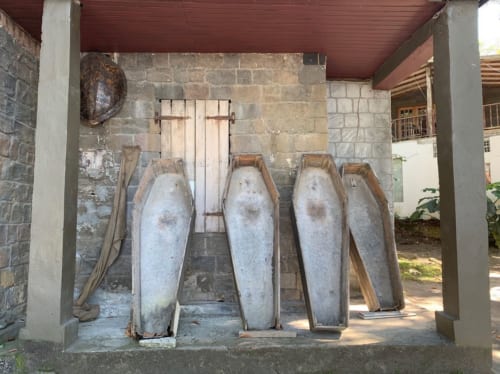 As you enter the building, there are pictures of the leading performers and a schedule.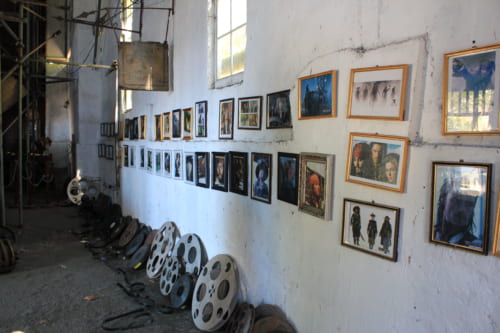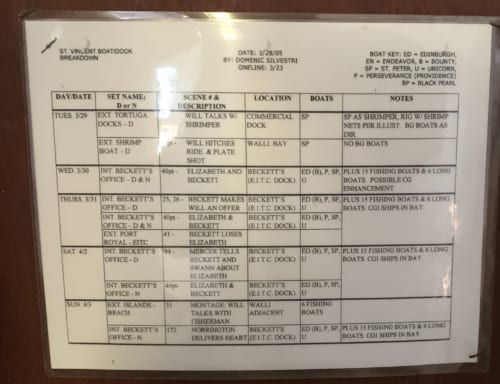 Pictures of cast members, including an adorable behind the scenes shot of Johnny Depp who played Captain Jack Sparrow.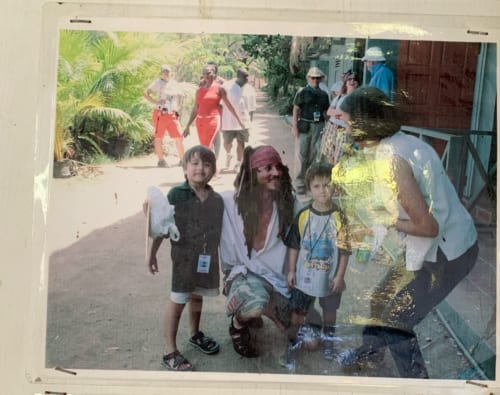 Not only photos, but also props and set pieces were on display.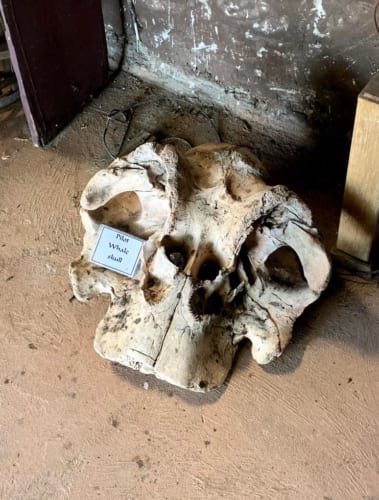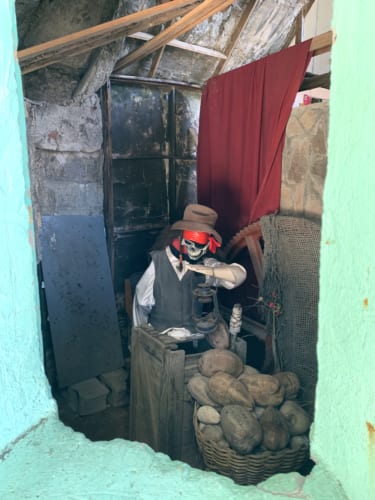 I thought that this was another set, but when I entered the building, it was a warehouse not connected to the movies, with many old phones and registers. But, why is there a straw hat here? … (first photo, lower left) Is the most famous pirate in Japan coming?!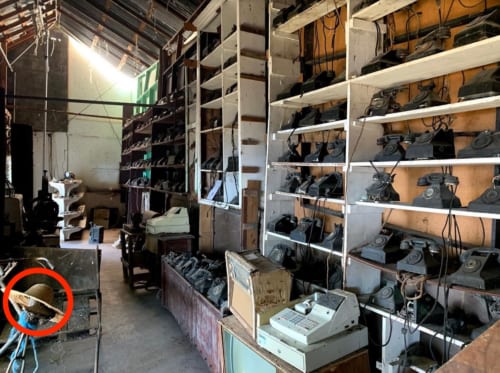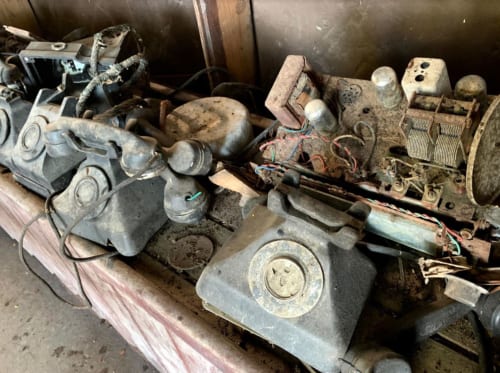 In the days when pirates gathered together in Port Royal, it was called "the richest and the worst city in the world." As a warning to others, pirates who were caught were executed and left to hang at the entrance of the port. Looking toward the cove, you can see an arch-like rock. It may be the rock from which a pirate's corpse was hanging in the movie.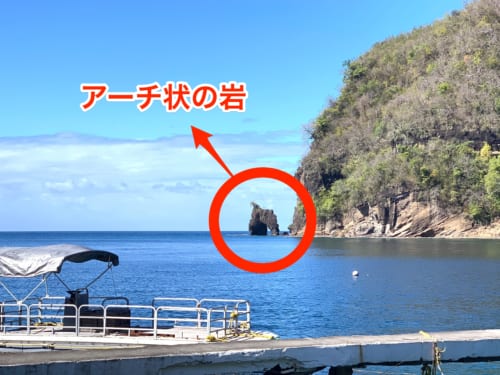 Although dead in the sights of the artillery from the set, it's not a pirate ship.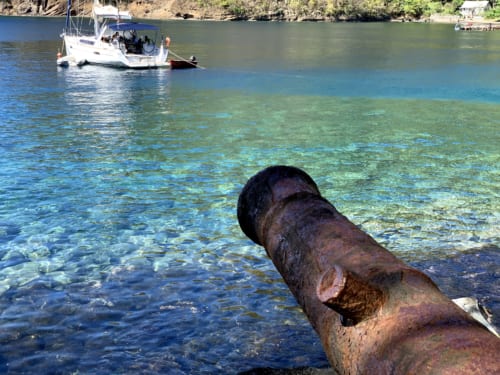 There was also a real "pillory" (a kind of instrument of torture.)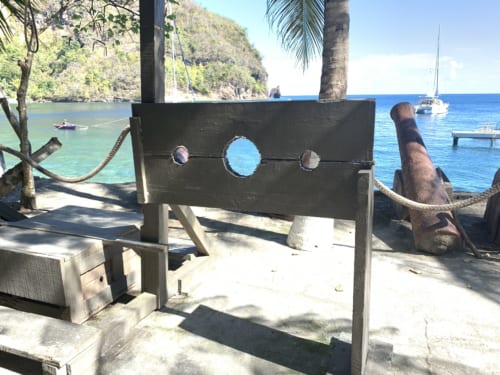 And a dog taking a rest on the set. Even if I bribed him with bones, it's unlikely he could sneak the jail key for me.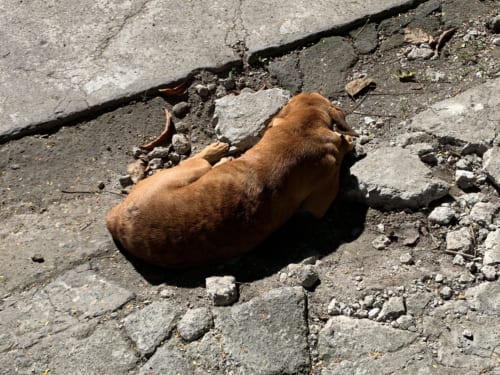 The cafe next to the set has a nice lunch selection, so you can enjoy a meal while thinking about movies.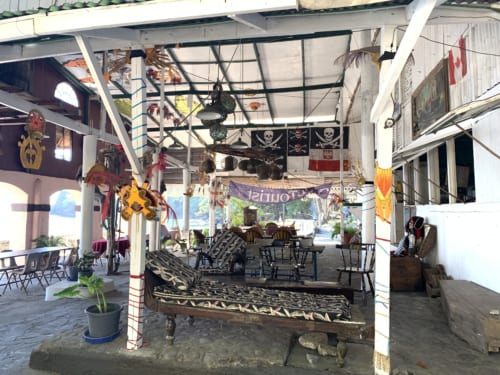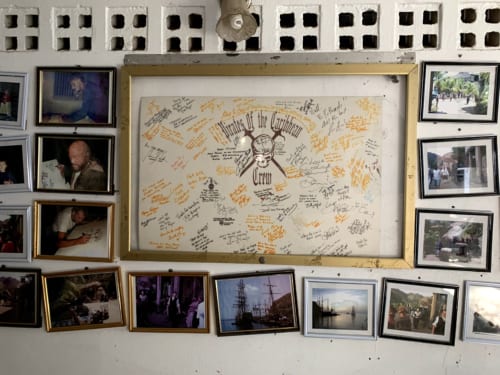 Admission for these sets is free. This is where you can get the real Caribbean pirate feeling. Now I feel that if I happen to encounter a real pirate, we could understand each other.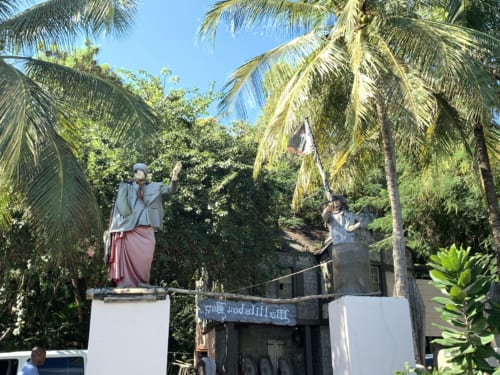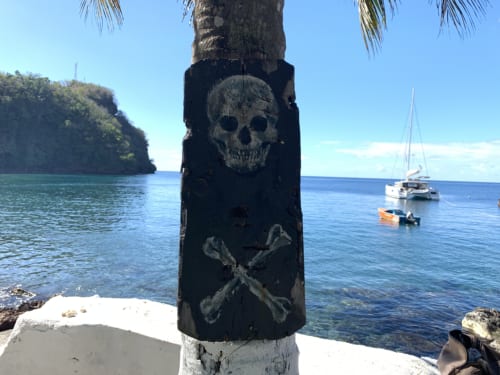 ---
◆Searching for a Pirate Ship from Fort Charlotte
I went to Fort Charlotte, which is west of Kingstown. From the top of the fortifications, which were completed in 1806, you can see Kingstown and Bequia, one of the islands of the Grenadines.
This would be a good place to spot a pirate ship.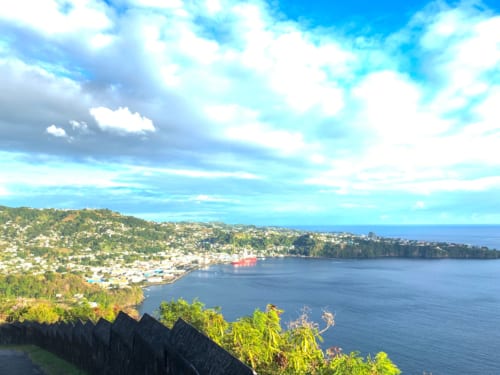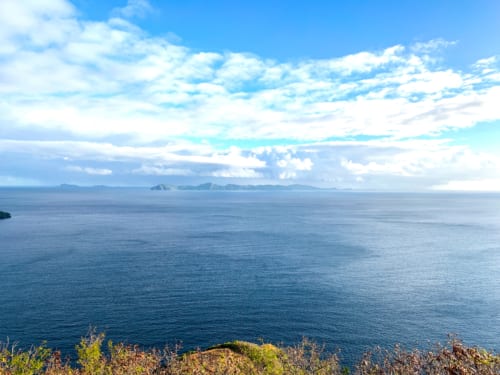 They may be busy refueling.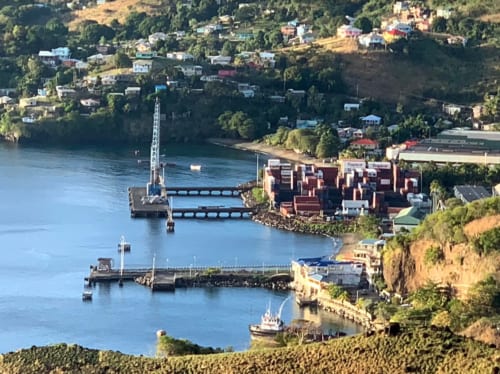 While I waited patiently, the sun started to set.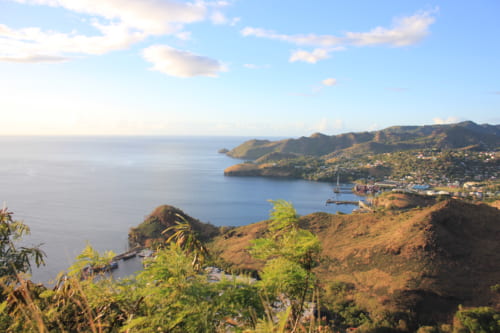 As you can see, there's no pirate ship, or any ship at all.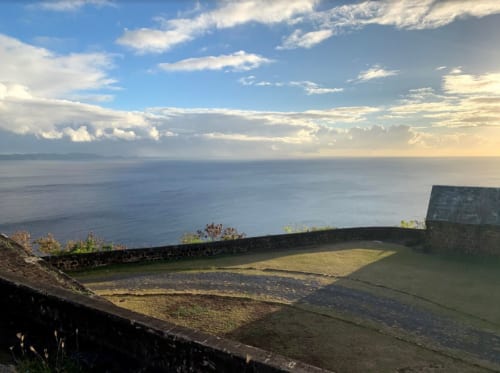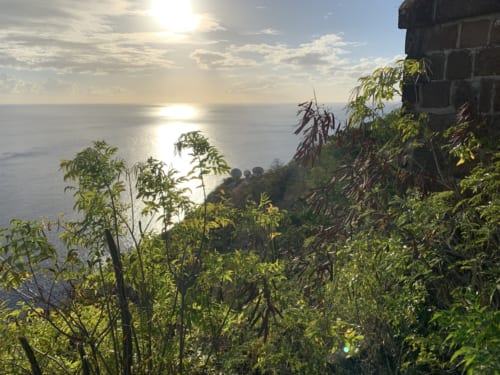 I gave up looking for a pirate ship.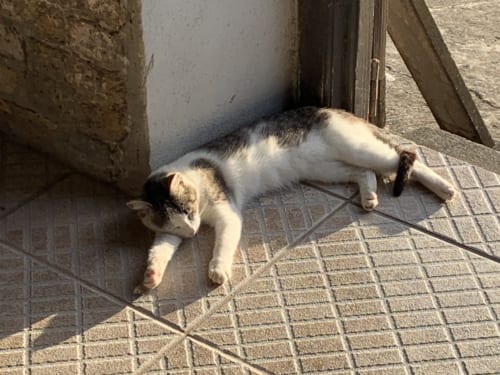 I decided to check out one of the building on the premises.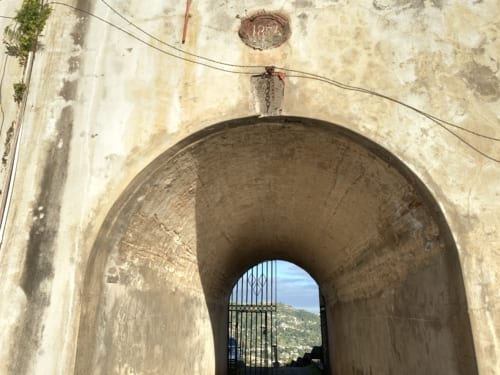 There's a display of paintings depicting the times when the people of Saint Vincent were slaves.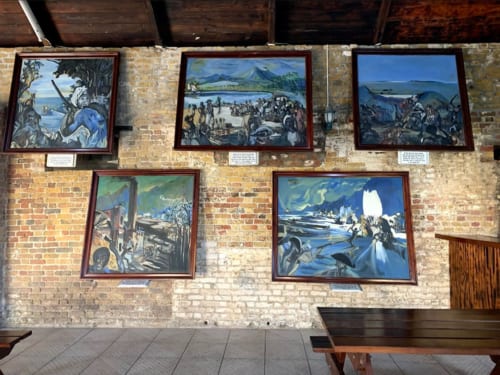 Fort Charlotte is a free tourist attraction. Many tourists come through, so it's a good spot to educated people about the sad events of history. It's also a great spot to watch the sunset and for local people to come and relax. Some male tour guides may approach you to explain the history, but please be aware that these tours are not free.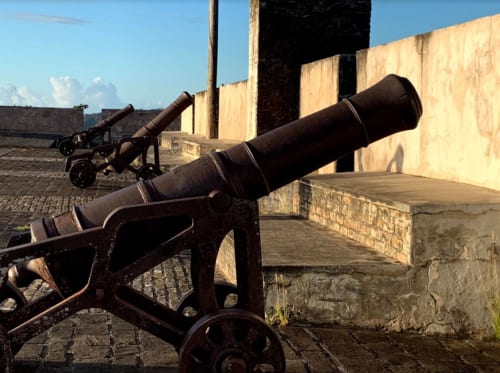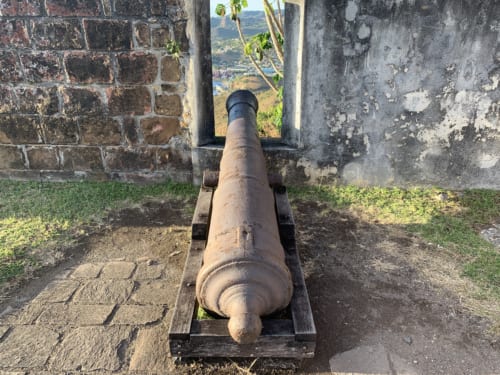 Click here for the 360° shot of the sunset
Charlotte Fort (St. Vincent and the Grenadines)) – Spherical Image – RICOH THETA
---
◆Why Don't You Eat More Fish? The Cuisine of Saint Vincent
For dinner, I went to the "Mangoz Restaurant and Bar" in the Arnos Vale area.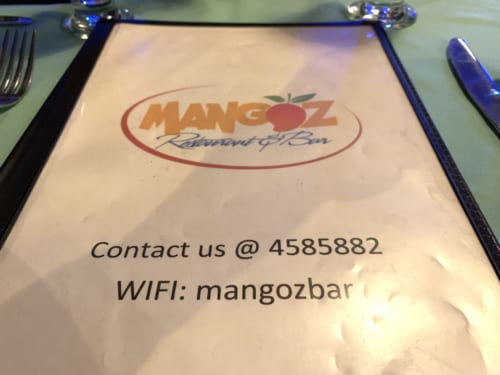 I sat outside on the open terrace. Near the sea, there's a lovely breeze.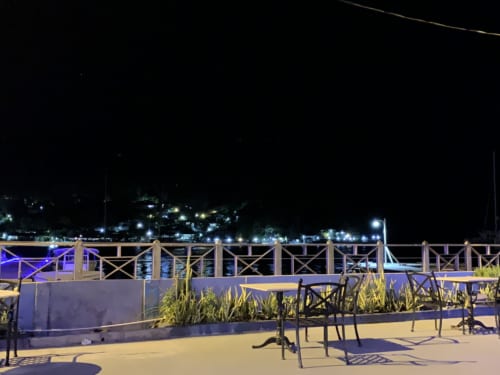 Hairoun, a local beer, is a lager beer whose bottle resembles the green Heineken bottle. It has a mild flavor, and goes well with the somewhat oily food.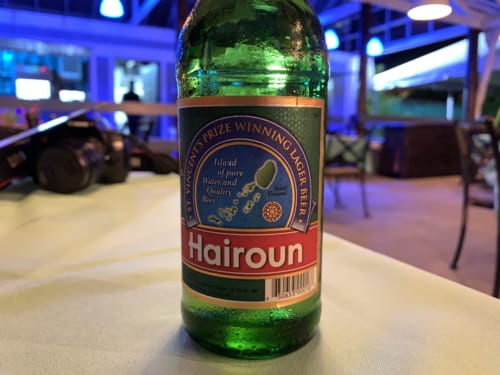 I asked them to "Please bring me the local specialty." They brought a soup, the color of which is difficult to express in words. It's called Callaloo soup, and it's a blend of taro leaves and local ingredients harvested in this area. Although the color was a little off-putting, it tasted good and didn't have that grassy smell. The price was $ 20 (about 800 yen).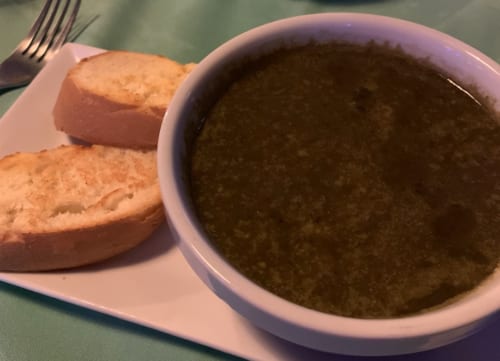 The main dish was sautéed conch. The crunchy texture of the shellfish went well with the spicy sauce reminiscent of curry. Conch clams, which I also ate in Anguilla, are popular here too. The price was $ 55 (about 2,200 yen).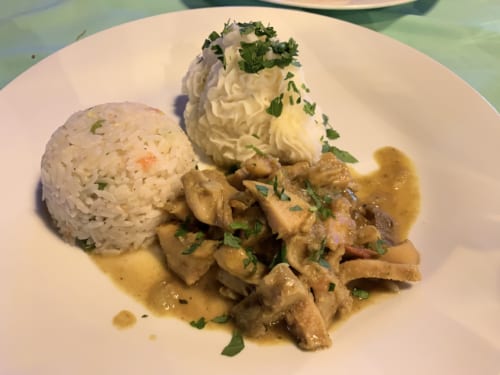 The deep-fried shrimp were also delicious, but since this is an island surrounded by the sea, I was expecting more fish dishes. So, I found out that although Saint Vincent has abundant fishery resources, the ordinary people don't have that much opportunity to eat fish. Therefore, the Fisheries Bureau is trying to promote fish in the diet with the slogan "Put a Fish on Your Dish". Surprising, but yes, it seems the people of Saint Vincent eat very little fish.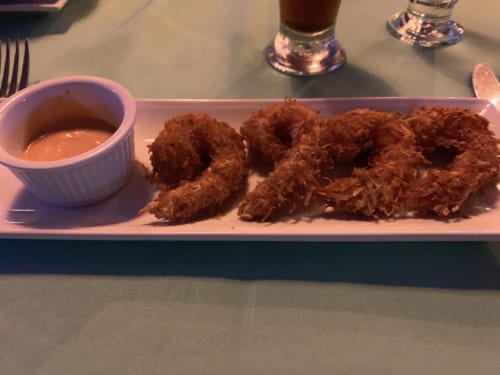 This place is open from 9:00 am.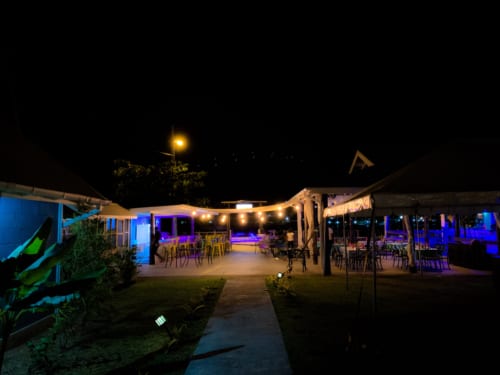 ---
◆The Oldest Botanical Garden in the West and the Known Origin of the Maracas
Saint Vincent, with its abundant nature, has the oldest botanical gardens in the Western Hemisphere. The Botanical Gardens, established in 1765.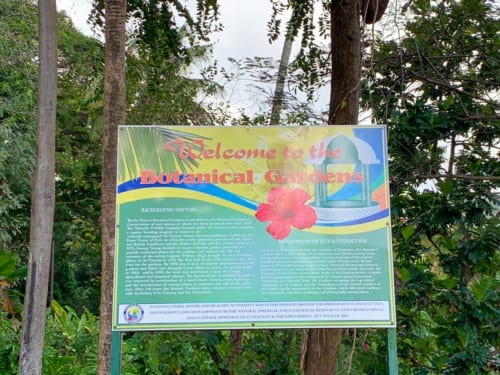 Entry for one adult is $ 5 (about 200 yen) At the reception desk, you have the option of asking for a tour guide for a fee of $ 10 per person (about 400 yen).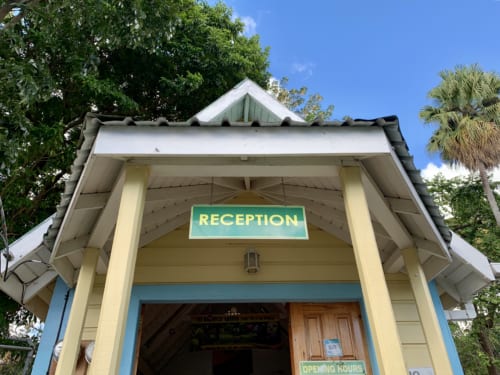 As soon as I went in, a man named Cornelius started talking to me. "I will be your guide" he said. I was confused because I didn't ask for a tour guide, but anyhow the tour started. Unsure if he was actually part of the staff of this garden, I followed him and listened to his tour.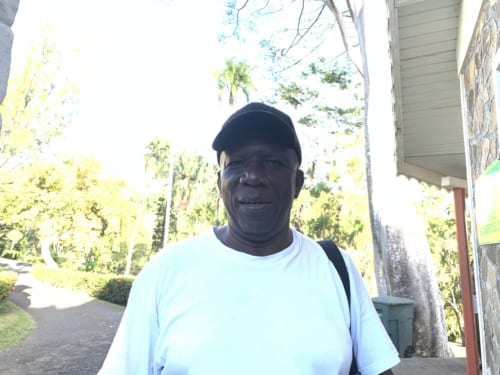 It feels like an English garden, probably because Saint Vincent is part of the Commonwealth of the United Kingdom.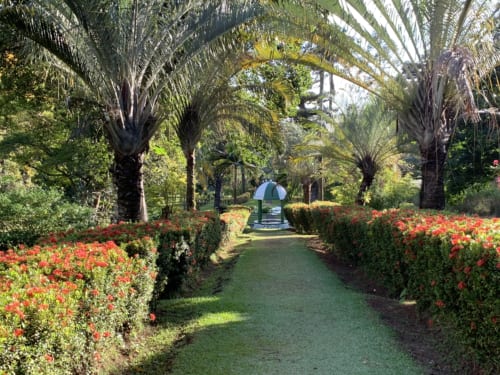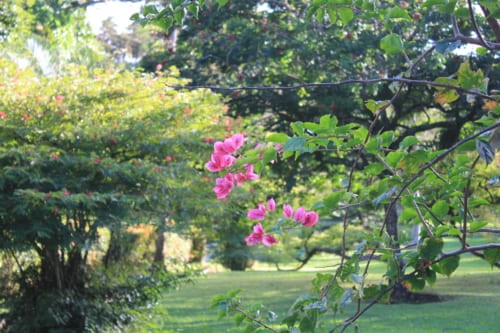 While observing the flowers and trees, Cornelius handed me a dry leaf. It's a ylang-ylang leaf. Yiang-yiang leaves are used for Chanel No. 5, and are blended with various other fragrances. It's just a leaf, but I give it a sniff, it certainly has a good smell.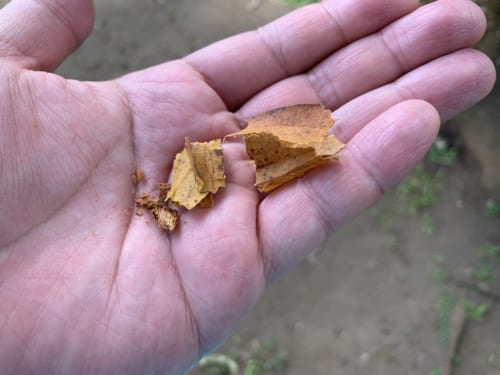 The unexpected guide, Cornelius, cuts off the leaves and hand them back, one after another. Then he cut the trunk of a rubber tree, so the sap came out. It seems a rather daring thing to do.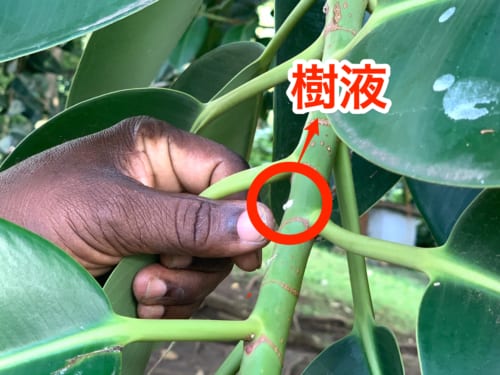 Cinnamon, also well know in Japan. Of course, I know it as sticks or powder, but I haven't had many opportunities to see it as a whole tree. The bark has a strong cinnamon smell.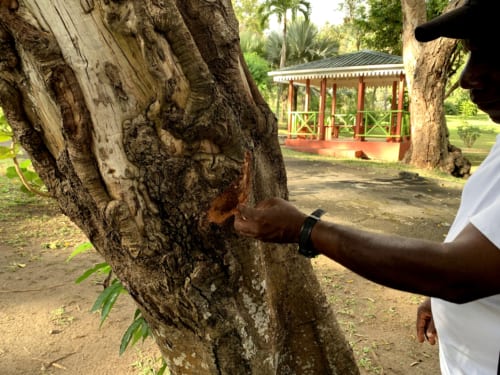 The Maracas palm, with a fruit the size of my little finger.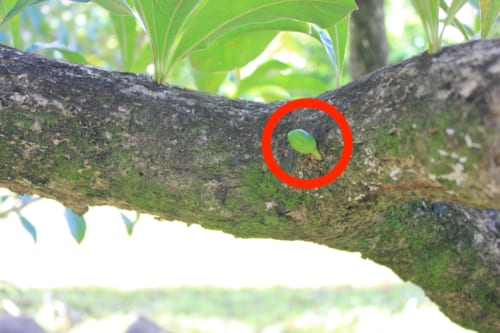 It will grow like this, to the size of a human face. I put my iPhone SE beside it to show the size.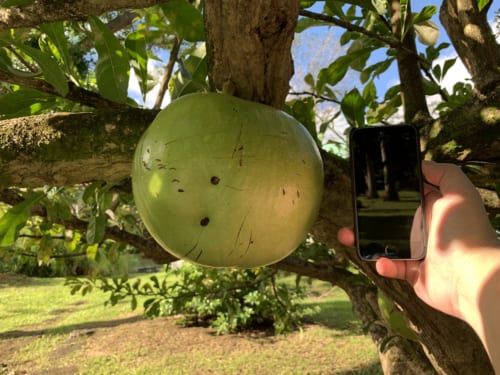 It is thought that the musical instrument the maraca was first made by drying this fruit.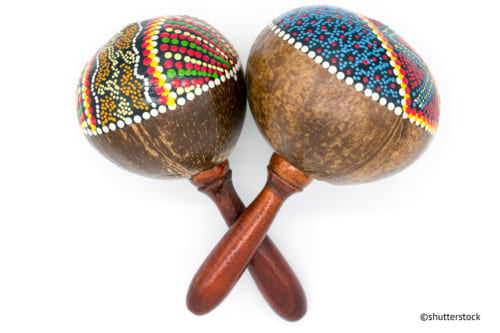 When looking at a Mimosa tree (Japanese: Ojigiso), Cornelius takes out a lighter. He seems to be flicking the flame a bit obsessively.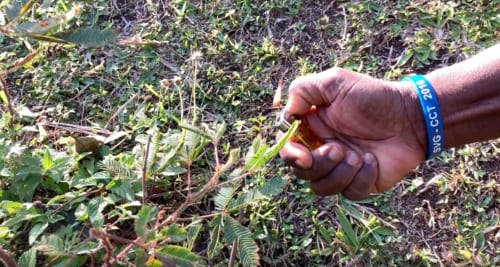 Apparently, this is to show the reaction of the leaf when heated up. The mimosa leaf closed up from the tip and eventually the whole leaf drooped. He certainly goes to a lot of trouble for me, though I never asked for a tour.
He picked up and cracked a nutmeg fruit for me. If you eat too much nutmeg, the spice can cause hallucinations and lead to a most terrible death.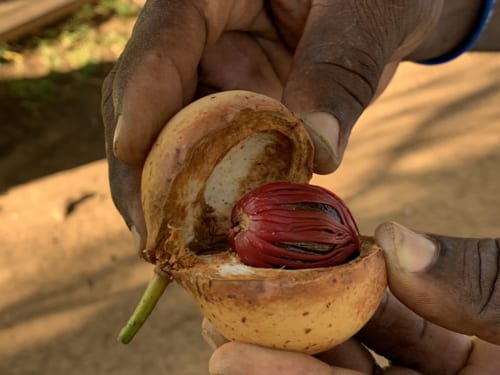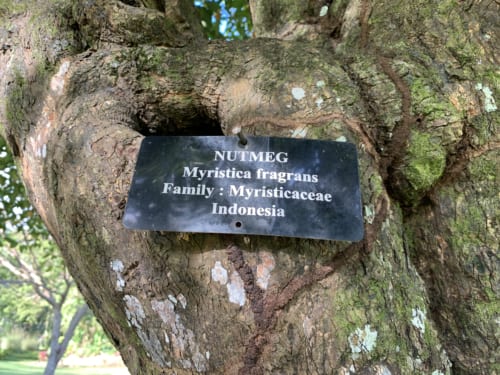 Finally, we came to a large cage with a Saint Vincent Amazon (or Saint Vincent Parrot) a species endemic to Saint Vincent and the national bird. Cornelius says "Hello!" but the bird doesn't answer. Usually, the bird answers back with "Hello!", he tells me.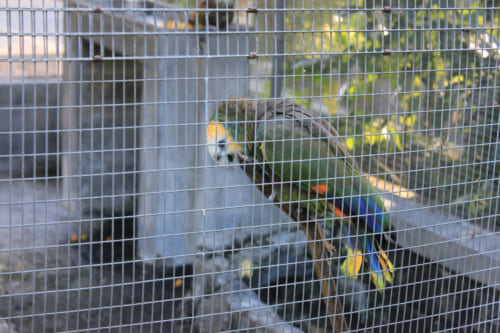 The Botanical Gardens are open from 6:00 am to 6:00 pm, with a variety of plants and endemic species from the local Caribbean area. Still unsure if Cornelius is a guide or just happened to be there, we say goodbye and part ways.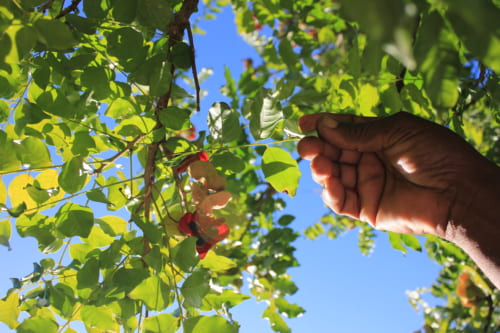 ---
◆Provisional World Heritage, an Ancient Caribbean Petroglyph
Engravings, or "Petroglyphs" made by the indigenous "Arawak" people can be found on islands of the Caribbean, although the people themselves have mostly disappeared due to conflicts with other tribes and European aggression. In Saint Vincent, you can see petroglyphs at the Layou Petroglyph Park.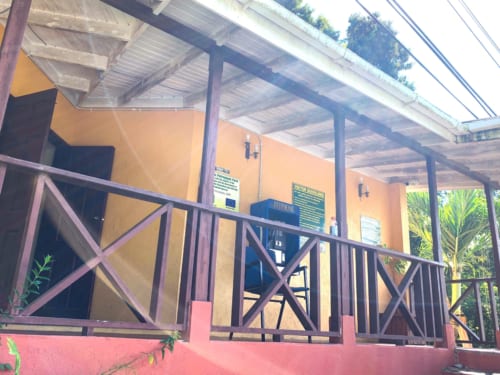 Developed in cooperation with the European Union in 2009, it is provisionally listed on the World Heritage Convention list.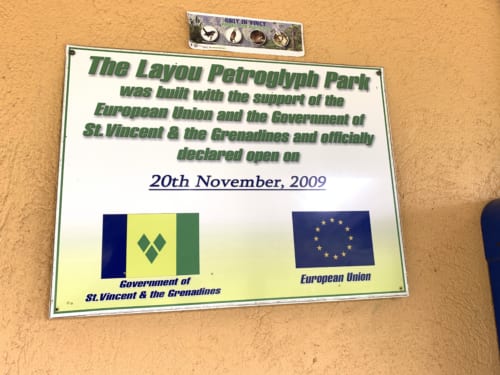 Admission is $ 2 per person (about 80 yen). When you enter the building, there are photos of the petroglyphs found in the Caribbean region. The lady who is receptionist / guide explained each one.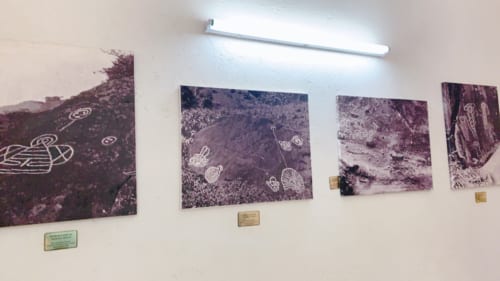 However, she used such a quiet whisper to explain, that I had to ask again and again. When you visit, be prepared to listen very carefully. In the photos, the petroglyphs can be recognized by white lines, this digital processing makes them easier to see. The real ones are lines carved in the rock, so they have no color.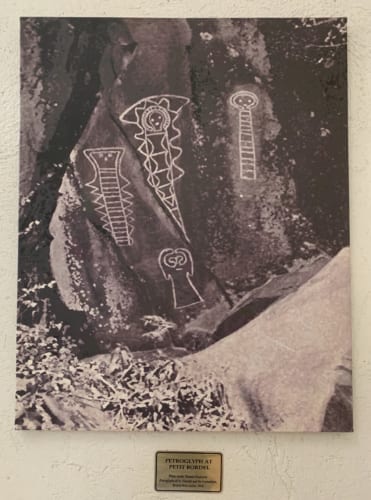 Finally, we follow the guide to the site of the petroglyph.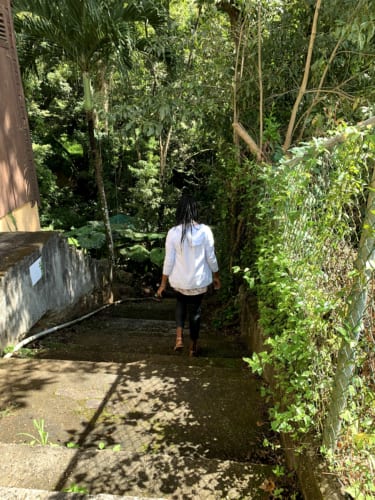 I could see a big rock.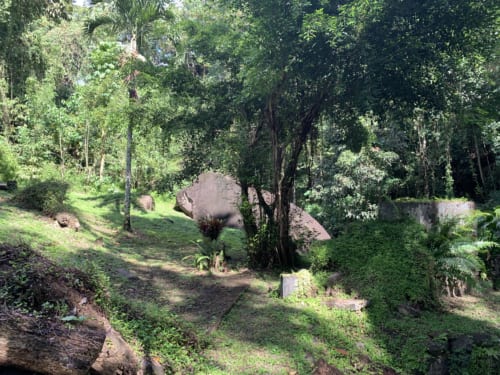 This petroglyph here is supposed to have been made around 300-600 AD. You can faintly see some lines on the rocks.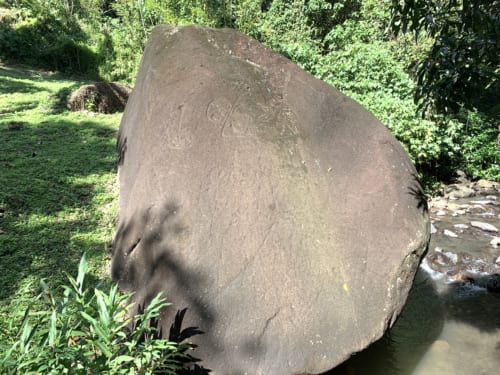 It was a bit hard to see, so I enlarged it and marked it with white lines. Can you see it? It seems like faces are carved on the rock. According to the guide, this is a mother and child scene.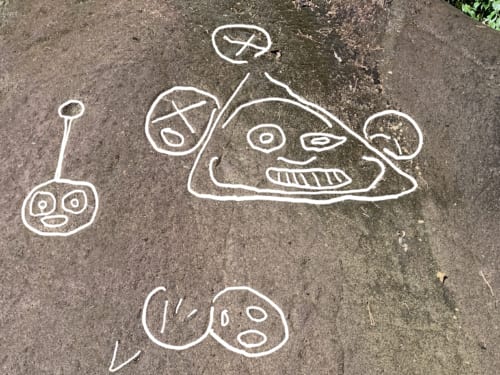 There's a face carved on the top of the rock as well. Much of the meaning of these petroglyphs remains unknown.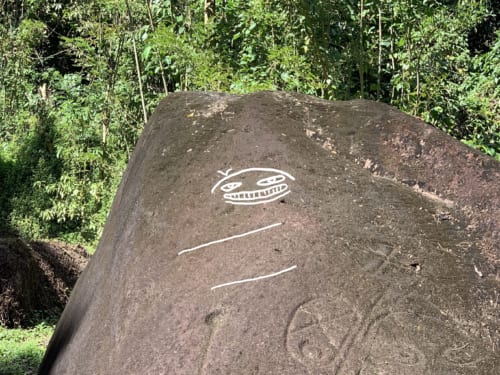 You can get close to the rock and even touch it. The lady guide took a photo with this rock. She was so quiet and whispery with her first explanation, but later all I remember is that she laughed so hard.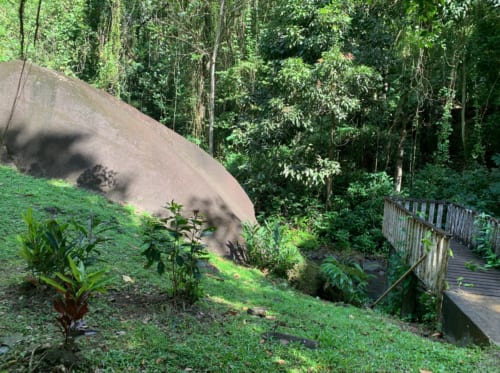 Why not visit and see if you can figure out the meaning of the mysterious petroglyphs?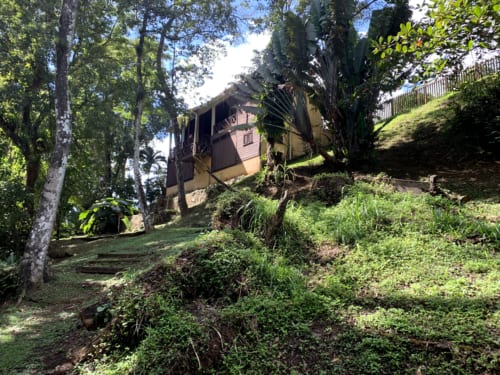 ---
◆"Little Tokyo" Made with Help from Japan
I went back to Kingstown. So far, I have been visiting pretty safe areas, so today I will try to be cautious about safety and walk around the capital city a bit.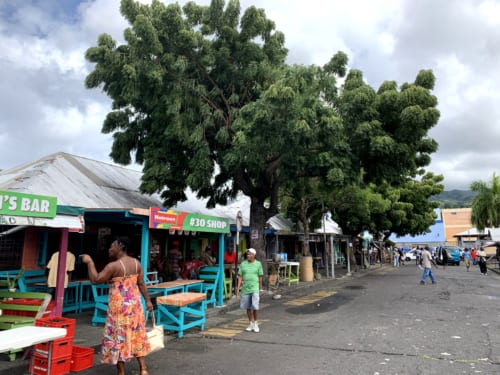 While I was walking on Bay Street, I found a bus terminal called "Little Tokyo".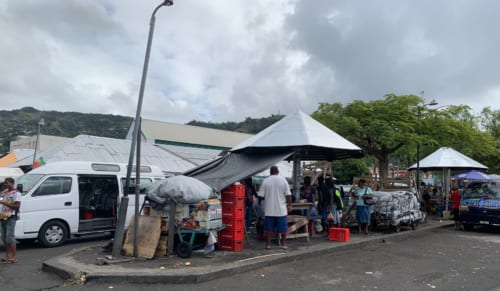 Here they have a wagon kind of car modified into a "Van" which is used as a mini-bus. All routes depart from here. There were all kinds of buses. I saw a Japanese car, but so far, I don't feel the area is very "Tokyo-ish".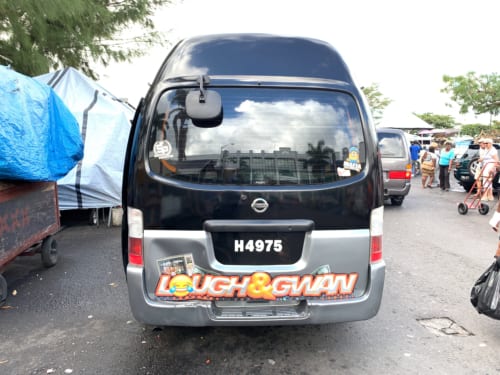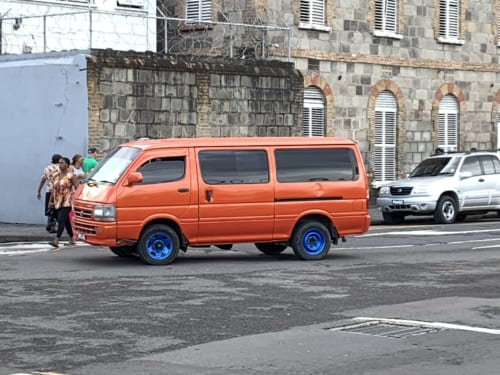 There's a fish market next door. I was drawn in by the lively voices of people.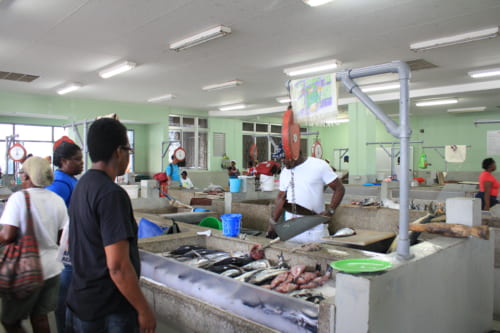 Many fresh fish are for sale, just like you find in Japan. In Saint Vincent it seems they also eat whale, which is sometimes called "black fish". As a result of promoting more fishing activities using fish aggregating devices (FADs) since 2015, large migratory fish (such as yellowfin tuna and marlin) have landed in this fish market.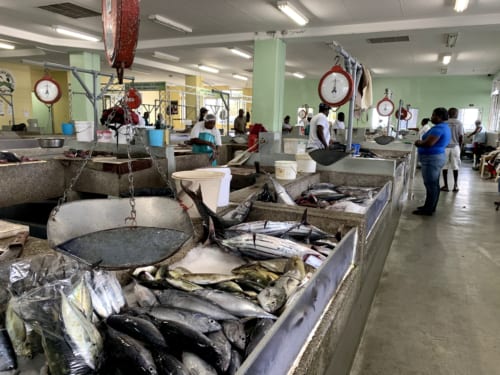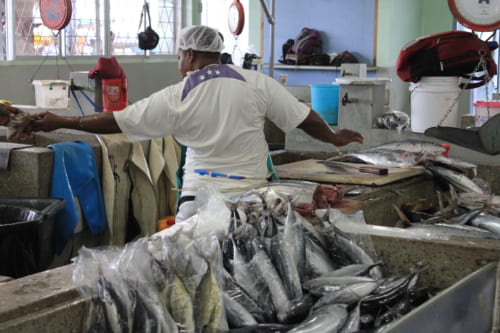 This lady owns a restaurant. It seems she comes to stock up on fish.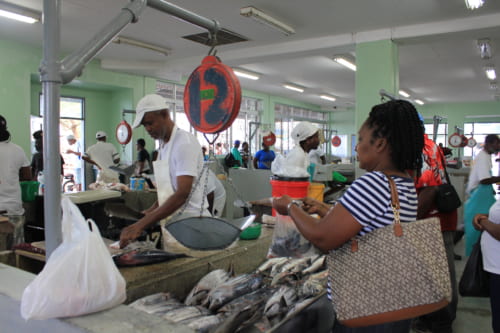 On a plaque on the outer wall it says that the Kingstown Fish Market was completed in 2005 with grant aid from the Japanese people, as proof of the friendship and cooperation between Japan and Saint Vincent and the Grenadines. This fish market was built by Japan's ODA project in the late 1980s.
In 2005, Japan also provided grant aid for repair work necessary due to aging.
For this reason, the fish market and the area around the bus terminal are called "Little Tokyo".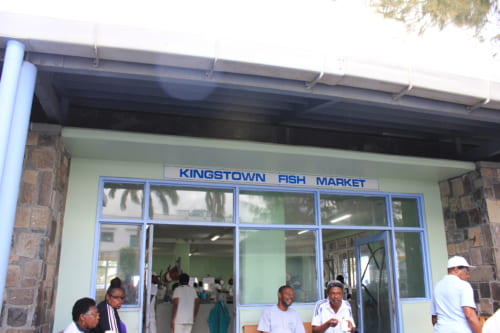 ---
◆How to Purchase a SIM & Test the Local Internet Speed
Although Wi-Fi rental services for going overseas are on the rise, certain areas are not covered. In such situations, you can buy a local SIM.
At the Argyle International Airport, I bought a SIM from FLOW, a popular communications company in Saint Vincent.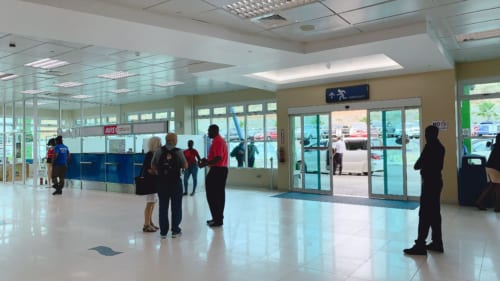 This is the SIM from FLOW. The clerk activated it for me, which is helpful. I bought a plan of 500 MB for one week. The price was $ 15 (about 600 yen).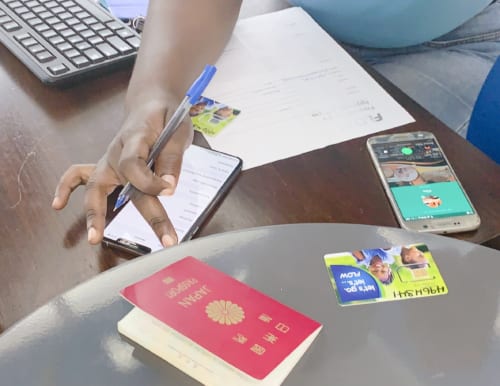 After activation the speed result was 14 Mbps. It was no problem to look things up, and I could use it comfortably around town.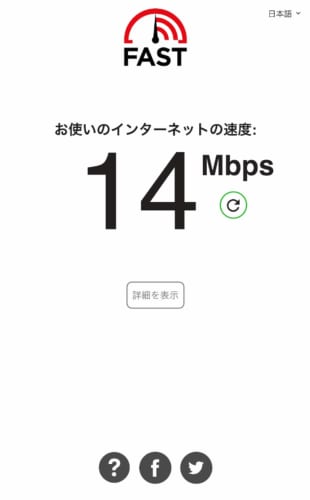 Apart from FLOW, there were no other communications companies at the airport.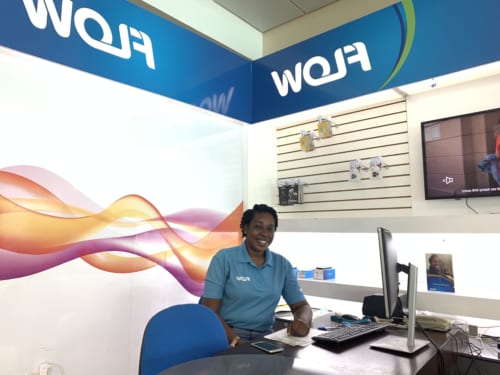 ---
◆A Visit to the ".vc" Domain Registry
The ccTLD (country code top level domain) for Saint Vincent is ".vc". I find it being used by a local publishing company and internet service provider.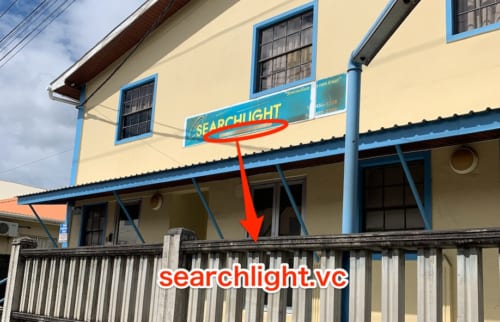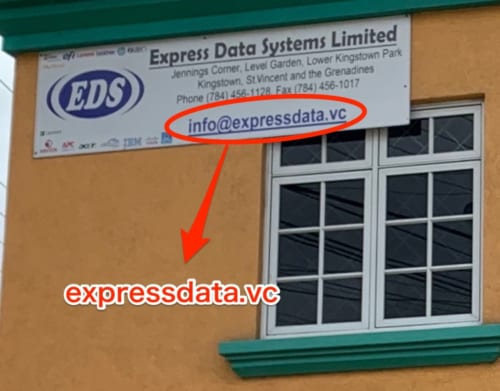 This time, I made a special visit to the ".vc" domain registry, the NTRC (National Telecommunications Regulatory Commission). I arrive at a very nice building in Kingstown.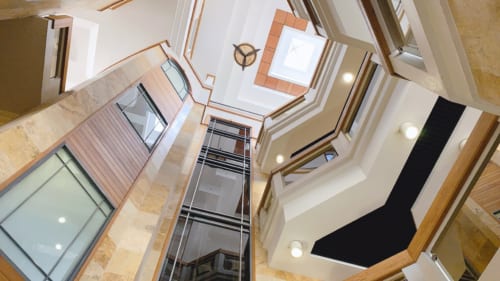 I climbed the stairs and found a sign for the office.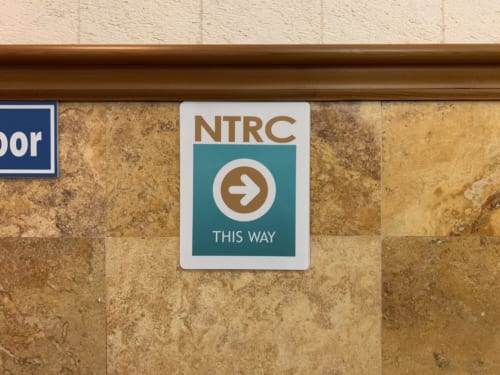 Mr. Apollo Knight, director of NTRC, answered my questions. Talking about ".vc" being used as an abbreviation for venture capital and used by investment companies, he said "it was unintentional but a very good thing as the number of users increased." He also talked about domain usage in Saint Vincent. He was a very friendly director.
"The ".vc" domain is a very cool domain. Also, Saint Vincent itself is a great place to go sightseeing!" commented the friendly Mr. Knight.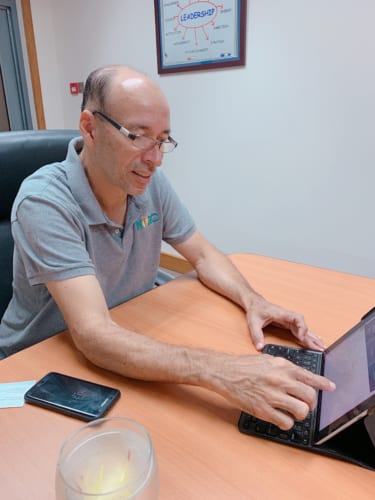 And after all, I didn't experience any safety issues in Saint Vincent, but I will continue the Domain Island Tour with care and attention.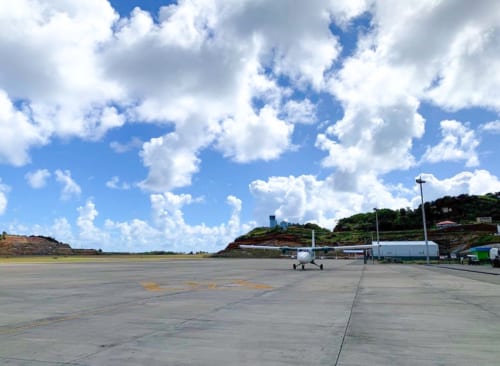 ■Access to Saint Vincent Click Here
■For Domain detailsClick here