To many Japanese people, Taiwan, also known as Formosa, is known for its friendly people, fun night markets, and delicious food. Taiwan is a popular travel destination and many Japanese have visited not just once, but multiple times. This time we visited many little-known places, starting with an erotic diner crowded with young people (ours is the first on-line information in Japanese about this*). We then hiked a super-secret trail to see the night view of Taipei city without seeing a single soul, never mind tourists! We also went to a delicious cafe where you can mingle with shelter dogs and cats, and finally, visited Taiwan's Minister of Digital Affairs, Audrey Tang and her lab that is open to the public. The ccTLD assigned to Taiwan is ".tw".
*According to our research as of May 18, 2023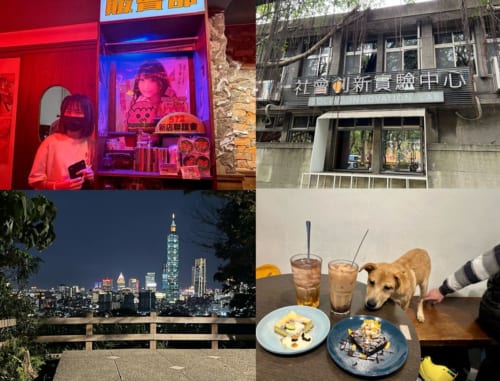 ◆Where is Taiwan?
Taiwan is located in the western Pacific Ocean, about 107 km from Japan's Yonaguni Island, with a time difference of 1-hour earlier Japan. The main languages in use are Chinese and Taiwanese Minnan. It has an area of 36,000 square kilometers, slightly smaller than Kyushu, and a population of 23.26 million (2022). The currency in use is the New Taiwan dollar ($NT).
= Table of Contents =
---
◆The First On-line Information! Serious Erotic Dining 純愛小吃部/Chunai Xiaochi Bu" (Pure Love Diner Bar)
It took about 3 and a half hours from Haneda to Taipei Songshan Airport. Taiwan is famous for its night market and food stalls. However, we first headed to "Chunai Xiaochi Bu" an 80's style eatery crowded with local young people even on a weekday night. It is located in the Gongguan area of Taipei near the National Taiwan University. An area known for many students. It has the appearance of a typical Taiwanese diner, but the glass windows are decorated with large lights spelling "純愛" (Pure Love). The interior, visible from the outside, is suspiciously illuminated in red. We enter through the door on the right.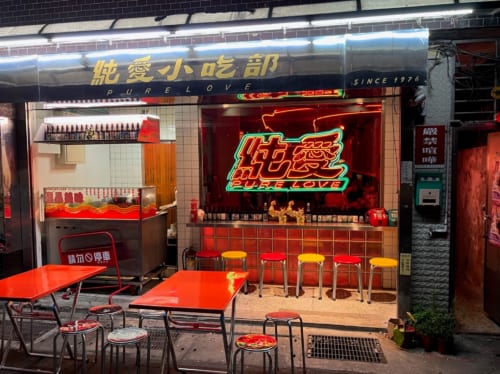 The first thing you notice as you enter are the many posters of sexy Japanese actresses. So, is this the ideal image of "pure love"? What is even more surprising is that most of the customers are young, fashionable women and couples.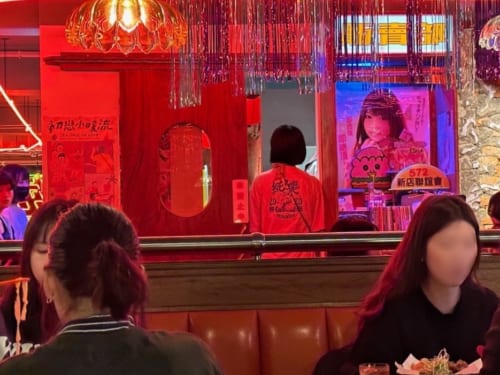 The restaurant can seat about 30 people, and we counted 22 female customers and 8 male customers, so, predominantly female. We don't see any "creepy uncle types" one would assume to be the original fans of these kinds of posters.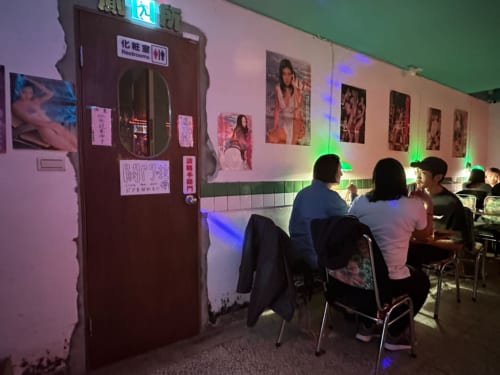 The young people enjoy their meals without appearing to be bothered by the many salacious posters, even ones we cannot include without censoring. If you don't look too closely at the interior and the food, you might get the illusion that you are in a Starbucks. The posters are unlikely to decorate a Starbucks, however.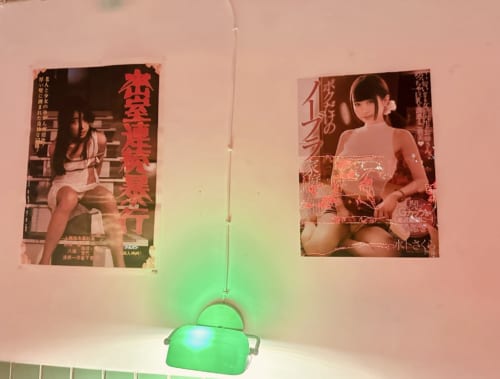 I found a corner with 80's style adult magazines and adult toys. You can browse the books, but you are not allowed to take them to your seat. Some products are for sale. The staff that explained this to me was a young, pretty woman. By the way, there is no age limit for entry.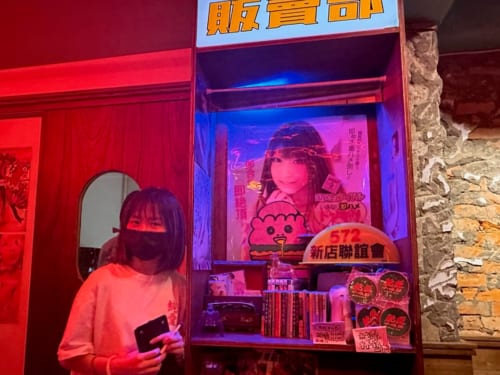 You order using a very transparent billing system that involves checking off items you want on a menu and passing it to the waiter. The cover of the menu was also quite exciting, so I covered part of it with a pen and took a picture.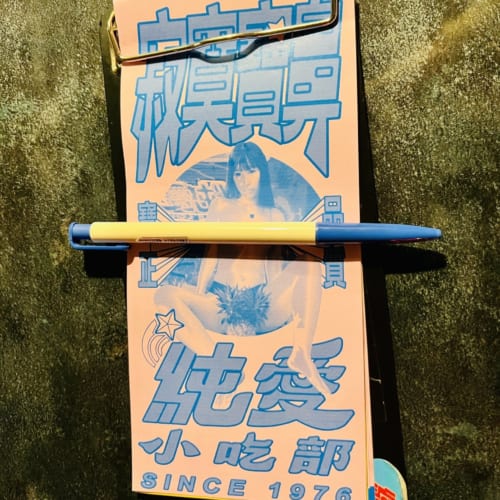 Most of the menu items are common Taiwanese dishes, but I found a 1960's Greaser style dish phonetically spelled "Aishiteru Luroufan" (愛死天流滷肉飯 means Love-You Pork Rice). I couldn't ignore it. Of course, I ordered it.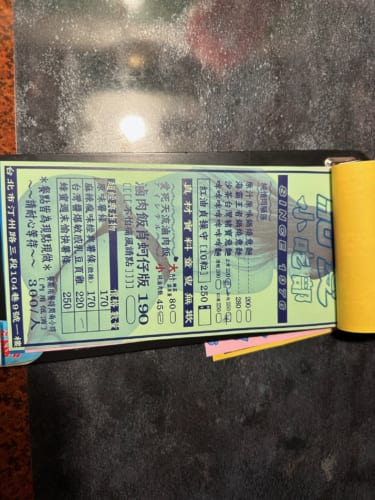 The rice topped with pork belly near the plastic bottle is "Aishiteru Luroufan" ($80 NT). It's small compared to other hearty dishes. Pure love seems to be modest. The taste was very much traditional Taiwanese Luroufan, and even though it was small, it was satisfying.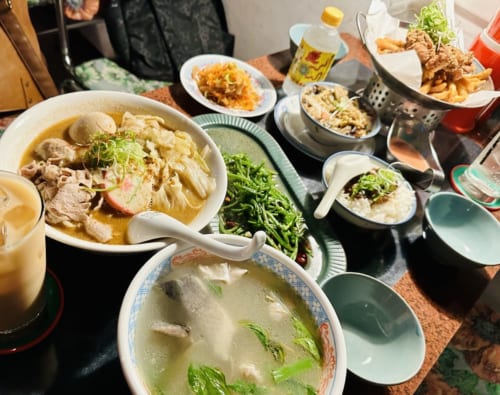 The plastic bottle with an illustration of a crying cat says "Pure Love Water" ($30 NT). It tastes like regular mineral water. Are the tears "Tears of Love"? The food is all delicious, and I think it suits the Japanese palate.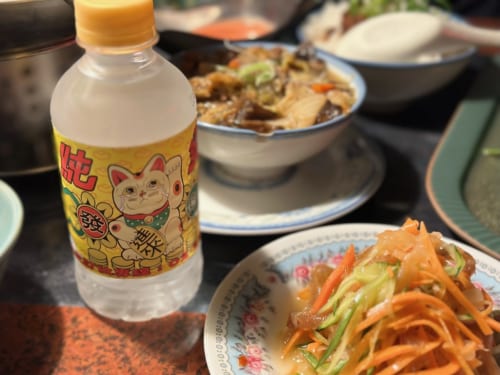 I'm off to use the restroom. It did not disappoint.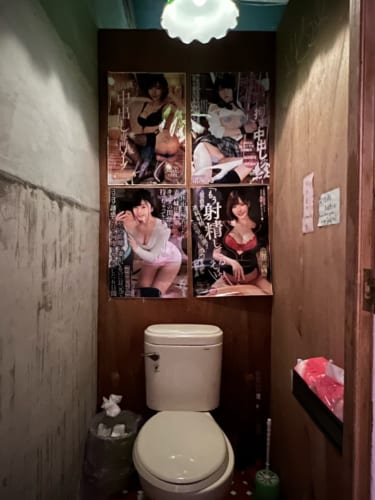 The oddity of eating local Taiwanese cuisine surrounded by exciting erotic images is confusing at first, but somehow, I got used to it by the time we left.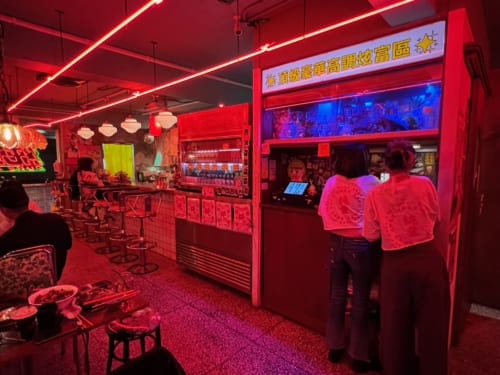 By the way, where did the concept for "Chunai Xiaochi Bu" come from?
When we asked Ms.Kou, an old friend of the expedition team, and a Taiwanese, we learned that the idea behind the restaurant was "women's sexual liberation." You wouldn't think from its shady interior, but it's a serious erotic diner with cultural, social, and political overtones, which young women can enjoy in peace. It was also understandable that it is located in Gongguan, the seat of the National Taiwan University.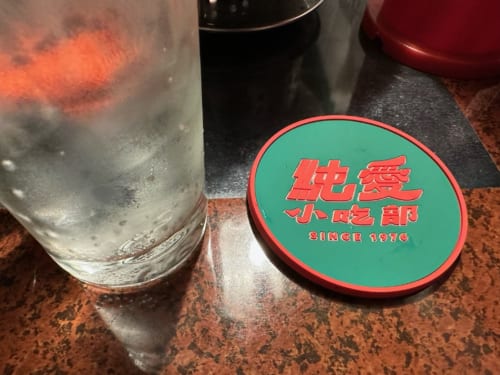 ---
◆A Super Secret Place to see the Night View
Having received local information that Fuyang Eco Park is a top-secret spot to see the night view of Taipei, we hailed a taxi to go to the park and meet our guide Ms.Kou. "I've never heard of Fuyang Eco Park." the taxi driver said, "What's the address?" We gave him the address, but he said he "got lost" on the way, so we asked him to just drop us off near there. We're not sure if it was really so secret that he had never heard of it, or if it was just a taxi scam. Fuyang Eco Park is just a 5-minute walk from MRT Linguang Station, so it's probably best to take the subway.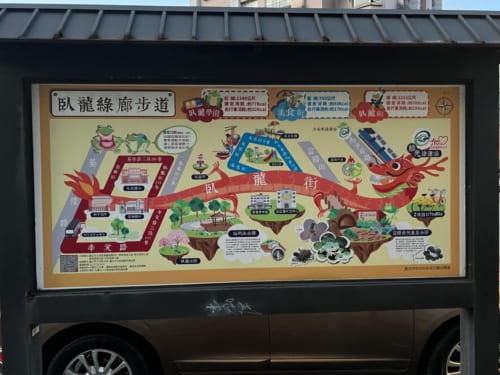 At 17:30 we arrive at Fuyang Eco Park. It's getting dark. Fireflies can be seen in this park from April to October, so all street lights are turned off to protect the natural environment.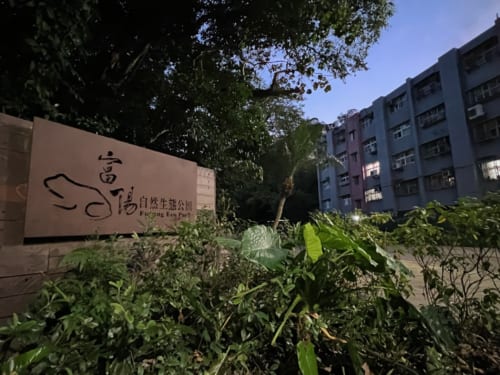 We heard that peak of Mt.Fuzhou in the park is a little-known night view spot. Will we really be able to see a beautiful night view after climbing for about 20 minutes? We start climbing the mountain to find out.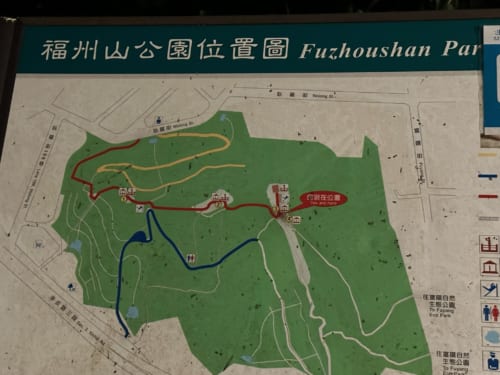 A former air-raid shelter near the park entrance.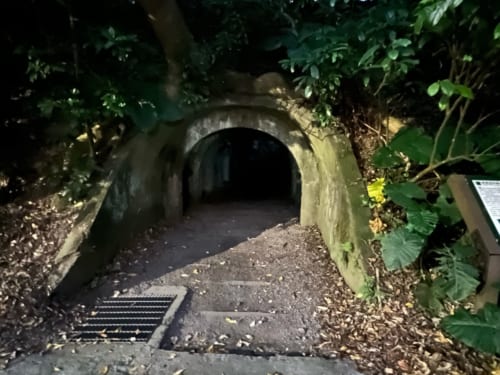 The lights of the city quickly fade away and we are sucked into the darkness. It's like being in a deep forest.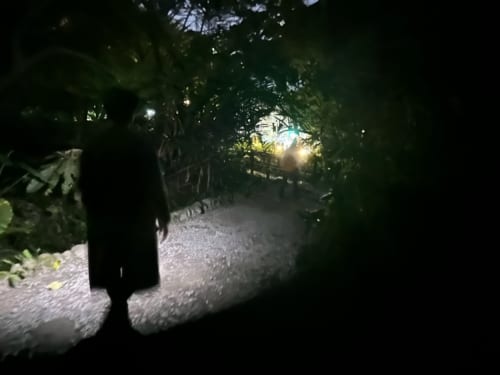 Without our cell phone lights, it would have been pitch black. The expedition team would have been seriously anxious without Ms.Kou as our guide.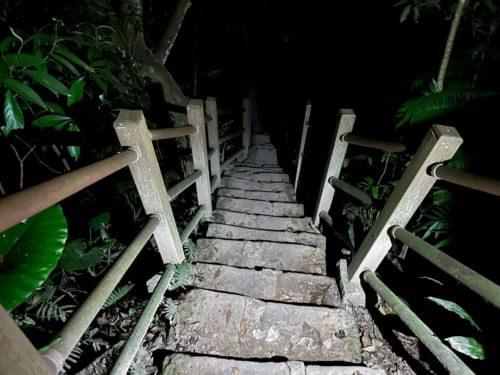 In the darkness, we keep climbing the steep trail, gasping for breath. There were stairs in some places. We heard that Taiwanese people also say a greeting like "Nihao!" when passing strangers in the mountains, which we also do in Japan. However, we didn't pass a soul. And there were no fireflies because it was March. After 20 minutes of climbing, something came into view through the darkness.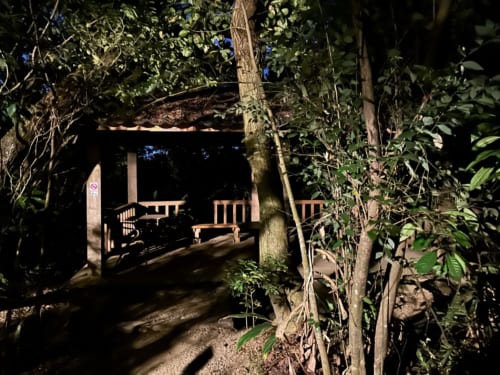 We had finally arrived at the top on Mt.Fuzhou. Surprise, surprise, no one is here.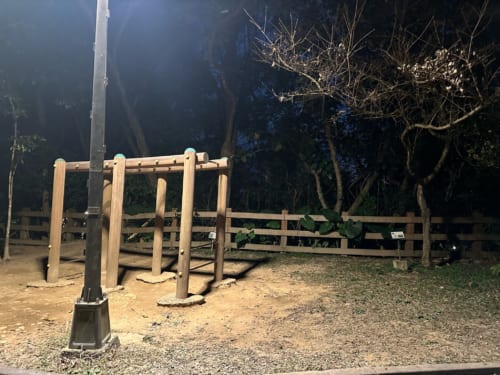 Then ……at 17:50, we reach the spot where we can enjoy a panoramic view of Taipei!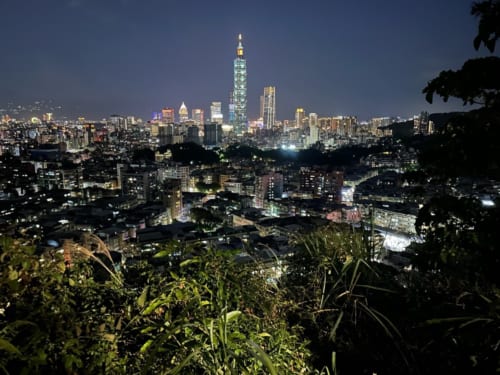 It feels like the lights of the Taipei 101 Tower are beaming praise at us. If you can have this night view all to yourself, isn't it worth a 20-minute climb in the dark? Incidentally, it seems that the locals come here for a walk when it is still light out or when fireflies can be seen, but it doesn't seem like it is ever crowded with tourists, so I would say that it is a super-secret spot.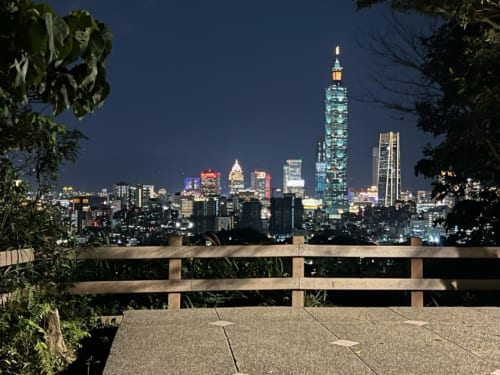 On the way down the mountain, I heard a sad melody drifting out of nowhere. The sound seemed to be coming from far away. I listened carefully and found it to be "Für Elise". Who on earth would be playing "Für Elise" so loudly at this hour and for what purpose? When I asked Mr.Kou, he told me that it was the melody played by garbage trucks. Everyone who lives in Taipei knows that they pass through each neighborhood of the city five nights a week. Since Taiwan is hot throughout the year, there are no garbage dumps like in Japan, and people carry their garbage to the garbage trucks on their own. This is really different from how it's done in Japan.
A garbage truck playing a mournful tune
---
◆A Yummy Cafe Where You Can Mingle with Shelter Dogs and Cats
Taiwanese people are very kind to animals. A café that symbolizes this is the "浪浪別哭/Lang Lang Bie Ku" (Pet Halfway House & Cafe) shelter dog and cat café, where you can meet both dogs and cats in the same place, something that is unusual in Japan. This café has a few hurdles to jump before you can enter, so we will explain briefly.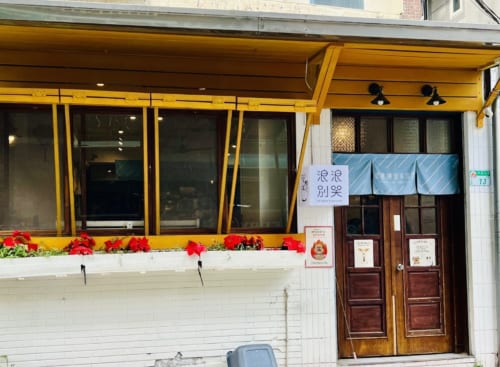 First of all, when you enter, there a set of double doors, and you can't go inside without permission. On the wall to the left there is a notice with an QR code, you can scan this with your phone, after which you will see a form (English is available) where you need to enter your name etc. Then you wait. You should never open the inner door on your own, and before leaving you need to inform the staff.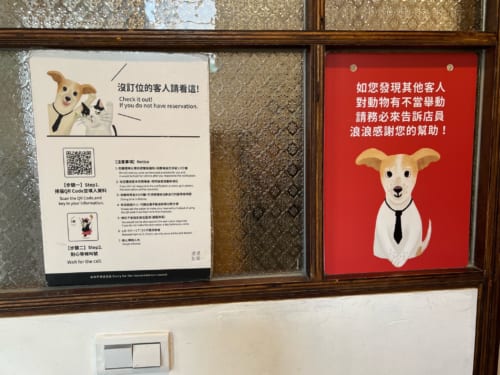 When your turn comes, the staff will call your name and you can enter.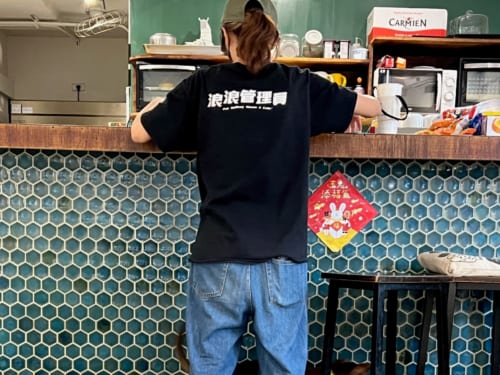 After getting permission and entering the cafe, you will first see the dog area. Friendly and adorable dogs roam freely around the cafe. There are also puppies.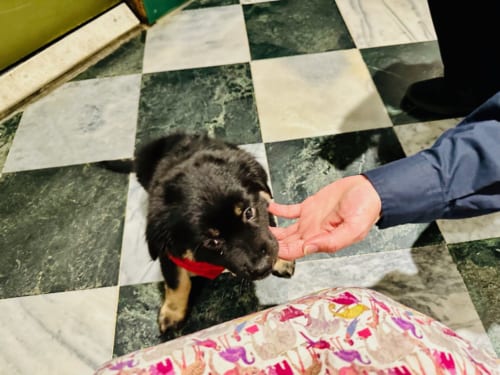 The menu is extensive, from full meals like pasta dishes to drinks and sweets. These kinds of fancy items on the menu are not the norm among pet cafes in Japan.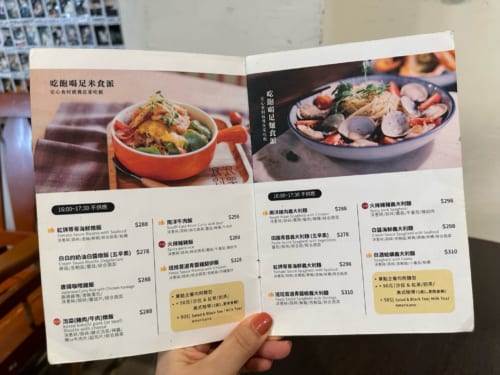 Since it was tea time when we went, we ordered a cheesecake for $158 NT and a chocolate cake with ice cream for $178 NT. Both cakes looked beautiful and were delicious and delectable.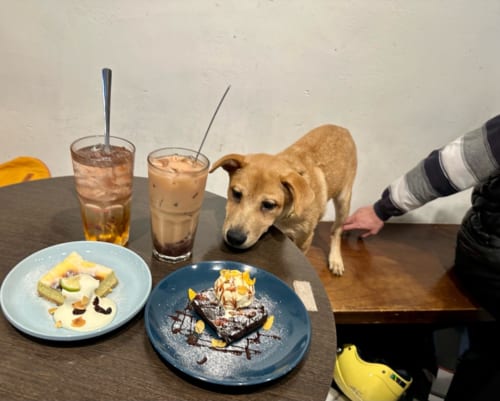 The best part is that you can eat while playing with these adorable dogs.
Next, for the cat lovers. The cat area is in the back. There is a partition, but it seems like the cats are waiting for us who can come and go freely from the dog area.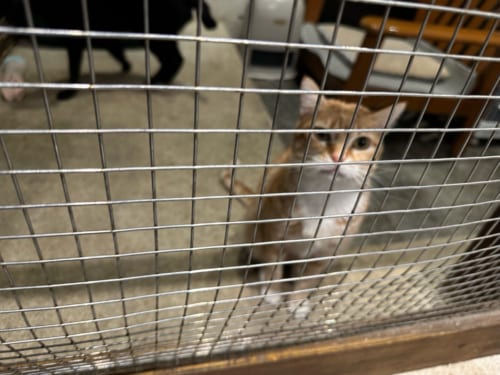 There were many customers in the cat area, but they were all just quietly eating while watching the cats. Incidentally, there were 8 guests in the dog area and 12 in the cat area. Perhaps it was just a coincidence, but there seemed to be slightly more cat people there.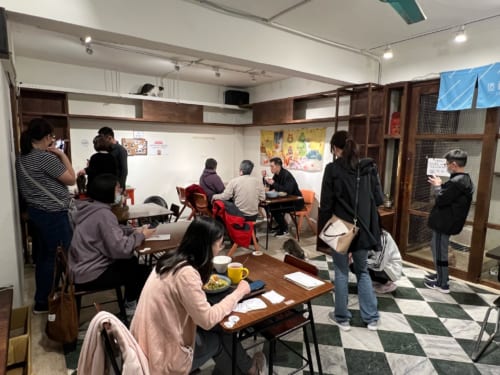 A cat looking down at people eating. This one suddenly flew up and scratched my arm, but it was playful, so no problem. Always be careful of cats though.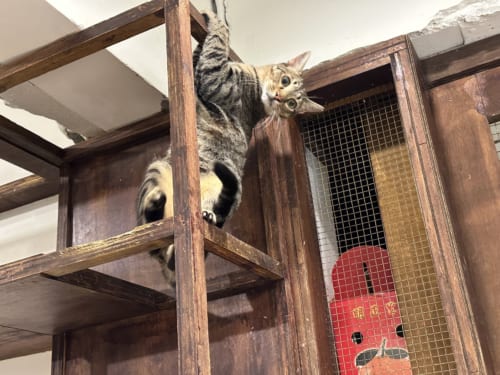 There was an explanation about "sakura-mimi" written in Japanese on the door of the restroom. Sakura-mimi (Cherry blossom ears) is a way to mark feral cats that are monitored and cared for. Interlink supports shelter cat activity groups as part of its social contribution activities.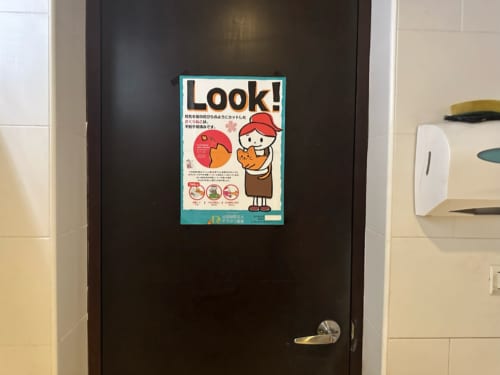 The walls are covered with photos of the many shelter dogs and cats that have found families here.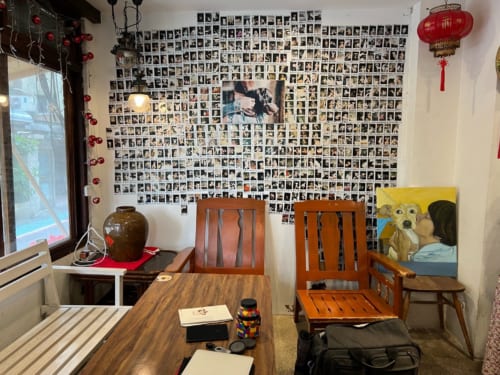 All of them have the last name "浪" Lang (meaning: wander), which is the name of the store. We wish happy days for all the little Wanderers who found their forever homes from here.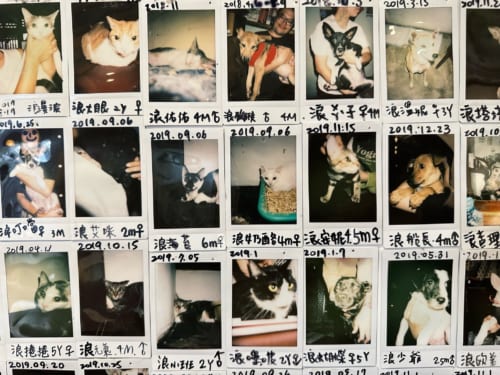 ---
◆The Morning Market an Easy Walk from Our Cute Inn and Food in Taiwan
1)門草行旅(The Door Inn)
1) "門草行旅/Mencao Xinglu"(The Door Inn)
We stayed at a very cute guest house called "The Door Inn" on Dihua Street, known for its old-style buildings. It's an old building renovated to be a hostel.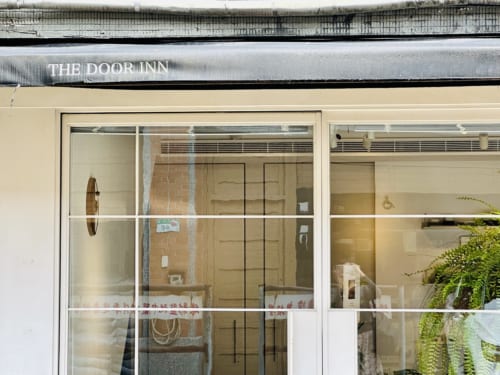 The first floor, filled with ornamental plants, is a kind of free space. A staff member was working alone. The atmosphere is very relaxed.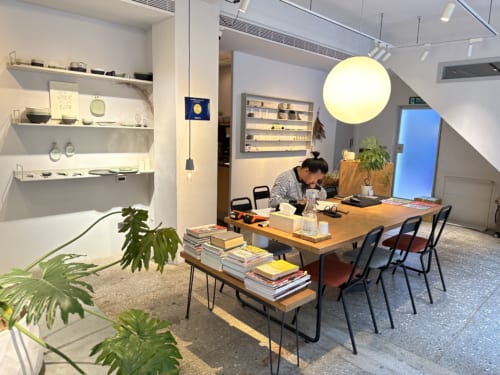 The rooms are compact enough to accommodate one person, and there are flowers placed on the washbasin that give off a fresh scent. There are also double rooms, but this place mostly welcomes single guests.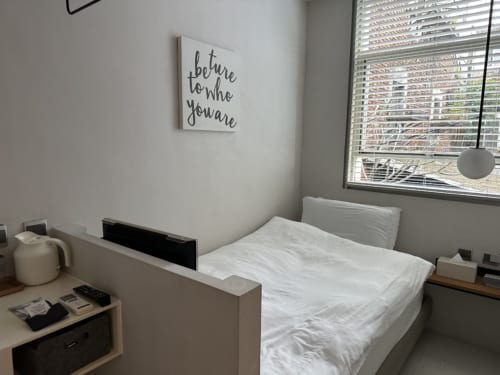 All guests can go relax on the 4th floor balcony and enjoy the old Taipei cityscape.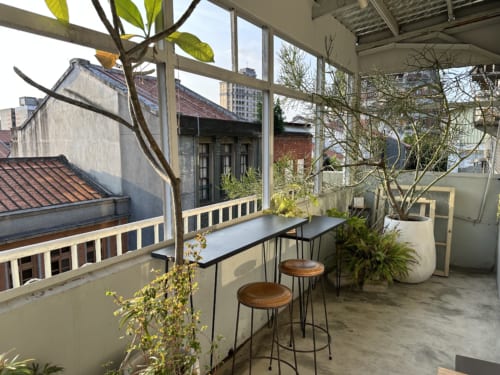 One thing to note, however, is that there is no elevator. There are only narrow staircases. You will have to carry your own luggage, so we recommend that only those who are physically fit and want to flex their muscles should bring heavy suitcases.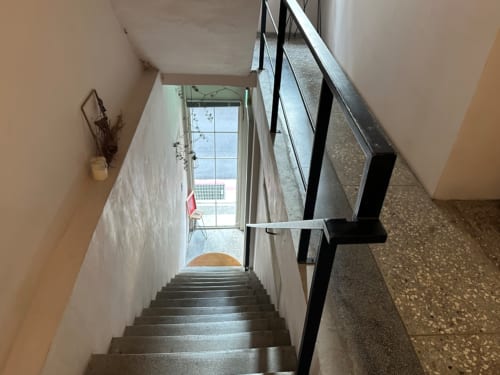 2)Morning Market at "大稻埕慈聖宮"(Dadaocheng Cisheng Temple) 
About a 7-minute walk from The Door Inn, you will find "大稻埕慈聖宮"(Dadaocheng Cisheng Temple) morning market, a favorite among locals. Food stalls line the approach to the temple, and many people dine under the giant Chinese Banyan tree in the temple courtyard. The local atmosphere is charming.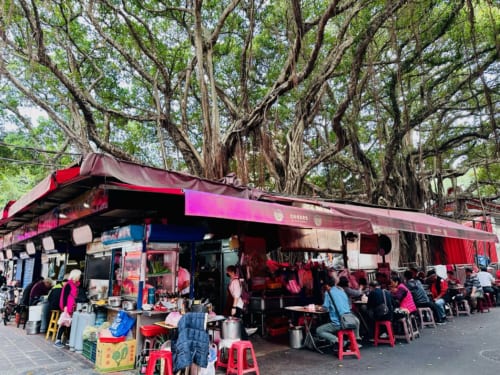 When I asked an elderly couple if I could take a picture of the food they were eating, they readily agreed. They even offered me some and tried to give me chopsticks. Taiwanese people are very kind. Eating heartily in the morning is probably the secret to a long life.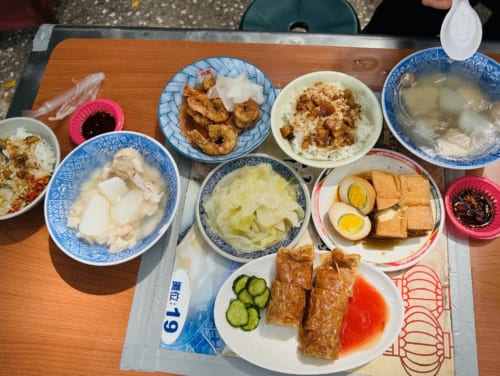 With so many stalls I don't know which to pick. I decided on "Zhu Jiaomian Xian" (Pork Leg with Vermicelli) $120 NT (about 528 yen). In Taiwan, this character "豬" means pig, not wild boar as it does in Japanese. As a side note, according to the Chinese zodiac, the year of the boar in China is the year of the pig in Taiwan.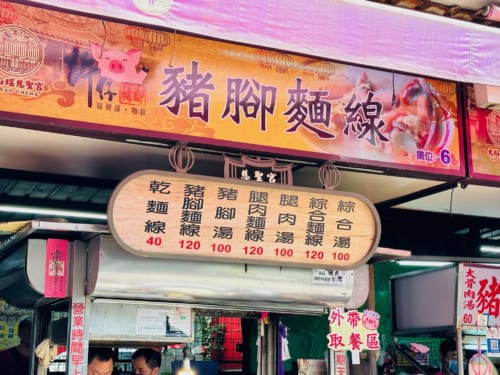 The Pork leg with Vermicelli is full of pork meat, accented with ginger, and is both delicious and without any gamy smells. The noodles are soft and full of collagen. As soon as I ate them, I could feel my wrinkles smoothing out.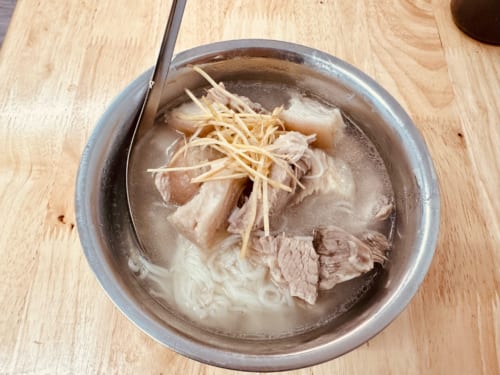 As I was immersed in all this good old-fashioned nostalgia, like I had traveled back in time, I suddenly spotted an Uber Eats motorcycle. It seems that this is a modern society after all. And there were two tall young men kissing passionately in front of the temple, but no one paid any attention. This is also very modern.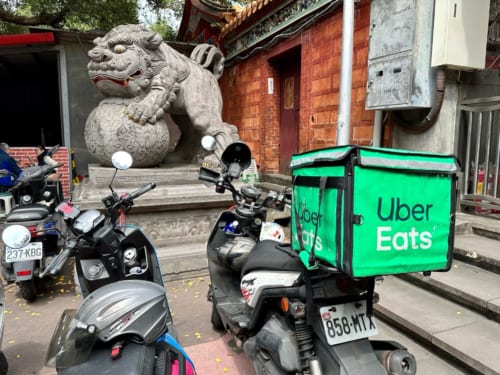 ---
◆Open to the Public, the Lab of Audrey Tang, Minister of Digital Affairs
It's easy to forget that Interlink, source of the Domain Expedition, is an IT company. In Japan, Taiwan is well known for its Minister of Digital Affairs; Audrey Tang. We were told that anyone can enter and visit her Social Innovation Lab, so we decided to go and take a look.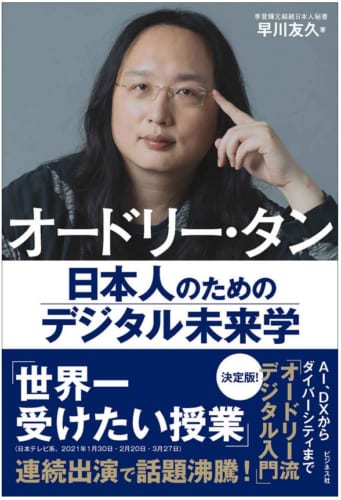 On the way there, we found a parking lot with Tesla Wall Connectors. When Tesla was just getting started, it procured parts for its electric vehicles here in Taiwan, and it seems that Taiwan supported the original growth of Tesla's technology.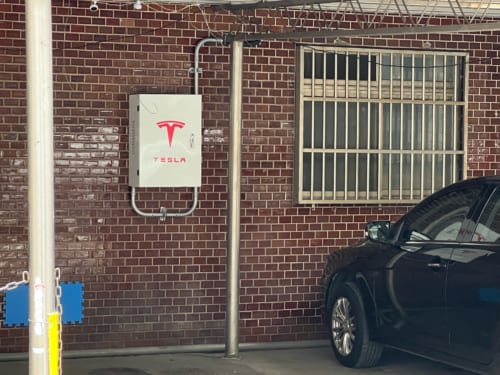 We arrive at the lab on Ren'ai Street, Taipei.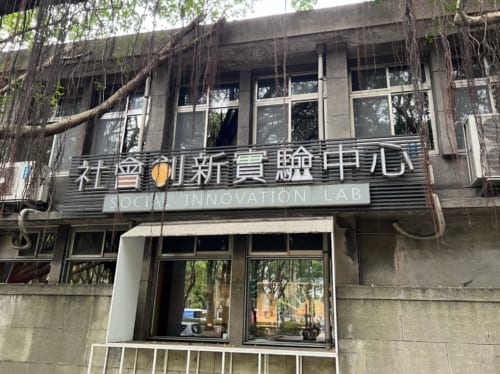 Minister Tang herself has stated publicly, "If you come to Taipei, please stop by," anyone can wander right into the lab building. There's an open feel, with an atrium that goes up to the second floor.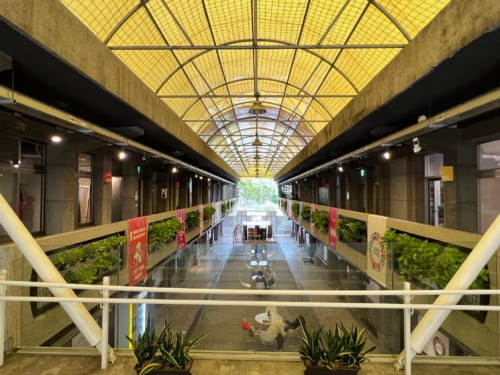 This building started as an industrial research institute during the Japanese colonial period and was an air force base for the ROC afterwards. Instead of being sold to a private company, it was reclaimed by the government and by 2016 was used jointly by Taiwan's Ministry of Culture and Ministry of Economic Affairs, etc. It has since been transformed into a "Social Innovation Lab" open to anyone with a creative project.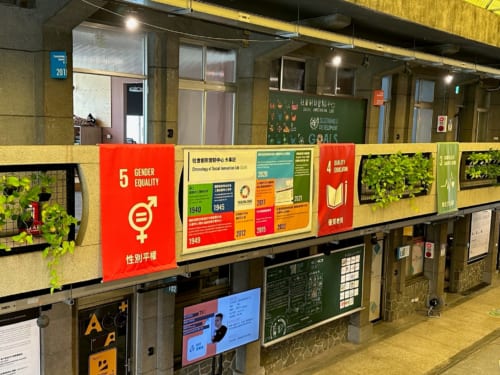 While you need to make a reservation in advance to meet Minister Tang, the lab itself is open to the public. It provides a place for young innovative social entrepreneurs to gather, and is often used as a venue for various seminars, exhibitions, cooking classes, forums on SDGs, etc. I got the impression of an old, historic building being used in a new and flexible way. Anyway, the whole place is spacious and pleasant.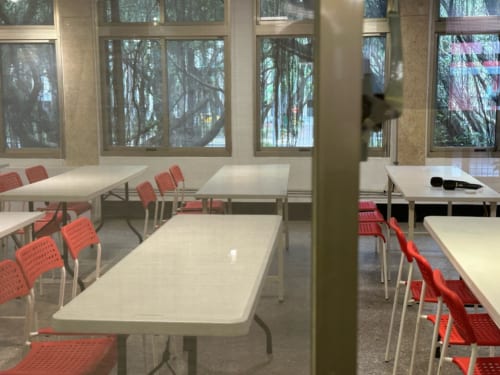 We got there at noon, and it seems like everyone went out to eat.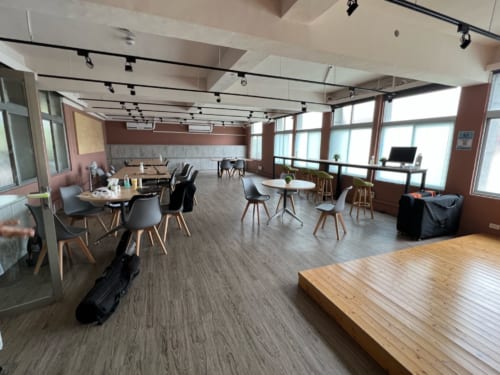 It feels like a simple modern art museum.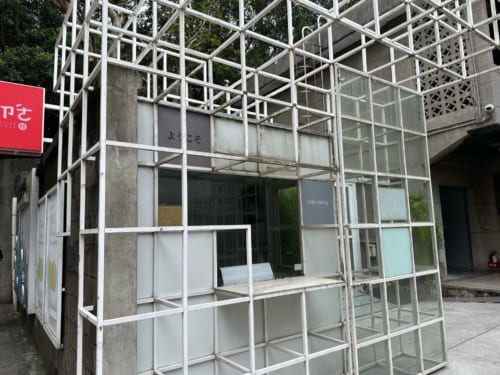 There are 15 rooms in the two-story building.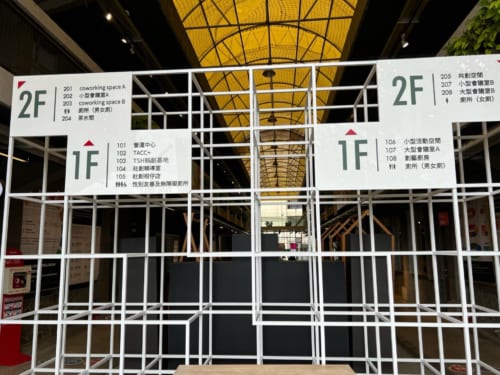 The entire building is in harmony with nature.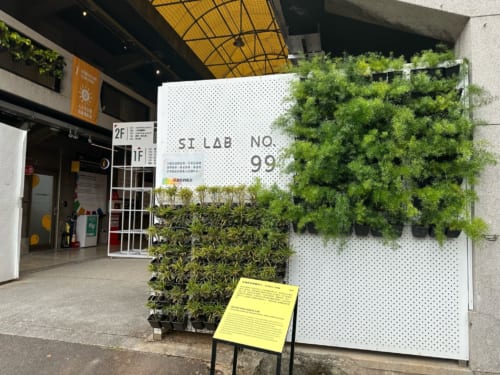 When I opened the environmental regeneration box that was installed there, I found a banana in it.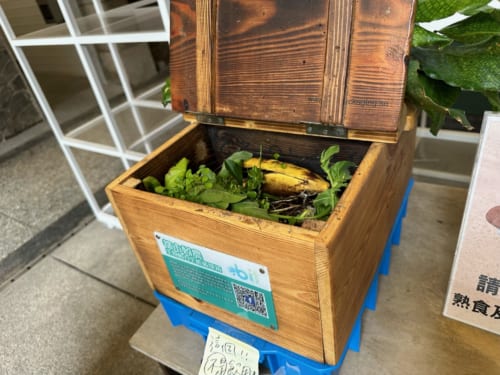 Audrey Tang became a government minister at the young age of 35, and is considered one of the 10 greatest programmers in Taiwan. For this reason, I expected the lab to have a large display of her photographs and achievements, but there is none of that. It was more like a free space where you could see that Minister Tang is a supporter of the people by providing this comfortable lab. She is said to be a very humorous minister. So, this is where new innovations in Taiwan are born.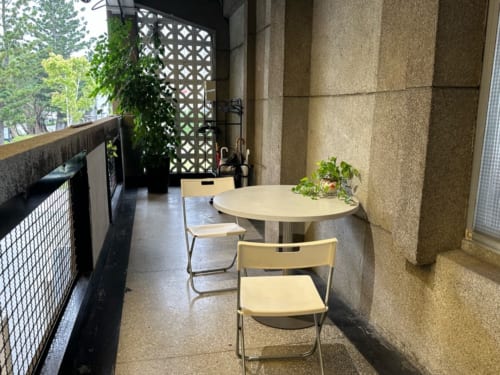 ---
◆Finding ".tw" Around Town
In addition to the ccTLD ".tw", Taiwan also has the IDN (Internationalized Domain Name) ccTLD ".台灣" and the gTLD ".taipei" for Taipei. However, in Taiwan, many shops use Facebook addresses, so it was almost impossible to see these domains on the street.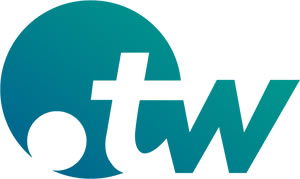 "九乘九購物網"(9×9 Stationery), which sells office supplies.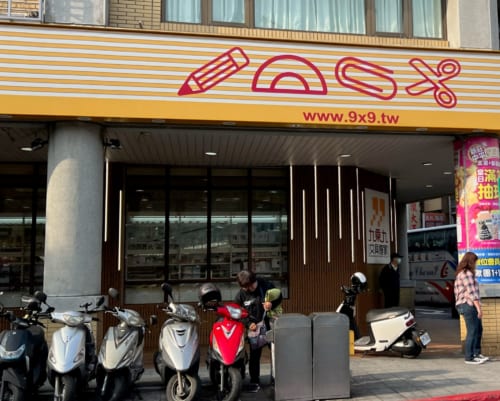 "跳蚤本鋪"(BBbobo) is a flea market. It looks like they are closed today.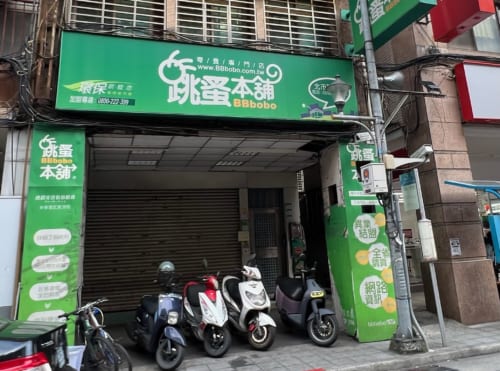 ---
◆How to Purchase a SIM & Test the Internet Speed
The Airalo eSIM Taiwan data plan, which I had arranged in advance, didn't connect, so I purchased a Chunghwa Telecom SIM at Taipei Songshan Airport. The local clerk carefully switched the SIM on the spot.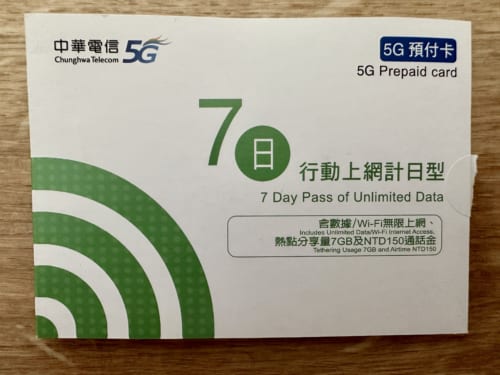 It was 7 days, 5GB, $800 NT. The speed was 20 Mbps when measured in the Gongguan area of Taipei City.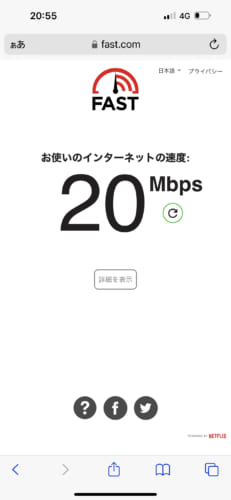 ---
■List of Places Visited
■For access to Taiwan click here
■For ".tw" domain details

click here