The Domain Island Tour has finally resumed after two years and two months, since being suspended in 2020 due to the COVID-19 pandemic. My first stop back on the road – Jersey Island. While mostly known for its Jersey milk and for being the birthplace of the sports jersey, let's learn all about Jersey's little-known attractions through Interlink's Domain expedition. The ccTLD (country code top level domain) for Jersey is ".je".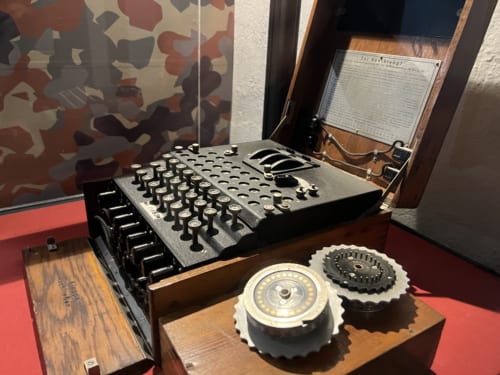 ◆Where is Jersey?
Located approximately 160 km south of the British mainland and 22 km from France, Jersey is a British Royal Territory. With an area of 116 km², it is about 1.5 times the size of the inner JR Yamanote Line and is the largest island in the Channel Islands. Because of how close France is, French is spoken in addition to English and Jèrriais, the traditional language of Jersey. It can be reached by propeller plane from London in about one hour, or by ferry from Carteret or Granville in France. The local currency is pound sterling or the Jersey pound.
= Table of Contents =
---
◆Encountering the Aurora!
First, I took a late-night flight to London, which departed Haneda Airport at 23:35. The flight takes 15 hours and 40 minutes, 3 hours longer than usual, as it takes a northern route through the Arctic Circle due to the situation in Russia. On board the airplane, I passed the time watching movies, etc. As we entered the Arctic Circle, you could look outside and see the Northern Lights! The captain of the Domain Expedition, who has bitter memories of not seeing any aurora on a Northern Lights Tour in Scandinavia, was very impressed! The Arctic Circle flight route is not so bad after all.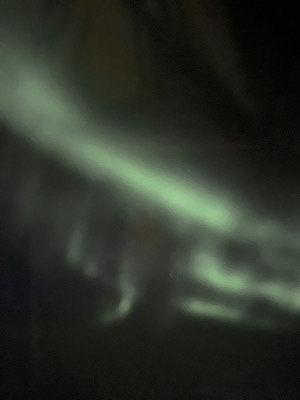 ---
◆Chaotic Heathrow Airport
We land at 6:30am, almost perfectly on time. On arrival at Heathrow, I transfer from Terminals 3 to 5 for immigration and a security check, feeling sure that there's plenty of time before catching to the 7:55am flight to Jersey.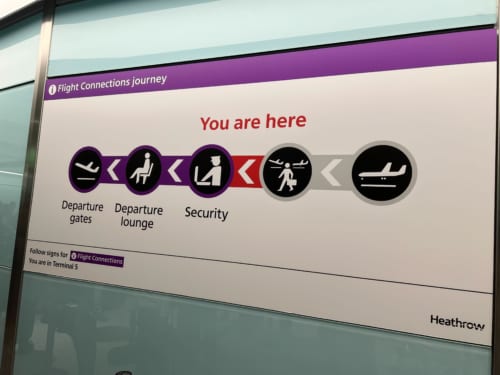 However, there were very long queues at the Immigration checkpoints. It ended up taking much longer than expected, partly due to the airport staff's poor handling of the situation. There are automatic gates, but they don't work as smoothly as in Japan. After finally clearing immigration, I go through security. Strict security checks are carried out here too, and the queue moves slowly. I now fear not just barely making the flight, but missing it entirely. I tried talking to the airport staff but they didn't take the situation seriously, only replying that I'd make it in time. Time is slipping away and I am getting impatient.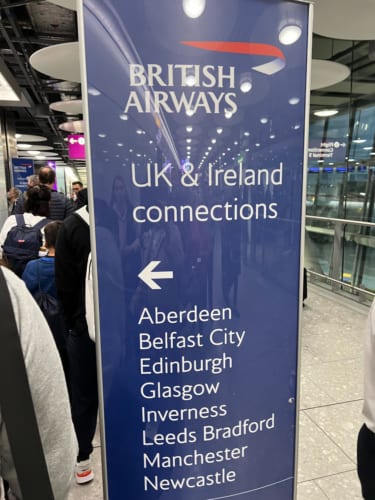 Finally, I get through security and dash to the gate. However, there is already nobody left at the gate. Boarding had closed. After explaining my situation to the staff at the gate, I was directed to the British Airways service counter. The service counter area was full of people like myself who had missed their flight. In the end, I was able to rebook a flight for 12:05pm.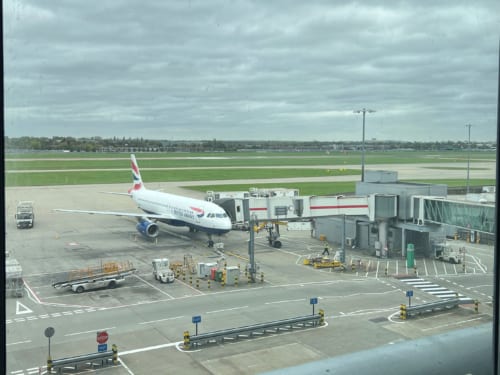 ---
◆Trouble in Transit
Since I was originally scheduled to catch a 7:55am flight, it meant I ended up spending 4 hours in the British Airways lounge before going to the departure gate for Jersey.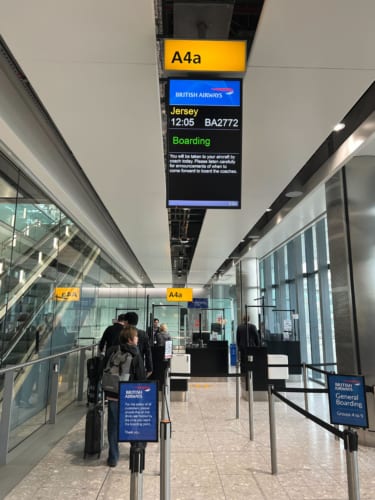 However, after presenting my boarding pass and passport, the airport staff started discussing something amongst themselves with serious looks on their faces. Apparently, there were two problems. First, no immigration history could be found and second, I had been processed as having already boarded the 7:55am flight to Jersey. In both cases, the fault was on the part of the airport staff, but still, they would not let me board the plane. If I missed this flight, I wouldn't be able to go to Jersey and all my plans would be ruined!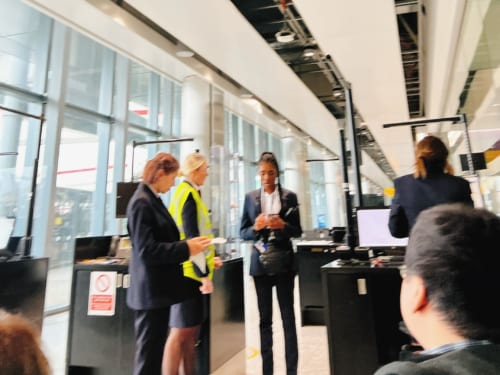 Just as I was about to give up and reschedule, one of the staff members gave me permission to board, saying, "Have your photo taken and then you can board the plane." When I finally boarded, one of the male passengers gave me a wink. Looking around the cabin, I see that it's full of the same people who had missed the earlier flight. Having all been through the same trouble, there was a feeling of camaraderie among us.
---
◆Local Rugby Team Stadiums
Arriving in Jersey more than 4 hours later than scheduled, I have only 3 hours left to explore.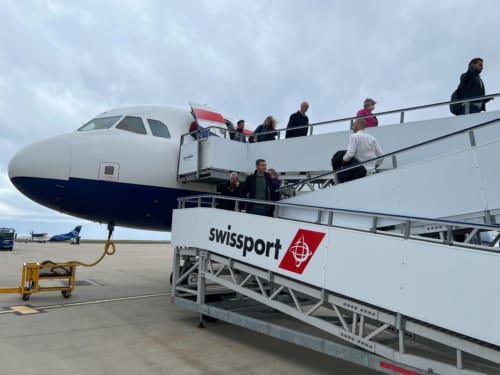 So, I decided to hire a taxi. My driver is James, who emigrated from Liverpool in England 40 years ago. Apparently, a lot of people like him leave the busy British life behind and move to the laid-back Channel Islands.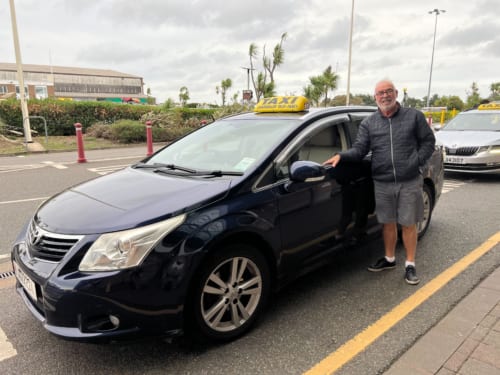 We drive for 5 minutes. There is a stadium located not far from the airport. What kind of stadium is it?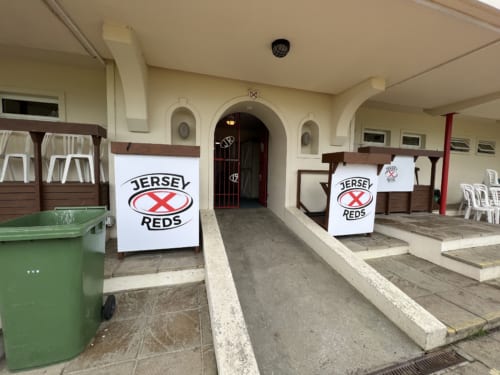 A ticket counter. There's no one here. You can see "JERSEYREDS.JE" written at the bottom.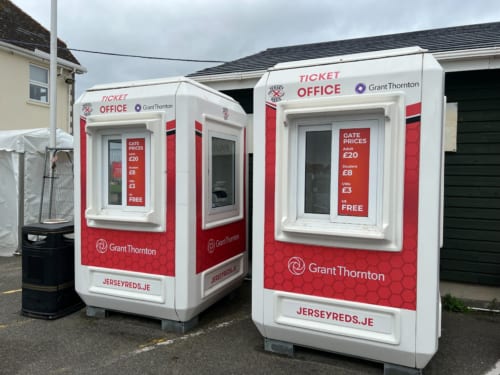 Maybe it has something to do with rugby?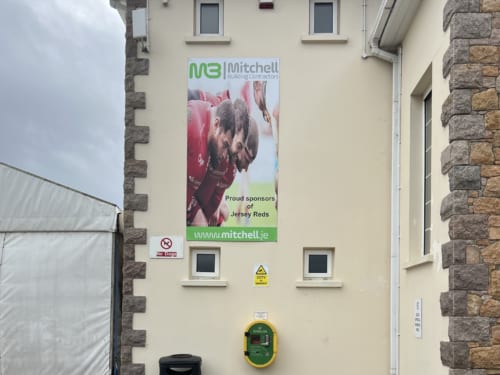 I go into the office and finding a man there, ask him what kind of stadium it is. It turns out to be the stadium of the local rugby team, the Jersey Reds. And he was the team manager. "No one is here today, but I'll show you around", he says, and gives me a special tour of the place. At Domain Island Tours, we basically check out places without making prior appointments. As we restart our tours, we'll continue to do things this way.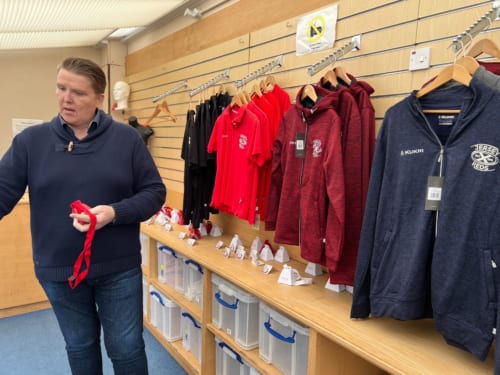 First, the grounds. It's the club's day off, so none of the players are around.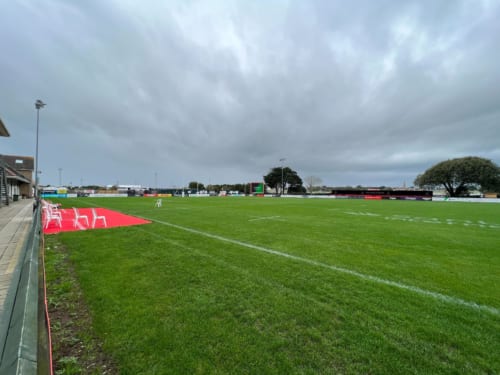 Next, we go into the clubhouse. Although not well known in Japan, the Jersey Reds are a historic team, founded in 1879, and the week after my visit, the former head coach of the Japan rugby team, Eddie Jones was scheduled to visit.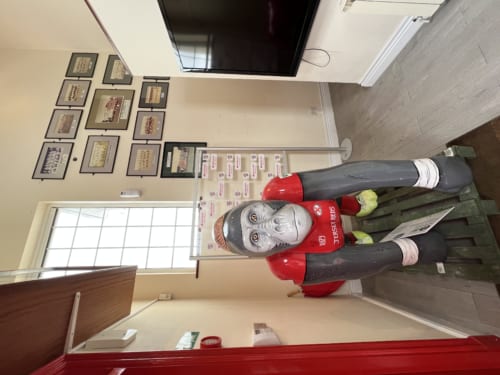 At the end of the tour, I received a pin and a badge from the Jersey Reds merchandise line. Thank you for your kindness, Jersey Reds manager, even on your day off!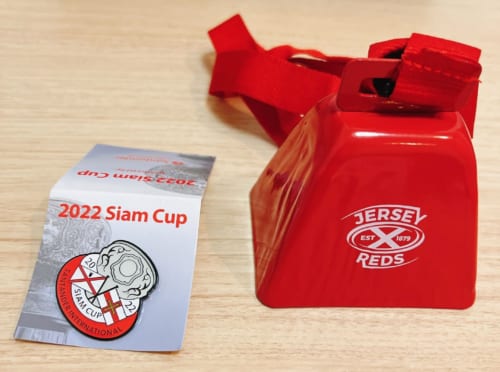 ---
◆Jersey War Tunnels – see the Nazi code machine "Enigma".
Let's head inland. On the way, there is a peaceful farm with Jersey cows.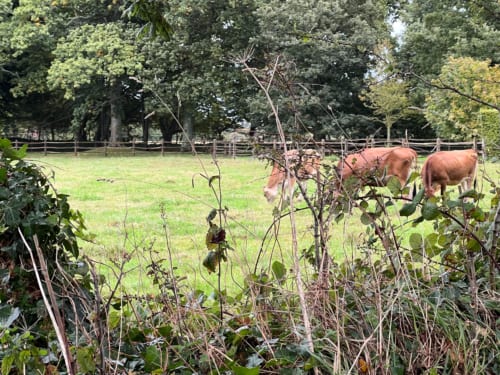 Jersey has many narrow roads. There are also many speed bumps.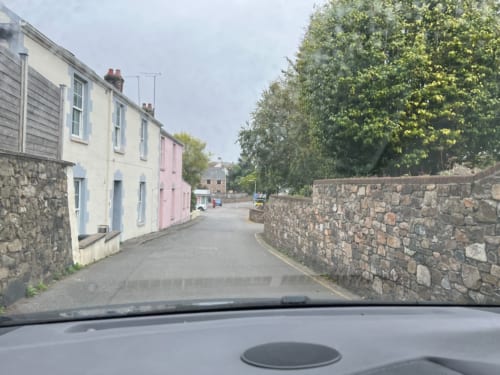 I've reached the Jersey War Tunnels. The Jersey War Tunnels are underground tunnels dug initially to be used as armoury and barracks, then converted into a hospital by the Nazis, and now a museum which displays the scars of war.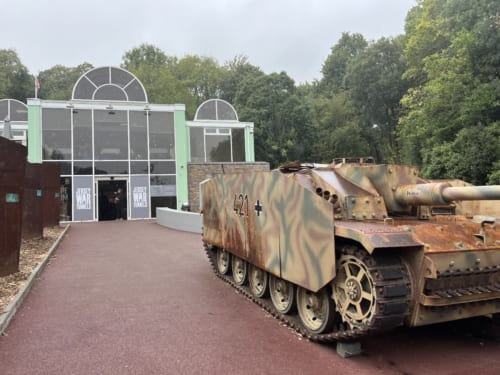 I buy a ticket. It costs £16.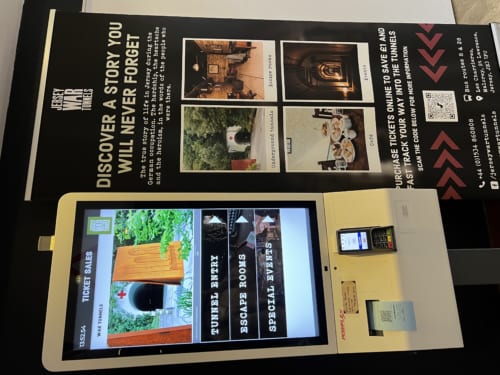 Many videos, photos, artifacts and documents tell the story of how tragic life became in Jersey under German occupation.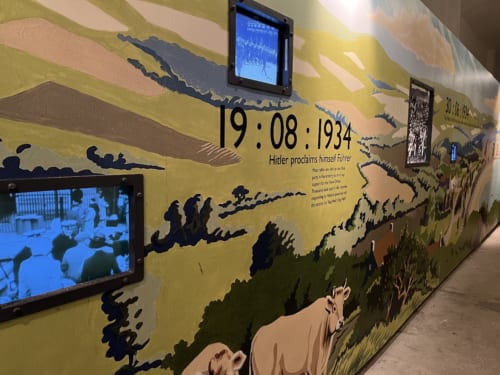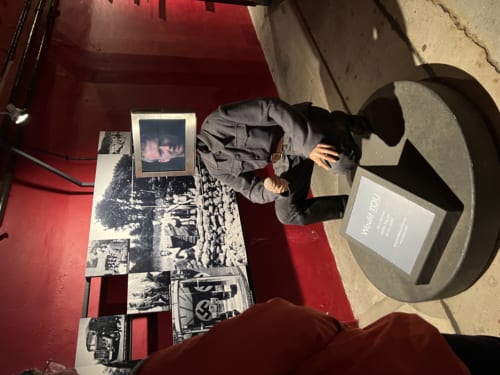 Projector and communication room used by the Germans.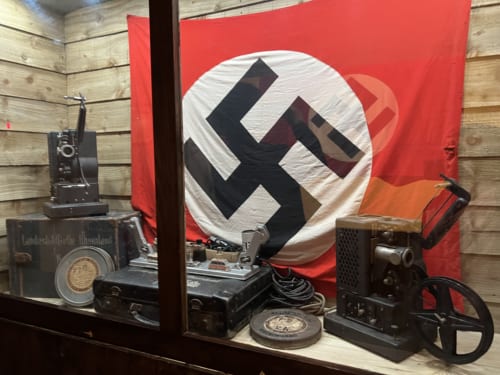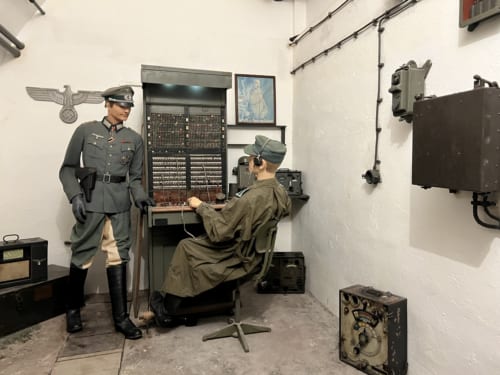 Gas masks, too.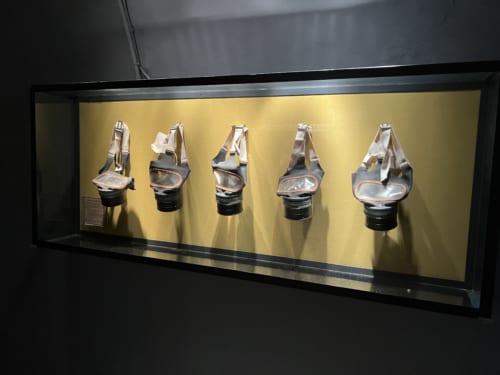 I come across the Nazi code machine "Enigma". It's not a reconstruction but the actual machine used at the time. The Enigma was a code machine used by the German military to encrypt radio messages, a state-of-the-art device at the time. It is said to have created one of the world's strongest encryption keys.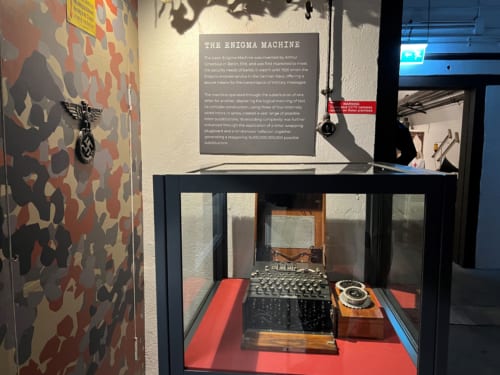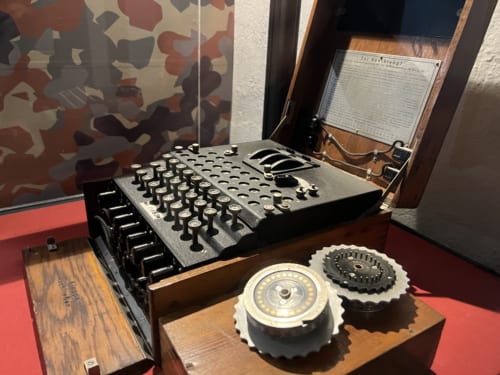 The tunnel is more than 1km in length. Some of it was unfinished and had to be dug out. The excavation work was carried out by prisoners of war taken from Russia, France, Ukraine and other parts of Europe.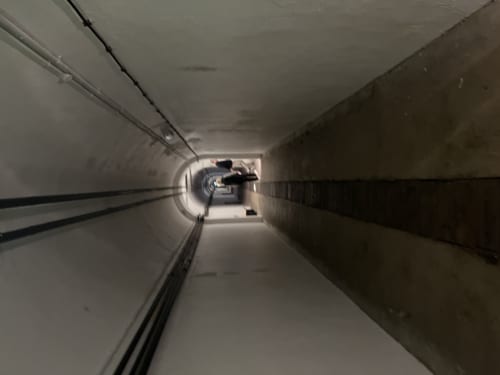 ---
◆Mechanical Heritage Museum for Car Enthusiasts and the Disappointing Jersey Zoo
I'm running out of time. My hurried destination is the Pallot Heritage Steam Museum, a mechanical heritage museum opened in 1990 in the Parish of Trinity.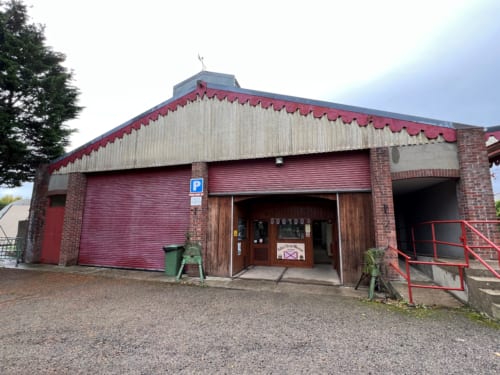 The museum displays farm machinery, steam locomotives and other items used on the island of Jersey and collected by Lyndon Charles Pallot, who was born and raised in the Parish of Trinity. There is also a 1923 model of the famous Model T Ford, the car that made Ford what it is today.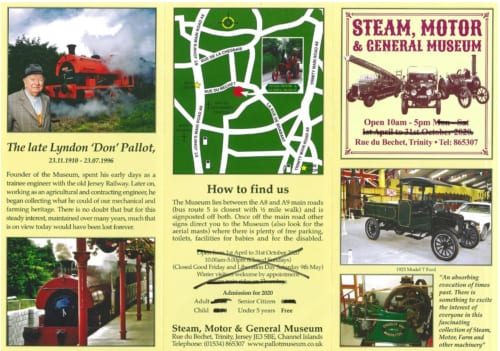 Mr Pallot was a brilliant engineer who invented tools that made life easier for Jersey farmers, leading him to become a local favorite, known as "Don". Admission costs £8. Let's take a look inside.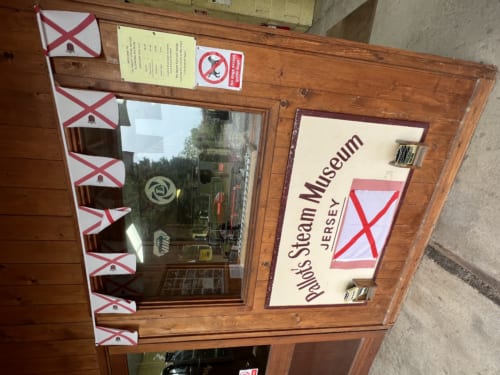 Once inside, it's the many well-preserved classic cars that are particularly eye-catching!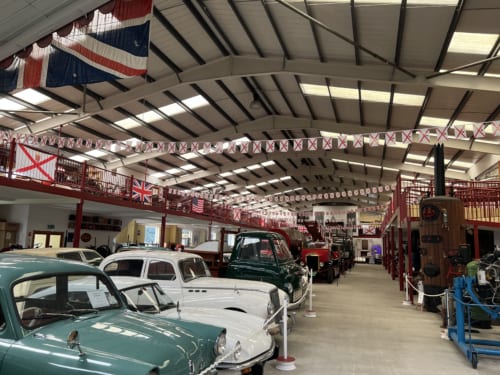 Old ladder truck with barrel.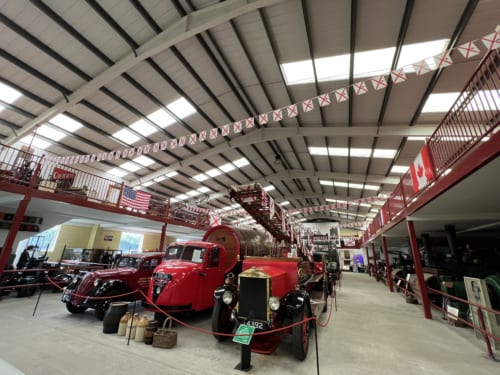 Some of the cars held their car inspection certificate until this summer. Some of the exhibits are available for sale or on long-term loan.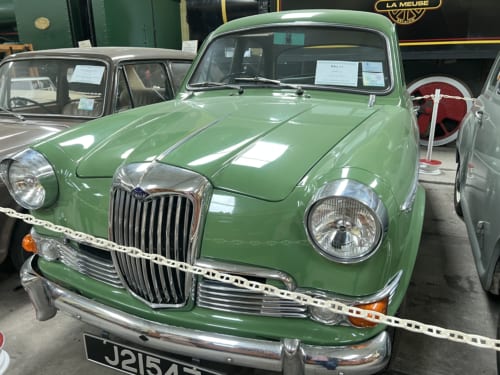 A locomotive was also on display.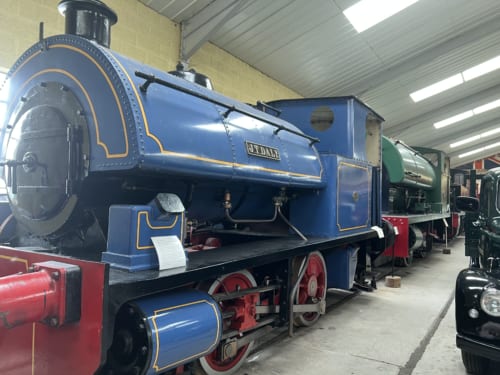 In the car repair shop next door, there was a car with the word "Skyline" written in Japanese Katakana.
Perhaps it's waiting to be repaired?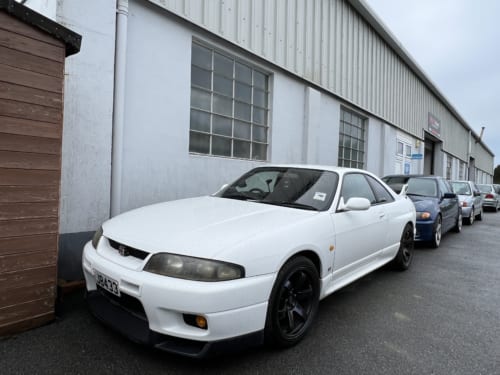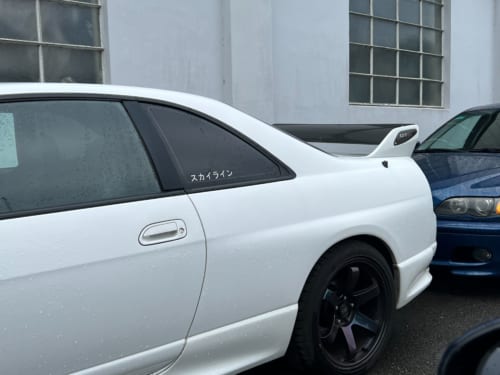 I left the Mechanical Heritage Museum, which you could spend hours in, and headed to the Jersey Zoo.
It had been raining on and off since the start of my expedition.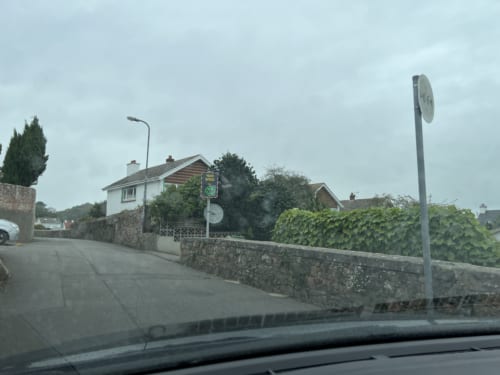 I arrive at Jersey Zoo. The zoo protects various endangered species with the goal of returning them to the wild, and they have a breeding program for rare animals. They were able to successfully breed a black lion tamarin in 1990, and again in 2022 they welcomed another baby. What animals will I see? I'm getting excited with anticipation. Admission is £18.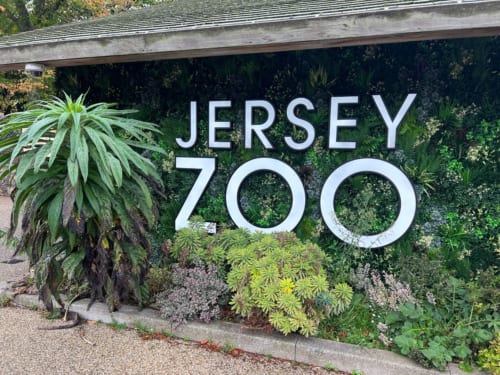 Photos of Hamadryas baboons, bears and raccoons are displayed along the path.
But, I don't see any real ones.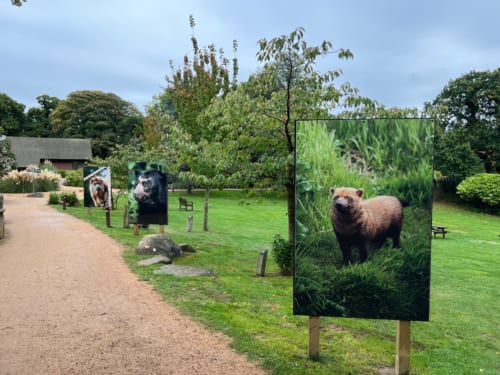 Looks like there's a booth with frogs and snakes. Let's go inside.
There were blue frogs. There were also snakes and turtles.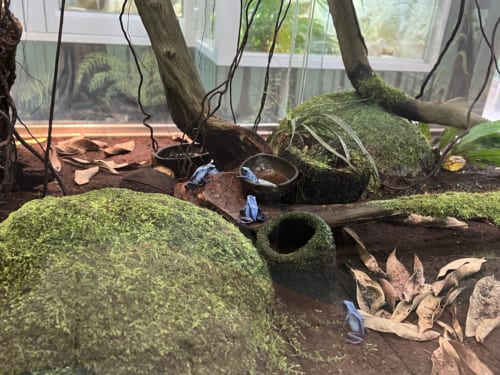 Stepping outside the booth – a bear! I finally get to see a big animal.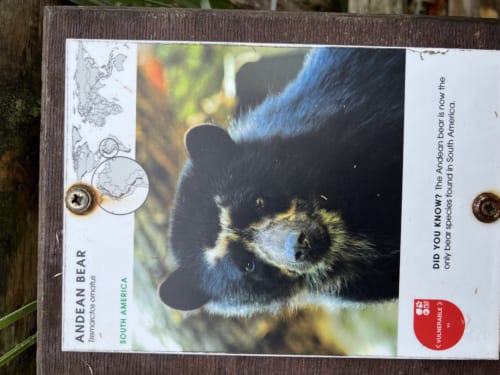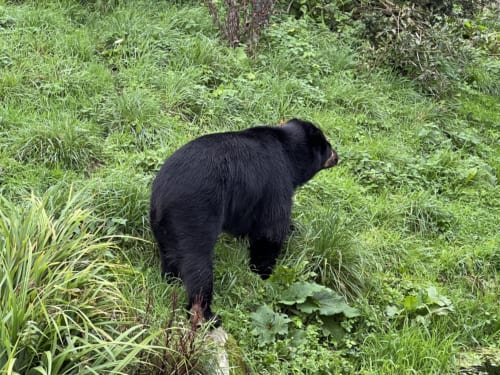 But unfortunately, I'm out of time. During my 30-minute visit, I only got to see bears, frogs and turtles. The zoo covers an area of 32 acres, so maybe there just wasn't enough time to see the other animals. Like the scenic spots of Samoa, or the Seven Coloured Earths of Mauritius, it seems disappointment is just part of the domain island tours… Pulling myself together, I set off again.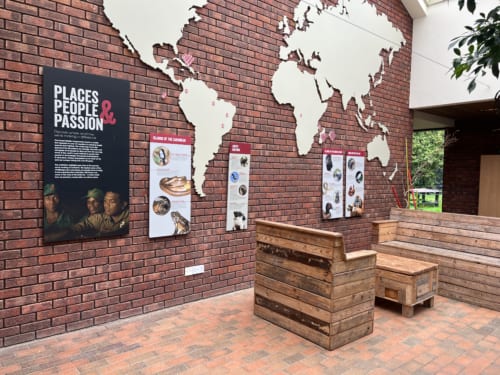 ---
◆Jersey Milk Soft Serve Ice Cream, in the Heart of Jersey's Capital, Saint Helier
Montorgueil (Gorey Castle), a quick stopover on the way to the city centre. It's one of Jersey's famous tourist spots. This ancient castle, built in the 13th century, is said to have protected the island from an attack by France some 600 years ago. When I told a young couple out walking their dog in a pram that I was from Japan, they were really surprised.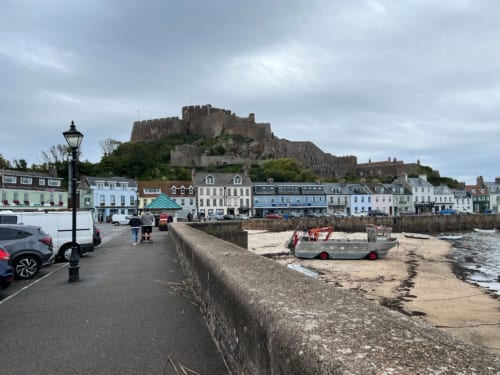 I come across a golf course. It's called the "Royal Jersey Golf Club". My driver, James, is a club member and excitedly tells me: "We're playing tomorrow. The weather forecast says it'll be sunny!" I decide to check it out.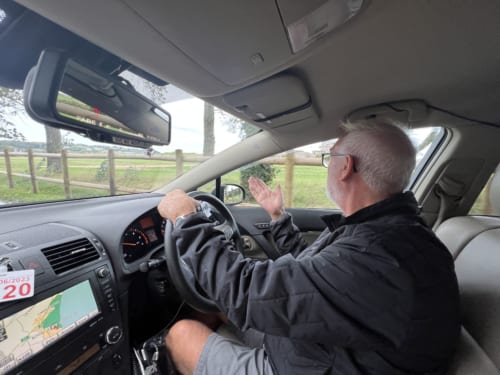 There was a statue of legendary pro golfer, Harry Vardon, who played around 1900. The Jersey native, who won the British Open a record six times, is credited as the "father of the modern swing", after developing the "overlapping grip", where the right pinkie (if right-handed) overlaps the left hand.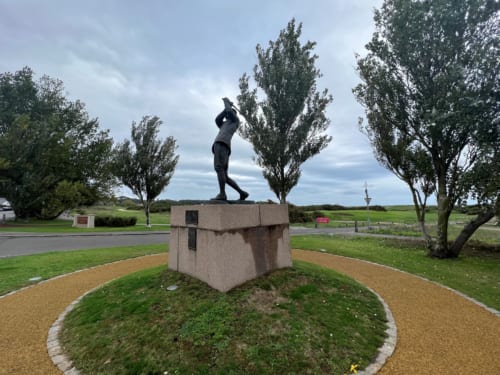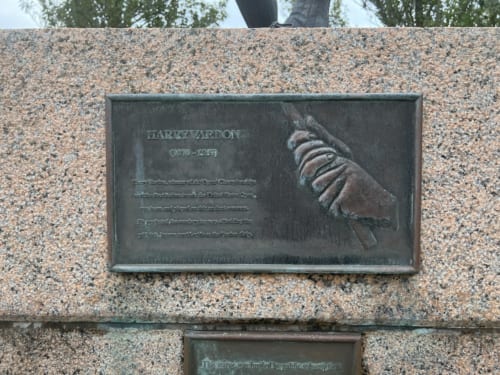 As you enter the city center, you will see advertisements, shops, etc. using the domain ".je".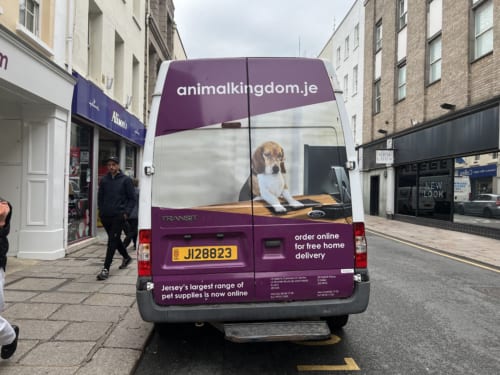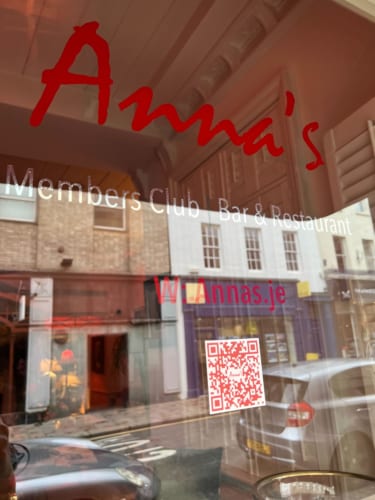 I visited Island Networks Jersey Ltd., which manages the .je domain, but was unable to meet the person in charge as the actual office is located on Alderney Island.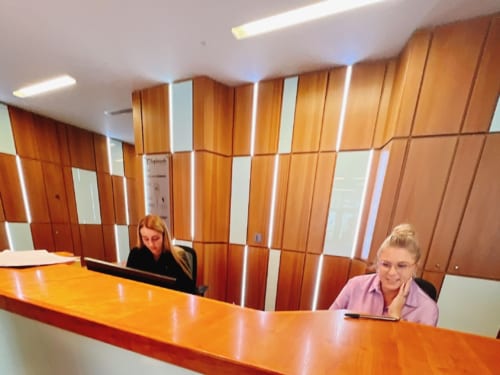 I then went to the historic Central Market, which was established in 1882 during the Victorian era.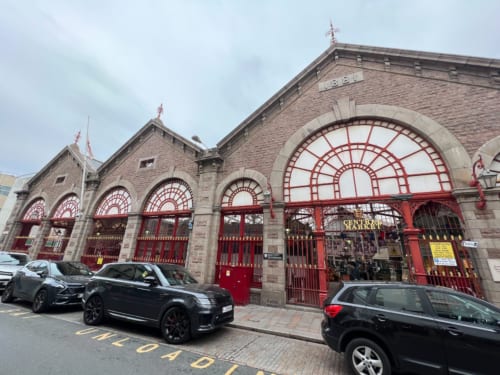 Finally, I see it! The name Jersey of course makes you think of Jersey milk!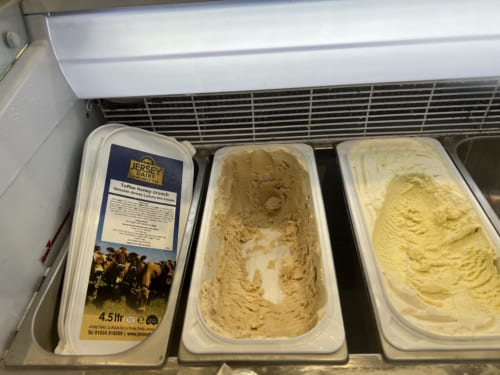 I've come to Central Market just to enjoy some soft-serve ice cream made from Jersey milk, right in the heart of Jersey's capital, Saint Helier.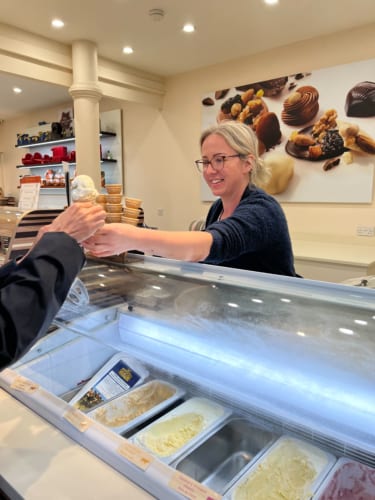 Delicious, with a rich, milky flavor, unique to authentic local Jersey milk! Well, actually it wasn't like that at all. It didn't taste much different to the Jersey milk soft-serve ice cream in Japan.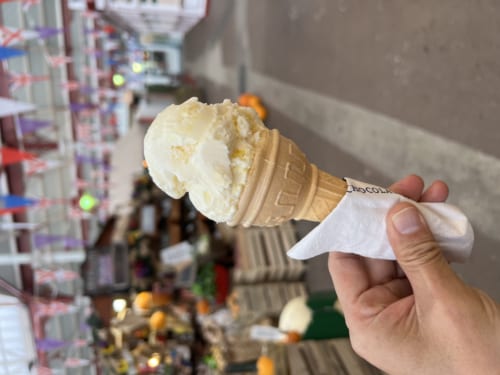 ---
◆How to Purchase an eSIM & Test the Internet Speed
Domain Island Tours have investigated how to find and purchase local SIM cards from June 2018 to September 2020. However, since it takes a surprisingly long time to find a store and buy one, from now on we'll use eSIMs. Switching to an eSIM made it easy to sign up for a connection that works in Jersey. Jersey eSIM speeds as measured at Jersey Airport. Airalo was 31Mbps.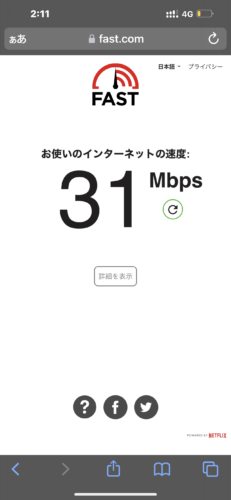 Ubigi was 25 Mbps.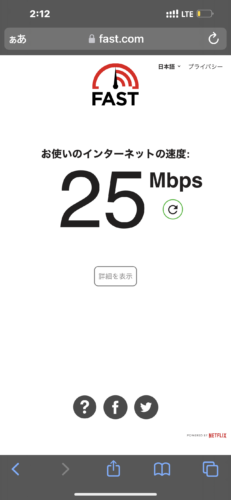 ---
■ List of Places Visited
■ For access to Jerseyclick here
■For ".je" domain details

click here
■For "co.je" domain details

click here