There are so many travel programs on Japanese television that highlight beautiful locations around the world. However, it seems unlikely that any of them feature Ascension Island. Why doesn't anyone go? For the 17th stop on the Domain Island Tour, with 11 out of my 14 meals inflight, and I do a madcap 18-hour tour to find the attractions of Ascension Island. What kind of mysterious things will I discover? The ccTLD (country code top level domain) of Ascension Island is ".ac".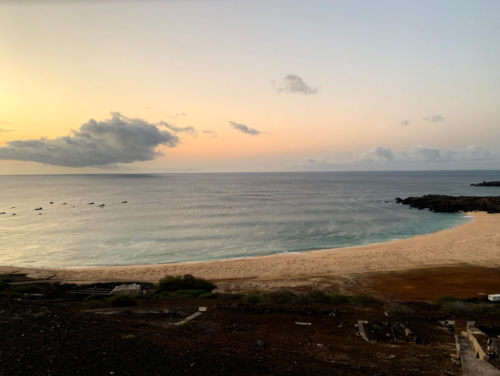 ◆Where is Ascension Island?
Ascension Island, a volcanic island belonging to the UK, is in the South Atlantic. It was discovered in 1501, but then it was rediscovered in 1503, and named Ascension Island after Ascension Day, the rediscovery date. There are no indigenous people on this island. The occupants are company or organization workers and their families, with a population of about 1,100 to 1,200 people. There are also about 150 US troops station on Ascension Island. The administrative office is located in Georgetown.
= Table of Contents =
---
◆Minimum length of stay: "1 day" or "1 month"!
To get to Ascension Island from Japan, a visa is required and tickets need to be arranged by email. Also, there is no alternate route besides the monthly Saint Helena to Ascension round trip. The day after the arriving flight (St. Helena → Ascension), exactly 18 hours later, the return flight departs (Ascension → St. Helena). If you don't make this flight, the next one is a month later. In other words, the minimum length of stay in Ascension is either "1 day" or "1 month". For the Domain Island Tour, I have chosen to stay "1 day" (approximately 18 hours).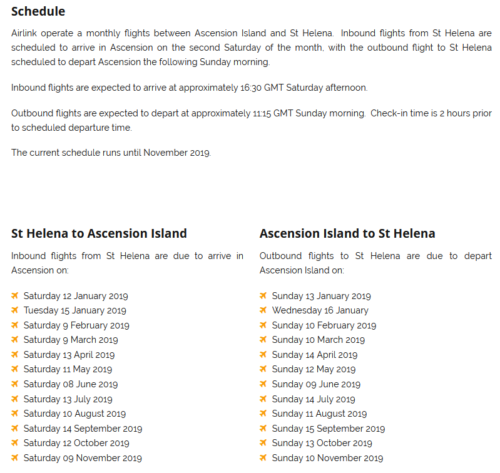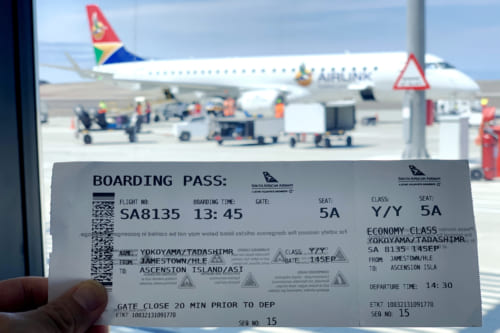 I arrive at Ascension Island via (last to first) St. Helena, Namibia, Johannesburg and Singapore.
After 21.5 hours of flying, I finally land on the island. I will tell you all about the attractions of Ascension Island, where no TV travel programs venture and you can only stay for about 18 hours.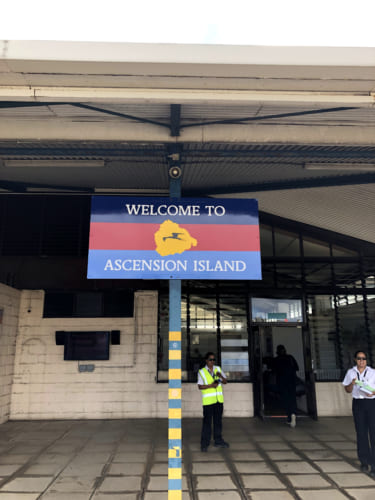 Besides the immigration counter, there's nothing but a space for kids to play. After immigration, I wait for the ok from staff in a waiting area. Even if immigration goes smoothly, you still need to wait about 10 minutes. There's no shops. The RAF (Royal Air Force Station) Ascension Airport arrival lobby is small and neat.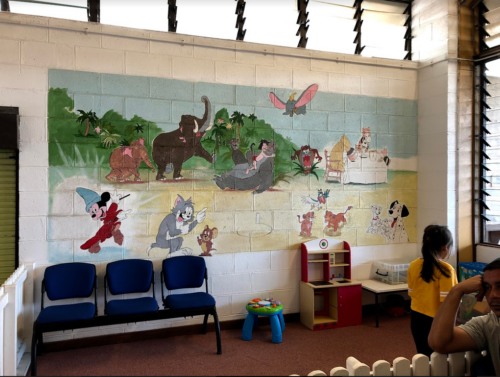 There is no taxi or Uber. I was safely able to meet the local guide I booked in the airport parking lot.
At 17:22 pm, we start the tour!!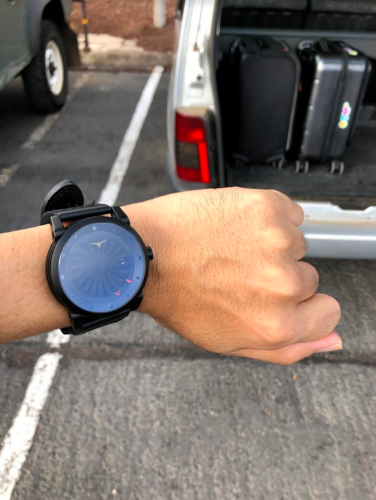 It's a nice weather in spite of a few clouds.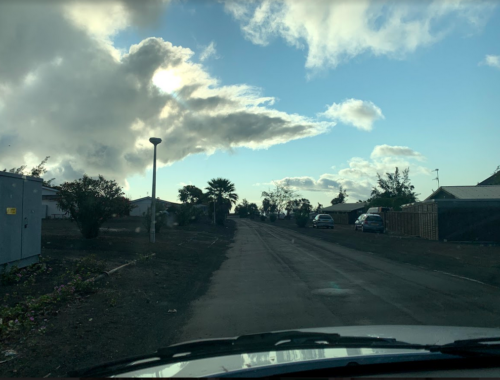 While driving, I saw many pipes. These are important pipes that send water to local houses and buildings.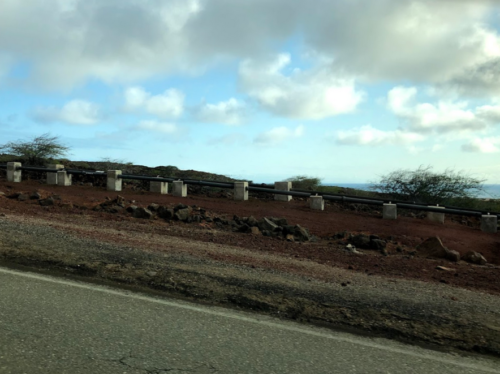 ---
◆How to Purchase a SIM Locally & Test the Internet Speed
First, I check in at my accommodations "JAMS ACCOMMODATION". It was about 20 minutes' drive from the airport.
I want to buy a SIM card from "Sure", the only provider that offers mobile broadband service on Ascension Island, but it's a Saturday, which is a holiday. Tomorrow, Sunday, it will also be closed.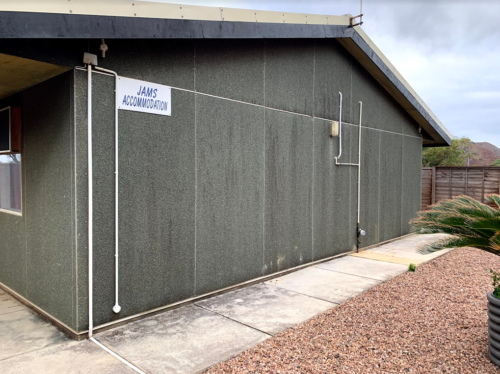 When I told the owner of JAMS that I wanted an internet connection, she showed me a closed convenience store next to the hotel. She opened the convenience store and allowed me to purchase a "Wi-Fi hotspot service" for 20 £ / day. You cannot use au and softbank roaming services (not sure yet about docomo). Consider yourself warned.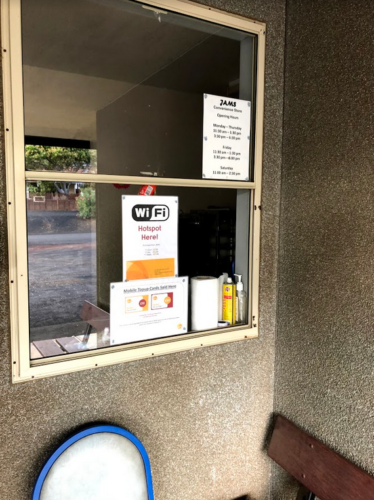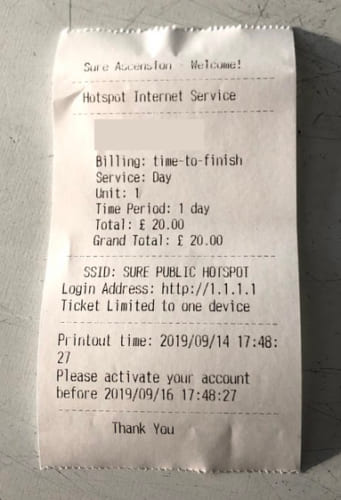 The speed is fine. I can use it without a problem.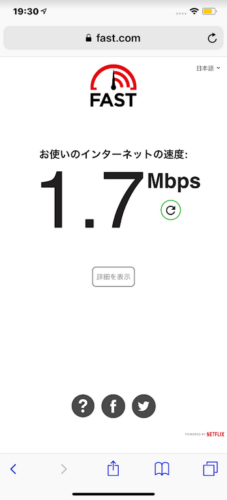 The convenience store is run by the owner of JAMS.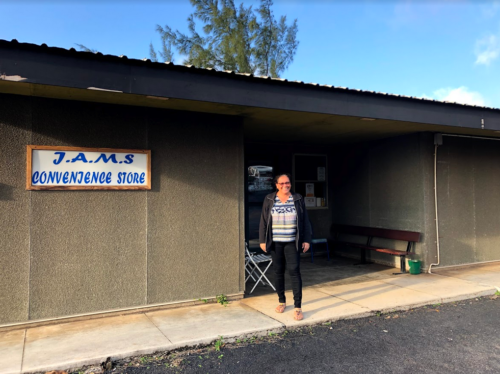 And, the air conditioner in the room is Fujitsu. During my stay, I didn't see any other Japanese brands.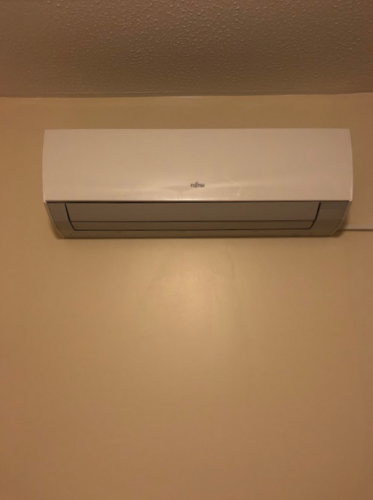 ---
◆Cherry Trees on Green Mountain
We head for Green Mountain National Park. At 859m above sea level, it's the highest mountain on Ascension Island, it's also famous for being an artificial forest. Actually, I heard a rumor that there are cherry trees on this mountain.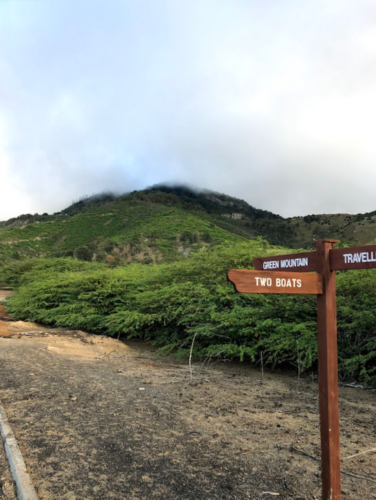 It's 10 mins by car from the hotel. We arrive at Green Mountain. And start going up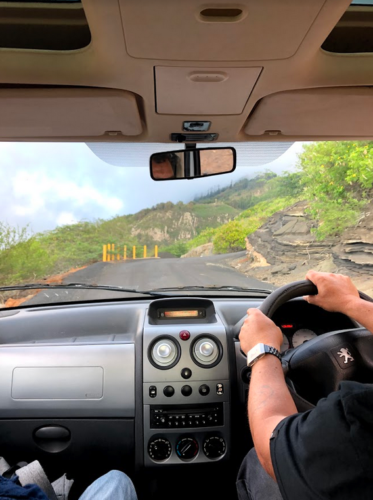 We go up and up. The view starts to improve.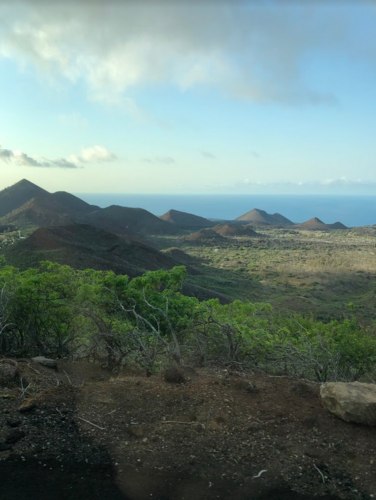 I see a crab. Sorry we scared you.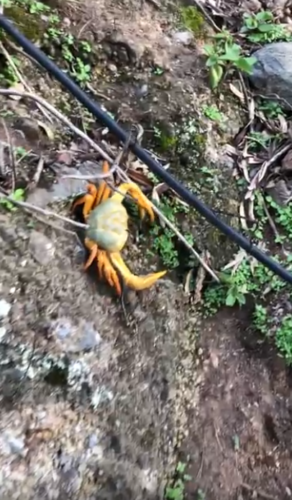 Then sheep.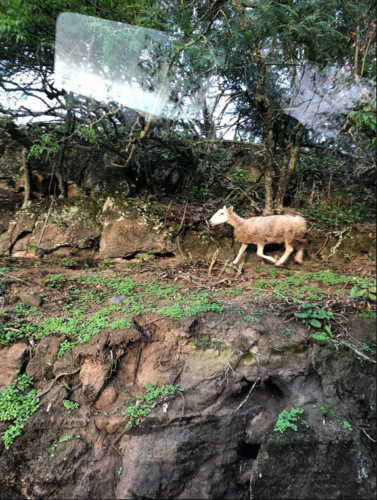 It starts to get jungle like. The tropical forest on Green Mountain is man-made, the only one in the world grown from nothing. We drive onto steep winding road called the mountain ramp.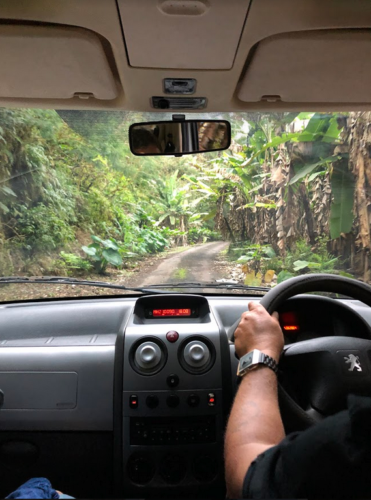 As soon as we enter the jungle area, the fog starts to thicken.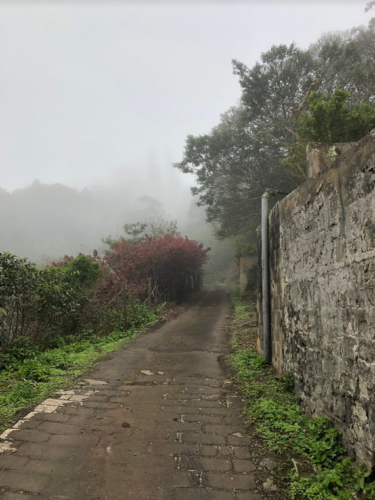 About 10 mins into our ascent. We reach the "Red Lion". This was used to house farm workers.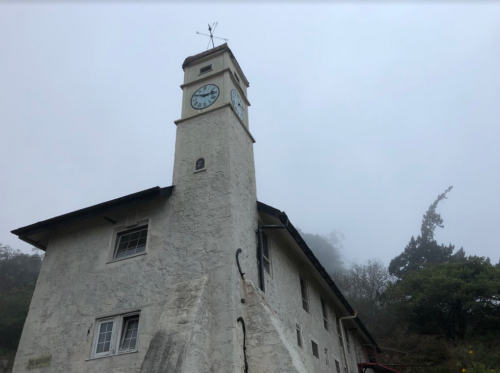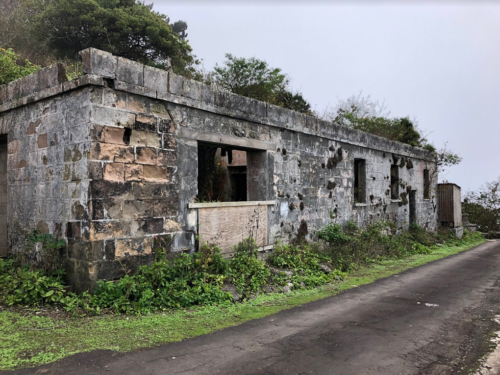 The road named "Zig Zag" is not so zig-zaggy.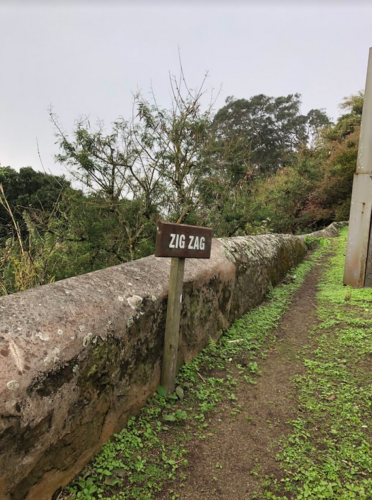 From here on there is a hiking trail, but since I'm short on time we're going to head back down.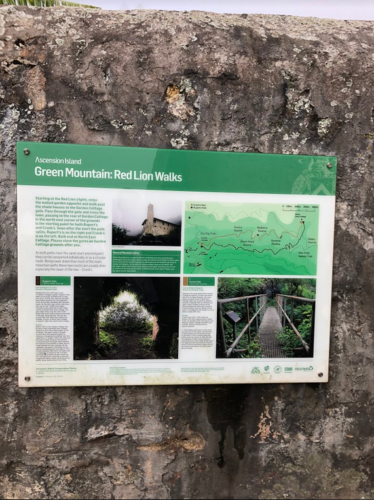 I looked carefully on the decent as well, but I found no cherry trees.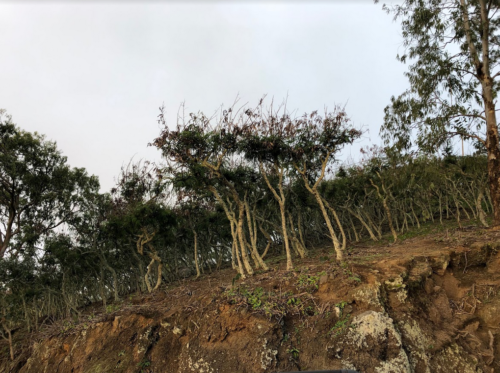 I found a rabbit. On Ascension Island, all wildlife other than rats and rabbits are protected by law.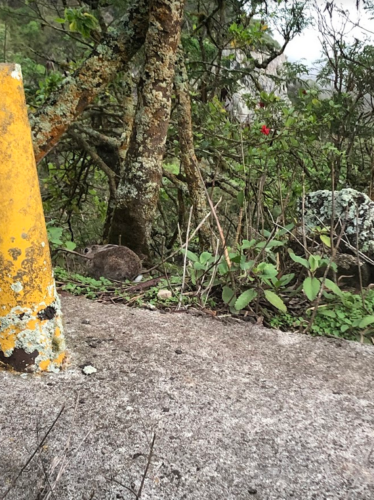 At 18:22 while looking at Georgetown in the distance I asked Andrew, my guide, about the cherry trees. "Cherry Trees on Green Mountain? I don't know. I've never heard of it." he answered. I showed him a photo with cherry tree, but still he doesn't know where it is.
After going back down, I asked the owner of JAMS. But she said "I've never seen or heard of it". So maybe the rumor about cherry trees on Green Mountain was bogus. The next day, Andrew told me, "I figured out about the cherry trees!" It seems he asked a friend, and those cherry trees are in an area that we didn't go. Unfortunately, I couldn't find them myself, but why don't you go take a look?
・Climate Change and "Ascension Island"
・On a Remote Island, Lessons In How Ecosystems Function
---
◆BBC Radio Relay Facilities, Shark Beach and Dinner
The BBC (British Broadcasting Corporation) has set up broadcast relay stations on Ascension Island for South Africa and South America. I'm going to go, because it's one of the few sightseeing spots on the island. We drive through some rough terrain.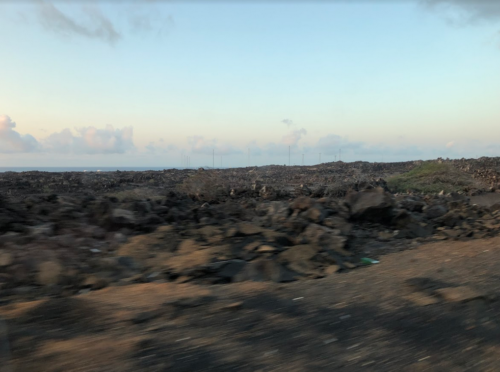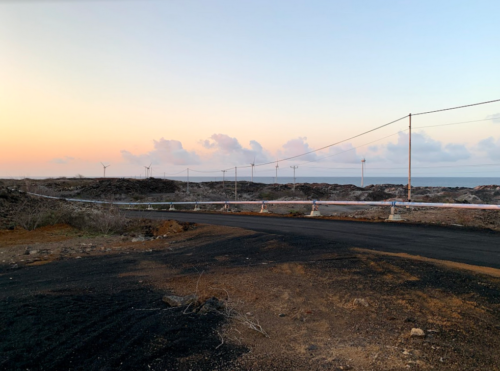 We get closer and closer to big steel towers.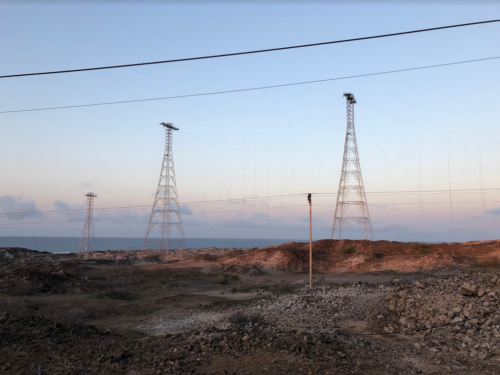 At 18:42, we arrive at the BBC Radio Relay facility. A large area is filled with rows of steel towers.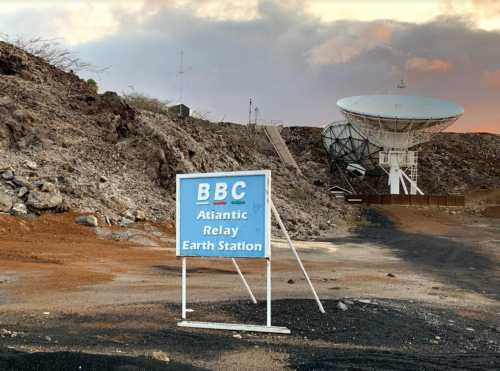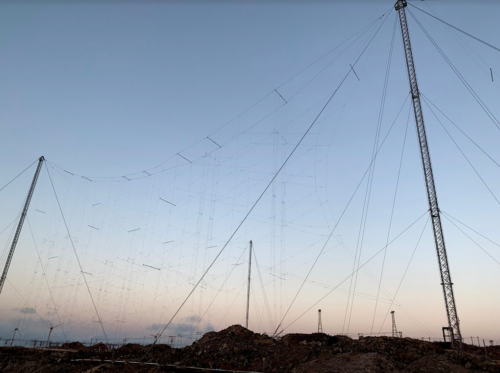 There a famous beach called "English Bay" across the road. It's a pristine little beach.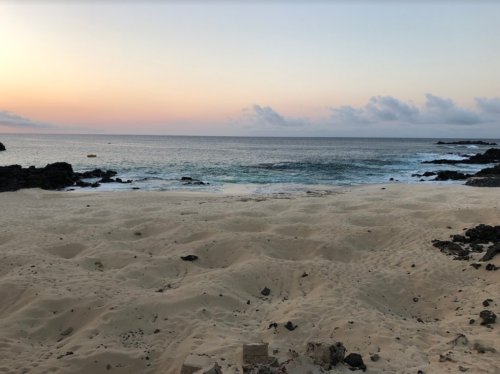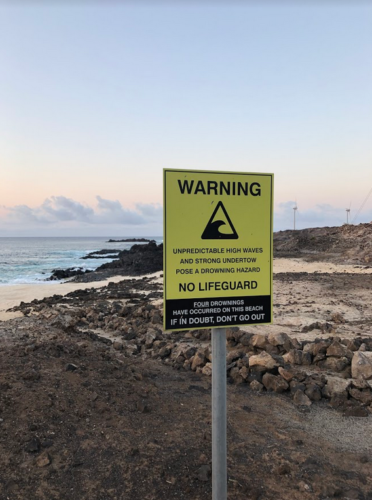 Next, we head for "Long Beach". First, we stop at a lookout point to get a full view of the beach.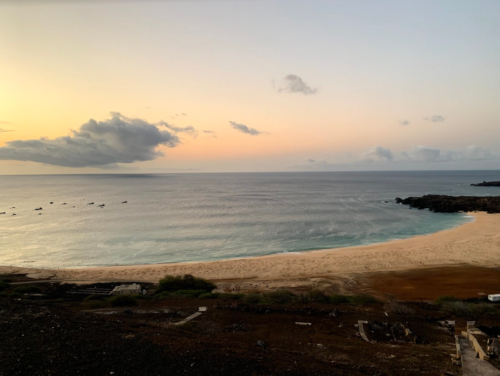 About 10 minutes after the lookout point, we arrive at "Long Beach". There's a sign with a warning about sharks.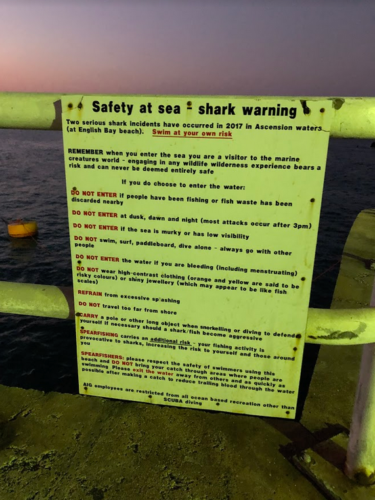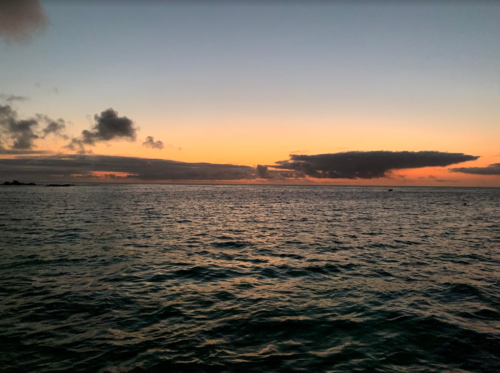 By 19:18, it's pretty dark. I go to the "Volcano Club" in Georgetown for dinner.
On the way there, I encountered a cute donkey who kindly posed for the camera. The last "wildlife" of the day.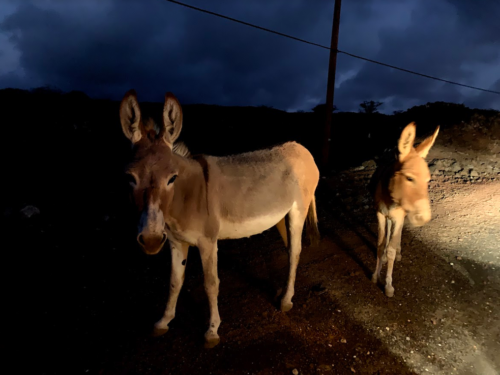 We arrive at the restaurant. I order a hamburger and fried chicken set. It was busy, so I had to wait about 20 mins. The "Volcano Club" is run by the US army and is the only restaurant on the island where you can sit down and eat. Its open nightly, Tuesday through Saturday. They only accept payment in U.S. dollars, British pounds or St. Helena pounds. British pounds and St. Helena pounds can be used anywhere on the island.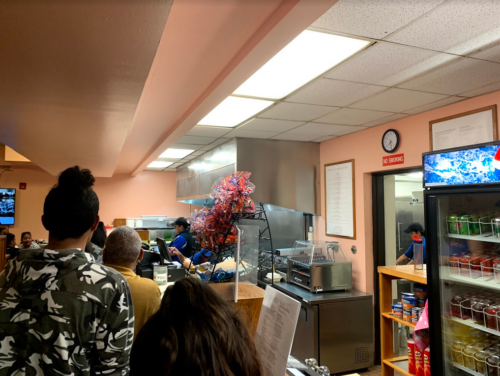 Unfortunately, the taste wasn't that great.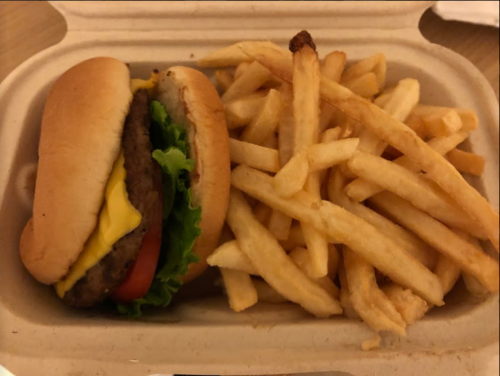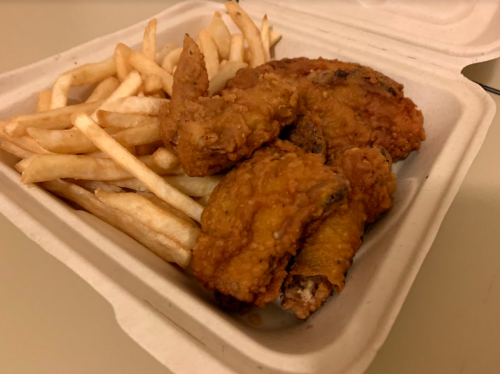 ---
◆I Can't Use a 5 Pound Bill? Community Hall Style Bar & Club
At 21:09 I go to the "Two Boats Club" to explore the nightlife on the island, it's about 5 mins walk from my accommodations.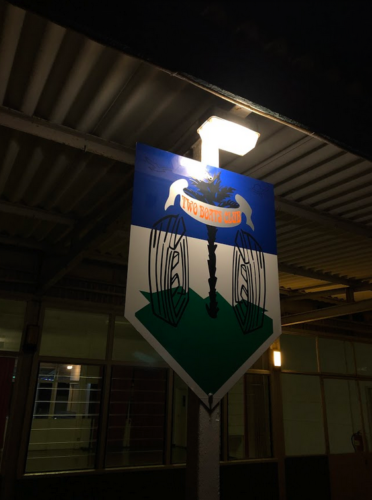 The bar counter. In front of the counter is an outdoor space with a table. People enjoy talking while drinking beer or some other drink. The atmosphere is lively. They seemed a little surprised to see a Japanese person, rare in these parts, but I felt quite safe. I ordered beer, and gin and tonic.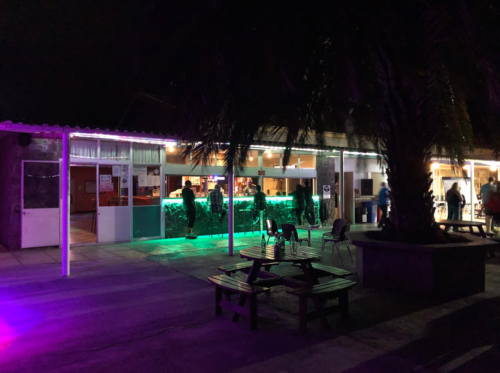 When I went to pay with a 5-pound bill, they gave it back to me and said, "You can't use it, it's too old".
I didn't know it, but new 5- and 10-pound bills were issued in September 2016, and the old bills expired on May 5th, 2017. Fortunately, I had a new bank note, so the matter didn't turn serious, but who would know unless they frequently visit British territory? This photo is of the notice posted in the RAF Ascension Island Airport Departure Lobby. It would be a lot more helpful if placed in the Arrivals Lobby.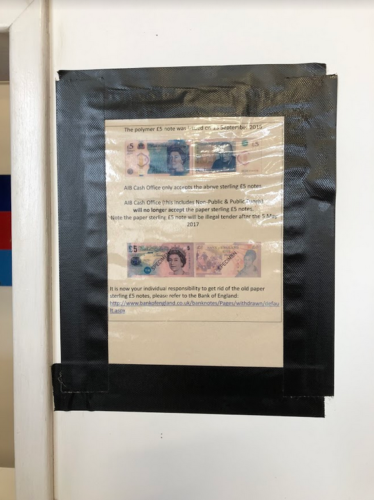 On the far side of the bar counter there is a room. If you go in, at the entrance there are two slot machines that take pound coins. It's the tiniest of casinos. By the way, the domain for the tiny casino is ".casino".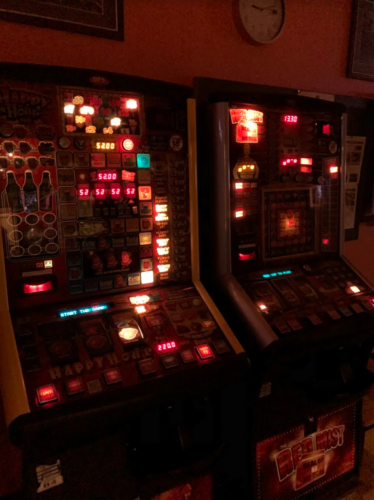 It looks like a dance floor in a community center. But no one is dancing yet. The disco ball is dazzling. The DJ is checking the sound system. The DJ has a PC, no CDs or records. He's a standard PCDJ.
At the bar, a group of men were excitedly having some kind of competition.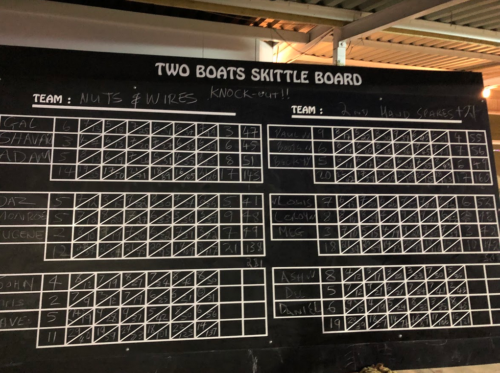 It's a "Skittles" game. Skittles is an old turf game in Europe, the play is almost the same as bowling. Without having to go into Georgetown, it's a great bar & club for local people to enjoy drinking, singing and dancing.
At 21:45 I return to my accommodations. It was only a 5-minute walk away, so I could hear the party going on until midnight. For those who were thinking of coming here, keep in mind that you might not sleep well.
---
◆Ascension Island, Home of the Largest Marine Reserve in the Atlantic
The government of Ascension Island has set aside a marine protected area of 440,000 square kilometers around the island. This marine protected area is the largest in the Atlantic. Since it is said to be "incredibly beautiful", at 7:45 the morning of my second day, in the midst of a light drizzle, I set out to look for some beautiful nature. I found a nicely maintained road a short way from my hotel. I decide to check it out.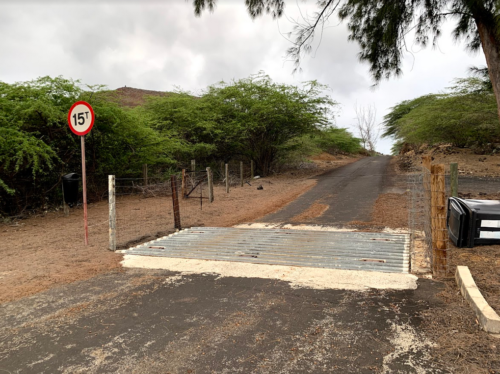 This area is called Sisters Peak and was an active volcano until about 600 years ago.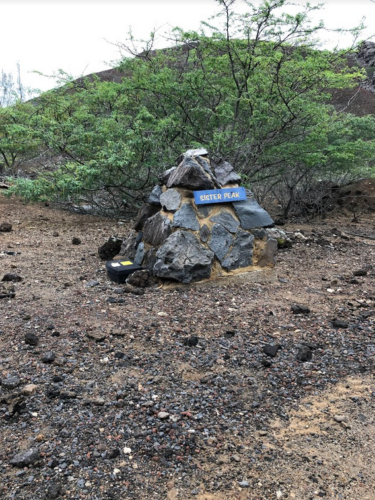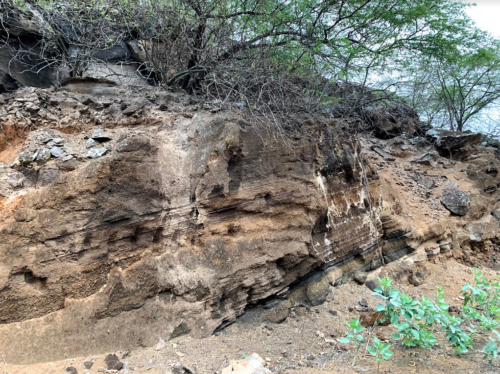 I could see a road near the summit, so I search for the start of the trail, but I couldn't find it.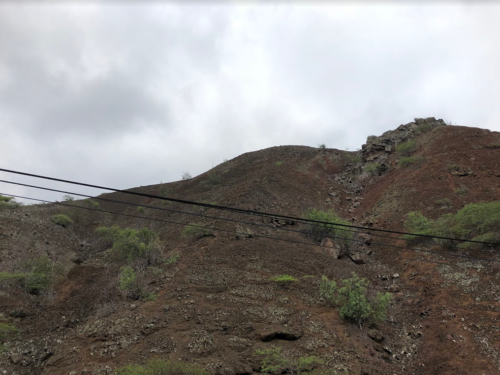 Is it because the weather is bad? I don't feel like I'm finding beautiful nature, so I turn back. Later, when I researched Sisters Peak, it was recommended to bring heavy hiking boots, plenty of water, a hat, and sunscreen. I guess it was impossible for us in our sneakers anyways.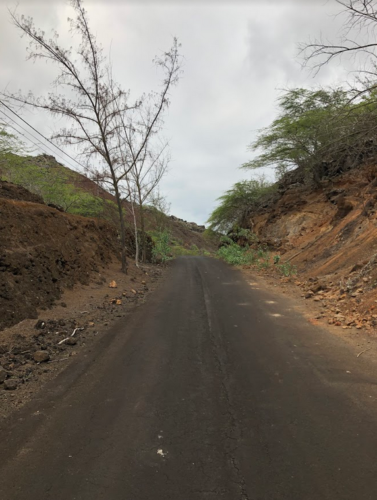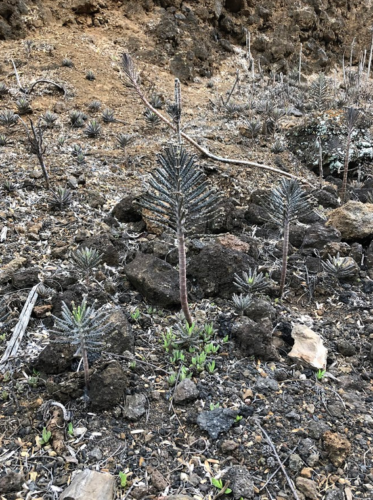 I check out at 9:15 am, to make the 11:15 departure for St. Helena. If I don't make this flight, the next one is a month later. So I hurry a bit and head to the airport, about 20 mins away by car. On the way, I meet a donkey again. These donkeys are the "last wildlife" of my stay. I couldn't find "beautiful nature", but I was happy because I found some cute wild animals. By the way, it seems to rain easily in the morning and evening.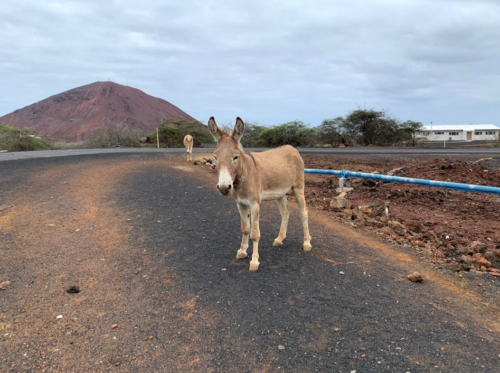 I arrive at the airport at 9:40. I safely made it onto my plane.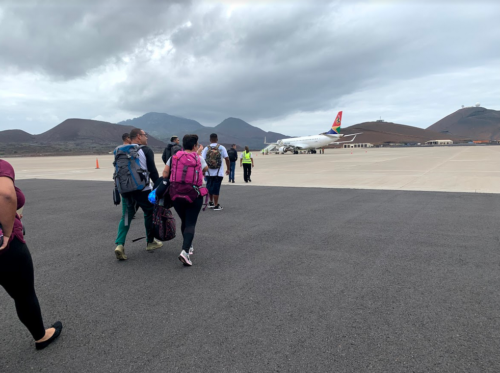 Regarding our meals in this Ascension Island trip, 11 out of 14 meals were actually in-flight meals. The local dinner that I always look forward to was a bit disappointing, but I was happy just to be able to eat on solid ground.
| | | |
| --- | --- | --- |
| Day 1: | Breakfast, Lunch, Dinner: | in-flight meals (Singapore Airlines) |
| Day 2: | Breakfast, Lunch: | in-flight meals (South African Airways) |
| | Dinner: | On solid ground (The Volcano Club, Ascension Island) |
| Day 3: | Breakfast: | On solid ground (last night's leftovers eaten at the hotel, Ascension Island) |
| | Lunch, Dinner: | in-flight meals (South African Airways) |
| Day 4: | Breakfast: | On solid ground (Hotel, Johannesburg) |
| | Lunch, Dinner, Breakfast and Lunch: | in-flight meals (Singapore Air) |
---
◆Interesting Things on Ascension Island; "Caution Camels" but There are no Camels
Driving around I saw some signs that I never see in Japan. Watch out for crabs.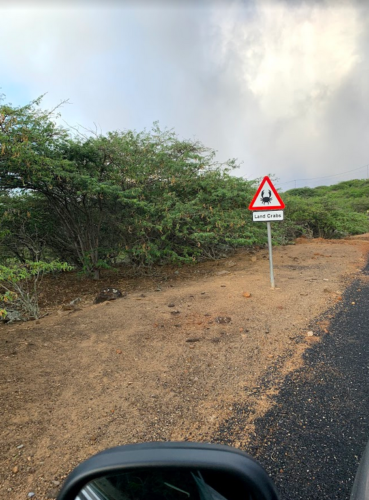 Watch out for sheep.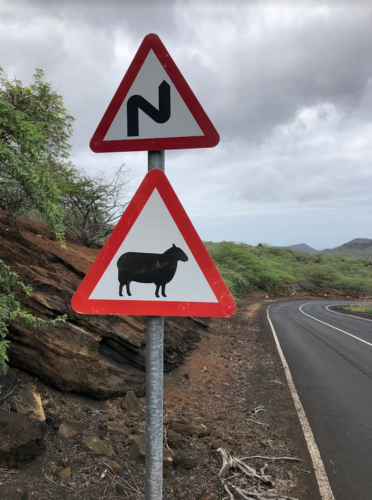 Watch out for camels. Camels…? Are there camels on the island? When I asked Andrew, he said "There's no camels". So, what is this sign saying to watch out for?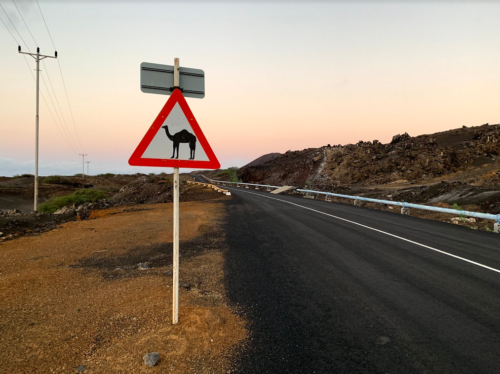 The correct answer was "Watch out for Humps." "Hump" is a term that generally means a raised ridge set at intervals in a road surface to control the speed of vehicles by bouncing them up and down as they pass. In general, there are many "Watch out for Hump"
signs, like signs that say "Speed Hump" or have a raised object pictogram, but it's very unique to call attention to the speed humps by using a camel's hump on the sign. You could use signs representing raised objects, like these.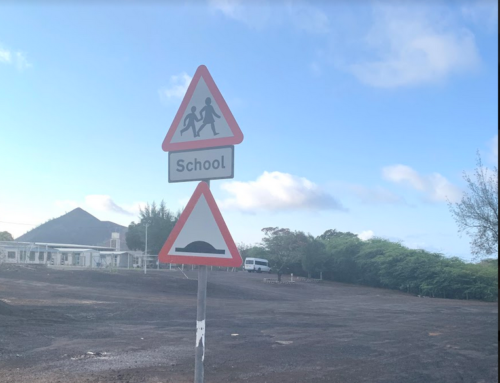 A hotel that opens only once a month. It seems it's not open except when staff come via the once-a-month plane.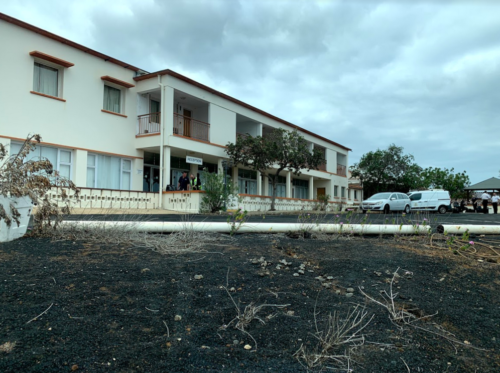 Across the road from "Sure" is the Ascension Island Government Building. It is pink.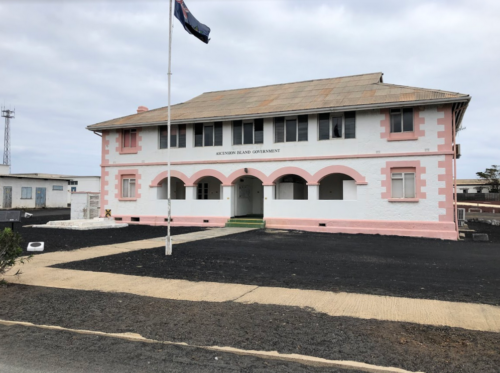 In the departure lobby of RAF Ascension Island Airport, I find a shop that was not in the arrival lobby! I can buy souvenirs to take home! Well, no, because inside there were only cigarettes, perfume, drinks and snacks.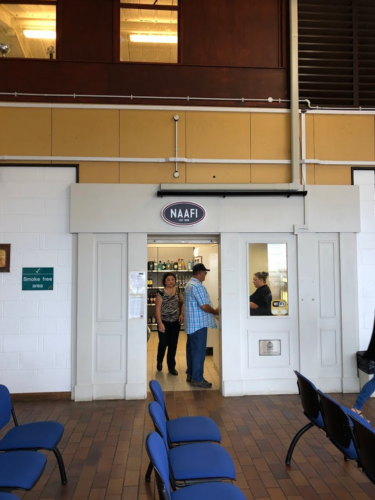 Free charging station. USB is not available.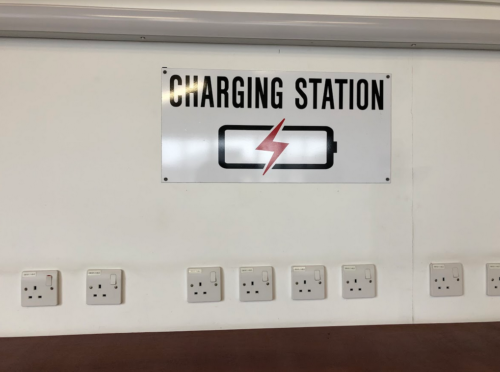 I saw a British soldier working at the airport. As a general rule, flights between the UK and Ascension Island are not available to the general public, except in cases of sudden illness. Until 2 years ago, they were available to the public, but currently the runway is under repair, so only small airplanes can take off and land.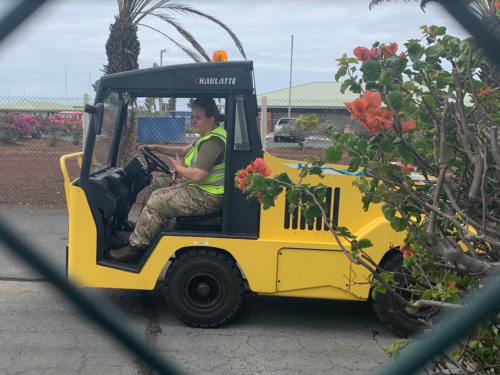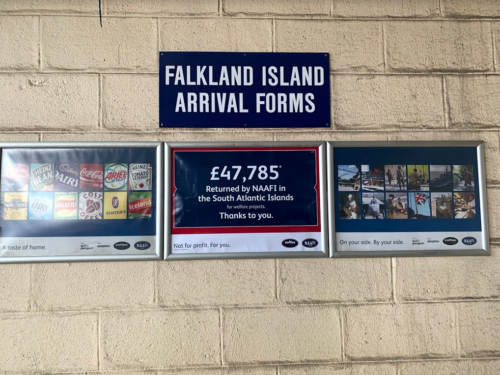 Going outside of the departure lobby, there's a smoking area. It is one of the few airports where you can take a break while viewing the airplane you are going to board.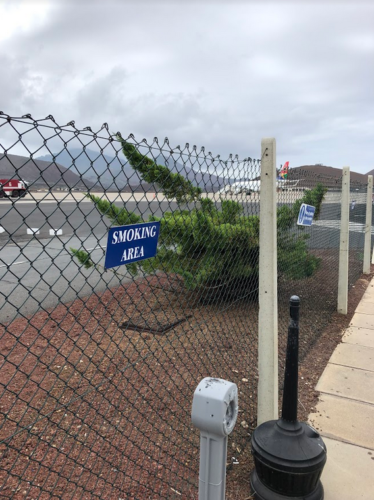 There was also a coffee shop outside.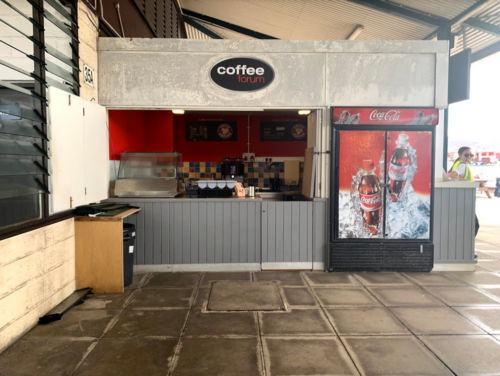 So, this was my madcap exploration of Ascension Island. With only one flight a month, you can only choose a "one day" or "one month" stay on this island with very few attractions. As you can see from the fact that they don't sell "Ascension Island Souvenirs" at the airport, there's not many tourists visiting. Unfortunately, I couldn't find any particular reason for the TV travel shows to take notice of this solitary island.
---