New Caledonia is a popular honeymoon destination. One of the remote islands, Ouvéa Island, became well known in Japan after it was the settling in the 1984 movie " The Island Closest to Heaven". Unfortunately, we had only 4 hours to check out this new location. Since we didn't have enough time to visit "the island closest to heaven", we will instead explore the main island called Grande-Terre, an island relatively close to heaven. The ccTLD for New Caledonia is ".nc".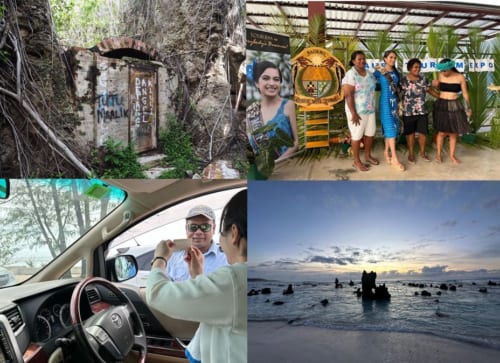 ◆Where is New Caledonia?
New Caledonia is located about 7,000 km southeast of Japan and north of New Zealand. It's an overseas territory belonging to France. The main island is called Grande Terre and the surrounding islands include the Isle of Pines, Lifou Island, Maré Island and Ouvéa Island. It has an area of 19,110km2 and the population is about 270,000 (as of 2016). The capital is Nouméa on the main island of Grande Terre. The local currency is the Pacific franc (CFP). The official language is French and there is a +2-hour time difference with Japan.
*As of August 17, 2023
= Table of Contents =
---
◆Coming Across the Japanese Language
From Japan, there are direct flights available on Aircalin from Narita International Airport and Kansai International Airport to the capital city, Nouméa. Due to our schedule, we flew Aircalin from Sydney, Australia.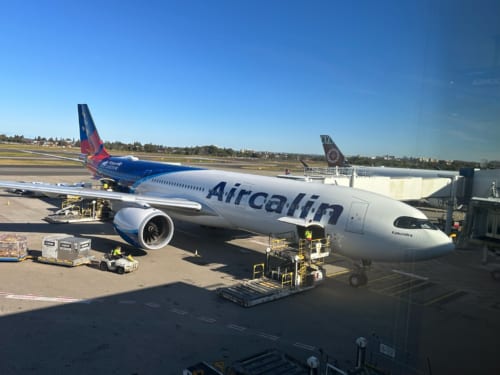 We've arrived at Nouméa – La Tontouta International Airport. Welcome messages can be seen written in French, English and Japanese.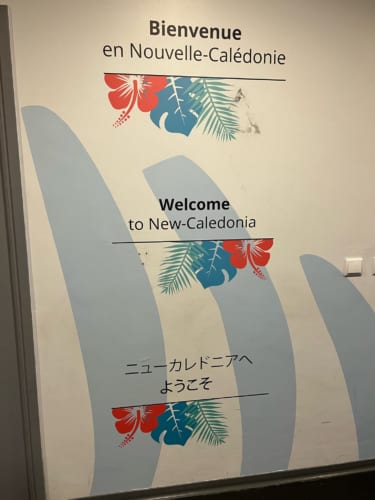 Signs in the airport are also written in Japanese. Why is there so much Japanese in use here? It's because approximately 20,000 Japanese tourists visit New Caledonia each year. Of the approximately 130,000 tourists who visited in 2019 before the spread of Covid19, about 22,000 of them were Japanese.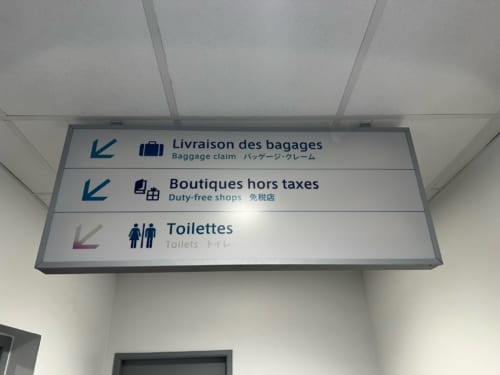 In town we saw a sign advertising that Japanese can be used there – unfortunately the third character, although very similar, is the wrong one.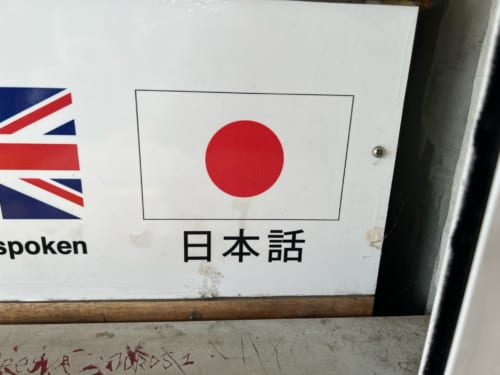 We only have 4 hours to spend here. In order to use our time efficiently, we asked MASA.CO, a transportation and guide company to be our guide for our time here, and to our surprise, our guide turned out to be Japanese! The president of MASA.CO is also Japanese and has been living in Nouméa for over 30 years. Off we set, with a Japanese guide on an island with lots of Japanese!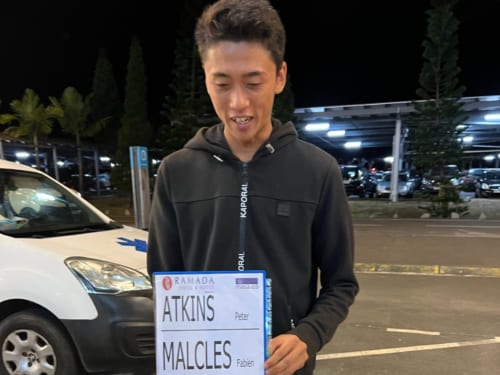 ---
◆Local Otaku Paradise! Akihabara-style Sugoii Market
We asked our guide to recommend a place to visit and he suggested Sugoii Market, so off we head to check it out.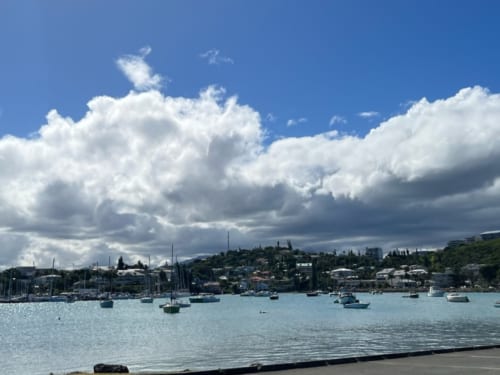 Arriving at the back of the Belle Vie Shopping Center, we found our market. It's called SUGOII MARKET. They specialize in manga, pop culture figures and goods, and Japanese food. The location is a little out of the way.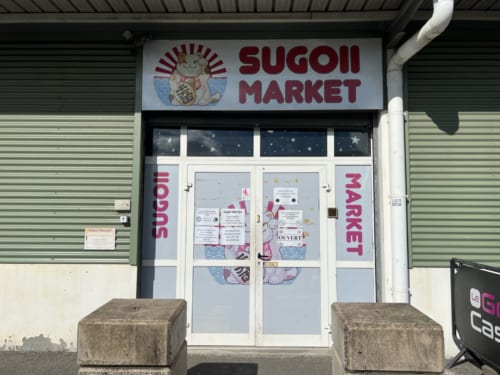 It's open 9am to 6pm on weekdays and 9am to 4pm on Saturdays. Sundays are closed.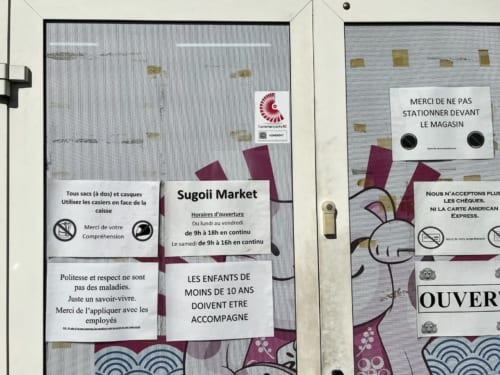 Let's take a look inside. On the right, the shelves are lined with Japanese sweets. We were amazed at the wide selection.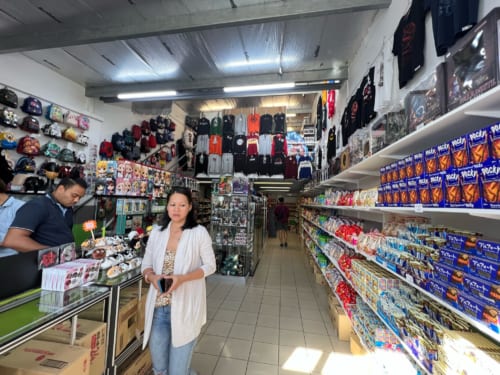 Pocky, Alford, Lumonde… There were also rice crackers on a different shelf.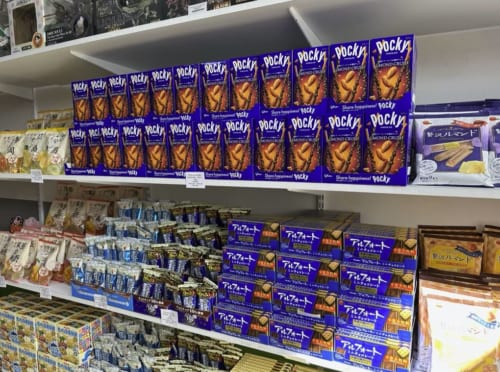 The selection of instant noodles was also more than adequate. There's little chance of becoming homesick for Japanese instant noodles in New Caledonia.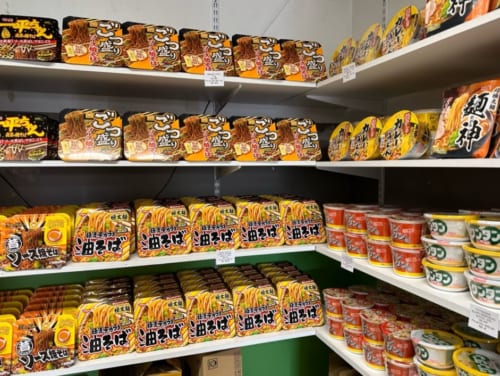 There were also some unique Japanese drinks such as watermelon cider and muskmelon cider.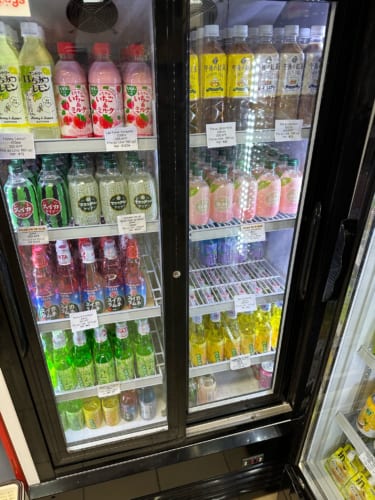 It's also possible to make takoyaki and okonomiyaki at home.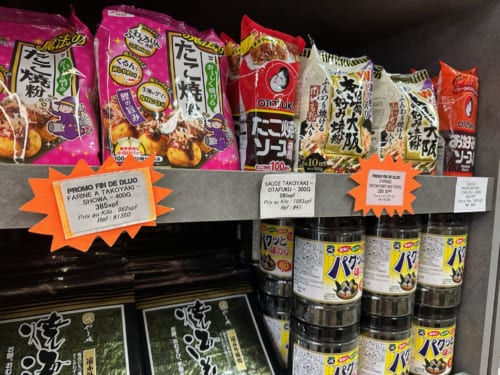 It's not only food and drink. They even had Japanese brand facial cleansers and cosmetics.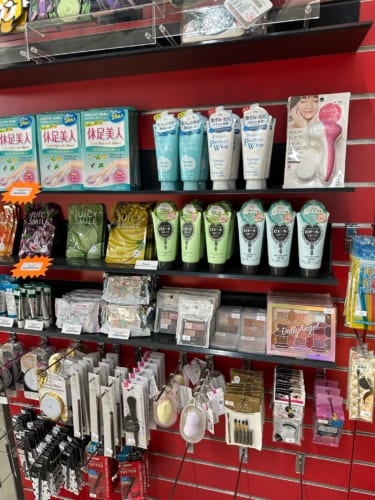 We also saw figurines, t-shirts, caps, etc., of popular characters. But that might not be enough for the otaku of New Caledonia. Let's check out the second floor.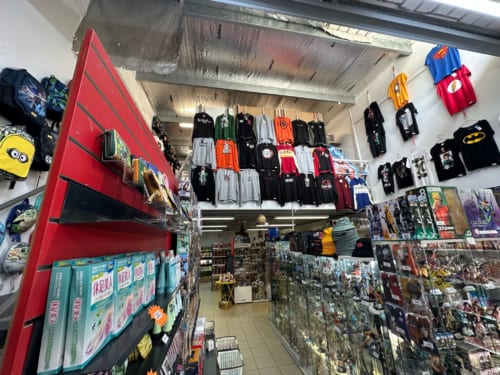 It's packed with otaku goods! It was full of Naruto and One Piece merchandise that we didn't see on the first floor.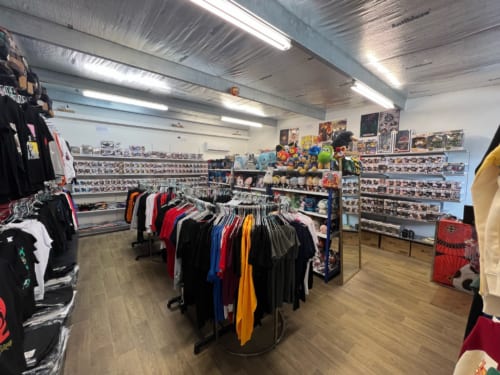 Here we see a large selection of the popular POP! series of deformed figures, developed by the major US toy manufacturer, Funko inc. There was even Super Saiyan Goku from Dragon Ball Z.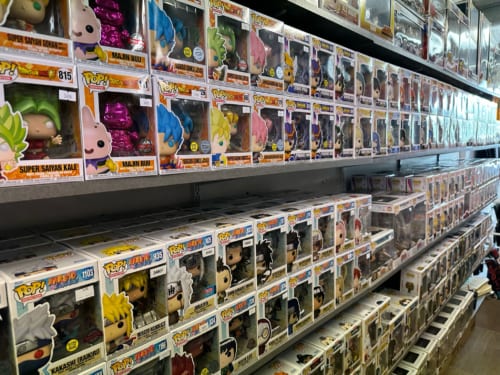 We saw one couple enthusiastically searching for something.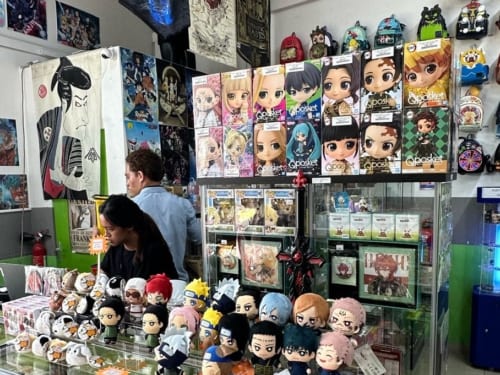 The staff were really friendly. When we said we were from Japan, one member of staff told us he loves Japanese anime but hasn't been to Japan yet. "I'd love to go!", he said. He also spoke enthusiastically about the local anime-loving community.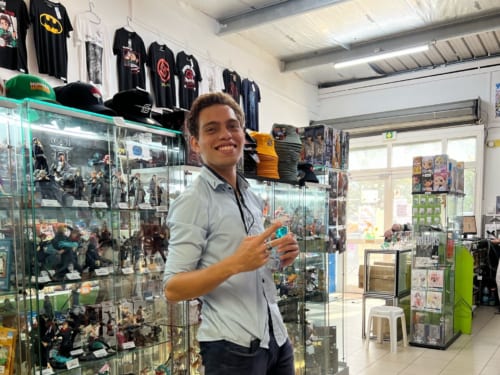 Our company operates the domain ".moe" (moe is a word used in anime to mean affection towards a character) and the anime-style of our company song music-video shows that we are friendly to anime enthusiasts! We are friends with New Caledonia otakus too!
---
◆What to Eat in New Caledonia
Walking along the beach, we head towards Le Miretti-Gascon, a popular restaurant famous for its seafood.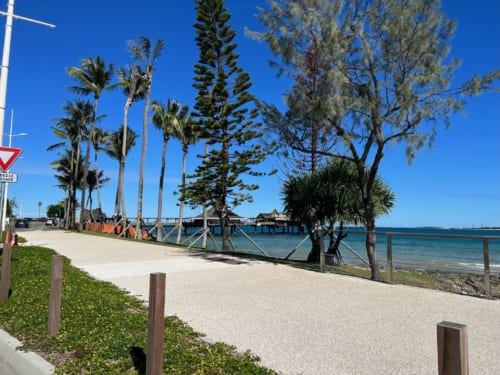 We walk inland a little and soon we've arrived at our destination. This long-established seafood restaurant was built in 1969 and offers Southwestern French cuisine using seafood from local and New Zealand waters.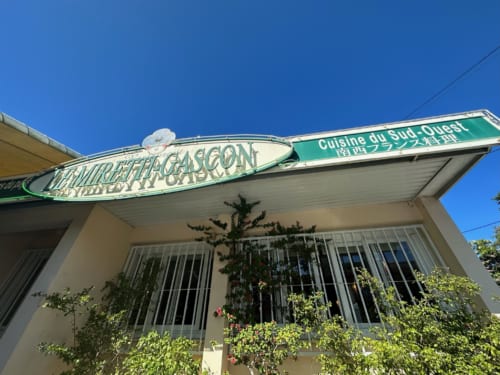 It has a relaxing atmosphere.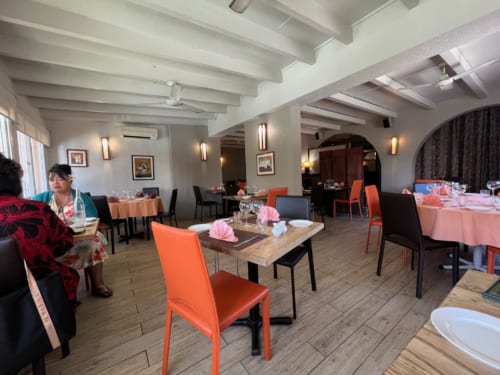 They have a Japanese menu available, and it explains the cuisine well. It's not all seafood, they also serve meat and other specialty dishes.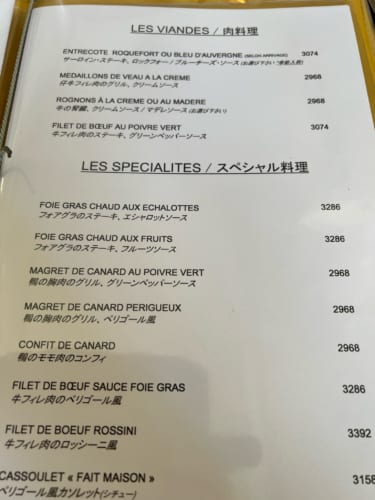 The owner is a local New Caledonian, but he is also pretty fluent in Japanese. After hearing their recommended dishes, we ordered seafood parcels, fried angel prawns with garlic and basil, and stuffed crab.
The flaky seafood pie was packed with delicious ocean delicacies that matched perfectly as a pie.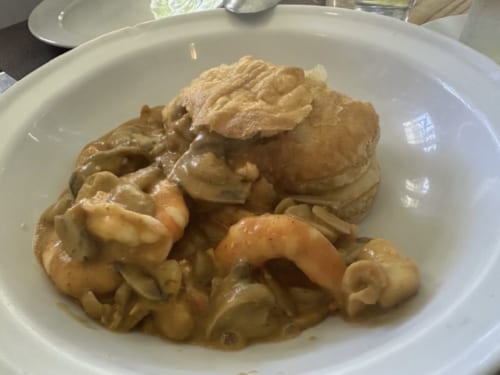 The fried angel shrimp was a little different to what we expected, but the thin batter was really good.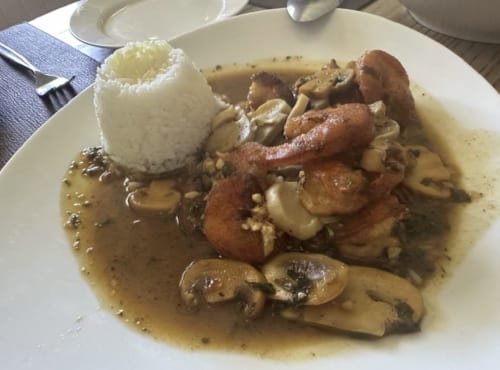 The stuffed crab was seasoned well and suits the Japanese palate. It's delicious aroma also whet our appetites.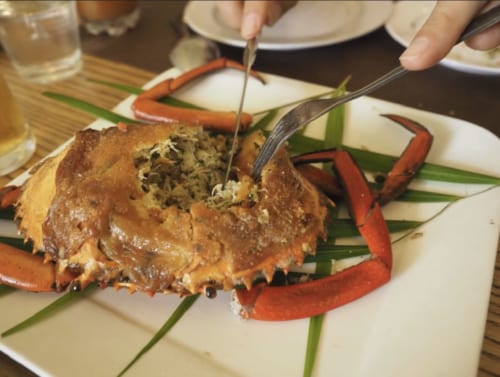 We tried the local "Number One" beer and it was delightful.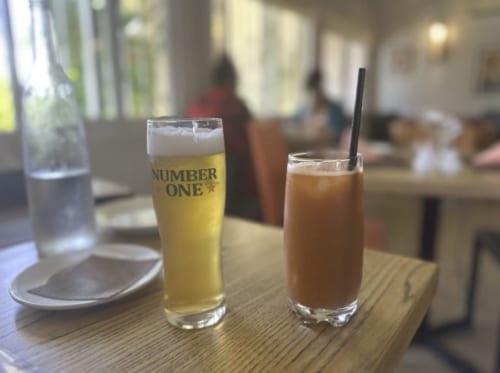 ---
◆Three Weeks of Shark Attacks and Other New Caledonia Highlights
・Three Weeks of Shark Attacks at a Popular Beach
On our way to the Le Miretti-Gascon restaurant, we stopped at an area called Plage de l'Anse Vata. Usually a popular swimming beach, now it is closed due to 3 consecutive weeks of shark attacks in March 2023, but will hopefully reopen after the installation of shark nets. As far as we could see, there wasn't anyone swimming.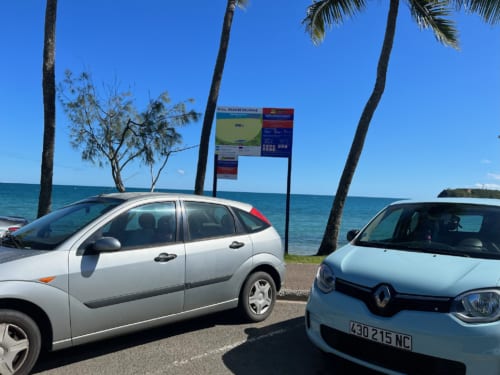 ・Symbol of Nouméa
The St. Joseph's Cathedral was completed on June 16th 1894. Visible from the port and the city, it has become a popular tourist attraction and symbol of Nouméa. We were able to see it from various locations as we traveled around.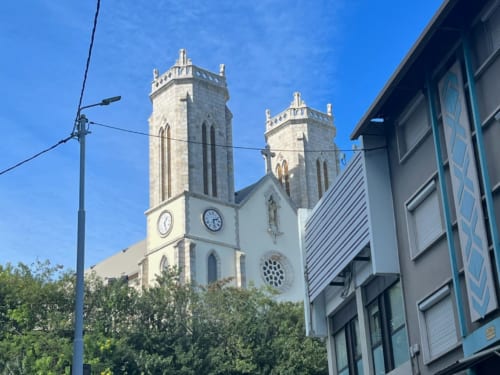 ・Local Daily Market
While Sugoii Market is marketed towards otakus, we also visited Tatsu Market, a daily market for locals.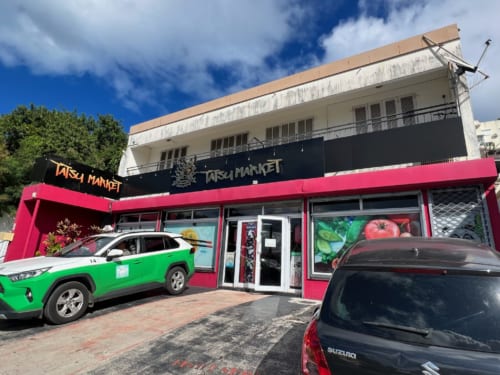 I expected it to look like the Asian markets you often find overseas, but once inside it actually looked similar to Japanese convenience stores, with items neatly displayed.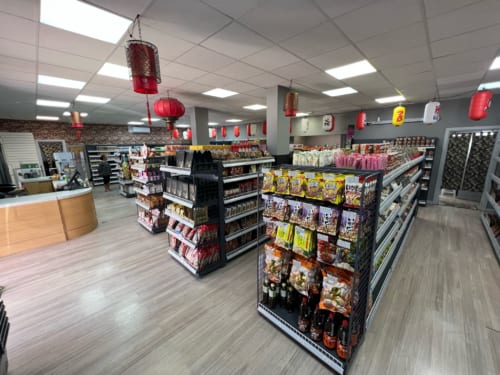 ・Coconut Tree Square in the Heart of Nouméa
The square, located in downtown Nouméa, was once planted with many coconut trees, which gave it its name. Flea markets are sometimes held there. It's a place locals come to relax.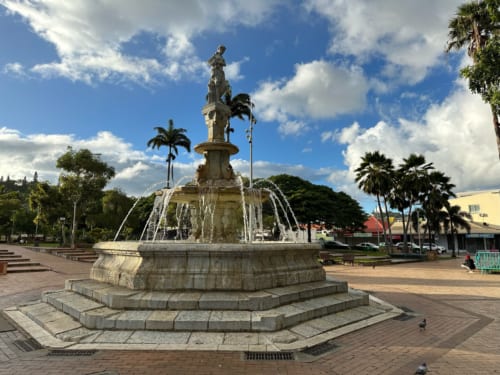 ---
◆Finding Kobeya in New Caledonia
We found a Kobeya store in New Caledonia. We talked with Saori, the Japanese owner, and she told us she opened Kobeya around the time she renovated her popular restaurant, Chez Toto.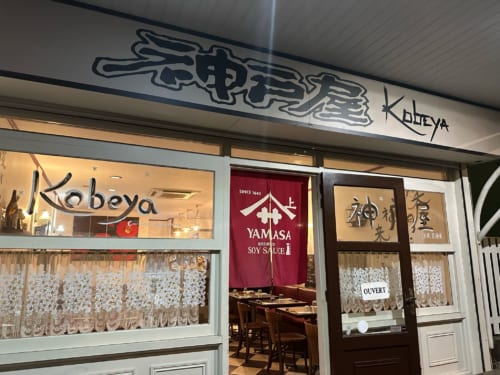 Inside the restaurant you'll see a poster prominently displayed which reads "腹が減っては戦はできぬ" (meaning: An army marches on its stomach), hand-painted by Saori. Another one says "笑う門には福来たる" (Laughter is the key to happiness).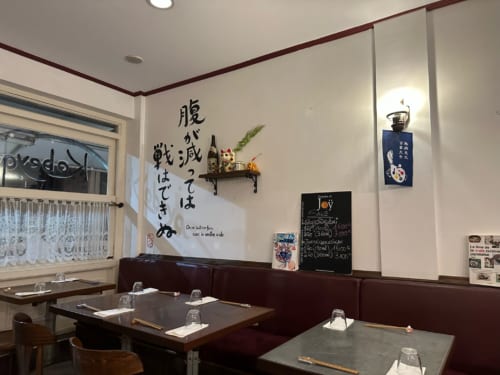 The menu is full of authentic Japanese cuisine.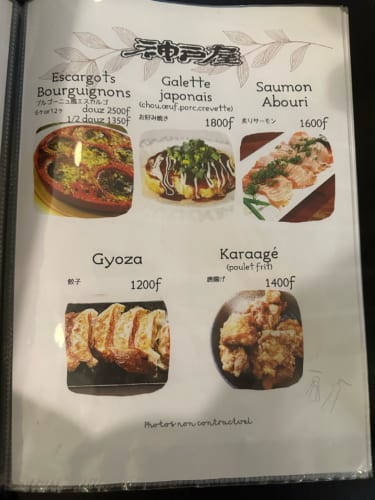 The blackboard menu included Kobeya Bento boxes.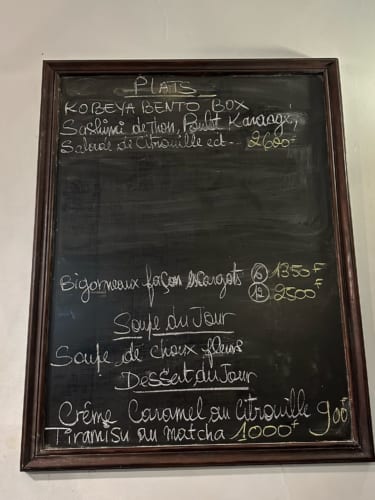 Everything sounded so delicious it was hard to decide what to order, but in the end, we got minced meat cutlets, okonomiyaki pancakes, escargot and a Kobeya bento box. The minced meat cutlets were freshly fried and crispy.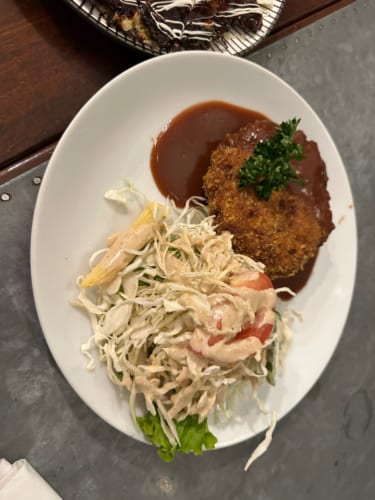 The Okonomiyaki was delicately soft, almost like Monjayaki. This soft texture is really original and absolutely delicious!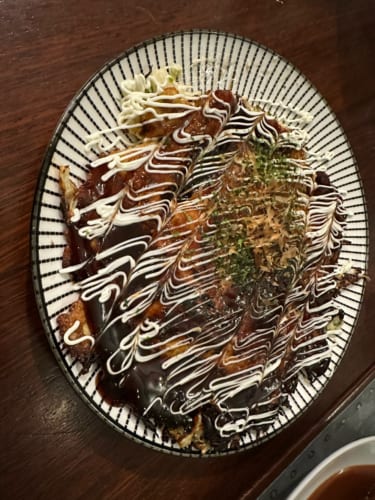 This is the burgundy escargot. It's a famous dish from the Burgundy region of France.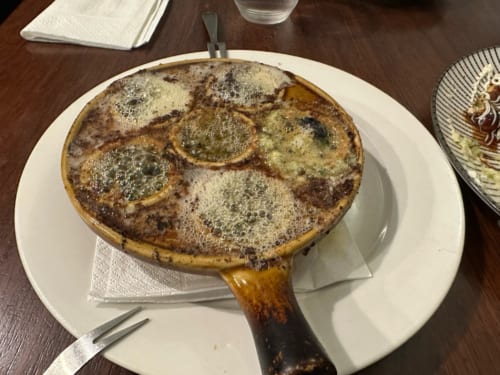 The Kobeya bento box, our off-menu order. Full of fried chicken, sashimi, pumpkin salad etc! The fried chicken in particular was exquisitely fried and seasoned.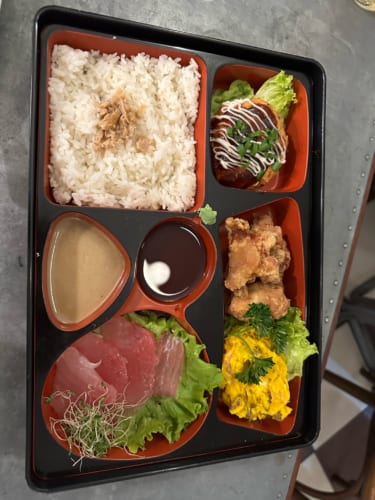 For dessert we ordered pumpkin pudding.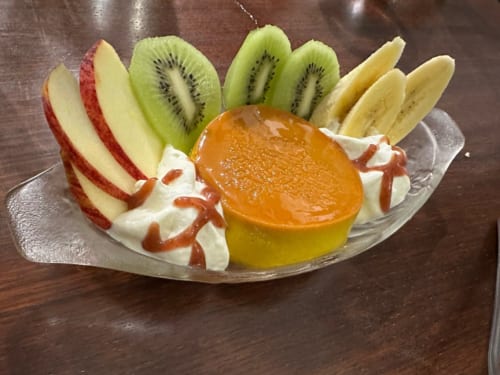 I realized later that it got its name from the Kobeya restaurant group, which has three restaurants in Aichi. The logo is exactly the same. Researching further, it seems that Saori's parents operate the Kobeya Group. According to the official website, the family moved to New Caledonia and opened Chez Toto, the predecessor of Kobeya.

---
◆Finding .nc Around Town
".nc" domains are used a lot throughout New Caledonia. BETICO, seen here docked at the ferry terminal, is a ferry bound for a remote island.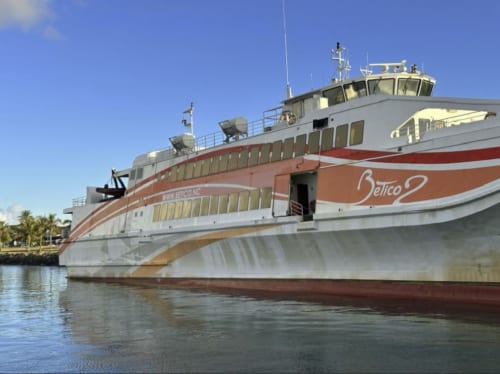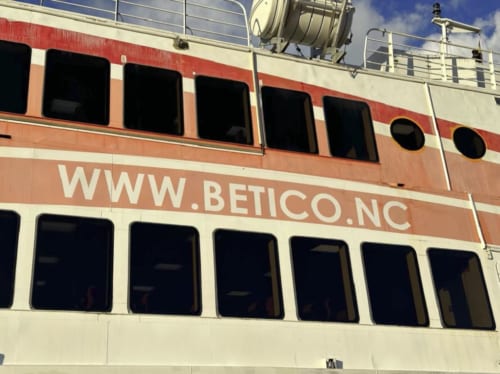 The company car of "Cafe Melanesien", which sells coffee, espresso machines, etc.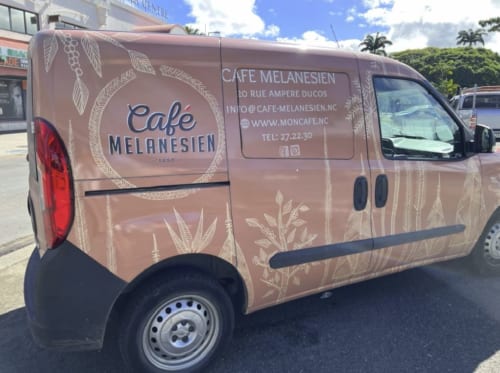 This one seems to be a driving school car.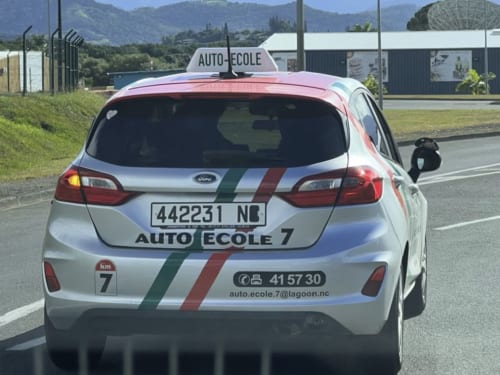 We saw lots of ".nc" while walking around Nouméa.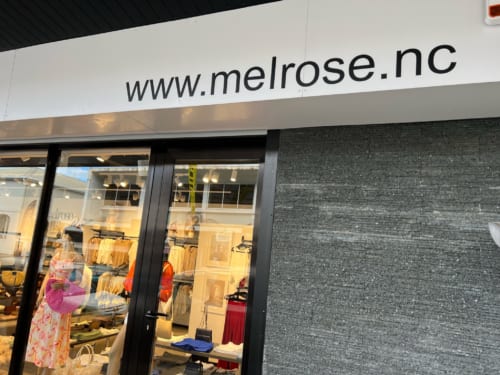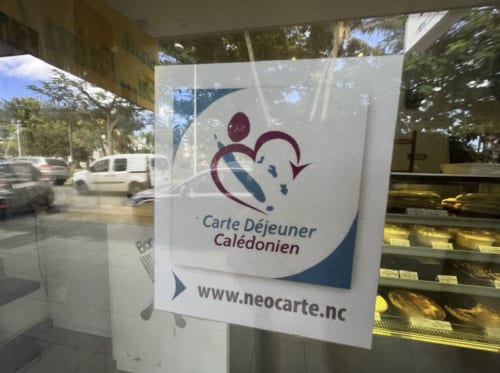 The domain name registry is located here at the offices of Opt.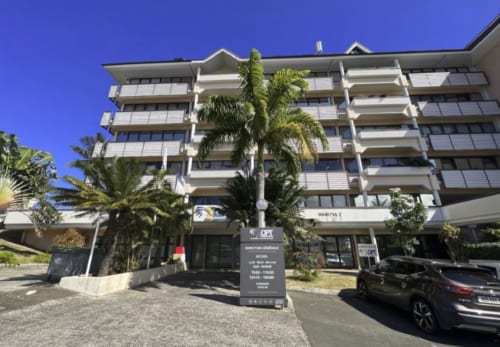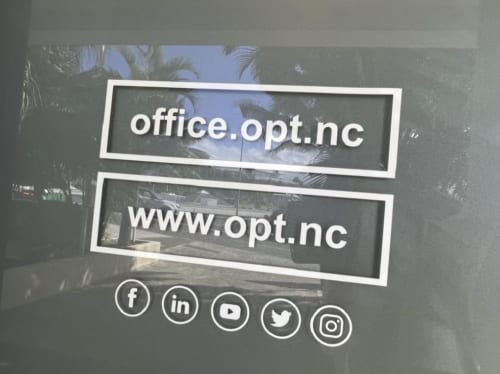 ---
◆Purchasing a SIM Locally & Testing the Internet Speed
We purchased a prepaid SIM card at a local store called "Mobilemania" in Nouméa.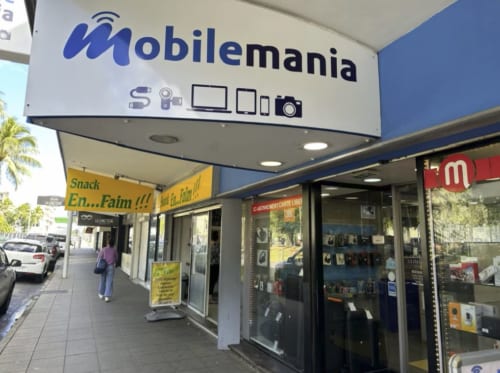 旅行者向けのプラン「TOURISM CARD」(3,000CFP、約3,900円)を購入しました。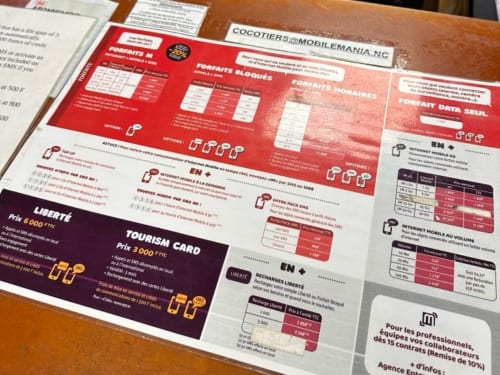 We bought the TOURISM CARD (3,000 CFP), a plan designed for travelers.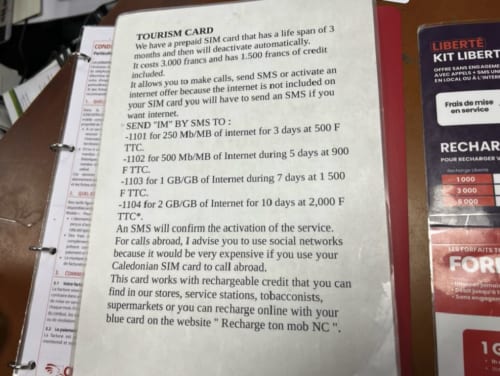 It's valid for 3 months and 1,500 of the 3,000 CFP is used as credit and added as data.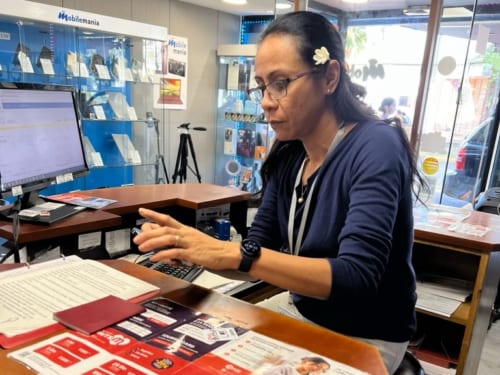 You can buy them through text message (SMS), but this time I asked the staff to set up everything for us. If you make your purchase using text message, you can also choose to select Japanese language instructions.
The speed in Nouméa was 20Mbps.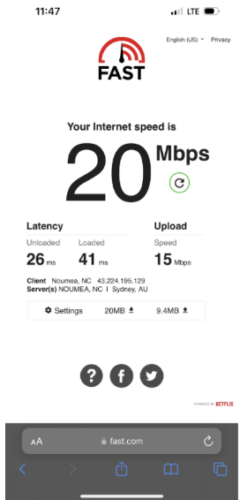 ---
■List of Places Visited
■For access to New Caledoniaclick here