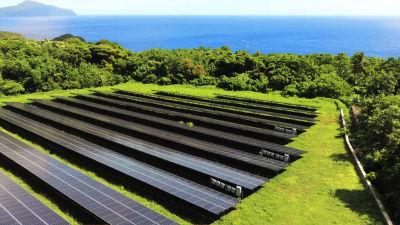 The 12th stop is American Samoa, a mysterious place where there are very few tourists, only three Japanese, and almost no travel information.
Sponsored by Interlink Co., Ltd. which deals with more than 1,000 Top Level Domains (TLDs) around the world, The Domain Island Tour is currently focused on about 50 types of "Island Domains" in the South Pacific and Caribbean, such as ".cc" ".tv" ".sx", actually going to the these islands and reporting on their features.
Those who know the famous vacation destination of Samoa (Independent State of Samoa), a place with many tourists, may not be aware of the separate American Samoa. Actually, in American Samoa there is an island called "Ta'ū" where Tesla has achieved a major milestone by generating power for the entire island by solar power and power packs. I knew I had to go and see it!" Although it seemed that flights from the main Island to Ta'ū Island stopped in 2014, and it was unclear whether they have resumed again… I thought; "I just have go and see and check it out for myself!" So, I went to American Samoa.
<<Table of Contents>>
◆Can I Get to "Ta'ū Island", the Location of the Tesla Mega Solar Power Plant?
American Samoa is an island in Polynesia, and a territory of the United States of America. Although Japanese people can enter the United States without a visa through the Visa Waiver Program, American Samoa has its own immigration control system separate from mainland United States, so it's necessary apply in advance.
The following is the government web page on how to enter American Samoa, but I feel pretty uneasy to see the contact email written at the top is Gmail.
immigration info | american samoa
https://www.americansamoa.gov/immigration-info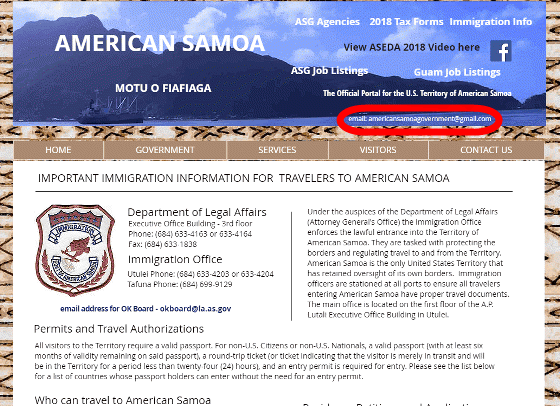 However, the email address for getting the permit was ok; board@la.as.gov. To get permission I sent copies of my passport, my airline tickets, and "local accommodations and contact information" via email. It was difficult to get an answer, so I had to notify them multiple times.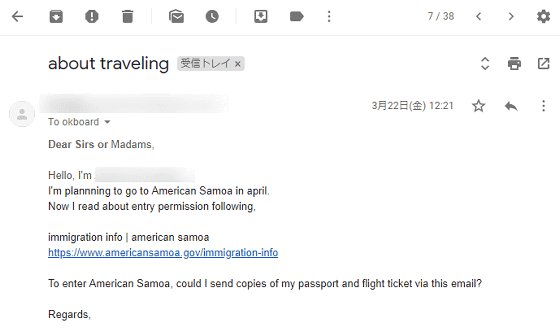 Although you can get to American Samoa from the Independent State of Samoa, this time I went from Japan to Hawaii, the over to American Samoa. There are only two flights a week from Hawaii to American Samoa, leaving Oahu at 16:30 and arriving at Pago Pago, the capital city, around 21:00.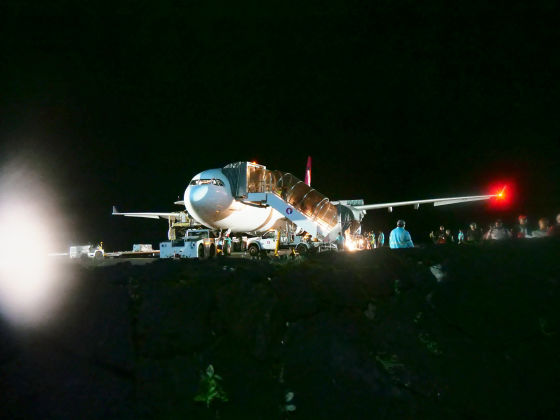 After arriving at the airport, I go through the "ASG IMMIGRATION OFFICE" ……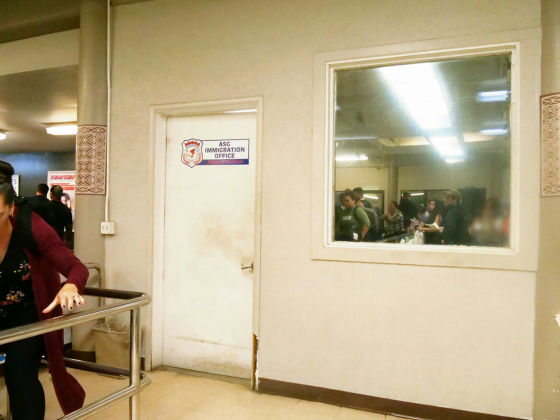 I waited nervously to see if I would really be able to enter the country smoothly. This is the permit I was sent by email.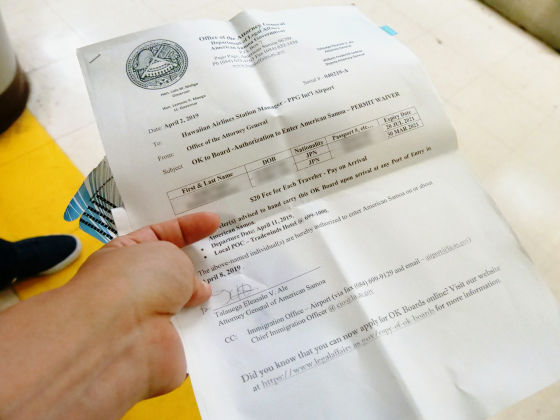 My turn came and I handed over my permit and a 20-dollar fee (about 2200 Yen) and passed through without a problem. Phew!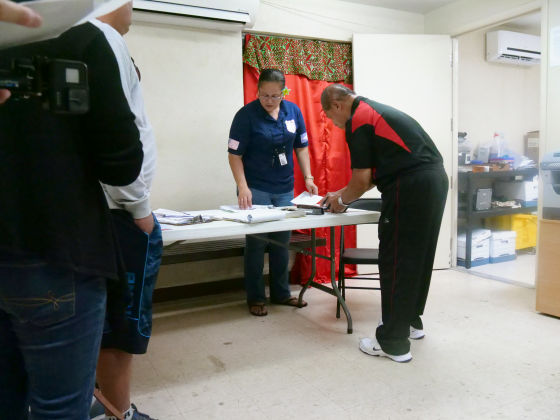 As I exited the arrivals, I thought "What is this?! , is a festival going on!? ! " Tthere are were so many people! It seems that many American Samoans travel to Hawaii and Samoa to work, so many family members come to pick up people from the bi-weekly flight from Hawaii.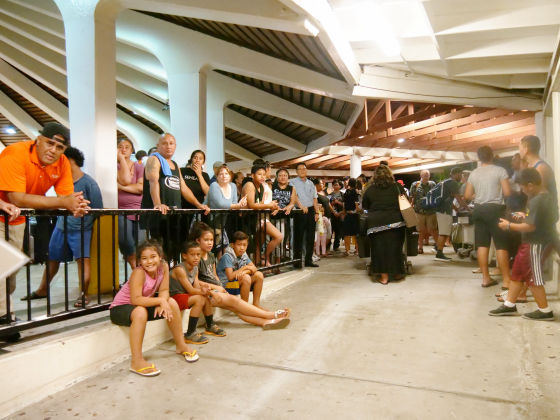 If you watch the video with audio on, you can get a real sense of the liveness.
The airport in American Samoa hopping like a festival – YouTube

The airline ticket office closes at 16 o'clock, so I had to wait one night and go back to the airport the next day to see if I could get a ticket for Ta'ū Island.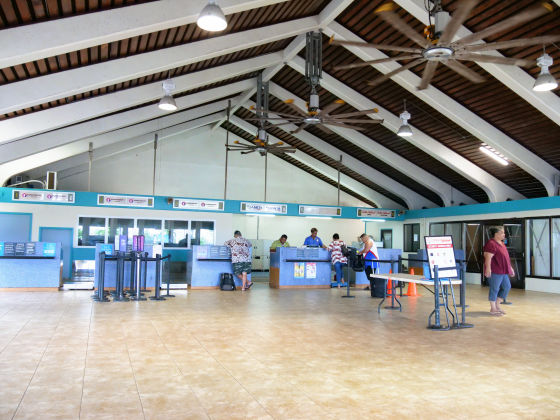 Going into the "SAMOA AIRWAYS" office ….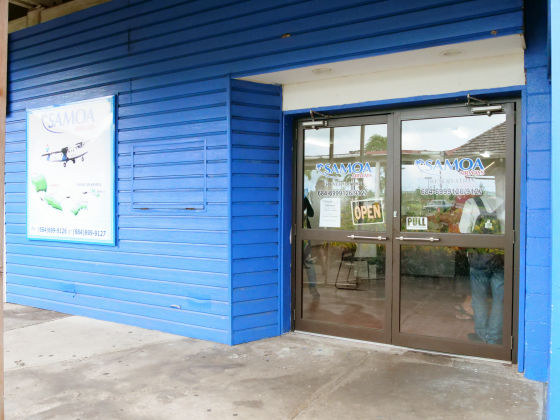 When I asked the lady at the counter "Are there any flights to Ta'ū Island?" she answered: "Tomorrow (Wednesday) morning", so I was happy because it looked like I had a green light to go …. but, according to the lady at the counter named Afiona, "The only flight back from Ta'ū is on Friday." Which makes a big red light for us, because we are supposed to fly back to Hawaii on Thursday.
… So, "Is there any other way?" "By boat maybe?" As I asked further, I found out that although there is definitely no flight from Ta'ū to the main Island until Friday, there is a flight on Thursday from Ofu Island, which is an hour from Ta'ū by boat. In other words, it is possible to fly to Ta'ū Island on Wednesday, to see Mega Solar, then to take a boat to Ofu and fly from Ofu to the main Island on Thursday morning. When I asked how to arrange lodgings and the boat ride, Ms. Afiona kindly said she would arrange it.
She said "I need to arrange it by phone, but I can't get through to the boat guy now, so you can check back here later." So, I decided to go to the city to the American Samoa Power Authority (ASPA) which manages the mega solar power plant.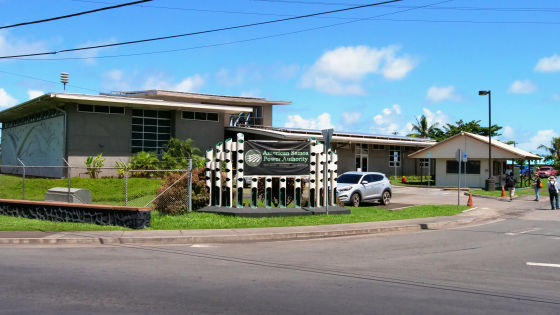 When I asked the two happily working ladies, "Can I see the solar panels on Ta'ū Island?" they gladly phoned over to Ta'ū Island.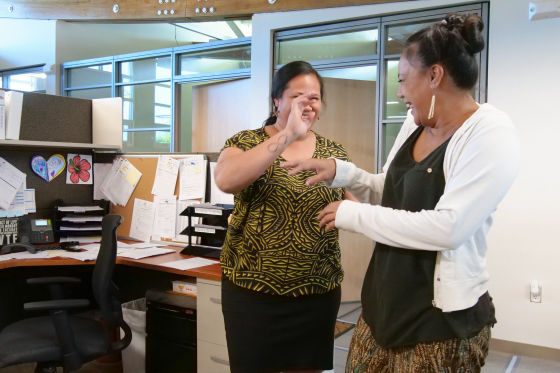 An engineer named Tuni manages the solar panels on the island of Ta'ū. I was given his phone number and told to call him when I got to the island.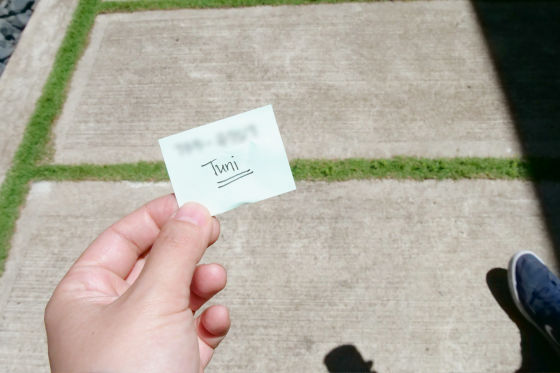 A few hours later, when I went back to the airline counter, I was told, "We still can't get in touch with the boat or arrange the lodgings." So, I wondered if this was going to work out…, but after waiting awhile, the ladies were able to arrange the reservations for the boat and hotel.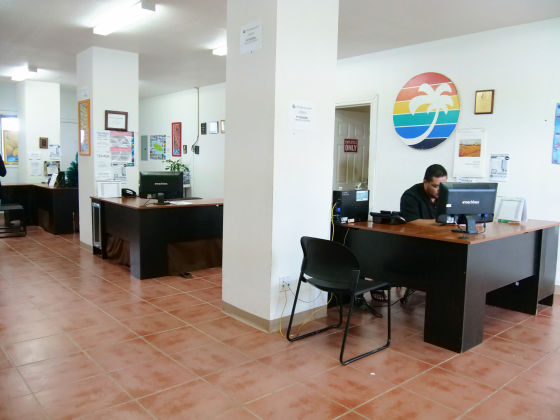 The next morning. I obtained my ticket for the 8:45 flight without a hitch.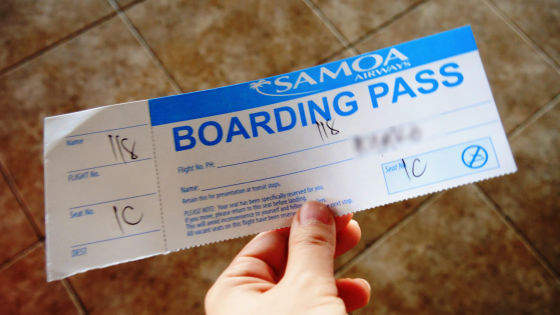 With the departure of a domestic flight, the airport was dead quiet, unlike the arrival from Hawaii.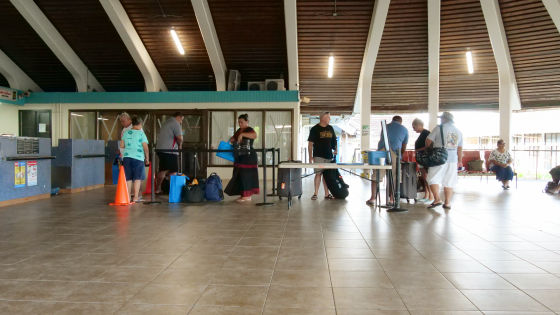 Please note that when checking in, Samoa Air doesn't just check your "luggage weight", they check "you and your luggage weight." In 2013, Chris Langton, Samoa Air chief executive told CNN regarding this policy: "We are not all 72 kilograms (about 160 pounds) anymore and we don't all fit into a standard seat. What makes airplanes work is weight. We are not selling seats; we are selling weight."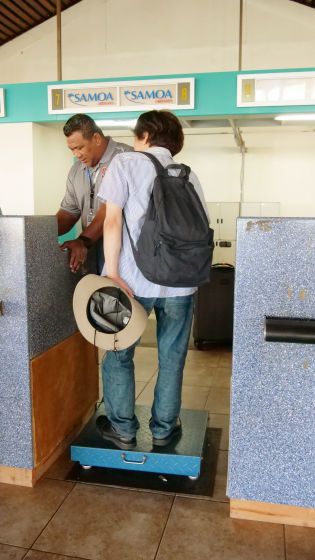 In the airport waiting area….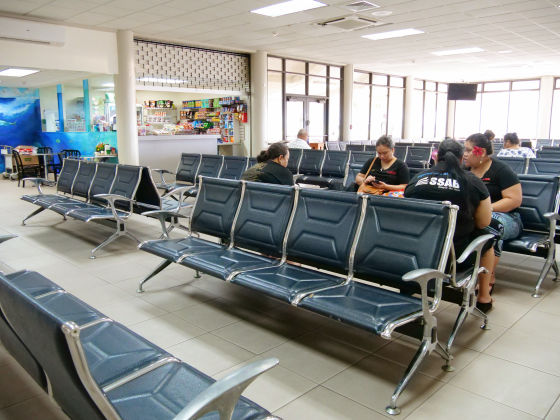 The atmosphere is very quiet and relaxing, and a cat wanders through.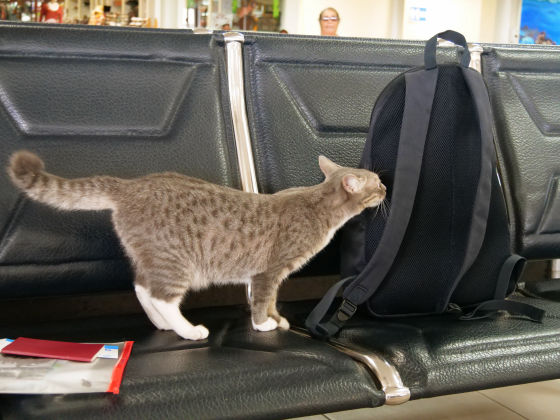 So, this is the airplane for Ta'ū Island.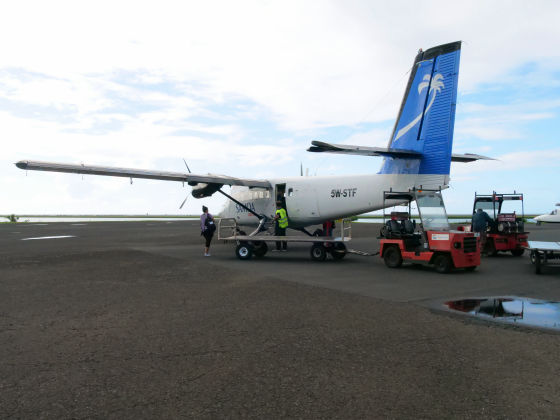 It seats about 10 people, with very small seats…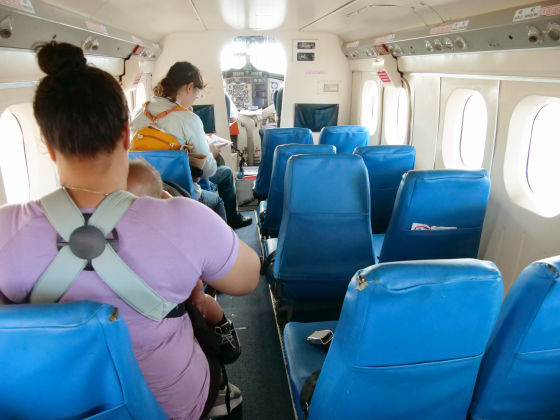 We can see right into the cockpit. And the pilot was Japanese. "Are you one of the three Japanese people living in American Samoa?! ! " But it seems that Mr. Ikeda lives in the Independent State of Samoa, not American Samoa. "This is the first time a Japanese person has taken one of my flights" he said. So I guess not many Japanese come to American Samoa and even fewer to Ta'ū Island.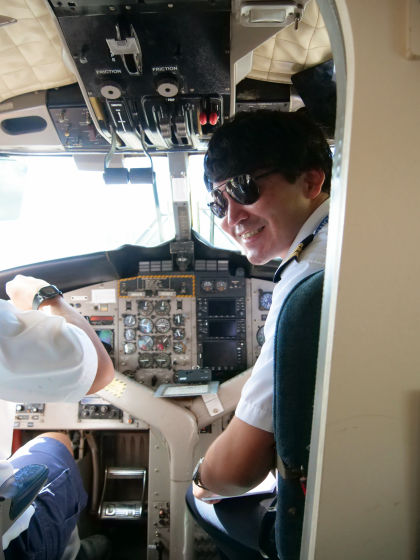 From the front row, I was able to see how the two pilots cooperated in the cockpit to fly the plane, which made me think "What good pals they are."
Take off for Ta'ū Island – YouTube

It was about 30 minutes from the main island to Ta'ū.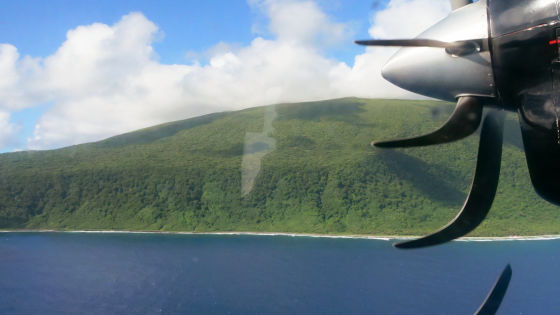 Finally I arrived at the long-awaited island of Ta'ū, and it was impressive… but the connection service was so bad there was no way to contact the engineer Tuni! Not only that, but I couldn't find the guide I arranged through Ms. Afiona, and I couldn't go anywhere although all I wanted to do is to see the solar panels…! I was really stuck.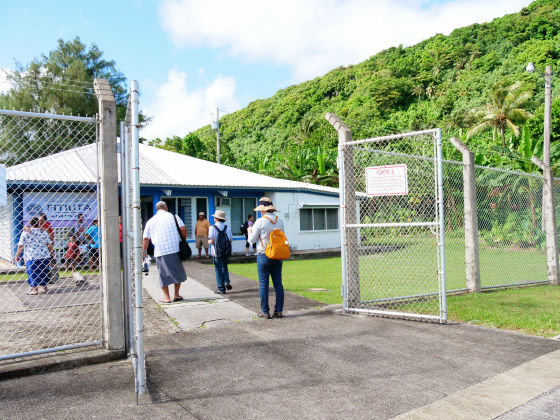 Then, look what I found…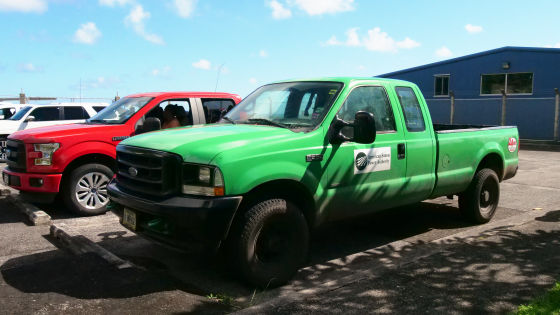 A car that says "American Samoa Power Authority".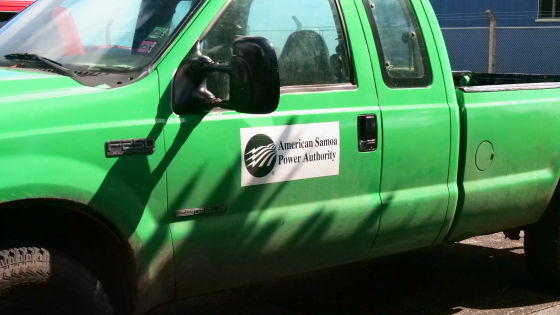 The man driving the ASPA car was wearing a "SolarCity" vest, a solar panel company acquired by Tesla, so …! I decided to try and chat with him. He actually was not a worker for SolarCity, but rather in charge of managing infrastructure such as the power and water supply for the island, and he said that he goes to the airport as part of his daily patrol. When I told him; "I want to see the solar panels!", he said "OK! I will take you! Then I will show you around town in my car!" and so the light started to shine again!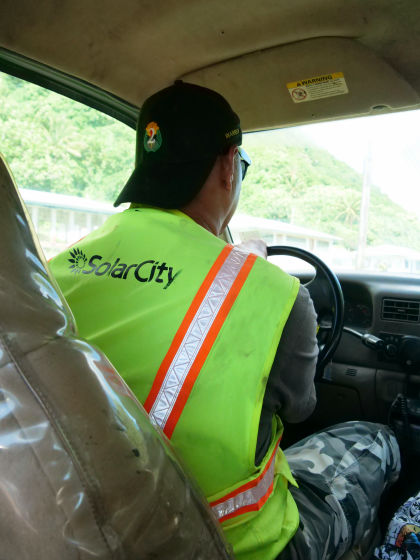 In the car, the letters "ASPA" are handwritten by the steering wheel.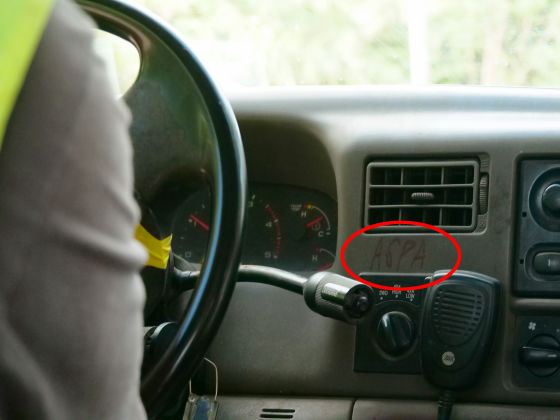 Finally, I arrive….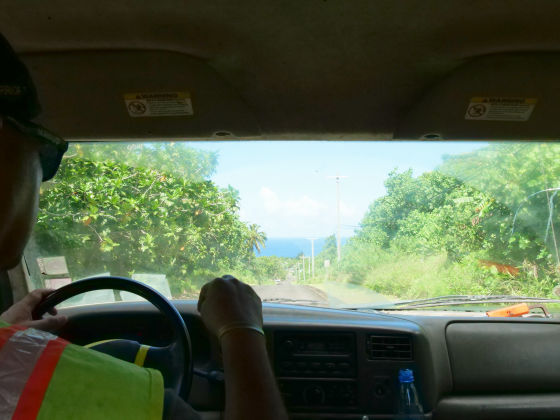 My heart's desire….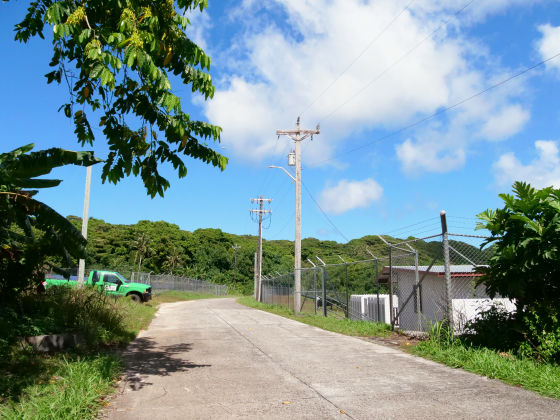 The Mega solar power plant.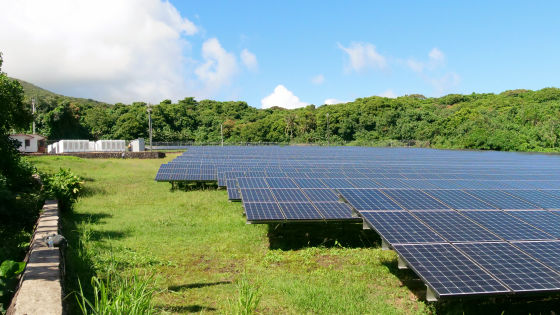 The office is next to the solar panels.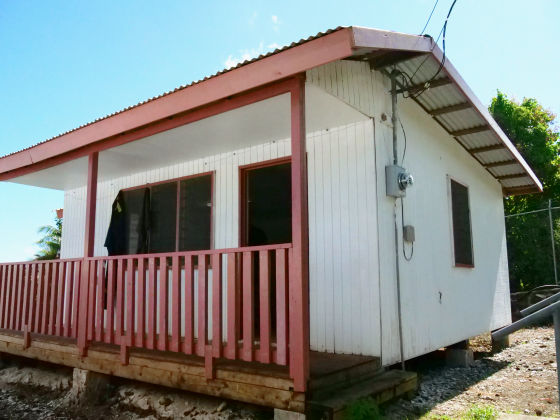 On site, managing these solar panels is the engineer Tuni whose phone number I was given on the main island.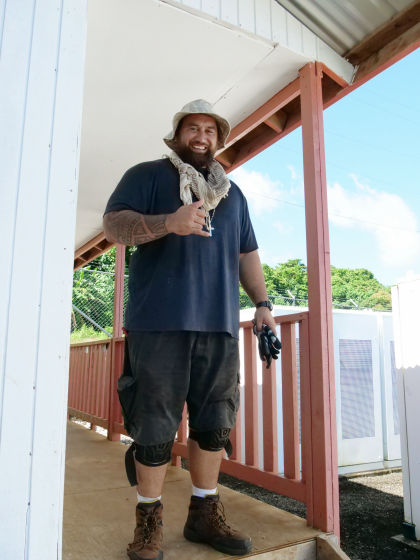 The inside of the office looks like this.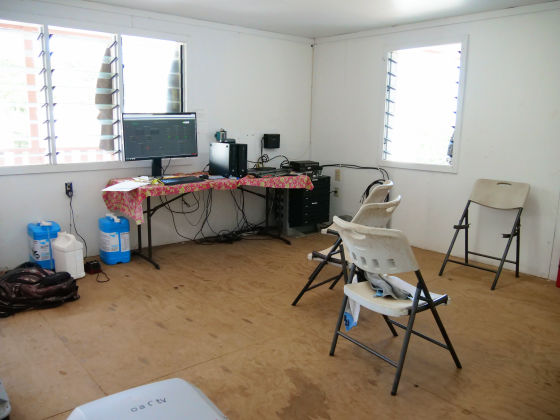 In the office there was an inverter under repair. The mega solar power plant is managed by Tesla, and when I visited, Tuni was the only staff working there. Tuni also travels back and forth between the main island and Ta'ū Island, he is in contact with Tesla once a week, and is responsible for coming to the mega solar power station to check for and repair problems when they happen.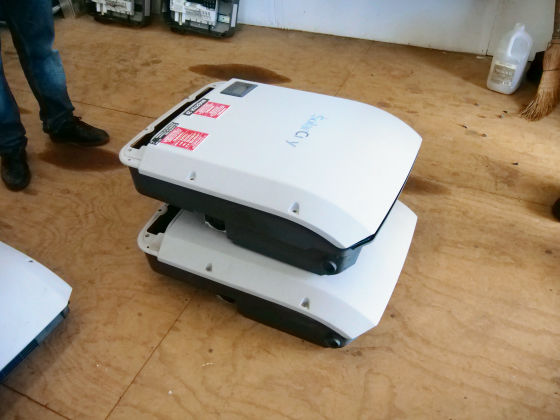 The office had a map of the solar power plant. The place that I am pointing to is the office, so you can clearly understand how large the solar panels are in comparison with the office.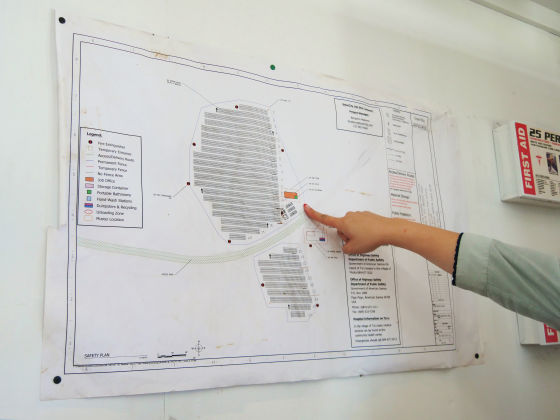 "Powerpacks", Tesla's power storage devices, were in rows beside the office.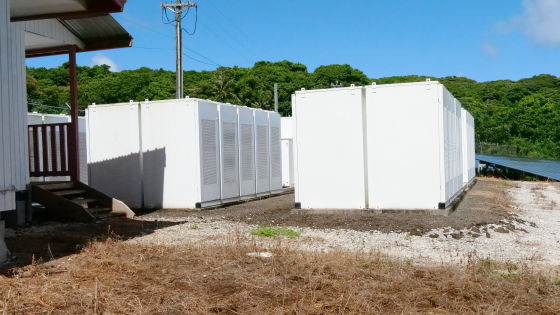 There is a total of 60 Powerpacks in the rows, and 40 were in operation when I visited.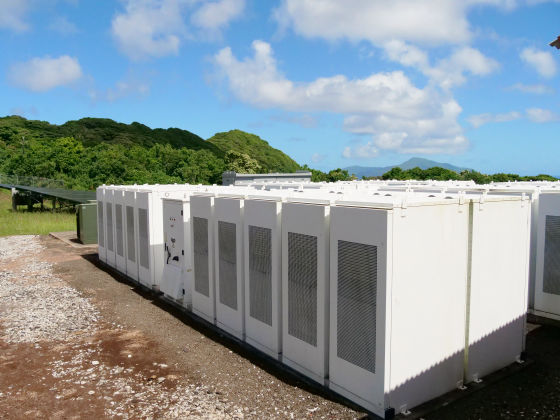 This is the size compared to a person.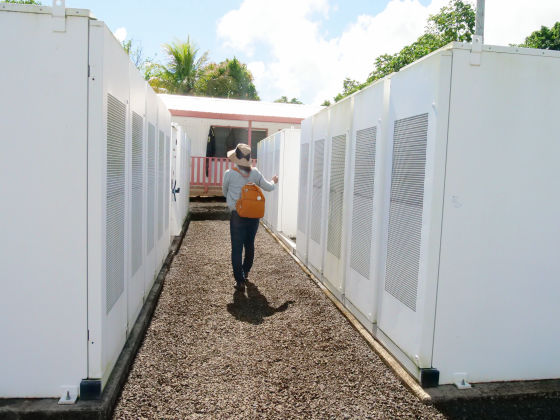 I wonder if there would be a big Tesla logo, but not so….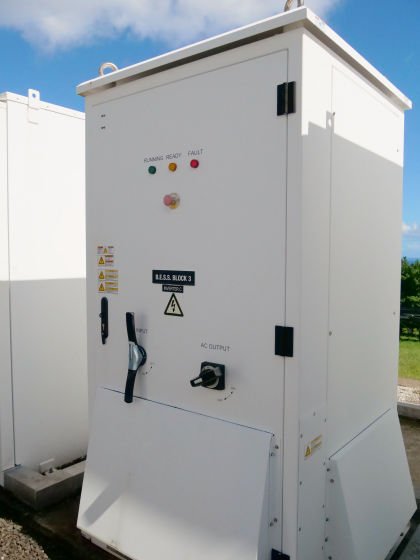 There was only a small TESLA written on a sticker in the corner.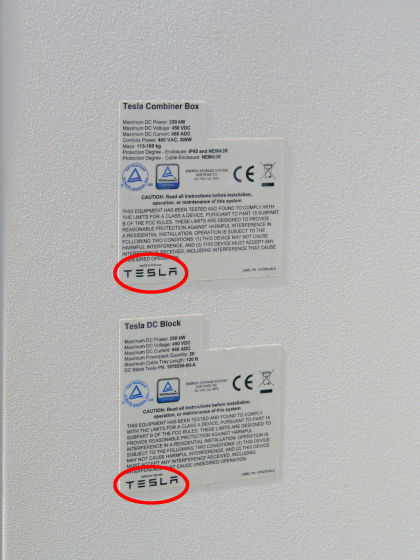 The solar panels are arranged on the other side of the Powerpacks. The length of one panel is 120 meters, and there are 25 columns. The total number of panels is about 5,000, and the power generated is 1,410 mW.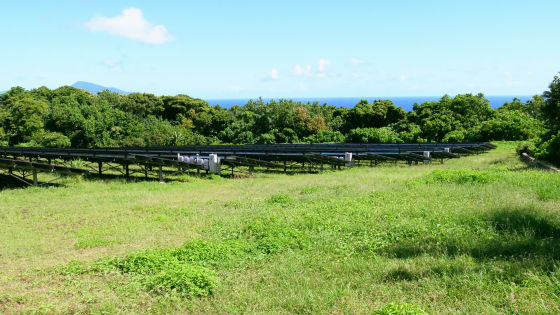 You can see the scale of the mega solar power plant (which can only be called "spectacular") from the following video.
This is the amazing Tesla Mega Solar Plant – YouTube

It looks like this from above, using a drone
The solar panels of Ta'ū Island provide 100% solar power – YouTube

I tried to get close.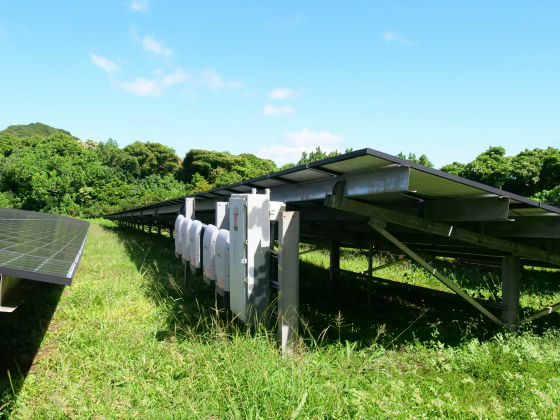 It's hard to understand from far away, just how huge the panels are.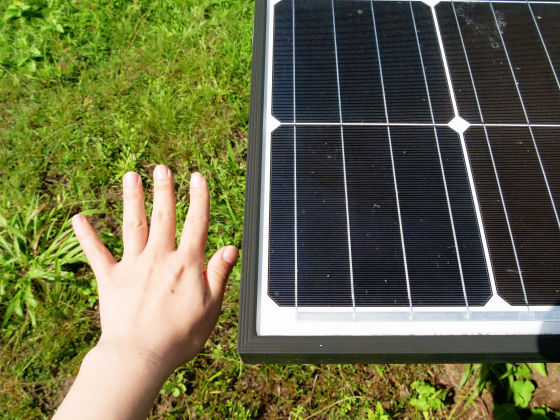 Walking between the panels I could get a real sense of the scale.
I walked through the mega solar plant powering the whole island – YouTube

Four to five inverters are attached to the end of each panel, and there are 44 inverters in the whole facility.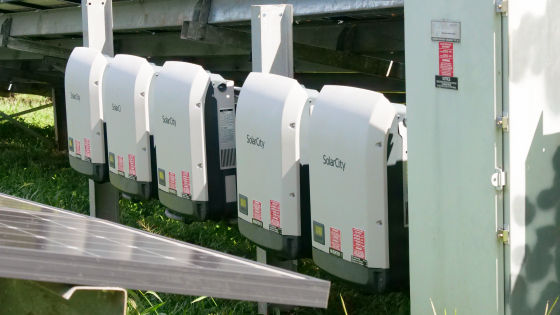 "I want to see how people on the island use electricity…" I say, and Mr. Junior, the man wearing the SolarCity vest, takes me to see his house.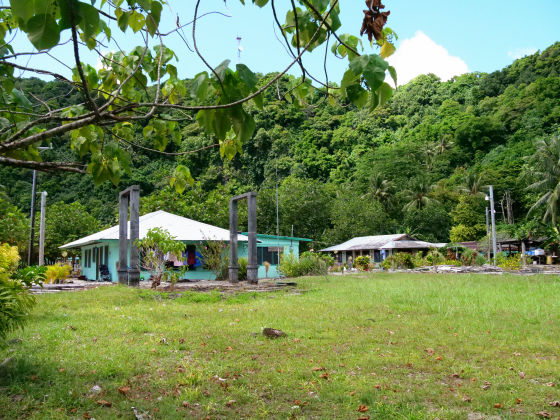 This is Mr. Junior's house.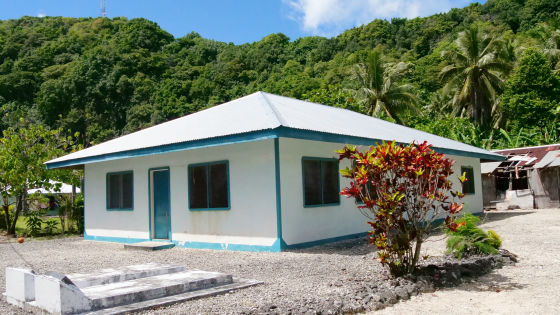 This is what it's like inside….
The kitchen has a refrigerator and …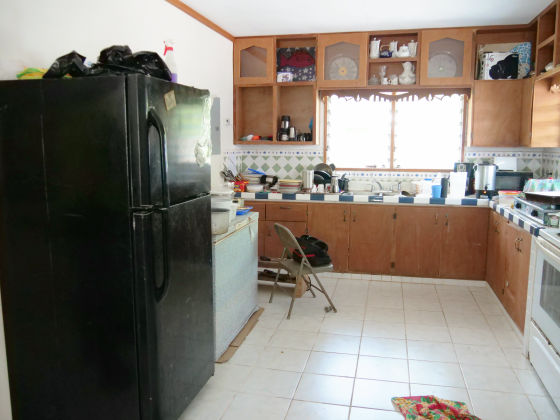 Coffee maker, pots, microwave, etc. all lined up.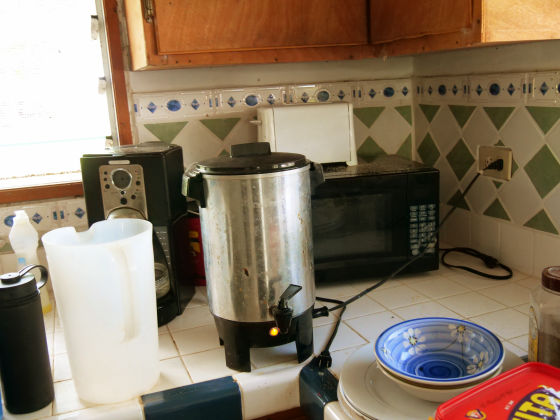 People need to purchase a prepaid card like this one to use electricity on the island of Ta'ū.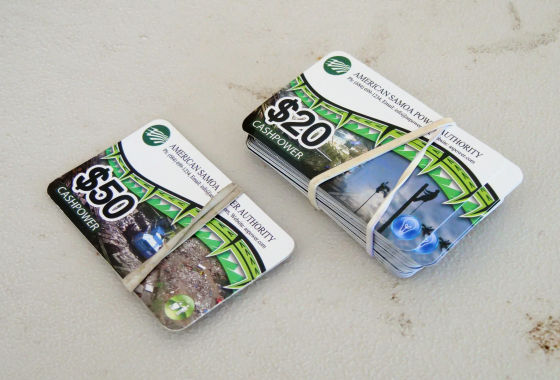 You scratch the back of the card, and a number appears….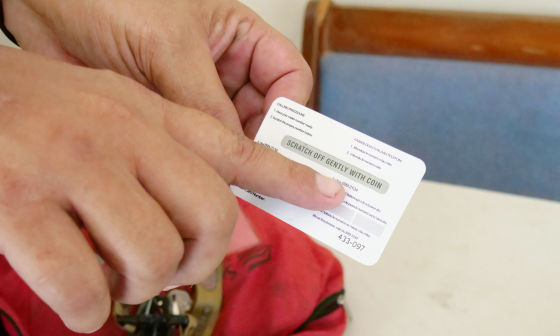 Then you can use electricity by typing the number into a panel on the wall.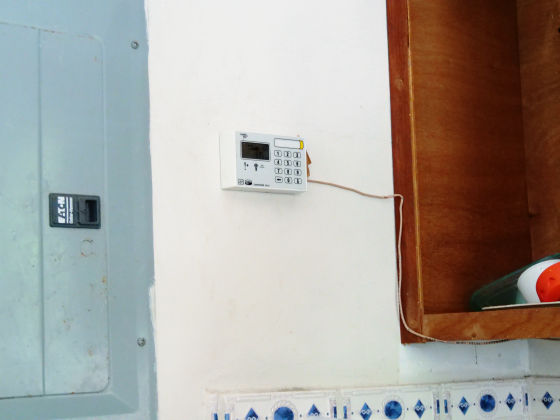 The washing machine is outside the house.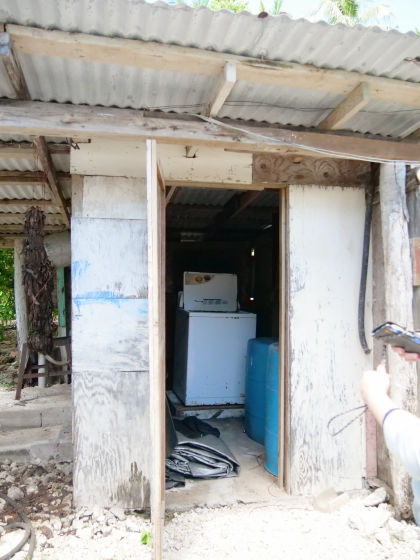 It also plugs into the outlet. Per family, the electricity bill is about 10,000 yen a month. There are about 2,000 residents on the island, and they used to get their power from diesel fuel, which had to be shipped to the island and was quite costly. Electricity seems to have become much cheaper since switching to solar power.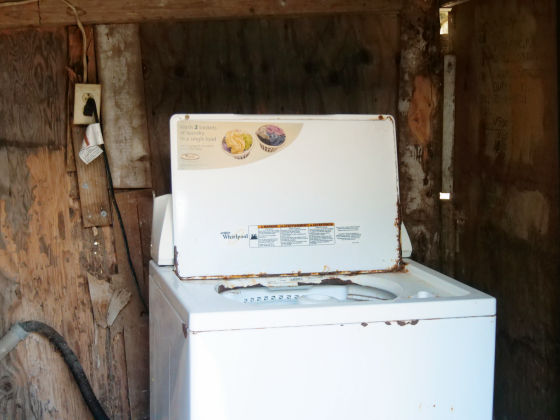 However, when bad weather lasts for more than three days, the program automatically switches to the dynamo (diesel power generator). So, he showed me where that generator is as well.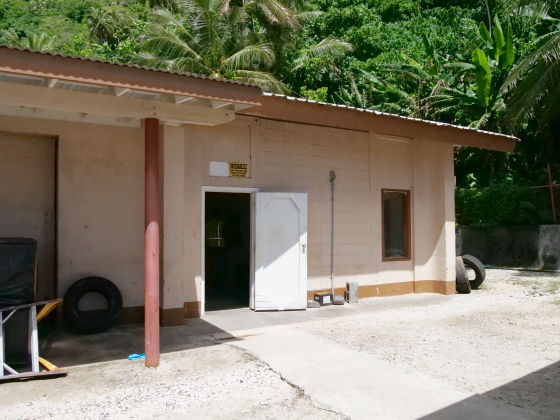 Three power generators are kept in this building. They don't usually run.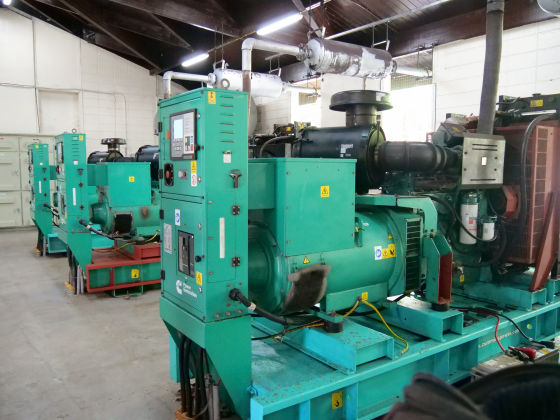 It seems that solar power generation and diesel power generation are switched automatically, but there was staff monitoring the generator from outside. This job seems to have shifts that go 24 hours. "The 24-hour shift is tough, but usually someone will come here to visit." he says.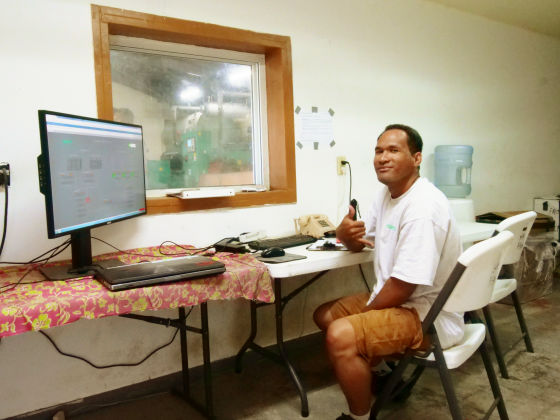 I was able to see the mega solar power plant and the village, and I thought that lunch time was getting close and maybe we could have some lunch…. but then I discovered that there are no restaurants on Ta'ū Island. "There's food in the store!" he said, and took me to the store.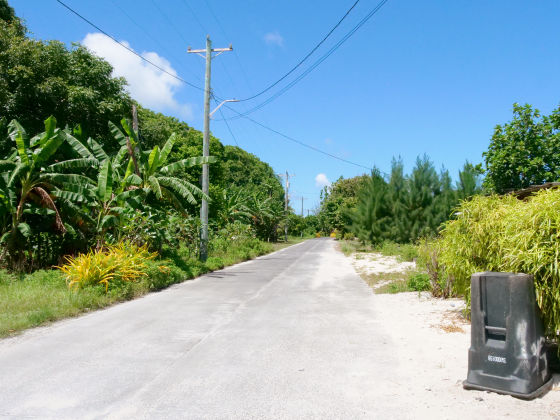 This is the store.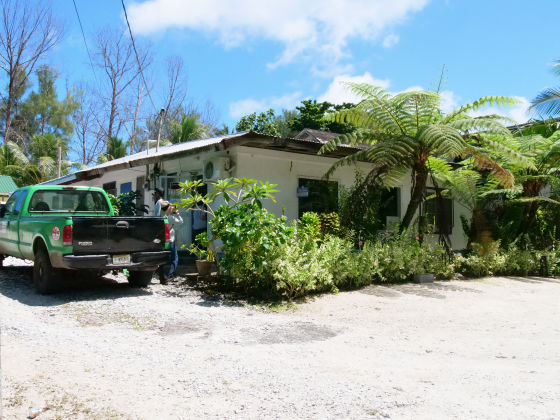 This is what it's like inside, besides daily necessities like soap, there are some snacks and sweets etc…. but nothing like lunch.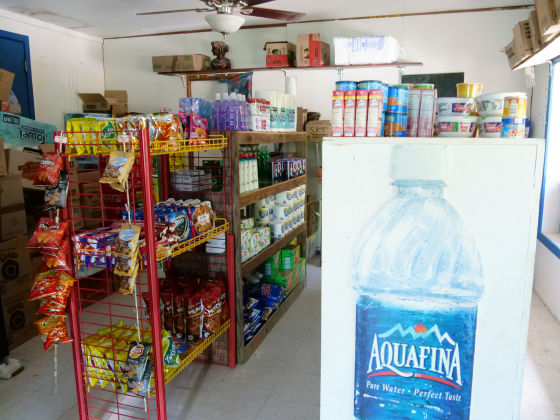 However, I found cup-noodles, so I got one of the store staff to boil water for me, using Tesla power.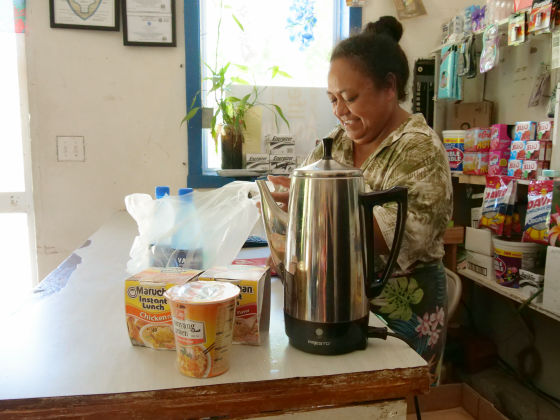 I also enjoyed the comfort of air conditioning powered by Tesla….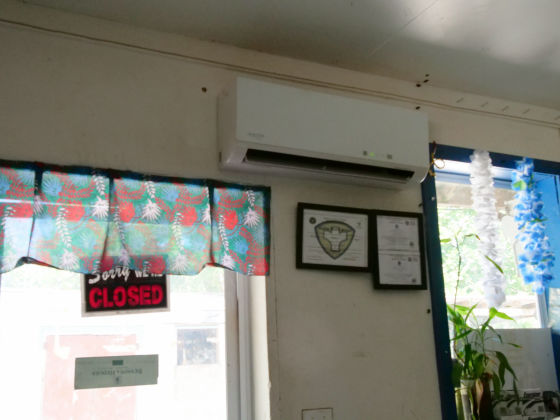 I enjoyed Maruchan's cup-noodle. Without this, lunch would have been a mere snack, so thank-you Tesla.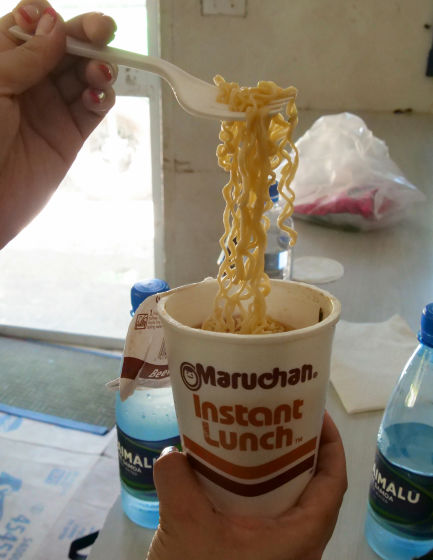 I say thanks and good-bye to Mr. Junior, and head off for a sail to the next island to make sure I can fly back the main island the next day. I heard it would take "one hour", but it really took about an hour and a half as we slowly made our way through rough waves.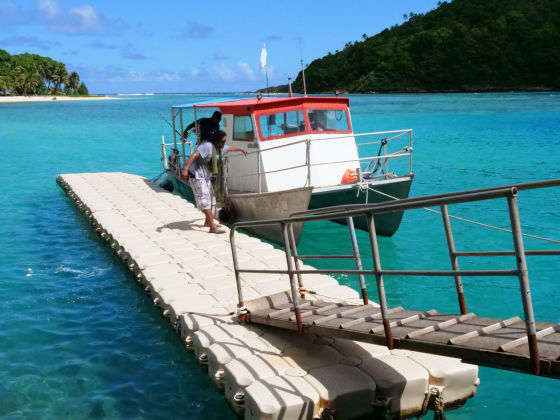 Actually, there are solar power plants on Ofu Island too. Ofu Island's solar power plant is near the port…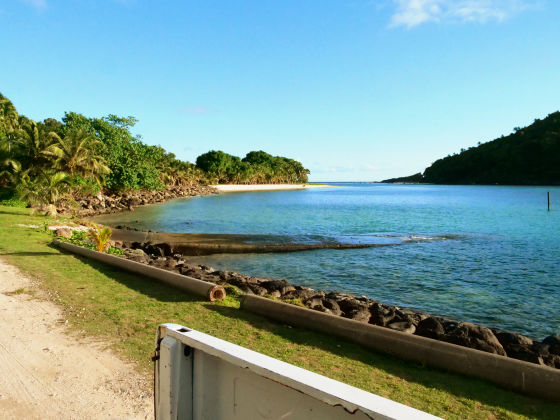 It's at the end of a thickly wooded hiking trail.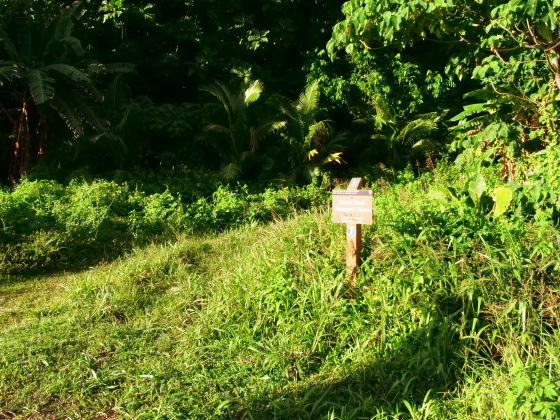 Although there is something of a path, I had to walk about 20 minutes up a steep mountain-side through "jungle".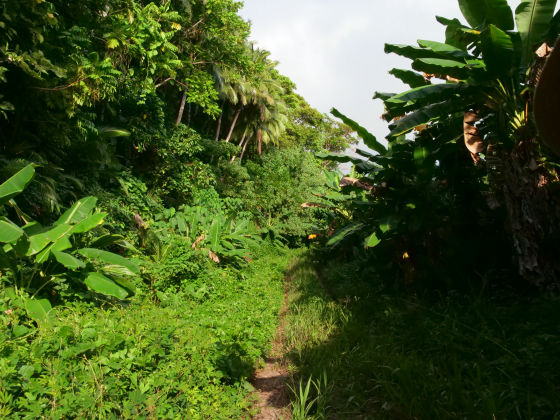 The way is thick with Mimosa shrubs….
Mimosa shrubs crowding the path on Ofu Island – YouTube

A hermit crab made an appearance. You can enjoy nature on your way to the solar power plant.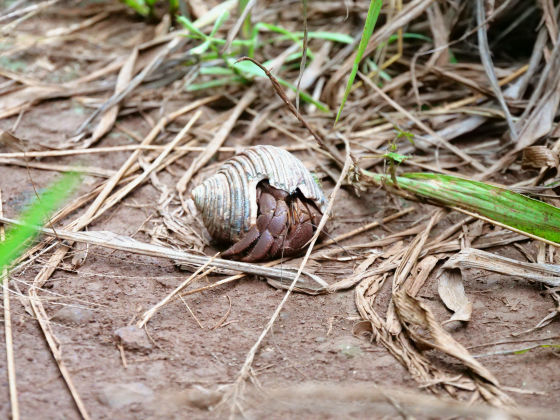 Losing all my strength going up the slope, about to say "Are we there yet…?"I finally see a ray of light.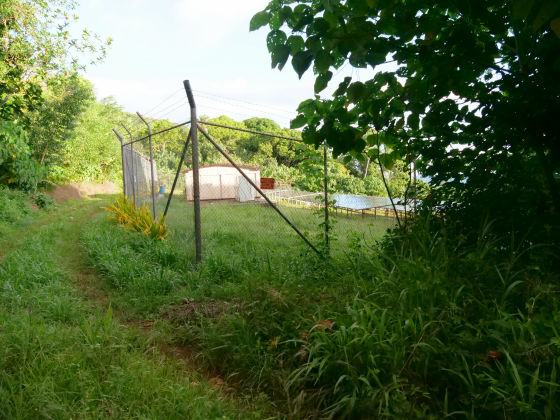 I found the solar power plant…. but it's much smaller than the one on Ta'ū Island.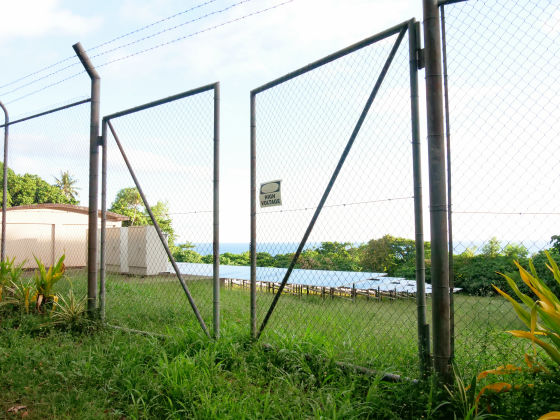 This is inside. The trees cast shadows over the solar panels, but it seems this is the only flat place on Ofu Island where the solar panels could be installed. With only 100 residents on Ofu Island, the scale of the plant is much smaller. Besides that, the power generated for the island is not 100% solar power, but a combination of solar power and diesel power.
The mega solar plant of Ta'ū produces 1,410mW, but the solar cell array of Ofu produces only 350kW. Also, whereas Ta'ū had 44 Inverters, Ofu has only 3. And one of them is out of order.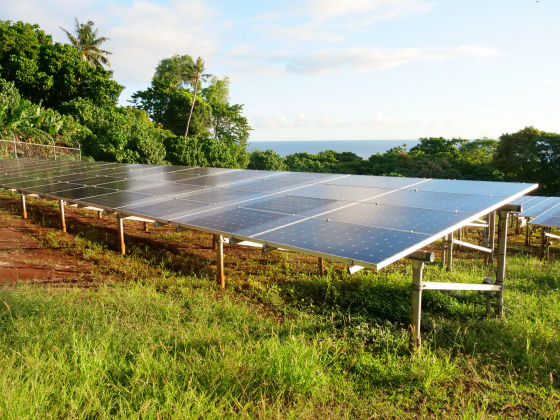 Inside the building….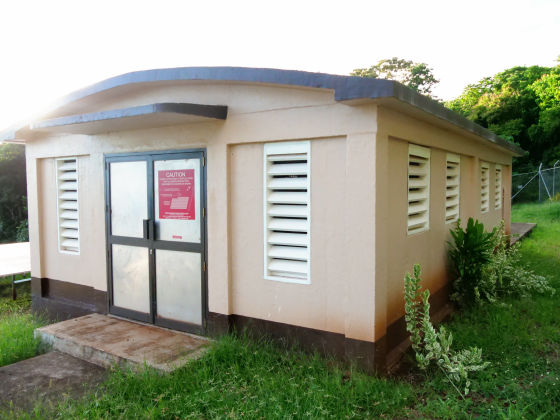 Energy Storage System of Princeton Power Systems. There are no Tesla marks to be seen, and I could tell there was a considerable difference in facilities, even though they are both remote islands of the same country.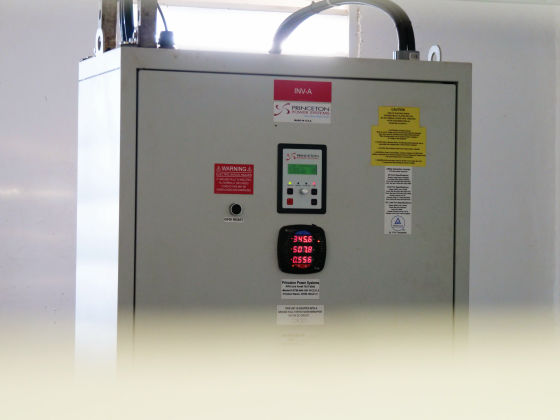 As I was thinking about these things, it started to get dark. Actually, American Samoa is the considered "the last country to see the sun set" so this is the last sunset in the world today.
There are only two or three places to stay on Ofu Island and Ms. Afiona booked a room for me at the "Asaga Inn"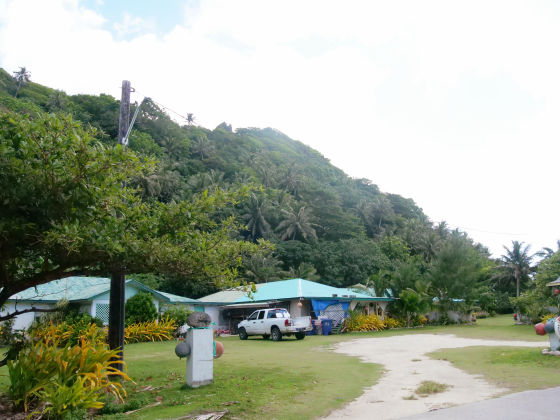 This is what the hotel is like. Although there were an awful lot of insects, the air conditioner worked well and there was a power outlet so I could charge my smartphone and camera, and wallow in electricity.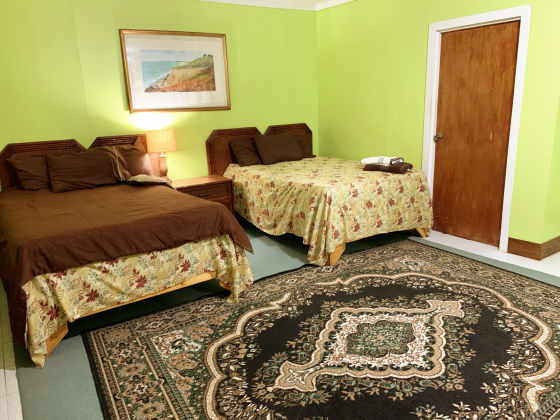 This is the toilet and shower.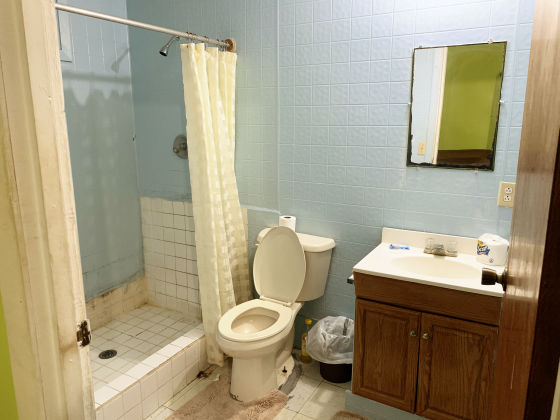 The shower was a bit sad without hot water, but at least I could flush the paper down the toilet.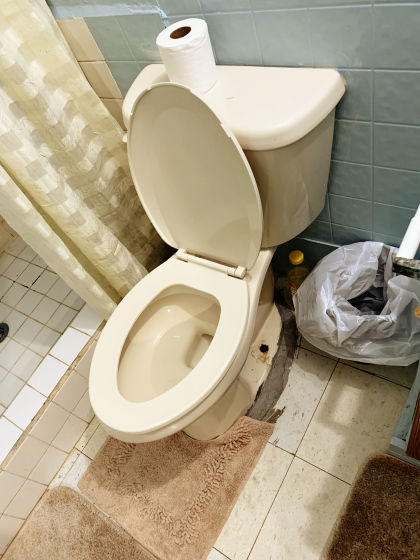 The people on this island, including those at the hotel, are extremely kind. The beach had beautiful clear water and Sting Rays swimming in the shallows, it's a long way from Japan, but definitely an ideal place for a relaxing vacation.

The airport I went to the next morning looked like this. The airport is not on Google maps, but it's located in front of the "Ofu Vaoto Marine Park" port.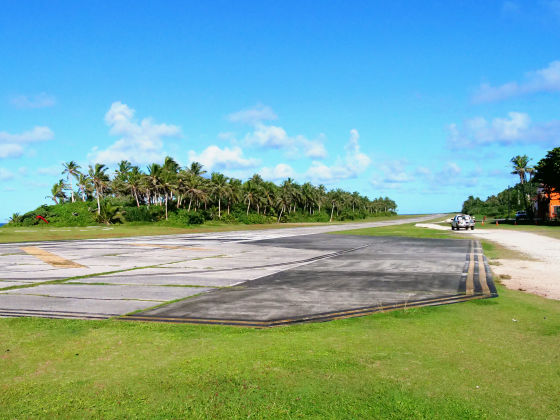 This is the airport.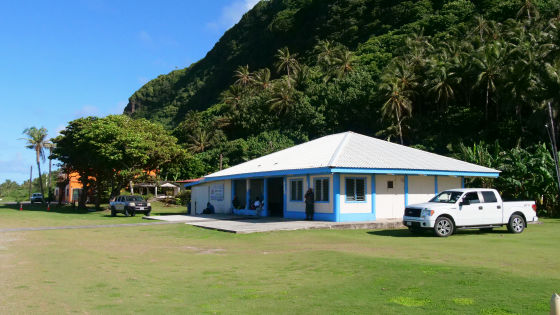 There's no staff until a flight is going to arrive.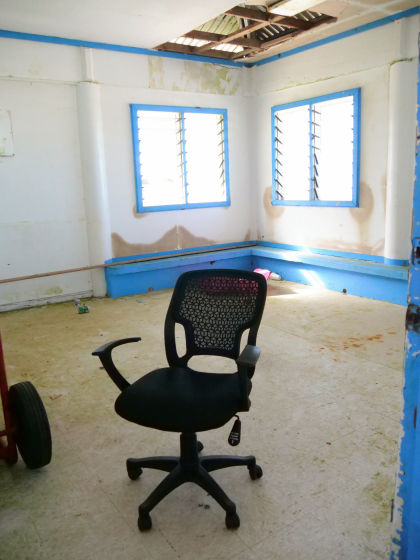 However, by 9:45 the plane had not yet even arrived. The US National Park Service has a 50-year lease for park land from the American Samoa village council, so there is a ranger stationed next to the airport. He tells me that my flight has been cancelled.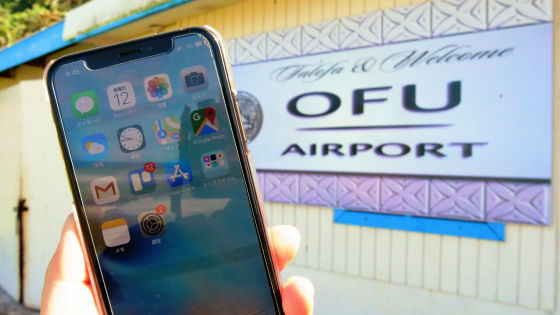 "Whaaat….! But I need to catch a flight to Hawaii today!" while I was crying out in desperation, the staff from the inn came and said: "Just come back to the Inn for now."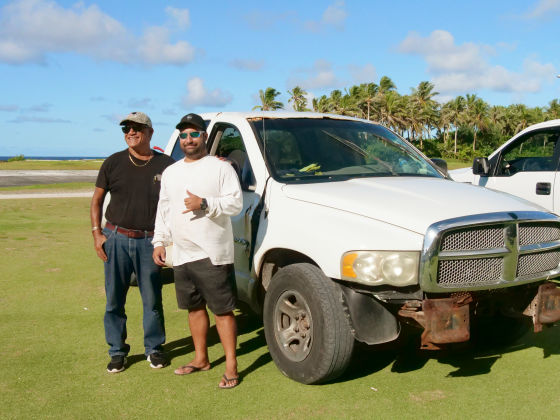 The lady from the inn was unbelievably kind, she said "You must be hungry" and gave me a hamburger, and she said I could keep using my room, and she called and talked to the airlines several times for me. Before I left for American Samoa, I heard that the people there were a little bit "anti-Japan", but what I found was that many people were extremely friendly and kind, maybe because they are very earnest Christians.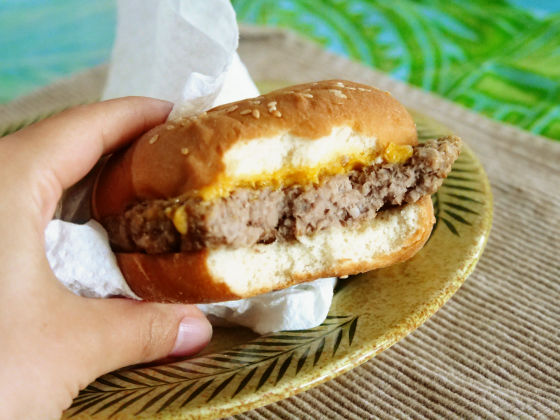 The lady of Asaga Inn and an old guy like her father.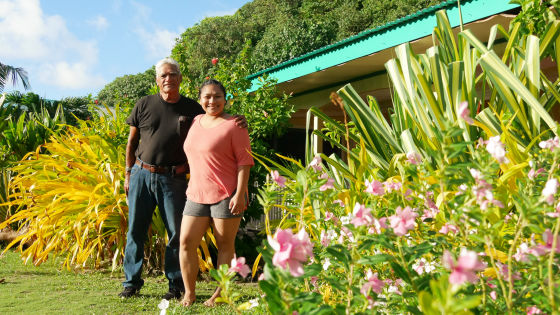 After calling and talking to the airlines for me, the lady at the inn assured me "Don't worry, because the airline will cover all expenses including hotel and flight costs." "Really…!? Likely I will have to stay in a cheap hotel and take a flight with a million transfers to get home….!" I was pretty worried, but there was nothing I could do, so…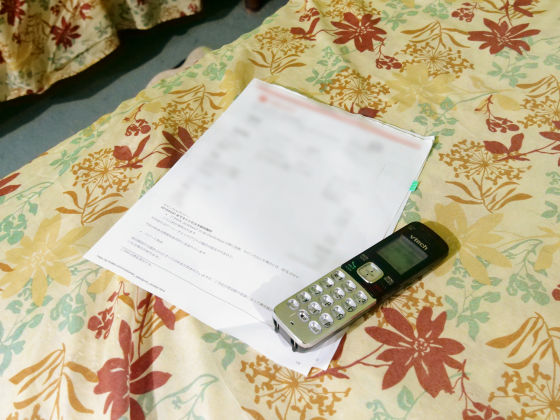 I ate vast quantities of grilled Kingfish caught by the hotel staff and then went off to bed with a full stomach.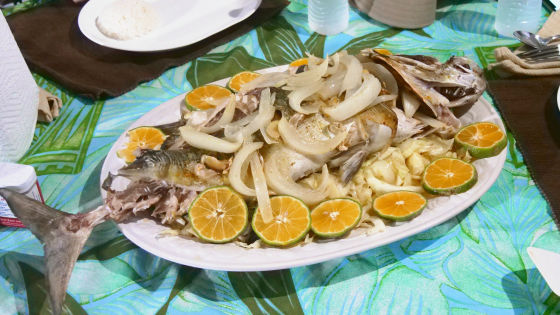 The next day I heard that a replacement flight would arrive at 10:00 so we went to the airport, but by 10:37 there was still no sign of a plane.
However, around 11:00 a fire truck came, something we hadn't seen the day before, so I got hopeful that a plane would come.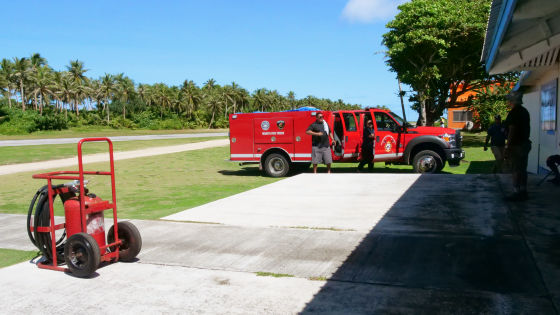 And, the plane arrived safely. I heard that the day before all three airplanes owned by Samoan Airlines were not able to fly due to mechanical problems. However, the plane was repaired that day, so the next day they came to pick us up, even though originally there were no flights scheduled. According to the locals, flight cancellations are not so frequent, it only happened twice in 2018, so all I can say is that the timing was bad.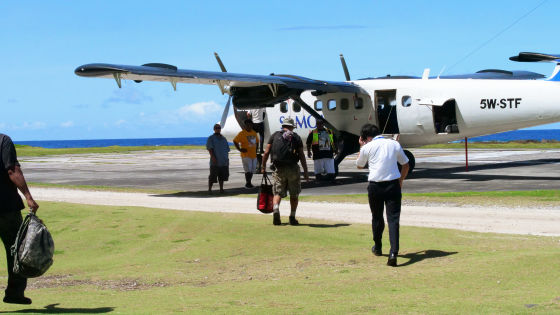 On the main island I told the ladies at the airline counter the situation and they passed the information to someone in a room in the back….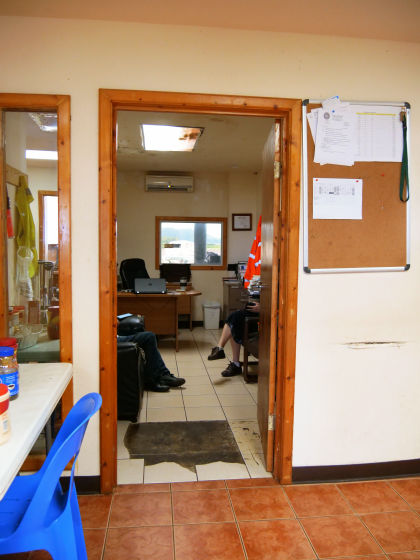 I met the manger. "I am very sorry about this" he gave me a sincere apology….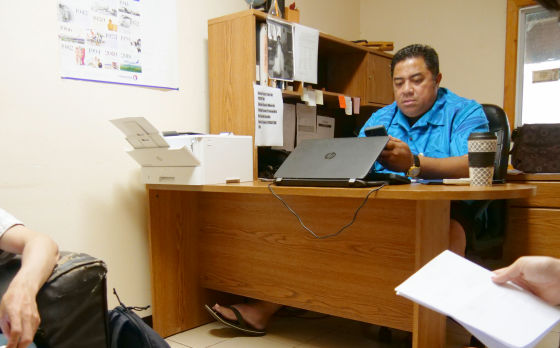 We communicated via Google translate. Since there are only two flights a week to Hawaii, those who missed the Thursday flight will need to stay in the country until Monday night. However, the manager explained that the ticket would be with Hawaiian Airlines and all costs covered. Also, they would provide lodging at the best hotel in American Samoa and cover the cost of meals. I was surprised by the sincere apology and exceptional kindness, as I had been thinking they would put me up in a cheap hotel because I had bought a discount ticket.
◆What are They Eating in the "Most Obese Country in the World"?
What are They Eating in the "Most Obese Country in the World"?
Since I ended up staying a lot longer in American Samoa, I explored the town thoroughly. The Samoan Islands are said to have an overweight / obesity rate of 93%, and in American Samoa they say that one-third of adults have diabetes.
Are there really that many overweight people? I tried to take a picture on a crowded bus. Certainly, there are many men and women who are generally big and well built.
Post from RICOH THETA. – Spherical Image – RICOH THETA
This is what it looks like in the market. Here too, I felt that most people passing by were in pretty good shape.
American Samoa Market – YouTube

People sitting in the waiting area of the airport.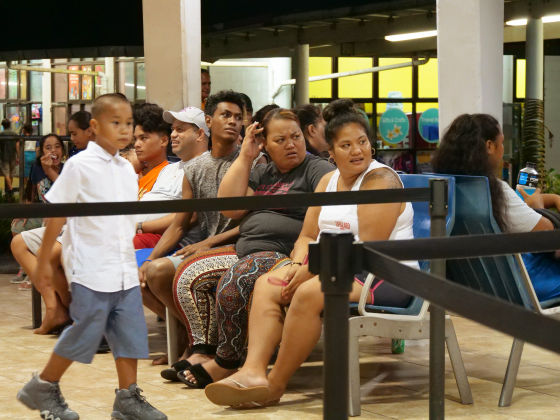 A woman gardening at a house near the hotel.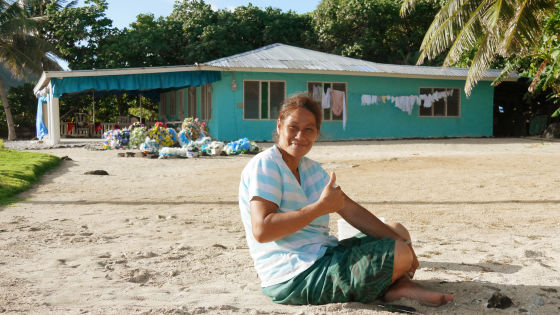 Students. Certainly, some people are a bit chubby, but not my image of being "overweight". In any case I thought a lot of people were just big and well built.
The data shows that "nearly 45% of children are overweight or obese", but I got no impression of many children being fat. After seeing the difference between the data and the impression I got in person, I felt again the importance of going there and seeing things for myself.
American Samoa's food looks like this. When I went to Ta'ū Island, this is the large grilled Kingfish caught by the hotel staff, along with white rice. It was grilled simply with salt, oil and garlic, and under it was cabbage and onions. The price was $16 (about 1,800 yen).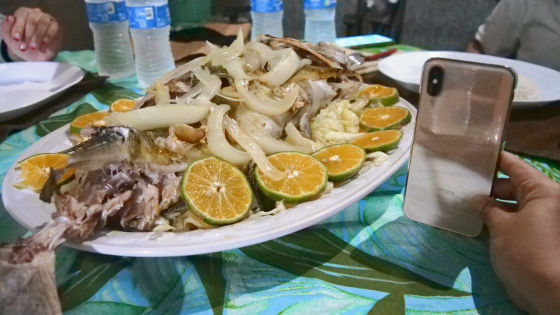 Another day I had fresh Parrotfish….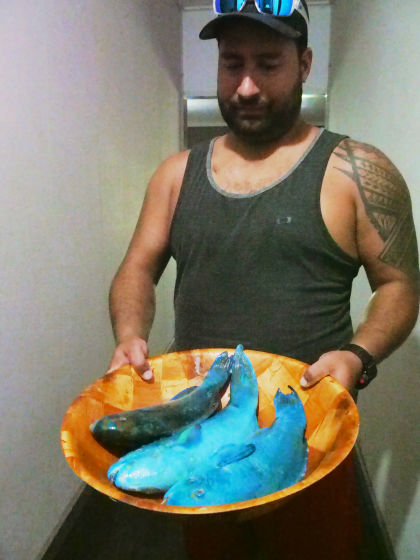 It was deep-fried and then simmered in sauce, served with white rice and boiled green beans. It was also 16 dollars.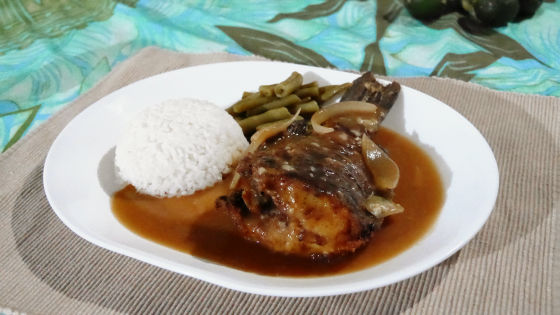 Crisply deep fried, the simmered fish flakes away from to bone and a kind of fluffy white meat appears. The tomato based-sauce was easy for a Japanese person to eat.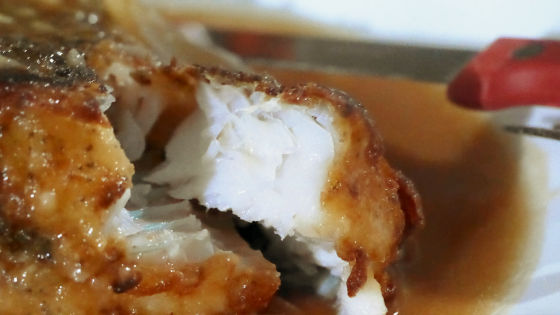 Breakfast which was white rice fried with spam and eggs, was 9 dollars (about 1,000 yen.)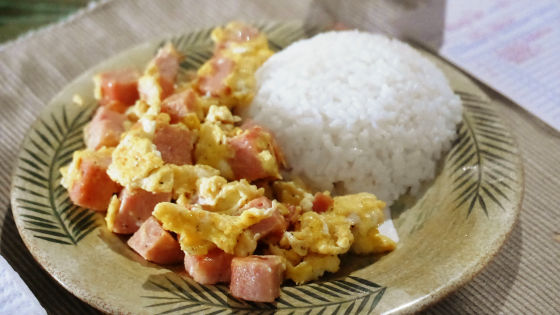 At the event going on in the park, they were grilling marinated meat on a barbecue. The chicken turkey tail sausage and grilled taro was 6 dollars (670 yen.)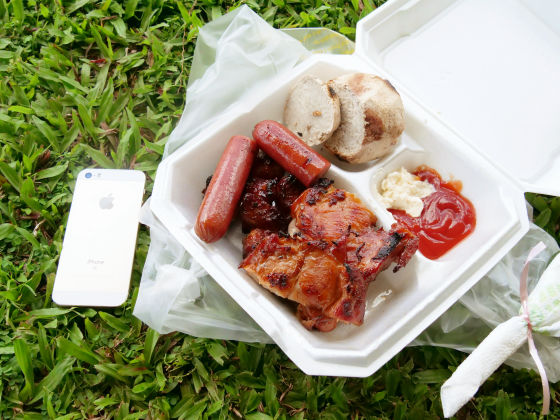 Only five dollars when you choose white rice instead of taro, it seems taro is more expensive.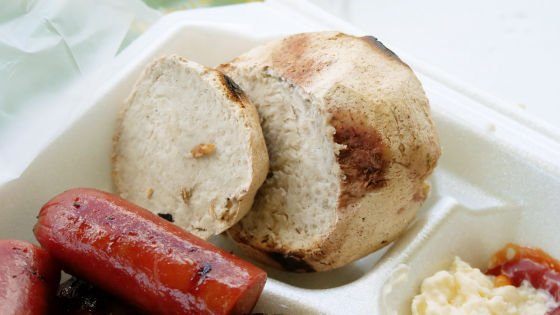 It's juicy and charcoal-ly, the best of outdoor food, but it's cheap because you don't get it at a restaurant, even though it scored perfect in terms of satisfaction.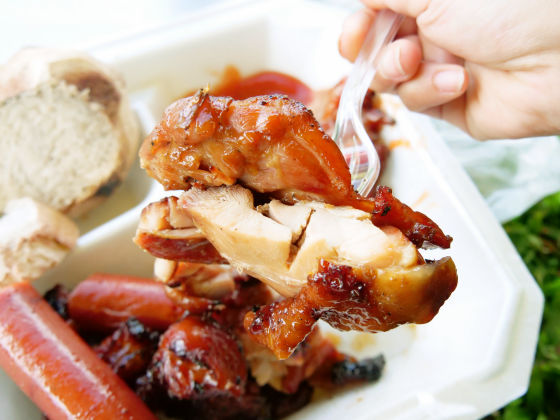 This is what I bought at the supermarket, where a smiling lady was operating the cash register….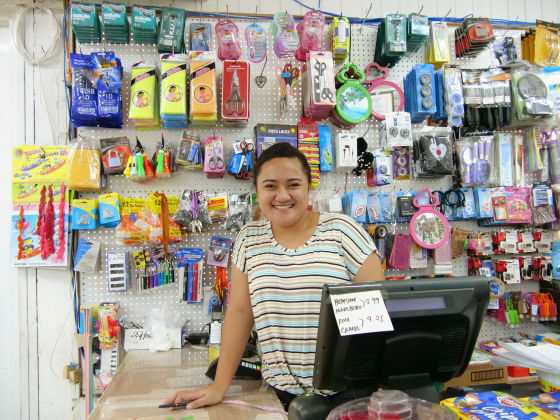 This spring-roll type skin-fried corned-beef (75 cents / approximately 84 yen) is often found in supermarkets. Sometimes the store staff were sneaking a bite while working.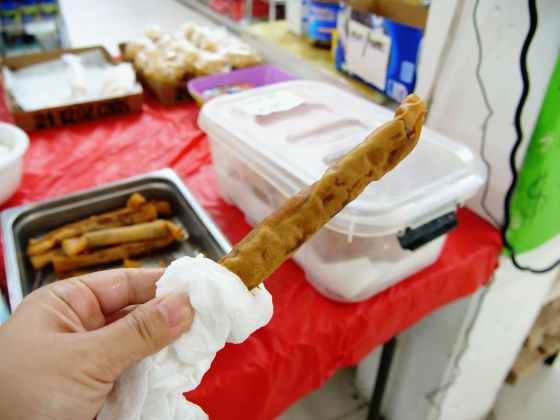 A burrito bigger than an iPhone X was $ 3.99 (about 450 yen)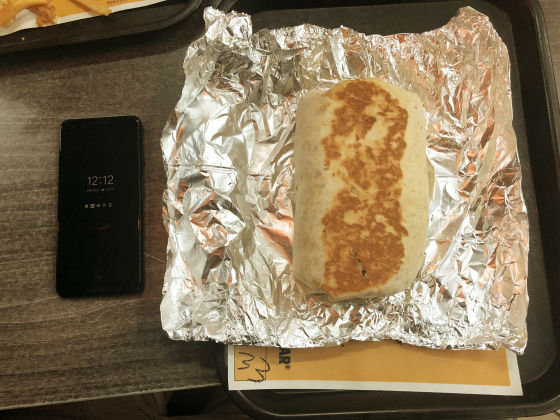 When I bought a huge burrito, filled with teriyaki chicken and rice, the clerk said to me "That's a really big burrito! You're a lot smaller than me, can you really finish this?" It was a bit oily, with a salty-sweet sauce and plain rice that makes the overall taste very mild.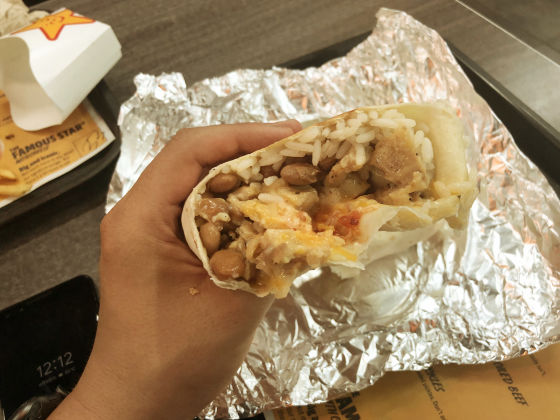 At a church gathering, I discover children practicing singing and dancing for Easter.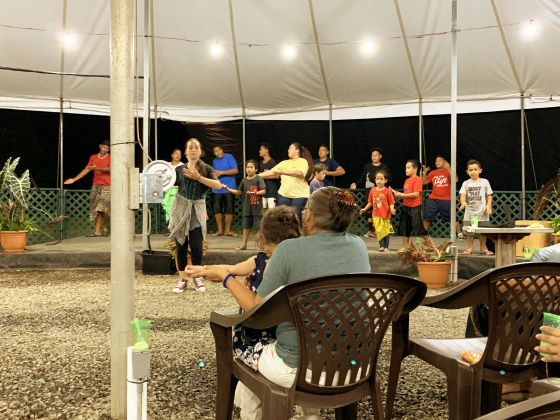 Some friendly people gave me a cup of coconut milk soup like Japanese sweet red-bean soup.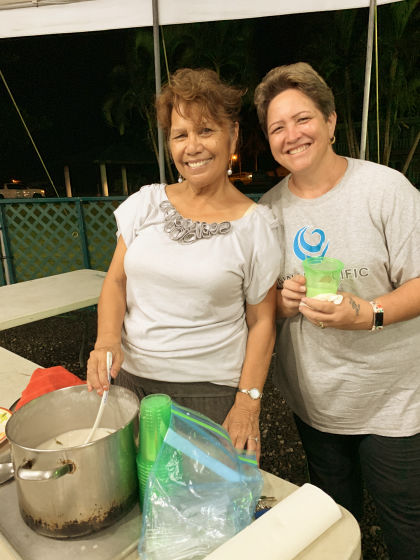 Lime leaves and flour dumpling are mixed in with the sweet coconut milk.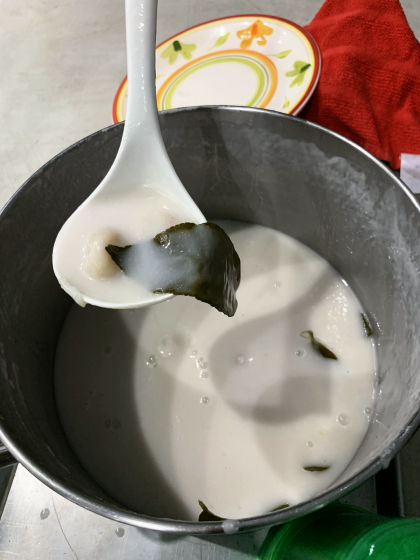 Lime leaves and flour dumpling are mixed in with the sweet coconut milk.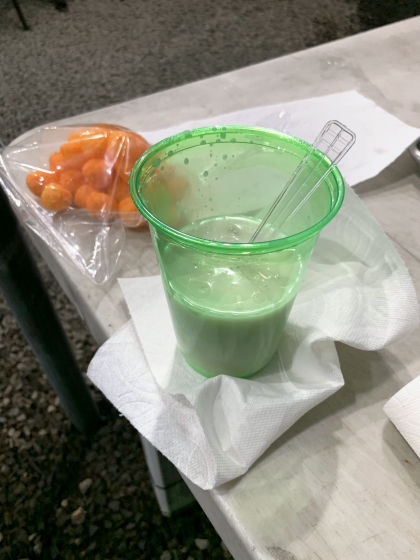 The A&E Cafe near the airport.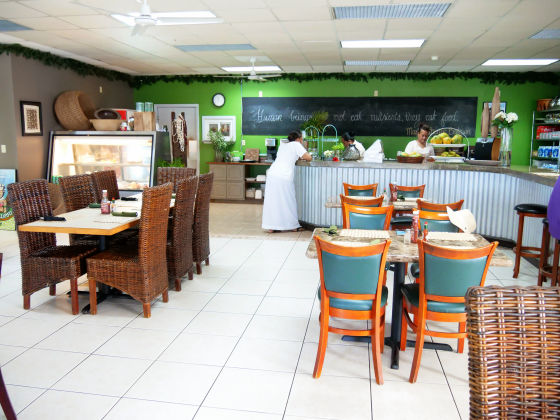 Local people hold family birthday celebrations here.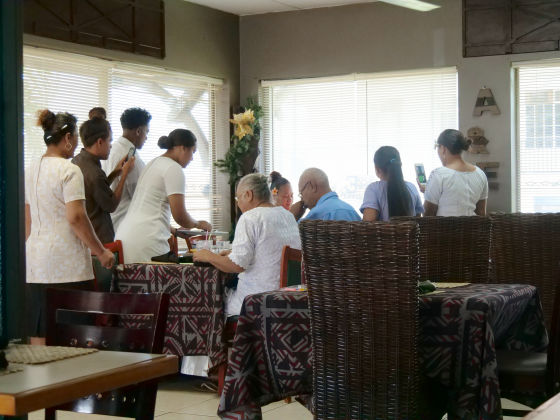 I ate the "Sunday Special" here, ($ 21.95 / approx. 2,500 yen) which is a set meal of local food. The hamburgers I'd had before were about 12 to 15 dollars (1,300 to 1,700 yen) so I felt like this was really expensive. Roasted meat, grilled fish, sashimi with coconut milk, and taro are all part of the set.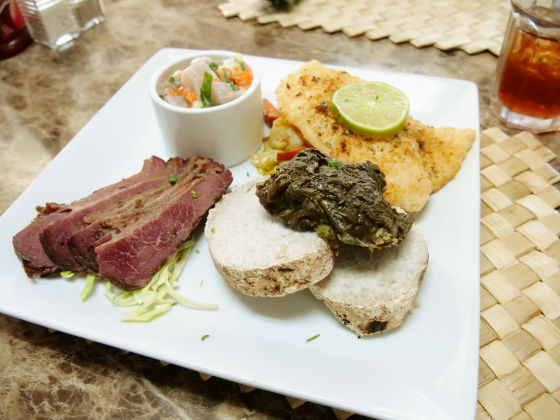 …. However, the quality of the flavor was excellent, especially the sashimi with coconut milk.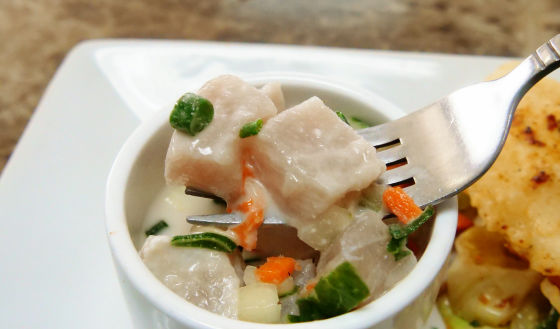 On top of the baked taro, there's coconut with taro leaves.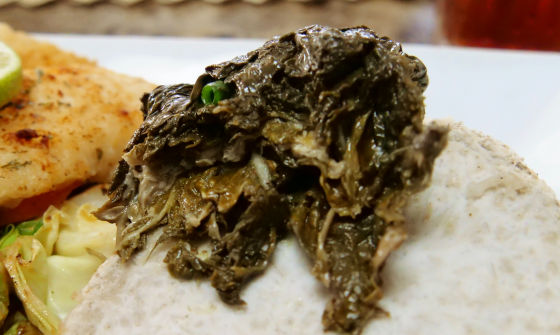 Incidentally, the tap water on Ofu Island was ok to drink, apparently it came from a clean source up the hill, but the tap water on the main island is not drinkable. However, as someone who ruined his stomach with iced drinks in India, I could drink tea and juice with ice on the main island without any stomach problems, so perhaps the water is better than in India.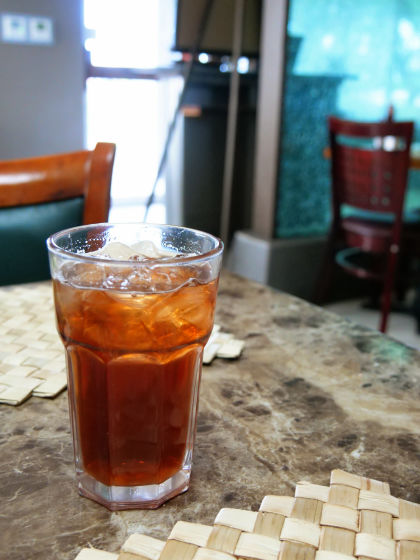 Not only that, but at the DDW Beach Club in Utulei, a downtown area by the sea, I had a huge amount of pasta with salad ($10.95 / 1,200 yen.) The homemade meat sauce is very meaty and rich, with the slightly acidic flavor of tomato. Garlic toast is also included, quite a solid chunk of carbohydrates.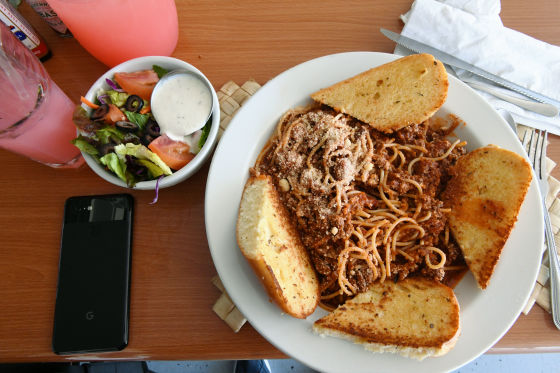 Previously, American Samoa had a large number of Korean immigrants, but in recent years Chinese immigrants have also increased considerably so there were several Chinese restaurants. It's kind of a unique experience to find Chinese restaurants that have "taro with coconut" as a staple on their menus.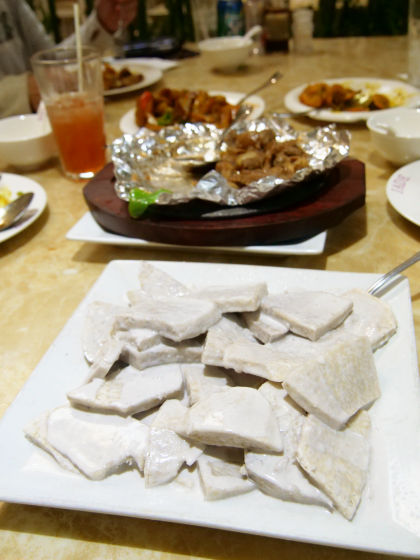 This place has a sign saying "Gift shop"….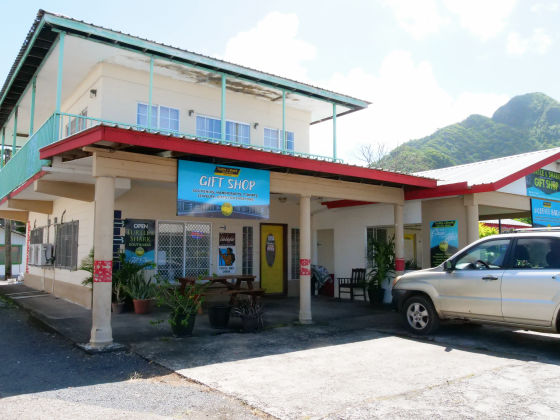 I discover items with the Starbucks logo.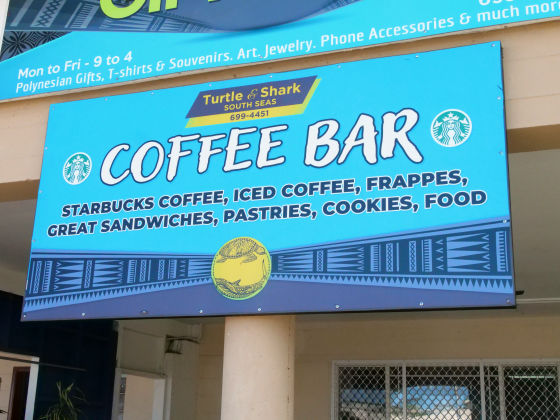 Apparently, it's a souvenir shop with a cafe attached.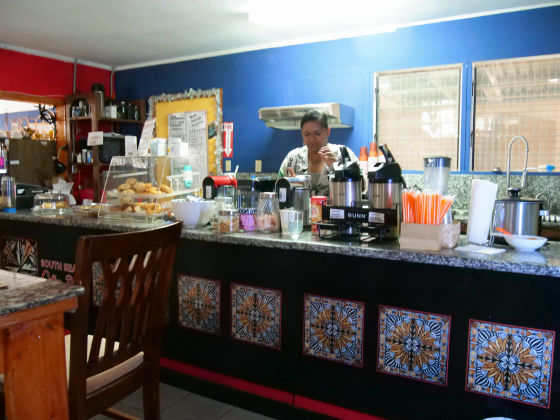 The menu has items like "PREMIUM STARBUCKS COFFEE"…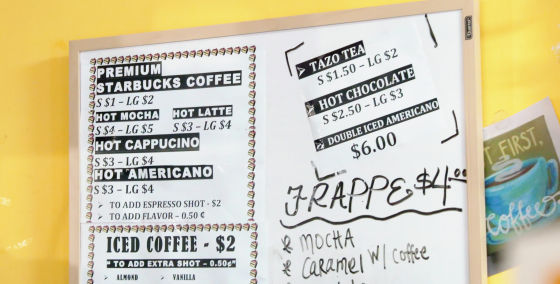 At the counter there were Starbucks coffee capsules.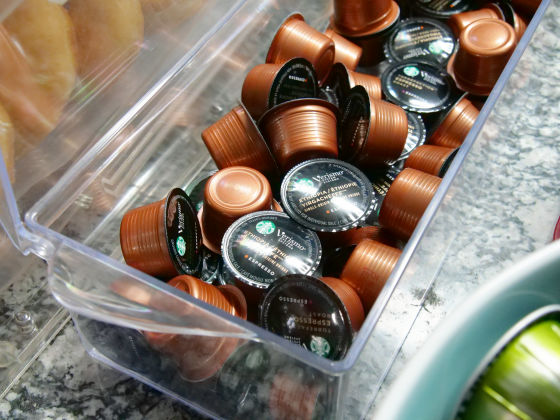 When I ordered the "PREMIUM STARBUCKS COFFEE" the lady made it very carefully.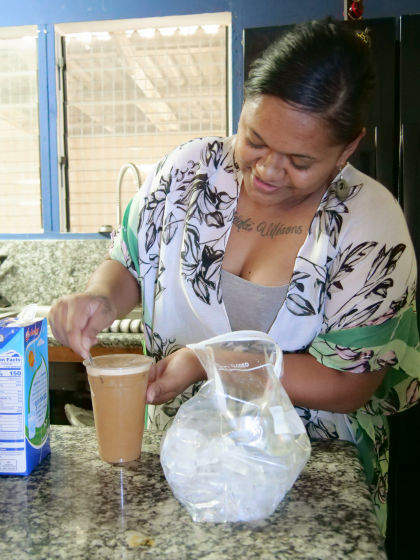 "I wonder if it's really only the logo of Starbucks?" I thought, but the charcoal-rich, high-grade coffee was the best I found in American Samoa. And although the hand-made blueberry scones did not taste like Starbucks, the outside was flakey and crisp while the middle was soft, making me instinctively shout "Yum!"
The McDonalds had the same menu as in Hawaii. On the left is the Double Bacon Smokehouse Burger, and on the right a single patty Quarter Pounder. This "single" is the smallest size of the Quarter Pounder, there are no hamburgers with thin patties like in Japan. That being said, the meals here were not super big, probably because it's an international company.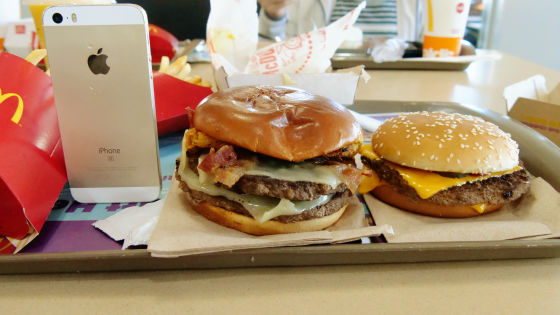 The size and taste of the meat was so overwhelming that the bun sort of disappeared.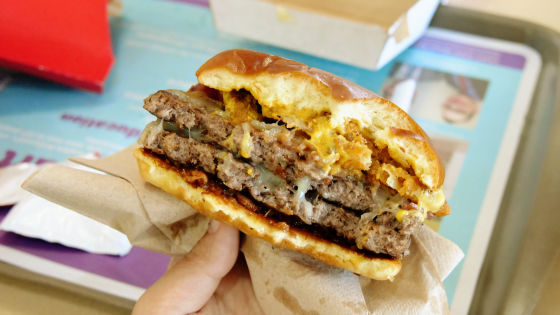 I ordered a meat and rice plate called the McRib Platter. This is the meat of the McRib, which is also available in Japan, it gave me a sense of the firm determination to eat "No vegetables, only meat and carbohydrates."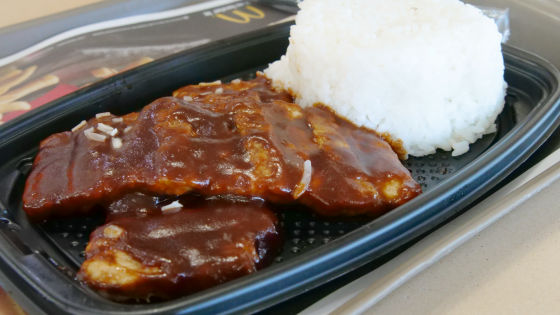 Then I went to the ice cream shop near the supermarket.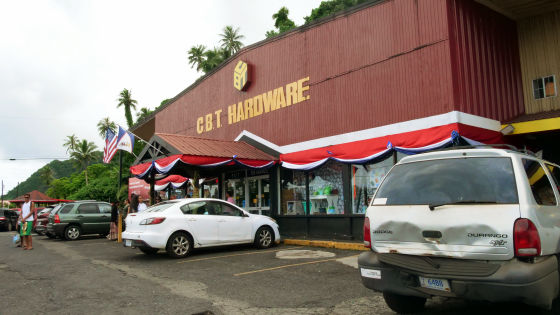 The chocolate chip cookie ice cream sandwich was $ 2.50 (about 280 yen). It was good, but it was so sweet that cookies could be described as a "mass of sugar". The really blue drink beside it was $ 2.75 (about 310 yen), which is more expensive than the ice cream sandwich.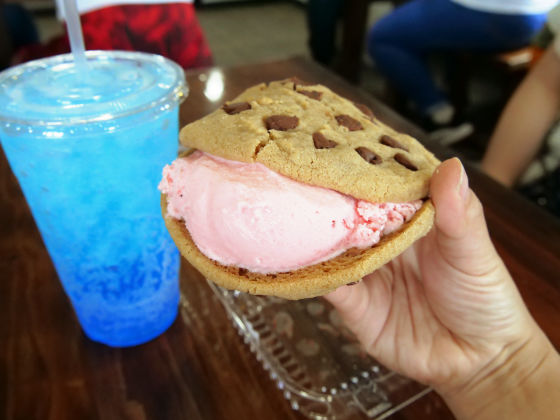 Although there was a sign in the welfare "WIC" office saying "THINK B4U DRINK!" and showing the huge amounts of sugar in juice, when I asked the staff, "Is it really true three out of four American Samoans are obese?" they said "No, absolutely no way!" with vehement denial.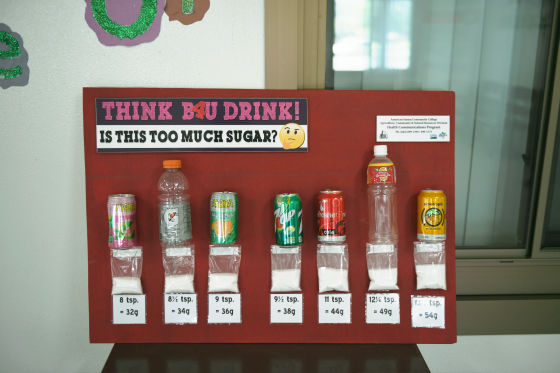 …. Well, I felt while in American Samoa that "many meals had only meat (or fish) and carbohydrates!!!!" Vegetable were treated like an unimportant side dish, and if you eat a vegetable-rich diet in Japan you might feel a little stressed here. On the other hand, the meat dishes were handled really well (maybe because of being an American territory) so I can't complain about the quality of the meat I had.
◆What is the Internet Environment of a Country said to Have "the Most Expensive Internet in the United States"?
In 2012, American Samoa was said to have "the Most Expensive Internet in the United States", however, since laying undersea cables in 2018, it seems the internet has become a bit cheaper. So first, I went to "Bluesky", the communications carrier for American Samoa. At the shop in the Laufou Shopping Center, I tried to see if I could buy an international SIM card.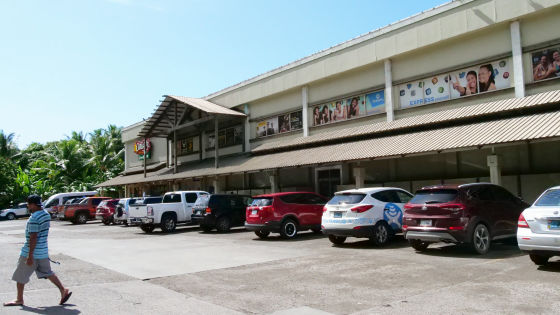 The sign for Bluesky.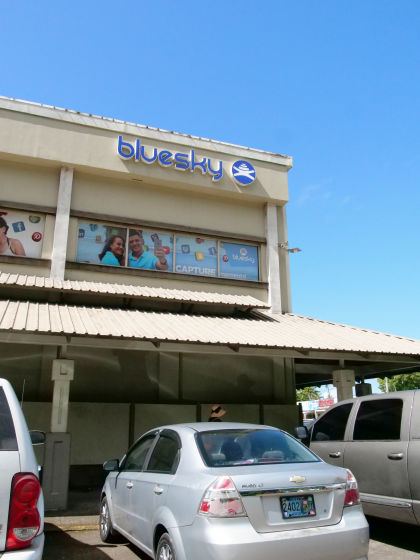 Going in, it looks like this. In Tuvalu, a Polynesian island I went to in 2018, I couldn't use my iPhone and the Wi-Fi environment was 3 Kbps, here I was amazed that technology and the internet environment were pretty normal.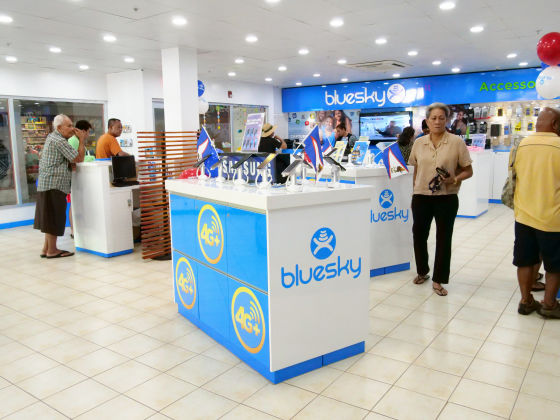 You see things like "4G" and "Samsung" as usual.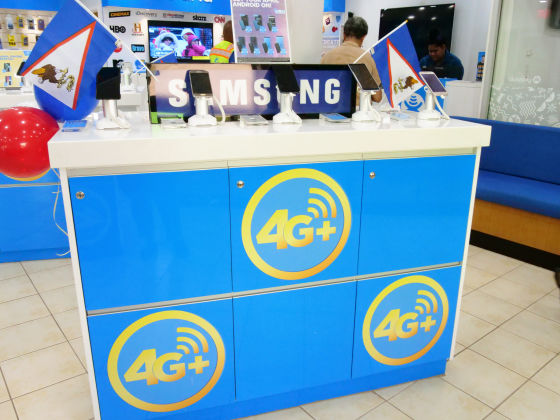 The latest smartphones, such as the iPhone XS and XS Max, are also on display like in a normal shop.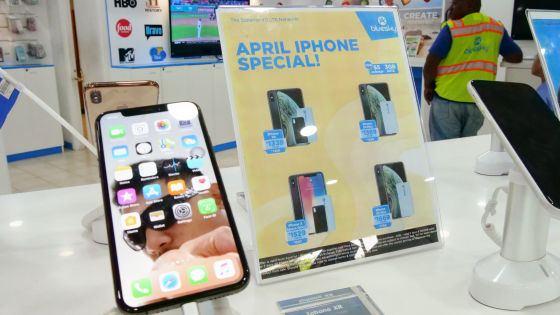 The lineup was a little long, but when I said "I want a SIM," the staff got it ready pretty quick.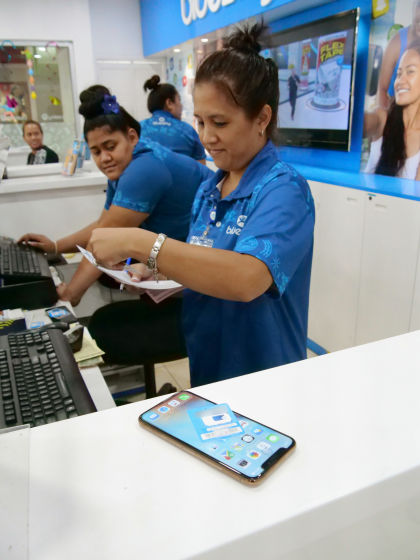 This is the plan. This time, I purchased plan for 2GB of data, 60min of calling, and 100 SMSs for $ 10 (about 1,100 yen).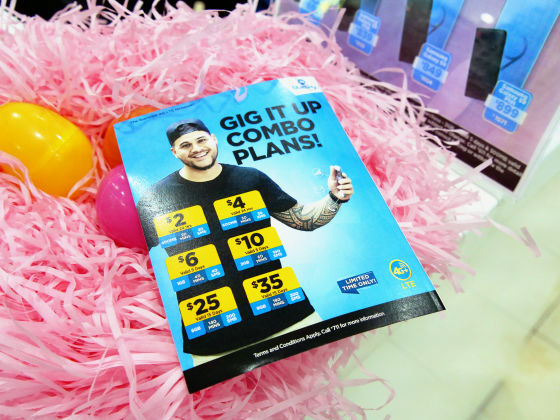 I tried it out on my iPhone, and the download speed was 21Mbps. On Tuvalu with 1Mbps for Android, I couldn't use my iPhone, …so it seems that American Samoa as an American territory, has much better infrastructure. Or at least, that's how it felt to me.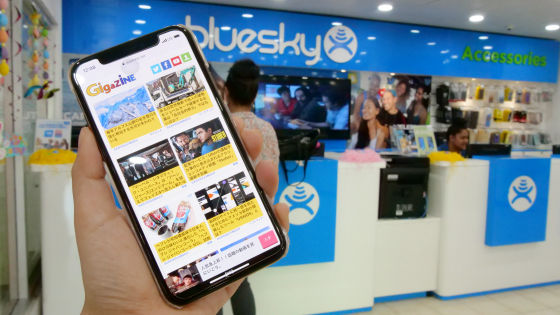 Then, in a village called Malaeimi that has a little supermarket and some other shops….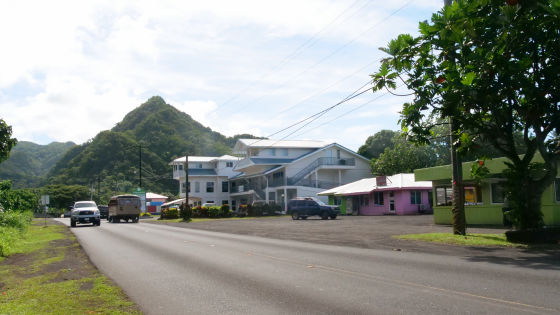 There is an internet cafe called "Bookworm Books" next to the "Subs Your Way" restaurant on the first floor of this building. I discovered it by asking local people.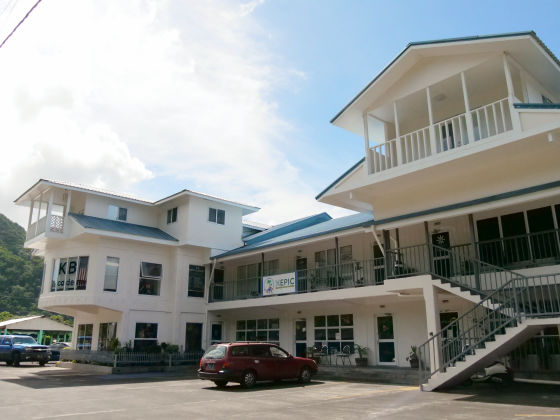 This is inside.
You can order snacks and drinks etc….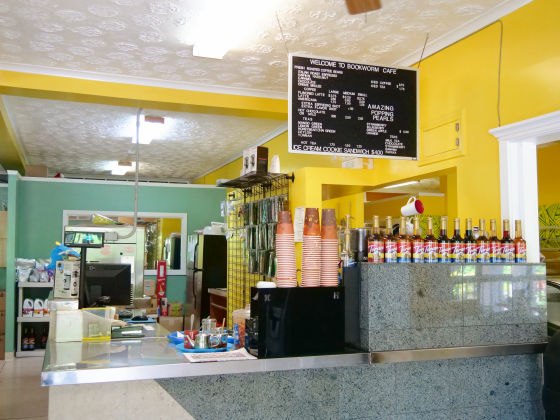 There's also a bookstore.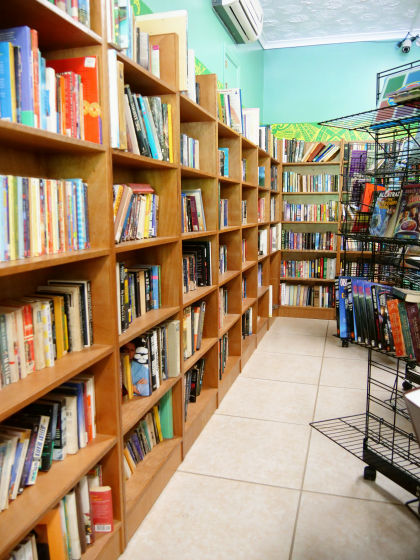 Desktop PCs can be used for 5 cents (about 6 yen) / per minute. It's 3 three dollars (about 340 yen) for 1 hour, so it's pretty reasonable. The Tradewinds Hotel also has a desktop PC on the first floor but only guests can use it. So, this is the only internet cafe where anyone can use a desktop PC.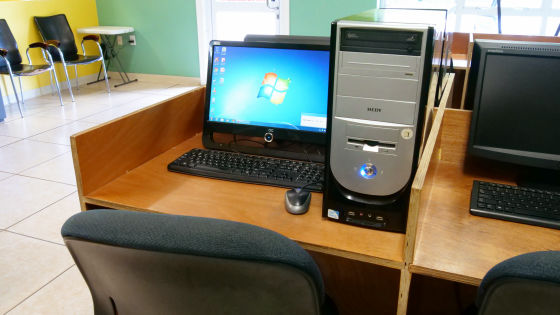 The speed is 1.9 Mbps, not bad.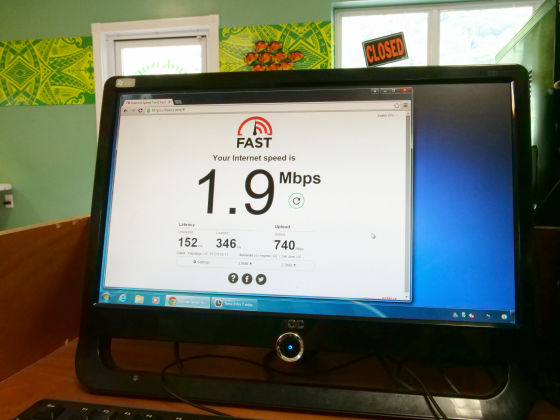 Also, the Utulei, DDW Beach Club provided free Wi-Fi for customers. If you tell the staff you want to use the Wi-Fi, they will enter the Wi-Fi password in to your device. The speed was 920 Kbps.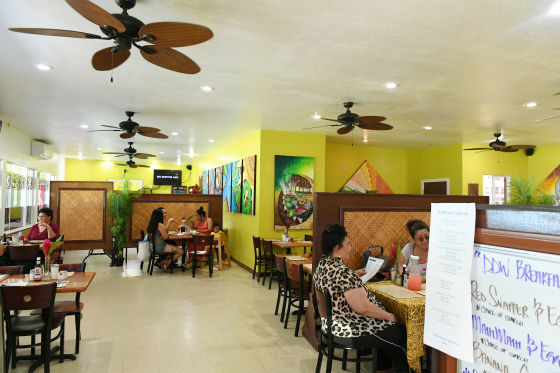 ◆Searching for the three3 Japanese People in the Country
As there is no Japanese consulate in American Samoa, I checked with the Japanese Consulate General in Honolulu when I went through Hawaii, and it turns out that of the 54,000 people living in American Samoa, only 3 three are Japanese. However, it was not clear where on the island these Japanese were, so after asking around, I wondered "are there really any Japanese in American Samoa?" Even walking around town, I was mistaken for a Chinese or Korean, so it seems no one is aware there are Japanese on the island.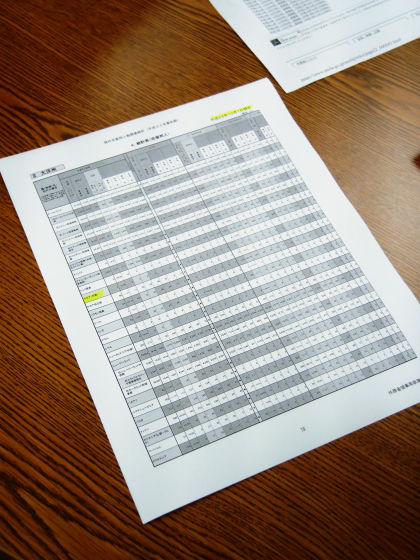 I thought, "This is difficult, it might be impossible to find any Japanese people …" but, when I talked to a guy from Hong Kong who was sitting on the bus in front of me, he said "I know a Japanese person." A person from Hong Kong wouldn't mistake the difference between Chinese and Japanese people! I thought, and when I asked further, he gave specific information; "about 70 years-old, thin, and used to work at StarKist". The fellow from Hong Kong asked the bus driver the way to the Japanese person's house, and I was told I could ride the bus there.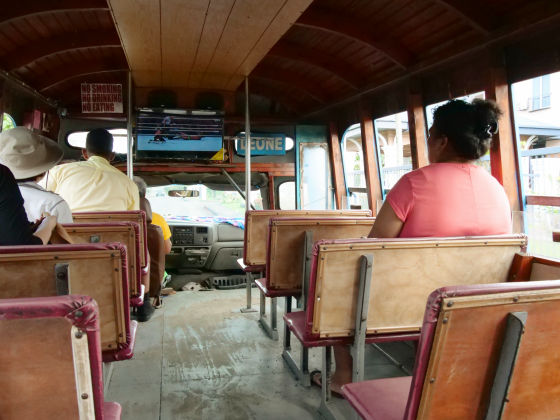 That's how I got to be here. Overgrown grass, a wild dog running around, "Here!! For real? Someone lives here?" I was almost in tears… ! !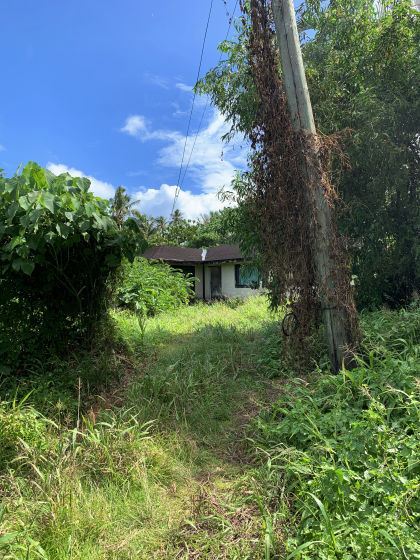 But somebody lived there. Mr. Naohiko Kamiji, 71 years old, and from Miyakojima. He seems to have studied law at the University of the Ryukyus, but after the war, he had no job so he came to American Samoa by boat with his uncle. He was a fisherman in American Samoa for about 50 years, married a local woman, and raised some children. Previously, there were several Japanese companies in American Samoa, and more Japanese than at the moment. It seems that his nationality is still Japanese, but he has permanent residency in Samoa and an American ID card. He laughed and said in Japanese' "I haven't spoken Japanese for so long, my Japanese is terrible!"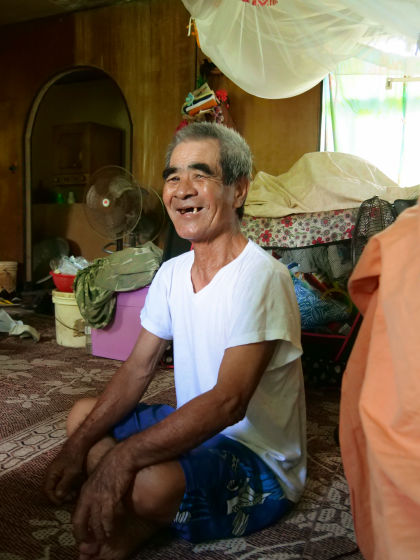 A picture of his daughter on the wall. She graduated from university with excellent grades, and worked for the United States Army. The names of his daughter and grandchildren are Japanese names such as "Kazuko" and "Sayoko".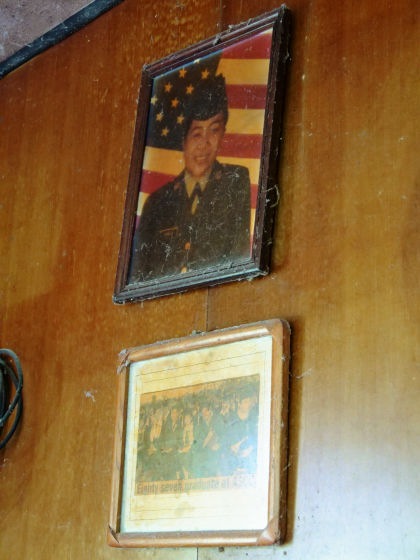 Not far from Mr. Kamiji's house….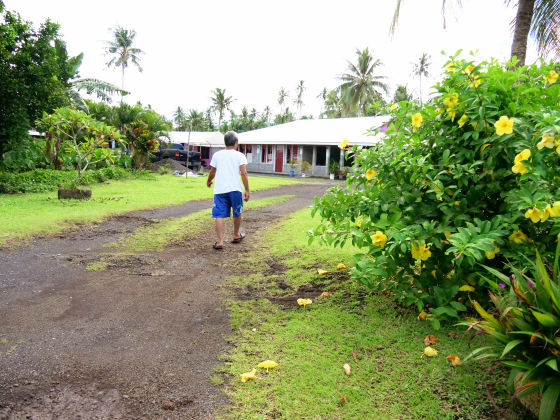 His wife's family lives here. Mr. Jochi said that he originally lived with his wife's family, but he started living alone after he retired from Starkist.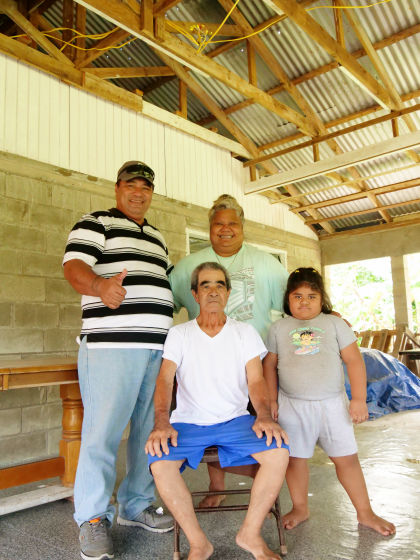 Not only did his wife's family memberrelative take me to the airport, but I also got a ripe papaya. The delicious honey-like papaya made me think "Really! Can a papaya be so good?" Since American Samoa is a society where the land is shared within each village, the fruits and vegetables they can pick off the land are basically unlimited. They can eat as much delicious fruit as they like.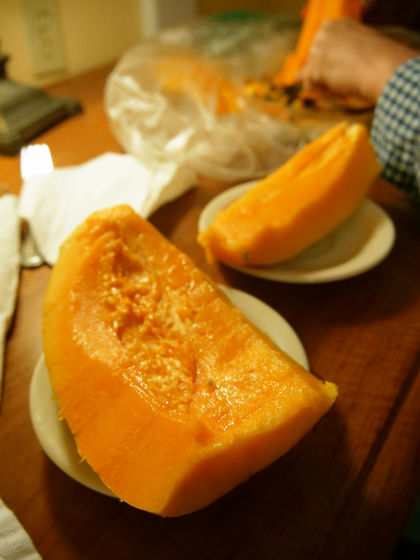 ◆Finding ".as" Around Town
Although American Samoa's government website listed a Gmail address, making me uneasy, in actuality, the Internet environment is stable, people use the Internet and their smartphones normally, use SNS, or even shop with Amazon. However, many places do not list a website URL on their signs for shops and organizations, only listing the phone and fax numbers.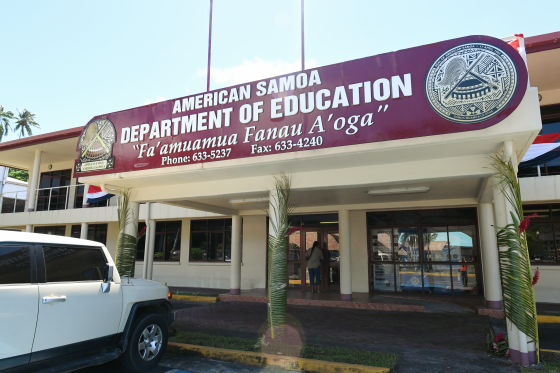 This is a sign for a welfare agency-led program called ASWIC, but ".com" is used instead of ".as" or "as.gov" because the managing organization is in the United States.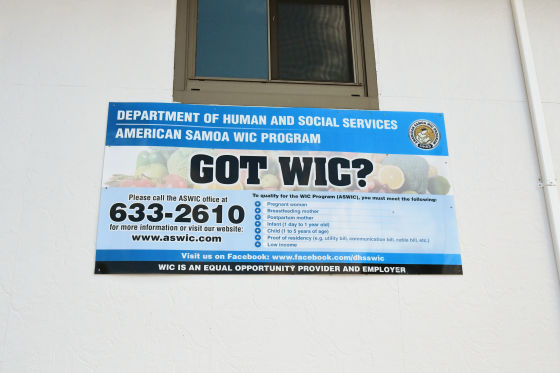 On the other hand, the Social Welfare Bureau uses ".as" in their email "localsolusions@dhss.as".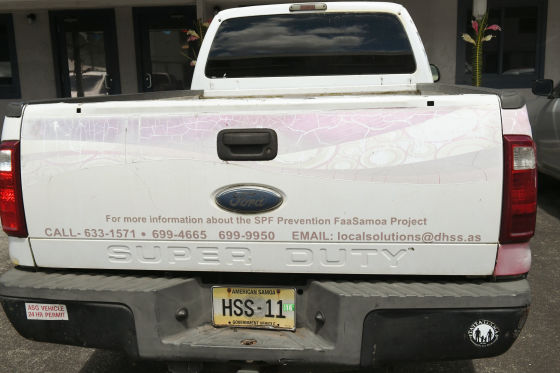 The building which says "Historic Preservation Office" is a government building….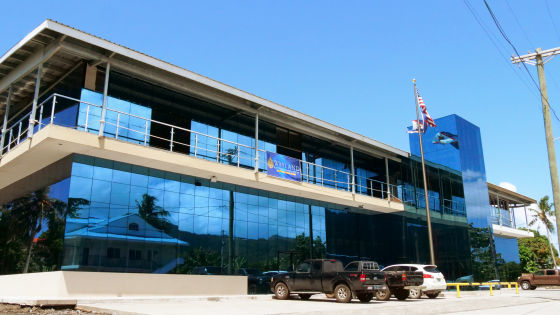 it uses the URL "as.gov" instead of ".as".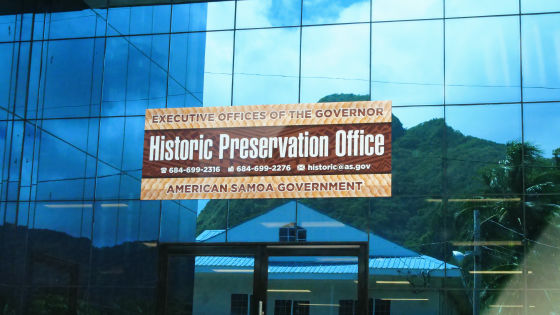 "Are there no ".as" web addresses?" I thought as I walked through the town.But then I found one. Here, on the sign for a car rental company at the airport. The sign for this rent-a-car company, which was founded in 2006, says "reservation@tautaicarrentals.as".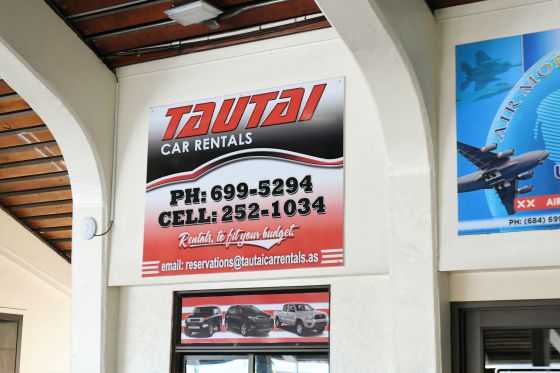 Also, if you look closely at the Bluesky poster where I purchased the SIM card….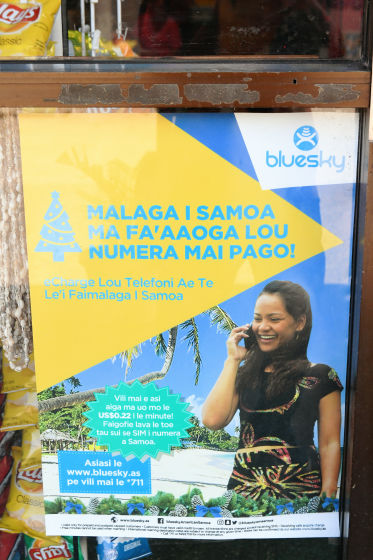 The URL is "www.bluesky.as".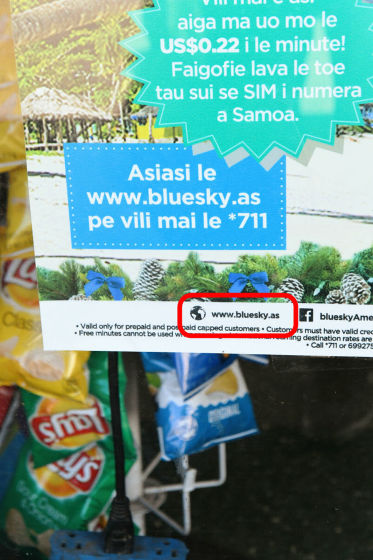 And the shuttle bus from the Tradewinds Hotel, which the airline took for "the best hotel in American Samoa", has the URL ".as" for "www.tradewinds.as".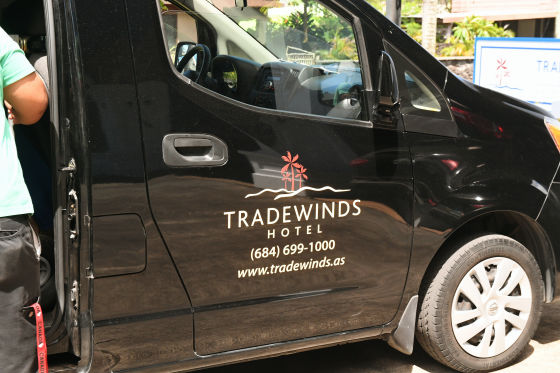 Although I stayed four days longer than planned, I was able to leave American Samoa safely. Until you actually visit a country, you wonder what kind of place it actually is because there's very little information and every place has its own unique atmosphere. When I visited American Samoa, the roads were in good condition, the Internet environment was good enough, it was a cozy country where the sea is clean and above all the people are friendly and kind. It took 6 hours to get to Hawaii, eight hours wait for the transfer, and 10 hours from Hawaii to Japan, but I felt it would be nice to go back to American Samoa one day.