The Dominican Republic is a super power in the baseball world, having produced many major league players. The Carp Academy is also located there and was set up by the Hiroshima Toyo Carp baseball team to discover and train foreign players. It's also a popular beach destination for visitors from the USA and Europe. Our Domain Island Tour expedition decided to investigate the attractions found at Santo Domingo, the capital of the Dominican Republic and a World Heritage city. The ccTLD (Country Code Top Level Domain) assigned to the Dominican Republic is ".do". The ".do" can be read as the English verb "do", which is often used to mean taking action or performing an activity.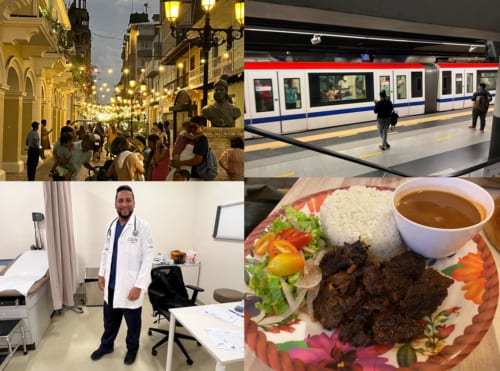 ◆Where is the Dominican Republic?
The Dominican Republic is located on the Caribbean island Hispaniola, between North and South America. Hispaniola has an area of 74,700km2. Hispaniola is divided into two nations: Haiti in the West and the Dominican Republic in the Eastern two-thirds of the island. The Dominican Republic is a former Spanish territory and the main language is Spanish. The currency used is the Dominican Peso (RD$). 
= 目次 =
---
◆The Flight Attendant who Practiced Baseball With Beans
After visiting the Commonwealth of Dominica, we hopped on a InterCaribbean Airways propeller airplane and flew to the Dominican Republic. It was a small plane, with a capacity for only about 30 passengers.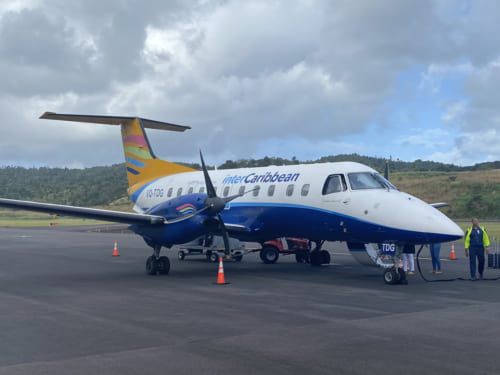 After about an hour we landed at Terrance B. Lettsome International Airport on the British Virgin Islands. This is the same airport we've visitied before to investigate the tax haven, the Virgin Islands.
All the passengers got off at this point, except us. We were told to stay on board, since our destination was the Dominican Republic.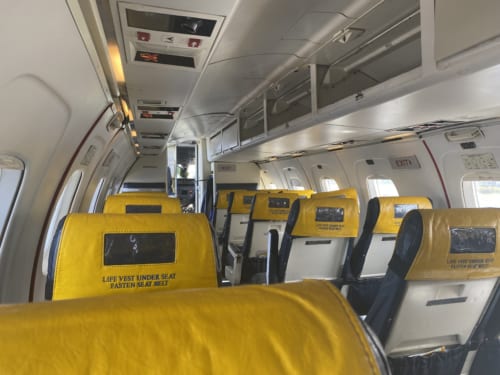 In the wait before departure, a crew member cleaned the toilet with detergent.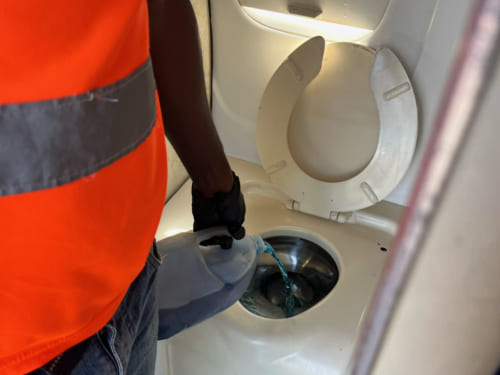 A member of the cabin crew handed out water. When I said thank you, he smiled and gave me the thumbs-up. His name was Stewart. As he is Dominican, we asked if he likes baseball. He said he does. He told us he used to practice baseball using small beans when he was a kid. No wonder everyone is so good at baseball. Truly a baseball superpower! Some time later our plane once again took off with about 10 on board, heading to the Dominican Republic.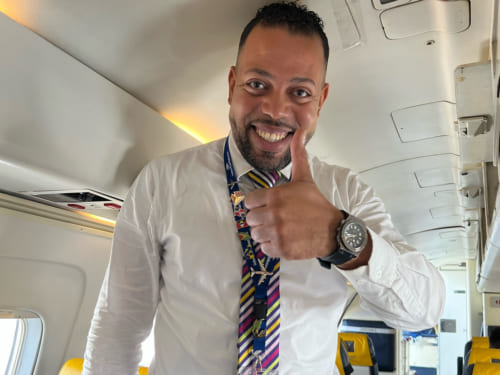 About an hour later, we arrived at Las Américas International Airport, Dominican Republic. While walking through the airport I thought I'd come across a Uniqlo, but it was actually a store called MINISO. MINISO, operated by a Chinese company, sells miscellaneous goods in countries around the world. It's "Japanese-like" marketing, including their logo that has an uncanny resemblance to Japanese stores Muji and Uniqlo, blew up on social media in July 2022. Eventually the company declared it would end it's Japanese-like marketing by March 2023, but at the time of writing this, the logo has yet to change.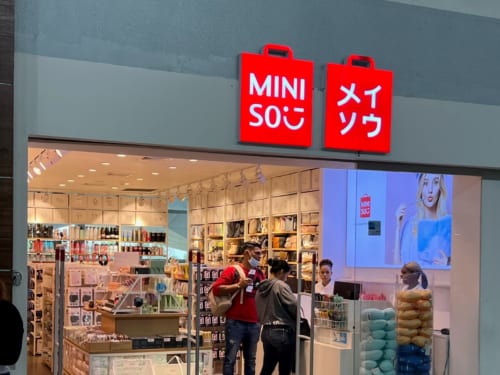 Airport bathroom sign. Unlike the signs in Japan, these figures have no arms.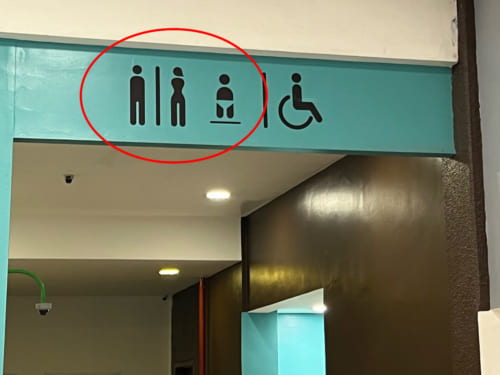 We make our way to the capital, Santo Domingo. Uber is available in and around Santo Domingo. It's not a problem if you can't speak Spanish. However, as many cars here only have number plates on the back it can be hard to confirm your car, so we used the chat function to meet up with our driver.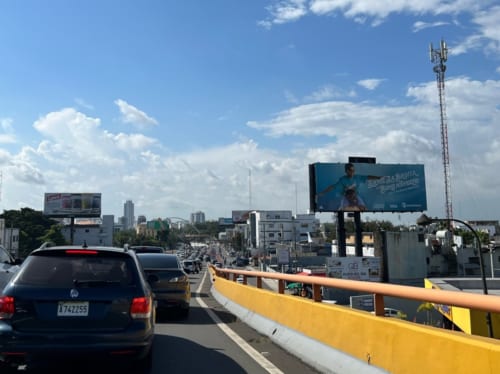 Vehicles in the Dominican Republic are only legally obligated to have a number plate on the back, so on the front they can use whatever plate they like.
This car, as you can see, has Dominican Republic plates on the back…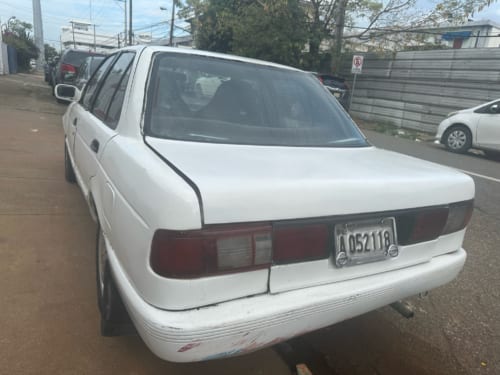 From the front though, it looks just like any car driving in Japan with Gunma prefecture plates.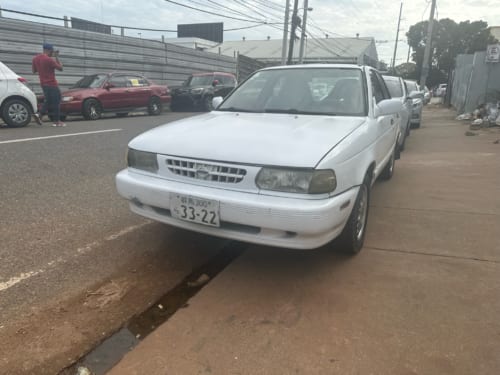 He played salsa music in the car, which lifted our energy. We used Uber a lot during this trip and many of the drivers played salsa music.
The roads in Santo Domingo are heavily congested and it's difficult to get very far. During a stop, our driver suddenly starts talking with a person on a motorbike next to us. I was worried they were going to start arguing, but all he did was buy a drink.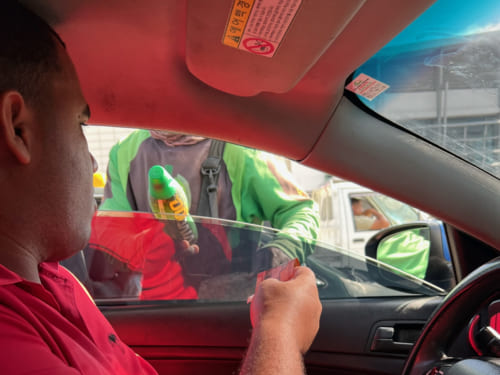 He gave some to us too. It tasted a bit like the energy drink Lipovitan D. Incidentally, the cars we saw in the Commonwealth of Dominica were mainly Japanese, while most of the cars here seem to come from South Korea.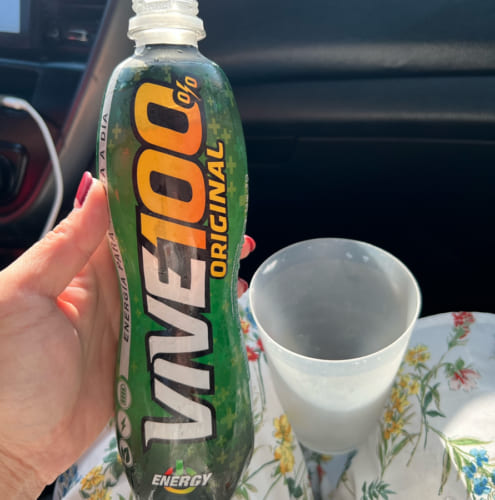 We made it to our destination. He gave us the thumbs-up when we thanked him. Just like Stewart, who we met on the plane.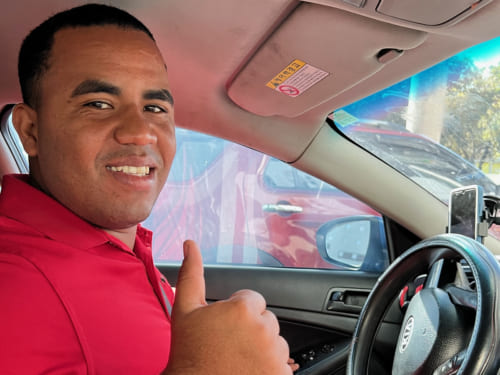 Even out of the car, we were held up by traffic. It's very different from the Commonwealth of Dominica, which has no traffic lights.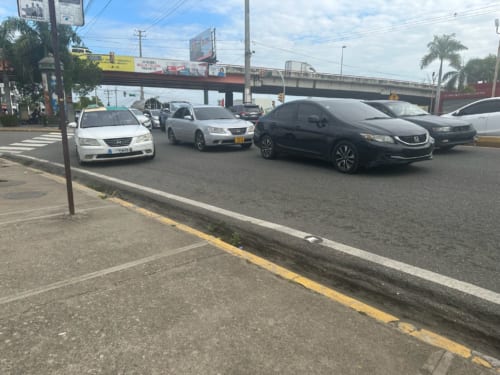 ---
◆We Couldn't Communicate in English! Trying the Caribbean's Only Underground Railway
We make our way to Eduardo Brito Station in Santo Domingo to take the only underground railway in the Caribbean. The station is named after the famous singer, Eduardo Brito. The entrance has a beautiful, modern design.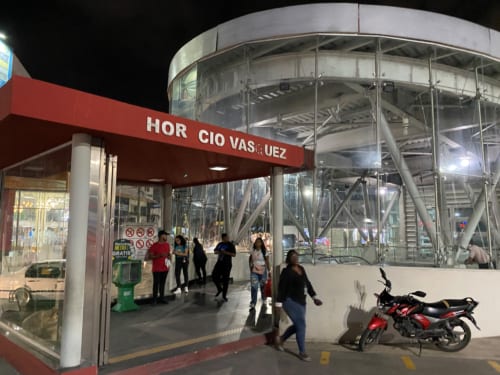 There are no ticket vending machines inside the station. You need to buy your ticket at a counter. But, we couldn't use English. We had to use a translation app to communicate. We discovered that they don't accept US dollars or credit cards, only the local currency, Dominican pesos.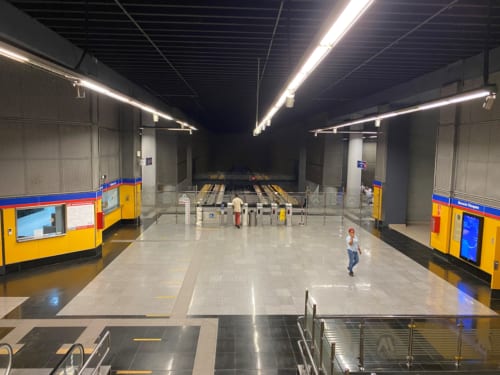 It cost RD$15 for one ticket. A one-day unlimited pass costs RD$80. Metro cards, similar to the Suica card in Japan, are pre-charged with RD$60 and can be recharged thereafter.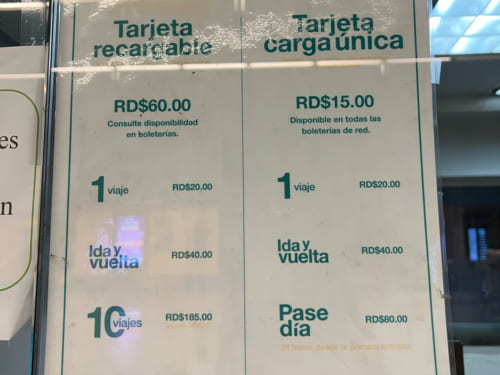 We didn't have any Dominican pesos on us that day, so we gave up on riding the subway.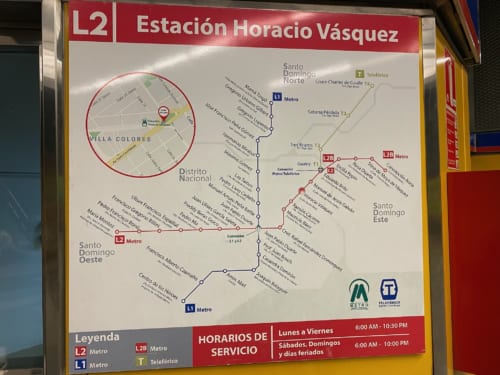 The next day, after getting some local currency through our hotel, we tried again. 1 USD is approximately 50 Dominican pesos (RD$). The bank notes have a stylish, almost european design.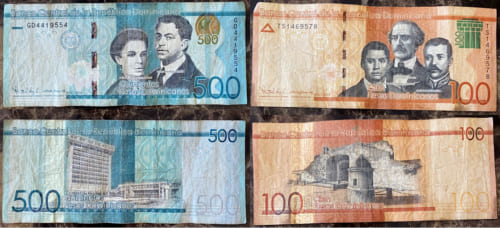 We tried again at Juan Ulises García Saleta metro station. The station is named after Juan Ulises García Saleta, the first president of the Dominican Olympic Committee (COD).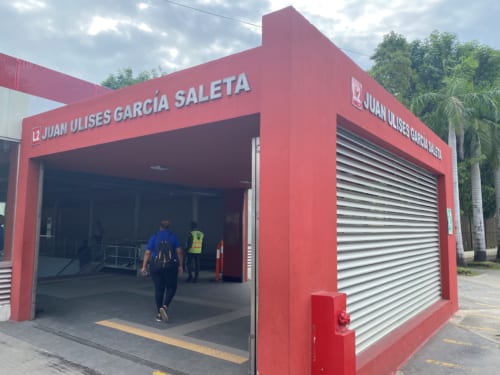 It's spacious and clean.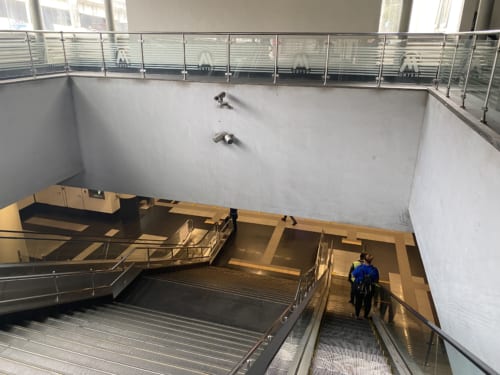 We head to a counter. Let's give this another try! After meeting people in the Dominican Republic, we soon came to realize that most don't speak English at all. The leader of the Domain Island Tour, who has explored more than 30 islands with domains, said that the only other country he knows where English is not spoken to the same extent would be China.
Staff in the airport generally spoke English, but once outside of the airport we found few English speakers. As for hotel staff, only about half knew any English. But hardly any restaurant servers, railway staff or university students seem to be able to speak English. We found this very surprising because the city is located just south of the Florida peninsula and is home to many American companies such as McDonald's.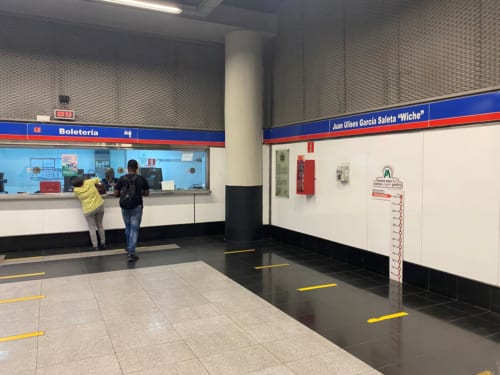 We successfully bought our train tickets!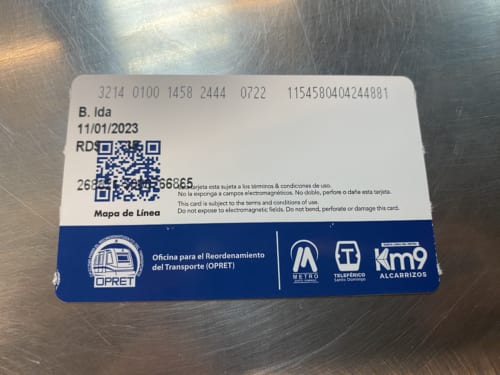 It's a cool design.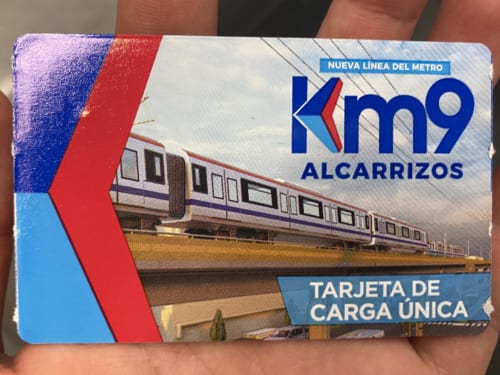 The train arrives at the platform.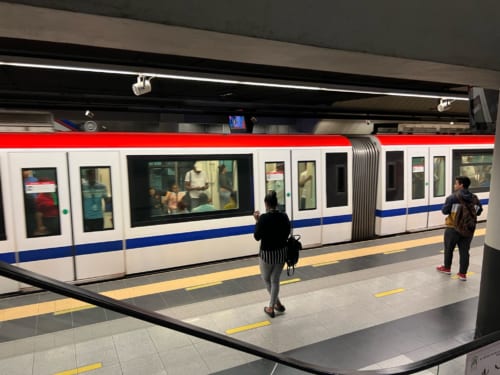 The inside is clean. There weren't any performers or buskers on the train.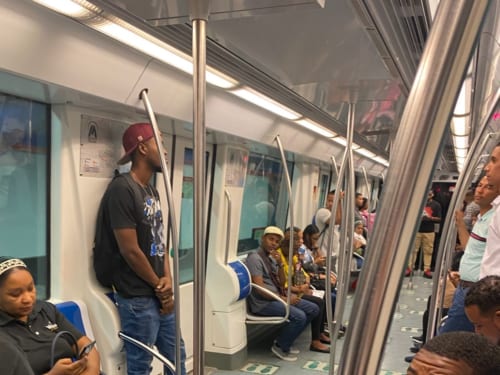 We got off at the next stop, the Freddy Beras Gogico station. The station is known as Beras-Goico and is named after Freddy Beras Gogico, a Dominican comedian with a career of over 30 years.
It was a very pleasant underground experience, except for the fact tickets could only be purchased with cash. We boarded at 9am, but it wasn't particularly crowded.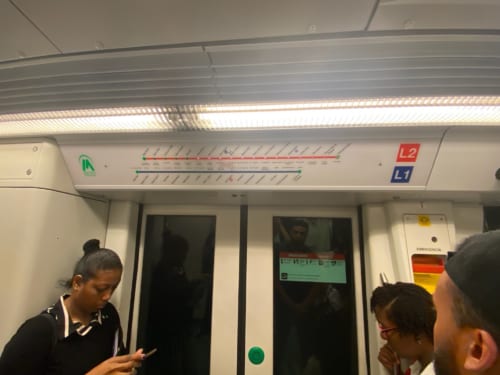 Exiting at street level, there is a lot of traffic, and although it's hard to tell from the pictures, the exhaust fumes were so bad you may want to wear a mask. None of the locals wear masks though.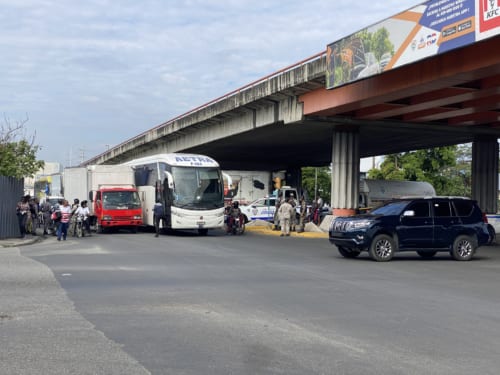 any of the motorbikes waiting near the station have space for people to ride on the back. It seems to be a motorbike taxi service called Motoconcho.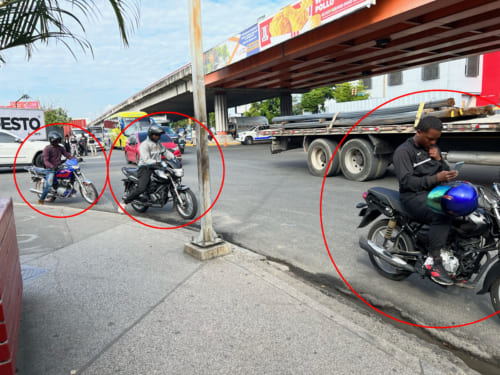 The price of taking a motoconcho taxi is negotiable and they can be used to transport animals and other goods. Passengers aren't required to wear helmets.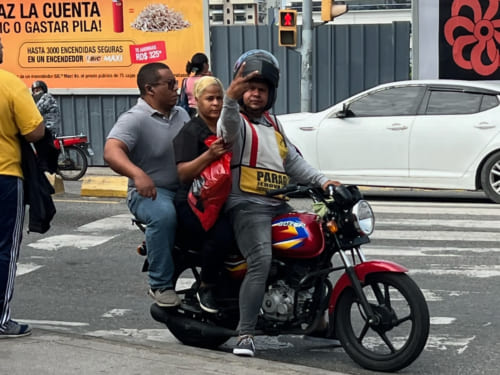 I would've liked to give Motoconcho a try, but not only do I not speak Spanish but JICA (Japan International Co-operation Organization) members are prohibited to use Motoconcho due to safety concerns, so Domain Island Tours decided to avoid using them too.
Near the station, someone was stopped by police.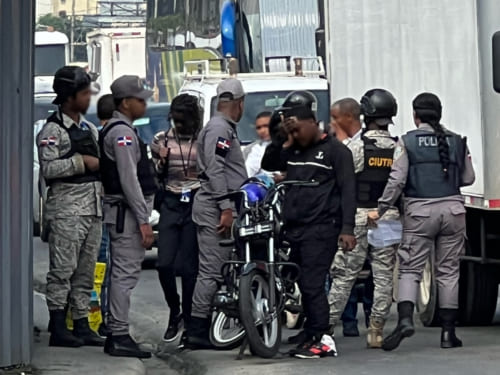 ---
◆Columbus' Final Home – A Dominican Republic Food Report
We visited Columbus Park, one of the most popular tourist attractions. There's a statue of Columbus, the man who discovered Hispaniola. Santo Domingo was the first city founded by Columbus. He visited three times in order to promote his colonial policies. Columbus and his family settled here for three generations, including his own children, and it became his final home.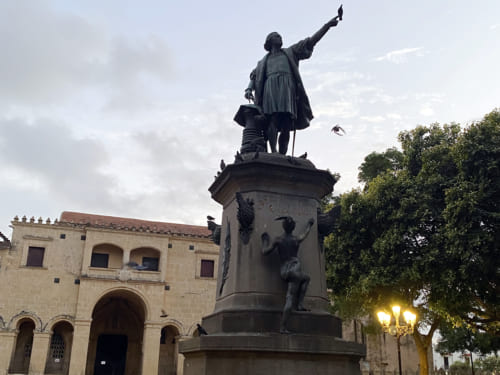 Right next door is the Cathedral of Santa María la Menor. It was the first cathedral built in what was known then as the New World.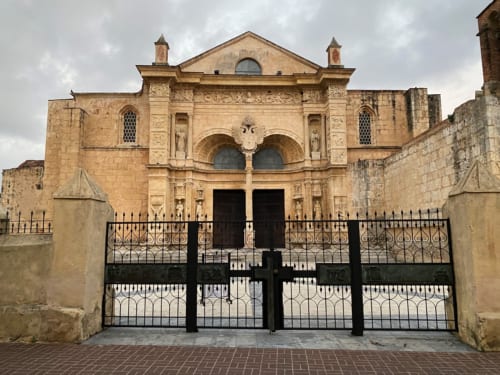 The square is home to several historic buildings and it's a place where people gather at night to relax and enjoy themselves. The area was decorated with neon signs and loud music was playing.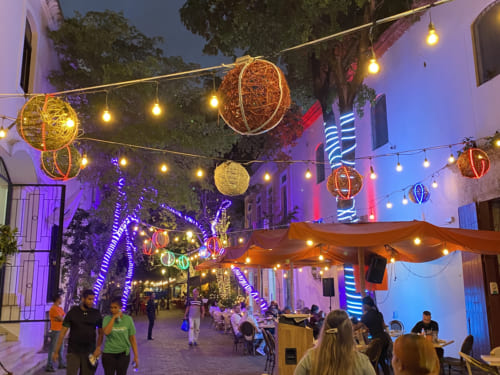 It was beautiful, just like a scene in a painting.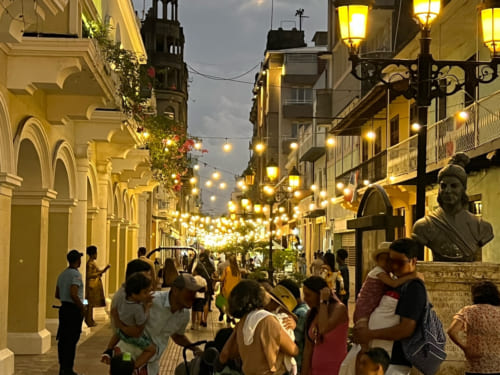 We decided to have dinner at La Marchanta Restaurant in Columbus Square. We had done our research beforehand and now it was time to enjoy some local Dominican food. First we ordered a Pina Colada (RD$325) and a Sangria (RD$295). Both went down easily, but the alcohol content seemed quite high and we were soon a bit tipsy.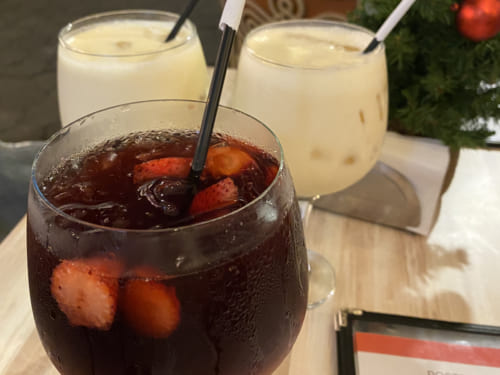 We ordered food. This dish is called Mofongo (RD$380). With potatoes, beans and meat, it was like potato salad, just without the usual sourness from vinegar. Eaten plain the amount would've been slightly overwhelming, but adding the salty sauce that came with it made it taste better. The drinks are going down well.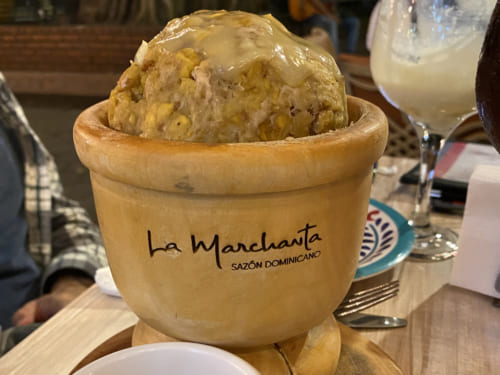 Next, we had Bandera Dominicana (RD$380). That translates to "the Dominican flag". Sometimes it's simply called "la bandera" meaning "the flag".
Like a lunch set meal that changes daily, the main course changes day to day, with meat or fish etc. The main components are rice, main (meat, fish etc), beans and vegetables on a single plate. The brown liquid was like a thin, very light tasting soup curry. The beef was lightly seasoned and delicious. The rice was dry but not inedible. The salad was ok. Overall, it was a satisfying meal. This style of 4 dishes on one plate is a common way of eating. It's said to be named after the way it's served, which resembles the flag of the Dominican Republic.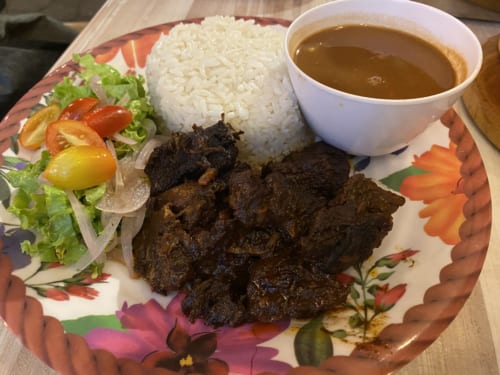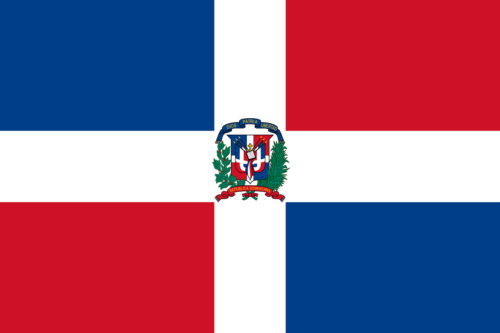 But when I mentioned the dish to our Uber driver he had no idea what I was talking about, so it seems it's not very well known among the locals.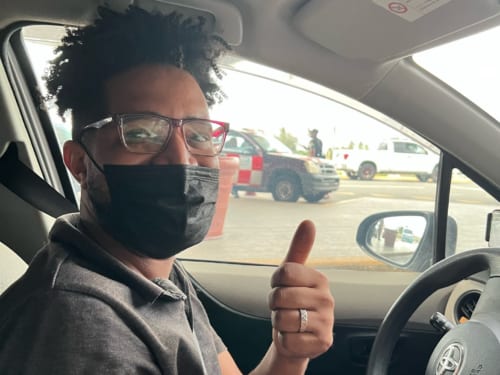 After we finished our dinner we walked about 20 minutes to the underground. Obedient to our Google Maps directions, we even went down this narrow alleyway.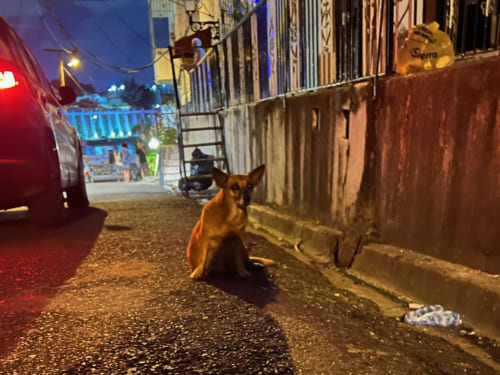 It started to rain. The station still seemed far away, so we were about to give up and call an Uber when a woman we were passing told us not to take out our phones in these streets. Her comment reminded us that the Dominican Republic was listed as the third most dangerous destination by an American travel advisory.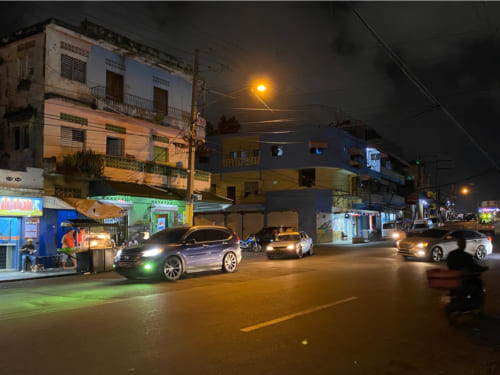 It's best to be careful at night in any country.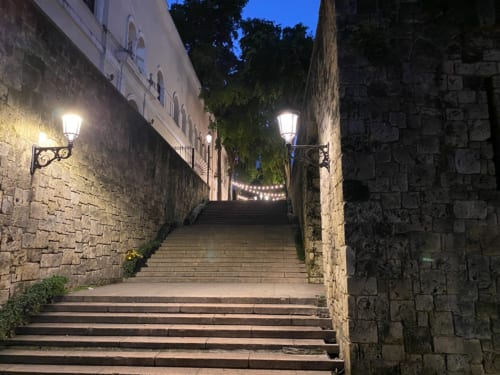 ---
◆Japanese Restaurant Hopping – We Loved "SAMURAI"
The staple food of the Dominican Republic is rice, so there are many Japanese restaurants. This time we visited four.
1)Shibuya
Our first stop is "Shibuya", located in the Blue Mall shopping mall. This shopping mall is connected to a hotel. When we got out of the car, hotel staff came running up to take our luggage, even though we weren't staying there. When we thanked them, of course we got the thumbs-up!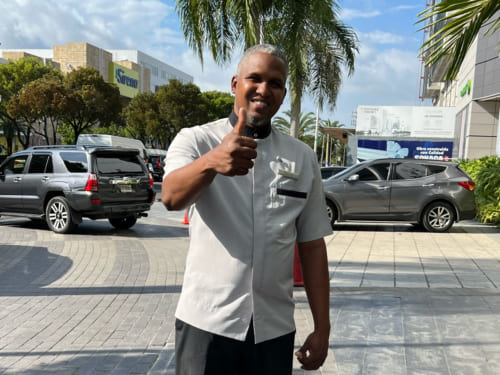 Although it didn't feel like we were in Shibuya, it was pretty busy.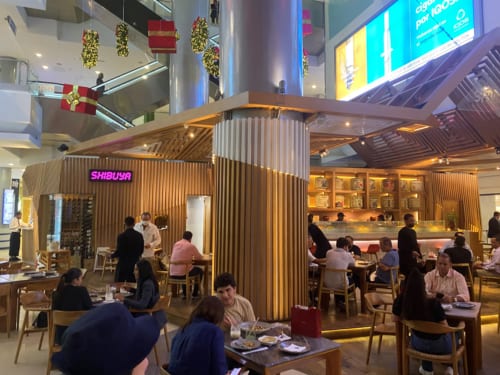 It's not like America where a set member of staff is assigned to your table, it's more like Japan where you can call on the staff as appropriate. English menus can be requested. Truly a fancy restaurant. Anyway, let's order some food.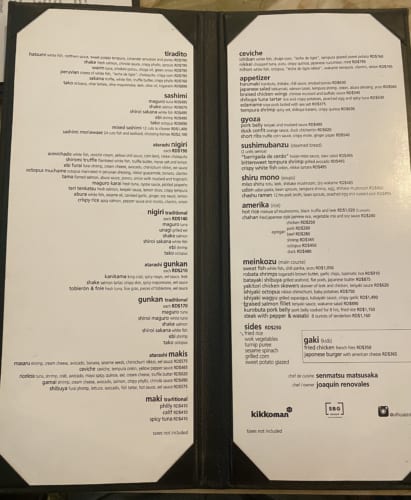 This was the shrimp fried rice (RD$365). Looks pretty good doesn't it. But, take a bite and you find out it's crunchy! It's all slightly burnt. The seasoning was good, but honestly it wasn't easy to finish this dish.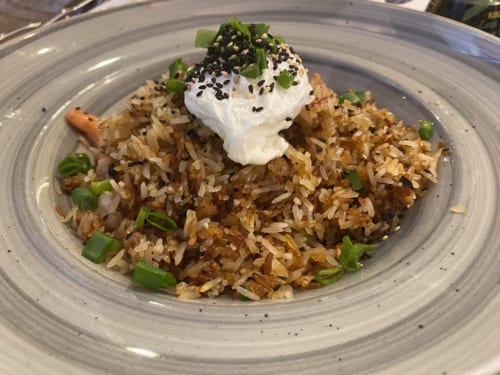 Vibrant salmon carpaccio with orange sauce (RD$795).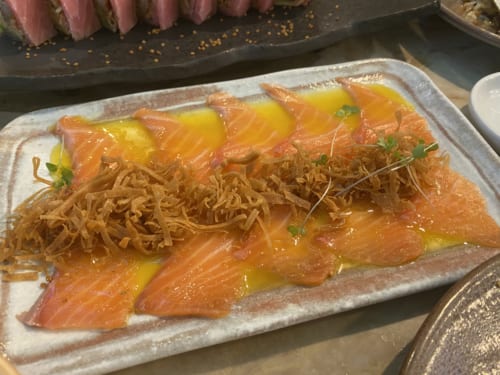 Sushi rolls without rice, with fried shrimp and avocado and rolled in tuna instead of nori seaweed (RD$620). An instaworthy shot.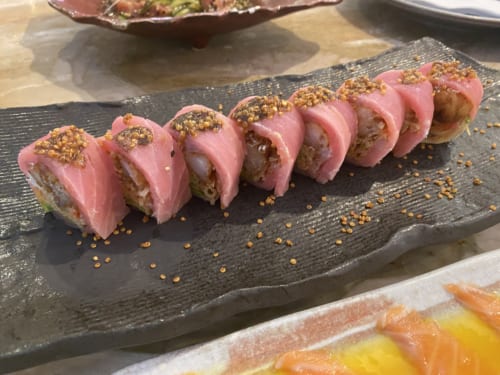 Dominican-style Poke, a very sour dish with lemongrass (RD$795).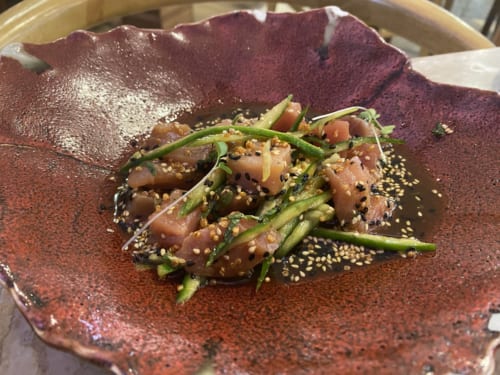 2)Samurai
Our next stop was SAMURAI in Santo Domingo. The nice-looking exterior feels like an authentic Japanese restaurant.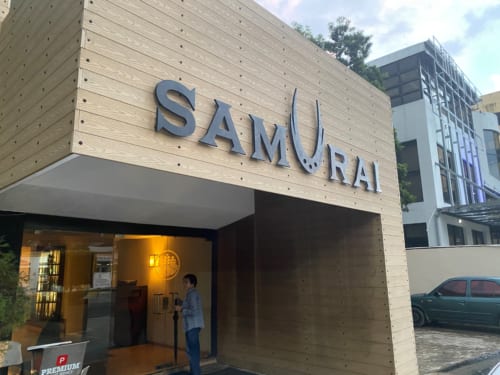 We ordered the "Nigiri Combo" from the assorted sushi category (RD$1500). It came with 10 pieces of nigiri sushi. It tastes just like Japanese sushi! So good!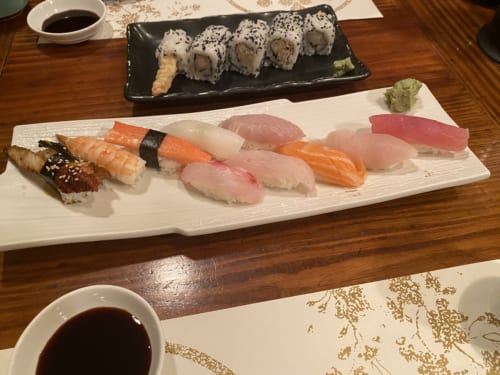 "Kamikaze" from the maki sushi category (RD$415). A style of sushi not often seen in Japan, this was fried shrimp tempura wrapped in rice. The deep-fried shrimp and the rice both tasted authentically Japanese.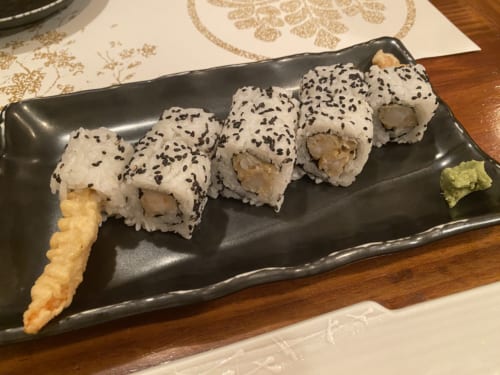 Mixed tempura platter (RD$815). It was unusual that the dipping salt was mixed with chilly pepper. I don't think I've ever seen bell pepper tempura in Japan either. But, that too was delicious!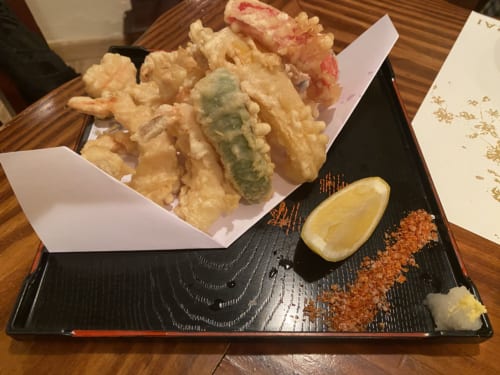 Ribeye Wrapped Asparagus (RD$660). Everything is delicious here!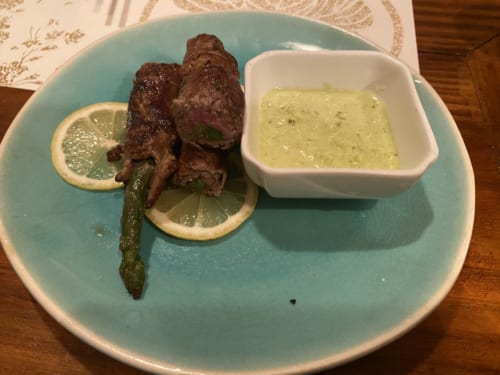 Let's order some more. We finished with Udon Noodle Hot Pot (RD$800). The taste was a bit strong, but overall it was very good.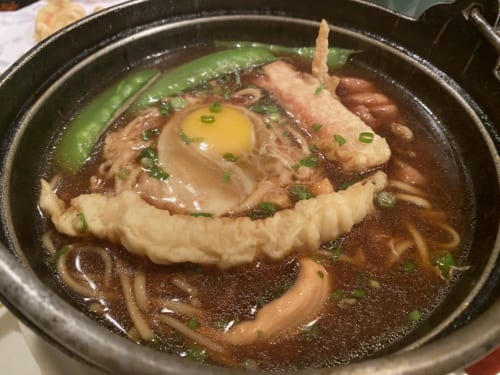 The tea was also very authentic. If you're on Santo Domingo and craving Japanese food, this is the place to go!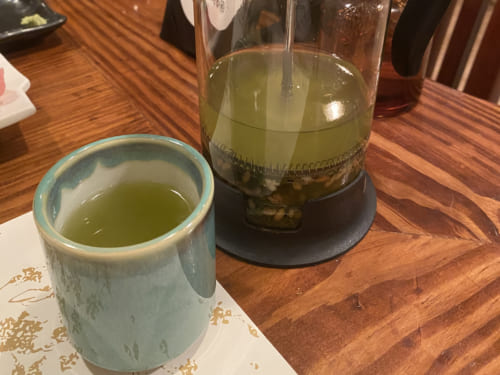 3)Tamashi
We found these Japanese restaurants in one of the eat-in areas outside the airport. There's two to choose from, Teriyaki and Tamashi. We ordered sushi and ramen from Tamashi.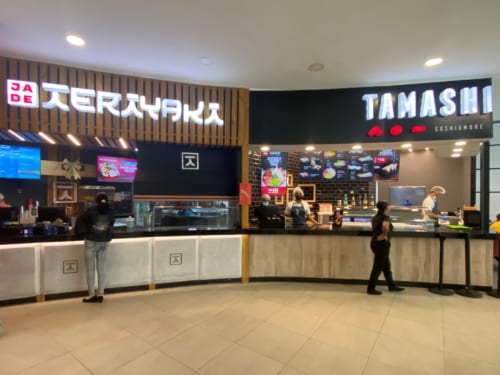 On the left are "Volcano rolls" (RD$292.97). It contains crab stick and is covered in panko bread crumbs. It was crunchy and delicious. On the right: Shrimp Tempura Roll (RD$300.78)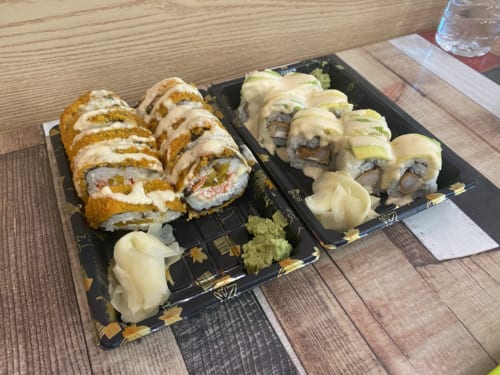 This was the "Pork Belly Ramen" (RD$359.38). In Japanese it would be translated as "buta bara ramen". Despite the name conjuring up images of Tonkotsu ramen, apparently it just meant that it came with slices of char-siu (braised pork belly). The soup tasted quite weak and the noodles weren't the proper consistency.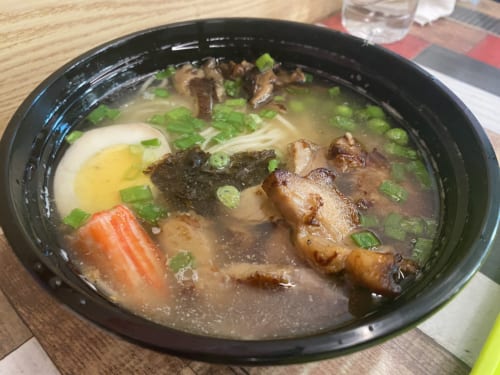 4)UDON
The final restaurant we tried was located in the airport. They mainly serve udon noodle dishes.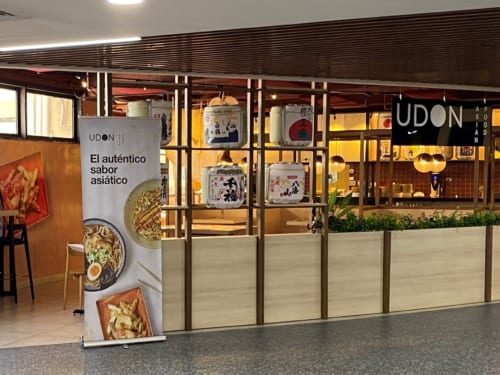 The paper placemat was fancy.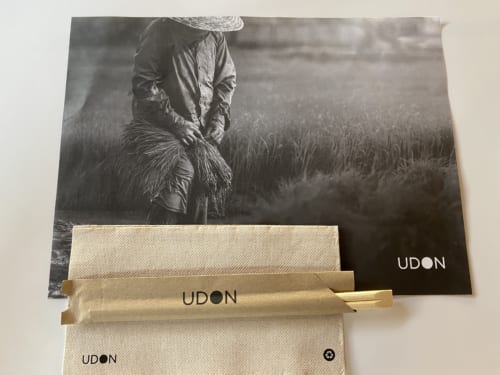 We ordered Fried Udon Noodles (RD$22.73) and Beef Bowl (RD$16.36). Quite pricey, but surprisingly tasty! This was the beef bowl.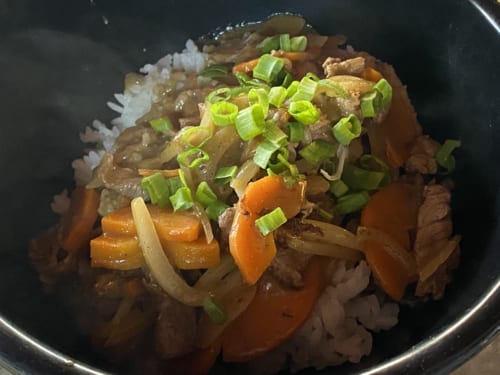 The fried udon noodles also tasted the same as you'd find in Japan.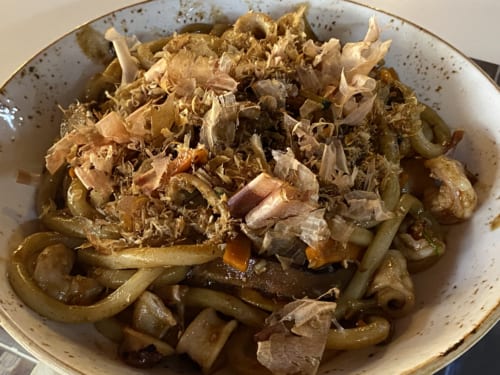 ---
◆Walk-in to the Hospital and Get Jabbed in the Buttocks
On the last day of our expedition, a member of our team developed a fever, a terrible headache and a sore throat so bad they couldn't even drink water. There's no way they could continue the tour, so we urgently went to the hospital to get them checked out. A search on the internet turned up the Luis Eduardo Aybar Hospital, open 24 hours a day and has been supported by Japan since 1989. Hoping that we might be able to speak Japanese there, we took an Uber armed with plenty of tissues due to an incredibly runny nose. We arrive at the entrance to the hospital.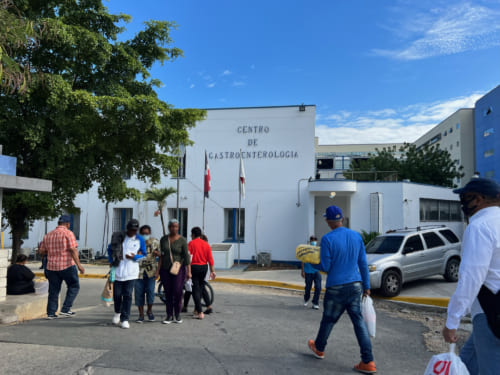 When you enter this building, you can see photos of those involved in the founding of the facility. There are Japanese people shown, too. Through a 1989 grant from Japan, a center for gastroenterology and a medical education center was built, and Japan also sent specialists and provided technical guidance for diagnosis.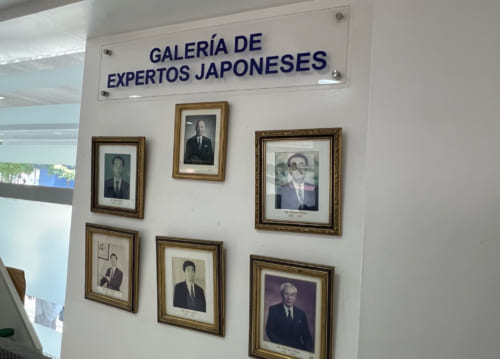 There was no one at reception, so we headed to the back of the building.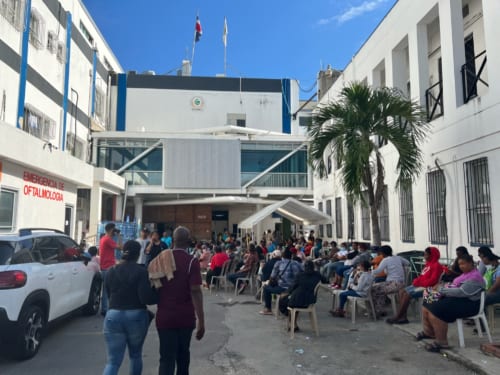 We arrived at what seemed to be the proper reception area. There's a queue. Should we line up here? We only have two hours before our flight. Can we be seen without an appointment? We're pretty anxious.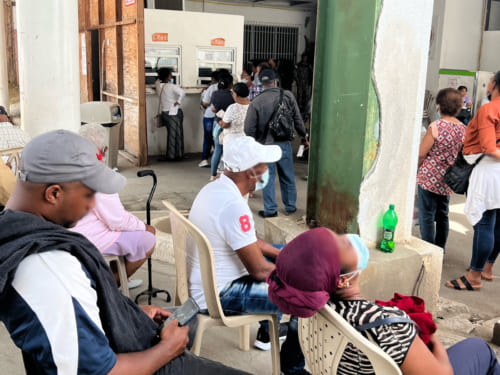 When we showed a hospital staff member on Google Translate that we wanted to see a doctor, we were directed to a different building.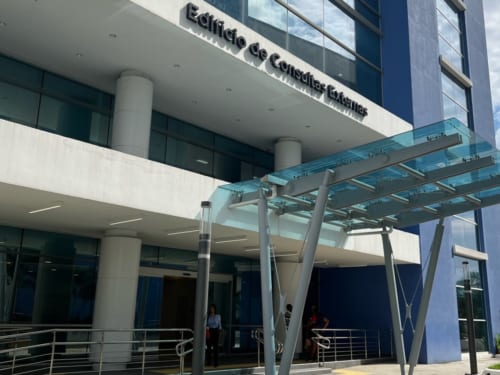 The staff at this reception could speak English. When we said we were Japanese and asked to see a doctor, we were directed to the information desk on the third floor.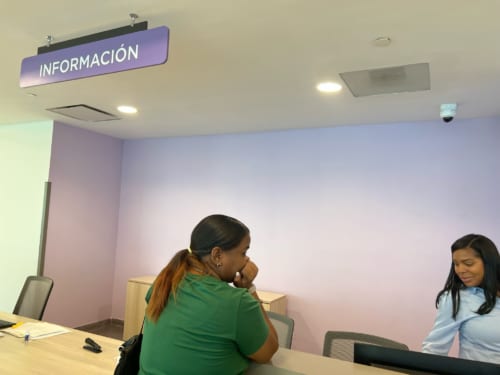 Unfortunately the staff at the third floor information desk didn't speak English. When I used Google Translate to translate the symptoms from Japanese into Spanish, they told me 'you walk alone'. Where should I walk to?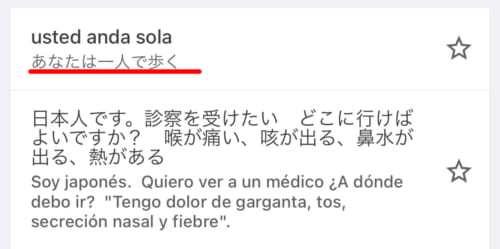 Asking again, we were shown the following screen. What does it mean that we don't need to go to a primary care centre? Where should we go? This is making the headache worse.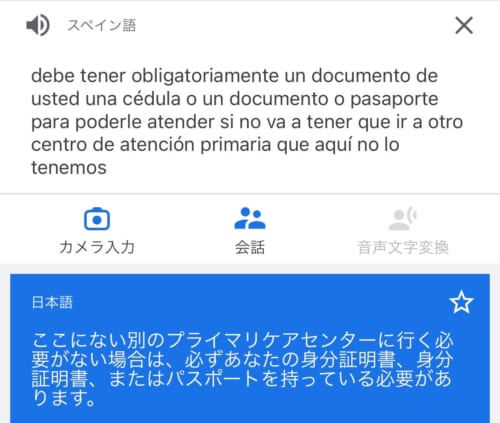 We were then told "there isn't any torino". What on earth is a torino? My nose wont stop running and we're about to give up.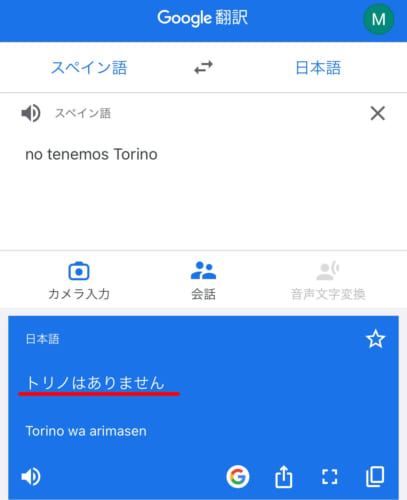 Patient after patient arrive and we were left to ourselves for about 30 minutes. When there was a break in the flow of incoming patients, we once again asked for help and they took us to the Emergency department.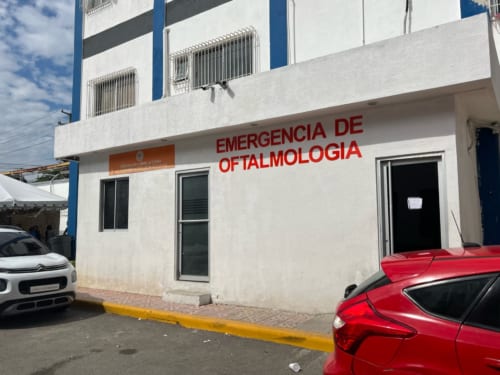 We were asked to sign in.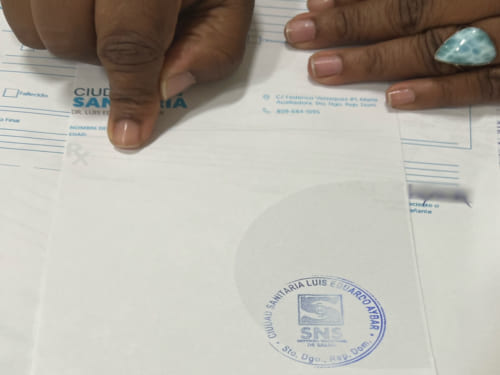 After waiting another half an hour, a nurse came, took me into the treatment room, told me to pull down my pants and suddenly I was given an injection. It was an injection for pain relief. We were told, "You have an appointment with the doctor but it's after he's had his lunch break". When we said that we'd miss our flight, the doctor agreed to see us straight away. He also prescribed medication.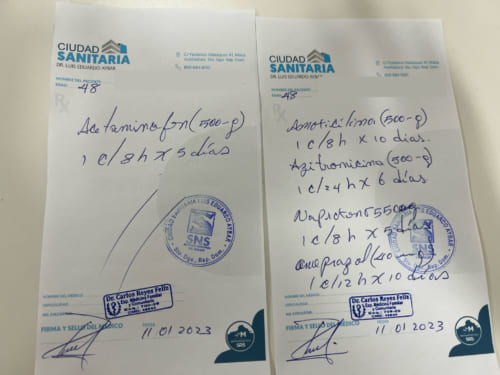 A photo to mark the occasion of being seen by Dr Carlos. He has a great smile. Dr Carlos was the only man on the whole trip not to give us the thumbs-up. Maybe it's because his lunch break was cut short.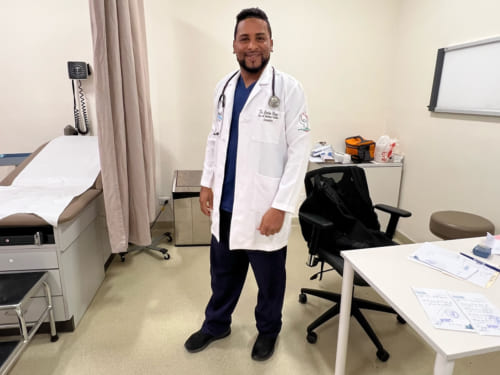 Back at reception, we were charged RD$300. When we tried paying with US dollars or a credit card, we were told they only accept Dominican pesos in cash. When we told them we didn't have any on us, they said they'd make the examination free, that we didn't have to pay.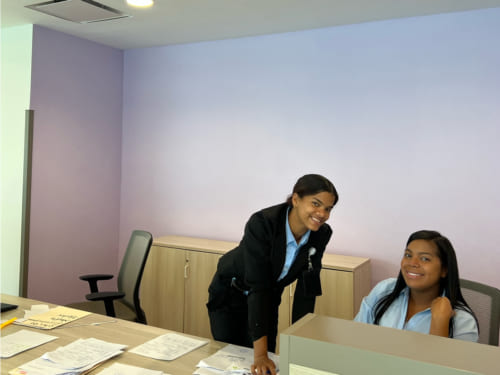 The Luis Eduardo Aybar Hospital staff may not speak Japanese, but they're a hospital that provides free medical services to low-income earners. So maybe that's why they gave us free treatment when we had trouble paying. We're so thankful to everyone at the hospital! We somehow managed to make our flight on time. If you happen to feel unwell in Santo Domingo, rush yourself to Luis Eduardo Aybar Hospital.
---
◆Domain Name Registry Location is a University- Finding ".do" Around Town

~

The registry that manages the ".do" domain is located within PUCMM University. The domain is pucmm.edu.do. We visited twice, but unfortunately couldn't meet the person in charge.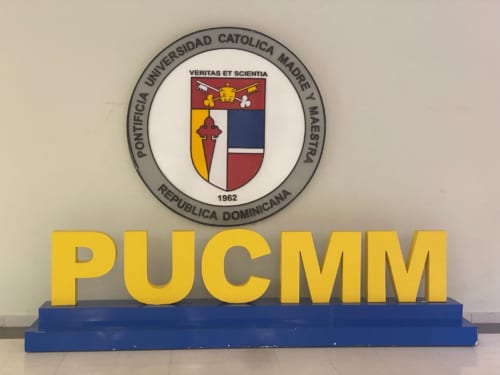 This business, that looks like a home improvement store, uses "mitela.do".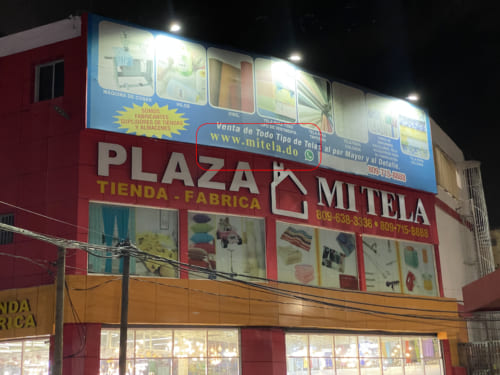 Our hotel and a sign for sanitary products use ".com.do".
hotelaladino.com.do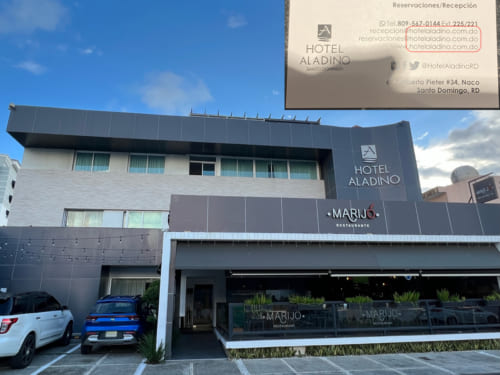 nosotrasonline.com.do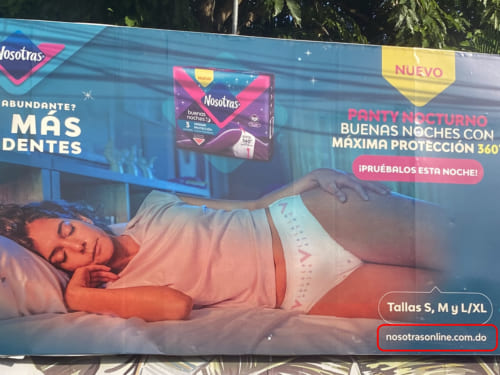 UFHEC university uses "ufhec.edu.do ".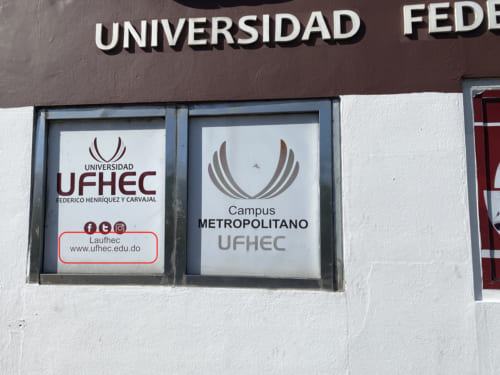 Immigration information seen in the airport showed the government domain as ".gob.do". As it's based on Spanish, it's gob, not gov.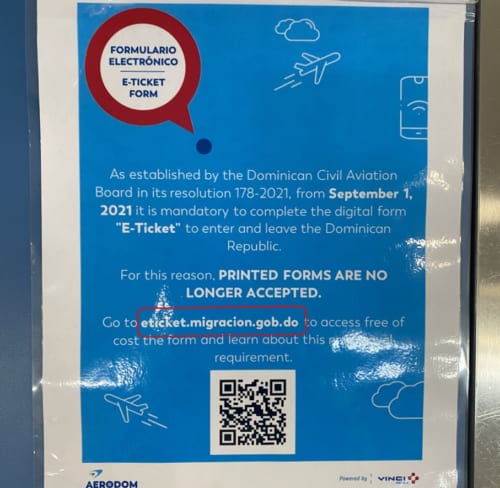 ---
◆How to Purchase a SIM & Test the Internet Speed
Domain Island Tours have reported on how to find and purchase local SIM cards from June 2018 to September 2020. However, since it takes a surprisingly long time to find a store and buy one, from now on we'll use eSIMs. Switching to eSIM made it easy to sign up for a connection that works in the Dominican Republic.
The one used this time was the Caribbean data plan from Ubigi (1GB, 30 days, $19 USD). Dominican Republic eSIM speeds as measured downtown. 7Mbps.
We couldn't connect to Airalo's data plan for the Dominican Republic.
---
■List of Places Visited
■ For access to the Dominican Republic click here
■For ".do" domain details

click here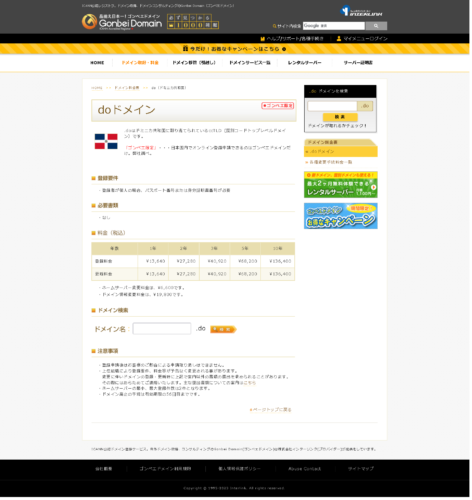 ■For ".com.do" domain details

click here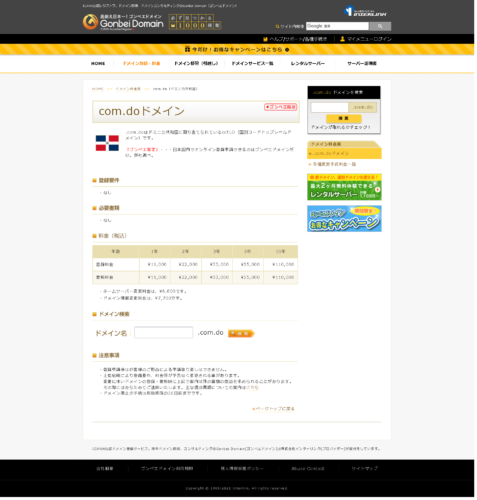 ■For ".net.do" domain details

click here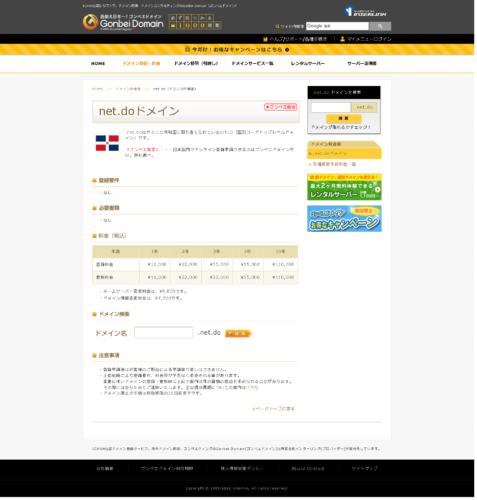 ■For ".org.do" domain details

click here