When you hear "Dominica", what probably comes to mind is the baseball superpower that produced many Major League players – the Dominican Republic. But there is one more country with the name "Dominica". The Commonwealth of Dominica. We went to explore this country, so rich in nature it's called the botanical gardens of the Caribbean, but also has the highest crime rate (per 1,000 people) in the world in 2009. The ccTLD (Country Code Top Level Domain) assigned to the Commonwealth of Dominica is ".dm". ".dm" can stand for "Direct Message", so it is often used by messaging services that send product catalogs or by information services, such as Sway.dm.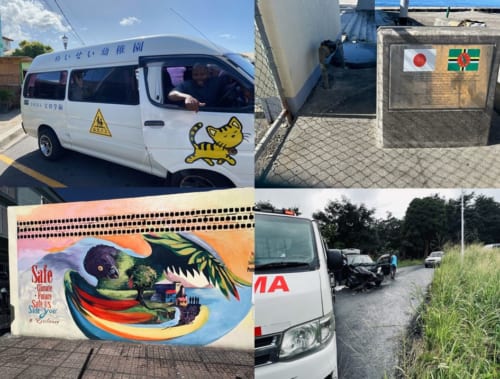 ◆Where is the Commonwealth of Dominica?
The Commonwealth of Dominica is located between North and South America, in the Caribbean Sea. It is a small island with an area of 754km2. Formerly a French colony, it came under British rule in 1805, and then later gained independence in 1978. The official language is English (British English) and all signs and billboards are in English. The capital is Roseau. The currency used is the East Caribbean dollar (XCD), although being so close to the USA, the U.S. dollar is also accepted. * As of February 2023.
= Table of Contents =
---
◆Roseau Via Portsmouth, Second Largest City
The Domain Expedition Team flew into the Commonwealth of Dominica on an American Airlines flight from Miami International Airport, Florida, USA.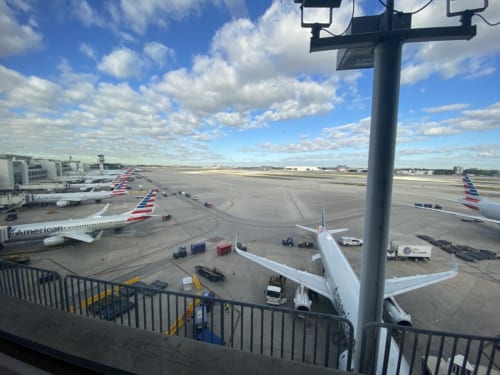 The gate was located at the far end of the terminal. We listened to the roar of planes landing and taking off around us as we waited. Departure was delayed for about 30 minutes due to mechanical issues, but later departed without incident.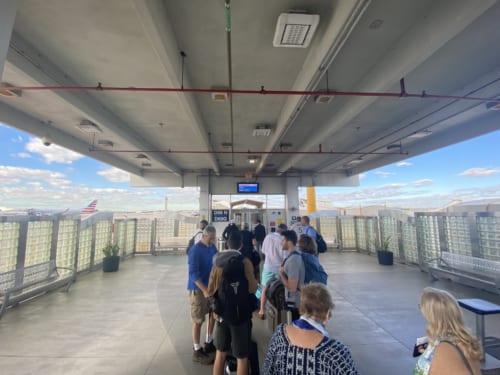 It takes about 3 hours from Miami. We arrive at Douglas–Charles Airport.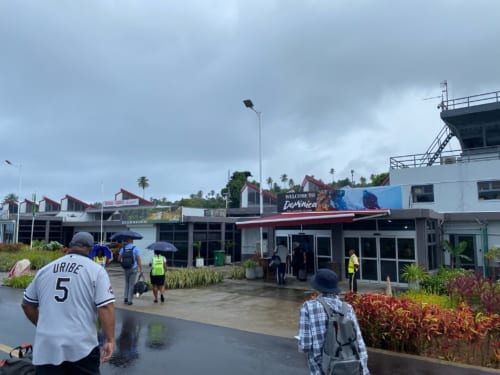 We see three men sitting on a bench on the road outside the airport. They're taxi drivers. "Need a ride?", they ask. We decided to take Mr Alexander's taxi after he called out to us.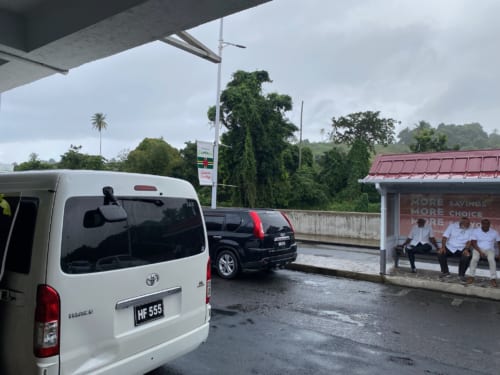 We head for Roseau, the capital. The shortest route (on the right) would take about an hour, but we decided to go via Portsmouth (see map on the left), the second largest city in the Commonwealth of Dominica, so we could enjoy the scenic ocean drive. Off we go!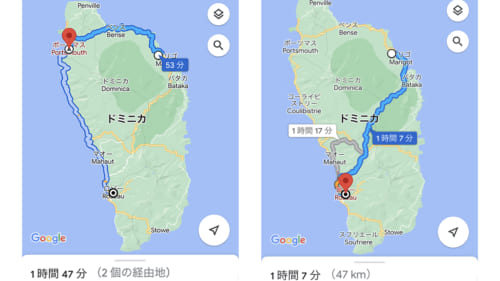 We saw boys playing soccer, despite the poor weather. The Dominican Republic may be known for baseball, but here in the Commonwealth of Dominica, soccer is the popular sport.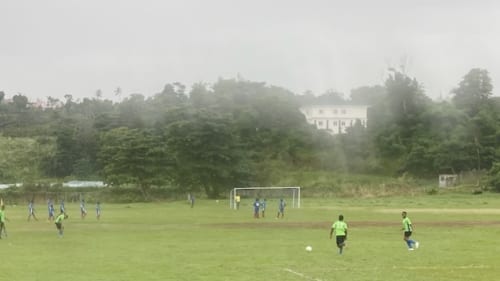 After driving for a while, we came across the scene of an accident. This is a first on a Domain Island Tour! Amazingly, there are no traffic lights in the Commonwealth of Dominica, neither in city areas nor on mountain roads. Drivers use their horns while driving instead.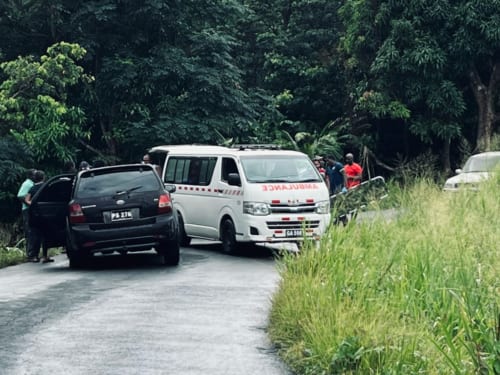 An ambulance has arrived, too.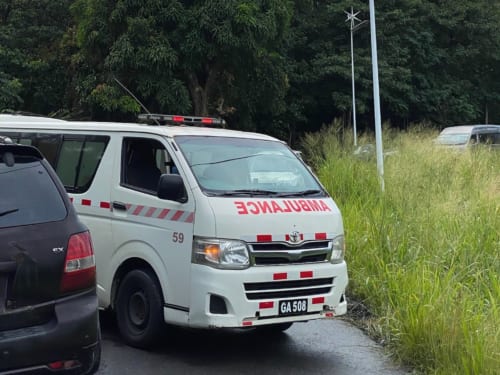 The cars were wrecked, but thankfully no one was seriously hurt.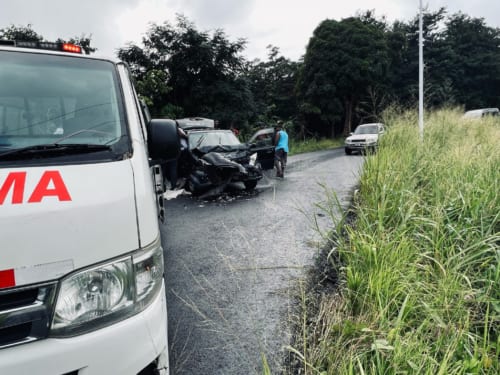 The police were also called. Both the ambulance and the police car were Japanese models. We needed to wait around 30 minutes before we could continue on.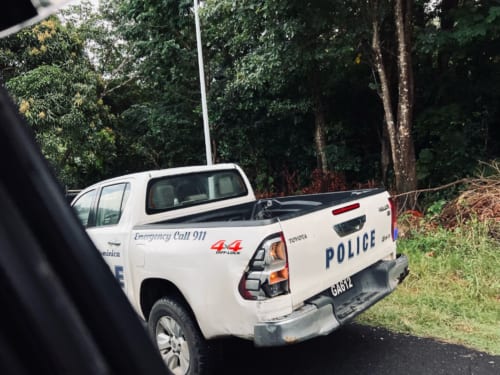 We continue on our way through the mountain, being as careful as possible. Suddenly, our driver, Mr Alexander, got out from the car and started picking something from a roadside tree. It's a fruit called Sweet sop, or sugar apple. He didn't pick them for us, but for himself. We better get a move on.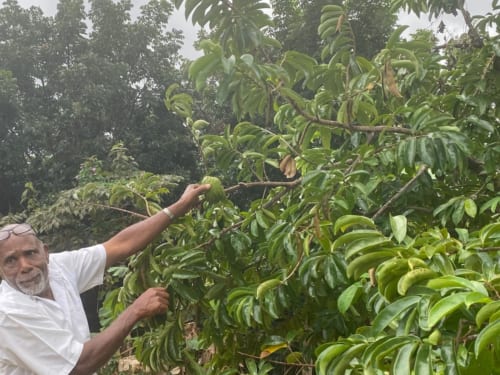 As we enter Portsmouth, the island's second largest town on the west coast, we start to see some residential areas.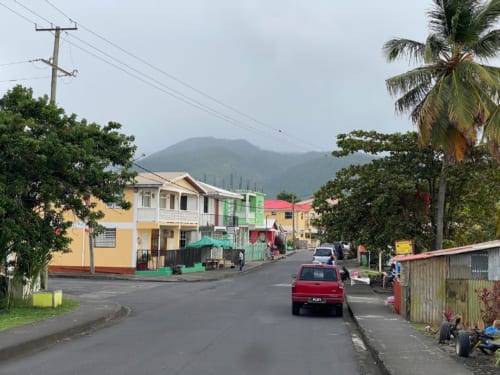 We saw lots of people enjoying swimming and other beach activities. It was a Sunday and most shops were shut.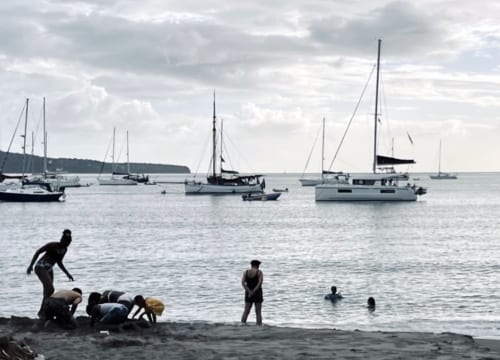 The sun set before we reached Roseau. The coastal scenery was so beautiful at sundown!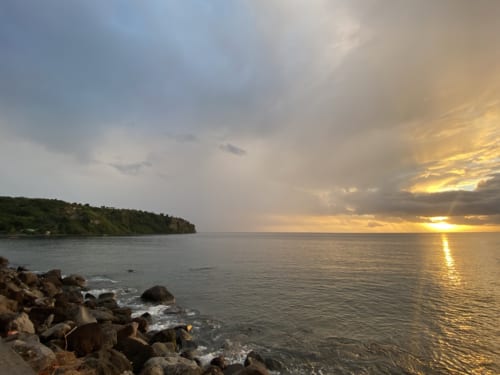 We arrived at our guest house at night and it seemed as though there was a constant but subdued alarm beeping? It turned out to be some kind of insect.
---
◆Japan Rebuilds Port as Part of Hurricane Recovery Assistance
We stayed at the St James Guesthouse.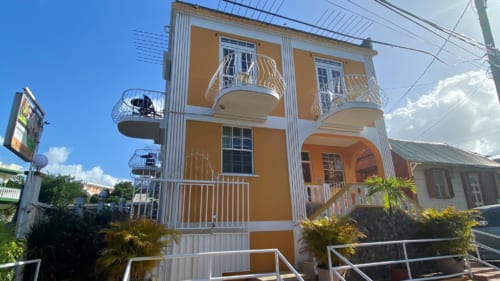 After a fruit-heavy breakfast, we set out on our second day of exploration.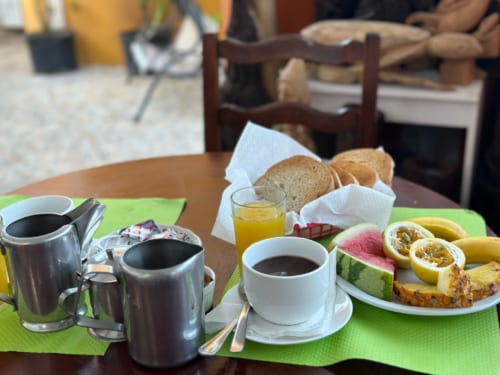 No wonder bananas are the heart of the economy – they're delicious!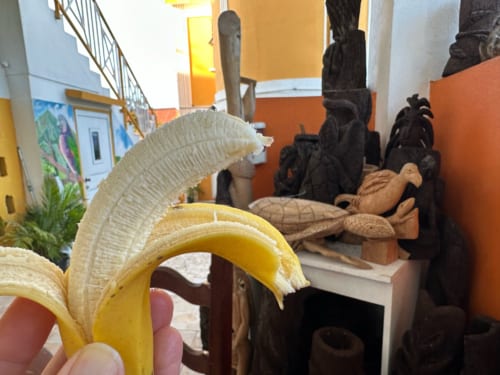 Looking around Marigot Port. A luxury cruise ship was in port.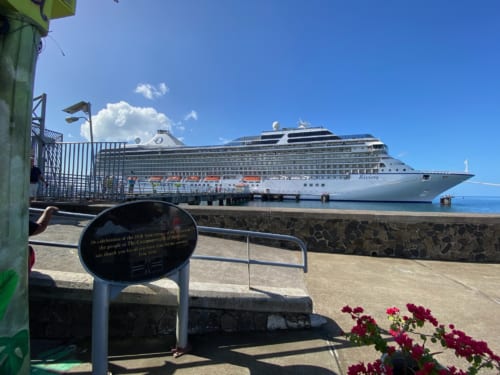 We saw a plaque with the flag of Japan and the flag of Dominica side by side.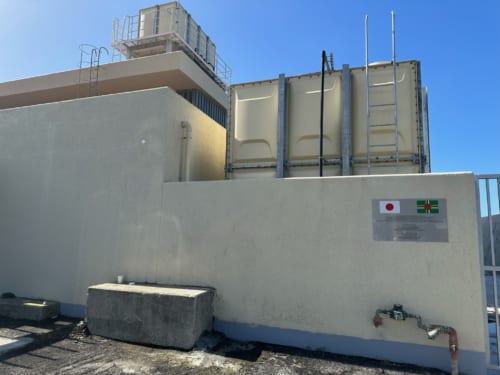 In October 2019, The Japan International Cooperation Agency (JICA) set up "The Project for Rehabilitation of Fishery Buildings and Equipment in Roseau and Marigot" after the hurricane in September 2017, granting aid up to 1.072 billion JPY.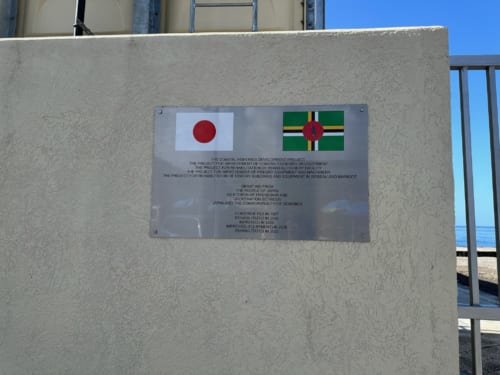 Waterproofing all the buildings at Marigot Port and the renovation of the market and its administration buildings, fishermen's lockers and bathroom facilities, vessel repair building, workshop building, quay and breakwater, fish containers, platform scales and VHF radio equipment was completed in November 2022. This port was rebuilt, thanks to assistance from Japan.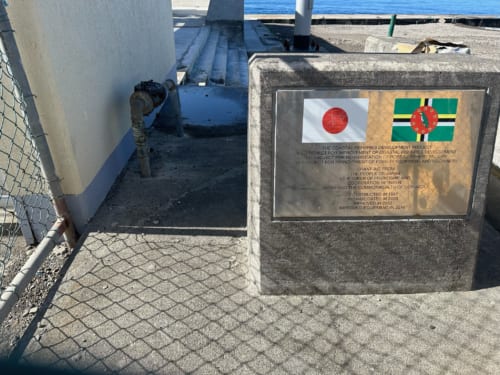 There was also a market in the harbor. The street is lined with souvenir shops catering to the passengers of visiting luxury cruise ships.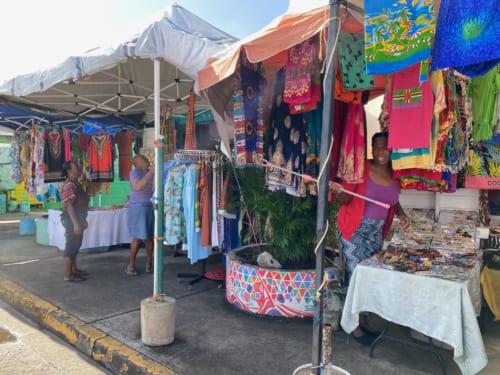 When the cruise ships leave at 4pm, the shops all close at once and the area suddenly looks rather desolate.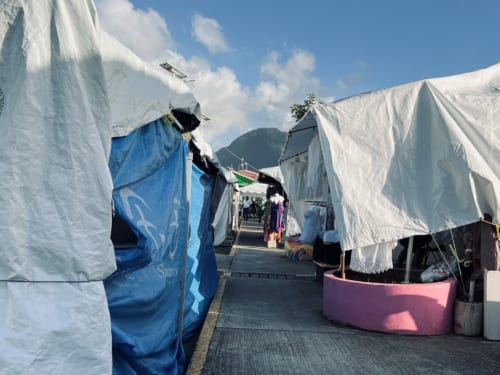 ---
◆Dominican Hot Spring Unpopular With Locals
While we were at the Visitors Center, we met a Canadian couple and we ended up sharing a taxi with them and a guide who would show us around. It's a 2 hour tour, usually taken by cruise ship passengers.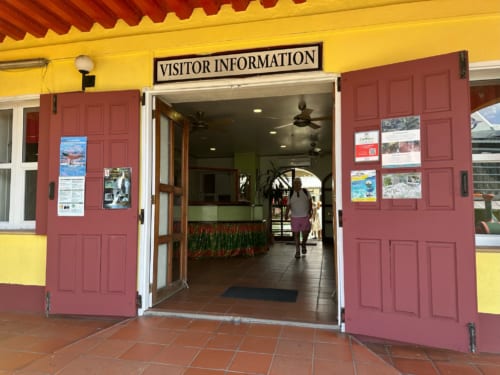 This is a certificate belonging to our guide. They'd stuck it inside the car.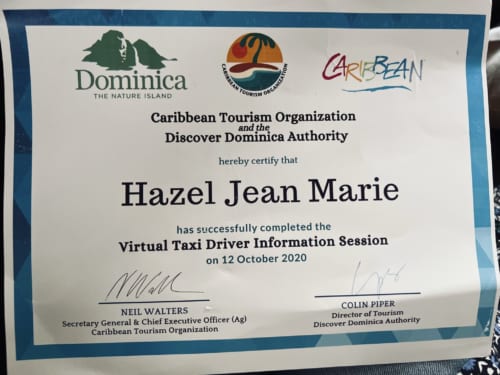 The Commonwealth of Dominica is a small country made up of mountainous terrain and with four active volcanoes. We saw the Trafalgar Falls high up in the mountains. Our driver told us a lot about the area as we drove.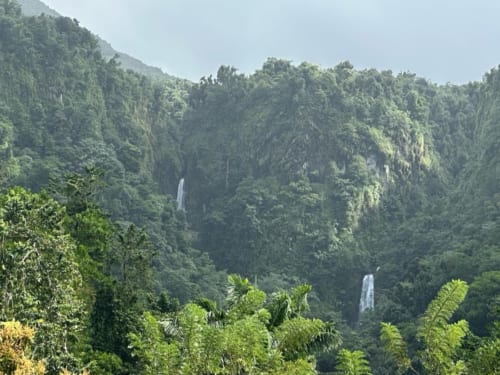 We stopped the car in a jungle-like area. It's a hot spring!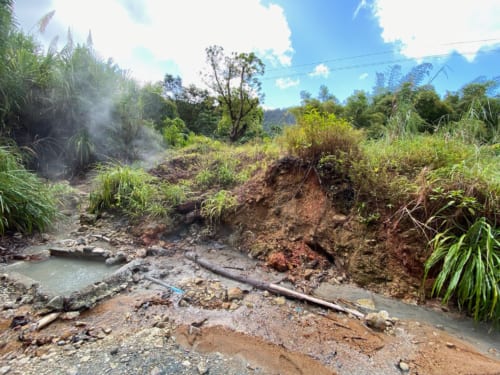 Nearby there is a hot spring facility called "Screw's Sulfur Spas(Screw's Sulfur Spas)". There are 4 separate pools to bathe in, but the facility wasn't open at the time we visited. The price was $10 USD. Locals don't seem to visit much because of the steep price and how hot the water is.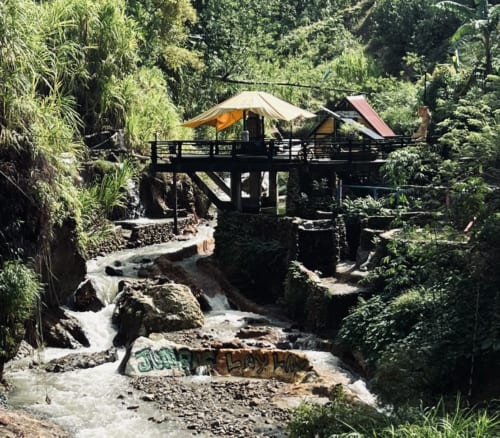 Nearby Cacao tree.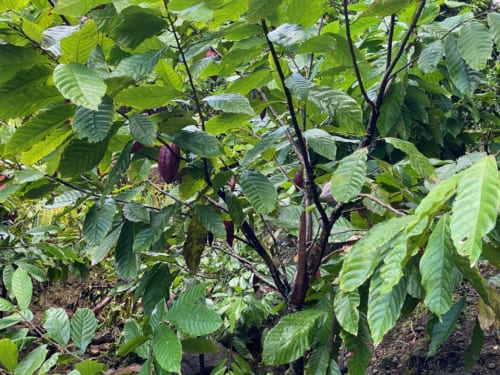 We stop by a shop. They sold bananas, avocados and other fruit grown on the island.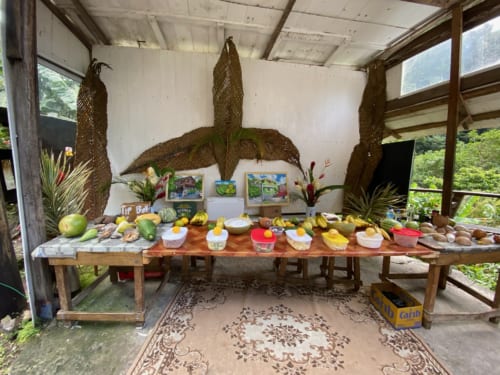 We could try sweet sop, the fruit Mr Alexander was so enthusiastic to pick yesterday. Sweet sop was delicious and sweet like a peach.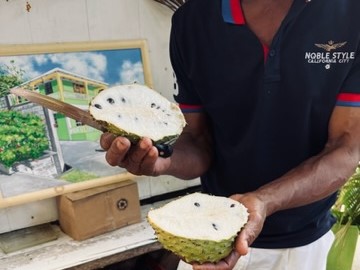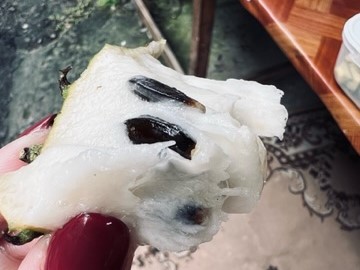 ---
◆Searching For The Mysterious Imperial Amazon
You can see the Imperial Amazon depicted on the flag and throughout the city. The Imperial Amazon is critically endangered. As of 2019, there are estimated to be only about 50 mature birds left in the wild. They measure around 48cm in length. They are shy, difficult to approach and usually travel in groups of three or fewer. They like to perch at the top of trees and are difficult to spot because their feathers camouflage them well.
reference:https://en.wikipedia.org/wiki/Imperial_amazon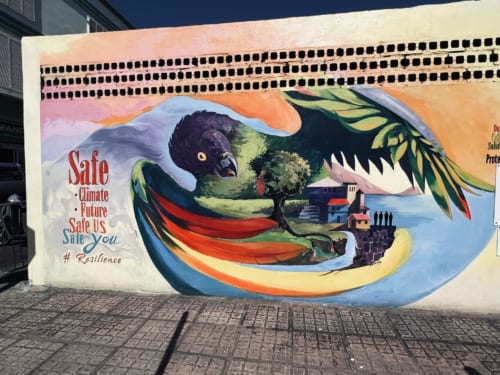 The Imperial Amazon as depicted on the flag. This flag design has been in use since 1990.
This was the flag used from 1988 to 1990. The stars are a different color.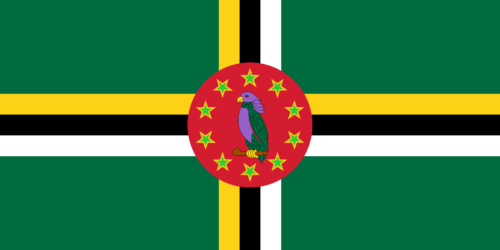 This flag was used from 1981 to 1988. The Imperial Amazon is facing right.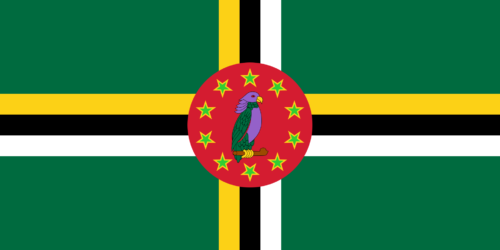 This flag was used between 1978 and 1981. The black lines are different. As you can see, the flag has changed over the years, often only very slightly.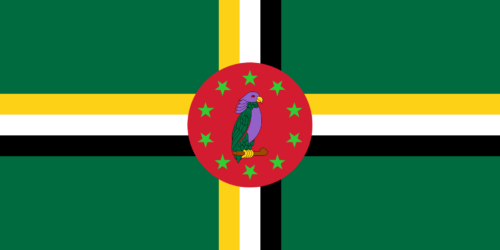 Imperial Amazon at the bus stop too.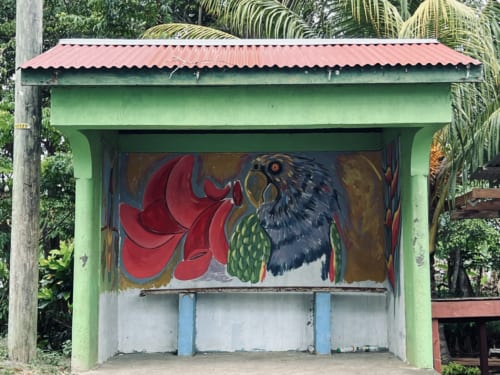 Being told it's rare and mysterious just makes us want to see it even more. When we talked to the locals, most said they rarely see them or have only seen them on TV, so it seems very unlikely we were going to catch a glimpse in the short time we had. But people that live in the mountains did say they get to see them from time to time. Our guide demonstrated the call of an Imperial Amazon.
Once we learnt their call and unique features, we began our search for the elusive Imperial Amazon. Well, that was the plan. However, we were told that if we really wanted to see them, we could go to the Parrot Conservation & Research Centre, so we gave up on seeing any wild Imperial Amazons and headed there straight away.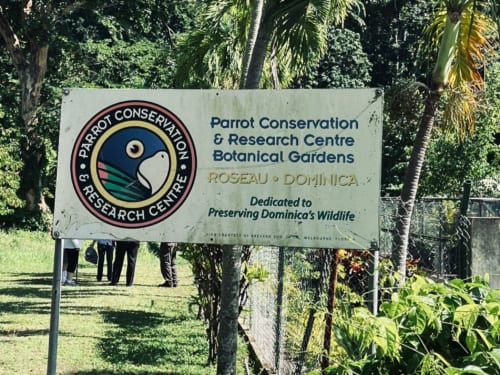 From a distance, we got to see this mysterious parrot!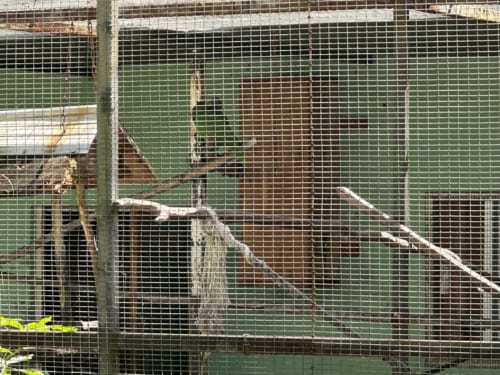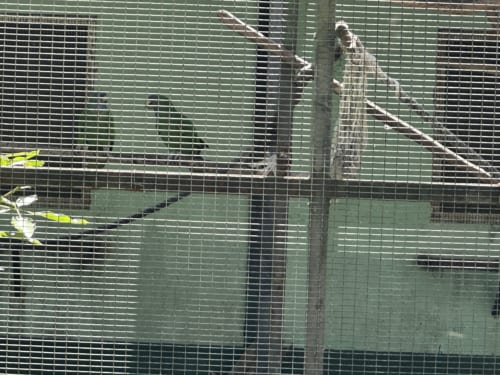 We wanted to get closer, but unfortunately there was a handrail that prevented us.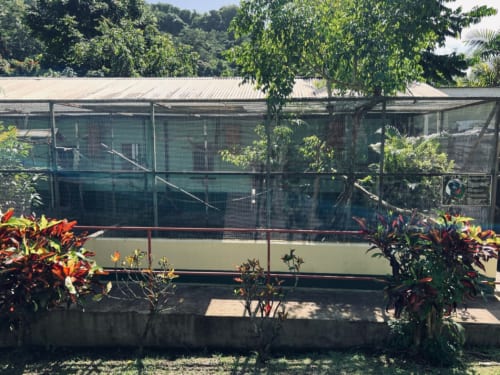 Perhaps it's there out of consideration for the shy and sensitive Imperial Amazon.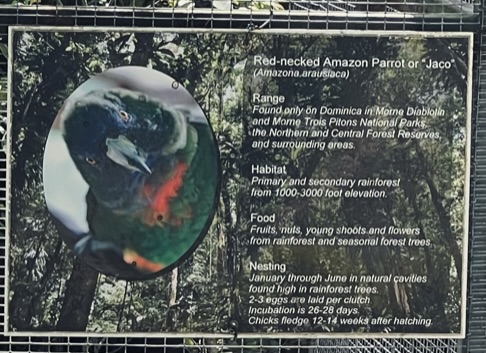 ---
◆Downtown in the Most Dangerous Country in the World

Domain Expeditions once explored Johannesburg, a crime ridden city with a building that can leave you dead in just 15 seconds. This time、 we'll go undercover in downtown Roseau, the capital of the Commonwealth of Dominica, voted the most dangerous country in the world in 2009.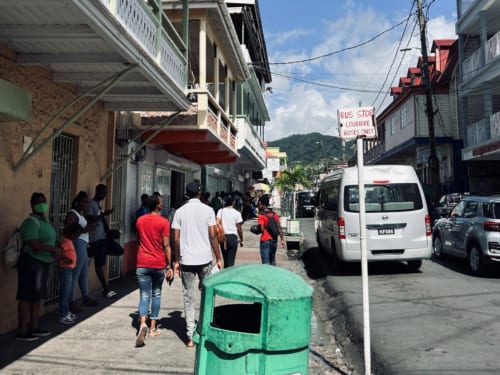 We saw a lot of stray and free-roaming dogs. Might sound a bit scary, but actually they were quiet and harmless and a little afraid of humans.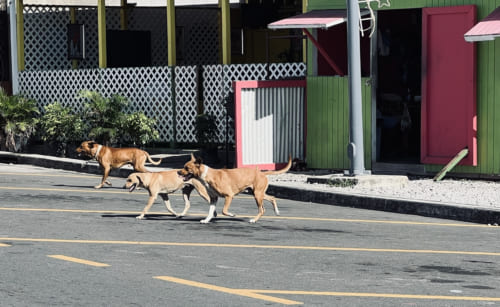 A woman with raster braids, which are fine braids that cover the whole head. The islanders we met spoke English well, without too strong of an accent. The language they most frequently use is French-based Creole.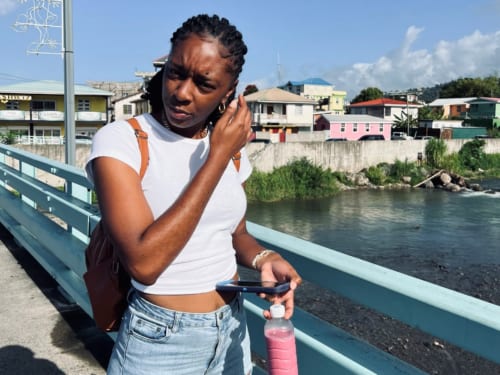 Cyber Box Entertainment – a store popular with local kids. I'm curious. Let's take a look inside.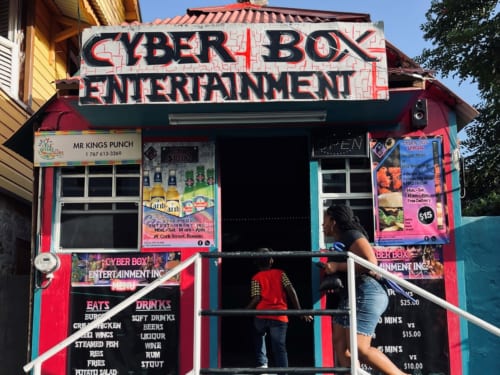 Games can be played on either a single Xbox or a Playstation, with two monitors available, for 40 minutes at $10 XCD. It's a mini-sized amusement arcade. Payment could also be made in U.S. dollars. As an example, $100 XCD converts to $40 USD. In all the shops we visited on the island we were able to pay in U.S. dollars.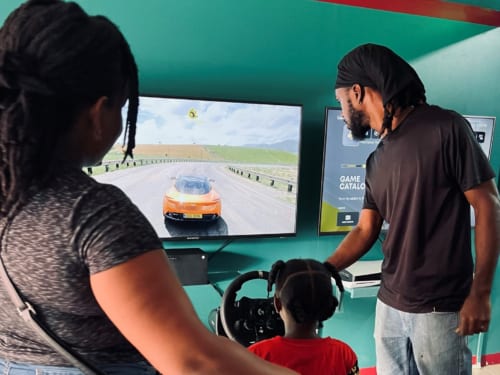 There are many beautiful murals that brighten up the city.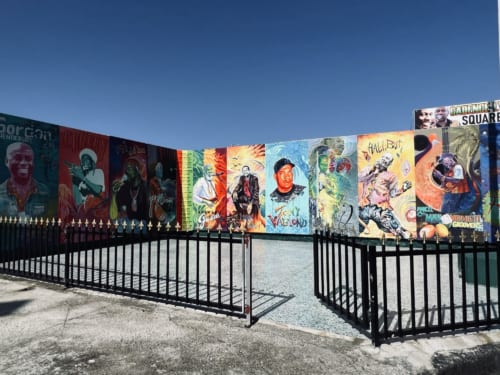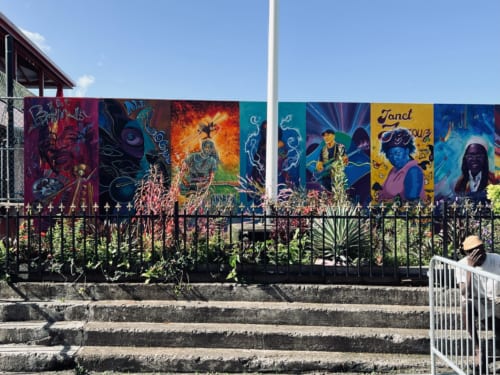 We popped into an electrical appliance store to buy an outlet converter. The owner, who is Chinese, came to the Commonwealth of Dominica in 2012.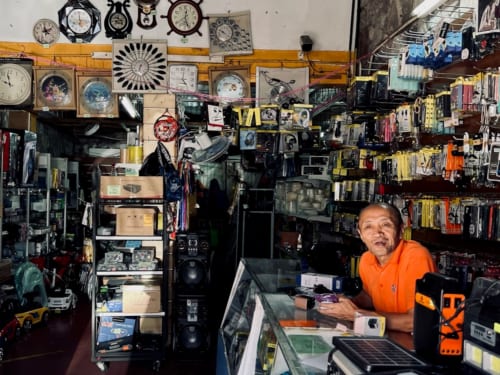 I asked if she knew of any Japanese people living on the island, but she told me that there are none living here. There are no Japanese restaurants either, but she was kind enough to recommend a Chinese restaurant and we ate there for lunch. An extensive menu. We ordered the most popular dishes here – Fried Rice, Chicken Fried Rice and Tofu Chow Mein.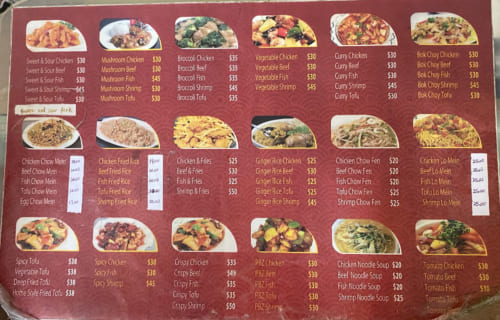 It's a popular place with local working women. They bought their food as take-out.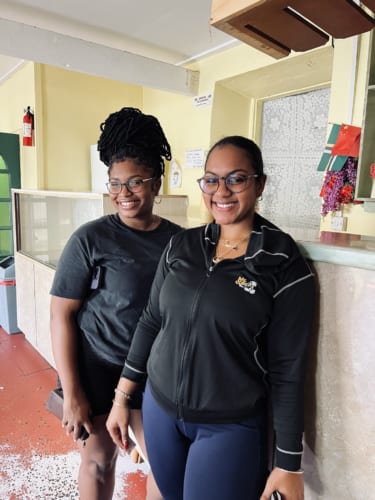 The Chicken Fried Rice was made up of fried chicken on top of dark-brown fried rice, topped with sauce. The fried chicken was alright but the fried rice was… one of the worst dishes we have ever eaten on a Domain Expedition! It cost $12 XCD.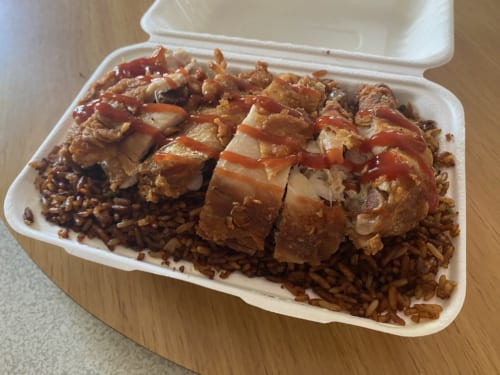 The Tofu Chow Mein consisted of fried noodles and vegetables with stir-fried tofu. We enjoyed it. It cost $20 XCD.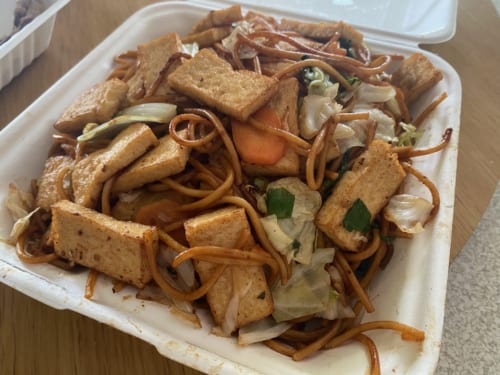 We took a walk around the downtown area and didn't feel any danger at all walking in the daytime. In fact, everyone we met was friendly and kind. Public security has improved significantly and it seems crime rates have lowered over recent years.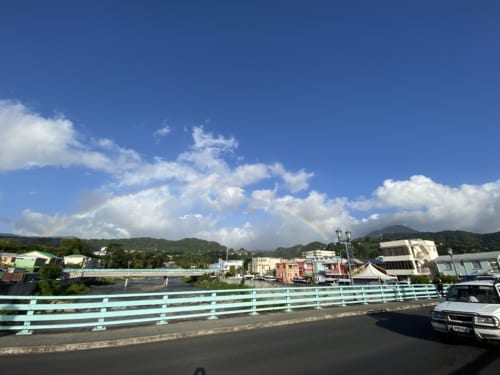 ---
◆No Japanese People But Japanese Cars Everywhere

There are zero Japanese residents in the Commonwealth of Dominica (as of October 2018). There are no Japanese restaurants either. But, there are Japanese cars everywhere! The Commonwealth of Dominica is a country rich in nature, but you'll also see concrete roads everywhere. These were built by the British in 1945.
China helped install solar streetlights 3 to 4 years ago.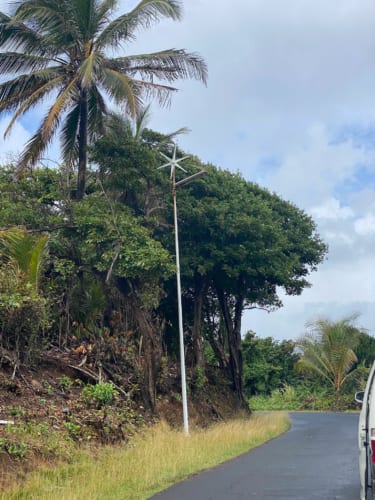 Cars drive on the left, as in the UK and Japan. The Japanese labels haven't been changed.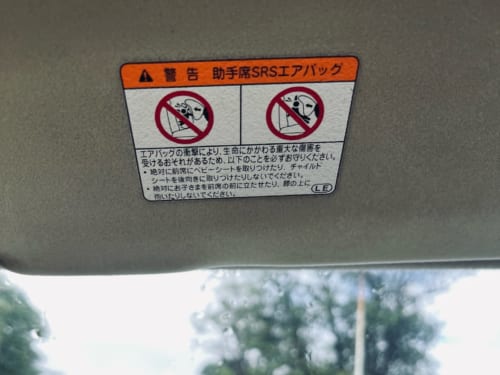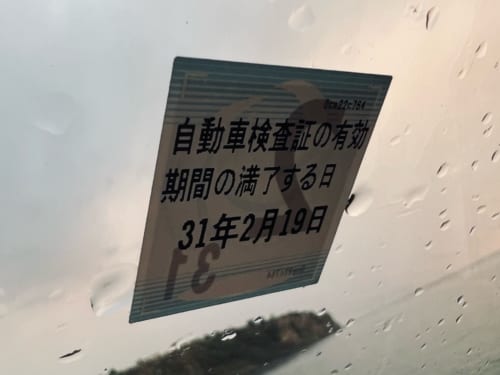 The "Maximum Loading Capacity" label is still there.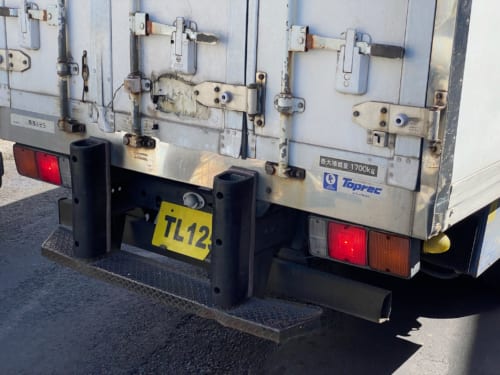 Cars that were used by Japanese businesses and kindergartens remain unchanged.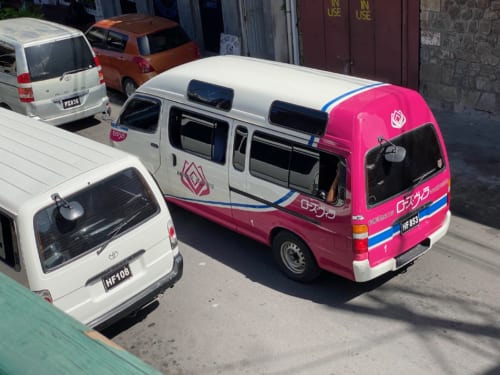 A vehicle once owned by Meisei Kindergarten in Japan is now being used as a school bus in the Commonwealth of Dominica. The driver told us he knew that it had been used as a school bus in Japan.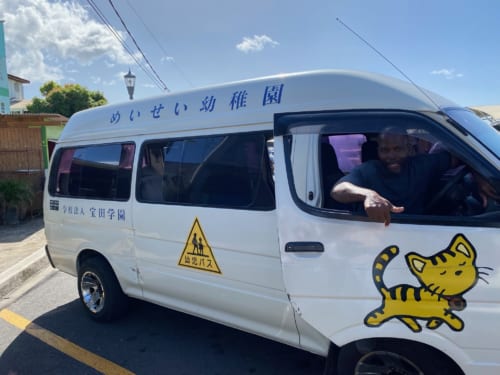 The ambulance and police car at the scene of the accident we saw were also Japanese. Popular used Japanese vehicles in Dominica seem to be Noah, Rav4 and trucks.

---
◆Food Report from Dominica – Trying Food Not on Japan's KFC Menu
The Commonwealth of Dominica also has KFC, a familiar fast food name in Japan.
We'd done some research beforehand and decided that we'd have dinner in Roseau on the day of our arrival. The first thing that surprised us was just how many cars were queuing up for the drive-through.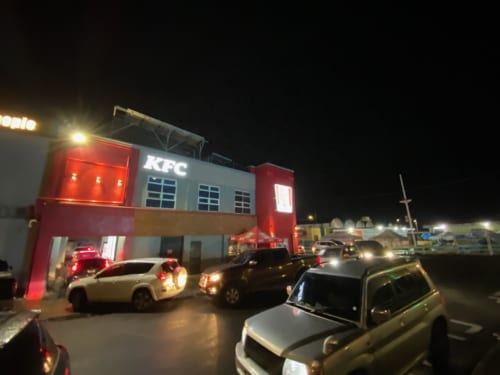 There was a queue inside too, we had to wait about 20 minutes to order. This KFC is the biggest restaurant on the island, including here in the capital, Roseau.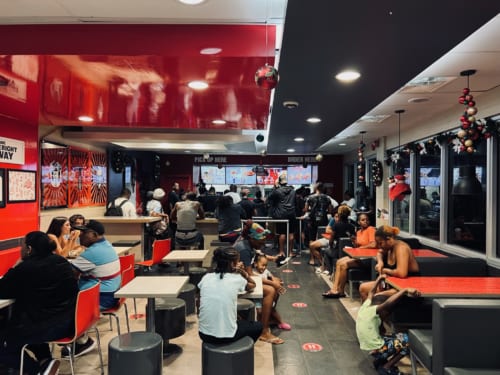 The menu is pretty much the same as KFC in Japan.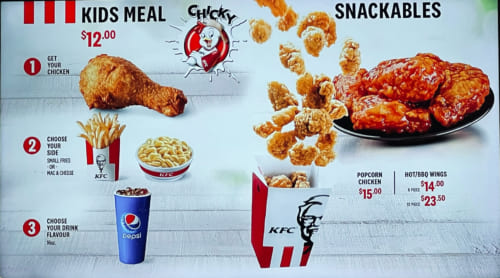 Since we've come all this way, we ordered items not available in Japan – the Perfect Pairs set ($20 XCD) which includes BBQ wings, Mac & Cheese ($5 XCD) and Corn ($4.5 XCD).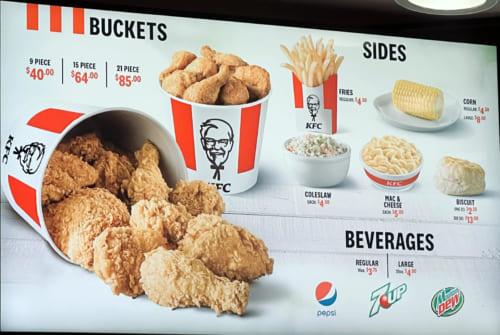 This is the Perfect Pairs set. The BBQ wings are like McDonald's Chicken McNuggets smothered in BBQ sauce, making your fingers sticky if you eat with your hands, but they are delicious and the sauce goes well with chicken.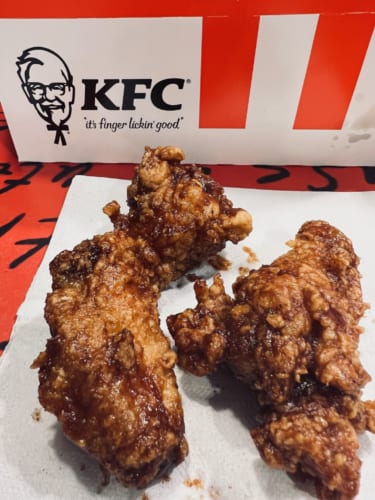 Mac & Cheese is macaroni pasta with a cheese sauce. The name sums it up really. The corn was just your average corn on the cob.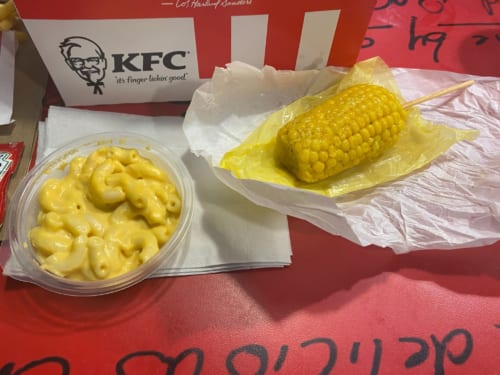 There are many pizza shops in Roseau. Maybe because it's close to the USA? We order a 14″ (L size, 35-36cm) Supreme Pizza from Perky's Pizza. It cost $44 XCD.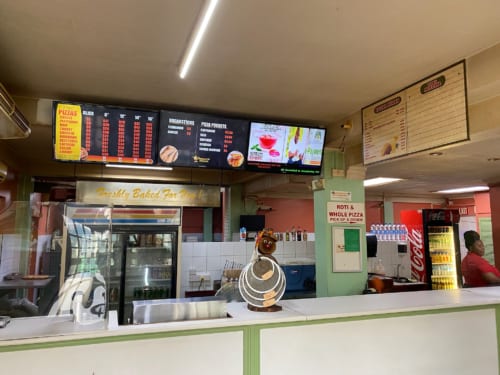 We take it back to our hotel and enjoy it with Kabuli, Commonwealth of Dominica's own lager beer. And thus concludes our exploration of the Commonwealth of Dominica.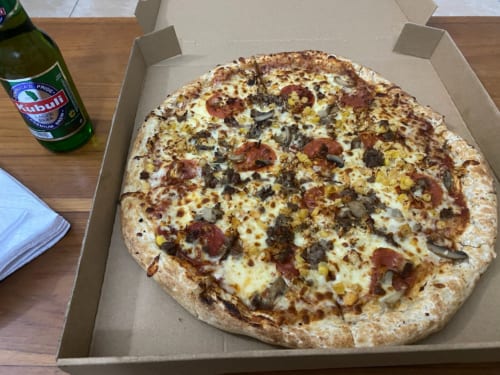 ---
◆Finding ".dm" Around Town
The ccTLD (Country Code Top Level Domain) assigned to the Commonwealth of Dominica is ".dm". We had a look around downtown Roseau and Portsmouth to see how it was being used. A domain we saw often was "cwdom.dm". "cwdom" stands for "Commonwealth of Dominica". We saw many e-mail addresses written using "@cwdom.dm".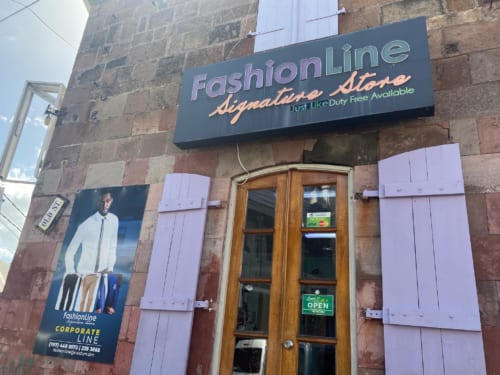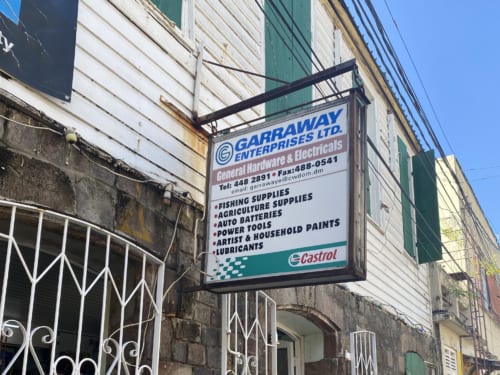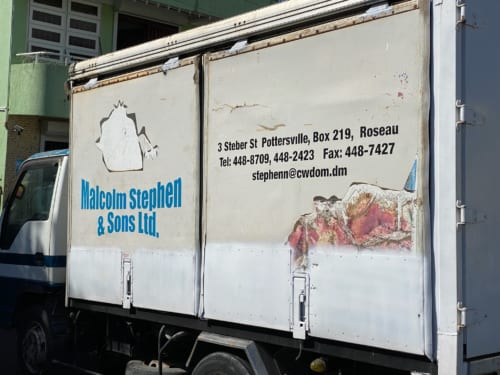 Government agencies use "dominica.gov.dm".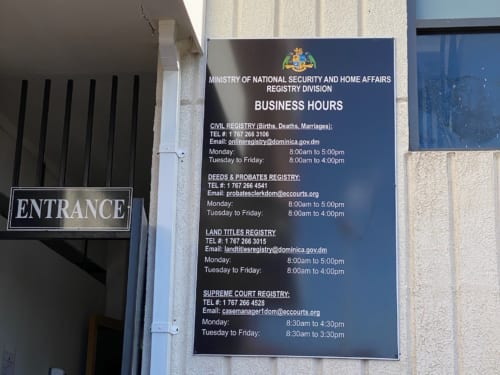 The American Canadian School of Medicine, a university in Portsmouth uses "edu.dm".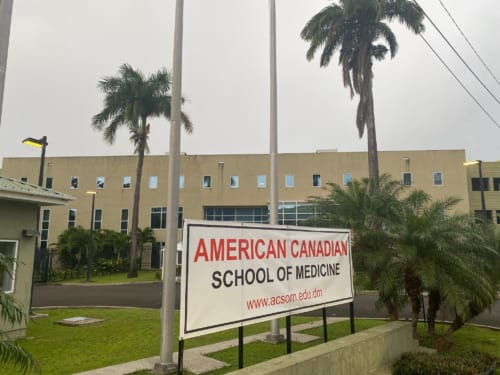 We rarely saw the top-level domain ".dm" used, but the National Bank of Dominica used "nbd.dm".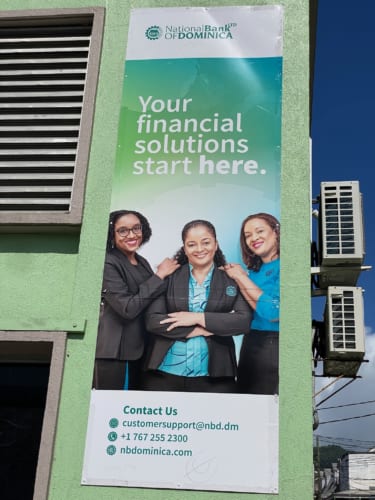 Jolly's Pharmacy uses "jollys.dm".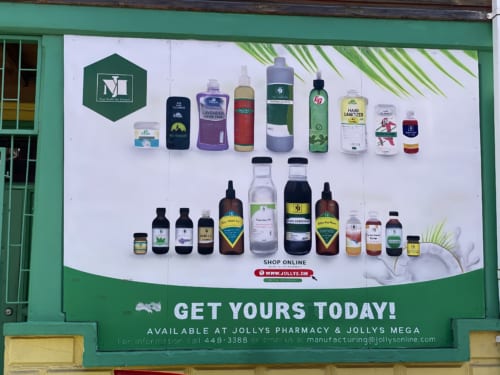 ---
◆How to Purchase a eSIM & Test the Internet Speed
Domain Island Tours have reported on how to find and purchase local SIM cards from June 2018 to September 2020. However, since it takes a surprisingly long time to find a store and buy one, from now on we'll use eSIMs. Switching to eSIM made it easy to sign up for a connection that works in the Commonwealth of Dominica.
The one I used this time was the Caribbean data plan from Ubigi (1GB, 30 days, $19 USD). Commonwealth of Dominica eSIM speeds as measured in downtown Roseau. 7.3Mbps.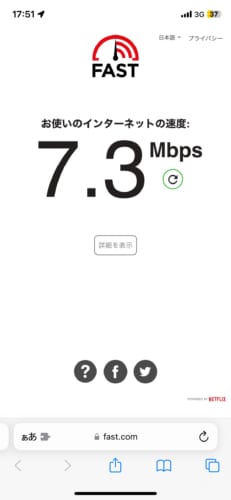 I couldn't connect to Airalo's data plan for the Commonwealth of Dominica.
---
■ List of Places Visited
■ For access to Dominicaclick here
■For ".dm" domain details

click here