In Palau, a Japanese mandate territory from the end of World War I until Japan's defeat in World War II, the local language has many words similar to Japanese, such as chichi-bando, an old word for bra and daijo-bu, meaning okay. While mainly known for being a marine resort, we took a look at some of the other attractions of Palau, a pro-Japan country. We visited a shrine that is protected by more than 20 guard dogs, flew in a Cessna airplane at an altitude of 450m with one of the doors missing, and tried soup that has a whole bat in it. The ccTLD for Palau is ".pw".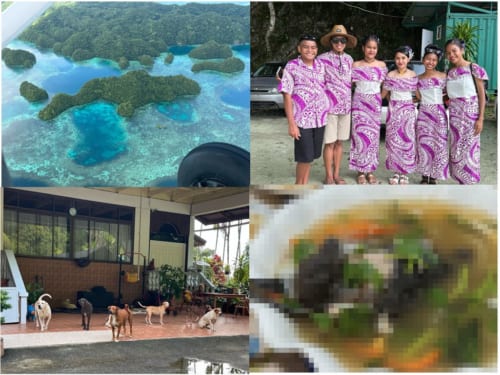 ◆Where is Palau?
Palau is a republic of 586 islands of various sizes, located approximately 3,000 km due south of Japan. Palau is located south-west of Guam and there is no time difference with Japan. Palauan and English are both spoken. The island state of Angaur is the only place in the world where the official language is Japanese.
It is the fourth least populous country in the world, with a population of 18,094 (2020). The currency used is the US dollar.
= Table of Contents =
---
◆Speaking Japanese is Not "Daijo-bu" in Palau
The Domain Island Tour went to Palau, via Taiwan. Our plan is to leave Taiwan on Wednesday and return Saturday. It was a full plane. Four hours after our plane left Taiwan, the islands of Palau came into view.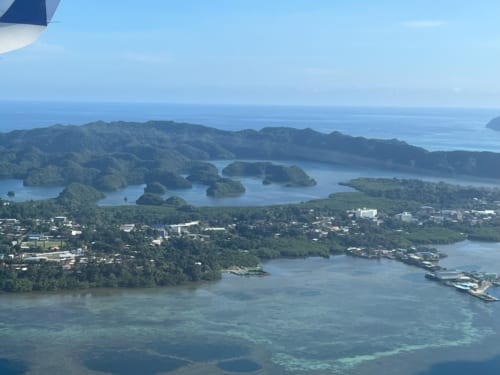 The WiFi available at Palau International Airport is named "PNCC PROMO HOTSPOT".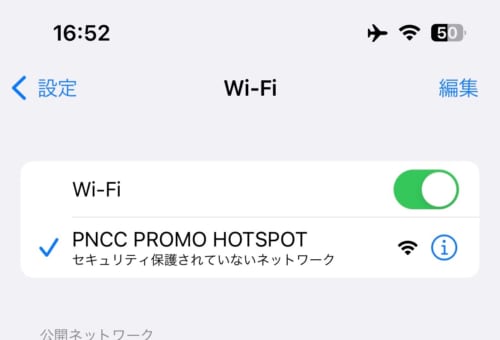 With our completed immigration forms and the QR code for the completed health declaration form in hand, we were ready to enter the country. But then we had to wait in line for more than an hour. It seems the cause of this long wait was due to issues reading the QR code on the health form. Palau is very humid and the temperature is as hot as Tokyo in the middle of summer. Sweating but patient, we waited in the immigration queue. Filling out the form I was given during the screening process by hand was quicker than sorting out the QR code. When it was finally our turn, the immigration officer took note of how many covid vaccines we had received. You'll be asked to present the e-ticket for your return flight, so have that prepared in advance.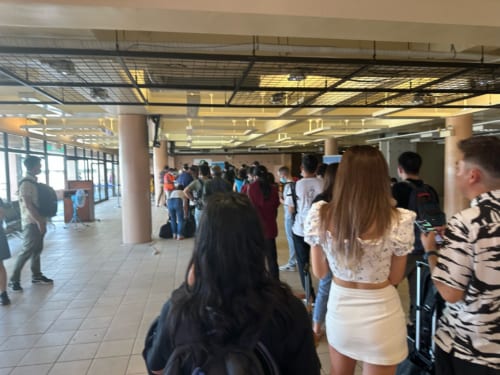 There was a poster reminding us to wear masks at all times. None of the airport staff wore masks. Strange… No one wore masks in the downtown area we visited either. Perhaps it's an old sign they forgot to take down.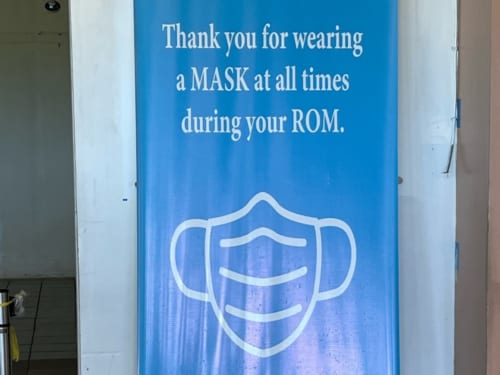 All the shops in the airport were closed. The area was deserted.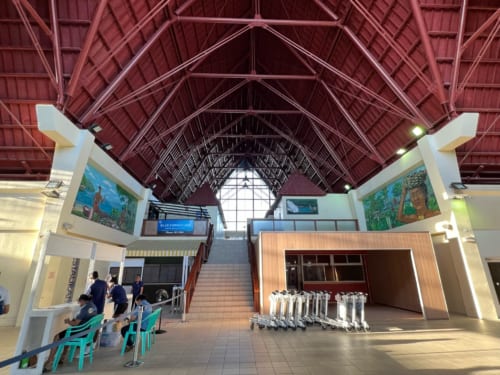 We leave the airport and head to our accommodation. We chose the Palau Hotel, the cheapest on the accommodation website we used.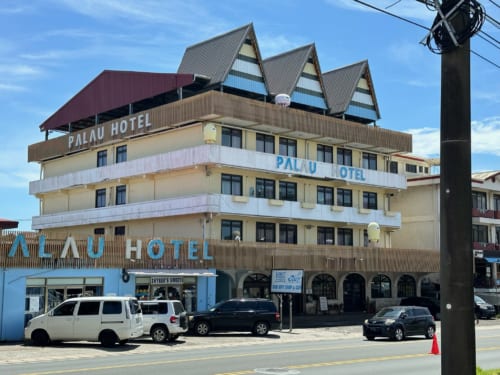 There are not many hotels on the outlying islands, so it's more convenient to stay on the Main street of Koror Island.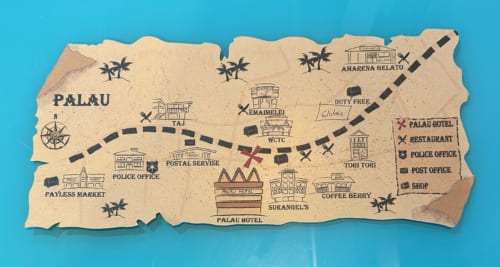 Photos of jellyfish on the ceiling of the entrance area. There was a cute jellyfish character to greet us, too.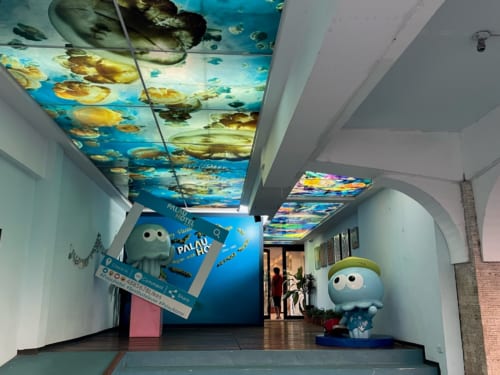 One of Palau's most famous attractions is Jellyfish Lake, where millions of jellyfish migrate. The jellyfish is also a much-loved local character. However the locals told me there are no jellyfish in the lake at present.
The hotel rooms are spacious and clean.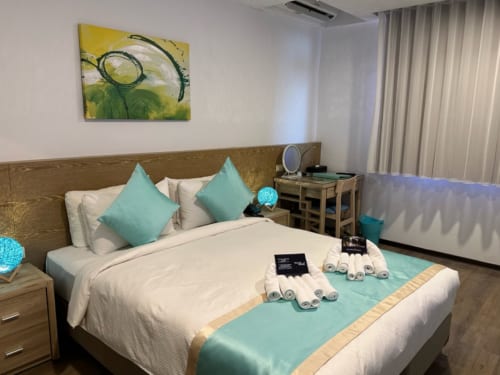 The breakfast buffet includes dishes that Japanese guests will be used to eating, such as yakisoba and wakame soup. The hotel's WiFi would not be suitable for a work-cation due to its slow speed and instability, but the hotel was comfortable and I'd love to return on holiday someday.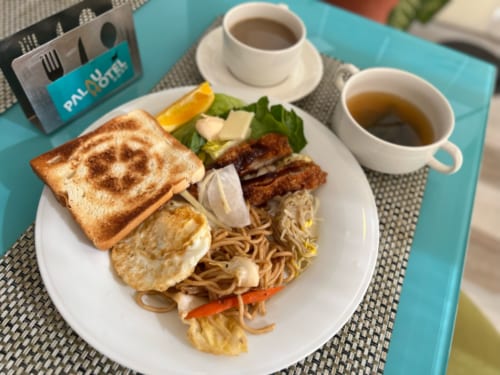 Due to its history with Japan, there are approximately 1,000 words of Japanese origin in the Palauan language, and it's said around 20% of the language is derived from Japanese. We heard "daijo-bu" many times while we were there. However, most of the time we communicated in English. So don't expect to be able to converse in Japanese.
---
We signed up for a scenic flight in a Cessna over Palau's Rock Islands Southern Lagoon, which has been a world heritage area since 2012. It's a little expensive – $140 USD for a 25 minute flight, but it does include hotel pick-up and drop-off.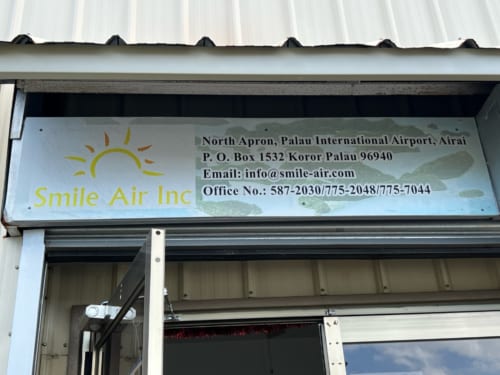 First, the route is explained to us. In Japanese, so we were relieved!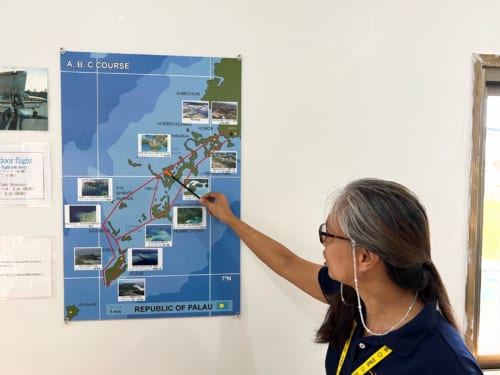 Our pilot, Hiro. He's Japanese. He used to be a pilot for an American airline, but lost his job due to the pandemic. He became a Cessna pilot for tourists in Palau 5 months ago. Each day there are six flights and we were the third flight of the day.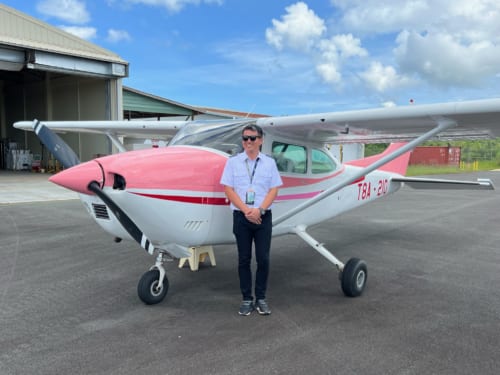 Time for a scenic flight! Huh? What's this? Look closely and you'll see that the door on the right side is missing. Surprisingly, it will fly 25 minutes without a door as it climbs to an altitude of 450 meters. On hearing this, one member of the Domain Island Tour was so scared they refused to board. When we asked why there was no door our pilot said, "Without the door, you'll get a better view of the scenery".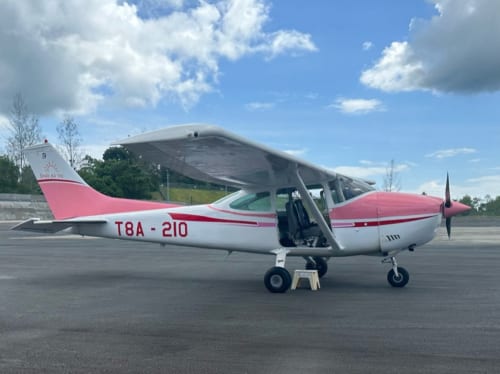 In the end, a total of three people – two from the Domain Island Tour and Hiro, our pilot – set off. We were strapped in of course, but it was still scary without a door. I was too scared to take photos most of the flight.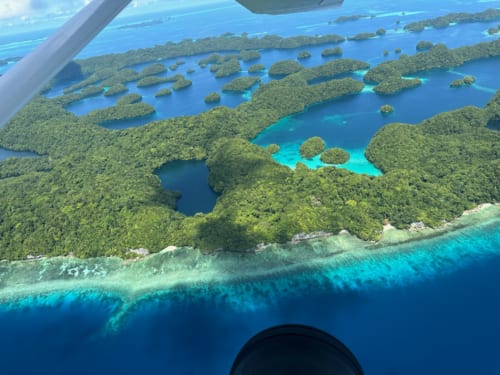 Look, there's an island shaped like a whale. Thanks to the missing door, we could take some beautiful photos.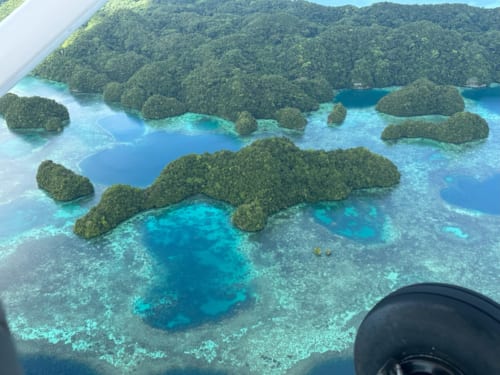 I'm sure these photos show just what an amazing experience we had seeing the beauty of Palau in all its glory.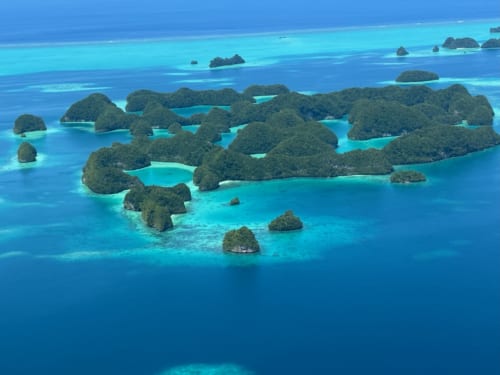 ---
◆Things We Couldn't Find in the Big Supermarket
We definitely recommend renting a car for sightseeing. We opted for the $55-a-day Corolla, but for some reason we were given a Mazda, which was not in the catalog. If you ask, they will bring the car to your hotel. The price of the Mazda was the same as the Corolla, so we set off on our tour.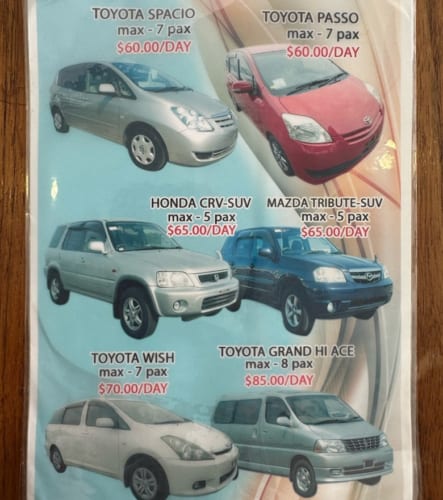 Like the Commonwealth of Dominica, Palau has no traffic lights. They drive on the right. There were many Japanese cars on the road. It seems Japanese used cars are the cheapest option for locals. We didn't see any motorbikes though.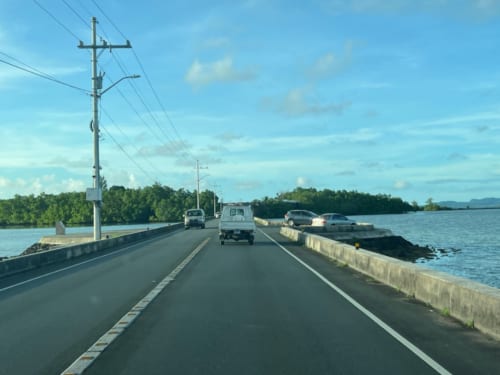 The Japanese cars are unchanged, meaning the steering wheel is on the right, which, when there were no other cars on the road, made me automatically drive on the left like I was in Japan. Twice we suddenly found ourselves facing oncoming traffic. Several times we saw abandoned cars, like in this picture, looking like they'd been in a head-on collision. If you drive in Palau, please be extra careful! By the way, when we returned the car, we were told to just leave it in the airport car park and to put the keys under the mud flaps.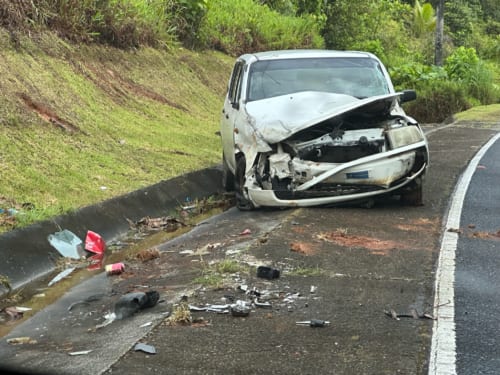 The Japanese embassy is located on Meyungs Island, in the west. We might learn some interesting things. Let's make a visit.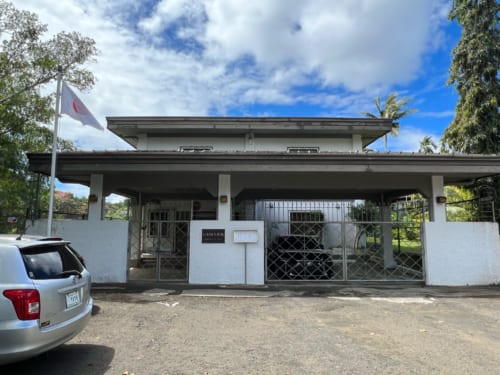 There is an imperial chrysanthemum crest above the entrance. Inside, we found a female member of staff ready to help us. She met her Palauan husband in Japan and then moved to Palau. She told us she first worked as a nurse at a local hospital for 12 years and through a connection there, she came to work at the embassy. Presently, there are about 260 Japanese residents on Palau. It seems around 100 left due to the pandemic. If you happened to lose your Japanese passport in Palau, they can issue a travel document for your return journey here. By the way, the staff at the embassy weren't aware of the Palau domain ".pw". Many in Palau use Gmail, even government organizations. Photography is not allowed inside the building.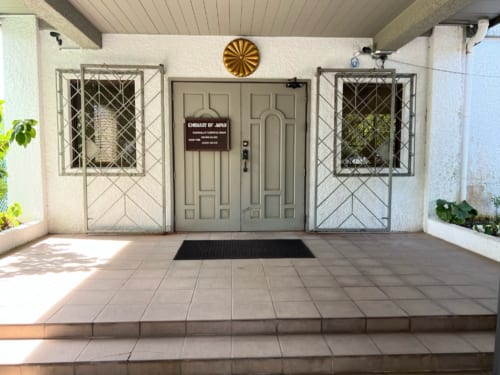 Embassy staff shared some local knowledge with us about which Japanese restaurants to visit and which electronics store to check out. First, let's check out the "Executive Lounge" restaurant. Located off the Main Street of Koror Island, it's a popular spot with locals, but mostly unknown to tourists. They have karaoke and you can sing Japanese songs. The song title on the large screen says "don't let it rain", which is funny as Palau has a tropical rain-forest climate so the area experiences several rain showers each day, although they don't last very long.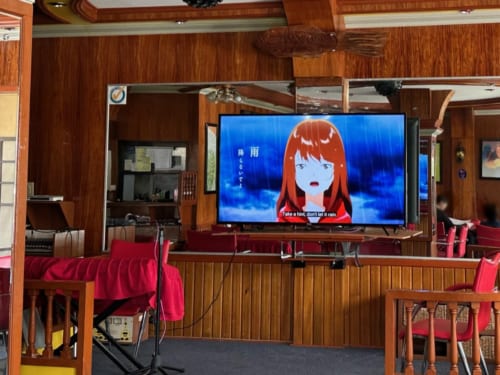 We order Okonomiyaki ($8 USD), which was recommended to us by staff at the Japanese embassy. It looks a bit like an omelet. It was delicious from beginning to end, thanks to the mayonnaise sauce.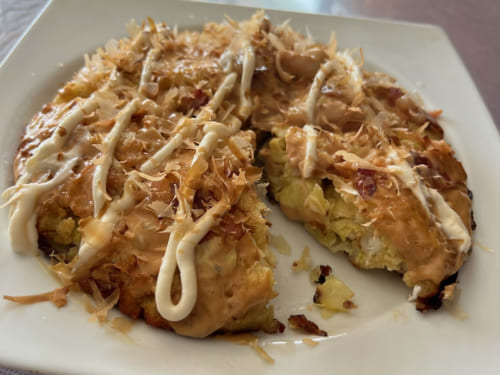 We also got the Tempura Platter ($12 USD). It had a crunchy texture and the batter they used was similar to breadcrumbs. The flavor of the dipping sauce would be enjoyed by Japanese people. We particularly liked the pumpkin tempura. High speed WiFi was also available for free.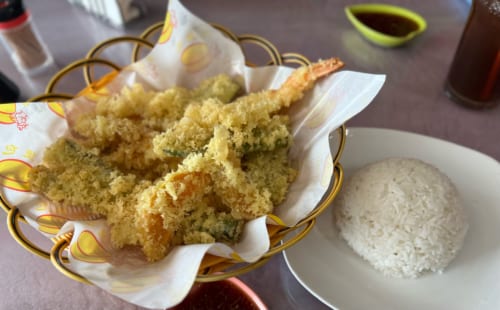 Next let's visit a store that sells computers and electrical appliances. We arrive at "Surangel's", Palau's biggest shopping mall, which opened in September 2022.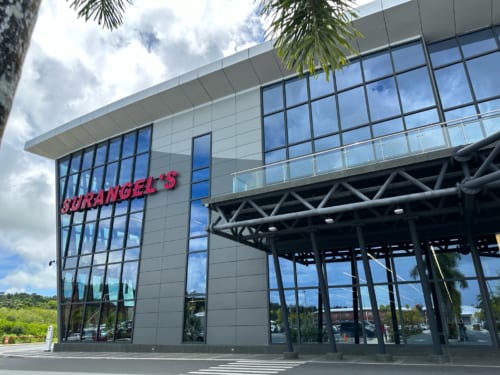 "Alii!" means "hello!" in the Palauan language.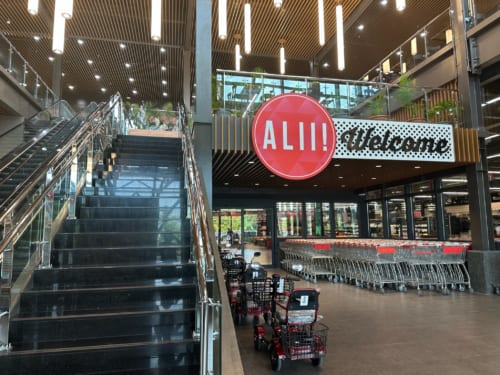 Near the entrance a display board explains the history of what originally started as a small general store. Starting a business with just two people running a small shop and turning it into a large shopping mall, isn't just an 'American dream' but a Palauan dream, too. It has the same name as the president of Palau, Surangel Whipps Jr.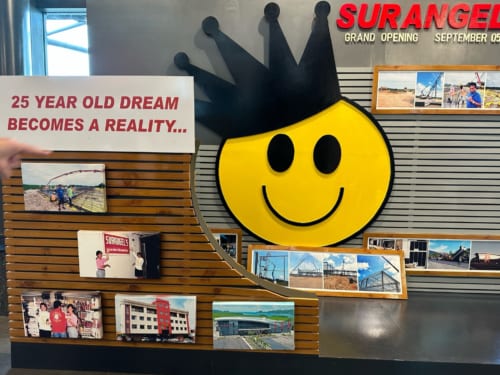 1 The fresh food section on the ground floor. It's very spacious. Large appliances such as lawn mowers and washing machines are also for sale.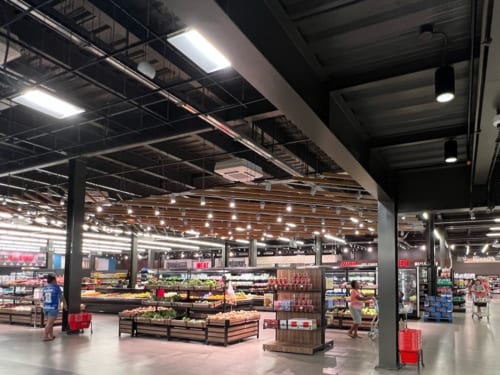 2 Let's go to the second floor. This floor has clothes, smartphones, computers, etc. There were fancy looking karaoke machines too. It seems that the locals enjoy karaoke?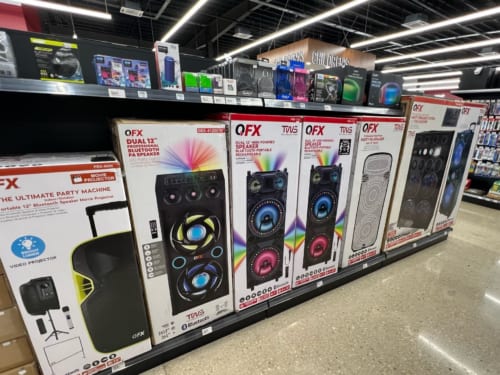 I saw brands such as GALAXY, iPAD, iMac etc. When I asked if they had any iPhones, I was told they were out of stock. When we asked some locals about where to find a store that sells iPhones, they told us they don't sell them here, so everyone uses GALAXYs. So, the one thing missing from the big supermarket that seems to have everything, was the iPhone.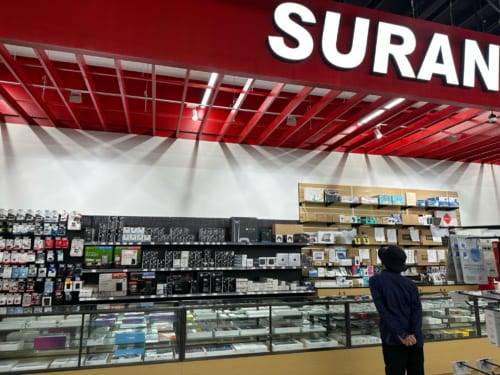 ---
◆Nanyo Shrine Protected by 10+ Guard Dogs
We visited Nanyo Shrine. This previously government-run shrine was founded during the Japanese occupation in World War II. At the main gate. We can see a large house further in.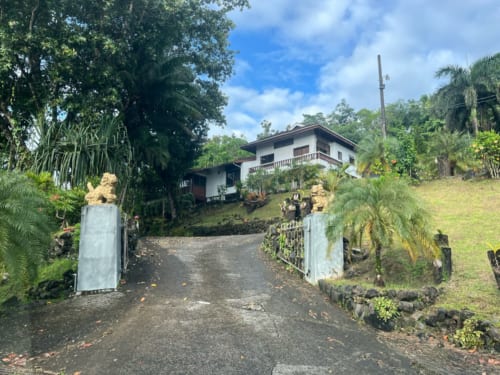 When we looked at Googles Reviews, someone said they were chased by 24 barking dogs and even lightly bitten on the leg. They said it was probably better not to go when the caretaker isn't around. As we nervously made our way up the hill, many dogs came out barking and growling at us. They watched us carefully.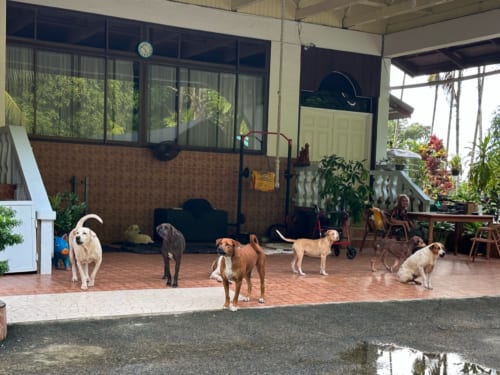 When we told the person managing Nanyo Shrine that we'd like to pay a visit, he was very accommodating. None of us got our legs bitten. At the shrine entrance there are Komainu, guardian dogs, with both the Japanese and Palauan flags painted on them.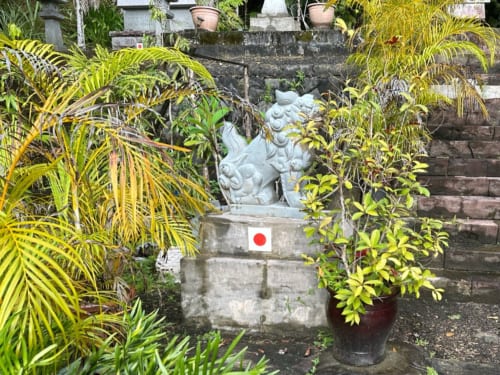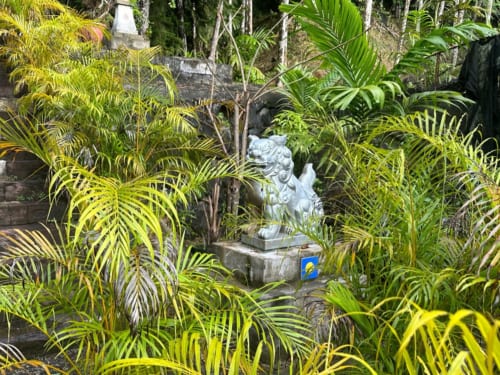 There are so many fern plants – an uncommon sight in Japan. You can see the main shrine in the back.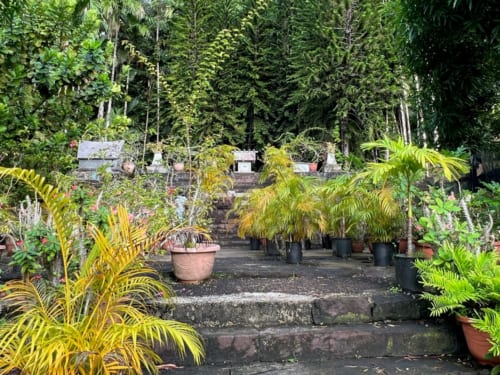 It's small, but it's the Honden, or main sanctuary.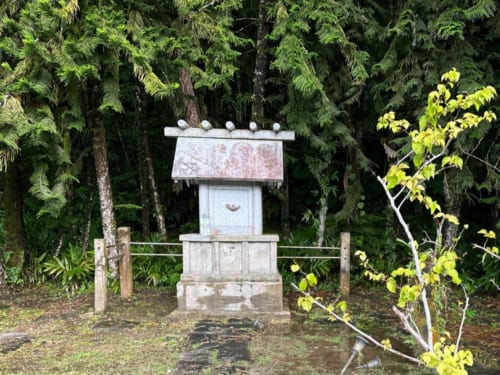 Next to the Honden was a monument commemorating the Japanese soldiers who died in Palau during World War II. The names of fallen soldiers are engraved on the back.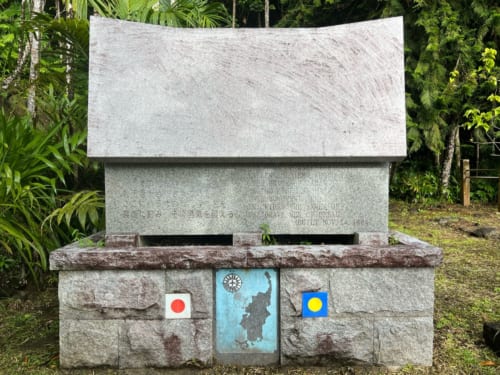 We found a bird aviary.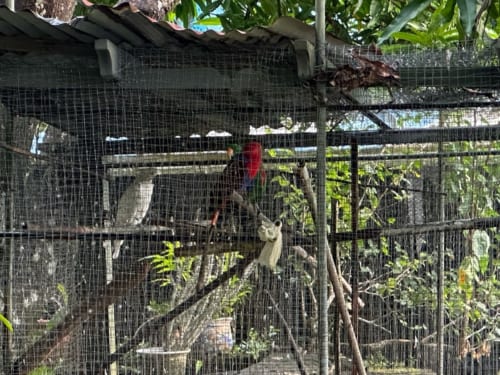 Inside are brightly colored tropical parrots.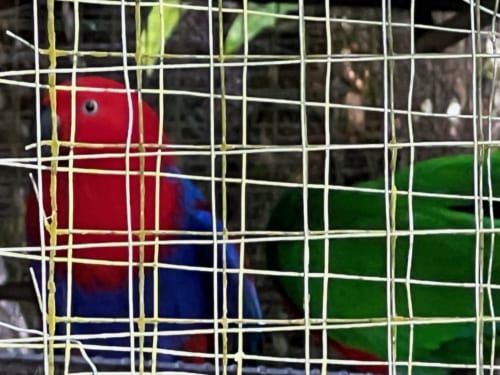 There used to be a JAL Nikko Hotel near Nanyo Shrine. It was closed in 2002 due to age and deterioration.
https://upload.wikimedia.org/wikipedia/commons/thumb/a/aa/Palau_Continental_Hotel_in_1977.j pg/375px-Palau_Continental_Hotel_in_1977.jpg
Nanyo Shrine is located on private property, so be sure to inform the management that you'd like to visit and show your respects.

---
◆(Viewer Discretion Advised) Bat Soup – A Palau Food Report
We dropped into "CARP Restaurant", which we learnt about from our pilot, Hiro. We got the Pork Cutlet Curry with Rice ($10 USD) and Stir-fried Shrimp ($12 USD). The cutlet curry was a pretty big serving. The stir-fried shrimp are garlicky and delicious.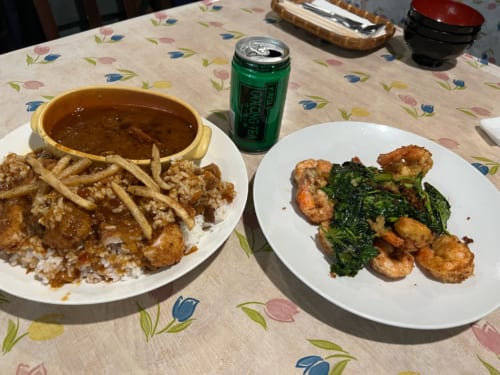 We saw bat soup ($20 USD) on the menu so we ordered that too. Bats are in fact a Palauan speciality and we were told that fruit eating bats are safe to eat. The bat is usually added to the soup to flavor the broth, rather than for eating. Onions, bell peppers, herbs and other vegetables are added to consommé soup, and it's delicious if you don't think about the bat.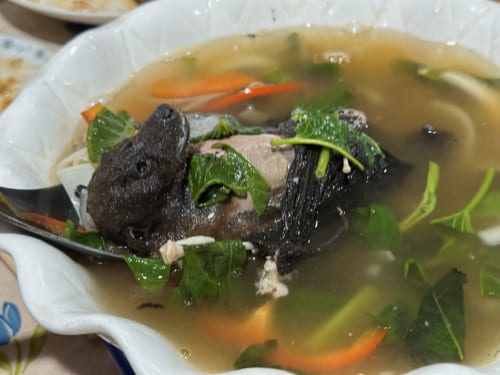 Seeing that we weren't eating much of the soup, the waiter kindly removed the bat.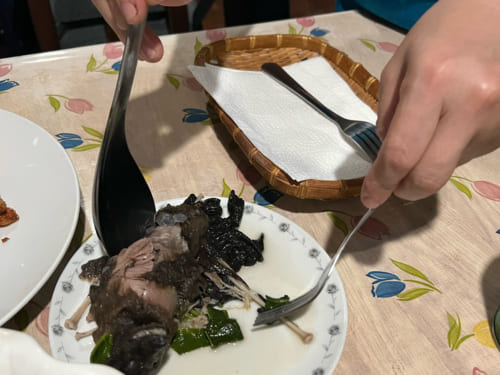 Cautiously, we try some of the bat. The meat is similar to chicken breast. It had a slight odor.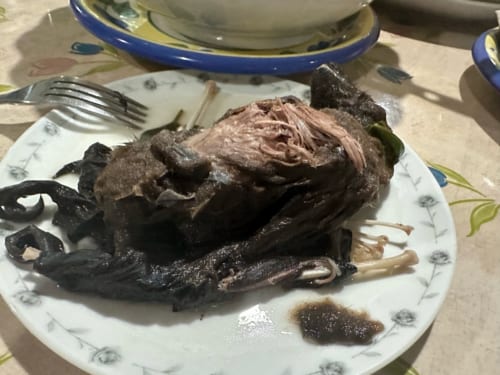 Our kind waiter returned with some fresh fruit on the house to refresh our palate.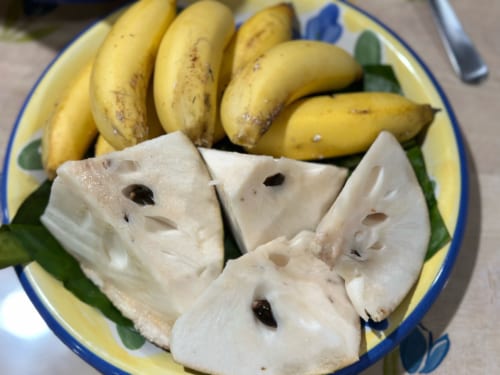 We ended up leaving the bat's head and other hairy parts. When we left, Ben our taxi driver told us that if only we had called for him earlier, he would've helped us finish it. Apparently the locals eat the entire head and wings, without leaving anything behind. By the way, Ben's Japanese name is Masahiro. His aunt's name is Hideko and his uncle is Kintaro.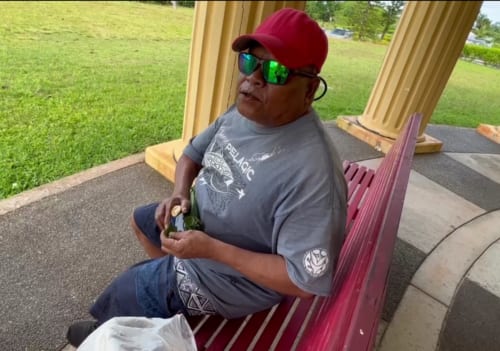 Our teams favorite Japanese restaurant on Palau is 'B's Izakaya Yume'. It's a Japanese-owned izakaya restaurant. The shop's name is taken from the owner's initials, not because they like the Japanese band B'z.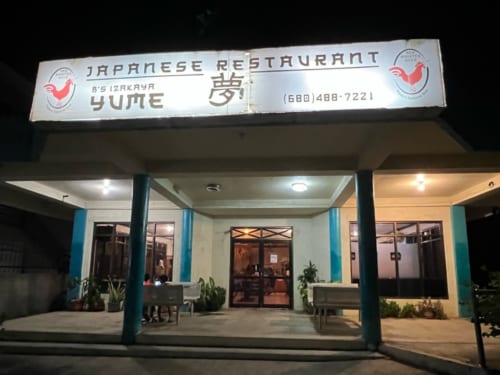 Mangrove crab ($55 USD). It is a large crab, but it's difficult to remove the flesh from the shell, so there were surprisingly few places to eat from. But it was delicious and full of flavor. It made me realize that one crab tastes very much like another.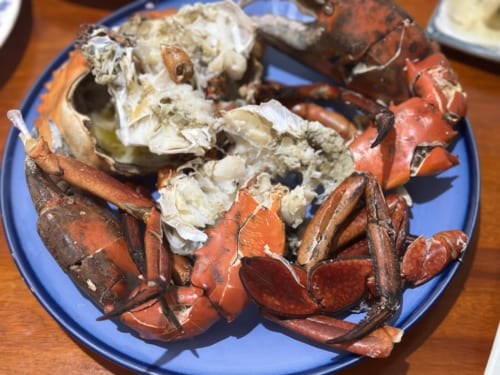 Deep-fried Tofu ($8 USD). We were impressed that it tasted just the same as back home.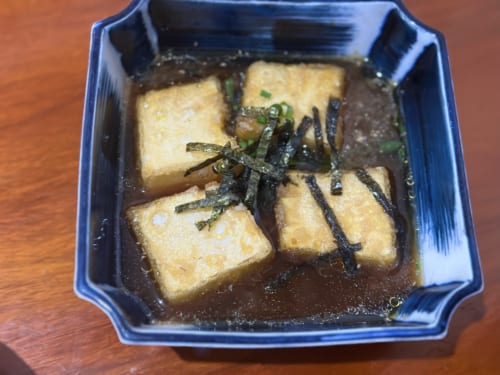 Red Rooster Beer, a Palauan beer with a red chicken logo. You can buy it from the supermarket – it would make the perfect souvenir. In the Palauan language, "Skarenauos" means "to drink beer", but it implies drinking large quantities, rather than just having a light drink. This restaurant offers a transportation service. Great for those wanting to have a drink or two.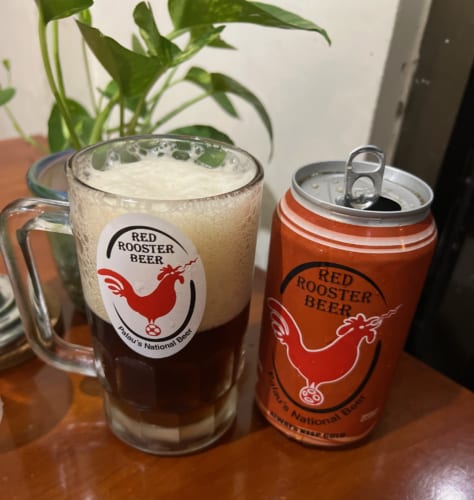 We went for lunch at the Emaimelei Restaurant, which is also attached to a bakery, located just off the main street of Koror.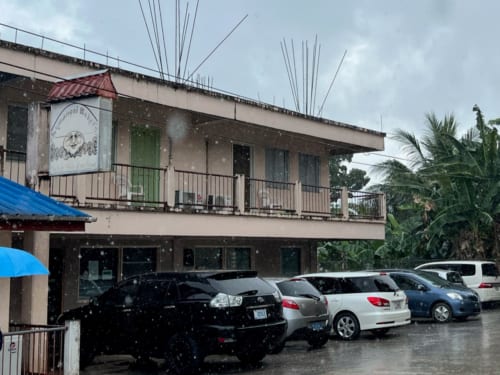 We ordered the Emaimelei Battered Fried Chicken ($10.50 USD). These large pieces of fried chicken aren't seasoned, instead they're dipped in Nam Jim Gai, a classic Thai sauce. The outside is crispy and it would make a great snack. The batter was so thick it was hard to get to the meat.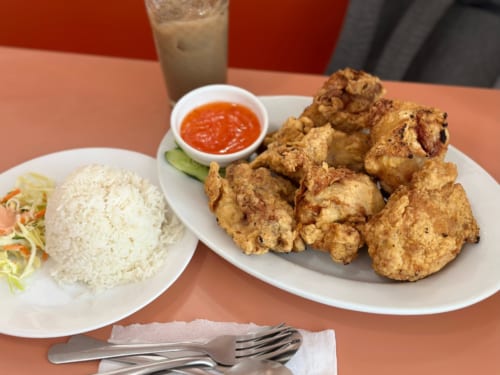 This is the Yaki Ramen ($10.50 USD). Soy-sauce flavored instant noodles stir-fried with cucumber and garlic, a flavor combination that would be popular with Japanese diners.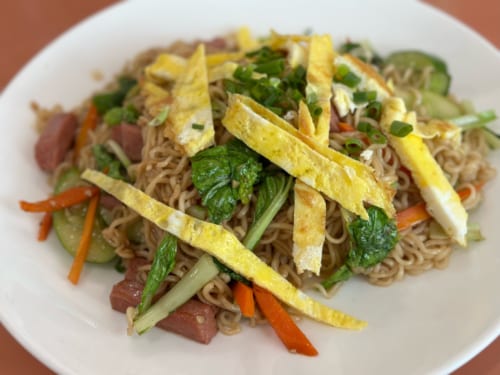 Next door is the Kumagai Bakery. All local supermarkets sell this bread.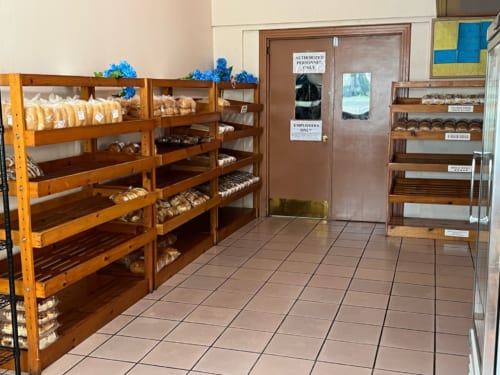 ---
◆Love for Hiroshima Toyo Carp and Other Palau Highlights
1)Dance contest run by local high school students
A Palauan dance competition organized by Palau High School students. The boys also put on make-up and wear skirts.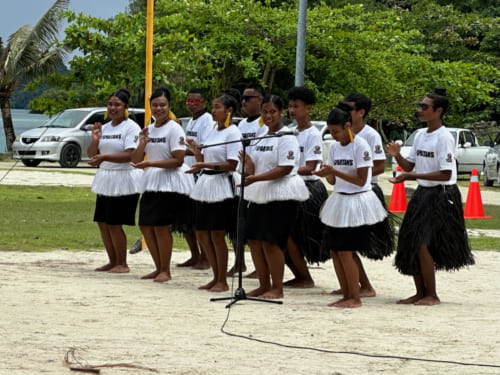 These costumes were beautiful. They look good, don't they.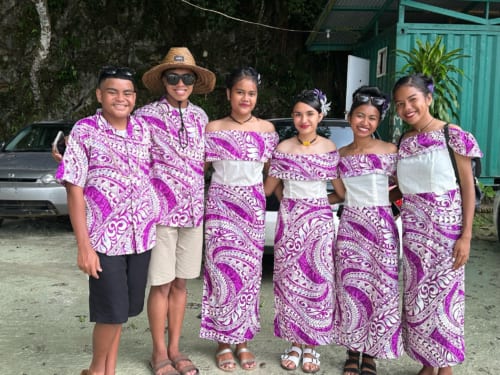 One of the teams danced to the tune of the Japanese nursery rhyme "Tadpoles are the babies of frogs."
2)Mysterious Stone Monoliths
About an hour's drive north of Koror Island is an archaeological site dotted with around 50 stone monuments. They are similar to the Moai statues of Easter Island, but on a smaller scale. It's unclear why these monuments were built.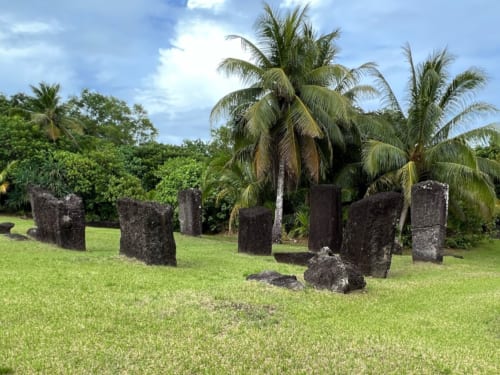 If you're lucky, you will meet Tama the cat. We didn't get to meet Tama, but we did meet Nani, a cute little girl who was with the lady selling admission tickets.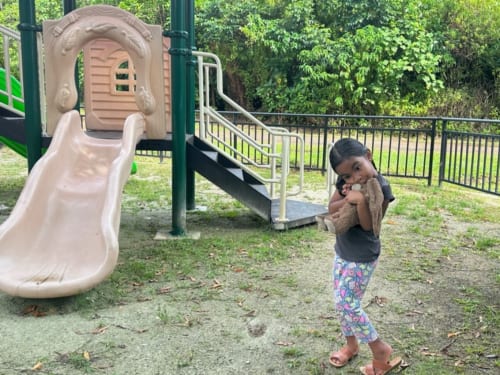 3)Japan-Palau Friendship Bridge
A bridge between the airport and Koror Island. When you come to Palau, you'll pass over it many times.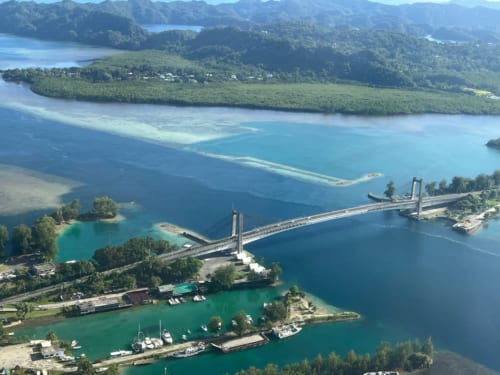 Originally, a bridge was built there in 1977 by a Korean company, but it collapsed in 1996. The current bridge was built in 2002 in approximately the same location as the old one, with funds from the Japanese Official Development Assistance program.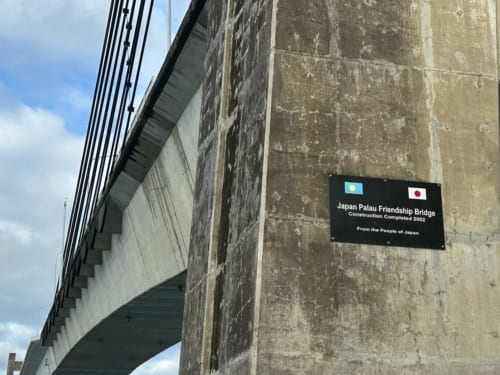 You can go under the bridge as well. Local families fishing and swimming.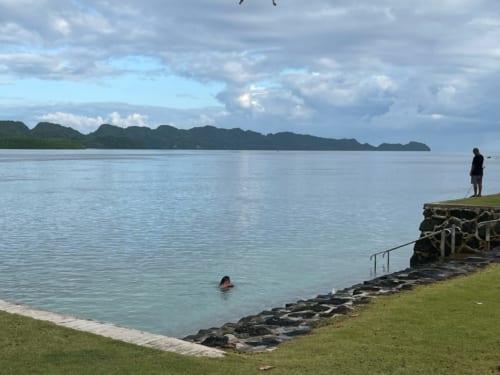 Shopping Mall on the Main Street of Koror Island. Notice board for locals. We saw Palau army application forms too.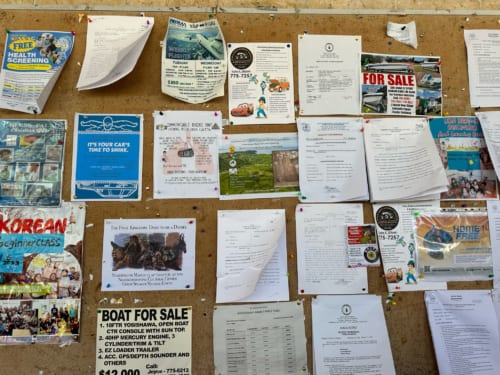 It gives an easy-to-understand description of the colonial period under Japanese rule in Japanese.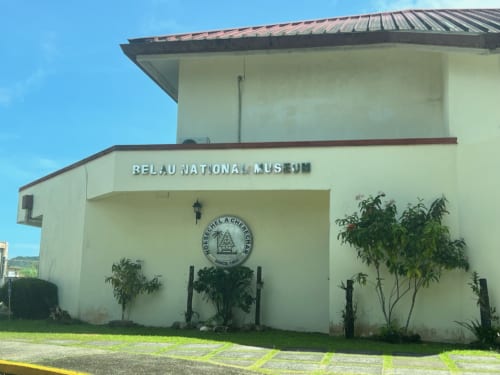 Admission was $10 USD.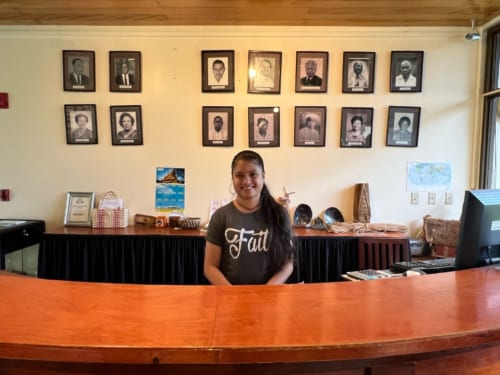 This graph shows how there were twice as many Japanese as Palauans under Japanese rule.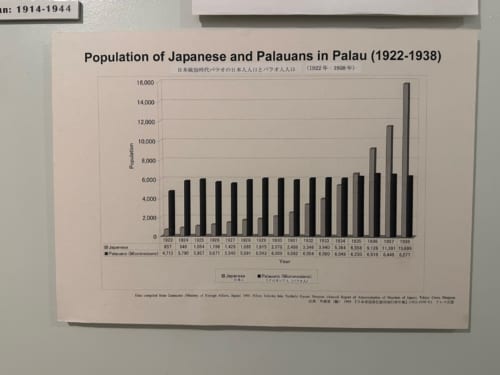 6)CARP Restaurant
The CARP Restaurant, where we had bat soup, is owned by a Japanese woman and her Palauan husband.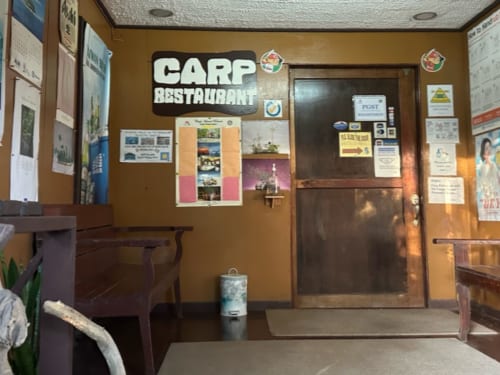 Many posters of Hiroshima Carp players decorate the walls.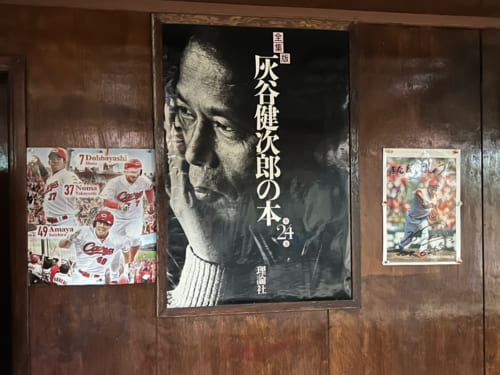 Player autographs and carp streamers, too.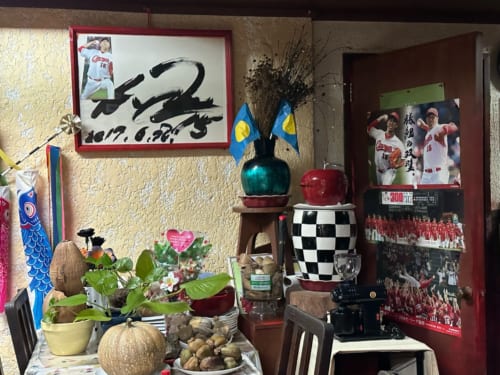 You guessed it. The "carp" of CARP Restaurant is taken from Hiroshima Toyo Carp, the baseball team that wife Hiroko is a big fan of.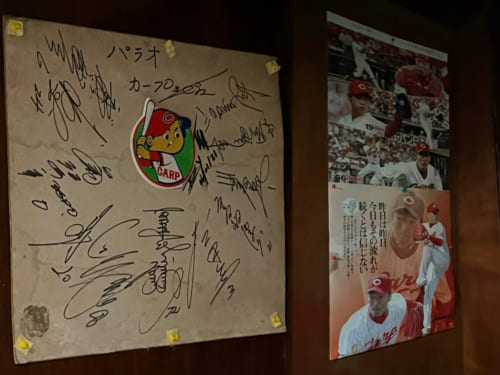 While we were talking, we found out that while Hiroko ran the restaurant, her husband was the owner of an island called Carp Island! Hiroko is such a big Hiroshima Carp fan that she even named the island, Carp Island. You can stay the night on Carp Island. When we asked if it was possible for Japanese to purchase islands here, we were told no, but non-Palauans can rent them.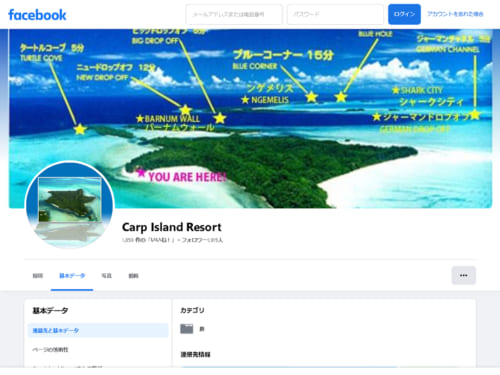 Incidentally, the honorary owner of Inoki Island, located in the middle of a world heritage area, is Antonio Inoki. Apparently it was presented as a token of appreciation to Mr Inoki by Palauan chiefs, after his involvement in coral conservation and other activities since Palau's independence.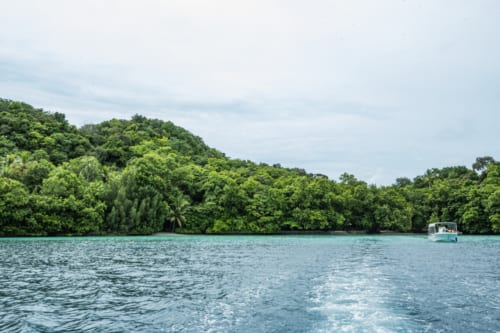 ---
◆The Domain ".pw" Wasn't Seen Around Town
On our Domain Island Tours, we like to investigate how the local domain is being used. However, it proved difficult to find ".pw".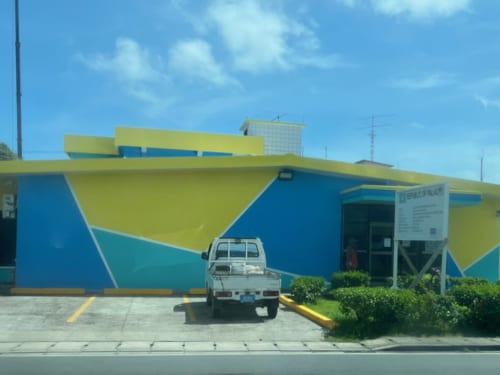 Our search reminded us how we couldn't find anything in Saint Lucia either. Eventually we found it being used at the post office. We got the impression that many shops use Facebook Pages or ".com" or ".net" instead.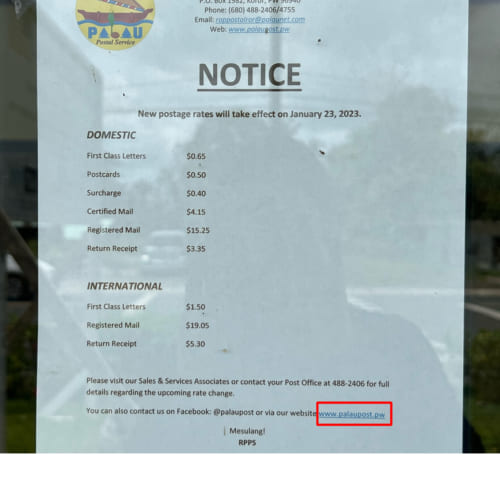 ---
◆How to Purchase a SIM & Test the Internet Speed
There isn't a specific eSIM for Palau. WiFi routers such as GlocalMe are also not supported. So this time, we purchased a local SIM. Prior research showed us that there was a PNCC (Palau National Communications Corporation) booth at the airport where SIMs could be purchased, but unfortunately we arrived outside business hours.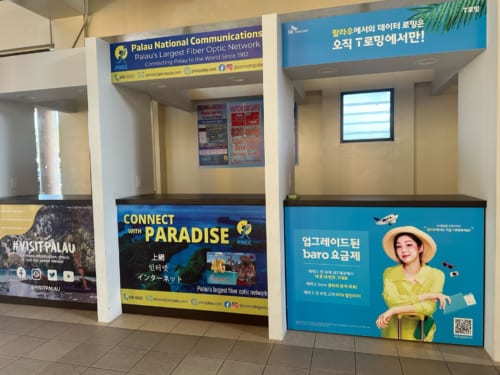 So we made our purchase at Globus Palau on the Main Street of Koror Island. 7 days / 12GB for $25 USD. The speed measured on Main Street, Koror Island was 40 Mbps.
---
■List of Places Visited
■For access to Palau click here
■For ".pw" domain details

click here