After flying 40 hours one-way to get to Tuvalu, now the 14th stop on the Domain Island Tour is Grenada. The ccTLD (country code top level domain) for Grenada is ".gd" which is used to represent the word "good". All dollar notations in thise article are East Caribbean dollars, unless marked otherwise. * 1EC $ = 40.96 yen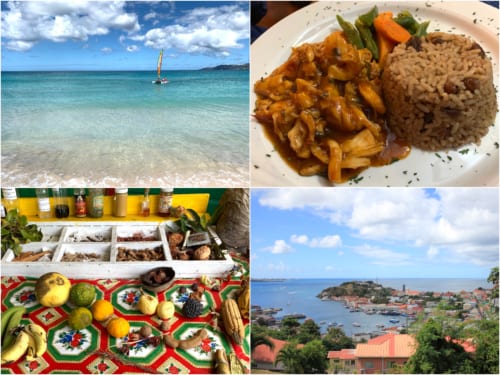 ◆Where is Grenada?
Grenada is an island nation located south of the Lesser Antilles in the Caribbean Sea. Besides the main island, other islands like the Grenadines, Carriacou island, and Petit Martinique etc. are part of Grenada. Grenada is also a member of the Commonwealth of the United Kingdom.
= 目次 =
---
◆A Smooth Arrival in Grenada
It has happened in recent times, that British Airways has sent passengers to Grenada in the Caribbean instead of to their intended destination of Granada, Spain. Fortunately, I traveled from Saint Lucia to Grenada on British Airways, and Saint Lucia has no direct flight to Granada, Spain, so I arrived in Grenada (Caribbean) without any problem.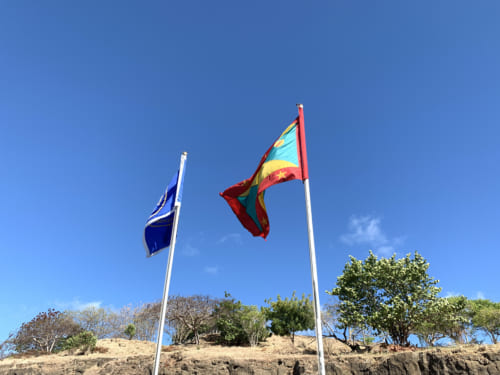 ---
◆umping into a Waterfall as a Job
I immediately head to Annandale Falls, which is about a 10-min drive from St. George's. The pathways are well maintained and easy to walk.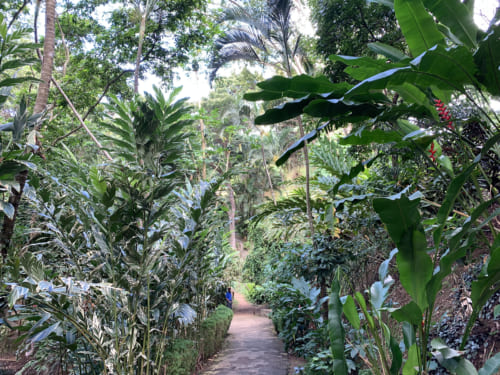 At the entrance to Annandale Falls, I looked around for someone I could pay the $ 5.35 (about 220 yen) entrance fee to, but there was no one there. It's a Sunday, usually a busy day for tourists. My taxi driver, who is also my guide around town, tells me that "today is free!", so I believe him and head in.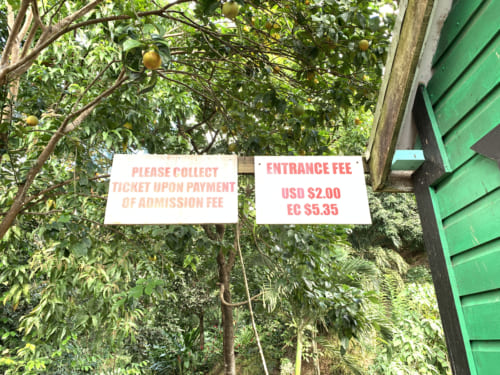 This lady sells necklaces made only of spice nuts / seeds. I have never seen anything like it in Japan.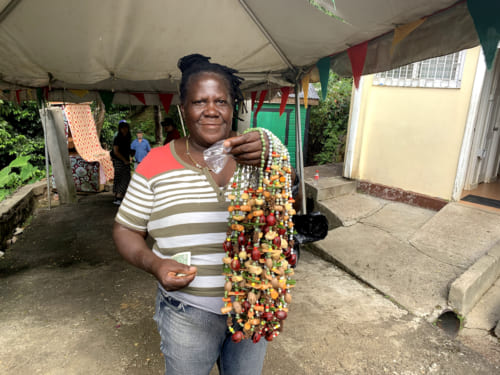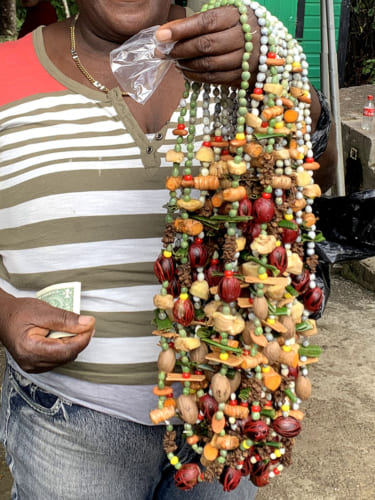 This is Annandale Falls. The water is clear and beautiful.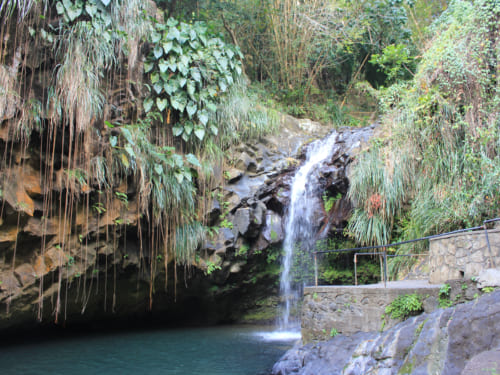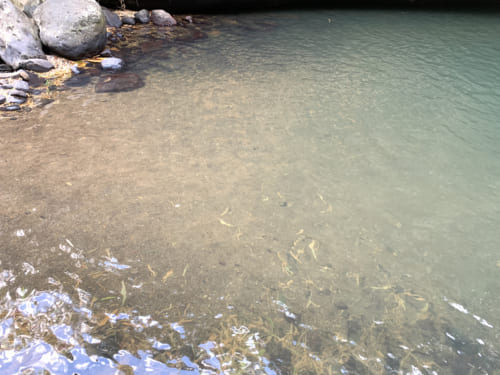 I found a young man just near the top of the waterfall.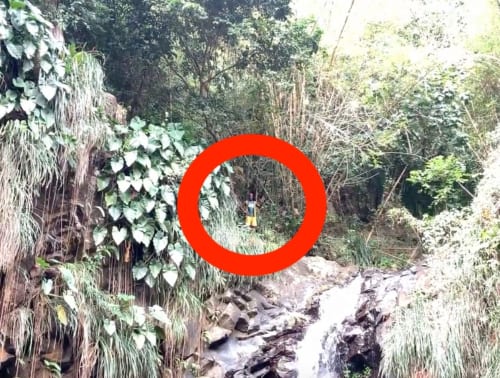 I was wondering if he was some kind of staff watching over the waterfall, when he suddenly jumped into the water from 10 meters up!
I was stunned, and wondering why, when he came up and talked to me. Apparently, this is a performance, he jumps into the waterfall and gets tips. Afterwards, he climbed up and jumped again, and again. When I left a tip, he gave me thumbs up with both hands. He seemed very happy.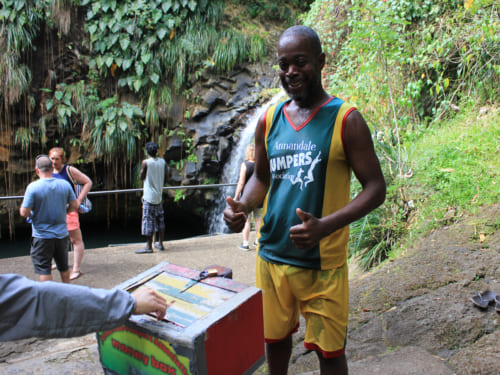 Next, the taxi driver took me to a sports bar. It was closed.
As it turned out, we didn't stop for the sports bar, but rather for the botanical gardens behind the sports bar.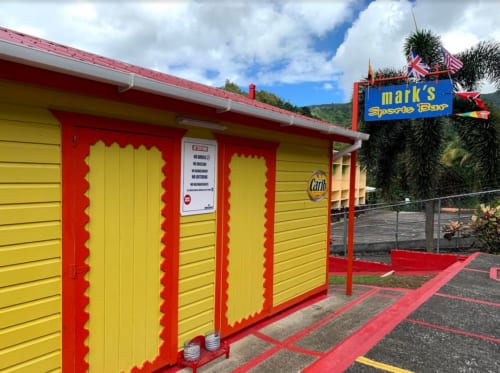 Gorgeous papayas, and lemongrass which is used in herb teas.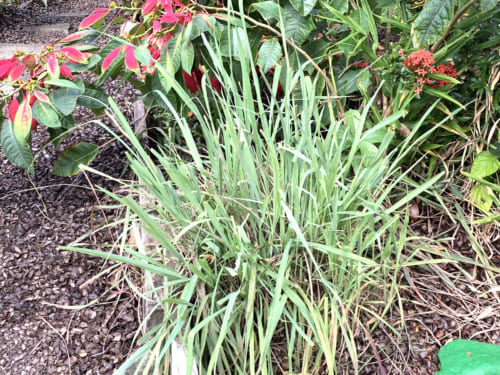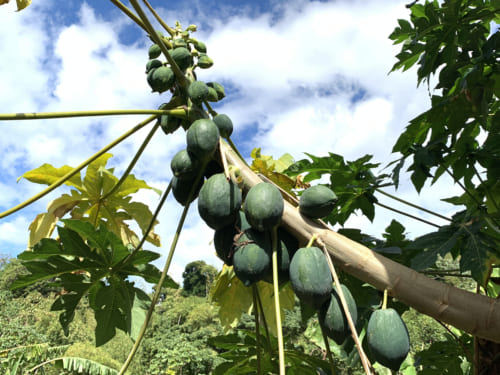 When I looked closely at the ground, it was covered in nutmeg shells, not gravel.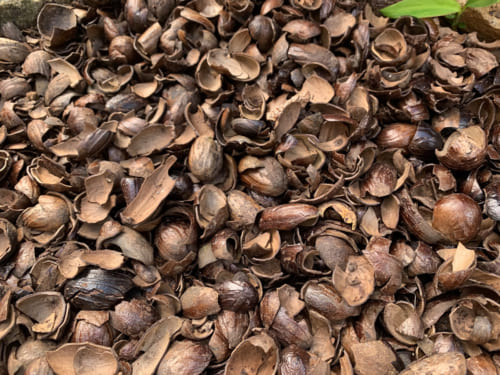 A shop across from the sports bar. It's a small shop, but the sign says "Tourist Destiny Spice Shop".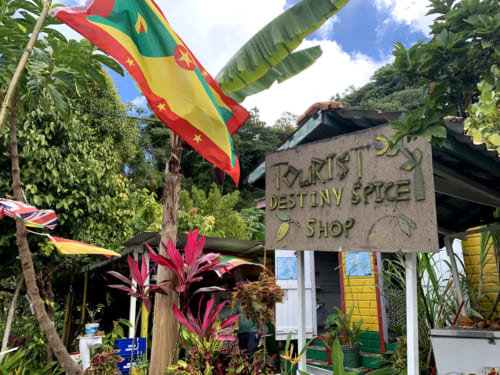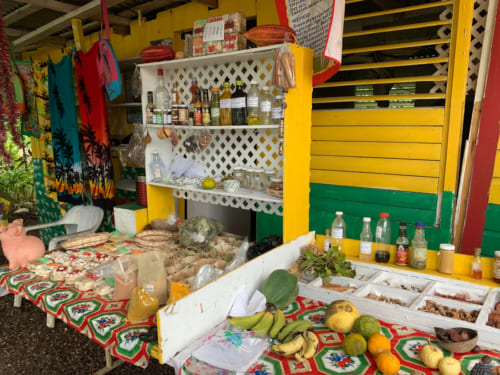 Cacao, the raw material for chocolate and cocoa. You can see the seeds inside; those are cacao beans. The cacao variety of Grenada is a hybrid of Amazon Calabacillo and Criollo from Venezuela, and is popular among chocolate lovers in Japan. Chocolate was sold as a souvenir.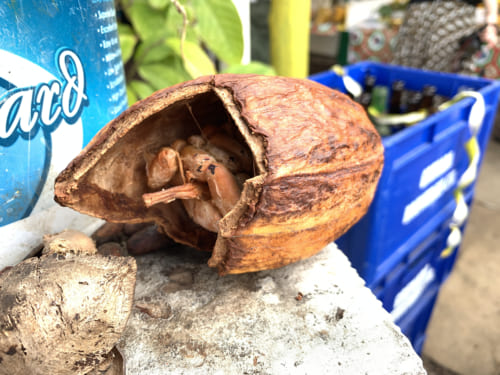 Back in the taxi and on the move, the taxi driver says: "Look at that million-dollar view!" It is a beautiful view, but maybe only worth a million dollars at night-time.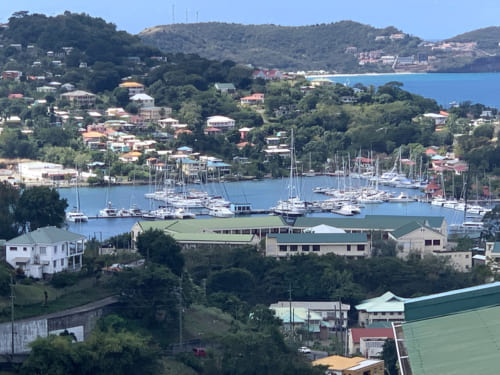 ---
◆Eating Nutmeg, but Too Much Can Cause Hallucinations
Grenada is also known as "Spice Island". Nutmeg is especially popular
, and well known. Grenada is the 6th largest producer of nutmeg in the world, and Nutmeg even appears on the left side of the national flag.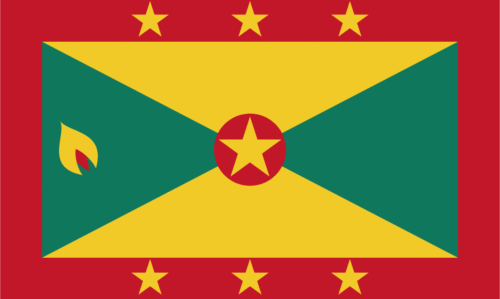 Nutmeg, which is called "Nikuzuku" in Japanese, is one of the four major spices alongside pepper, cinnamon and cloves, which are said to be effective in promoting digestion, perspiration and preventing anemia. Of course, I wanted to eat nutmeg at its origin. "The Nutmeg" is a restaurant where the food is made with real nutmeg.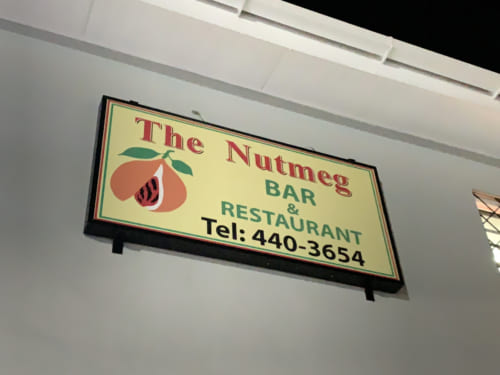 When I asked the staff which items have nutmeg in them, he answered with a reassuring: "Everything!" So, I'm glad I came to this restaurant.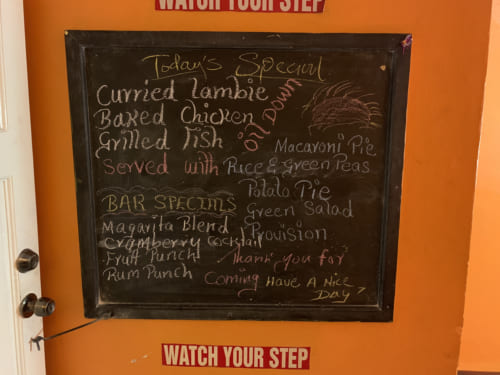 Although there is no nutmeg in it, I first ordered the local beer, "Carib Premium," and then "STAG." Both are easy to drink lager beers. Both are $6 (about 240 yen). You can see the harbor of St. George's from the peaceful interior of the restaurant.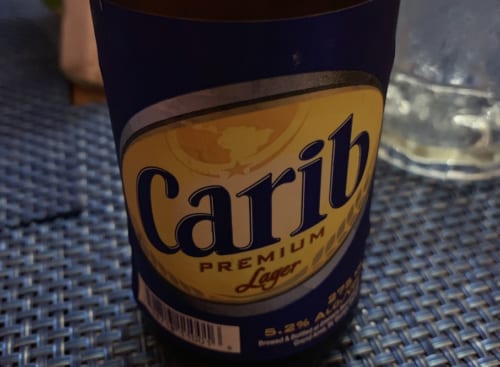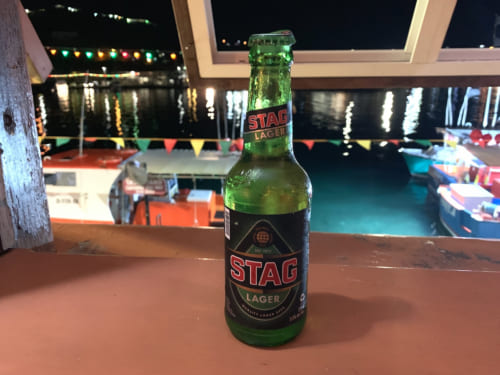 Overseas, I've found that bottled beer was often served without a glass and had to be drunk as it was, but here, they served me my beer with a chilled beer mug. I feel like there's an affinity to Japan here.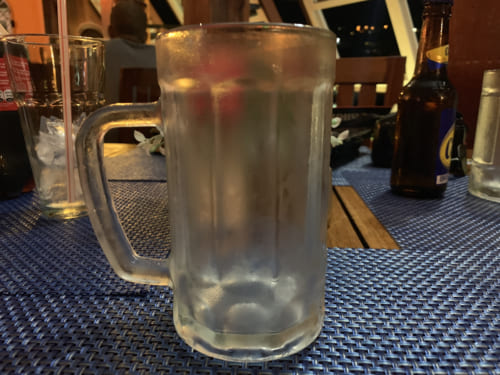 Grilled chicken legs came. The rice looked like red rice, and sautéed vegetables were served on the side. The white sauce is rich, but you can taste the nutmeg flavor. $ 60 (about 2,400 yen).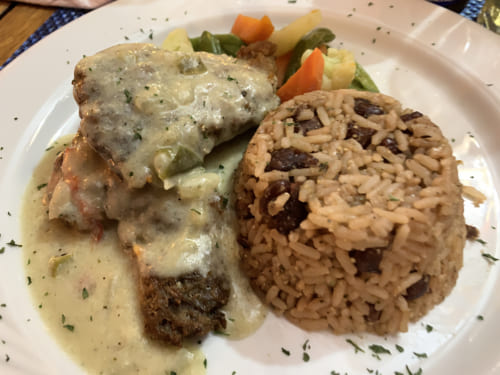 This is Spice Island Lobster. It also contains spices other than nutmeg. Every time I took a bite, I enjoyed both the lobster flavor and the aroma of the spices. $ 85 (about 3,400 yen).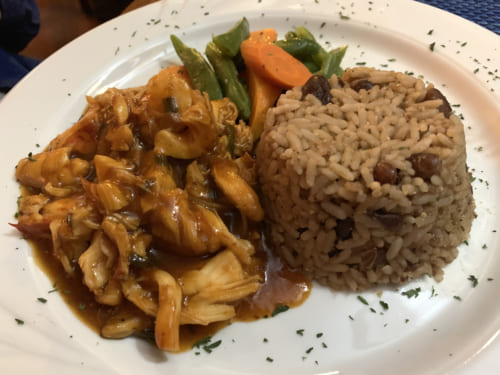 Next, breakfast at my accommodations. I ate while looking at a painting of nutmeg on the wall.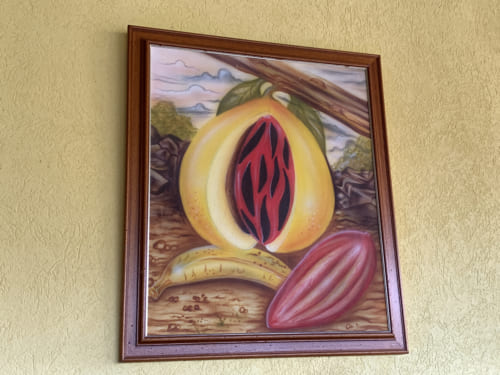 Of course, there's nutmeg jam to put on the bread. It has a spicy flavor, but it's kind of sweet and sour like apricot.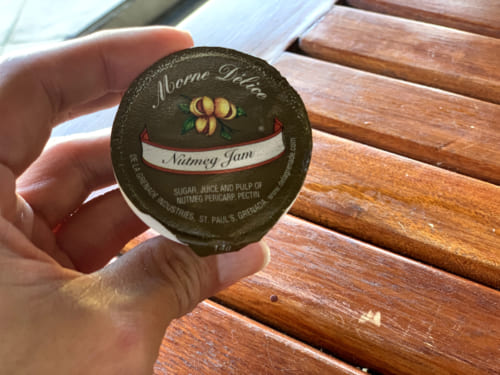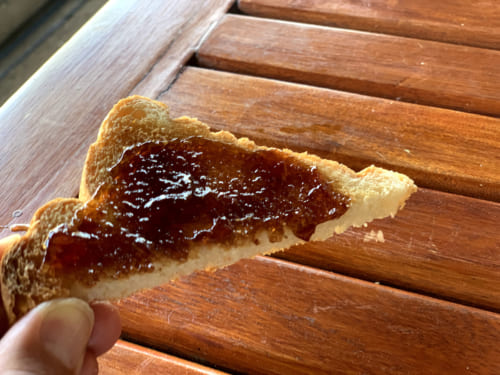 In the land of nutmeg, many foods contain nutmeg, and taste delicious, so I could have unknowingly eaten a bit too much. The amount of nutmeg that can cause oral poisoning in humans is 5-10 grams. Symptoms such as difficulty breathing, dizziness, vomiting and hallucinations etc. may occur. People usually recover within 24 hours but some take 2 -3 days. So please be careful not to eat too much nutmeg.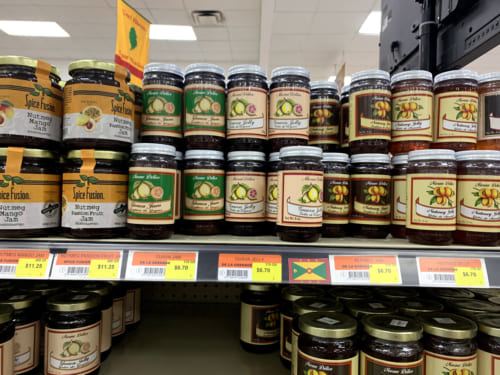 ---
◆The Special Menu of Grenada Sushi
I had sushi when I was in the British Virgin Islands, which are famous tax havens, but I also found a sushi restaurant in Grenada. I couldn't stop myself from going in.
"Carib Sushi" in the Lime district. There's an open terrace which is full of locals and tourists.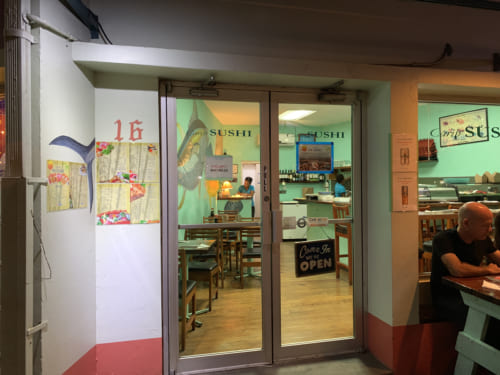 The soy sauce is Kikkoman. A chopstick rest for the chopsticks. The atmosphere is just like a Japanese sushi restaurant.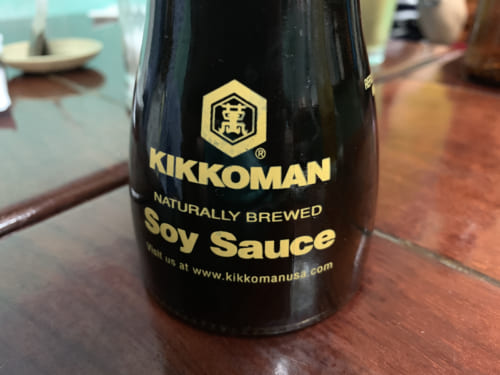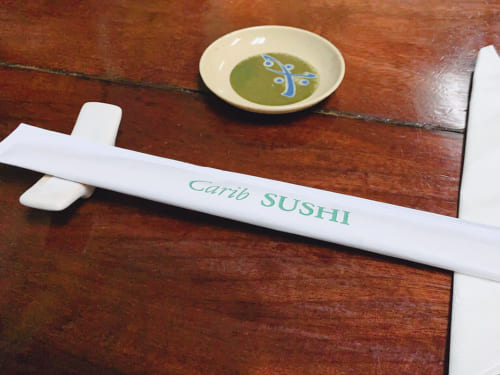 It was a hot day, so I ordered cold green tea. I had intensely sweet green tea in the United States, but Grenada's green tea was sugarless. Gum syrup and sliced lemon are also provided. It tastes like lemon tea, so this is good. $ 5 (about 200 yen)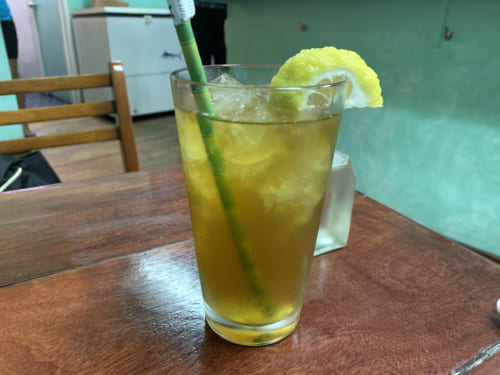 My sushi has arrived. Sushi in any country looks pretty good. Six slices of fresh tuna and white fish. It was better than the sushi in the Virgin Islands. $ 38 (about 1,500 yen)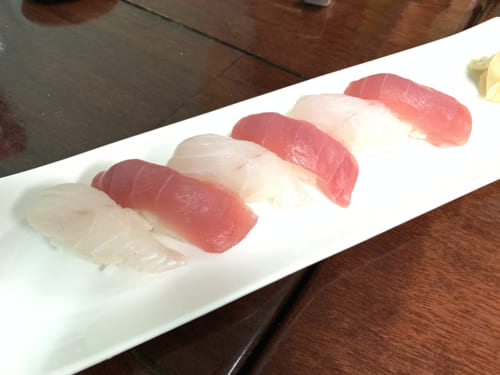 Next, a dish called "Leo Special Nigiri". Named for the head chef Leo, this is the most recommended dish in the shop. One of the creative sushi dishes you only find overseas, this one has avocado and tenkasu (leftover tempura bits) on top of tuna. At first glance, it looks like a lively okonomiyaki! You can't see it, but there were 4 slices of nigiri under the tuna. The sauce on top is like the kind used for Anago (Broiled eel.) $ 32 (about 1,300 yen).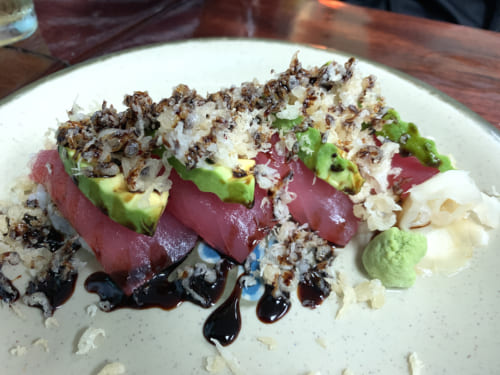 The Tuna Crispy Rolls are sushi rolls topped with negitoro (minced tuna with green onion) and tenkasu. The tenkasu seem to be the "crispy" part. $ 44 (about 1,800 yen).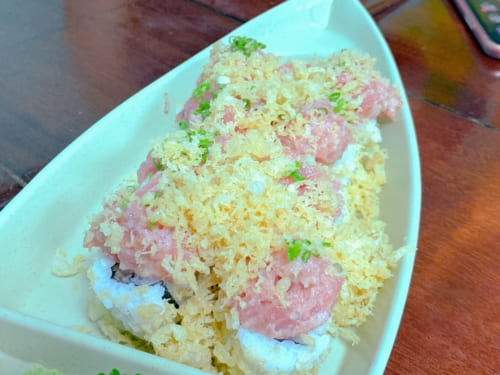 The Scotch Roll is without vinegared rice, and contains Scottish smoked salmon, avocado and cream cheese rolled in a thin omelet-like egg wrap. Surprisingly good with soy sauce, it also would go very well with Sake. $ 45 (about 1,840 yen).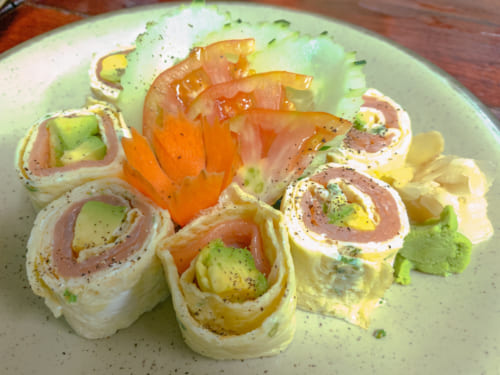 The menu also had a wide selection of different dishes, such as mozzarella cheese wrapped with white fish and deep fried, etc. Although these were rather creative menu choices made with spices, they were all delicious.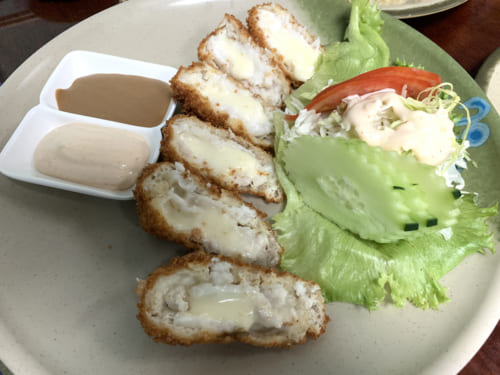 ---
◆The Beach Mistaken for the Most Beautiful in the World
CNN launched a "100 best beaches around the world" list and Grenada came in first place. That means I can go to the most beautiful beach in the world!
We arrive at the Mount Cinnamon Resort. Walk through the gardens of the resort.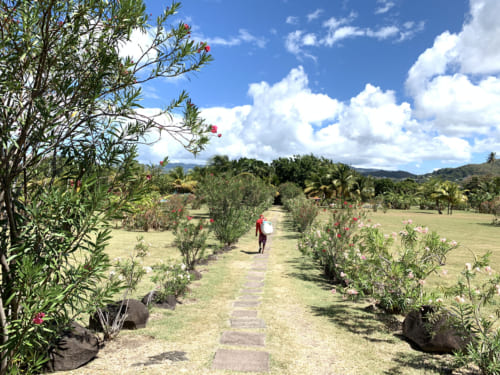 I see the beautiful sea. The world's most beautiful beach is right in front of me.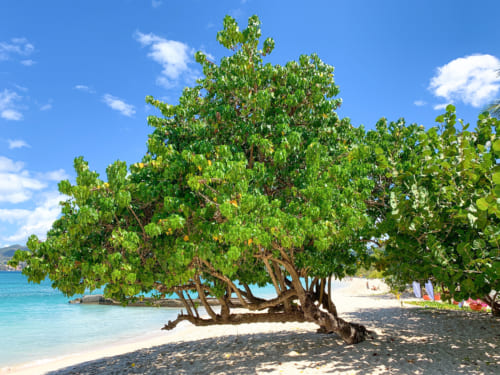 This is the Grand Anse beach, which won first place in the "100 best beaches around the world."
The clear water and white sands are suitable for the #1 beach.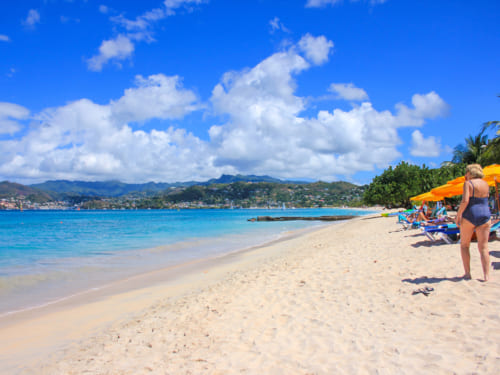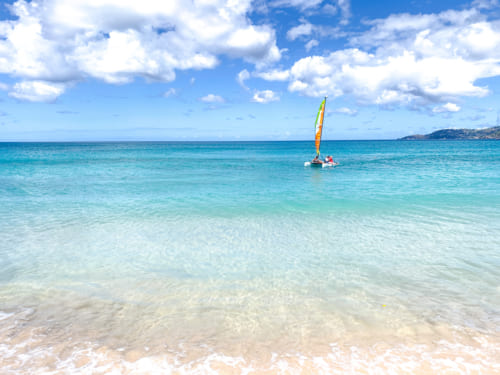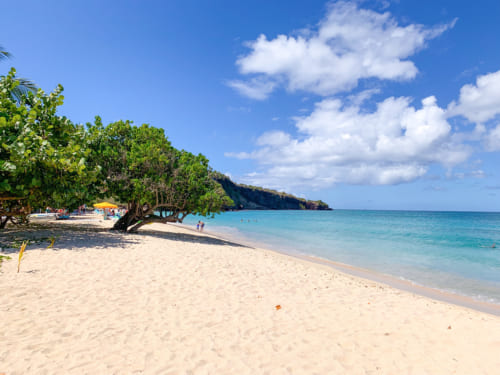 There are restaurants and bars on the beach.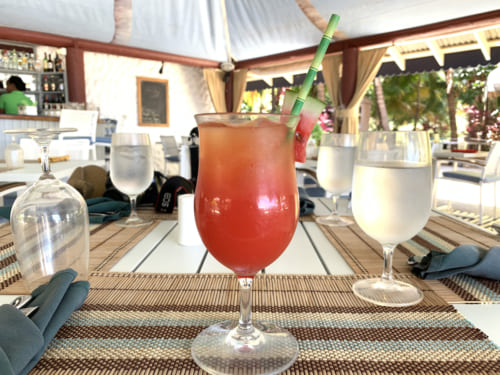 Fries are the special at the restaurant on the world's best beach.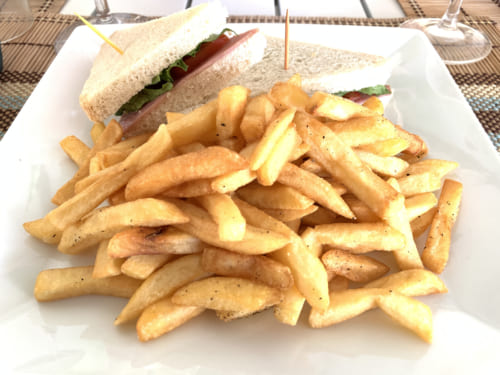 However, when I went home and was organizing my information, I noticed something. The first-place spot in the "100 best beaches around the world" was not "Grand Anse", Grenada, but "Grande Anse Beach" in the Republic of Seychelles (off East Africa).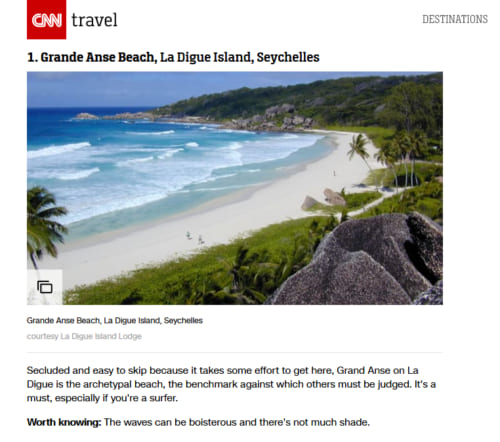 What confusing names! I thought Grand Anse was the nickname for Grande Anse Beach.
Grand Anse in Grenada, which impressed me so much, was actually ranked 30th, not first.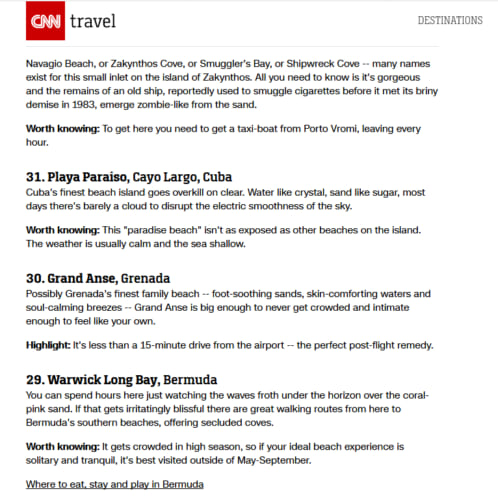 So, it was ranked the 30th most beautiful beach in the world, but as you can see from the pictures, it's not too much to say it is the most beautiful beach in the world.
Grenada's Grand Anse – Spherical Image – RICOH THETA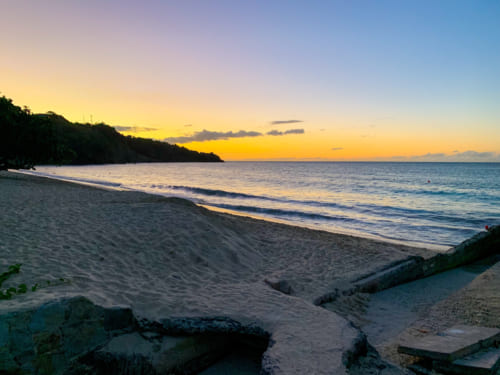 There was also a travel blog that named Grenada's Grand Anse as "the best beach in the world." I guess we all have to be careful not to make this mistake.
---
◆Dropping Sculptures into the Sea Makes People and Fish Happy
The Underwater Museum, one of Grenada's most popular spots. With the support of the government of Grenada,
sculptor Jason Taylor started making these underwater sculptures in 2006. You read correctly; the museum is at the bottom of the sea.
I went to the dive shop "DIVE GRENADA" to participate in a tour of the Underwater Museum.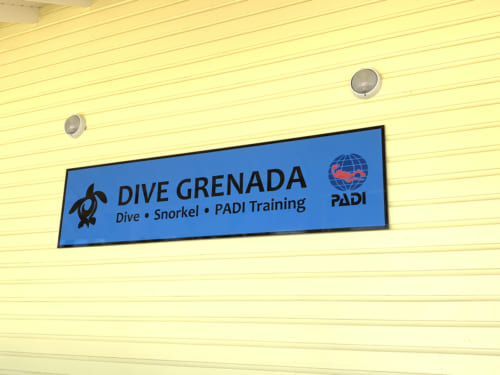 I change into my bathing suit, and get in a boat.
It takes about 10 min by boat at high speeds. The instructor hands me a snorkel and fins, and we get into the water.
The sculptures are scattered in different places so the instructor guides you where to go.
A sculpture lying on the seabed.
Sculptures in a circle etc. A sculpture of only a face on a large rock. Can you tell what this is?
Fish? Bird? A girl on her knees with a fish? Or a bird in her hands?
A circle with more sculptures than before. These sculptures seem so real, as if they are moving!
The tour to enjoy sea sculptures is over in one hour. The instructor took videos for me the whole time. If you are not so great at diving, you can just ask the instructor to take pictures and videos for you. The tour fee is $ 55 US (approx. 6,100 yen) per person and includes the snorkel and all other rental fees. It's best to make a reservation in advance.
In addition to building costs, a museum built on land requires money for many things, labor, electricity, repairs, security guards etc., but an underwater museum just needs sculptures dropped into the water, then it's all done. Compared to a museum on land, it's much easier to maintain. This not only makes a great tourist attraction, but it also provides a place for marine plants such as corals and sponges to grow, which in turn makes the fish happy. If anyone is thinking of making a tourist attraction, this seems like an excellent idea.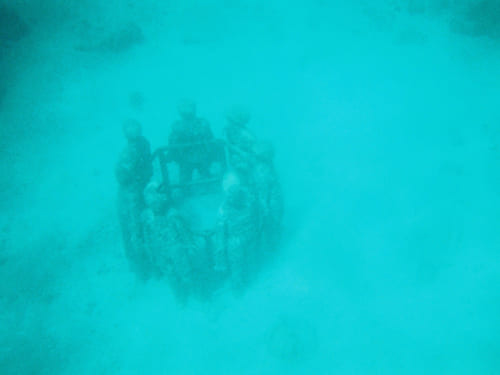 ---
◆How to Purchase a SIM & Test the Internet Speed
Although Wi-Fi rental services for going overseas are on the rise, certain areas are not covered. In such situations, you can buy a local SIM. In Grenada communications company "FLOW" seems to be popular. I couldn't buy a SIM at the airport, so I looked for one in the city. I arrived on a Saturday and couldn't make it to the store before closing time, and of course the next day was Sunday. So, I couldn't buy a SIM card in Grenada.
However, in the shopping mall there were dedicated vending machines that can top-up data communication volume to existing SIM cards.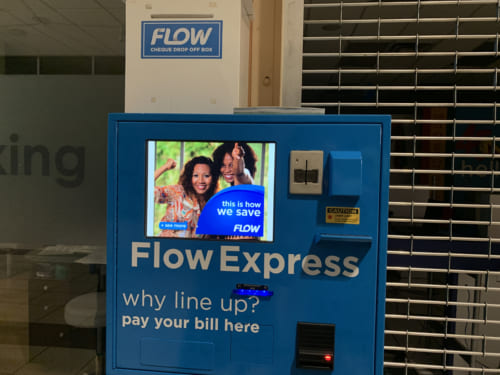 Since I had a SIM card from FLOW that I bought on one of the other islands, I added $ 10 to it (approximately 400 yen).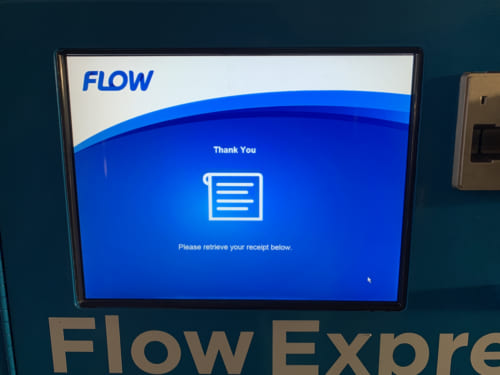 I got an email confirming my purchase. But it wouldn't connect. I thought it might have to be activated, but calling the dedicated number didn't change anything.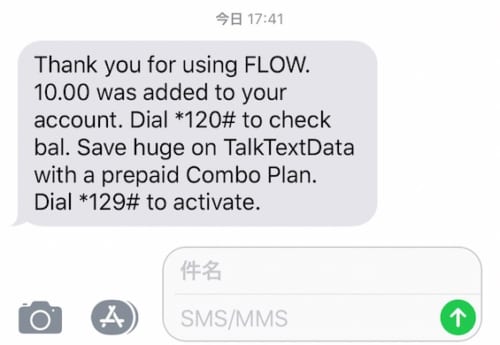 When I checked the status of the charge, it said it was already down to $ 7.54. Where did the other $ 2.50 go?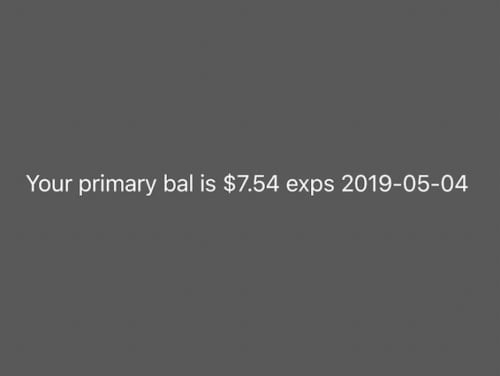 In my struggles to connect, I used up the whole $10, so I purchased additional data. However, I could not connect. But actually, even if you can't use the SIM, if you have a SIM you can use the "FLOW" Wi-Fi at the airport.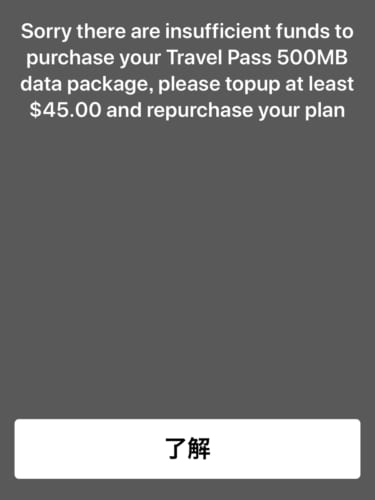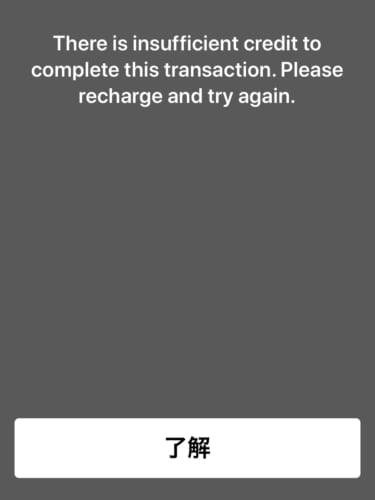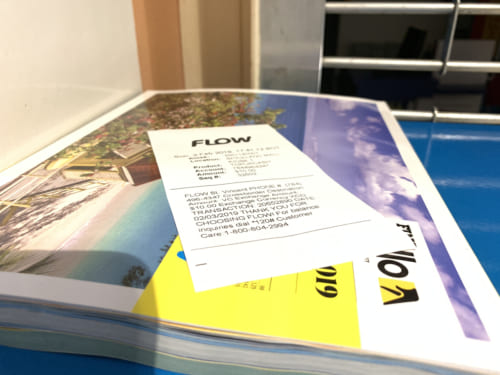 ---
◆Finding ".gd" Around Town
Grenada's ccTLD is ".gd". I found it at a taxi company for tourists and on a sign advertising yoga class in the hotel.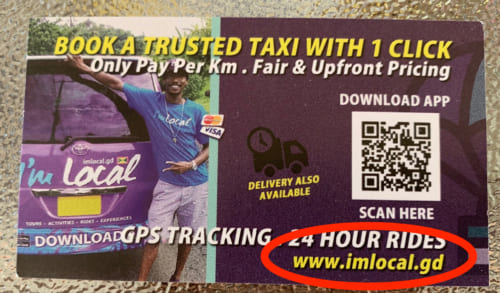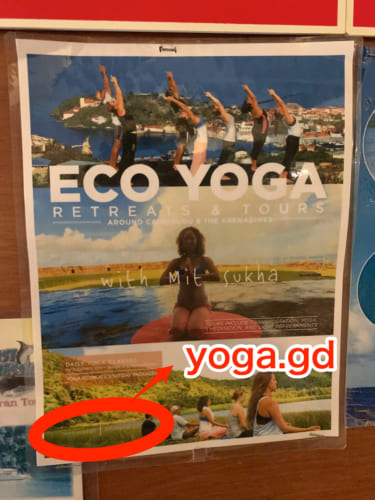 The ".gd" domain is under the Grenada branch of "NTRC" (National Telecommunications Regulatory Commission), and it is the same for the Grenadines and Saint Vincent etc. This is the building of the domain name registry. Unfortunately, I couldn't talk to anyone as it was a Sunday and closed.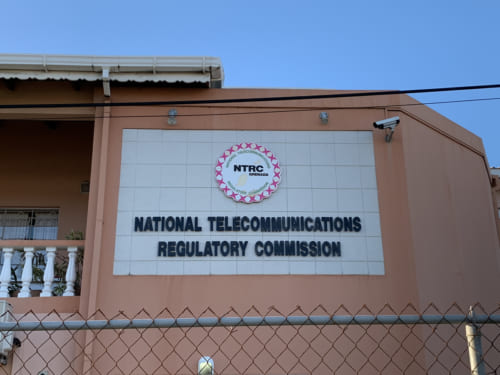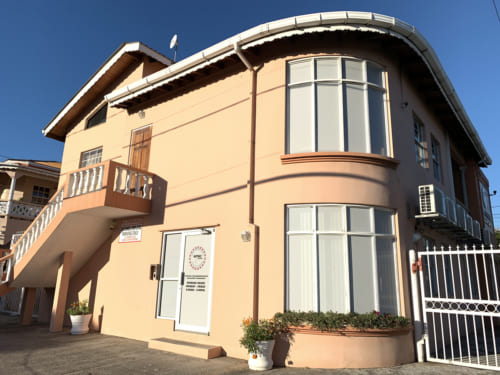 I also found the NTRC homepage address and ".gd" at the bus stop in front of the building.
---
◆Miscellaneous Grenada – "$100 Reward for a Bee Thief", and "An Airport Shop You Should be Wary of"
St. George's in the daytime. The scene reminds me of a port city in Europe.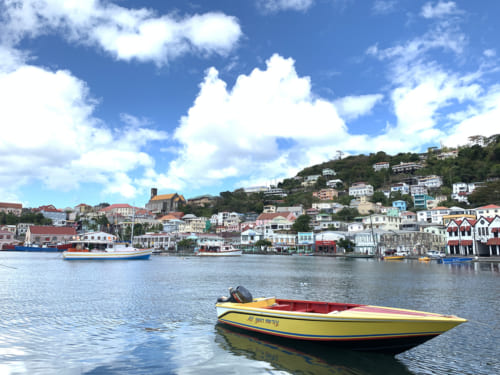 I was bitten by a mosquito, so I went to the local supermarket to buy a mosquito coil.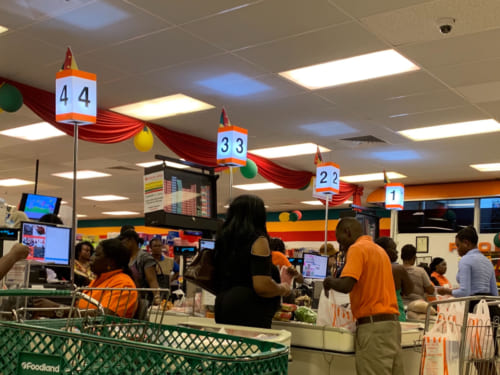 Truly the spice Kingdom. There are so many spices.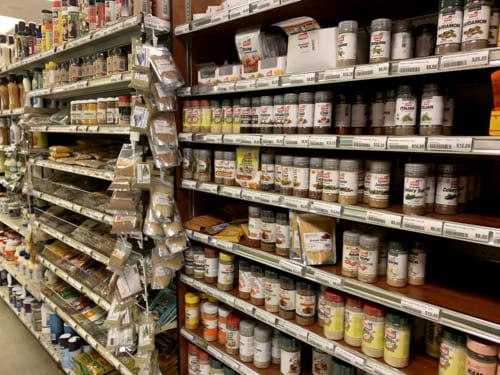 There were no mosquito coils, but I found a little mat thing that seems to be for keeping mosquito away.
The package didn't lie. It kept the mosquitos away.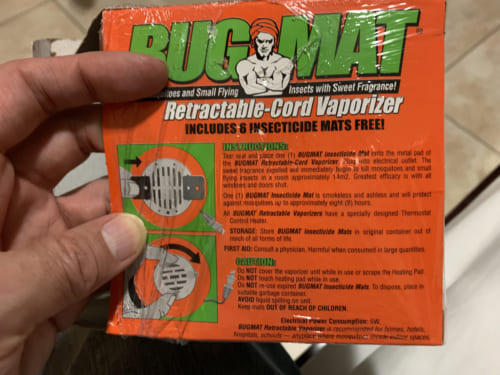 On the supermarket bulletin board, I found a notice of a $ 100 reward for a honeybee thief. I pray for a quick resolution to the matter.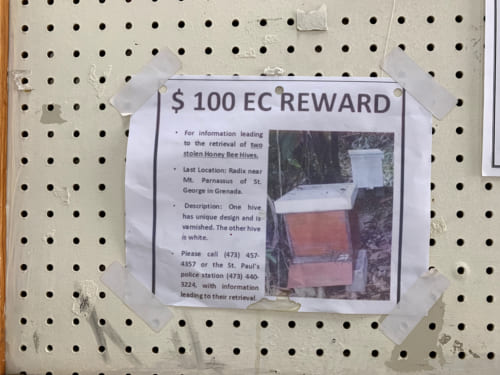 Then, while taking a walk through the "Spiceland Mall" I found a shop selling knockoffs of famous brands.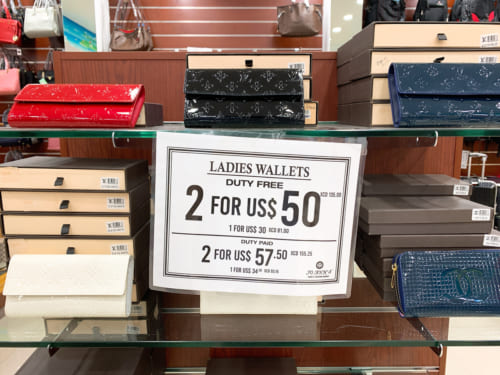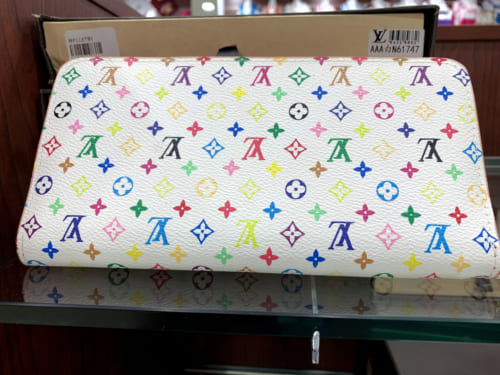 This is the shop. It looks like a nice shop from the outside, but be careful because they are selling knockoffs.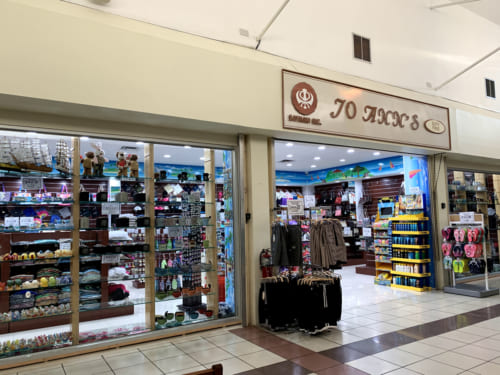 There are also some shops in the airport to watch out for.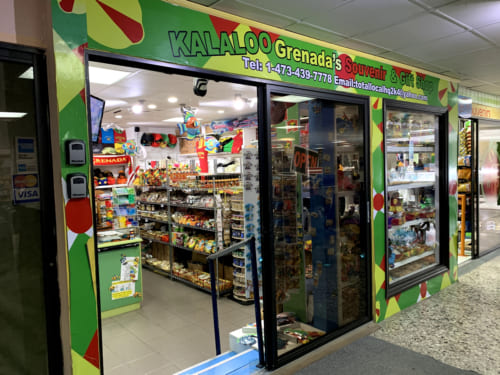 This shop sells banana ketchup for $13 (530 yen).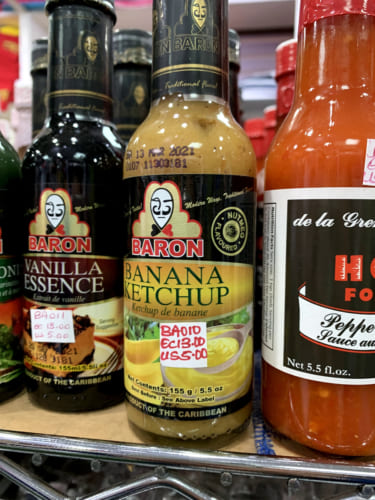 However, another shop in the airport sells it for $ 5.85 (240 yen). Even in the same airport, they were selling it for more than double the price! Be wary of gift shop "KALALOO."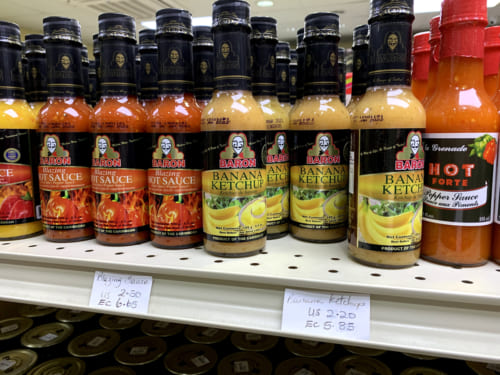 =List of Places Visited=
■Access to Grenada
■For Domain details, Click here