"Mauritius was made first, and then heaven; and heaven was copied after Mauritius."
These are the words of Mark Twain, author of "The Adventures of Tom Sawyer". Can this island really be so wonderful? I wanted to go and see, hoping to catch a glimpse of heaven while still alive. The ccTLD (country code top level domain) for Mauritius is ".mu".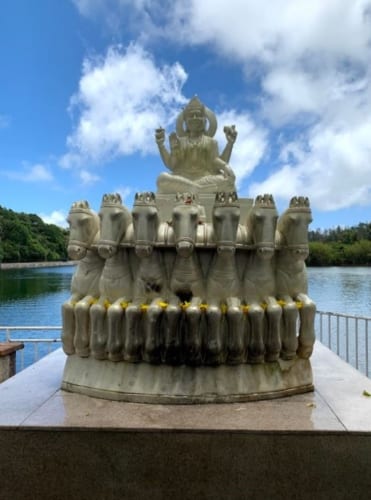 ◆Where is Mauritius?
The Republic of Mauritius is an island nation of Africa, located about 900 km east of Madagascar. The island covers an area of 2,040 square meters, with about 1.2 million people living on an area almost the size of Tokyo. Like the Virgin Islands, Mauritius is known as a tax haven, and it is popular among celebrities from around the world as a place to go on vacation. The currency used is the Mauritius Rupee (MUR).
* This article was published in November 2019.
= Table of Contents =
---
◆Is the Dodo the Ancestor of Orville from "Animal Crossing"?
We arrive at Sir Seewoosagur Ramgoolam International Airport. The cabin attendant walked around the cabin spaying something. It doesn't land directly on the passengers and it doesn't smell bad, but it's not a good feeling in an enclosed space. This spraying is done on the recommendation of the World Health Organization (WHO) prevent contagions and infectious diseases carried by insects and other VOCs. I understand that the insecticides used are those specified by the International Civil Aviation Organization (ICAO) and should not cause harm or discomfort to passengers and crew.
※reference http://www.travelstart.co.za/blog/airplane-cabin-spraying/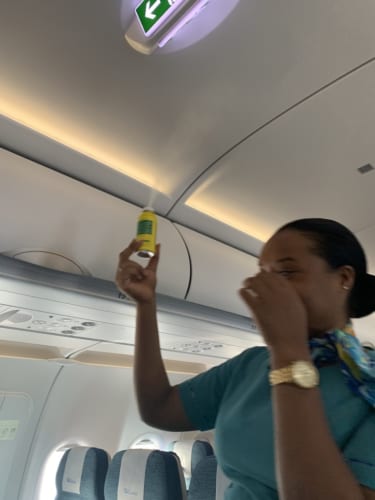 The airport is named for the 1st Prime Minister of Mauritius, Sir Seewoosagur Ramgoolam.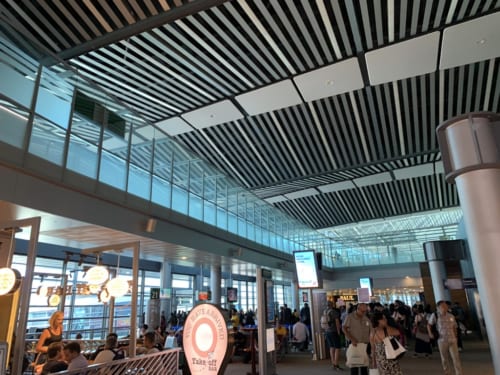 Looking closely, I found the dodo (Raphus cucullatus) a national bird, on the immigration stamp.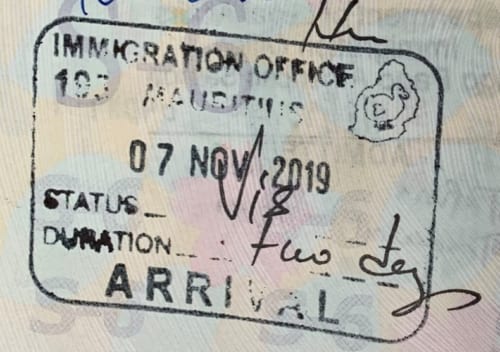 The dodo is a now extinct bird that once lived in Mauritius. The wild dodo was not a very suspicious bird, it couldn't fly and it walked around and built its nests on the ground. Sadly, it was driven to extinction by the humans that invaded the island. A sketch of the dodo is on the back of the immigration card.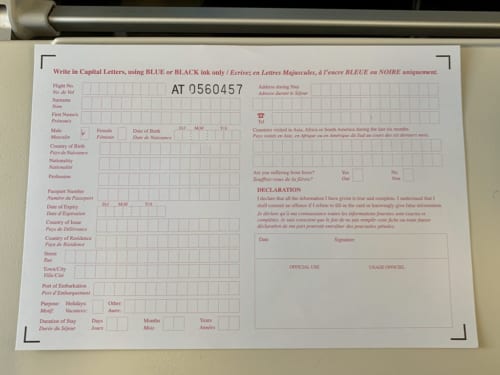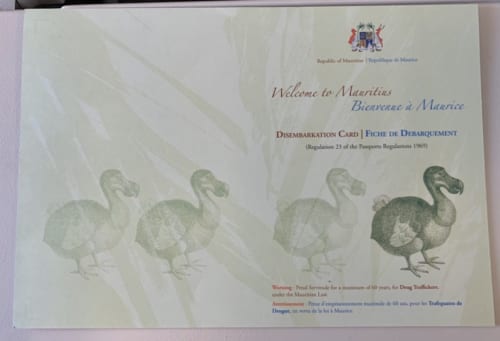 Orville, a character in "Animal Crossing" and staff of "Dodo Airlines" may be a descendant of the dodo. Unfortunately, there was no real Dodo Airlines at the airport.
---
◆Closure of the Capital? Port Louis is Shut Down
We chartered a taxi to check out Mauritius. Our driver is named Rakesh. One day's fare, including pick up at the airport and drop off in the capital, Port Louis, was 100 euros. We told our driver that we only visit islands with their own domain, and only spend a few hours in each place. He told us: "You need at least 8 days to see Mauritius!"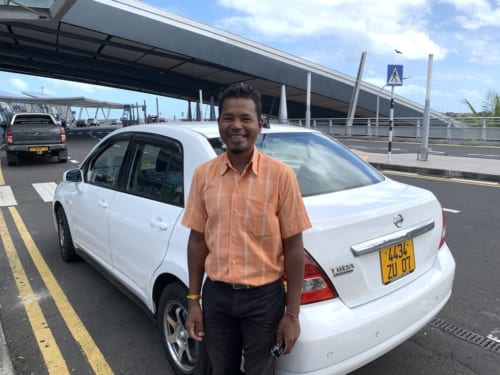 First, we head for the capital Port Louis.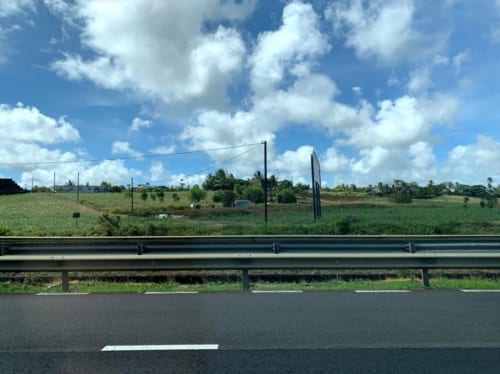 We have arrived in the beautiful port city of Port Louis. In December 1852, the East India Squadron of the United States Navy, led by Admiral Perry, departed for the coast of Uraga to ask Japan to open its shores, and also called at Mauritius on the way. At that time, there was no suitable island in the Pacific Ocean for steamboats to refill their supply of coal, and the Port of San Francisco was unfinished, so after crossing the Atlantic, they called at Madeira Island, St. Helena and Cape Town, finally arriving in Mauritius on February 18, 1853 where they had a 10-day rest.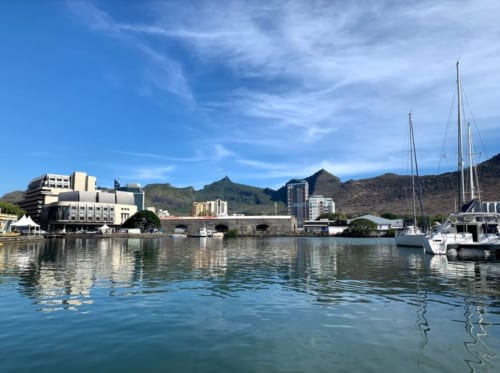 At 4 pm, we take a stroll through the capital of Mauritius. There are only a few people.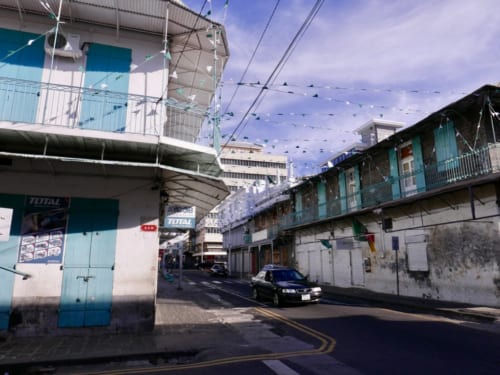 There are very few people here and it is very quiet.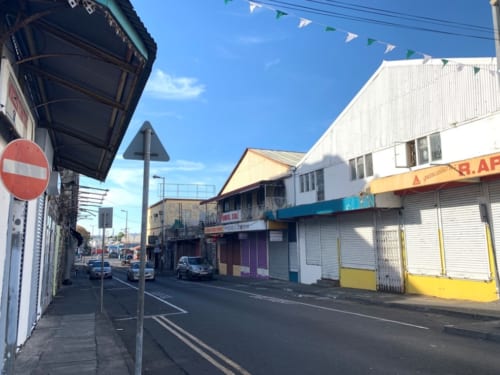 What…? There are no people at all. If you look closely, almost all the shop have their shutters down, even though it's a Thursday!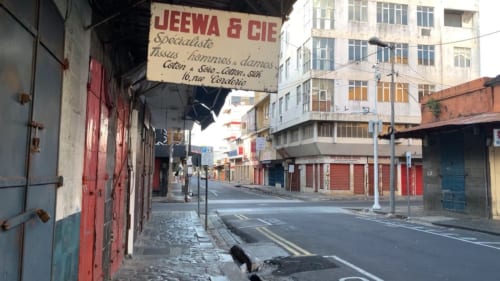 When we asked Rakesh, he told us it's the day of the parliamentary elections, the police have ordered all shops to stay closed except for a few commercial facilities, like restaurants and casinos. Ah, yes, there are some posters of candidates.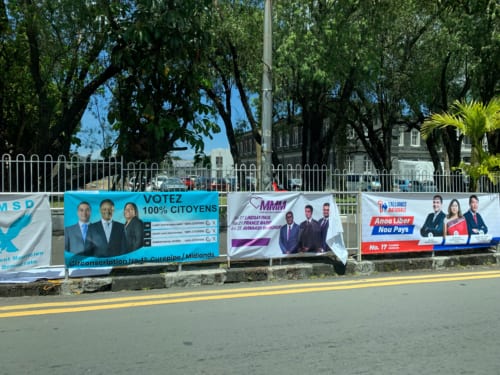 Even in Chinatown, there were only a few street vendors.
Actually, I was hoping to see the "waterfall in the sea" and had booked a helicopter tour before leaving on this trip, but later I got an email saying that the company was not open on that day and the tour was canceled. Probably that was because of the election.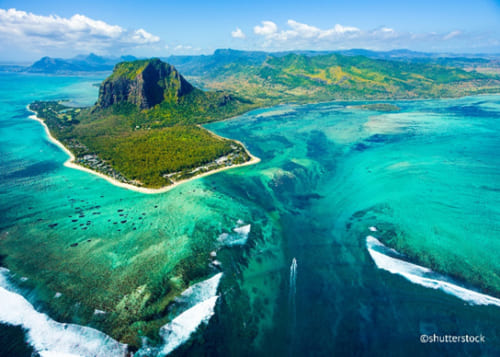 Elections are held every five years. Before you travel to Mauritius, I recommend that you check in advance about this.
Umbrella Square (Republic of Mauritius) – Spherical Image – RICOH THETA
---
◆The Seven Coloured Earths; Ideals and Realities
About 45 km south of Port Louis, or an hour's drive, there is a place in Chamarel village where you can see a place with seven coloured earth. One of the main attractions of Mauritius, which is an active volcanic island, is this "7 Coloured Earth Geopark".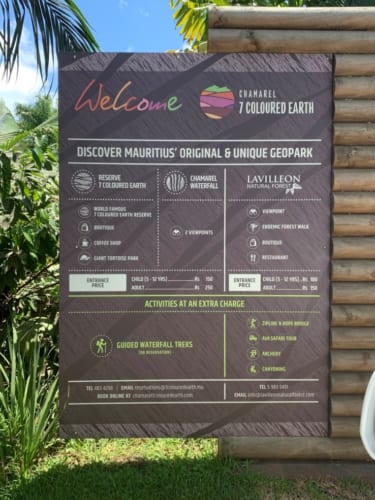 Admission is 250 MUR for adults. It's open all year round, and the closing times are 17:30 in summer and 17:00 in winter. There's a car to take you around the park.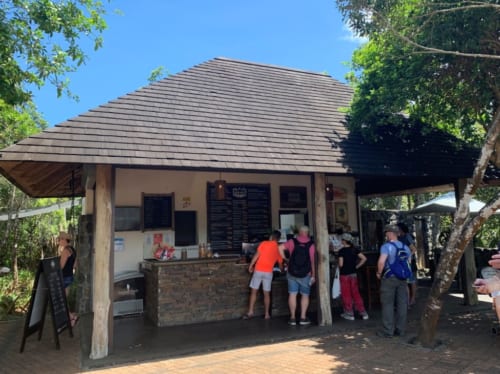 Drones are prohibited.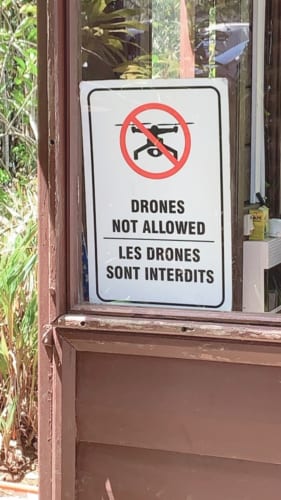 This park doesn't just have the Seven Coloured Earth. Water cascades 100 meters down the Chamarel falls. This is the highest waterfall in Mauritius.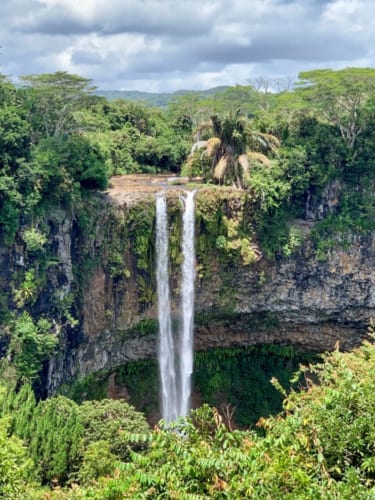 They say that the amount of water flowing down during peak times is 40,000m³ per minute.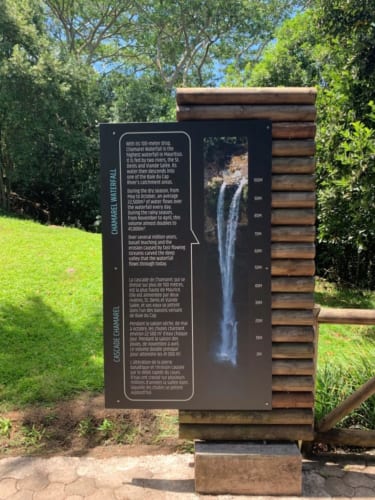 There was an Aldabra giant tortoise. Also called the Seychelles giant tortoise.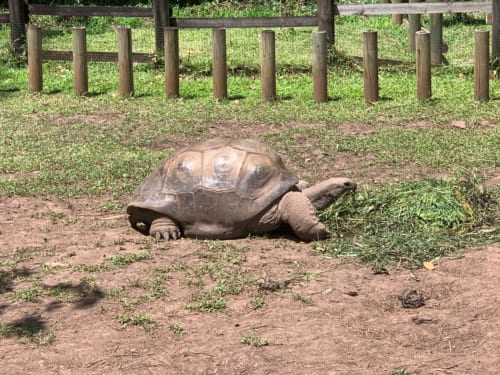 Jonathan, the giant tortoise we met on Saint Helena, was an Aldabra giant tortoise.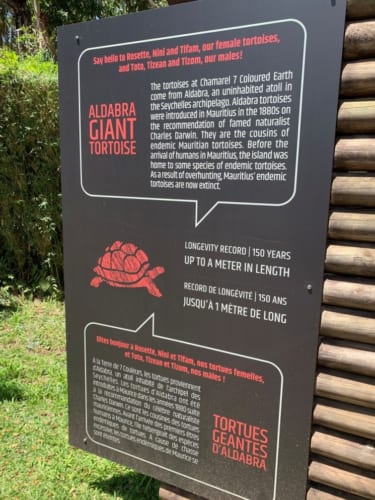 We arrive at the Seven Coloured Earth. Awesome! I have never seen nor heard of soil coloured like this. I've got a lot of expectations.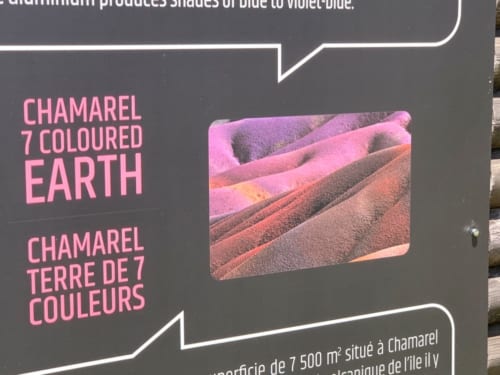 From this spot, I can't see much colour. At first glance it just looks like dirt, like on a construction site. So I get a bit closer.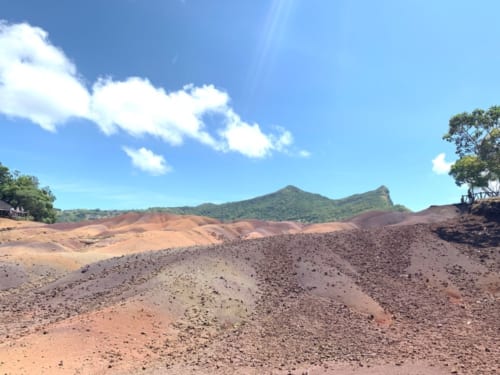 What…? I check it out from different angles.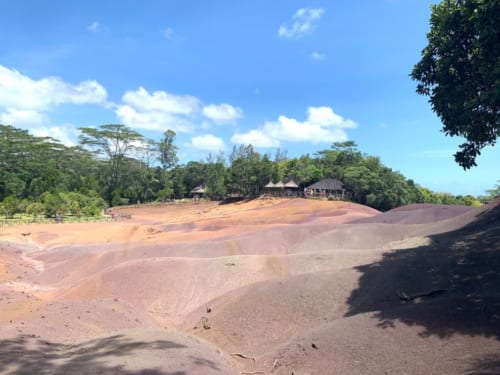 It's not the vivid colors I was expecting, but you can see some color if you look closely at the pictures I took.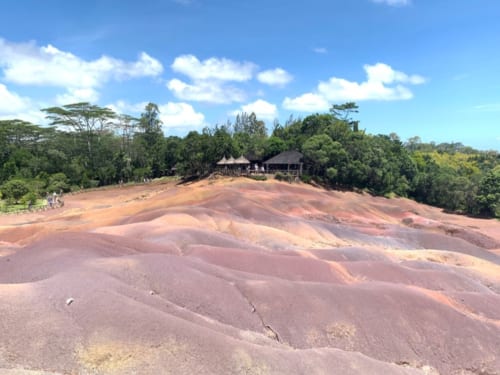 But compared to the Seven Coloured Earths promotion photos in the park and on the net, the color doesn't seem remarkable at all.

Look at the previous photo and the photo edited by iPhone. Now you can see the real Seven Coloured Earth.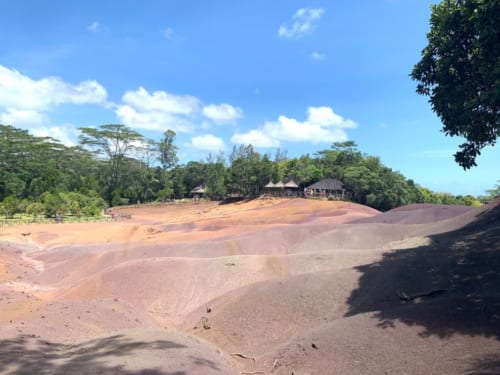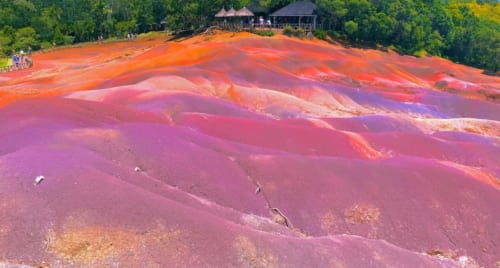 The lava sands that make up the Seven Coloured Earth are estimated to be between 3.5 and 7 million years old. It seems if you want to see them at their best you must come in the morning when the morning sun shines on the dew. In other words, if you don't come in the morning, you will need to edit your photos like I did. So, please check it out in the morning.
The Seven Colors of the Earth (Republic of Mauritius) – Spherical Image – RICOH THETA
---
◆Minor Attractions Recommended by the Locals, Model Ship and Glass Workshops
On election day, we were able to visit minor attractions recommended by the locals. The name of the model ship workshop is "Le Port Ship Model" (https://le-port-ship-model-factory-and-showroom.business.site/)。 Compared to ".com" and ".net", you can still get short domain names with ".site", so I wondered why the address was so long … anyhow, we went into the workshop.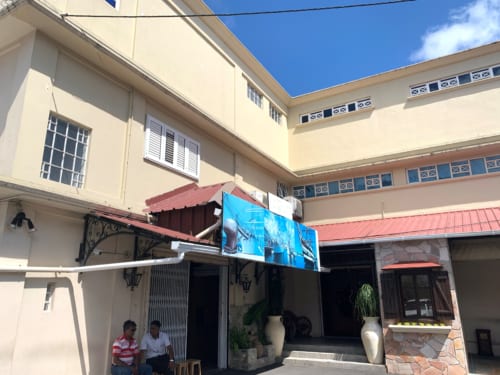 There are no fees to go in. You are not allowed to take pictures in the souvenir shop side.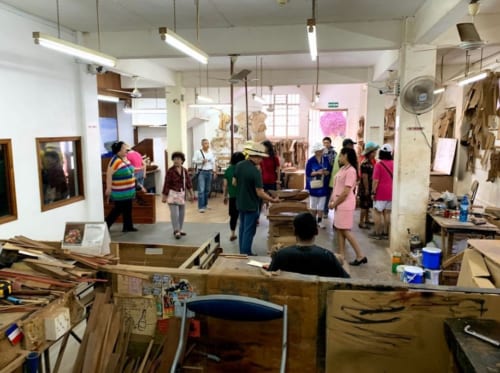 The craftsmen / craftswomen make all the parts by hand, from tiny to bigger etc.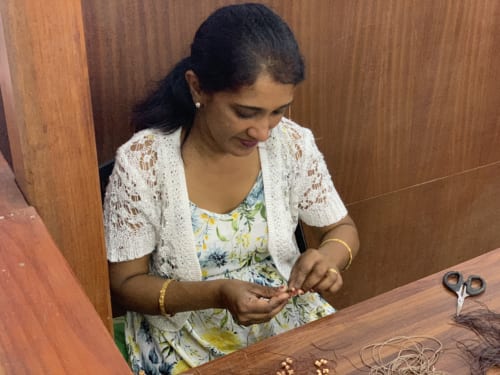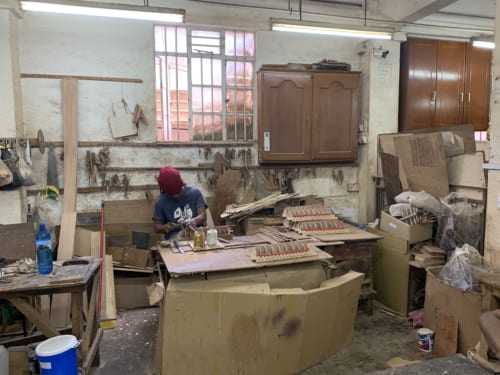 Intricately made hulls are lined up on the shelves.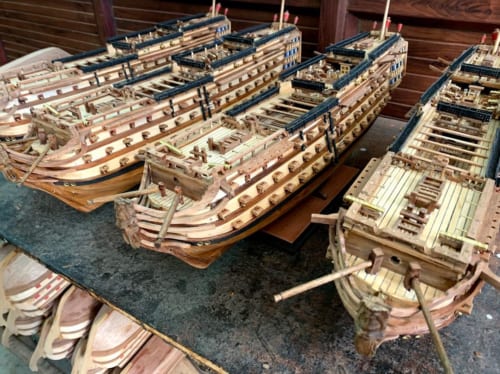 One with a mast attached.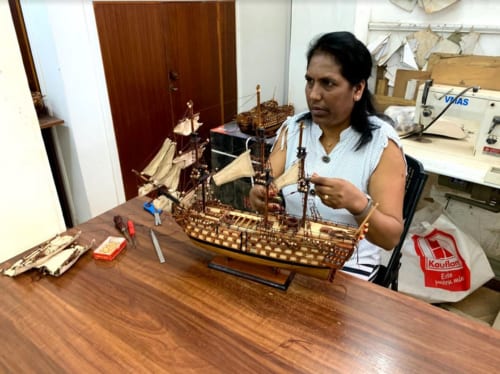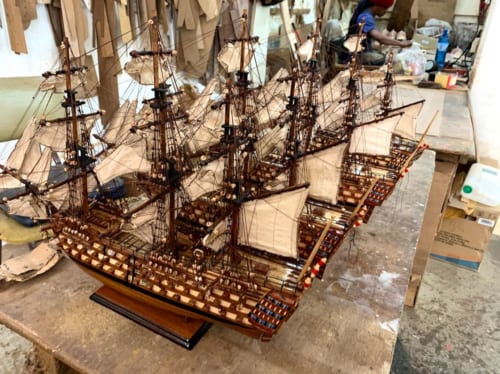 The captain of the Domain Island Tour was fascinated by the work of a particularly skilled craftsman, and since he has some education in marine engineering, he bought a model of the Royal Navy's HMS Bounty. Of course, he put it in his carry-on and took it home with great care.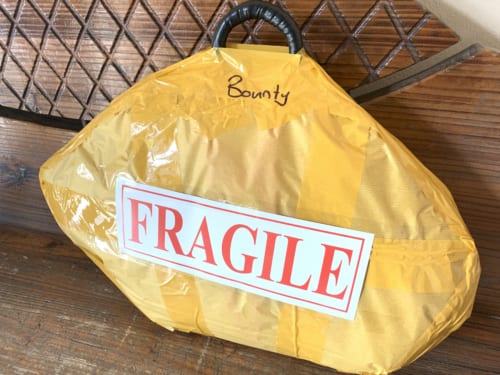 A similar model ship was for sale at the airport, but it was more expensive than the one at the workshop.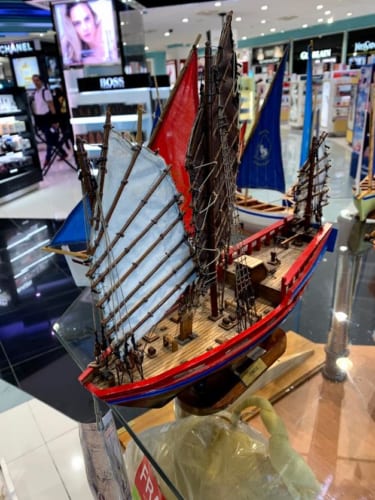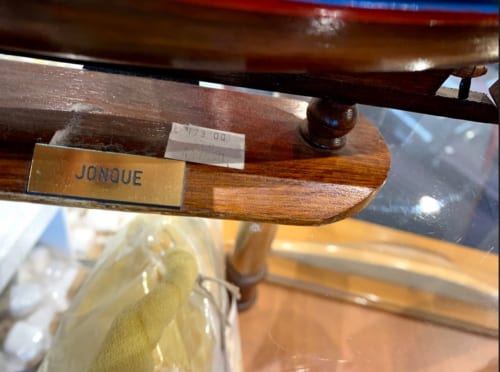 Next, another minor attraction recommended by the locals is a glass workshop, called the "Mauritius Glass Gallery".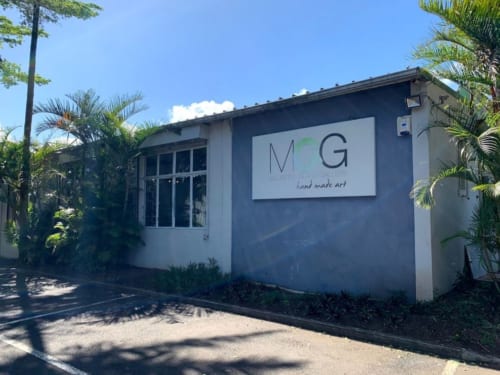 Rakesh talked with the lady at the reception desk. Here too, there were no fees for admission. The lady says, "We also make Coca-Cola bottles here."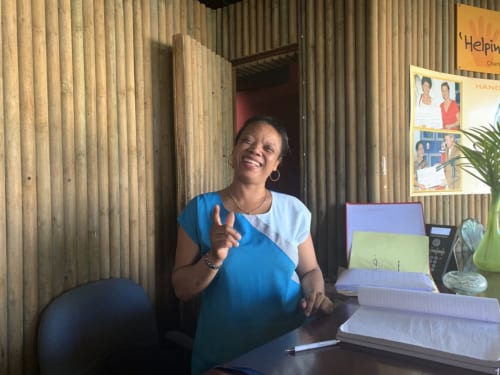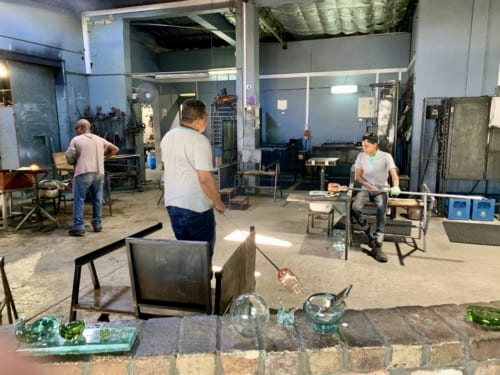 I found a spot with hand prints in glass.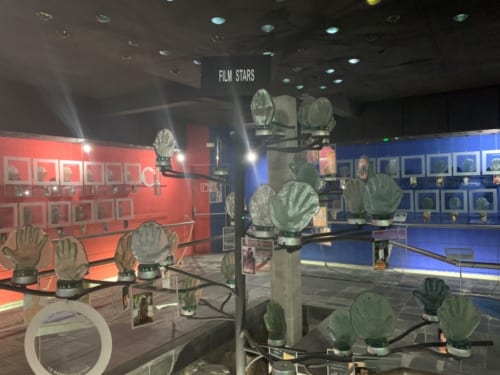 Percy Montgomery (former rugby player) and Tilda Swinton (Hollywood actress) were on display.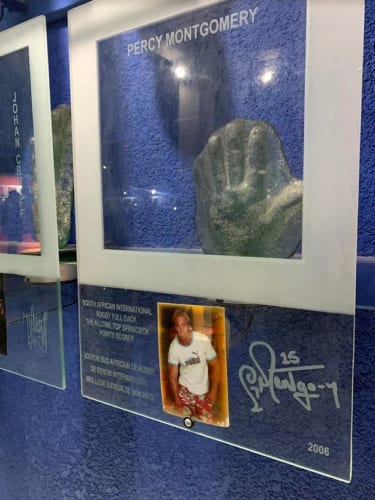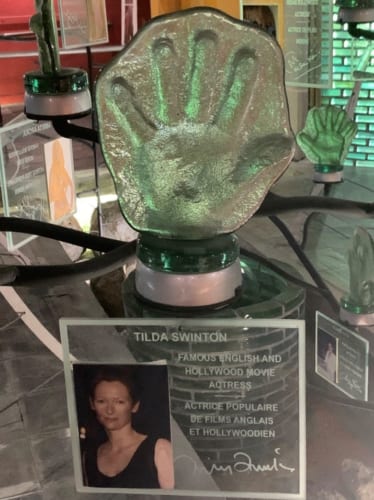 Beverage bottles.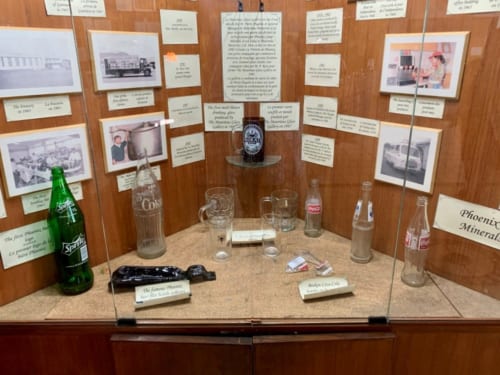 A variety of glass crafts are on display.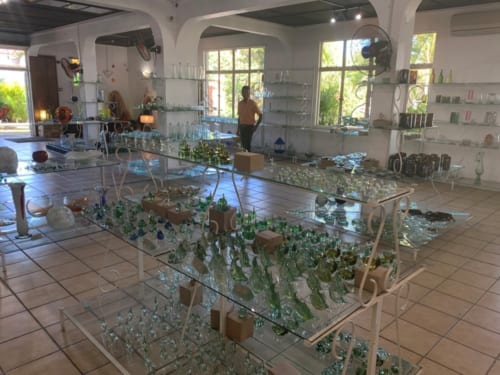 Dodo figurines (130MUR) and shot glasses with dodo pictures on them were on sale starting at 100MUR.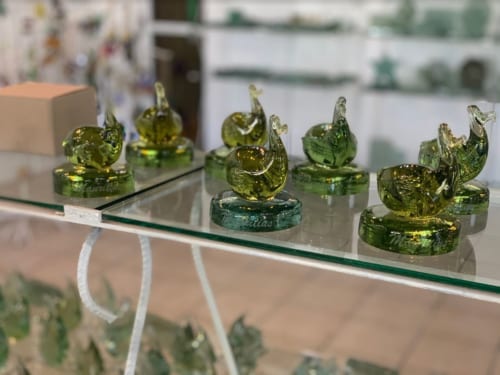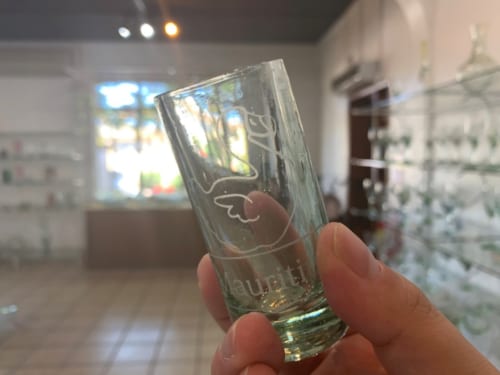 An item that seems to be a spherical paper weight starts at 300MUR.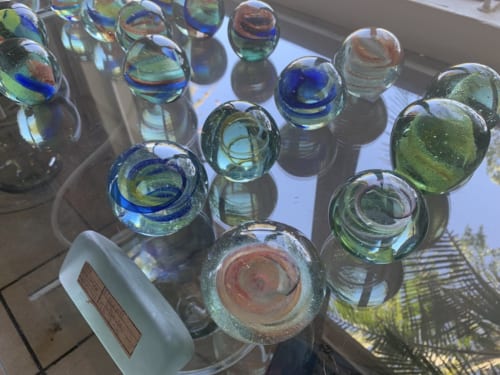 Mauritius is known as the lady of the Indian ocean, because of her beautiful beaches and crystal-clear waters, but visiting these craft workshops is a lot of fun as well.
---
◆The Ganges River in Mauritius
In Mauritius, where a variety of religions co-exist, Hinduism is the most popular, accounting for 52% of the total. Mauritius is the only country in Africa with Hinduism as the major religion. At first, we were planning to go see the Hindu Temple "Sockalingum Meenatchee Ammen Kovil", but Rakesh recommended we visit "Ganga Talao" also known as "Grand Bassin" instead.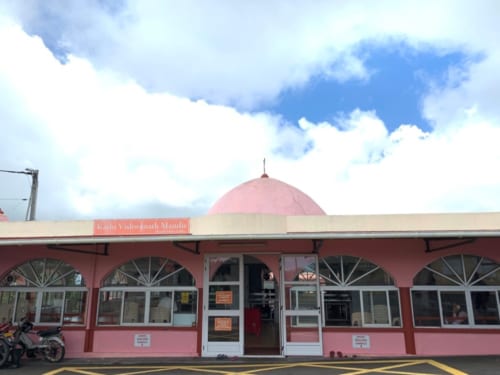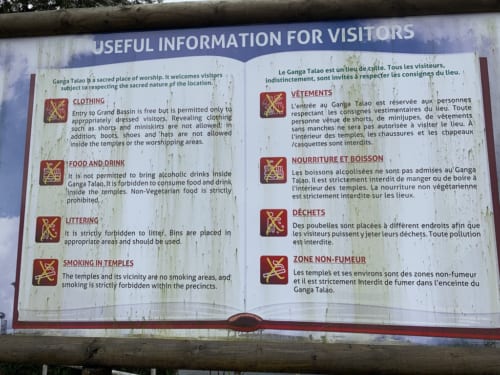 Rakesh himself is a devout Hindu. The reason he recommends Ganga Talao is because it is the only holy ground outside of India, and every February a festival is held there called the "Maha Shivaratri" when all the Hindus on Mauritius walk for miles to gather together at the temple. In the parking lot, there is a statue of the goddess Durga, which is 108 feet (approximately 33 m) high, resembling the Ushiku Great Buddha. Behind is the lion on which the goddess rides.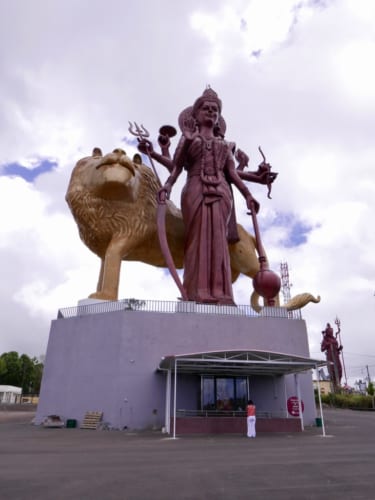 The lake on site is called Ganga Talao because the first Prime Minister of Mauritius, Sir Seewoosagur Ramgoolam, brought water from the Ganges river and poured it into the water of the lake, linking it to the sacred Ganges river and making the site a "most sacred place".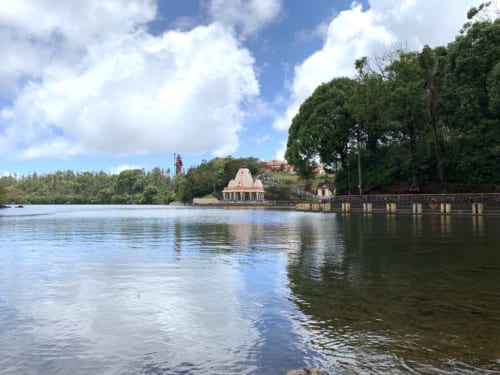 There are many statues.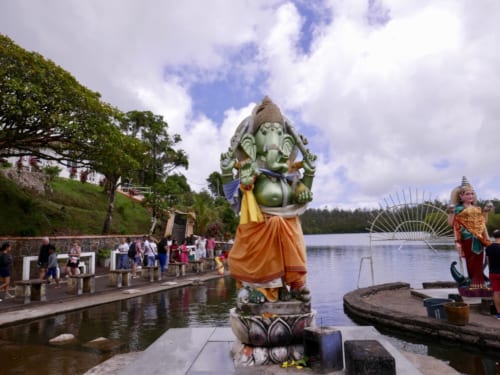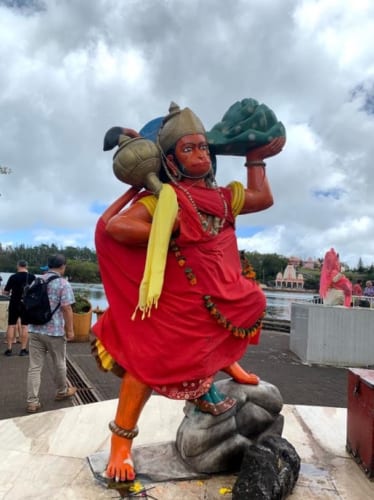 Among the mix of tourists, there were some people praying.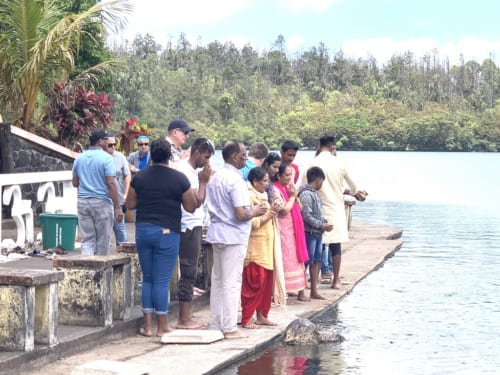 A statue displaying "Sathya Sai Baba". Sathya Sai Baba is a spiritual leader in India known for purportedly materializing vibhuti (holy ash), and is famous in Japan under the name Saibaba. This statue seems to be a model of him.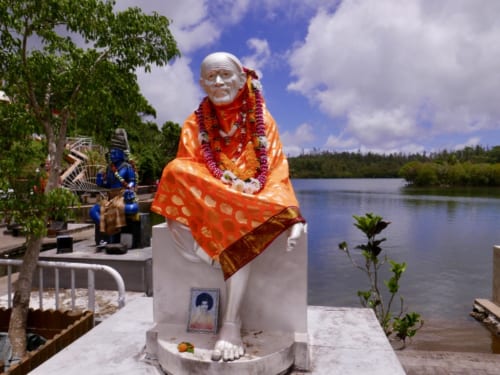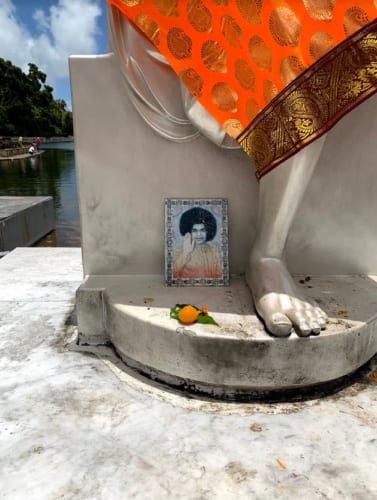 At some statues, bare feet are required to worship. There was a sign saying "please take off your shoes here" but many people were worshipping with their shoes on.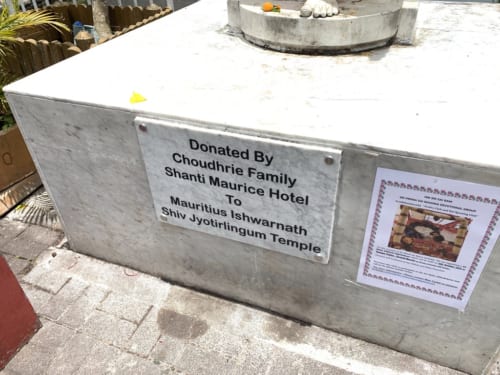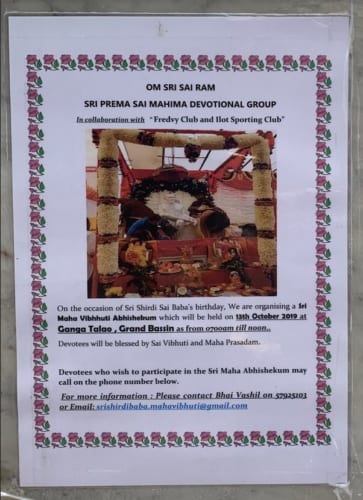 There is a shower in the bathroom. Maybe it's to wash before praying? One might hesitate before trying to get clean here.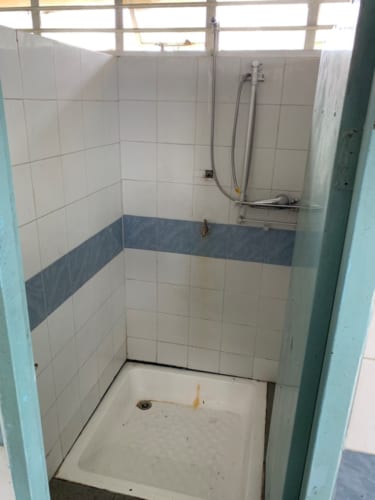 We ran into some wild monkeys in the parking lot, probably because the temple is in the mountain.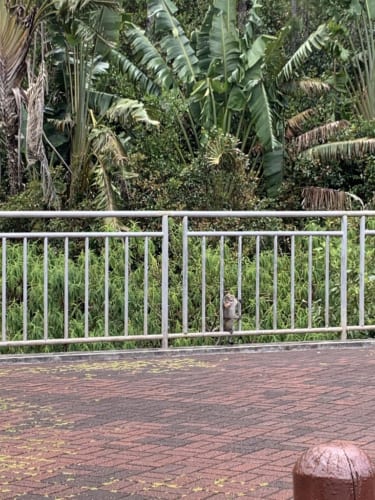 ---
◆Reservoirs and National Parks / Interesting Things Around Mauritius
As the central market in Port Louis was closed for the election, we decide to go to the Marché de Curepipe. Curepipe is in the higher plateaus of Mauritius, it's cooler than the coastal areas so many of the Europeans that colonized the island developed the area as a summer resort / luxury residential area.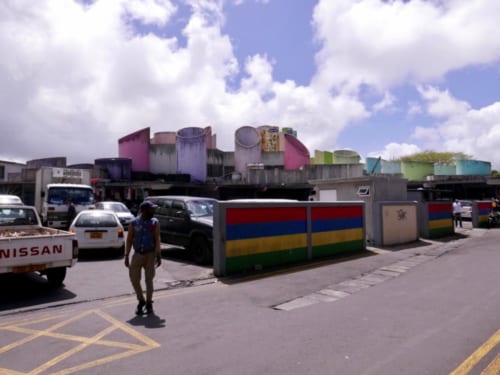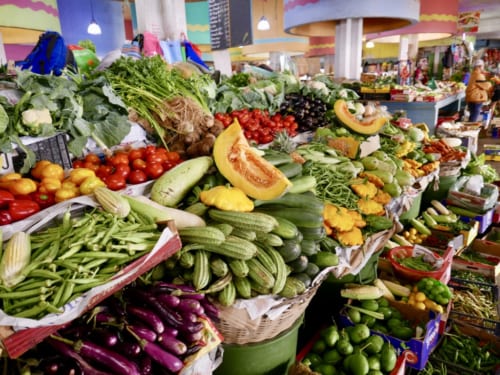 Its crowded today, probably because the central market is closed.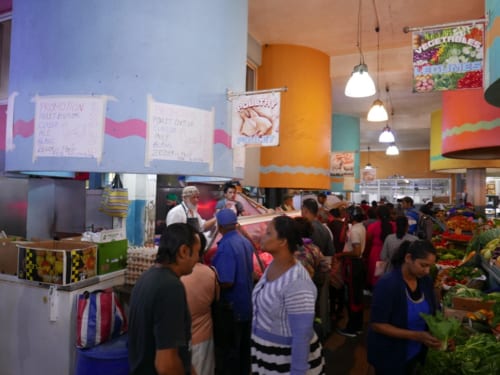 Next to the market is an arcade style alley of shops, selling clothing and other items. The location is almost in the center of the island and access is good, so besides the locals, many tourists visit this place.
The farmland around Curepipe is not cultivated with sugarcane, as is common in Mauritius and other tropical places, but taking advantage of the cooler climate, there are many tea plantations, as well as farms growing cabbage and potatoes.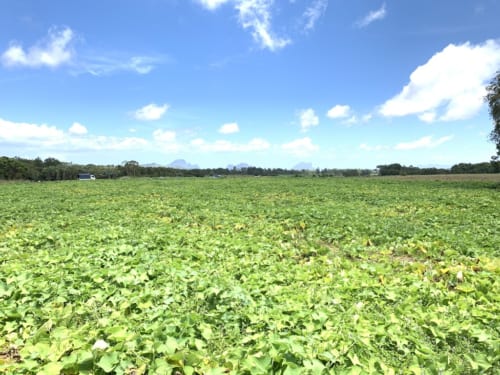 "Trou aux Cerfs" is an extinct volcano in Curepipe.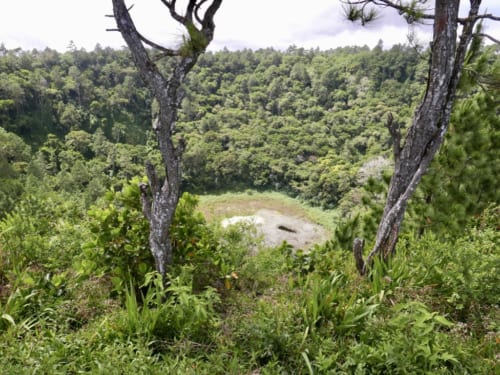 Here there were no shops, just a gentleman with a parasol hat and the Mauritius flag on his head, selling dodo figurines to tourists.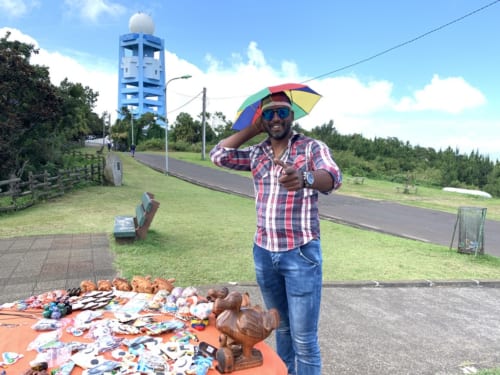 Mare aux Vacoas, the largest reservoir in Mauritius, was built in 1885. It's a freshwater lake about 9 minutes by car from Ganga Talao.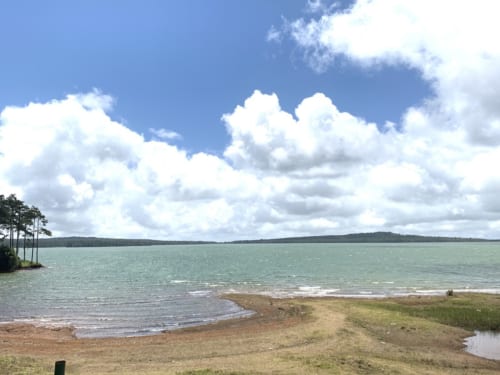 Gorge de Riviere Noir National Park(Black River Gorges National Park) 。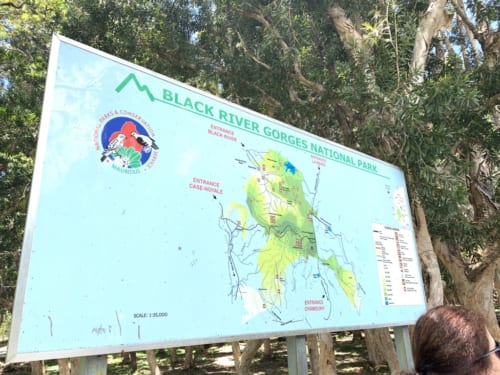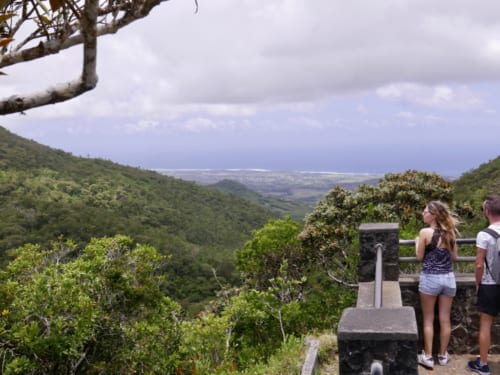 There used to be an observation deck to see the waterfall, but the stairs had rotted away and could it no longer be used.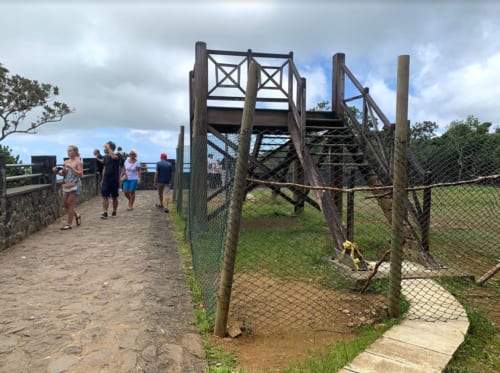 There were no shops here either, just a van selling ice cream etc. in the parking lot.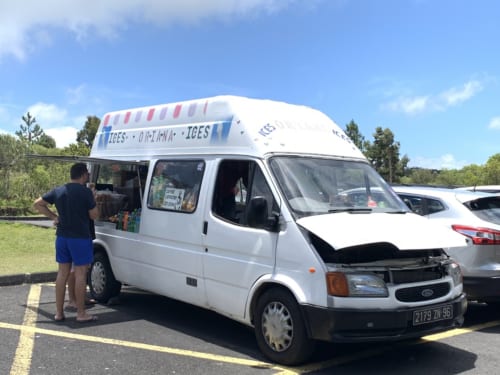 ---
◆How to Purchase a SIM & Test the Internet Speed
SIM cards can be bought at the airport or in town. The communications company was "EMTEL", but I couldn't see their homepage.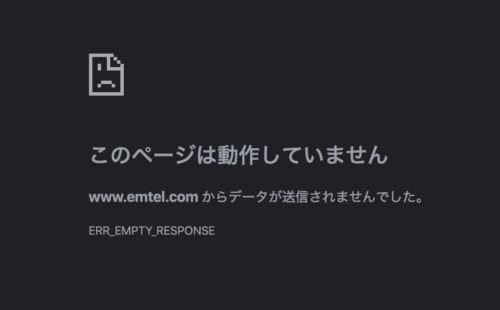 We bought it at a gas station near the airport.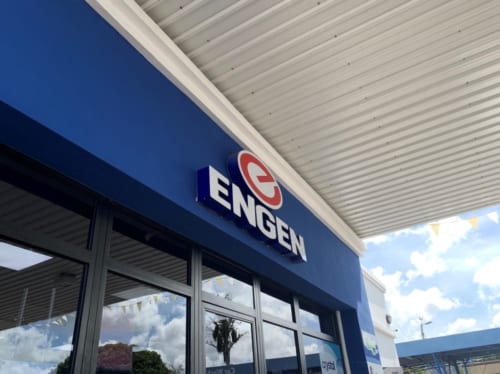 3GB for 7 days, and the price was 559MUR. Although the clerk set it up, it didn't work and I couldn't check out the speed etc.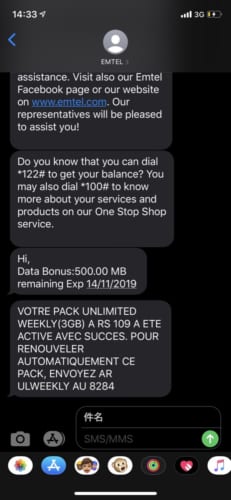 Softbank roaming was 870kbps, and the hotel Wi-Fi environment was 34Mbps.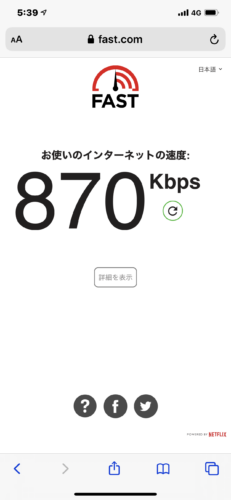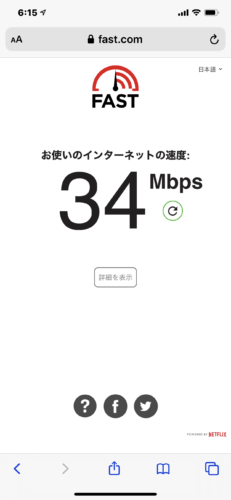 ---
◆Finding ".mu" Around Town
I found the ccTLD for Mauritius ".mu" around the city. The ".mu" domain registry was changed from "Internet Direct Ltd." to the current registry "Information and Communication Technologies Authority" in 2007.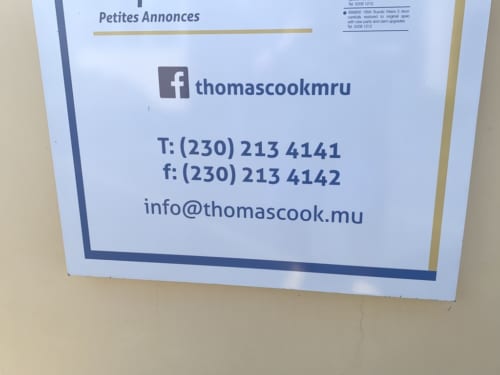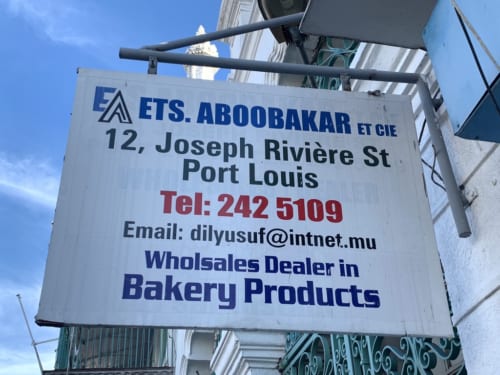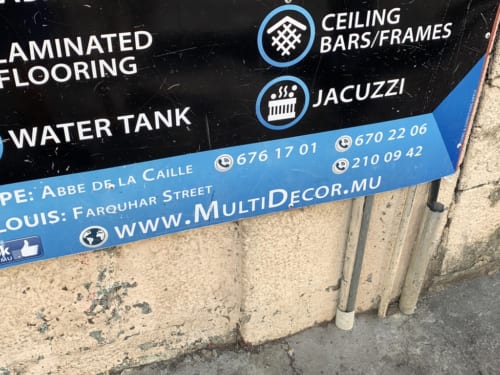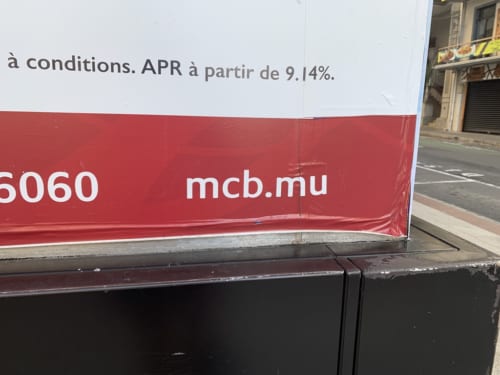 Heading back to the airport to leave Mauritius for our next destination, the taxi driver Rakesh told us that Mauritius has no medical fees. Certainly, "Government Hospital" a public hospital, is basically free of all fees for medical treatment, examinations and medicine. Even travelers can go for free. However, private hospitals labeled "Private Clinics" and "Private Hospitals" are not free. In the event of an emergency, such as a car accident, you will be taken to a public hospital by "SAMU" (an ambulance service for public hospitals). Then, if you want, you can be transferred to a private hospital, with better equipment, facilities and services.
※reference OTOA Safety information by city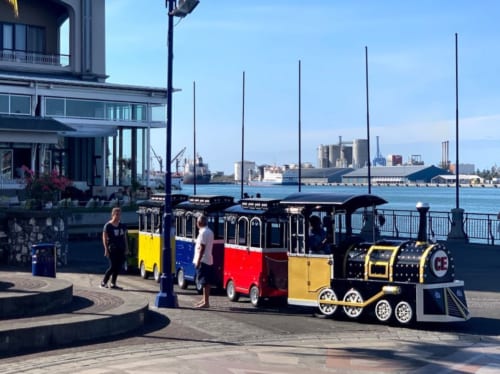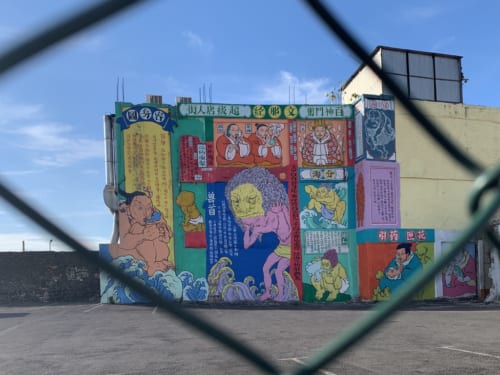 I'm not sure if I really got a glimpse of heaven, but I would love to go back to Mauritius at a time other than election time.
---
■List of Places Visited
■ For access to Mauritiusclick here