In spite of the fact that the Seychelles are not well known in Japan, they happen to features in many song titles by Japanese artists. For example "Seisheru no yūhi" (Sunset in the Seychelles, by Seiko Matsuda), "Seisheru – Umi No Seijya" (Seychelles – Saints of the Sea, by Southern All Stars), "Akogare No Seychelles" (Seychelles, the Islands of Longing, by Masayoshi Takanaka) and "Kochira Sēsheru Bakansu Shima" (The Seychelles, Vacation Islands, by Megumi Takamoto.) Often called the "Pearl of the Indian Ocean", I wanted to see if the sunset in the Seychelles was as beautiful as expected. The ccTLD (country code top level domain) for the Seychelles is ".sc".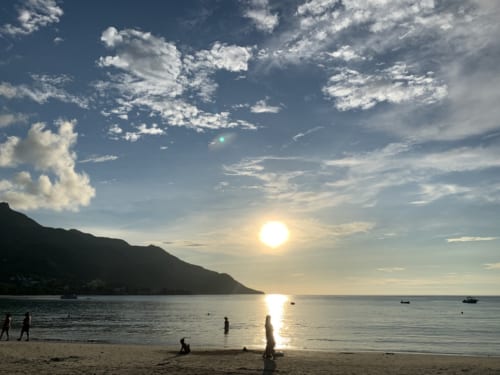 ◆Where are the Seychelles?
The Republic of Seychelles consists of 115 islands of various sizes, located in the Indian Ocean, about 1,300 km east of the African continent. Prince William, the Duke of Cambridge and Catherine, the Duchess of Cambridge, often visit the Seychelles and it is a popular destination for European celebrities. It's the only country in Africa that has an economy classified as "high-income" by the World Bank. The currency used is the Seychelles Rupee (SCR)
= Table of Contents =
---
◆Praslin Island – Lost Luggage and Pouring Rain
The quickest way to get from Japan to the Seychelles is via Sri Lanka. It takes 9 hours and 20 minutes to get to Sri Lanka, and about 4 hours to get to the Seychelles, for a total of 13 hours. However, we went to the Seychelles from our previous island destination, the Maldives (via Sri Lanka). Arriving just after 4 am, we were greeted by a lost luggage situation. This is the first time on the Domain Island Tour that luggage has been lost.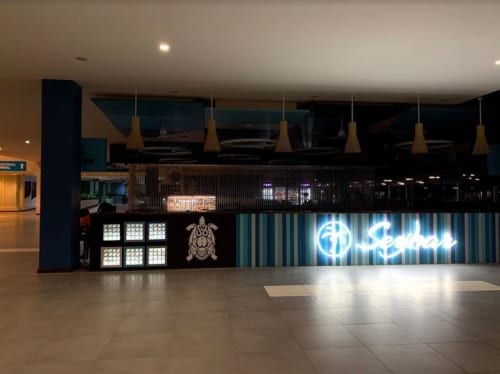 After finding out that the luggage was lost, and going through various procedures, we finally left the airport and headed for our accommodations. Although I booked a hotel which allowed early check-in (so we could take a short rest), when we got there the staff said: "No early check-ins…" We had no choice but to hang out in the hotel hallway, with no air conditioning, and not a word exchanged between us for about an hour. The rain just would never stop. Finally, in the middle of the pouring rain, we leave for Praslin Island, famous for its Coco de Mer palm trees. Here's a picture of Praslin Island from a travel site.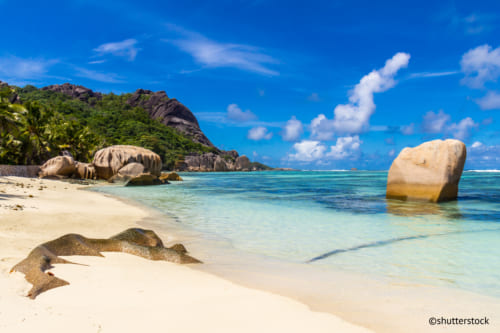 The boat we rode, the "Cat Cocos" could be booked in advance from Japan. The cheapest economy class ticket you can buy is 100 Euros round trip.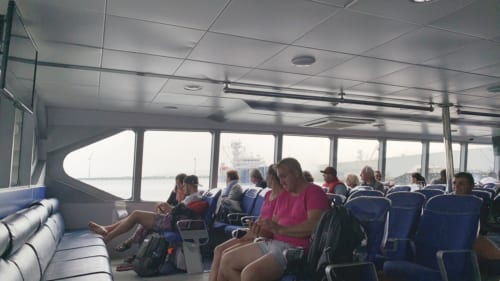 The rain keeps pouring down and the sea is rough. It doesn't feel like we are headed for the beautiful coast lines of the famous Praslin Island. In fact, when I started to think about other places where I'd hit bad weather, like when I had to extend my stay in Samoa, and also about the clothes and the drone that were in the lost luggage, I started getting seasick.
On the boat, there were TVs showing hidden camera tv shows from overseas, but I felt too ill to watch.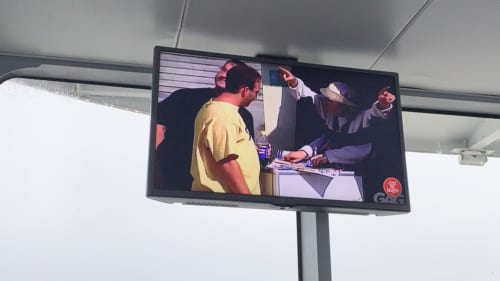 About an hour from Mahé Island, we arrive at Praslin Island, which is the second largest island in the Seychelles, after Mahé Island. It has an area of 38 km2 and a population of about 6,500.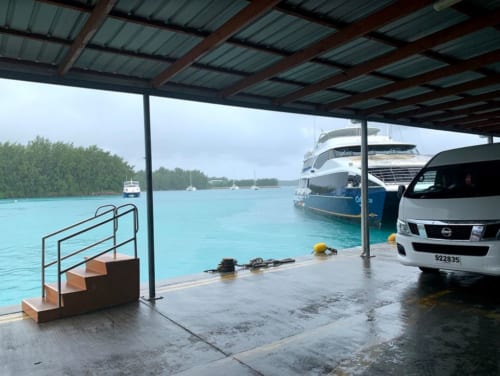 You can only use local currency at the port market stalls. But don't worry, there are many places nearby to exchange U.S. dollars, Euros and Pounds.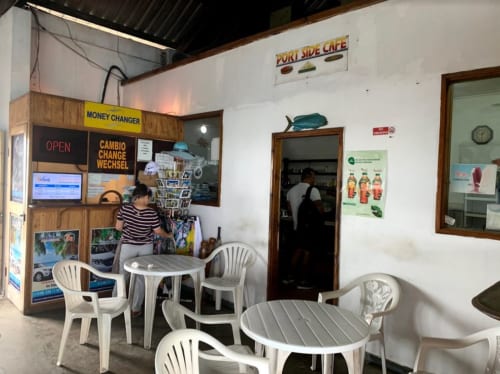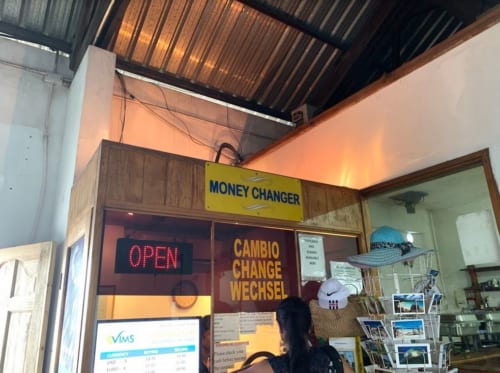 There was also a place to arrange tours, rent cars, or rent bicycles.
Taxis can also be arranged. Of course, you can go from Praslin Island to other islands by ferry or boat. We booked a taxi and asked to be taken around the island.
The vehicle was a Suzuki. The driver really loves it, he said: "This car is perfect for driving around Praslin Island".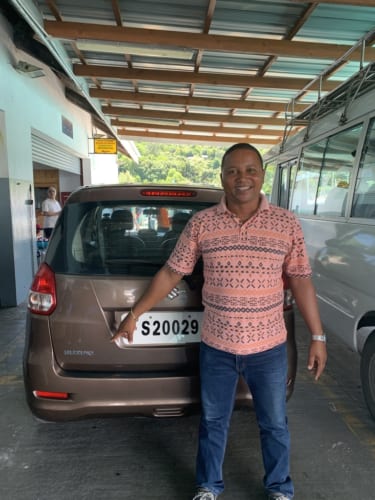 ---
◆Anse Lazio, the Best Beach in the World
The first place we visited was the "Vallée de Mai Nature Reserve" a World Heritage site in Praslin National Park. The park has both free areas and areas that you need to pay to enter. We stuck to the free areas.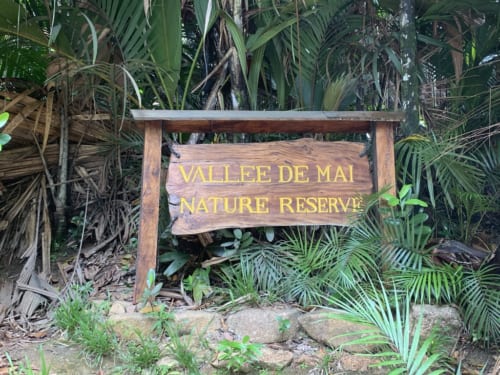 There is a legend that Praslin Island is the birthplace of Adam and Eve and the Garden of Eden. In the 19th century, General Gordon of England visited Praslin Island, and upon seeing the fruit from the female of the coco de mer palm, which looks like a woman's buttocks, and the catkin from the male palm which resembles the male organ, he decided these trees must be Adam and Eve. And so, he had Praslin Island made into a nature reserve.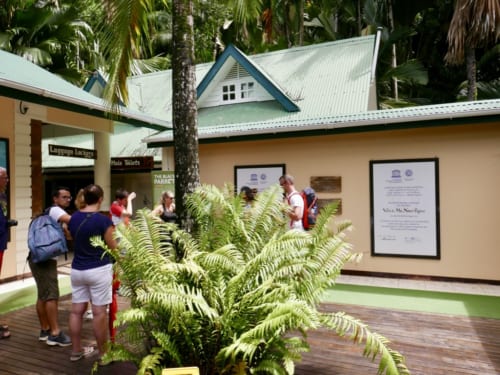 Suddenly I noticed that it had stopped raining! And I found coco de mer palms.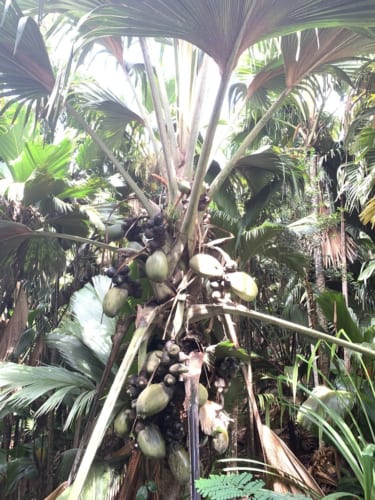 There are also displays in the visitor center (free of charge). The coco de mer is a rare palm tree that is only found on Praslin Island and Curieuse Island.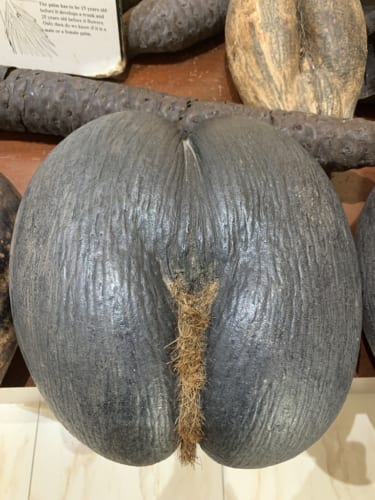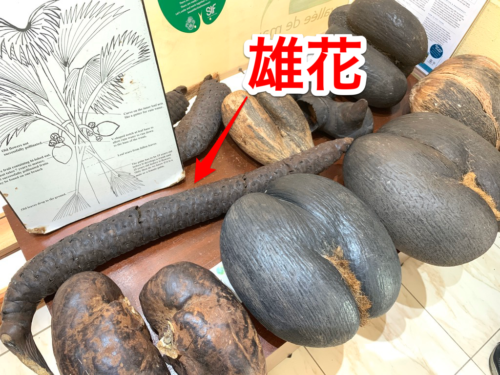 There are also some specimens of local creatures preserved in formalin.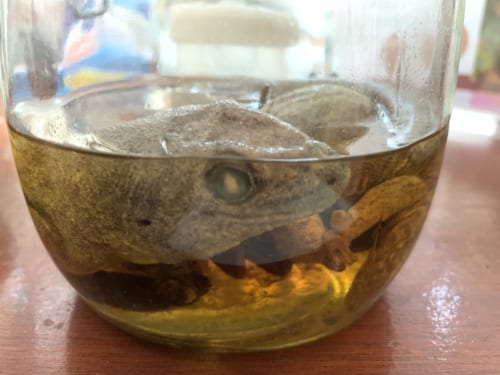 Our next destination in Praslin National Park is Grande Anse Beach, which was ranked no.1 on CNN's "100 Best Beaches Around the World".
Earlier, when I visited Grenada, I mistakenly thought the Grand Anse beach there (vs. Grande Anse Seychelles) had been ranked no.1 in the world, but actually it was ranked 30th. Now, finally I can see the real "no.1 most beautiful beach in the world" with my own eyes!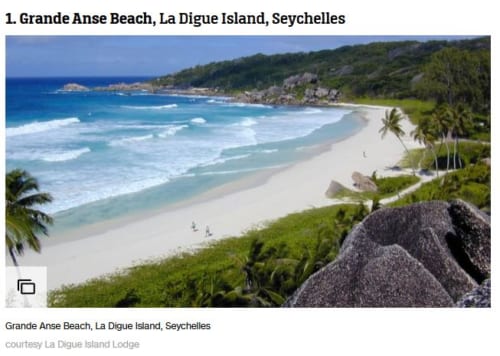 When I told the driver about what had happened, he said "Anse Lazio beach is more beautiful than Grande Anse Beach!" so we decided to go to Anse Lazio beach instead. Under a cloudless sunny sky that made it seem like the rain had never happened, we drove for about 20 mins. We arrive. Actually, the driver told us that even if it's raining in the morning, it often clears up by noon. And it rains a lot in October and November.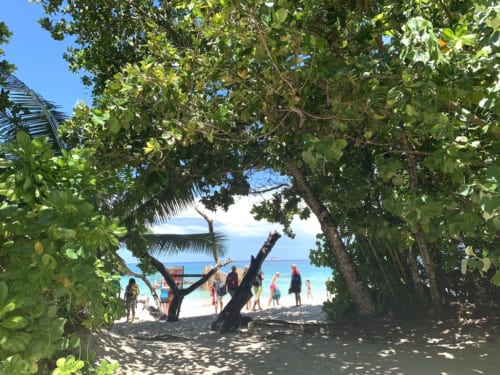 Ooh! No wonder the locals call it the most beautiful beach! Anse Lazio when pronounced by local sounds like "ansrazio". Anse means cove or small bay in French.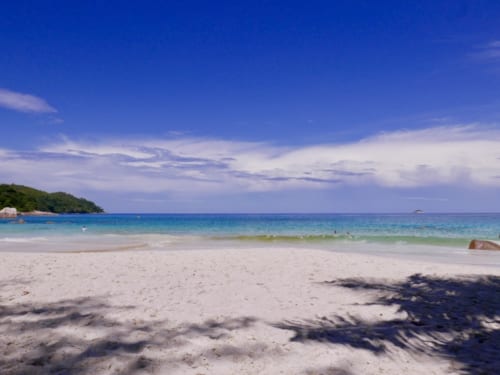 After enjoying the beach, we had lunch at a nearby restaurant.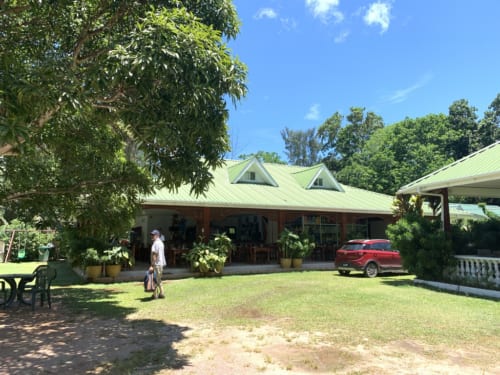 I ordered an Octopus Burger (315 SR), Shrimp Fritters (480 SR), Octopus Curry (475 SR) and a Sey Pearl (55 SR).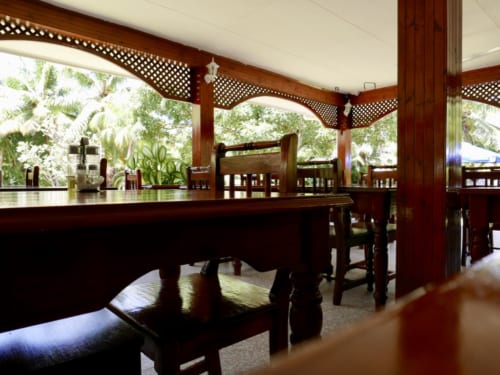 The octopus burger doesn't have a meat patty, it has sautéed octopus sandwiched in a bun and not a whole lot of that considering the price.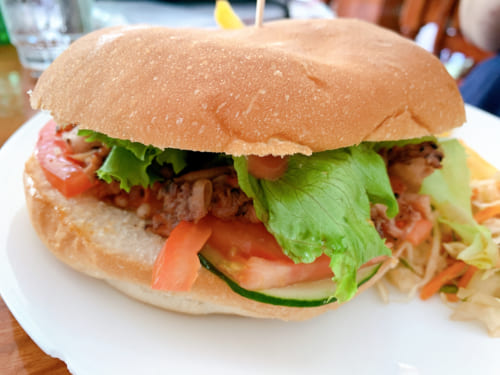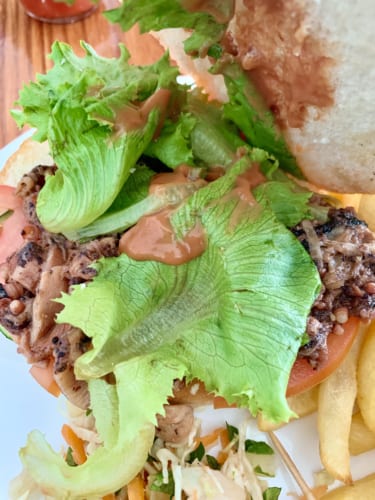 It seems that octopus curry is eaten almost daily here. Later, when I asked the taxi driver on Mahé Island about this, he said that on Mahé, octopus curry costs about 240 SR, which is nearly half of what it costs on Praslin Island.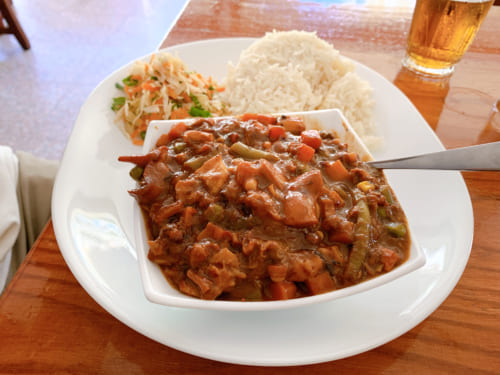 Sey Pearl is a brand of ginger ale from the Seychelles.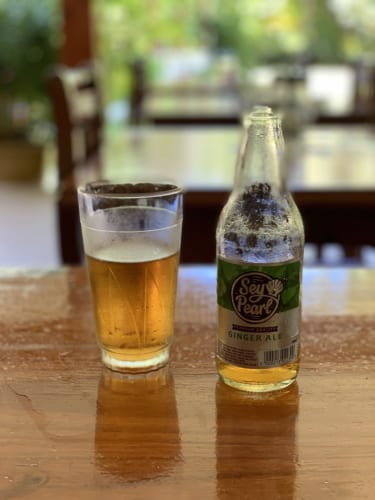 Shrimp Fritters. They tasted exactly as delicious as they look.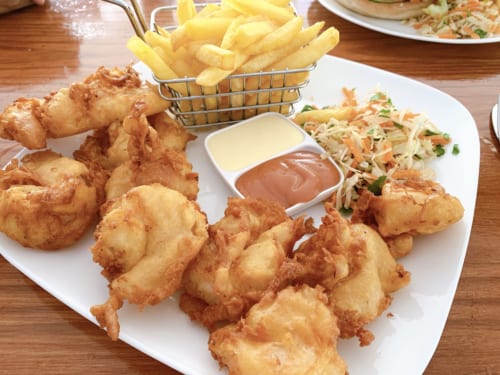 Did someone get walled-in with their butt sticking out?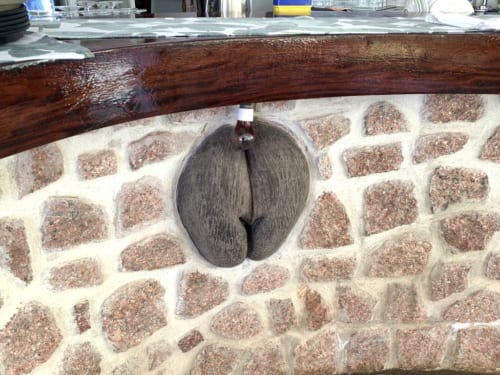 According to our driver, there is also a beach named Grande Anse on Mahé Island.
So actually, I still wasn't able to see the beach ranked no.1 by CNN. But, since a local told me that Anse Lazio is much more beautiful than Grand Anse Beach, I feel satisfied that I saw the most beautiful beach in the world.
There were many beautiful little fish in the water, so I fed them some breadfruit chips I bought in the Maldives.
---
◆Finding the Phantom Convenience Store "SPAR"
Before going to Mahé Island, we first stop by Eden Island. Located 3.5 km from the capital Victoria, Eden Island is a man-made island created in the 2000s. The main industry on this island is tourism, and its famous for its shopping mall Eden Plaza, and luxurious residential areas.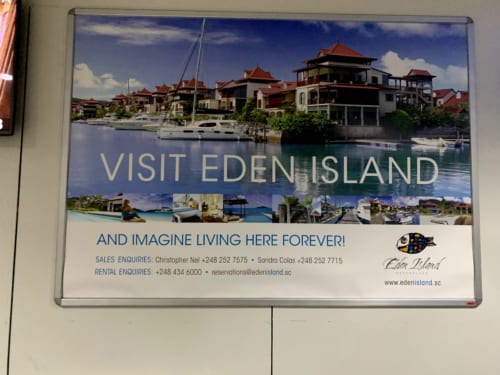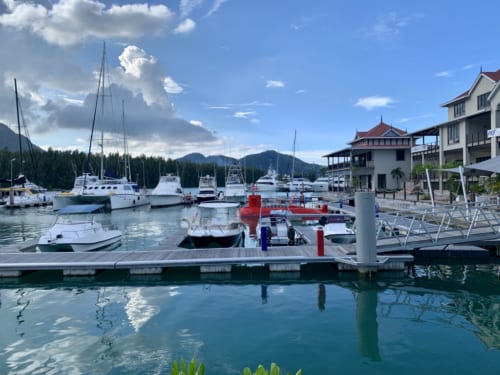 We go to check out a luxurious residential area.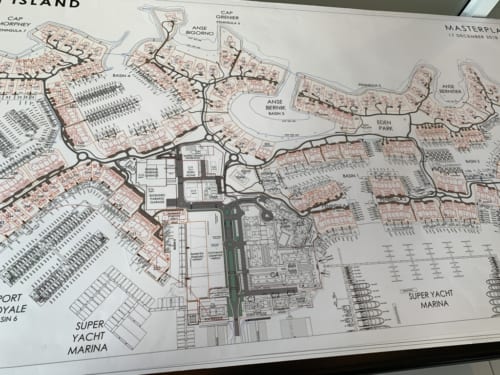 We arrive at the gate of one of the residential areas.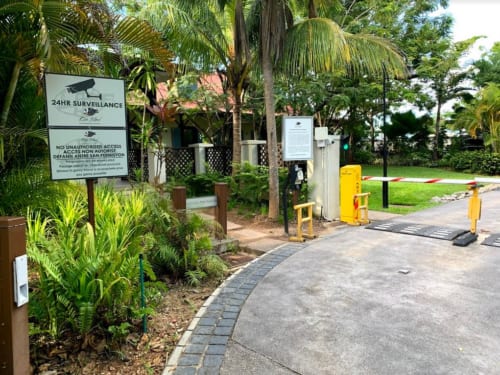 To enter, you need ID. No outsiders are allowed.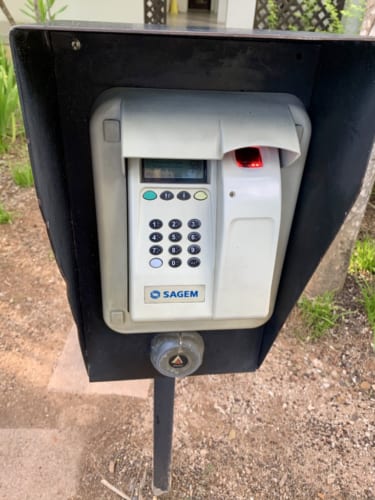 So, we moved on to Eden Plaza, where the residents of the luxurious residential area go shopping.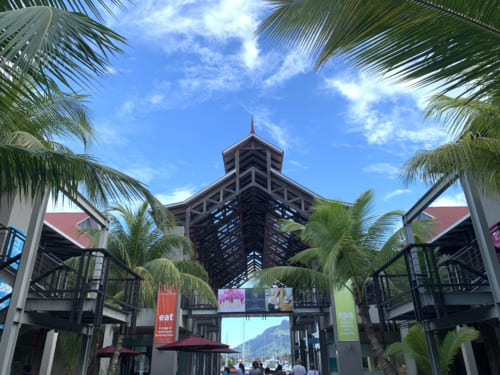 A Japanese anime character, "Arare-chan" is posted by the frozen yogurt shop. What is that thing she is holding up?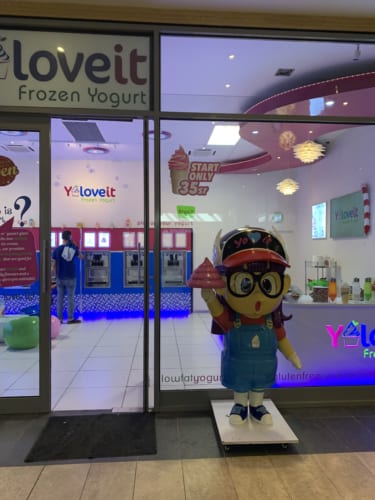 Continuing our walk, we see a familiar convenience store.
It's SPAR! Let's go buy something!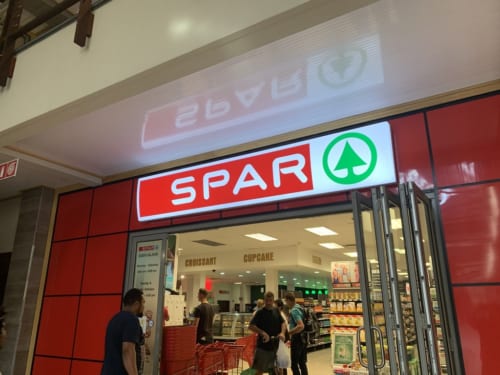 When you enter the store, you need to leave your bags in a special locker.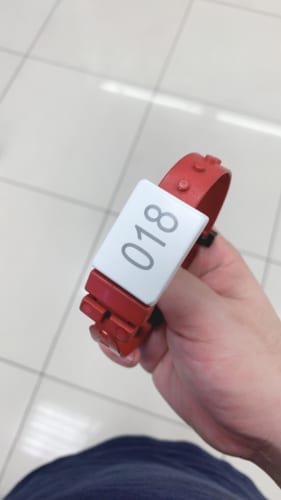 I bought a plastic bottle version of Sey Pearl (22 SCR) and Doritos (9.90 SCR). SPAR can no longer be found in Japan, in fact, when I checked, it seems the company completely withdrew from Japan in 2016.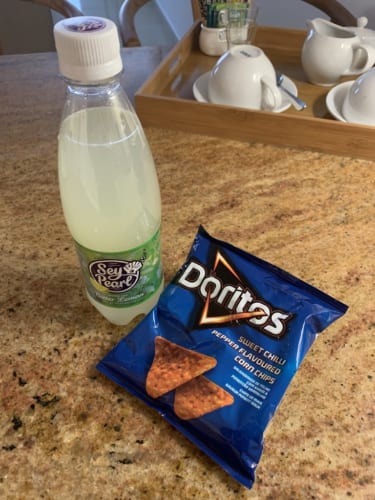 ---
◆Sunset in the Seychelles
Next is Victoria, the capital on Mahé Island. Mahé Island is 153 km2, and accounts for 1/3rd of the land of the Seychelles and about 80% of the population. The name of the island comes from a French governor of Mauritius, who sent an expedition to the Seychelles.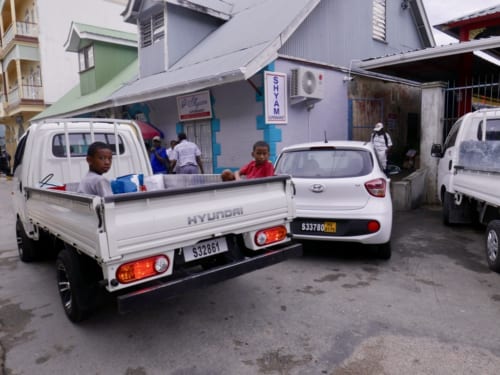 When I asked one of the waiting taxi drivers to "take us to a spot with a good view of Victoria" he agreed with an "OK, boss."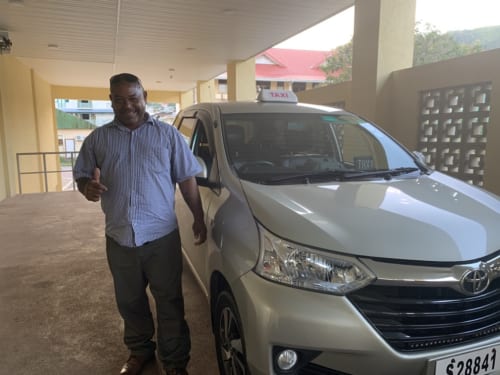 Heading to the scenic lookout, we come across something remarkable. "This is the 'Arul Mihu Navasakthi Vinayagar' temple. In 2018, someone stole the golden decorations, but was caught." the driver told us.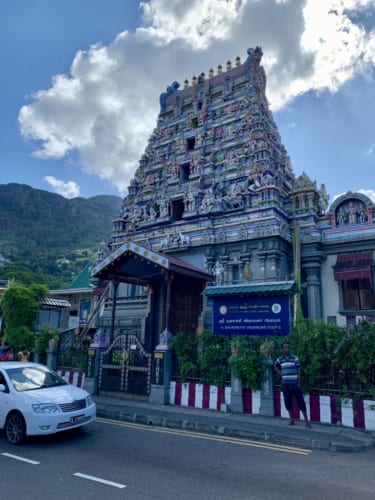 We resume our drive up the mountain.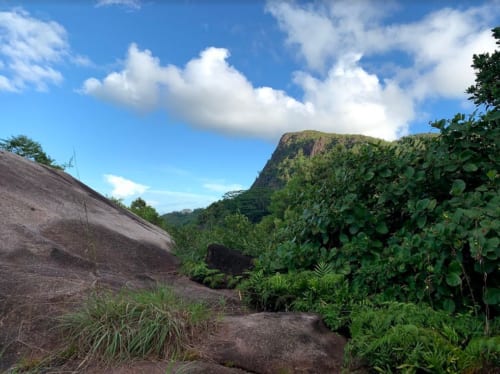 I spot a strange looking bird.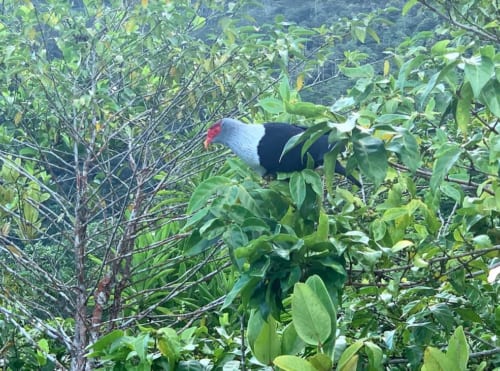 After a while, the driver stops. This doesn't seem a likely spot for a scenic view.
"This is a breeding place for tortoises. Let's take a look" he says.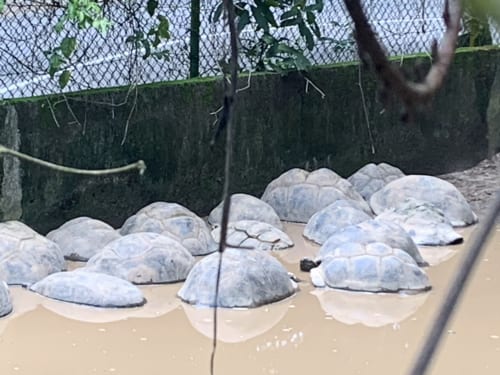 There are many turtles, but it seems the place is run by a private company. These are tortoises (Japanese: Rikugame) but the family as a whole is called the turtle family (Japanese: Kame). By the way, there was no information about this place on Google maps.
ROTCHON dam scenic area (Seychelles) – Spherical Image – RICOH THETA
We arrive at Rochon Dam Viewpoint, the view point recommended by the driver. It was sunny and clear; we could see Eden Island and other distant islands (probably Praslin Island) as well. Although only a small island nation, the Seychelles has a military made up of about 400 soldiers. But no navy. In lieu of a navy, there is the Seychelles Coast Guard, made up of the Seychelles People's Defense Forces.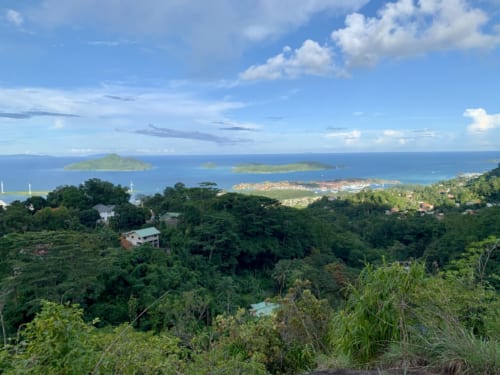 It's time to go and see a spectacular sunset. When I said to the driver "I want to see a gorgeous sunset!" he took us to Beau Vallon Beach.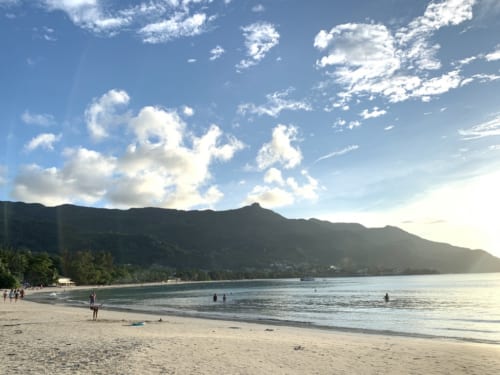 Finally, I was able to see the long awaited "Sunset in the Seychelles". This is the title of a song sung by popular Japanese singer, I felt so happy experience it for myself.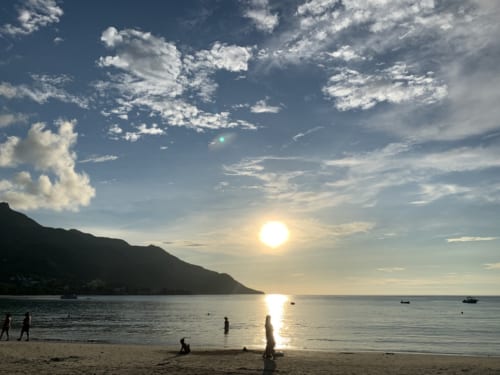 After leaving Beau Vallon Beach, we were hungry and searching for somewhere to eat in the city. We found an electric sign board with the words "Italian Pizza."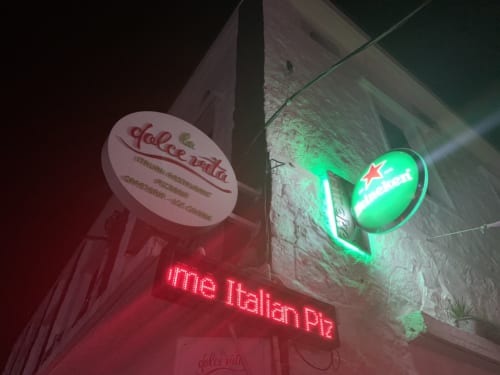 Upon entering, we see that besides Italian pizza, there's a corner of the shop dedicated to ice cream. It's called "La Dolce Vita." It seems that this place has been featured in Japanese travel shows talking about overseas resorts.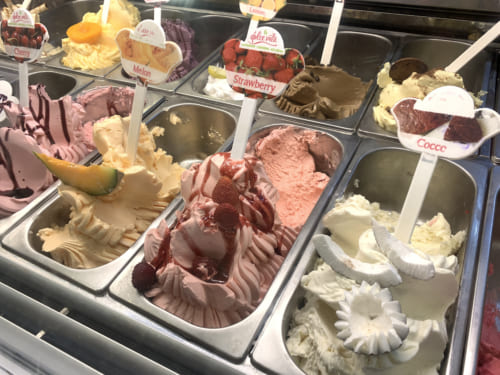 At the ice cream counter, I order a vanilla bean parfait (195 SCR), a specialty of the Seychelles. This parfait in the Seychelles was very expensive, about 1,600 Yen, but it was so worth the price.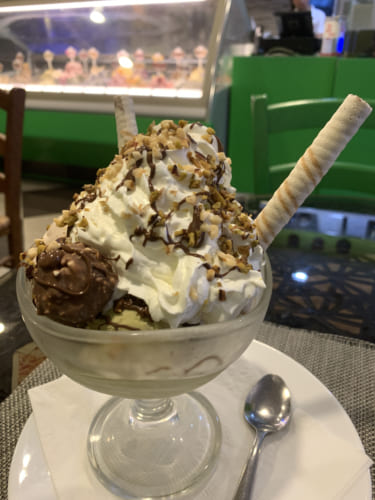 This super long day is finally over. When we got back to our accommodations, the lost luggage had arrived! Thank goodness!
---
◆How to Purchase a SIM & Test the Internet Speed
You can purchase an Airtel SIM that can be used for 30 days, with 1.5GB, at a convenience store like the one in Eden Plaza. It was 299 SCR.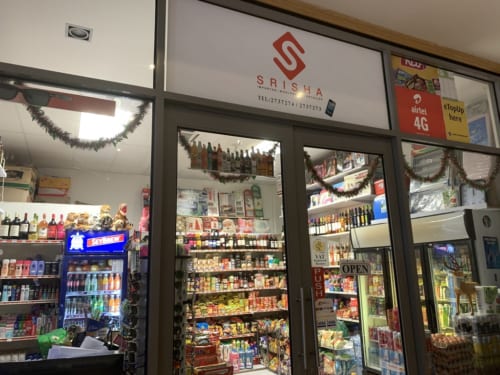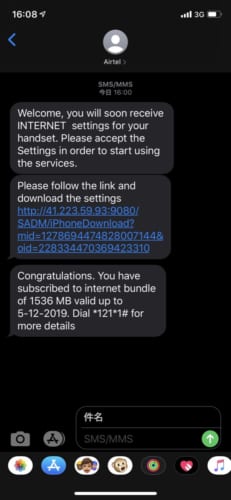 I went directly to an Airtel store, but it was closed and I couldn't get the SIM.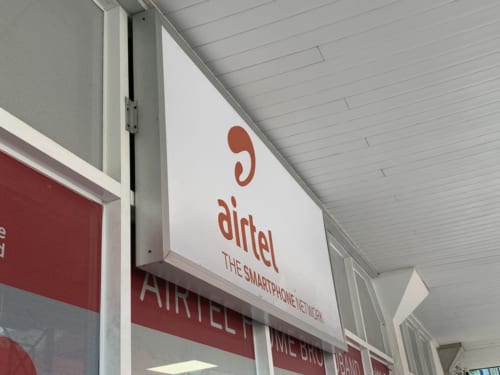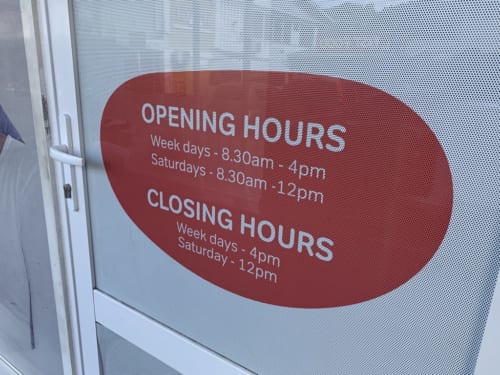 The speed was good, without any problems.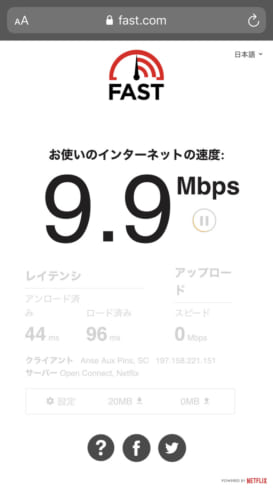 I found the ccTLD for the Seychelles ".sc", being used on Mahé Island, Praslin Island and Eden Island.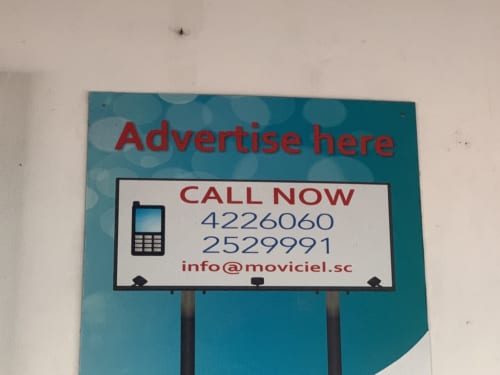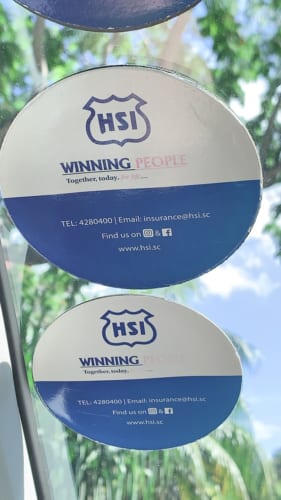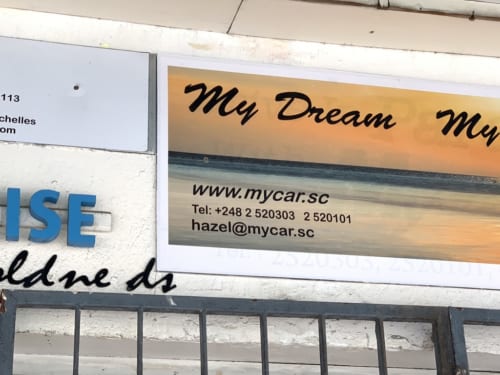 ---
■List of Places Visited
■ For access to the Seychelles

click here
■For ".sc" Domain details

click here