A British territory, Saint Helena is known as the island where French emperor Napoleon Bonaparte was exiled until the end of his life. A more recent hot topic, Google announced that the latest technology would be used to lay undersea cables to St. Helena. After the domain expedition to Ascension Island where I investigated the one-ring-international-call hoax, now I am exploring the little known charms of St. Helena.
Sponsored by Interlink Co., Ltd. which deals with more than 1,000 Top Level Domains (TLDs) around the world, the Domain Island Tour is currently focused on about 50 types of "Island Domains" in the South Pacific and Caribbean, such as ".cc" ".tv" ".sx", actually going to the these islands and reporting on their features.
◆Where is Saint Helena?
St. Helena, a British Colony, is a volcanic island located in the South Atlantic Ocean, 2,800 km from the west coast of Africa. It is only 122 square kilometers. It is also called a remote island. Administratively, it belongs to the British Overseas Territories of "Saint Helena, Ascension and Tristan da Cunha", and the official language is English. The currency is the "Saint Helena Pound" (SHP), but British Pounds can also be used without any problem. All pound signs in the text are British pounds. One pound is about 141 yen (as of December 2019).
---
= Table of Contents =
---
◆Trouble in Johannesburg
From Japan, I head for the island St. Helena via Singapore and Johannesburg. In times past, it was only possible to get to Saint Helena by sea, once a month the Royal Mail ship went from Cape Town, South Africa, to Saint Helena, going 15 knots / hr. (28km / hr.), it took 4 nights and 5 days. However, since October 2017, Airlink has been scheduling flights from Johannesburg Airport to Saint Helena once a week.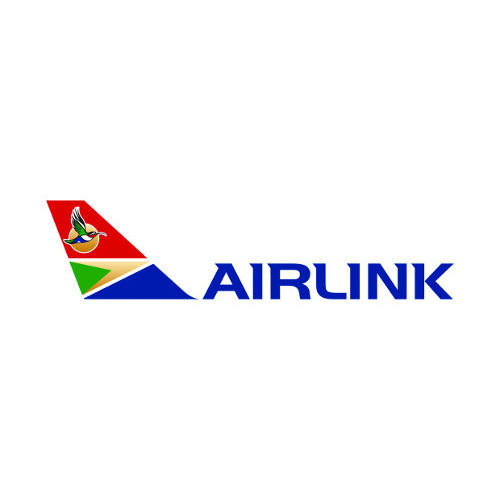 Everything went fine until I got to Johannesburg. When leaving for St. Helena there was a problem at the O. R. Tambo International Airport in Johannesburg. For people going to St. Helena, it is mandatory to have overseas travel insurance. Our company credit cards have overseas travel insurance so I showed the lady at the check-in counter my credit card. But she just ignored the card, and said to me: "Show me your certificate." I tried my best to explain in English, but her face was like a stone. She kept repeating: "You can't go without a certificate."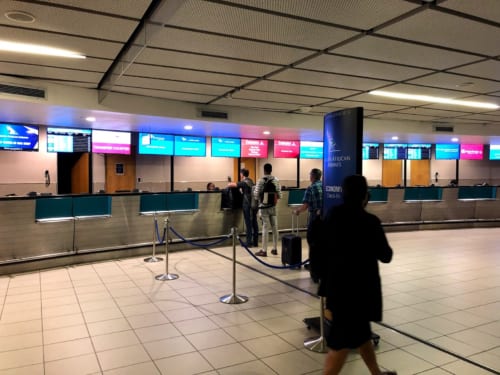 Of course, there's no way to present a certificate, so eventually I was able to find the location on the credit card site where it stipulates the compensation for accidents etc. and finally, she let us go. Of course, it may depend on who you get behind the counter, but I recommend printing out your insurance documents (insurance certificate) in English, just in case. The internet connection (Wi-Fi) at the airport was good.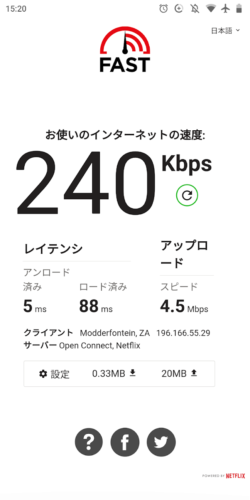 We finally got to the boarding gate for our flight to St. Helena. We made it in time. By the way, Johannesburg has a city domain name ".joburg".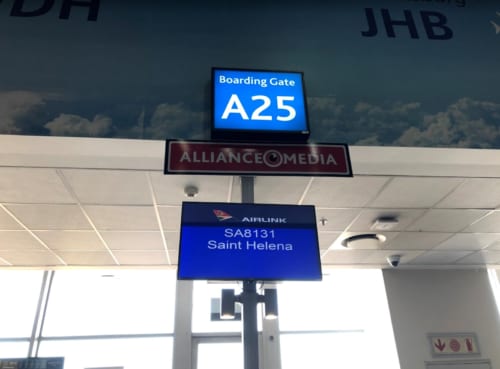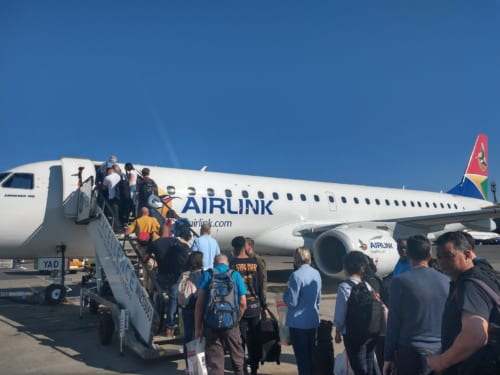 ---
◆Refueling and Arrival at the "World's Most Unusable Airport"
Two hours from Johannesburg we needed to refuel, so the plane stopped at Namibia's Windhoek Hosea Kutako International Airport in the middle of the desert.
When we landed, they opened the airplane hatch, and lowered the gangway ladder. "We can get off and see the airport in the desert! I'm so excited."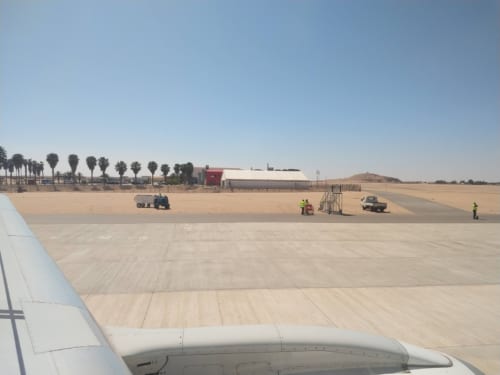 Then the flight attendant tells me I can't get off. Well, so the refueling goes on. All in all, it took about an hour to refuel. By the way, the ccTLD for Namibia is ".na".
An hour and 15 minutes from Windhoek Hosea Kutako International Airport, we arrive at the St. Helena International Airport. Just built in 2017, it's a modern and beautiful new airport.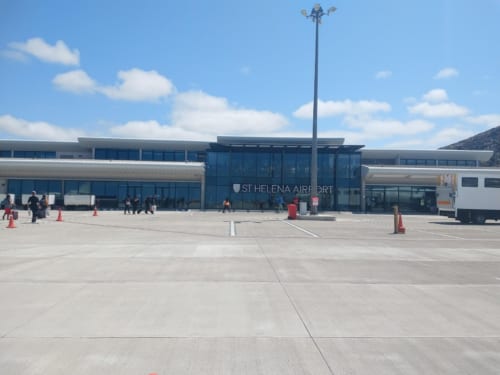 There's an immigration tax of 20 pounds (about 2,800 yen) to enter the country. The entry stamp has birds and the departure stamp has a turtle. Very cute. This island has the world's oldest giant tortoise, named "Jonathan". Immigration taxes can also be paid in Euros, US dollars and South African Rands. Although the line for screening resident is crowded, the one for visitors is almost empty. There are not many tourists.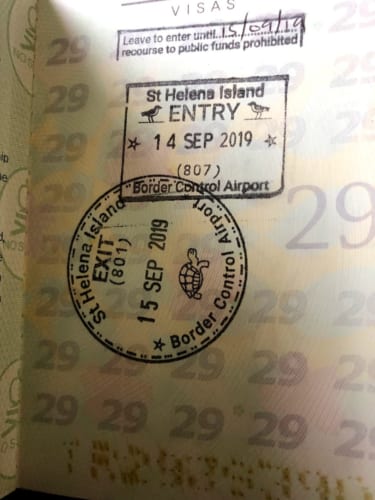 Souvenir mugs, coffee and chocolate are sold in the airport shops. Very different from Ascension Island airport, where there are no souvenirs for sale. There are also snacks and juice, it seems no different from an ordinary airport. Why was it called "the most useless airport in the world"? Well, because the airport took over 5 years to build, at a cost of about 285 million pounds (about 40.6 billion yen). It was supposed to open in 2016, but strong winds, which made taking off and landing more difficult than expected, delayed the opening ceremony. After more than a year of test flights and re-thinking things, the problem was finally solved by changing from the originally planned Boeing 737 to Embraer 190.※参考 AFP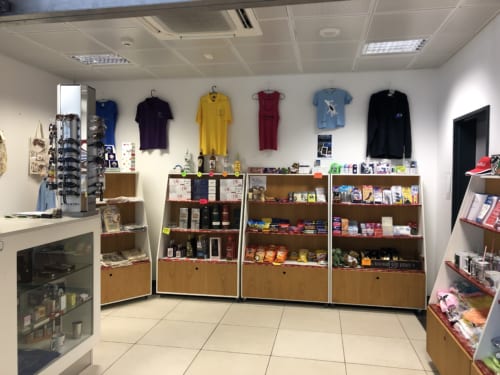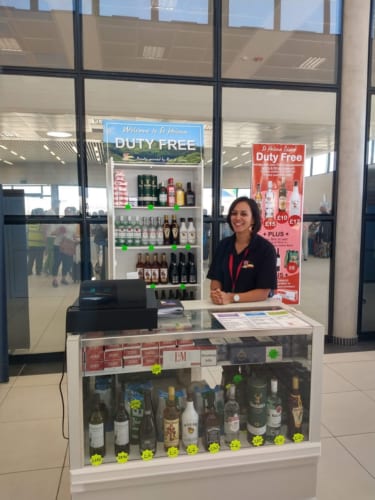 ---
◆Can We Go Even Though its Closed?! Napoleon's House and Jacob's Ladder
Saint Helena is known as the island where French emperor Napoleon Bonaparte was exiled. Napoleon's mansion "Longwood House" is the most famous tourist attraction on the island. A 79-year-old veteran tour guide, Larry Johnson, took us to sightseeing spots and anywhere else we wanted to visit. The fees for Mr. Johnson were 200 pounds (about 28,000 yen) this was for 2 days, 2 people and included airport transfer and tip. We're going to go to Longwood House, which has been featured many times on travel shows.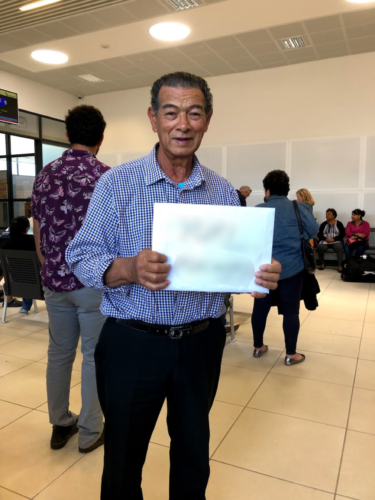 This is a volcanic island, and the airport is surrounded by magnificent rocks.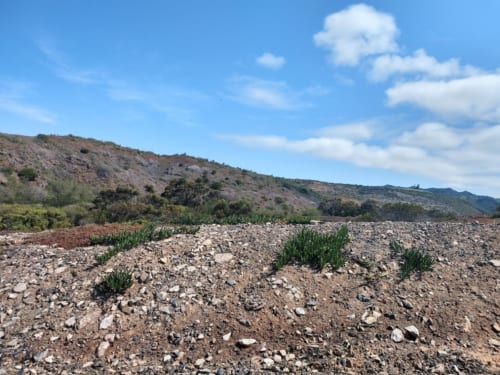 Gradually we get to areas with more greenery.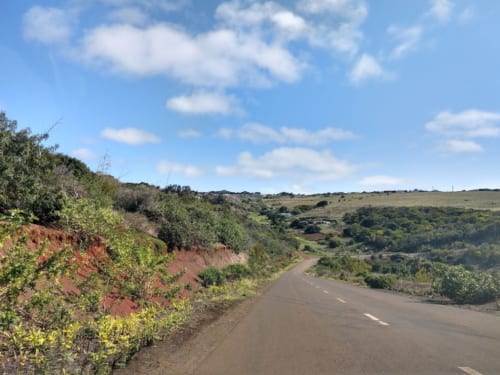 About 15km by car from the airport, I caught a glimpse of Jamestown, the largest town on the island. Built on a narrow strip of land in a valley with sides that go up about 150 meters, the population of Jamestown is around 600.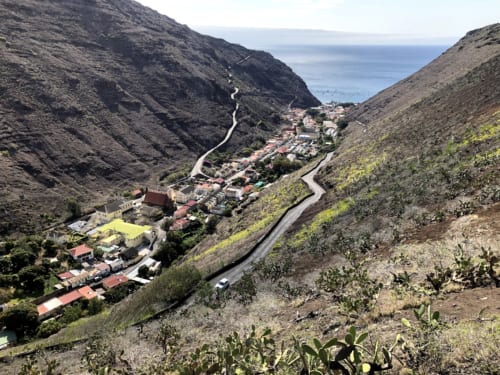 Exiled to Saint Helena in 1815, Napoleon lived at Longwood House until his death 6 years later. I was thrilled at the thought of entering Napoleon old home, but it wasn't open. It was closed the weekend of our visit…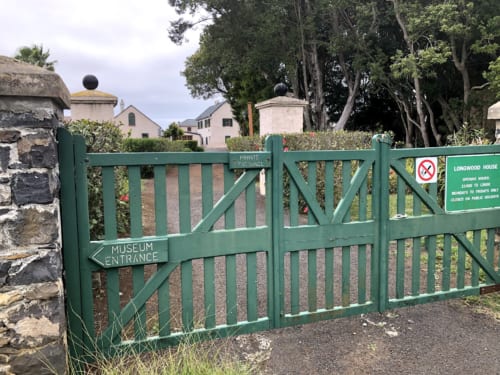 This is worse than the trouble in Johannesburg. But I don't give up so easily. After talking with Larry, for a special fee of 150 pounds, they will open it for us! The price of 150 pounds is fixed and then divided by the number of participants. So, for two people, it's 75 pounds per person. Open only from 11:00 to 13:00 on weekdays, admission is usually 10 pounds per person (about 1,400 yen).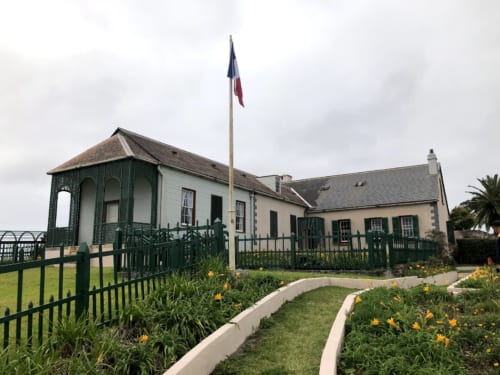 Unfortunately, photography is not permitted inside. It had Napoleon's favorite field bed, and his bathtub for his regular morning bath. Taking photos in the garden is allowed. Now under the control of the French Ministry of Foreign Affairs, the garden is beautifully kept.
Napoleon – Spherical Image – RICOH THETA
I bought a postcard at the Longwood House gift shop. I sent off right away and it arrived in Japan 24 days later.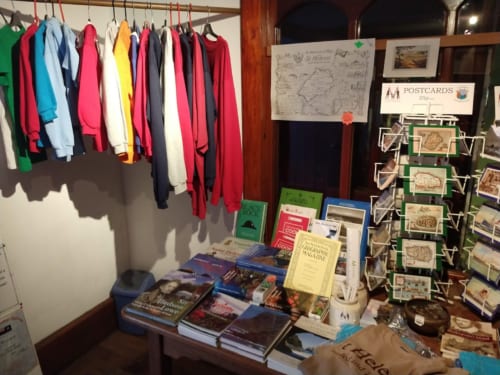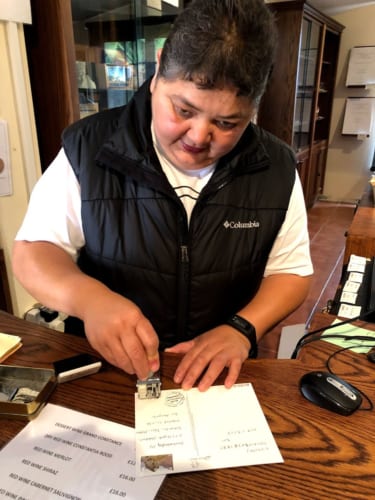 Comments left by previous visitors. There have only been a few Japanese besides us. Of course, there are not many people visiting such an isolated island.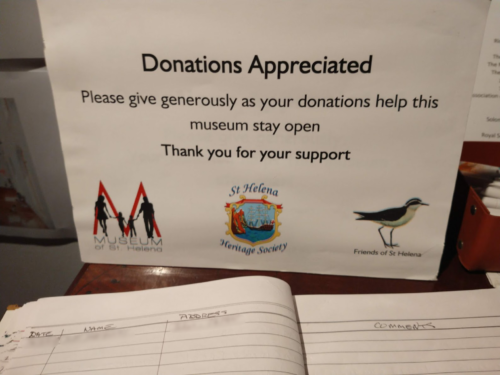 By the way, the boots Napoleon wore in St. Helena were sold for 117,000 euros (about 14.1 million yen) at an auction in Paris.
Jacob's Ladder is the second most famous tourist attraction after Longwood House. It's a staircase with a total height of 183 meters and 699 steps. First constructed as a sloped cableway by a railway operator in 1829, it was rebuilt as a staircase by the Corps of Royal Engineers in 1871 for the purpose of moving supplies.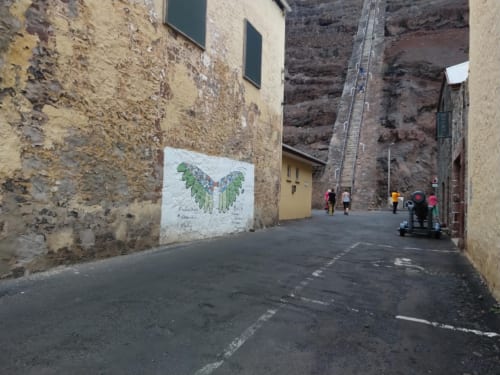 If you climb Jacob's Ladder, you can get a certificate of ascension at the St. Helena Museum next door. The issuance fee was 5 pounds (about 700 yen) for 2 people. The certificate will be sent to Japan at a later date. In addition to this issuance fee, you must also pay museum admission. It's a donation, so you can choose how much to put in. We put 10 pounds (1,400 yen) for two people. The museum, which opened in 2002, is housed in a power plant from the second half of the 18th century. There are many valuable old items, military uniforms, hats, and swords on display, telling the history of the island up to the present.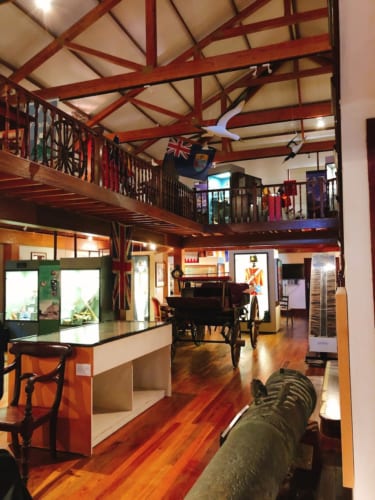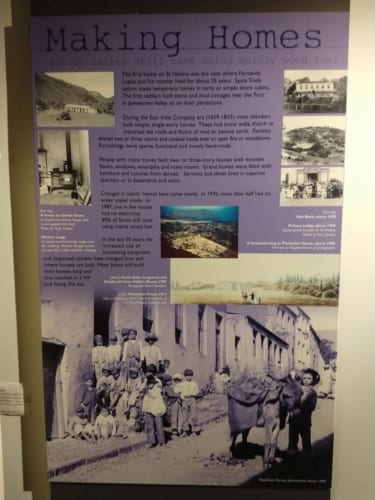 After completing the procedures to get our certificate of ascension, we finally face the challenge of the 699 steps. With my incredible leg muscles built up through the domain island tour, I figure about it will only take me about 10 minutes.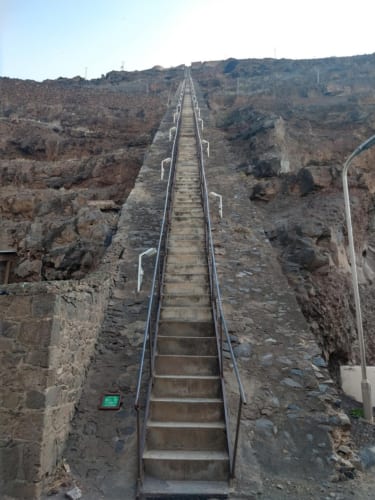 After climbing a bit, I looked down and my legs started to shake. After that, I was too scared to take pictures. I do not recommend this for anyone with a fear of heights.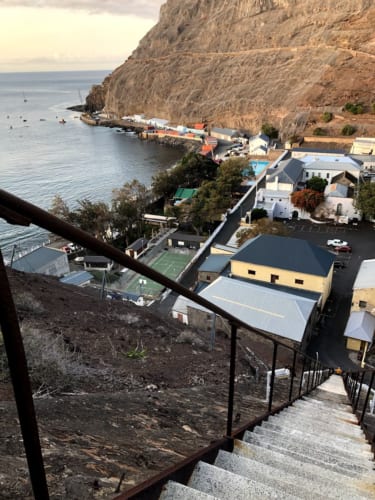 From the top of Jacob's ladder, you can see Jamestown far below. The 699 steps led us to an amazing view. All in all, it took about 15minutes to climb the steps.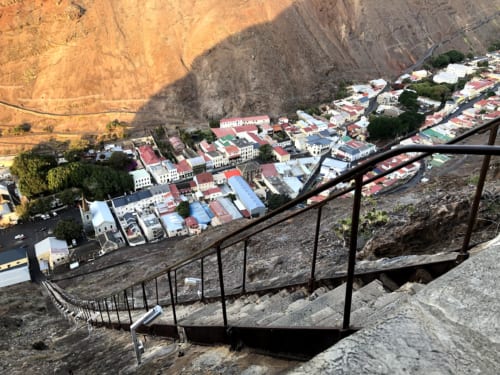 Jacob's Ladder(セントヘレナ島) – Spherical Image – RICOH THETA
Larry drove to the top and waited for us.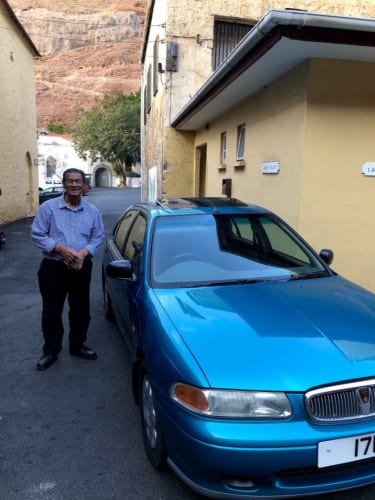 The certificate of ascension came 5 weeks after the ascent.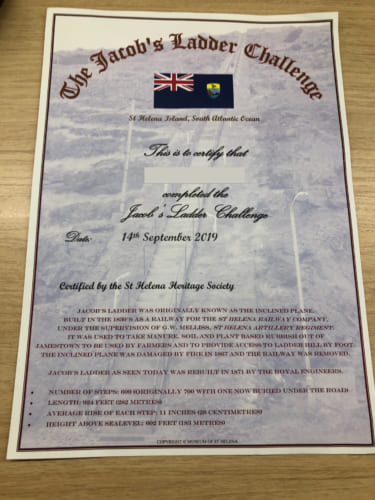 ---
◆This is where Google is Rumored to be Laying Undersea Cables! !
There's an exciting rumor in the news, that the government of Saint Helena invited Google to lay undersea cables in a project called "Equiano". The news doesn't mention the planned site for this big project. I heard from local people that the location is Sandy Bay. I decided to check it out.
We drive over hills and valleys, hills and valleys.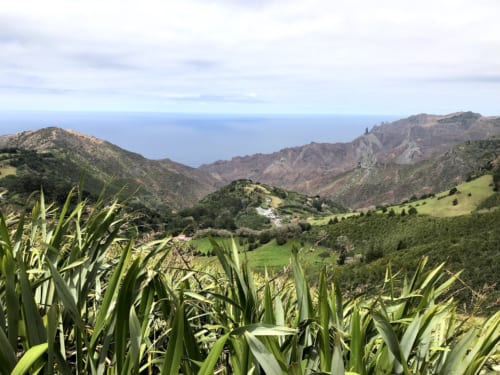 After we pass a coffee plantation,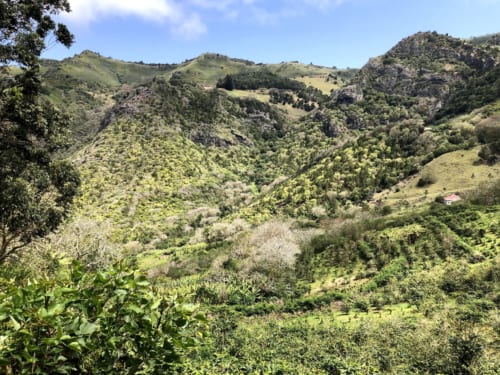 the road starts to get worse and worse.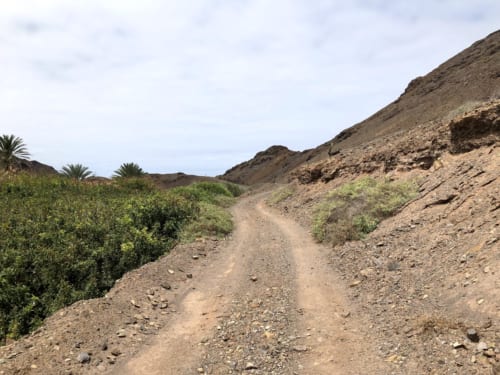 The road got so bad, it was impossible for Larry's normal passenger car to keep going, so we got out of the car at this point. And walked to Sandy Bay.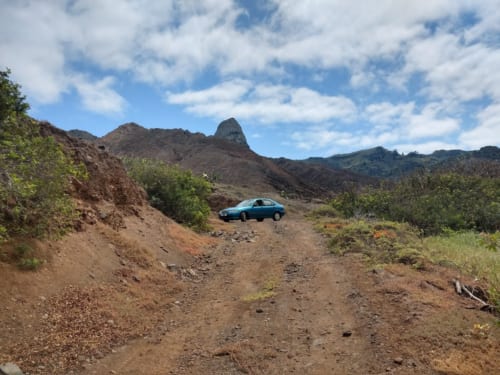 It was about 15 minutes' walk to Sandy Bay.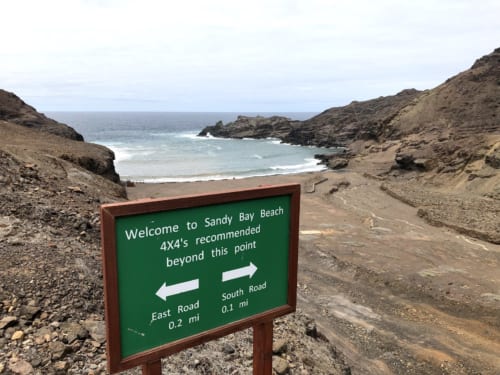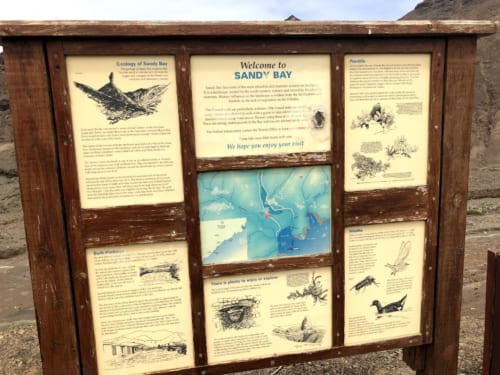 Strolling along the beach, is that a cable?!!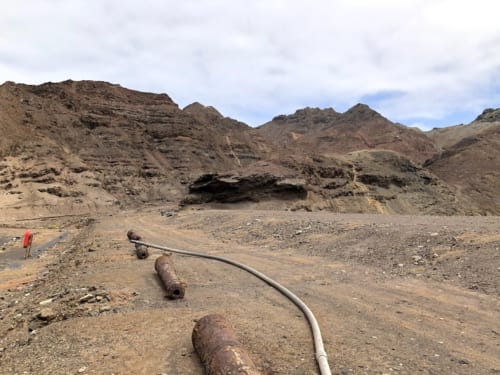 It seems to be some kind of hose, not a cable.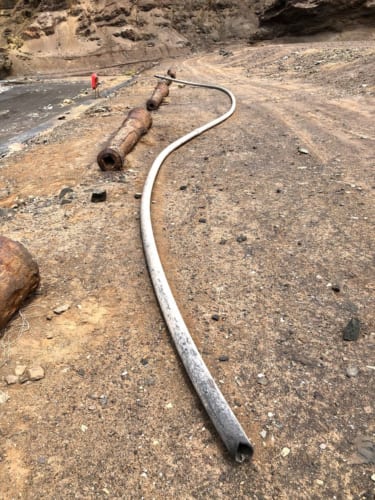 Ah, a mysterious floatation device.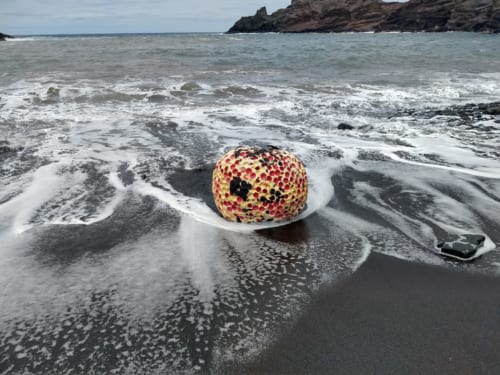 Well, there's nothing there yet, just a sandy beach, but the locals say this is the mystery location where the undersea cable will be laid. Maybe in the future, there will be a "Mid-Atlantic Cable Hub" that will lay undersea cables across the South Pacific via St. Helena.
Google海底ケーブル予定地(セントヘレナ島) – Spherical Image – RICOH THETA
---
◆St. Helena is Full of Haunted Spots
When I was looking at the map, I found a word I wasn't familiar with. It said "haunted house".
Larry said: "I don't know this place on the map very well, but there are a few haunted houses on the island, I can take you to one of them". So, we decided to take the "Haunted House of Oaklands Tour".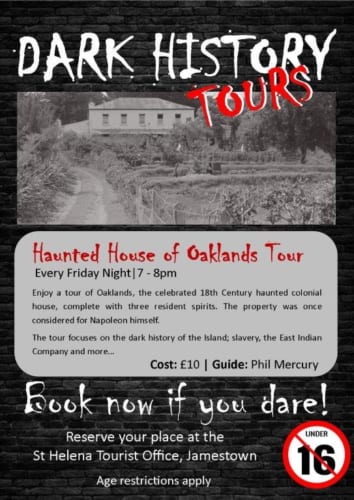 We decided to go after dinner, so it was dark when we headed out.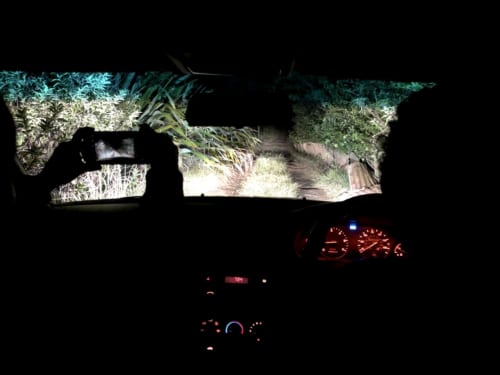 We arrive at the haunted house. The admission was pretty high, 20 pounds (about 2,800 yen).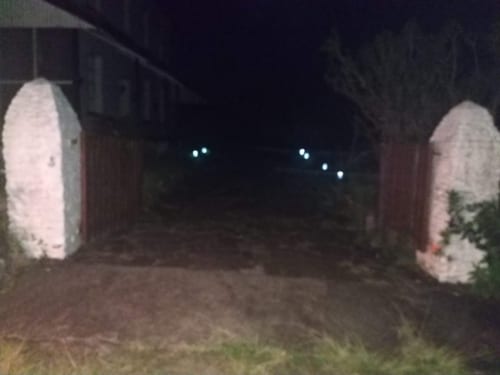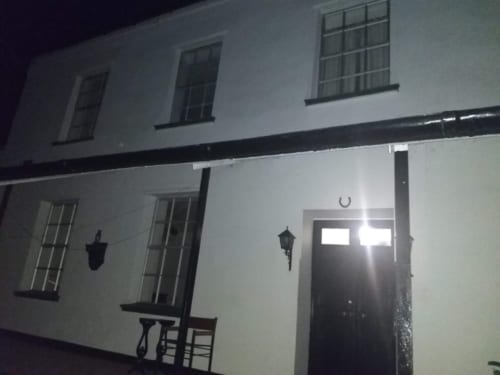 Once inside, our host Philip Mercury welcomed us. He told a scary story about this mansion that was hard to understand in English. I was quite scared because of the strange smells and an eerie atmosphere, but actually the drive to the mansion was even scarier.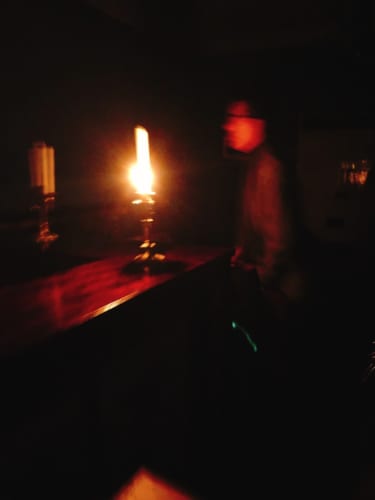 There are other rumors of ghosts on St. Helena, such as at the Pilling School, Shy Road, Alarm House, and the Plantation House where "Jonathan", the 187-year-old giant tortoise lives. After spending 45 minutes here, we drove past Jacob's ladder lit up, and then went back to the hotel. That looks even scarier to climb at night.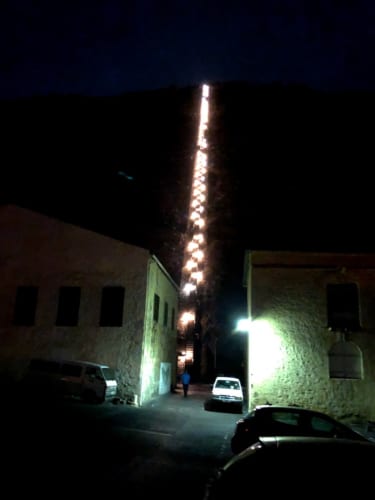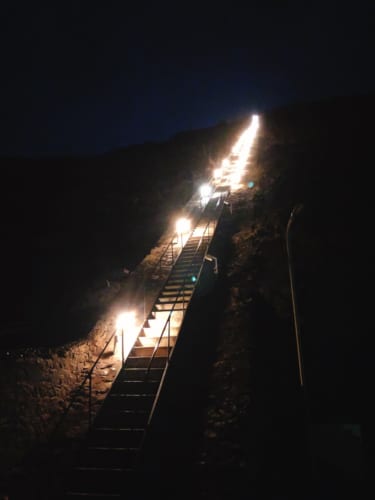 ---
◆Meeting the 187-year-old Giant Tortoise "Jonathan"
Although he's so very old, Jonathan is virtually unknown in Japan. Before we go to meet Jonathan, we start the day with a delicious breakfast and the same fragrant coffee that Napoleon used to drink. This is really good coffee! It's the kind of coffee that makes you think: "If I got to drink this coffee every day, maybe exile wouldn't be so bad…"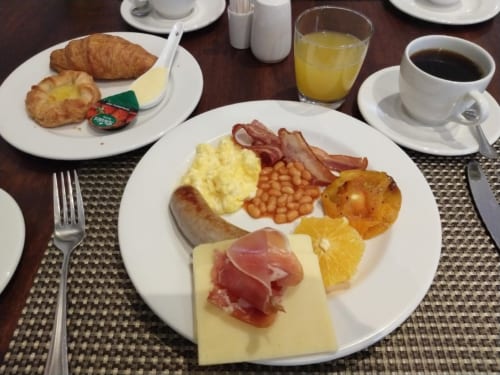 Before meeting Jonathan, we went to High Knoll Fort on a little mountain 584 meters up. The British army built it in 1799 to prevent an invasion from the French army, and it was reopened in 2010 for tourists.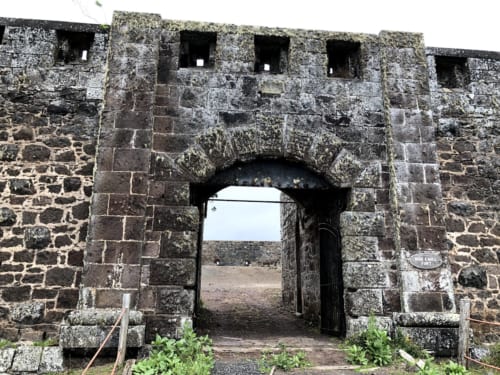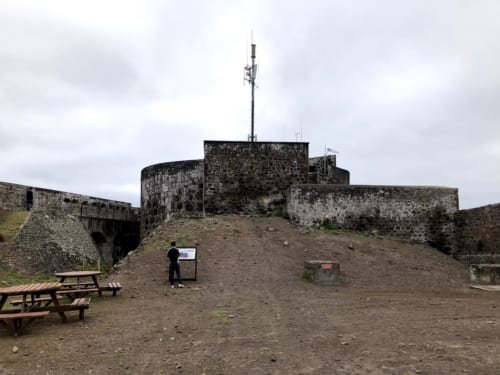 Finally, we get to Plantation House to meet Jonathan. The oldest giant tortoise in the world is just around the corner, but again… it's closed. The main gate is open, but closed to visitors. I was really stunned that this would be closed on weekends.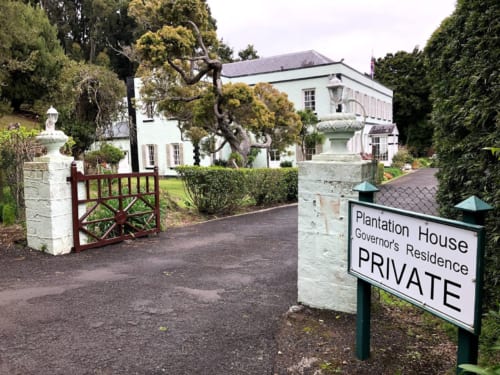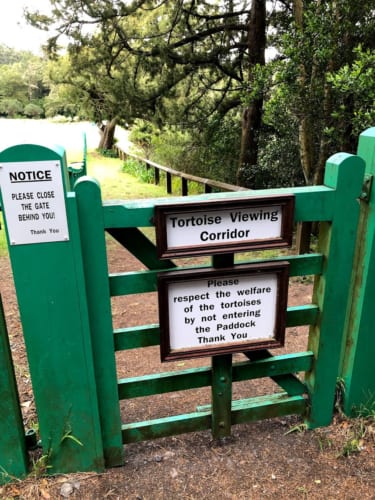 But I want to meet Jonathan! So, I took my feelings to Larry, who said, "You might be able to see him from the outside," and took us around to see.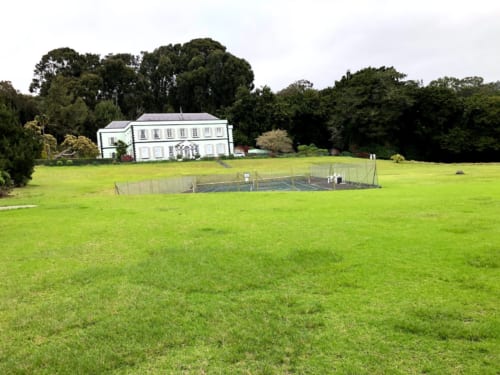 There he is! The world's oldest giant tortoise, 187-year-old Jonathan!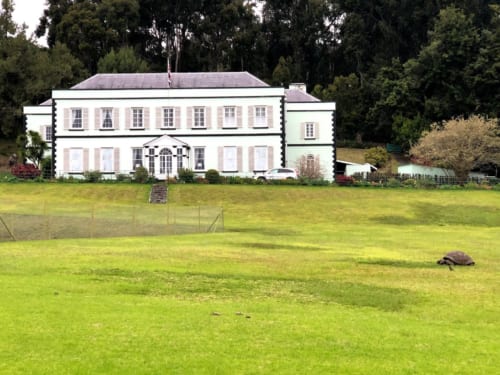 He's moving! I wanted a chance to get to know him better, but there's nothing to be done because it's "closed". At 187 years old, that means he was born in 1841. It was an honor to meet him.
---
◆ Interesting Things Around St. Helena, and a 90-Year-Old Grandma Meeting Someone Japanese for the First Time
Walking though Jamestown.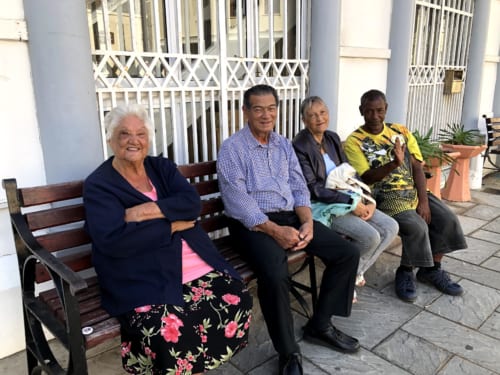 We met some of Larry's friends. The lady on the left is over 90 years old. She was very healthy and energetic, and said "It's the first time for me to meet a Japanese person." Is St. Helena a kind of "longevity island"?
There's a lot of wind power generation.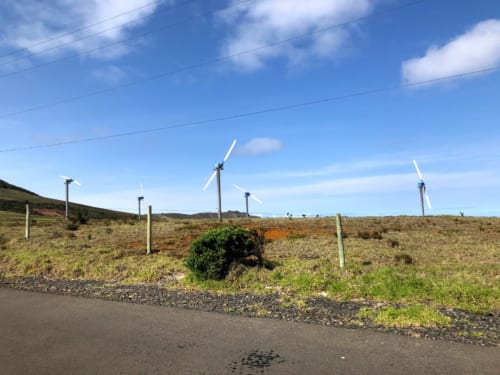 This was built to be an oil base, but failed somehow. Larry says there's a lot of money wasted in this kind of way.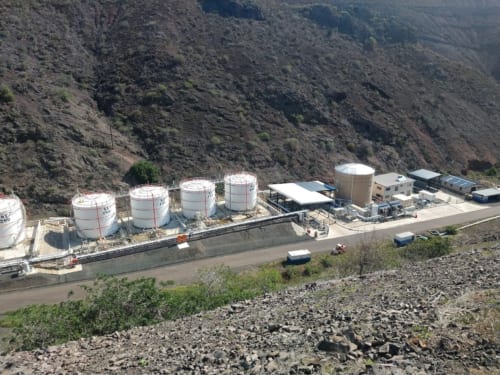 This area is called "CHINA LANE", because there used to be a lot of Chinese workers living here.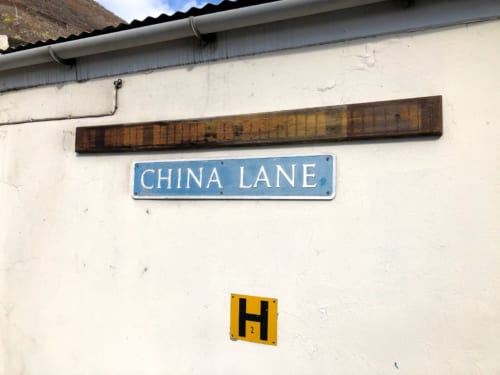 There are several churches around China Lane, all of which have several hundred years of history.
The domain for the churches is ".church".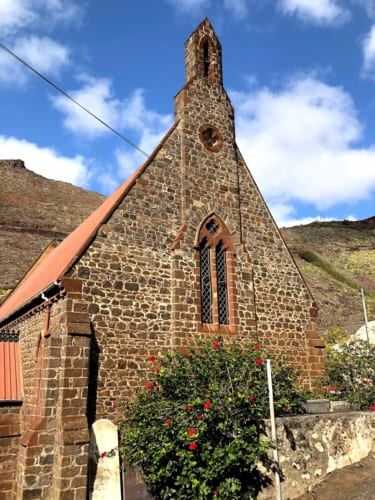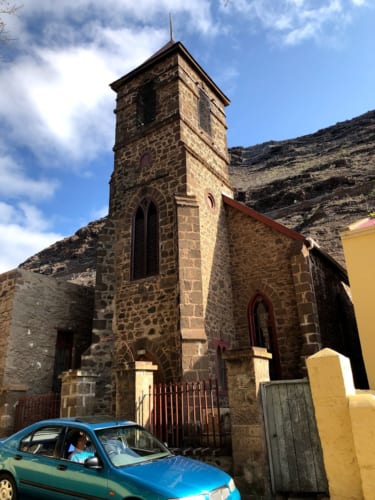 The Jamestown Supermarket. Until around 2015, St. Helena Island was so short on supplies that people said it was like living in the Soviet Union. Of course, most things have to be imported, but there was better selection than I expected, everything from daily necessities to pet supplies.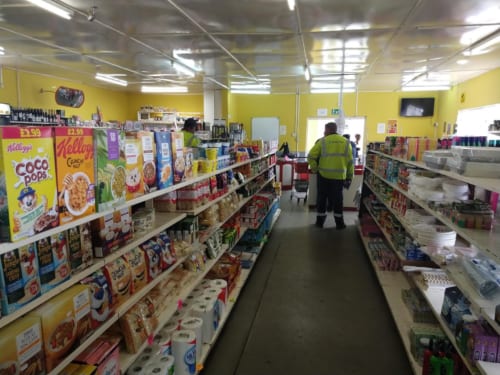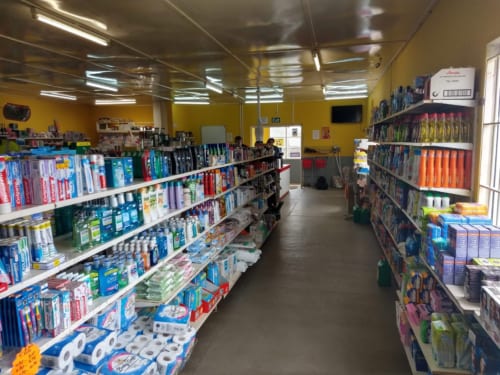 A bulletin board in the supermarket. Some kind of picture book for children? The domain ".sh" is used in the email address.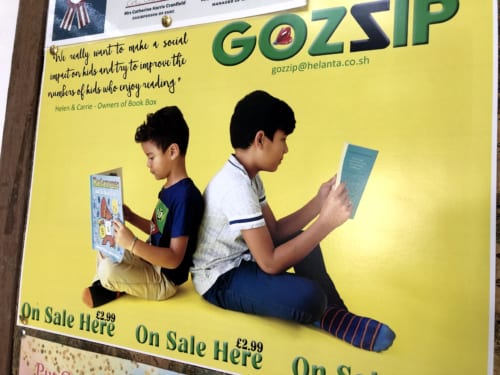 Information on discounts for bulk purchasing in front of the supermarket. The domain for this email address was also ".sh".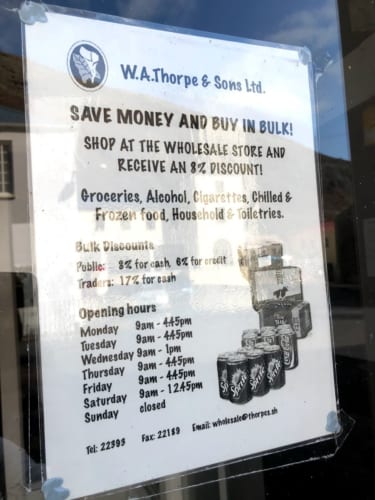 The air conditioner in the Hotel was a Japanese DAIKIN. Speaking of which, the air-conditioner on Ascension Island was made by Fujitsu. Did these Japanese companies really come to do business on such remote islands? It's amazing.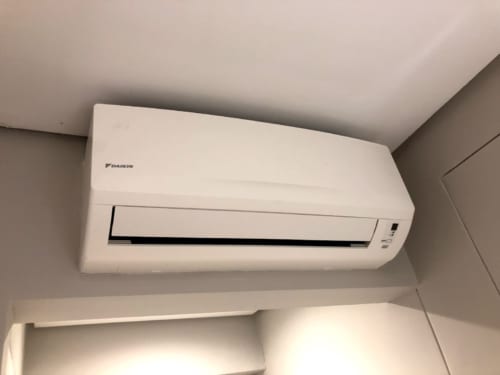 ---
◆What to Eat on St. Helena
The sunset from the remote island of Saint Helena is spectacularly beautiful. But of course, I'm soon hungry. We head to a restaurant run by Larry's friend.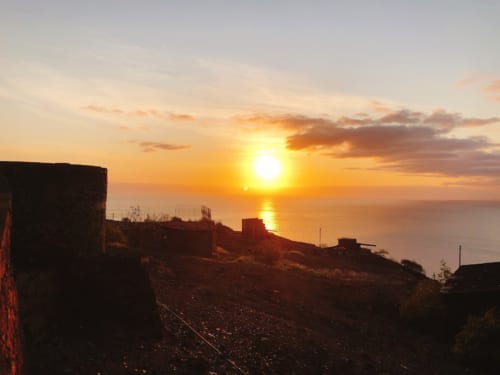 This lady friend of Larry's recently opened the restaurant and called it "Rosie's".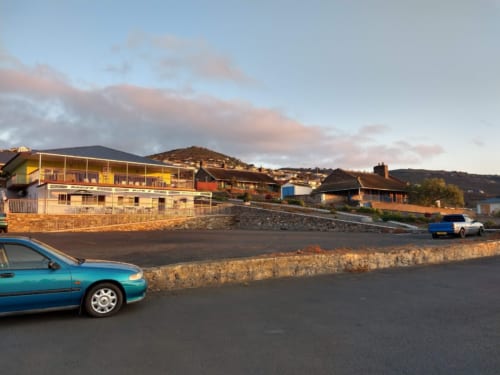 She serves beef, chicken, mutton, seafood etc. The price is reasonable.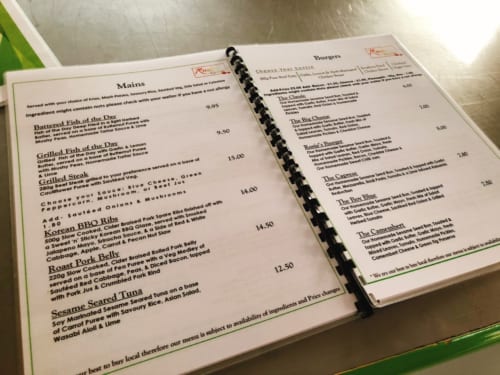 Since there is no local beer in St. Helena, we drink South African beer.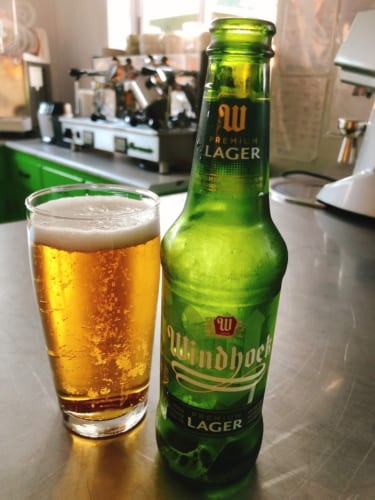 The seafood is flavored with coconut and curry. It's very good.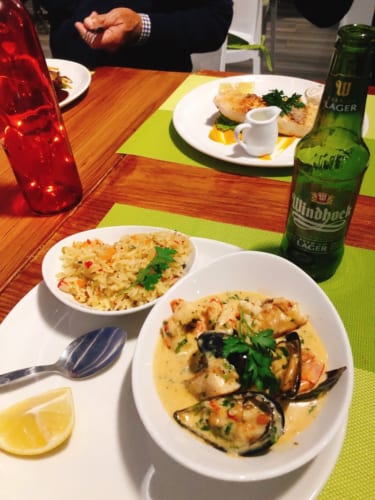 Classic fish sauté.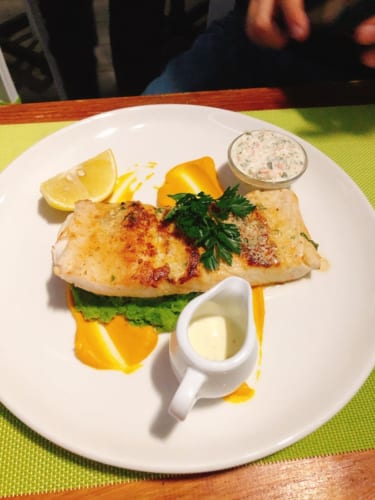 The beef steak that Larry ordered. There was a good quantity of everything.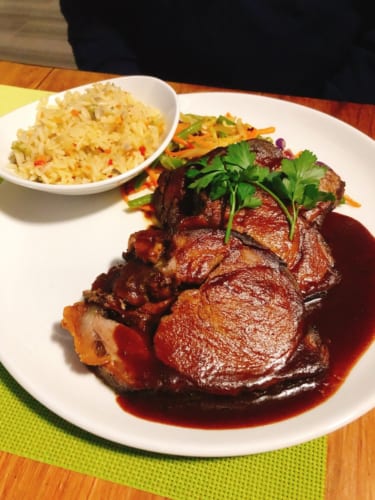 ---
◆◆ How to Purchase a SIM & Test the Internet Speed
I purchased a SIM card at "Sure", a shop which offers broadband services at Saint Helena Airport. The cost was 18 pounds (about 2,500 yen). The staff at the store didn't know how to make it work, so I tried by myself to install the SIM, but I couldn't get it activated.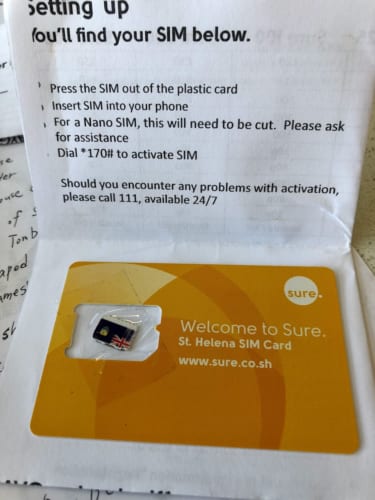 I tried again at the hotel near Longwood House, but it still won't connect… I wasn't able to use it the whole time I was there.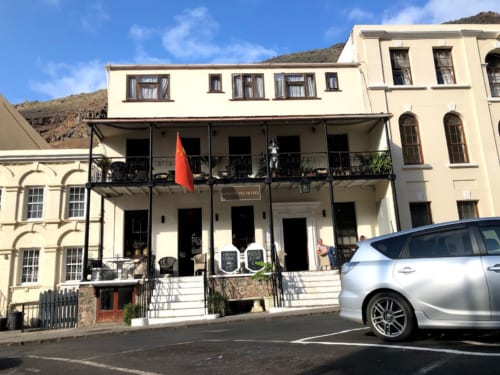 I gave up using the SIM, and tried to use the hotel Wi-Fi. We stayed at the "Mantis St Helena", but you can only connect to their Wi-Fi at certain times, such as midnight or early morning, and it doesn't work when there are many users. It was the worst internet environment in the history of the Domain Island Tour. When those undersea cables are laid, this island of about 4,500 people will be connected to an ultra-high-speed Internet of several terabits per second, and the network environment will change completely.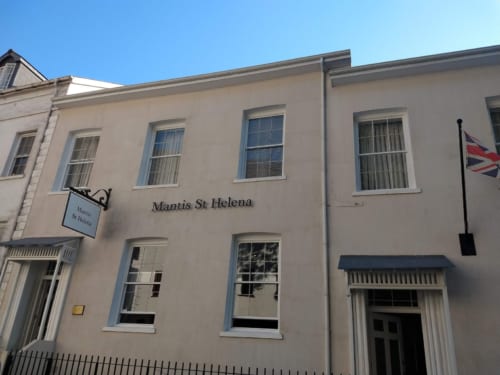 Well, it's time to go back to Japan. When I saw Saint Helena Airport from the sky, I realized that it was more "cliff-top" than I imagined. So glad we were able to land and take off safely.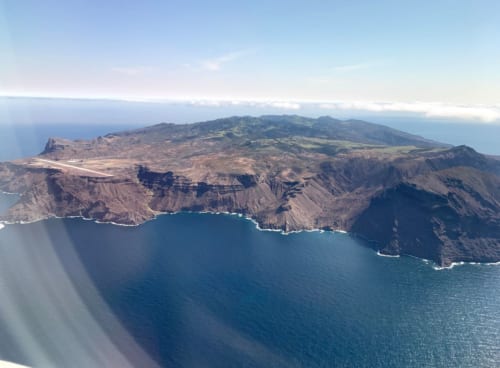 ---