If you've ever come across the official Nauru Tourism Board account on Twitter, with over 470,000 followers*, you may have already heard of the Republic of Nauru.
In the 1980's, huge revenues from phosphate exports enabled the country to offer free health care, school fees, free water and utilities, even tax exemption. What's more, the government even covered living expenses and provided houses for newlyweds. Phosphate mining was handled entirely by foreigners and for around 30 years locals had the means to live without needing to work, giving Nauru the highest standard of living per capita in the Pacific region. However, the eventual depletion of phosphate threw the country into a serious financial crisis. In February 2003, Nauru was left isolated from the rest of the world due to a breakdown of its telecommunications network, causing all kinds of rumors to spread on the Internet as to whether this meant the end for Nauru. According to their official account, only three Japanese tourists visited in 2019. Three members of the domain tour went to check it out. The ccTLD for Nauru is ".nr".
*As of July 19, 2023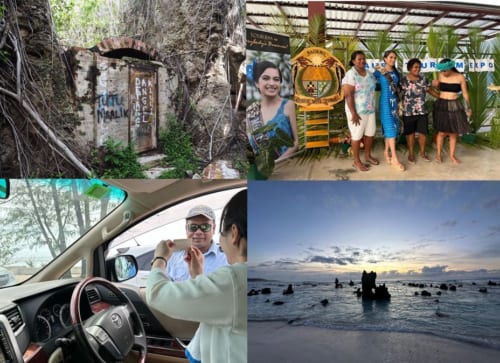 ◆Where is Nauru?
Nauru is located 42km south of the equator at 166 degrees east longitude, almost halfway between Tokyo and Auckland, New Zealand. It is the third smallest independent state, after Vatican City State and Monaco, with a land area of approximately 21.1 ㎢ and a boundary of 16km. English is the official language and the Nauruan language is also used. The population is 12,000 (as of 2021). The currency used is the Australian dollar (AUD).
*As of June 2023
= Table of Contents =
---
◆Where Entry is Forbidden Without a Visa
When I was booking my ticket, I checked the details included just to be thorough, and found that I needed a visa to enter Nauru! Not many countries ask Japanese passport holders to apply for a visa, so we hadn't thought about it. I immediately contacted the official Nauru government through its website, but my e-mail was returned. So, unless we do something, we'll be unable to enter Nauru! Clutching at straws now, I contacted a Nauru Airlines representative and also the Twitter account @nauru_japan and both of them told me to contact the person in charge directly. A few days later someone called Cramer Cain from IIS7 (Internet Information Service) sent me details in English about how to obtain a visa. It turned out that I needed to submit copies of my e-ticket, passport and proof of a hotel reservation. You can click here for more details on that.