According to a 2007 study by the University of Iceland, over 60% of Icelanders still believe in elves.
I went to see if they really have laws regarding elves, a school for elves, places to meet elves, and even a museum with a display on the elf phallus. What do you think of when you hear the word elf? Many people think of the beautiful girls with pointy ears that appear in animation and video games etc. I went to see what kind of elves they have in Iceland. The ccTLD (country code top level domain) for Iceland is ".is".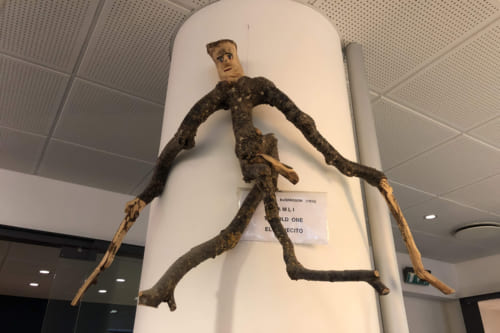 ---
◆ Where is Iceland?
Iceland is an island country in the North Atlantic Ocean, it has many features in common with Japan, such as volcanos and earthquakes. Although Iceland is associated with cold weather, the average winter temperature in Reykjavik is only -4, due to warm ocean currents. Most of the population lives along the coastline, and the inland area, called the "Highlands" is almost uninhabited. Iceland is 103,000 km², just a bit larger than Hokkaido (83,454 km²). The official language is Icelandic, but most people can speak English. The currency is the Icelandic Króna.
= Table of Contents =
---
◆The "Hallgrímskirkja" Church, Built Like an Elf Tower
Most travelers arrive via Keflavík International Airport, on the west side of the country. At the baggage claim area, I was welcomed by a huge puffin on the ceiling.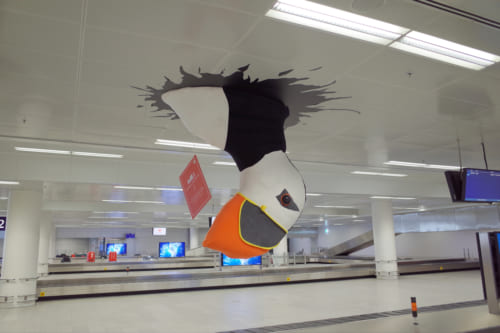 Puffin are a very popular bird around the nation. You can find them at souvenir shops all around the city.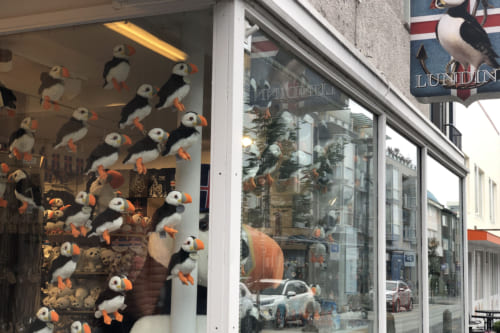 Iceland is expensive, so I do not recommend taking taxies. A 45-minute taxi ride from the airport to the city of Reykjavik, costs 18,000 króna. Gouging much?! Since there's no train or metro in Iceland, the airport bus is the best way to reach Reykjavik. We took the "flybus" which cost 2,999 króna. This bus goes to different hotels around the city, but keep in mind that your arrival at your accommodations may depend on the order in which the bus drops off. Expect at least an hour to get where you are going.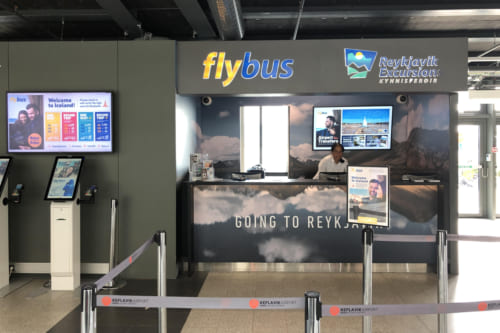 The bus stops at an easy-to-find bus stop just outside the airport.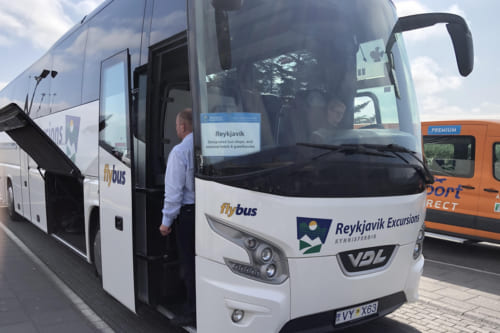 We arrive in Reykjavik.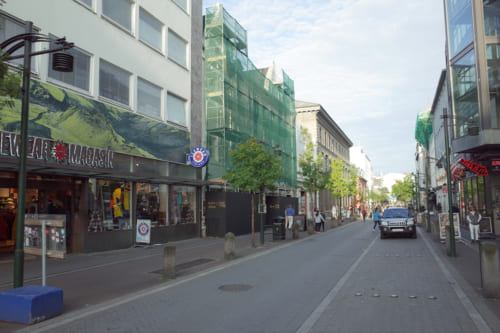 To get around the city, I recommend the bus app "Straeto". You can use the app to buy your tickets before you get on the bus. Payment is by credit card. When I got on the bus, I just showed the driver my tickets on the app. It also allows you to search the routes.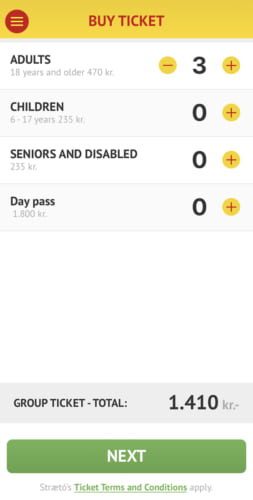 With souvenir shops, fashionable clothing shops and restaurants, the main boulevard has something new every time you go by. I saw some illustrations of dwarves that made me think of the elves.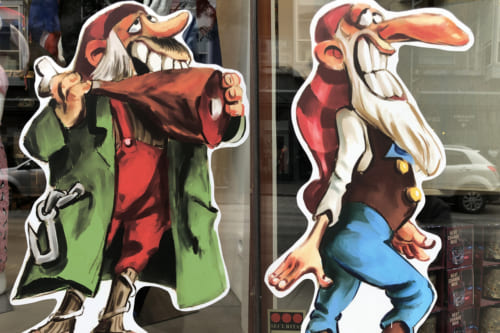 The most famous spot in Reykjavik is Hallgrímskirkja church. It looks like a mysterious elf tower from RPG games.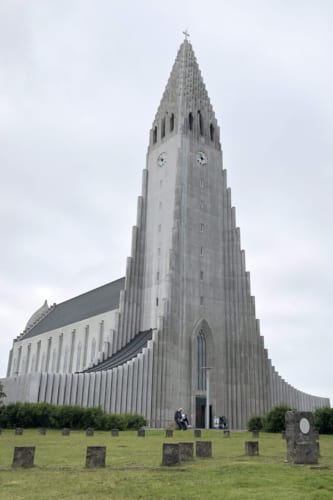 In front of the tower is a statue of the Icelandic Viking, Leifur Eiríksson, who discovered the American continent around 1,000 AD, some 500 years before Columbus.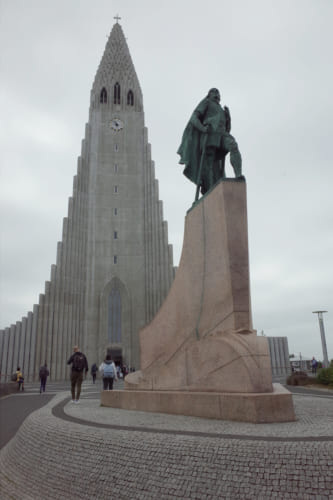 Hallgrímskirkja church is a main landmark in Reykjavik. If you take a picture here dressed up as an elf from a video game, you'll be celebrated in the RPG world.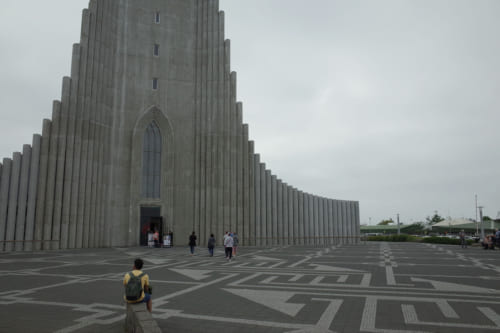 The first floor of the church can be entered free of charge.
Hallgrimskirkja Church, Iceland #theta360 – Spherical Image – RICOH THETA
The church was designed to evoke natural wonders such as glaciers and the columnal jointing of rock formations.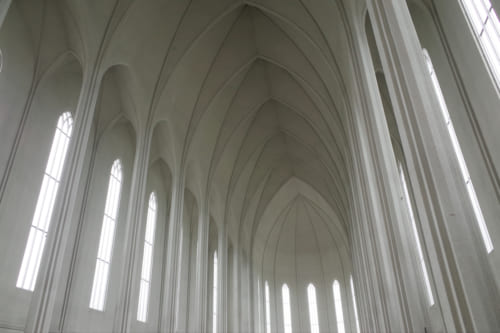 By the way, you can see this columnal jointing at Black Sand Beach. The rocks are like columns.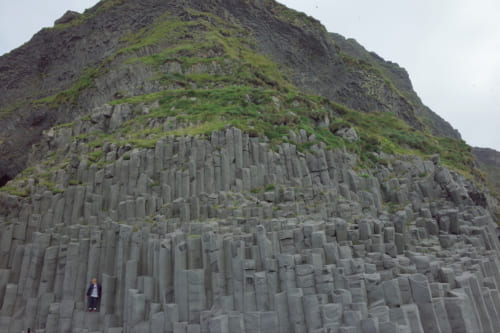 ---
◆The Only Penis Museum in the World with a Display of the Elf Penis
The only museum in the world dedicated to the penis, is the Icelandic Phallological Museum, located in the center of Reykjavik. Even so, it was hard to find. We got lost.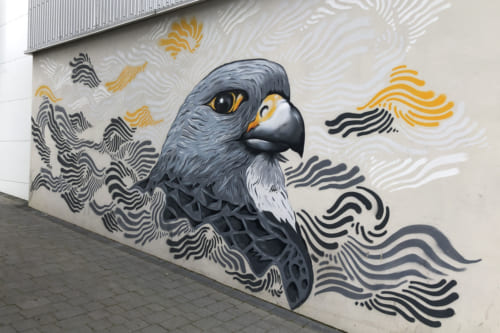 Finally, found it! Actually, we passed it many times. We didn't realize what is was, because it doesn't look like a museum.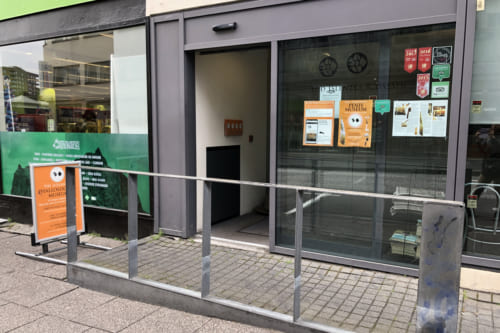 This is the sign that finally let us to the right place. It looks like there's a man doing up his zipper behind the sign, but I didn't notice when taking the picture. It's not clear whether it's just a coincidence or if he was posing for the picture.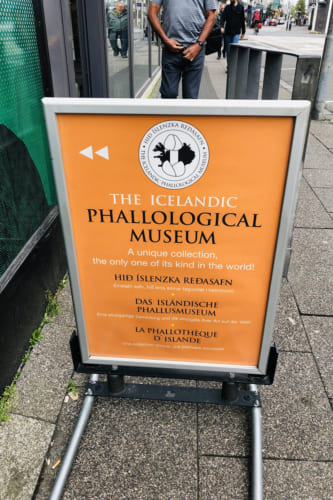 When I asked at the entrance if they really had an elf penis, they said, "Yes." We better see this! Admission is 1,500 króna for adults.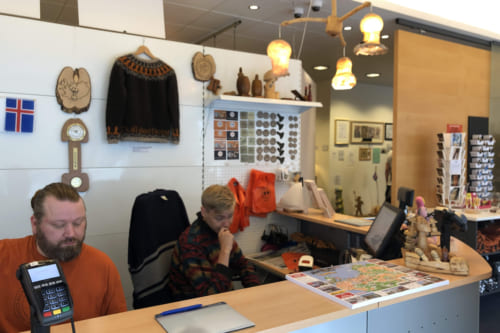 When we went inside there were penises everywhere. The name of the museum is " The Icelandic Phallological Museum", but it is commonly called the "Icelandic Penis Museum".
Penis Museum #theta360 – Spherical Image – RICOH THETA
Specimens from more than 90 different species of animals, such as sea lions, fur seals, and whales, were on display.
As of January 2011, the museum displayed a human penis specimen for the first time in history. It was one of four that donors offered to have displayed after dying. The museum is always looking for "younger, bigger and better" specimens.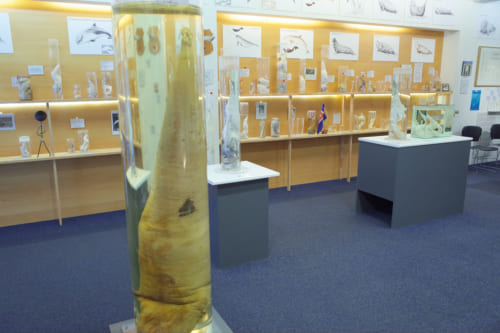 In the center of the museum, this doll is set on a pillar. Is it a tree fairy? This is the penis displayed at the highest point in the museum.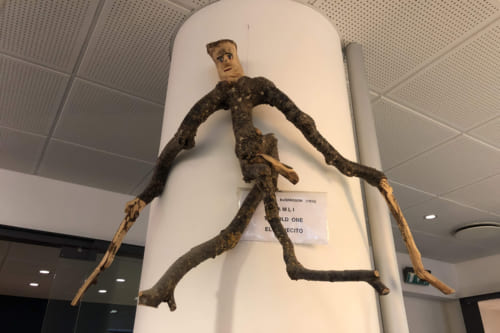 We found the elf penis, it's called a "RUSTIC ELF". The Chinese translation says "spirit".
It looks like a stone.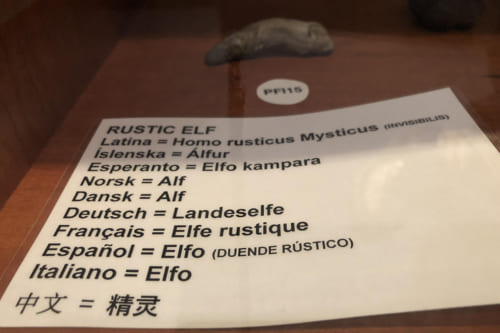 Troll penis. This also looks like a stone.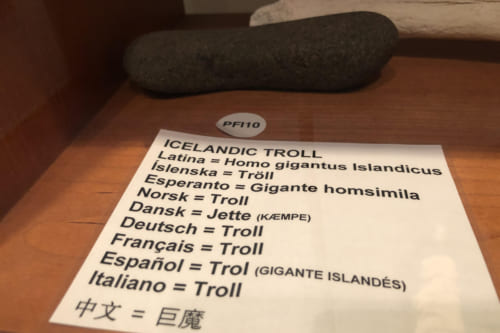 Trolls are mythical creatures from Nordic legends, especially those from Norway.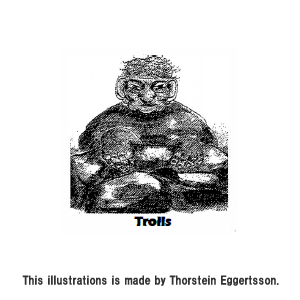 This looks like a large animal penis; on the sign it says "CHANGELING". A "CHANGELING" means a replaced child, that is, an "elf child" that is secretly placed as a substitute when a child is taken away. So, the penis of an elf child. The shape seems a bit off.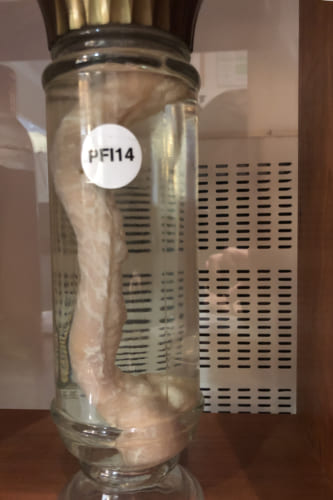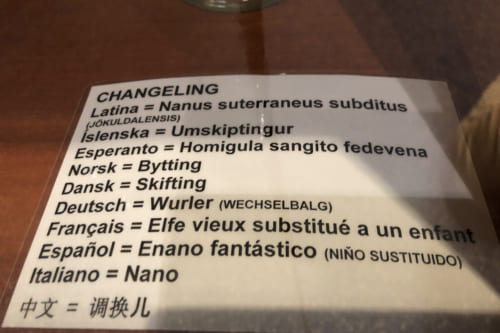 Sheep and goat penises are also on display. These are "sheep and goats from the elf world".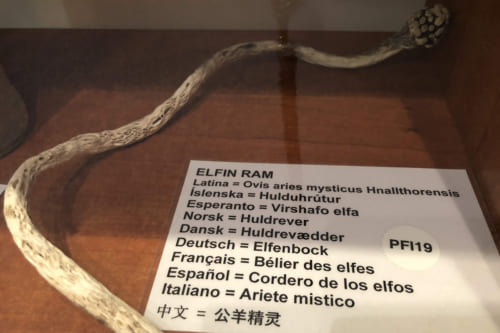 This is Sigurður Hjartarson, the founder of the museum. It looks like he's talking to someone on a penis handset. Besides the oddity of the handset, his facial expression seems concerned.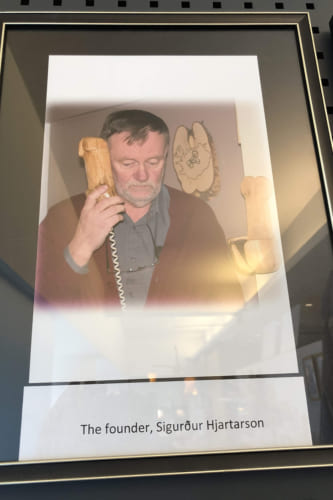 I was expecting a lot of humorous references, like the "Atami's Treasure" theme park, but that was not the case here. This is an academically valuable museum where penises from all kinds of animals, from whales to humans, are meticulously displayed. I was impressed by the visitors who were looking closely at the exhibits and carefully reading the explanations. The movie entitled "The Final Member – The Rare Collection of the Penis Museum" was shown in Japan in August 2015.
The souvenir shop attached to the museum was also substantial.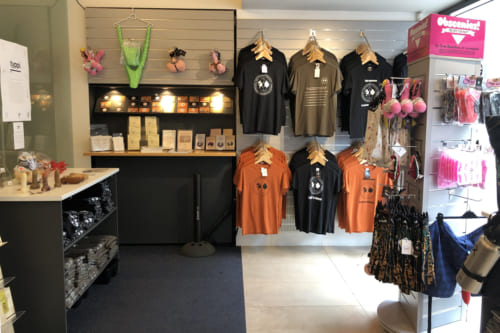 A stuffed Santa Claus style penis.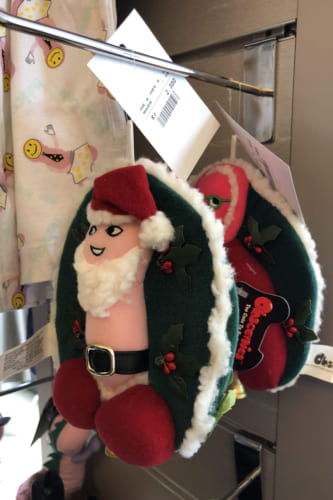 The cup handles are penises.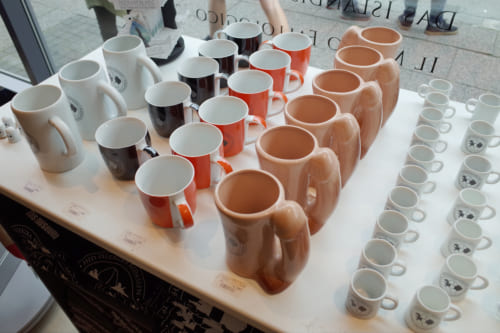 They also sell books with twelve fairy tales about elves.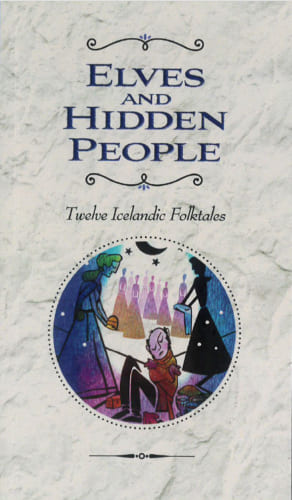 By the way, the handle of the restroom door was a penis. This may be overkill.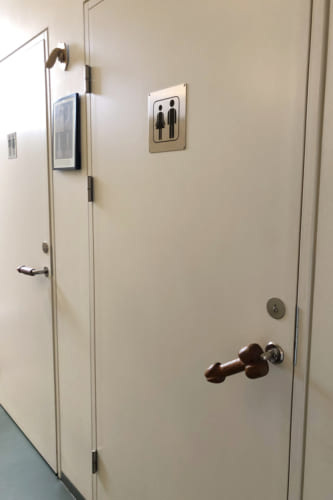 ---
◆A Place to Learn About the Elf Heritage Protection Act, Elves and Demons
In 1971, workers doing road construction near Reykjavik accidentally buried in soil a rock known as "elf rock". Afterwards inexplicable events happened one after another, road flooding, equipment breakdown, injuries etc. In response, the Iceland Road Administration dug the rock out of the soil and washed it. To prevent this from happening again in the future, the Elf Heritage Protection Act was enacted in 2012, and Elf Rock was designated as protected.
If you hear someone say the "Elf Heritage Protection Act" you most likely will doubt such a law exists, but in fact there is a law to protect the cultural heritage of Iceland, and places of archeological significance, which includes places related to magic, folk tales, and the customs and religions of the people.
reference
・mbl.is「Elf rock restored after its removal wreaks havoc on Icelandic town」
・The actual Cultural Heritage Act can be found here
Additionally, a map has been published by the Saga Foundation to share the exact places where Icelanders have had contact with the elves. Besides elves, the map includes places where people have encountered ghosts, demons etc. According to people who have met Elves, they are "Similar to humans, but somewhat small. Usually they are gentle." If you go to the locations on the map, you should be able to encounter both elves and demons.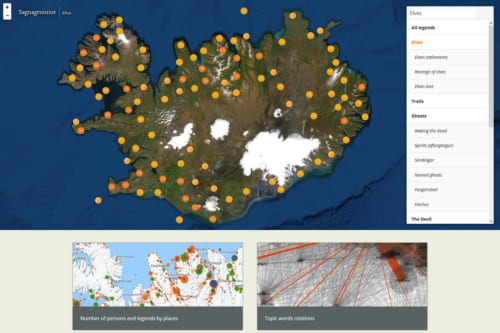 ---
◆At this Park You Can Go from North America to Eurasia
Although I can't help being a bit concerned about encountering elves, Iceland itself has an incredibly beautiful wilderness. We're going to a mysterious spot unlike anything in Japan. As usual, time is tight, so we joined a sightseeing tour called the "The Popular Golden Circle Tour". This bus tour goes to three locations: Great Geysir, Gullfoss Waterfall and Thingvellir National Park. It's a good tour if you want to hit all the main tourist spots in one day.
First, we visited Great Geysir. Great Geysir, which is also the name of the place, does not appear very lively. There's no people here.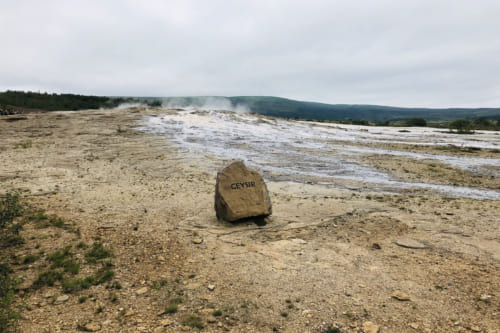 Everyone is at Strokkur geyser. A 3-minutes' walk from Great Geysir. There's a smell of sulfur, familiar from Japanese fumarolic zones, which stings a bit.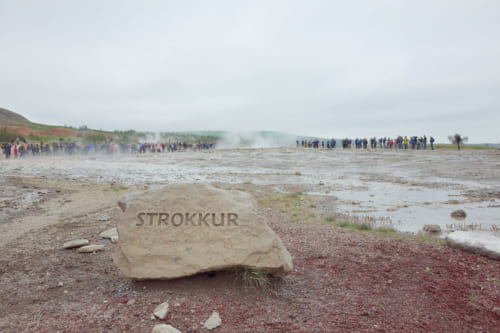 As we approach, we see a pond of bubbly water. And after waiting for a bit…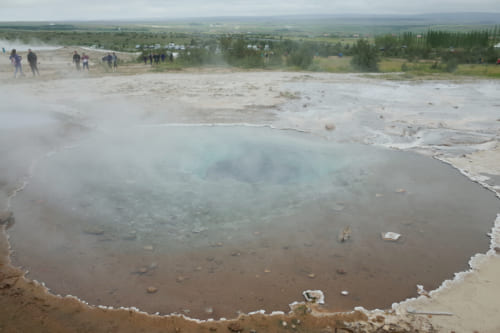 A tremendous amount of water gushed out with a loud bang!! It took me by surprise!!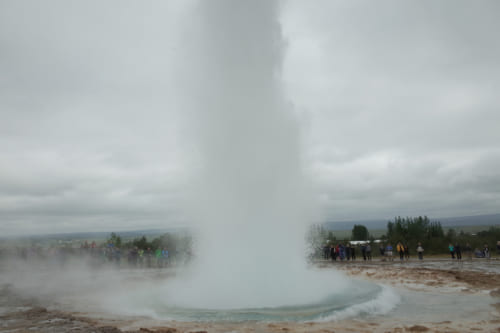 The geyser spouts approximately every 10 minutes, but occasionally it goes awry. You might think its ok to get close, but be careful, if you get too close you may get sprayed with hot water. The entrance area had a sign saying "Enter at your own risk".
Next, we go to Gullfoss Waterfall. About 10 minutes by bus from Great Geysir. Gullfoss means "golden" in Icelandic. I guess this is why they call it the Golden Circle tour.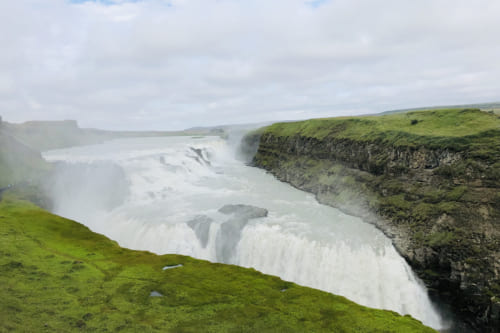 You can also get quite close to this waterfall, and many people were putting raincoats on in advance to avoid getting wet. Certainly, the amount of water was impressive. It's important to be careful not to fall in, because the ground near the waterfall is wet and very slippery.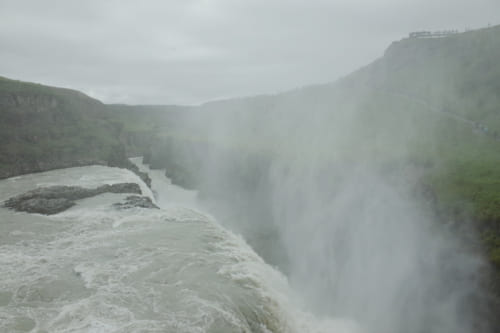 Most sightseeing spots have toilets. You have to pay to use them, but don't worry you can use your credit card. This one was 200 króna. In Iceland, you can generally get by using a credit card for your whole trip without really needing local currency (Icelandic króna). When you get local money, you always end up with too much (leftover cash) or too little, so I decided I like the advantages of being able to use a credit card everywhere.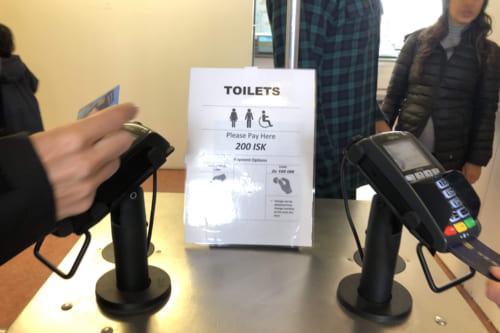 Our bus arrived at Thingvellir National Park, our final destination. It took about an hour from Gullfoss Waterfall.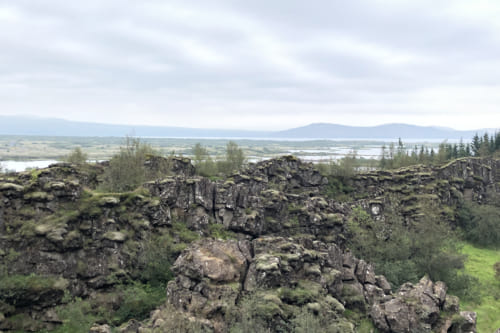 This national park is a UNESCO World Heritage Site.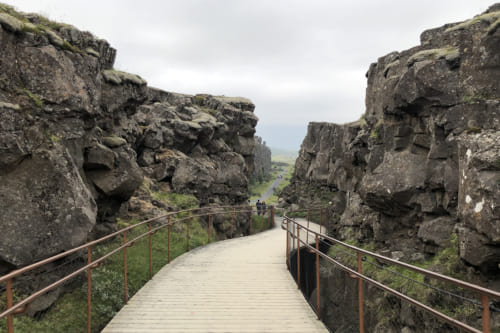 In fact, this park has both the North American continent and the Eurasian continent within its boundaries. The Eurasian continent is on the far side of the house you see, and the North American continent is on the near side.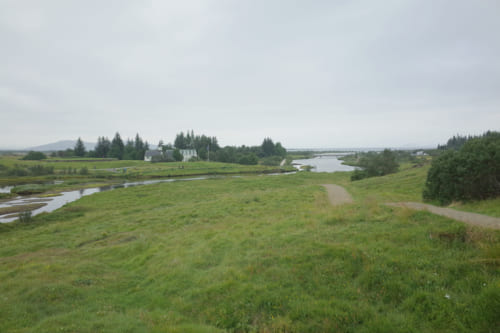 You can walk back and forth between the two continents using this path.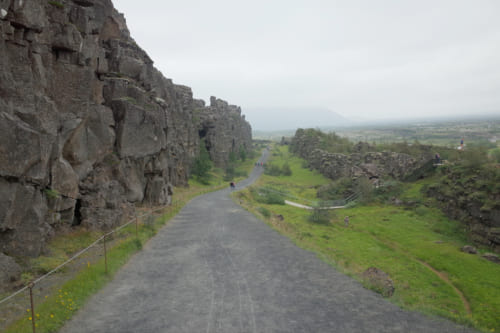 The tour bus stops near most hotels in Reykjavik, but some stops are not on Google maps, so I recommend checking in advance or using a main bus terminal (such as the BSI terminal). At the height of the tourist season in August, the bus is pretty much full.
---
◆A Lecture from a Teacher that Knows "Over 900 People that Have Seen Elves"
After learning where the elves often appear, and being convinced that they really exist after our visit to the museum, we decided to take a lecture at the Elf School in Reykjavik to better understand what they are. Lectures are held every Friday and take 3 to 4 hours. The tuition is 56 euros per student and can be paid in dollars or króna. Credit card payment is also available. It's recommended that you reserve by email in advance to participate. See Price and Schedule for details.
Here's the sign for the school. It seems to be on the second floor of this apartment building.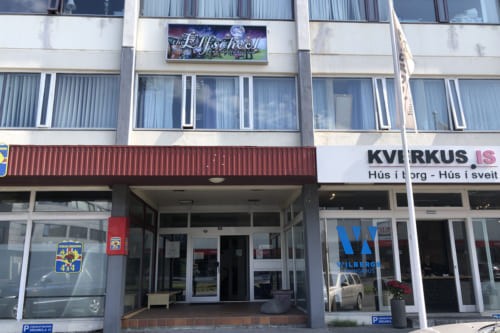 It feels more like a small office than a school. Is my anxiety making me suspicious? Since the door was open, we went inside.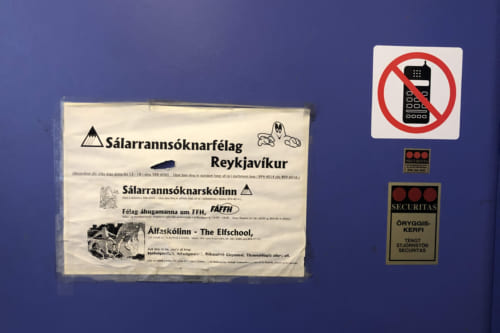 We arrived just a bit before the lecture is supposed to start at 3:00 and there's no one there. Only one other person came for the lecture. But gradually, a few other students arrived. This seems to be the spot where the lecture will be held. Rather than a classroom, it's a small room with lots of dolls and figurines. There are many elf books and unusual items.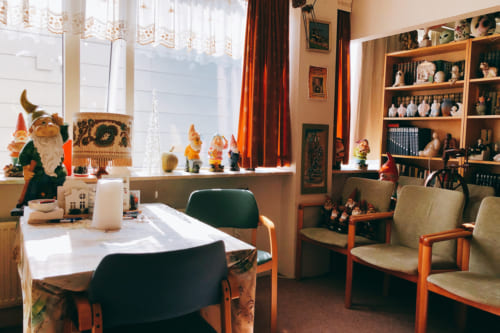 After we waited about 15 minutes, Mr. Skarphedinsson came. He studied history, folklore, and anthropology at a university in Iceland, and is the founder of a group that looks into supernatural phenomena in Iceland. The teacher himself has never seen an elf, but he says he has met about "900 people who have seen elves or hidden-people (invisible people)".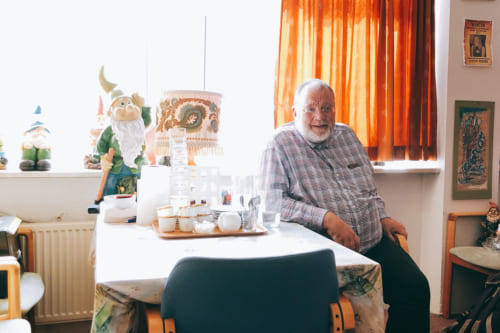 His lecture is given in a relaxed, discourse kind of style. The textbook provided contains illustrations, folk tales, and actual experiences of meeting elves and hidden-people, all in English. However, this textbook was never used during the lecture.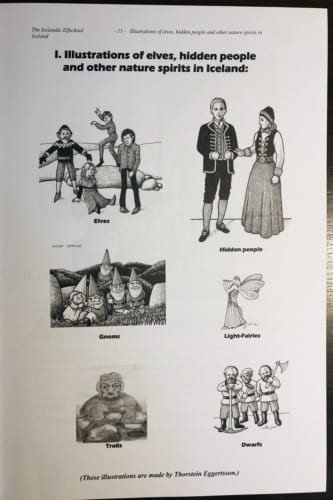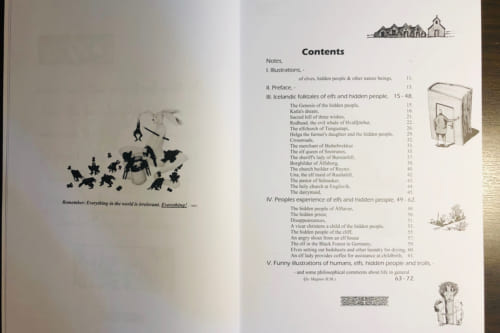 The teacher spoke slowly and seriously about elves and hidden-people. He says that he often hears of sightings from people he trusts, such as family and friends, and this is why he believes even though he himself has never seen one.
Children seem more likely to be able to see elves and hidden-people. He looked over the faces of the students and said, "Unfortunately, there seem to be no Psychics in this group".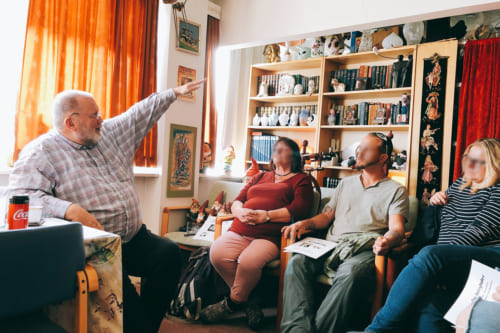 During the break, we had Icelandic bread and crepes along with coffee and tea.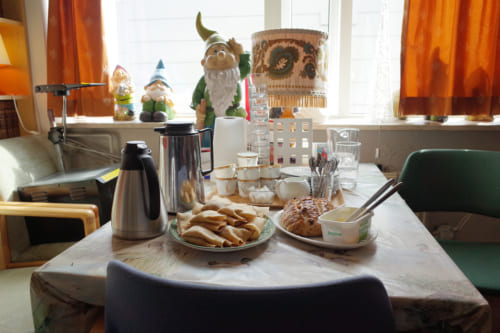 The crepes were extremely delicious, just the right amount of sweet, and plentiful, so it's now a happy memory to think of the teacher offering me more and forcing me to try a chocolate.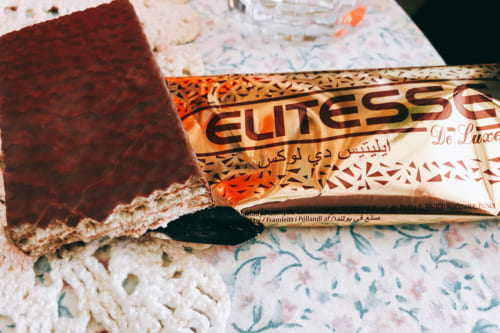 The lecture resumed. He showed us some things left behind in this world by supernatural beings. First, stones that were left nearby when some children encountered a hidden-person. These stones don't belong in that area.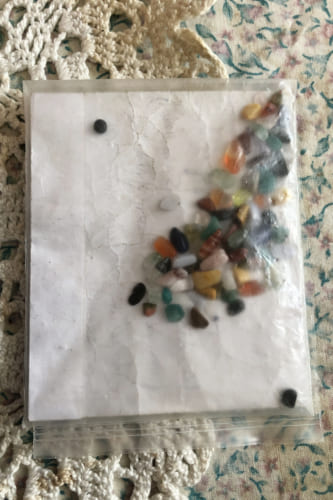 Next, a pot said to have been used by hidden-people in their daily lives. Certainly, it had no manufacturer's logo or product number etc., but it's still a bit hard to believe.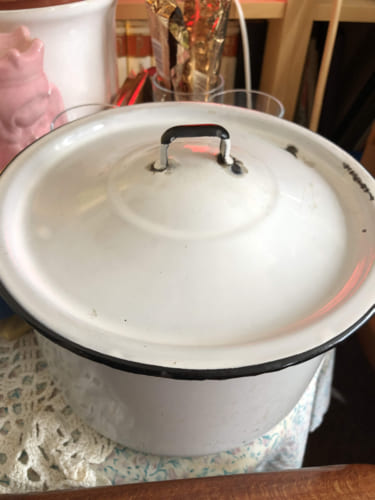 Then he told us a story about an elf. In the past, people would ask a psychic about the behavior of the hidden-people before going to sea to fish. Even if the weather was good, if the hidden-people didn't go fishing, the humans wouldn't go either. If someone went fishing anyways, they would get hit by a storm suddenly and couldn't catch any fish. Also, he told the story of a person who got lost in the mountains and then stumbled across a hut. There he was treated kindly by the inhabitants, and given a meal, but after leaving when he looked back it had all disappeared.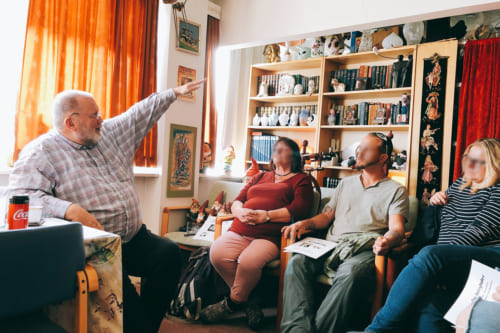 Elves and hidden-people often help people and rarely do any harm. He says "rarely", because on occasion they do abduct children. When giving his lectures, our teacher speaks in a way that draws you into his world, but if you stop and just look at the man himself, he's a pretty fun old guy. Few people have actually met elves, but tales of encounters have been handed down generation to generation since ancient times, so many people still believe in their existence. Elves are an integral part of the lives of Icelanders.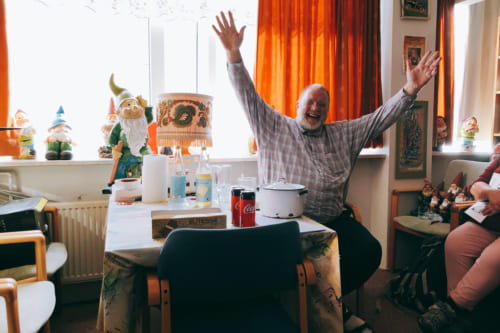 We got attendance certificates at the end. This was not really a lecture, more like story time or an introduction to fairy tales. One of the students we attended with was dissatisfied, she said "I've seen elves, so I wanted to hear more spiritual stories, not just fairy tales". The entire lecture was in English. People from the UK, the US and Germany attended with us. I don't recommend this for everyone, it's not very dramatic, but nice if you want a unique experience.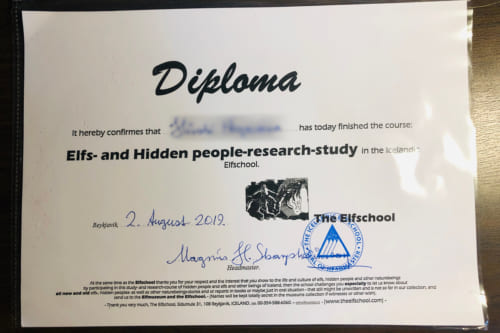 When you leave the building, the elf will see you off. But maybe he's only visible to us. Can you see him?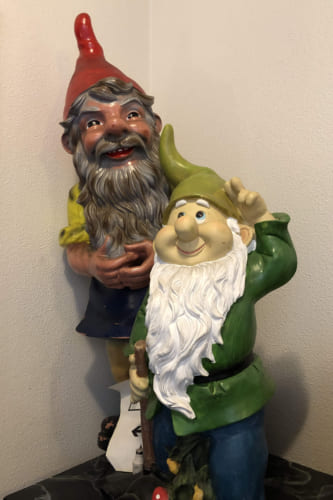 ---
◆"Bread You Must Eat Before You Die" and "The Best Hot Dog in the Universe" ~ What to Eat in Iceland ~
As an island nation, Iceland is rich in seafood such as salmon and cod, but prices there are high. For example, the price for water sold at the "10-11" kiosk at Keflavík International Airport was 499 króna. However, local supermarkets are not so pricey.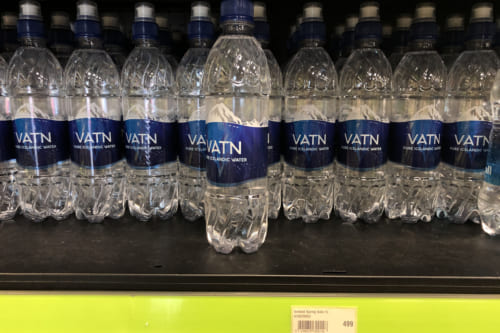 "RAMEN MONO" is a shop that has ramen (ラーメン) written in Japanese on its outer wall.
They use ".is" in their official website.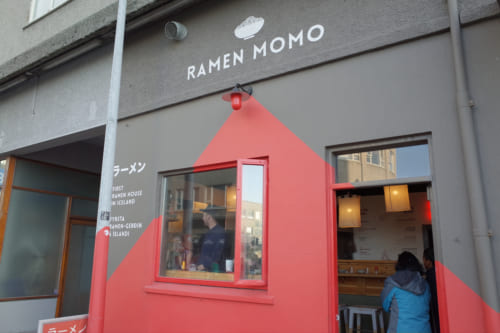 The atmosphere inside is just like a Japanese Ramen shop. Although the clerk is not Japanese, the large, full bowls of ramen that other customers are eating look pretty promising.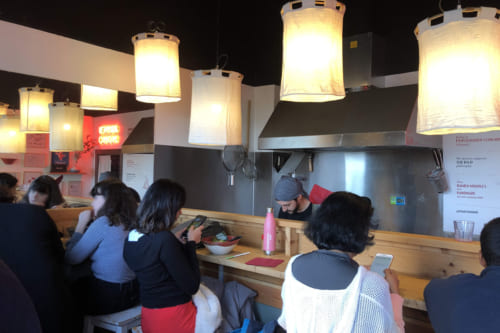 I ordered the Tonkotsu Ramen recommended by the shop. Price: 1,950 króna. The soup was a little thin and the noodles quite soft, but overall, I was satisfied with the taste. You can also get take out.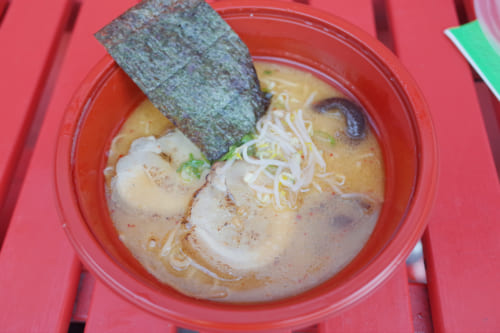 ---
For Icelandic cuisine we visit Þrír frakkar. It was in a quiet residential area a little way from Reykjavik.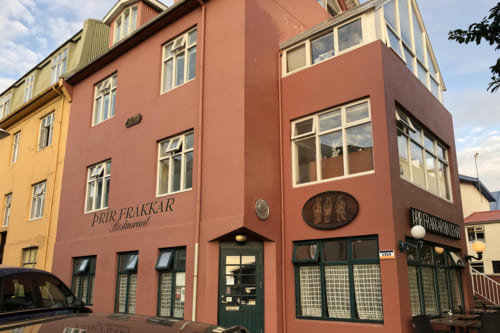 First item at the top of the menu; "Fermented shark Icelandic specialty and dried cod with butter" (1,240 króna). I will have this.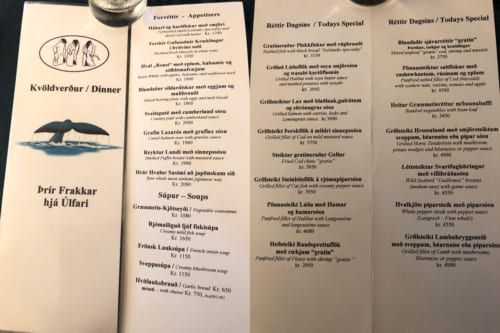 The dried cod on the left has a texture like dried squid and would make the perfect snack to go with sake. The fermented shark meat on the right smells a little like ammonia, it seems that those who like it really love it, and that those who hate it really hate it.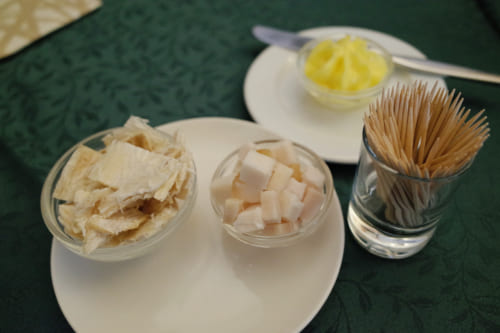 Next, I ordered "Puffin". On the menu it's called: "Smoked Puffin breast with mustard sauce" (1,990 króna). I was surprised because I never imagined eating puffin. The smoked puffin had kind of a wild bird or animal scent that worried me a bit. But the taste was rich and refined. Actually the strong scent came from the mustard and was reduced considerably when I scraped it off.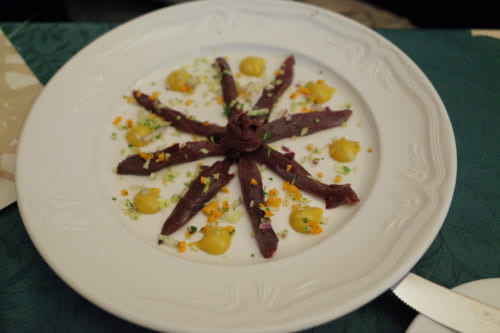 For the main dish I had "Grilled Halibut with soya butter sauce and mashed potatoes with wasabi" (3,950 króna) and the satisfyingly large sized "Hashed fish with black bread" Icelandic specialty" (3,150 krone).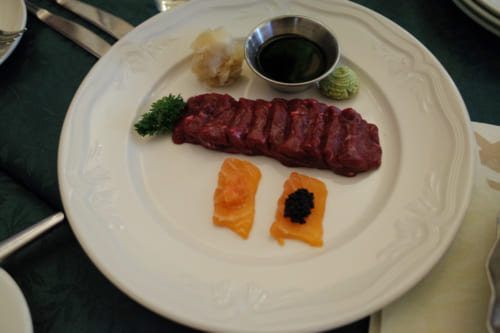 Apart from the shark, everything was delicious.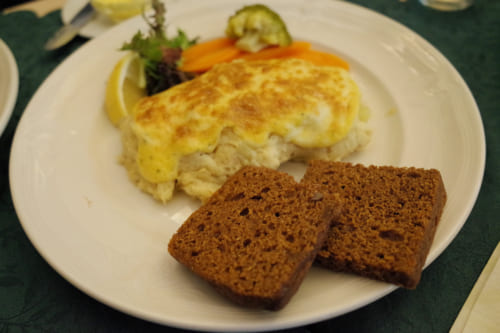 ---
In Iceland the bread is said to be so good "You must eat it before you die". I definitely need to eat some! This bread is made by Brauð og Co. The shop was near Hallgrímskirkja church. A very gaudy facade. Actually, I entered the store thinking that I didn't really want to "eat gaudy bread before I die".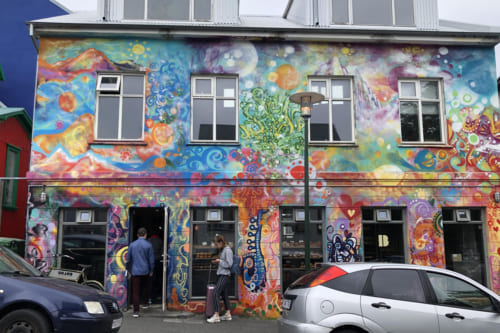 But inside it was an ordinary little bakery. I felt somewhat relieved.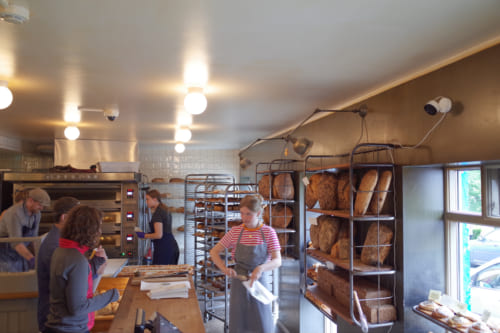 Behind the register, you can see them making bread. They look busy.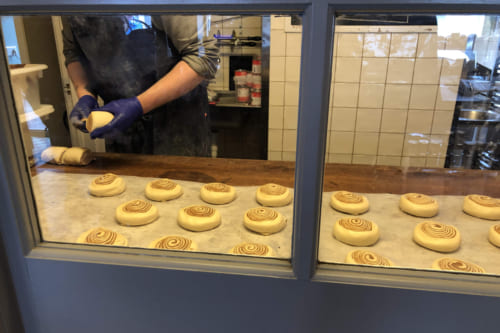 There's all kinds of different bread.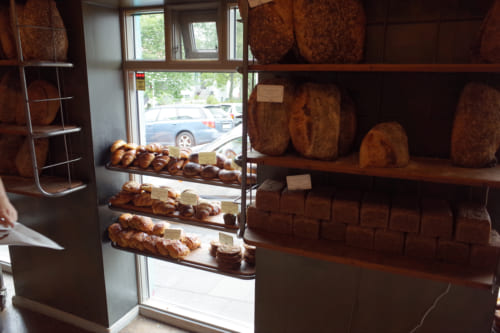 I wonder which bread I should eat before I die.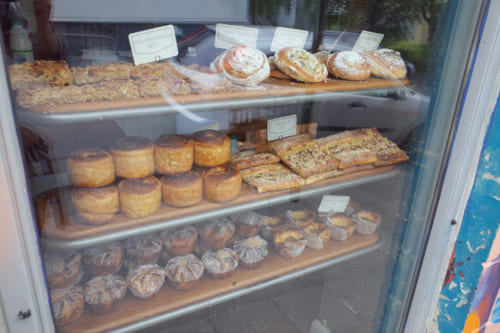 I decided on the popular cinnamon roll (490 króna), as the bread to eat before I die. Even though its rather sweet, the bread is moist and the texture excellent. I felt that maybe it's too much to call this "the bread you must eat before you die", more appropriate would be "the bread you must eat when you visit Iceland".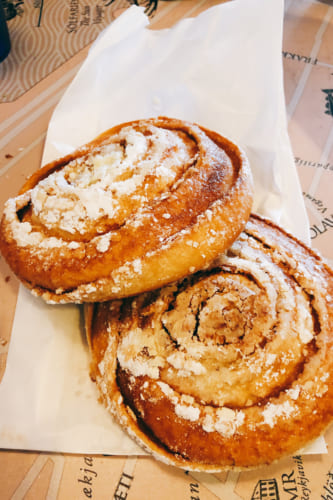 ---
Iceland also has hot dogs that are said to be the best in the world, or even in the universe. You can buy them at Bæjarins Beztu Pylsur. The shop looks like a small food stand.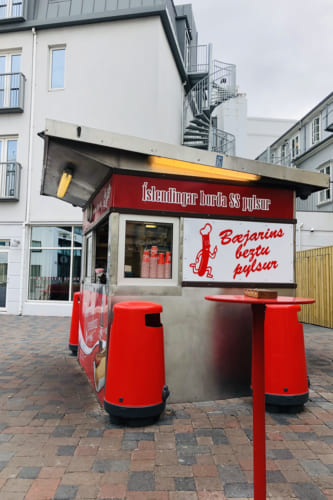 This is the best hot dog in the universe. Looking at its simple appearance, you may not think it's the best in the universe. But the taste is the best in the universe, not the appearance. With a sauce that includes rum, the taste is addictive! Unfortunately, I don't know if I would call it the best hot dog in the universe. If you are expecting the best hot dog in the universe, you might be a little disappointed, but if you have lower expectations, it is only $5, and you will enjoy it. However, I don't recommend it after visiting the museum.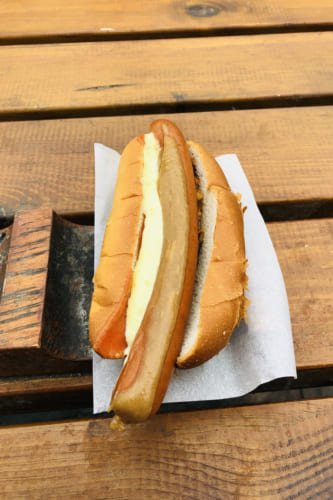 A souvenir shop at the airport was selling the hot dog sauce. It seems we can make the best hot dog in the universe right at home.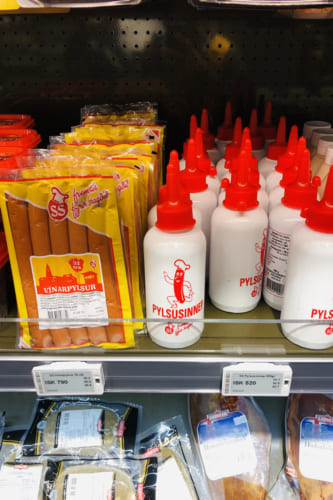 ---
Aktu Taktu is the main fast food restaurant in Iceland. McDonald's withdrew completely from Iceland on October 31, 2009, making Iceland one of the few western countries with no McDonalds.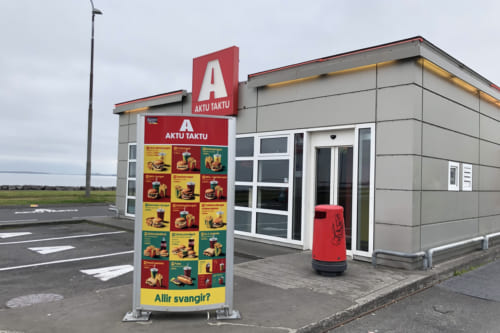 Some of the staff could speak simple Japanese. In Iceland, Japanese is the second most popular language to learn, after English.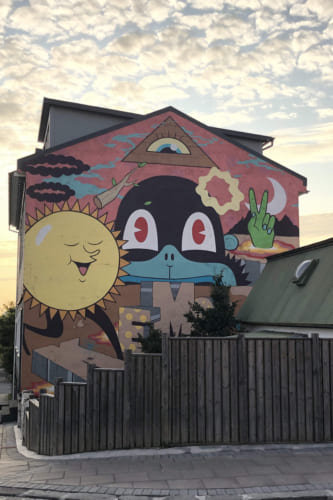 ---
◆How to Purchase a SIM & Test the Internet Speed
You can purchase a SIM at the convenience store "10-11" at Keflavík International Airport.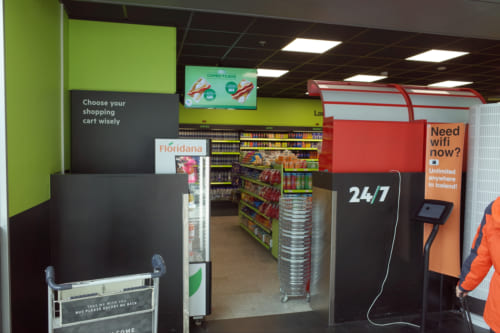 I chose the 5GB plan (2,900 króna). I didn't feel like it was slow.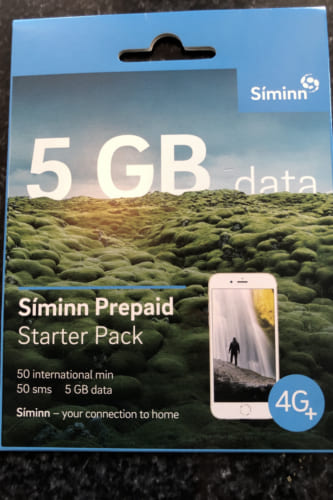 Test of the speed using fast.com. Fast enough to connect to the internet comfortably. Glocalme was also 15Mbps. I could use it in Reykjavik without a problem.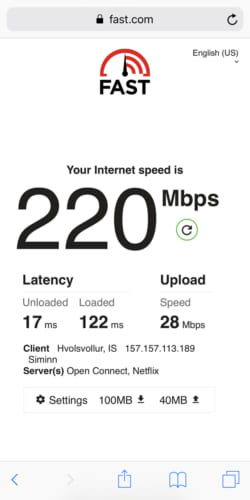 ---
■List of Places Visited
■ For ".is" Domain details

Click here