It tookAfter a 40-hours one-way trip to get to Tuvalu, in and meeting fishing pigs in Tonga I met fishing pigs, and now it was off to the seventh stop on the Domain Island Tour, is Anguilla. The ccTLD (country code top level domain) is ".ai".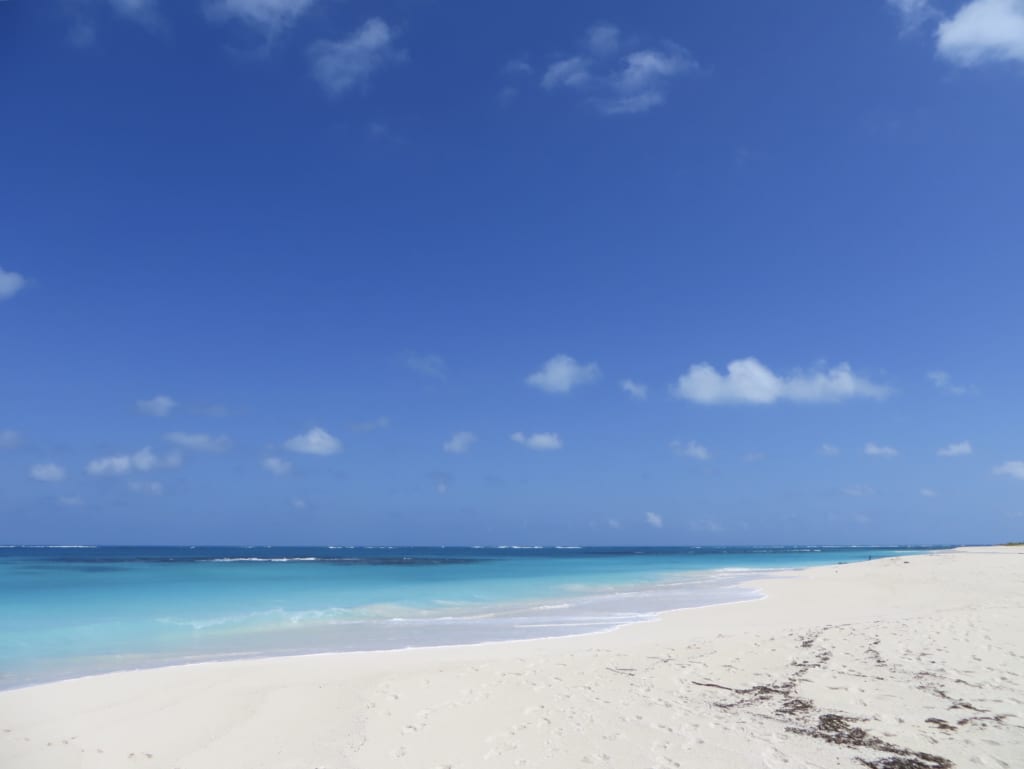 ◆Where is Anguilla?
Anguilla is a British island in the Caribbean Sea (West Indies). The shape of the island is like an "eel"
so it was called "Anguila" (Eel in Spanish) or "Anguille" (Eel in French).
Table of Contents
◆Domain ".ai" Also Short for Artificial Intelligence, is Used by both Google and Microsoft
◆The Most Beautiful Beach in the Caribbean!
◆The Most Dangerous Beach in the Caribbean! How to Climb Down?!
◆Modern Art and an Expensive "Buddhist Statue Made in Japan"
◆The Oldest House in Anguilla
◆Satisfied by the Caribbean Cuisine of a Popular Local Restaurant
◆Anguilla and Artificial Intelligence
◆Domain ".ai" Also Short for Artificial Intelligence, is Used by both Google and Microsoft
Artificial intelligence is being talked about more and more. Websites related to artificial intelligence are beginning to use the domain ".ai". Since the domain name is the abbreviation for "Artificial Intelligence", it has become popular as a domain name to directly express a connection to AI in a URL or e-mail address.
For example, I found some artificial intelligence related websites that use the domain ".ai".
It is used by well-known companies like Google and Microsoft, that invest large amounts of research money into the development of artificial intelligence.
So, the people of Anguilla are possibly living in close quarters with AI, don't you think?
With this expectation in mind, I start off to investigate the island.
◆The Most Beautiful Beach in the Caribbean!
The island of Anguilla, floating in the Caribbean Sea, has many beaches. Of these, I visited "Shoal Bay Beach" where Hollywood celebrities hang out.
It is approximately ten minutes by car from the capital "The Valley". The sea is already visible when I get out of the car.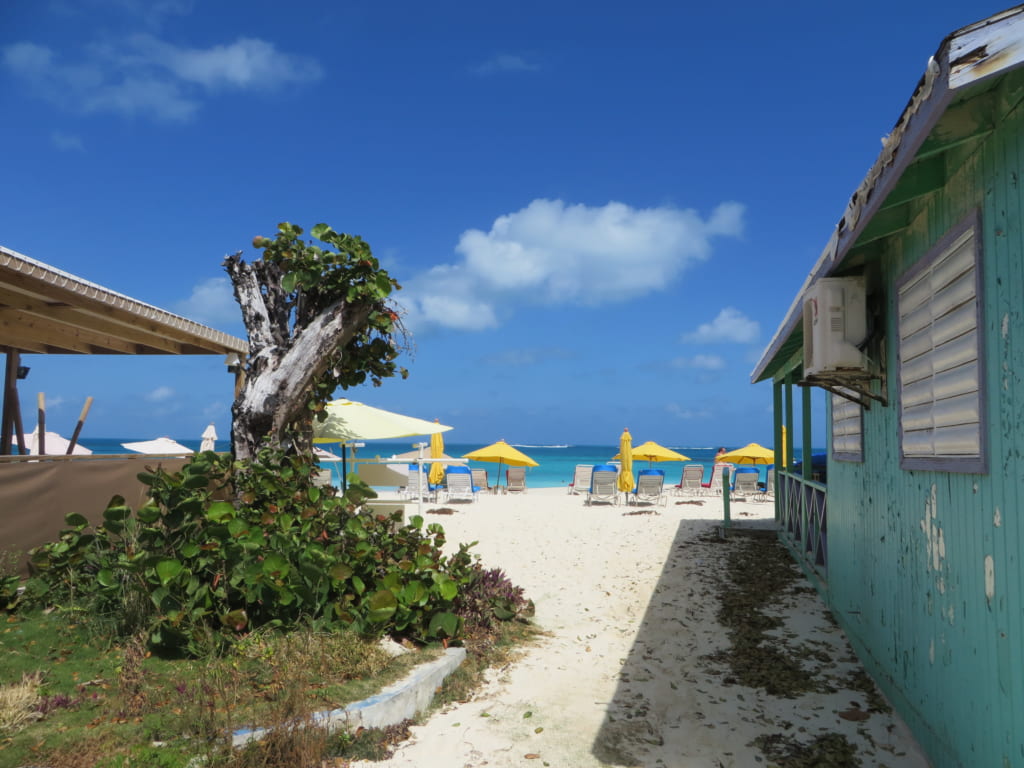 This is Shoal Bay Beach. Idyllic blue skies and sea, with white sandy beach.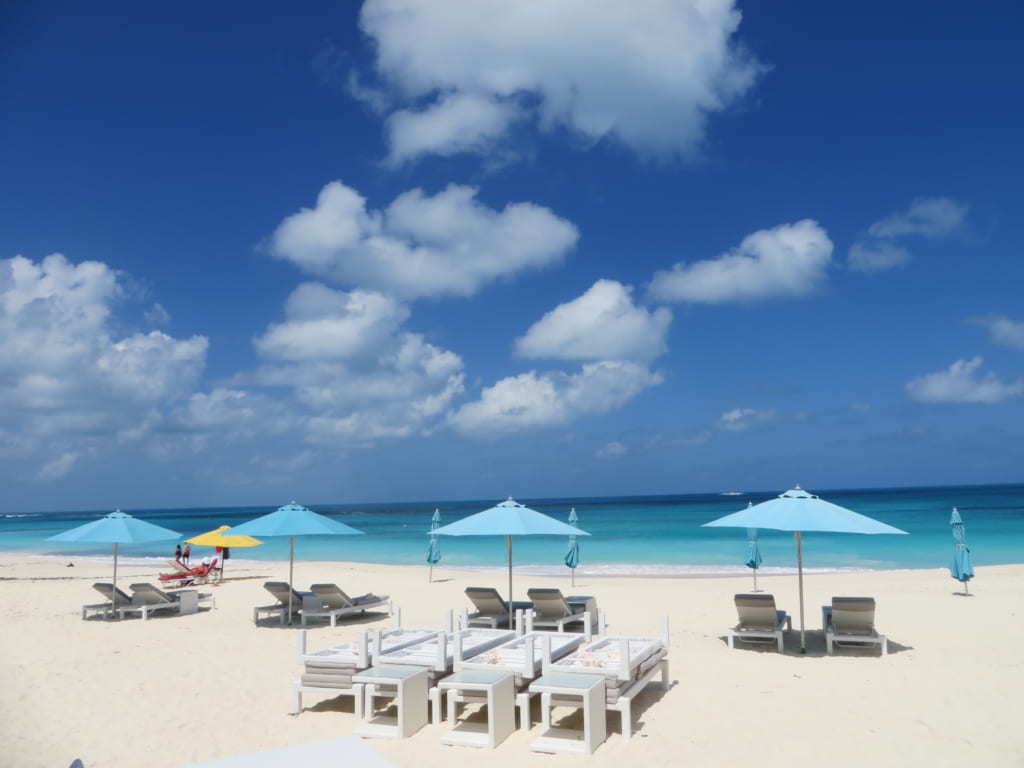 I have to agree that this is the most beautiful beach in the Caribbean.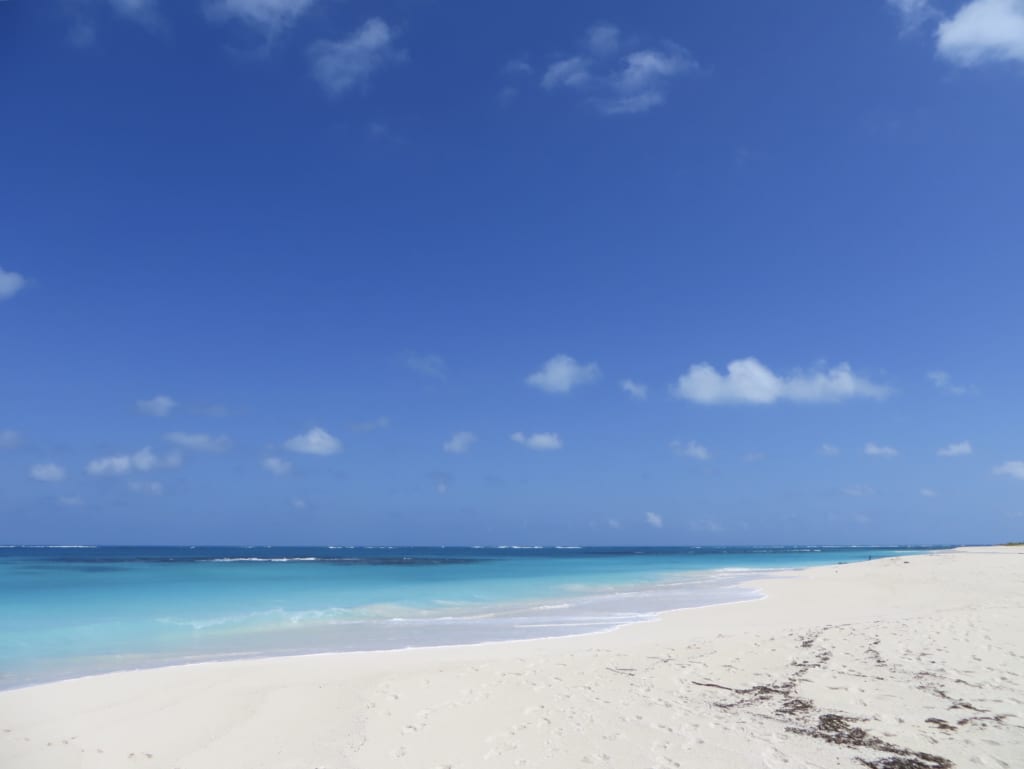 I took videos of the beach using a drone. You can see that the gorgeous coast line goes as far as the eye can see.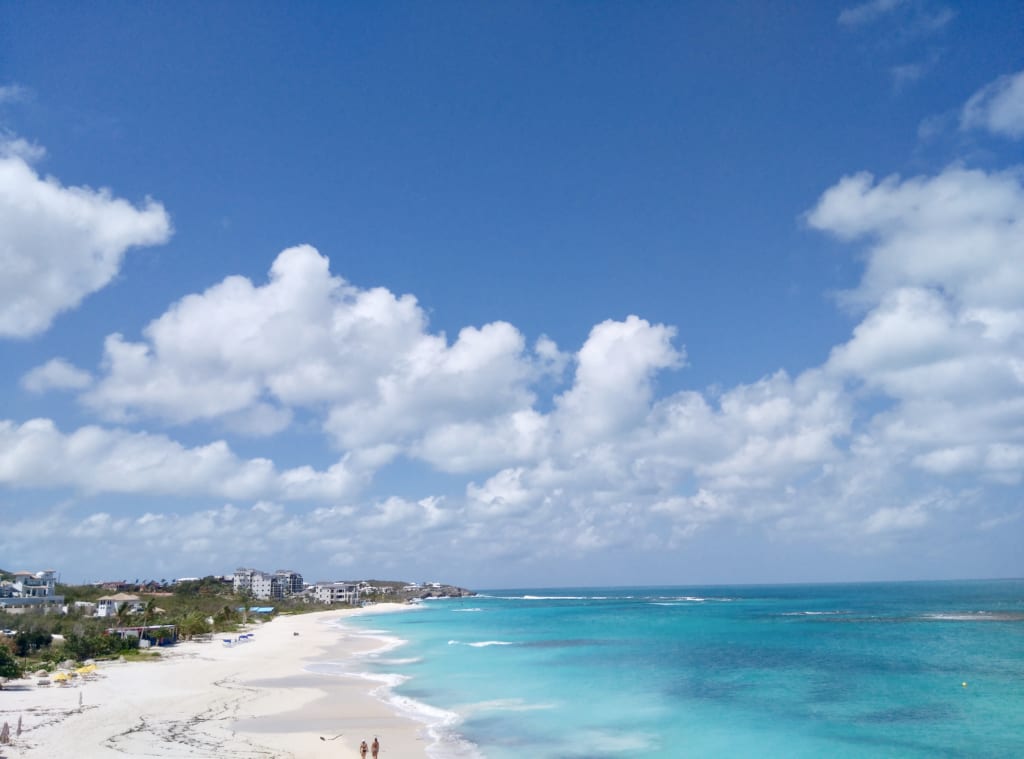 I tried searching for Hollywood celebrities, but unfortunately, I couldn't find any.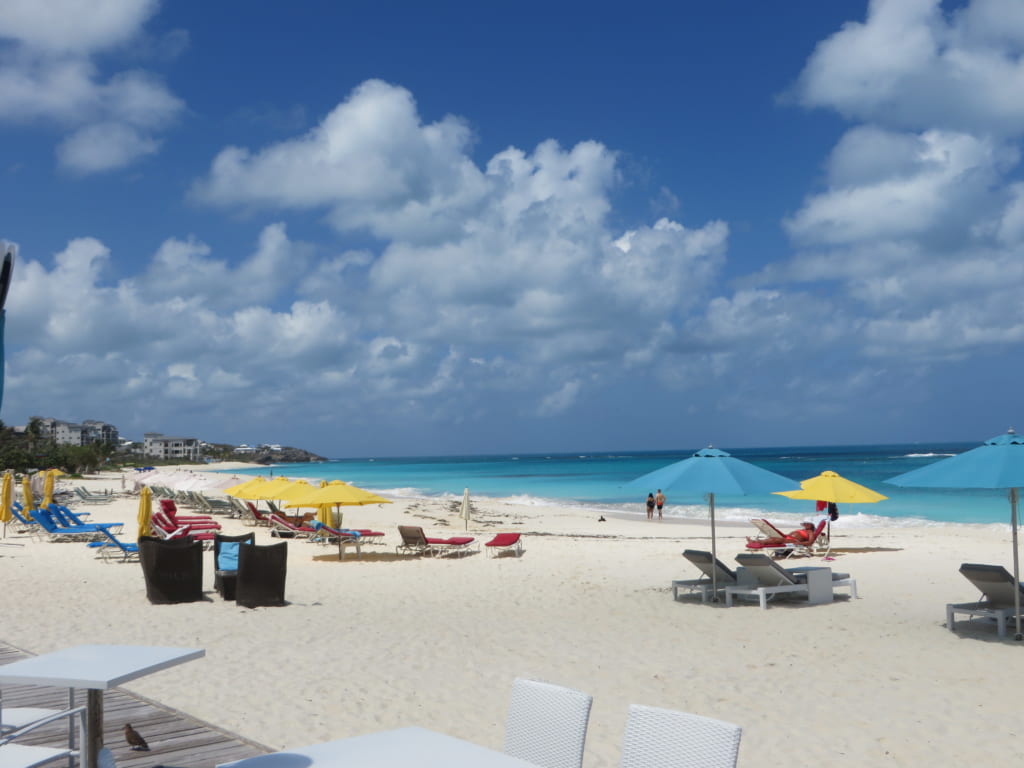 When you get tired of playing in the ocean, you can take a break at the hotel bar. A Hollywood star might sit down beside you.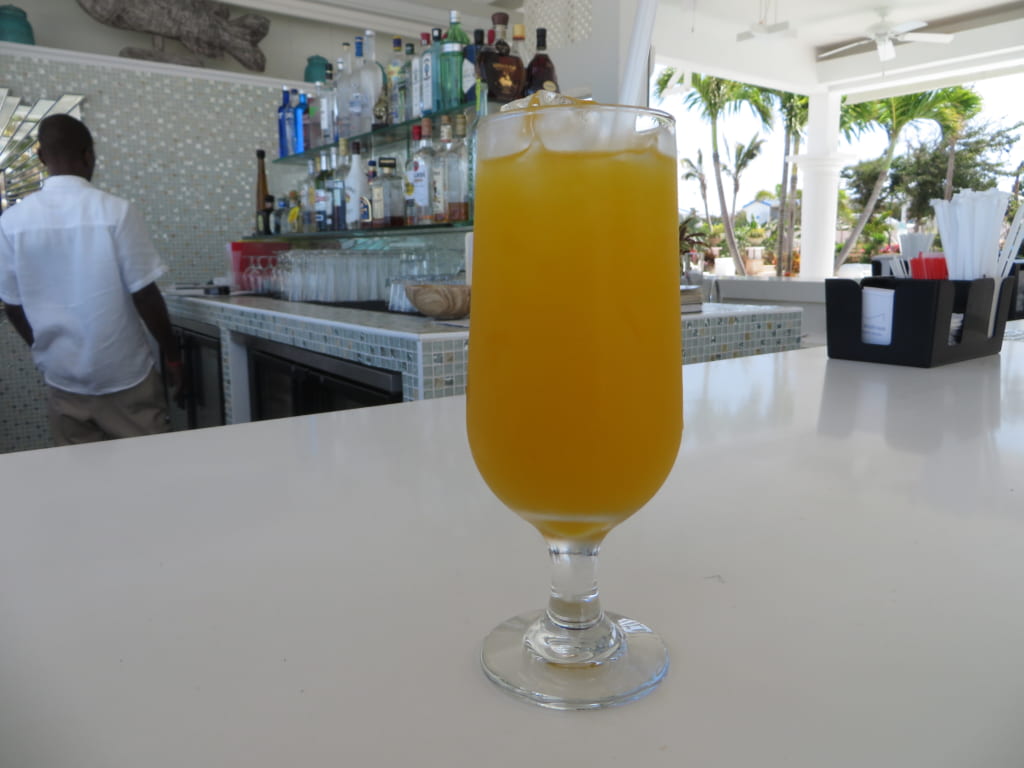 Click here for shots with the 360° camera.

Beautiful Shoal Bay Beach (Anguilla) – Spherical Image – RICOH THETA
◆The Most Dangerous Beach in the Caribbean! How to Climb Down?!
On the island of Anguilla, I used a taxi to do some sightseeing. The beloved car of the driver, Mr. Conner, is a Toyota Vellfire.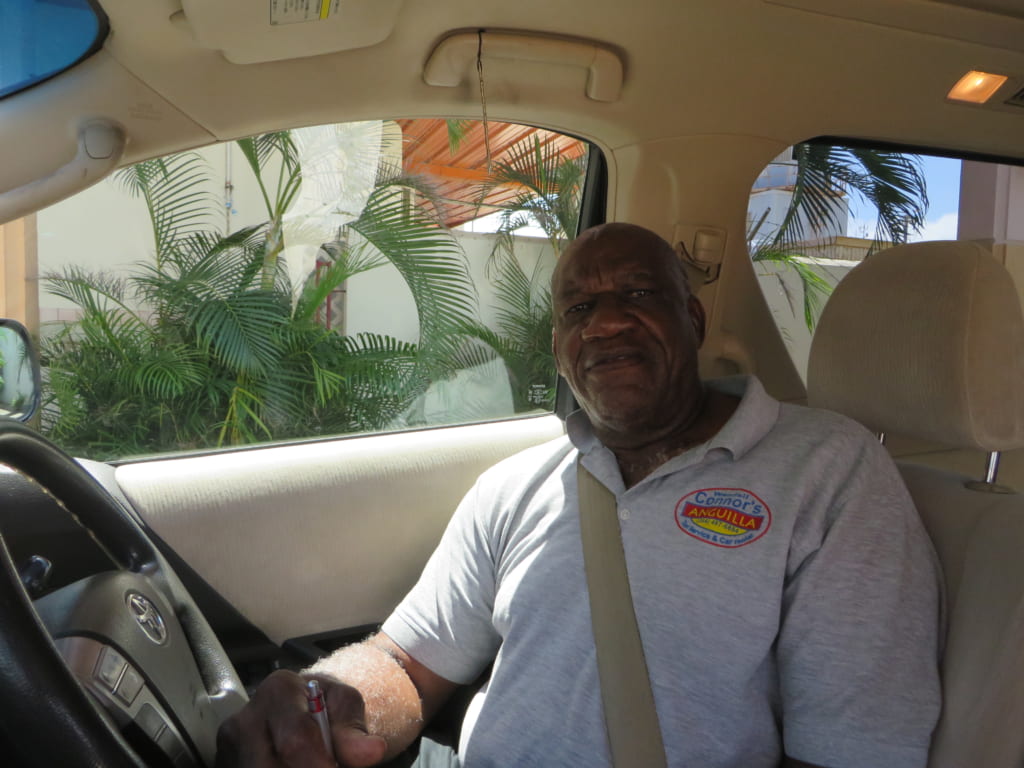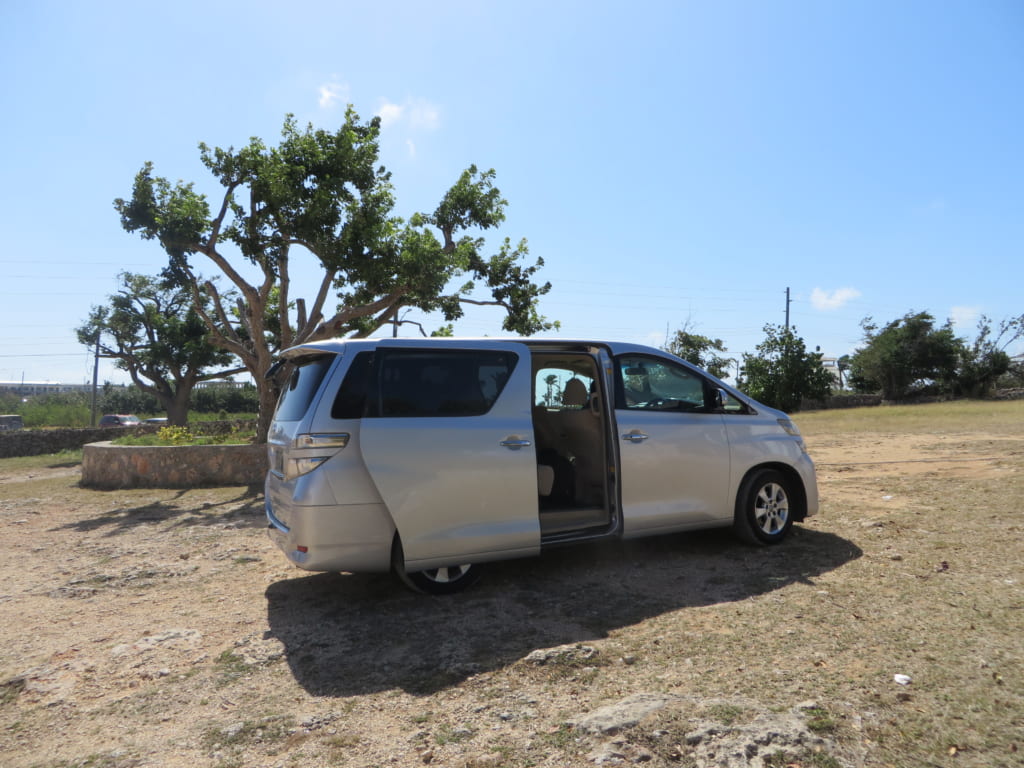 No way, this car is the Japanese model!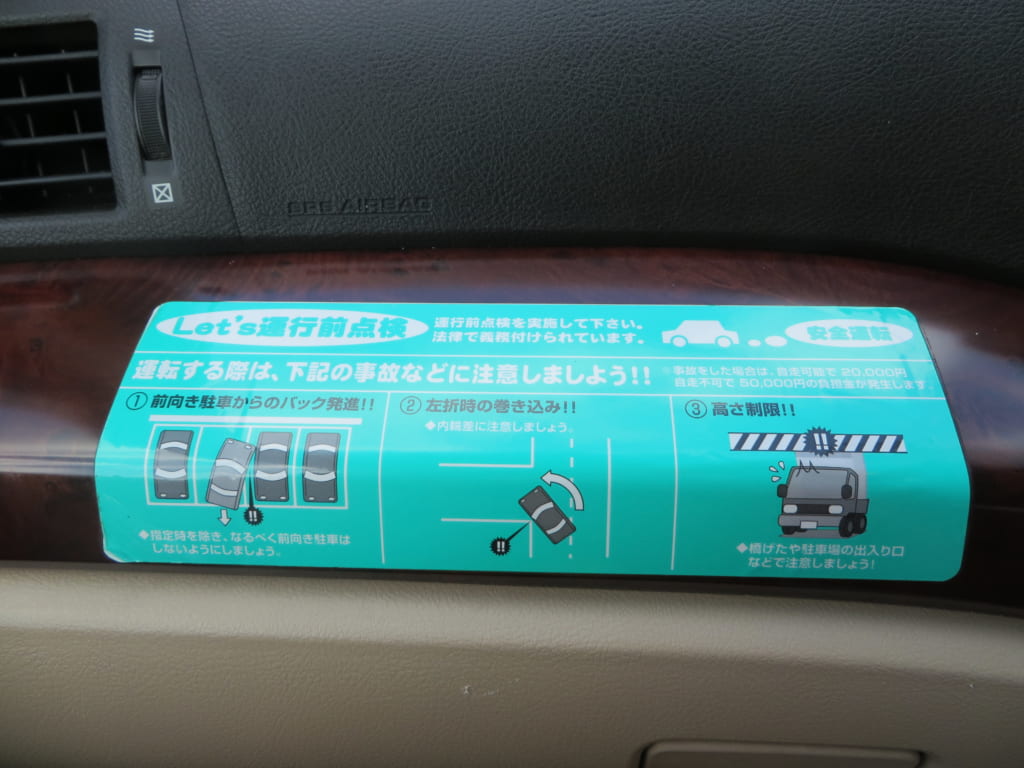 After leaving the popular Shoal Bay Beach, we head for a beach recommended by Mr. Conner. I see the hull of an old ship out the car window.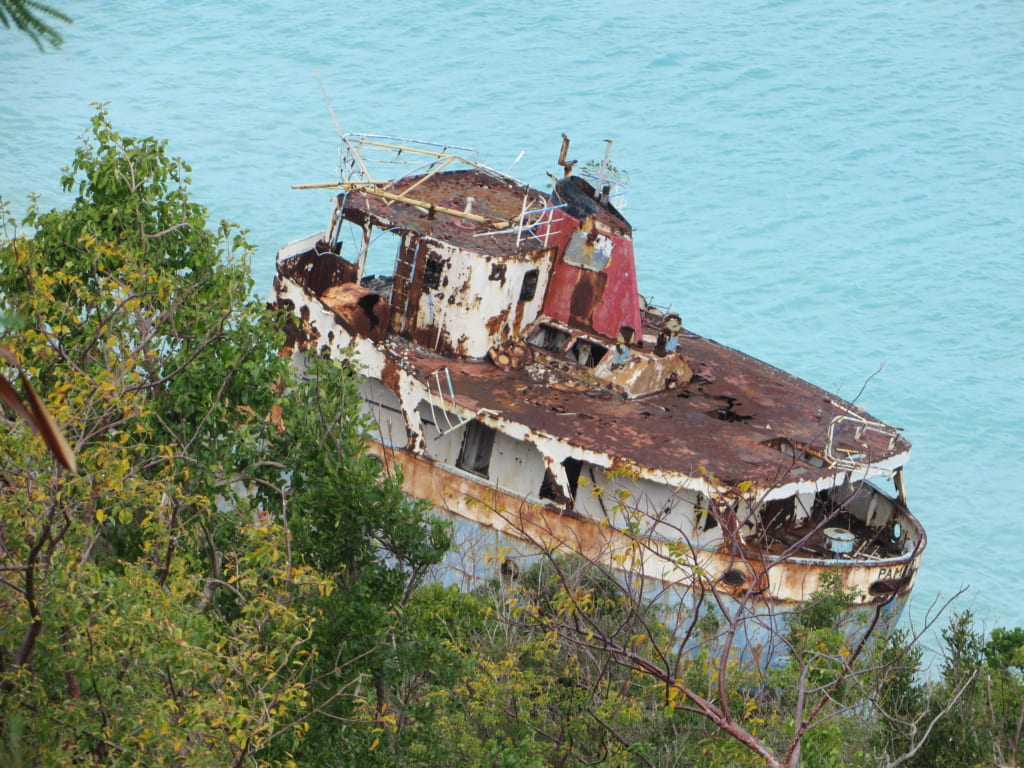 We come to a stop on a grassy cliff. "Here we are. Just go down this road" says Mr. Conner.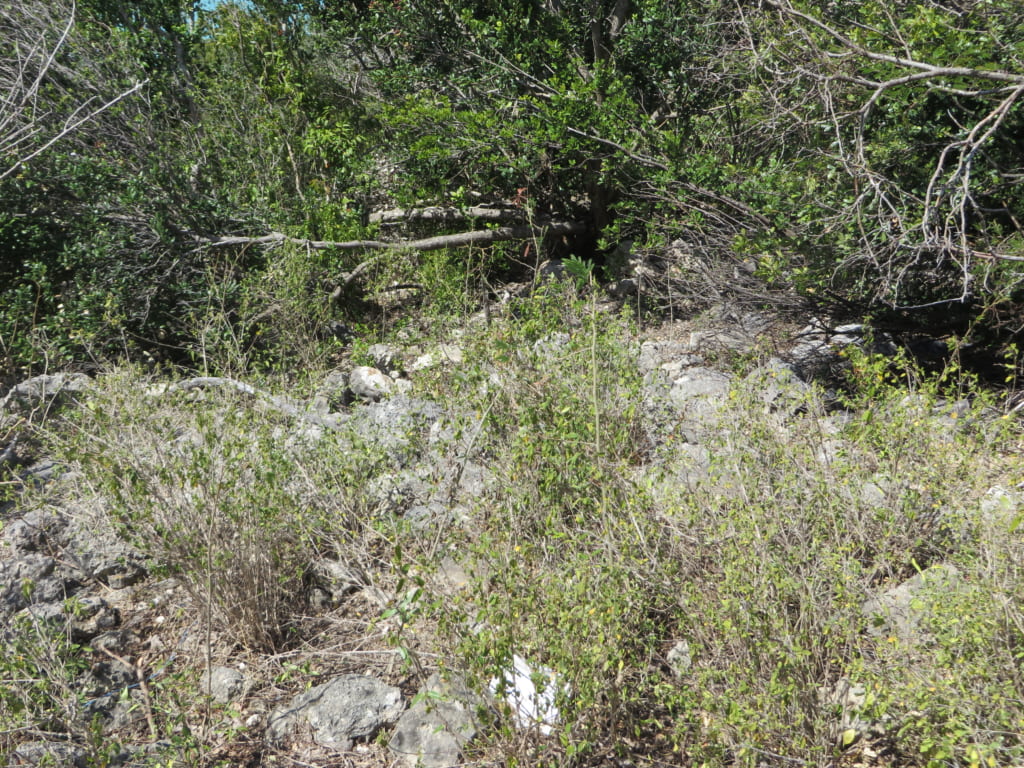 "Road"… What road? I'm quite bewildered.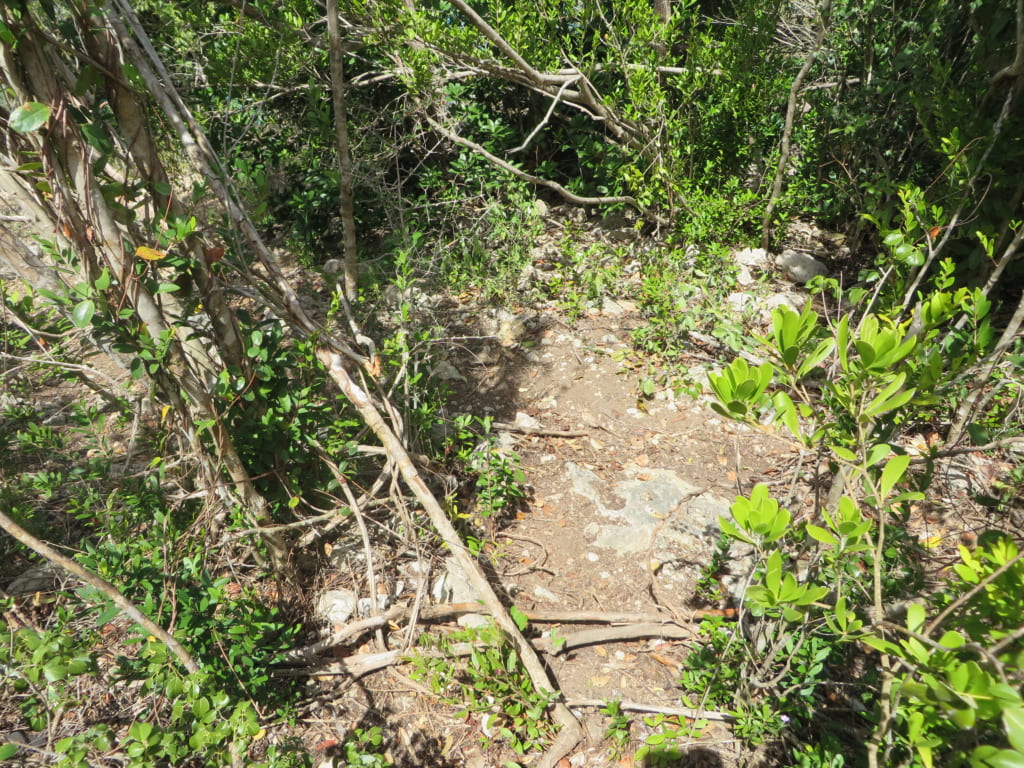 Finally, I spot animal track that I walk down a few minutes. The sea appears before my eyes.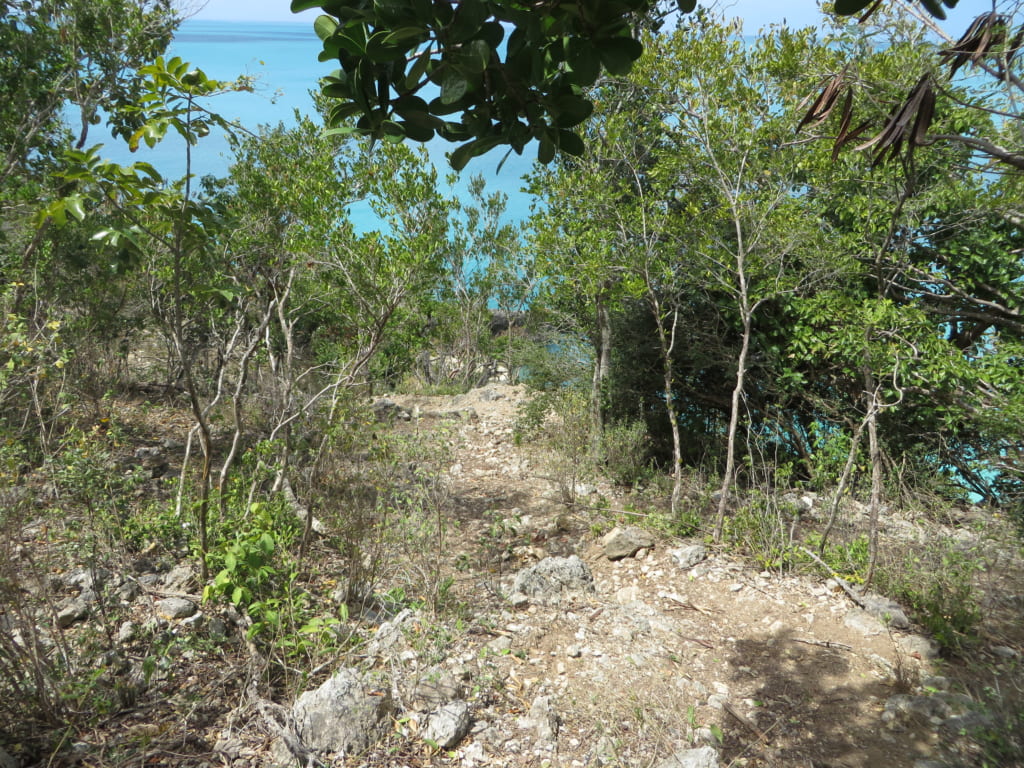 This is Mr. Conner's favorite beach "Little Bay."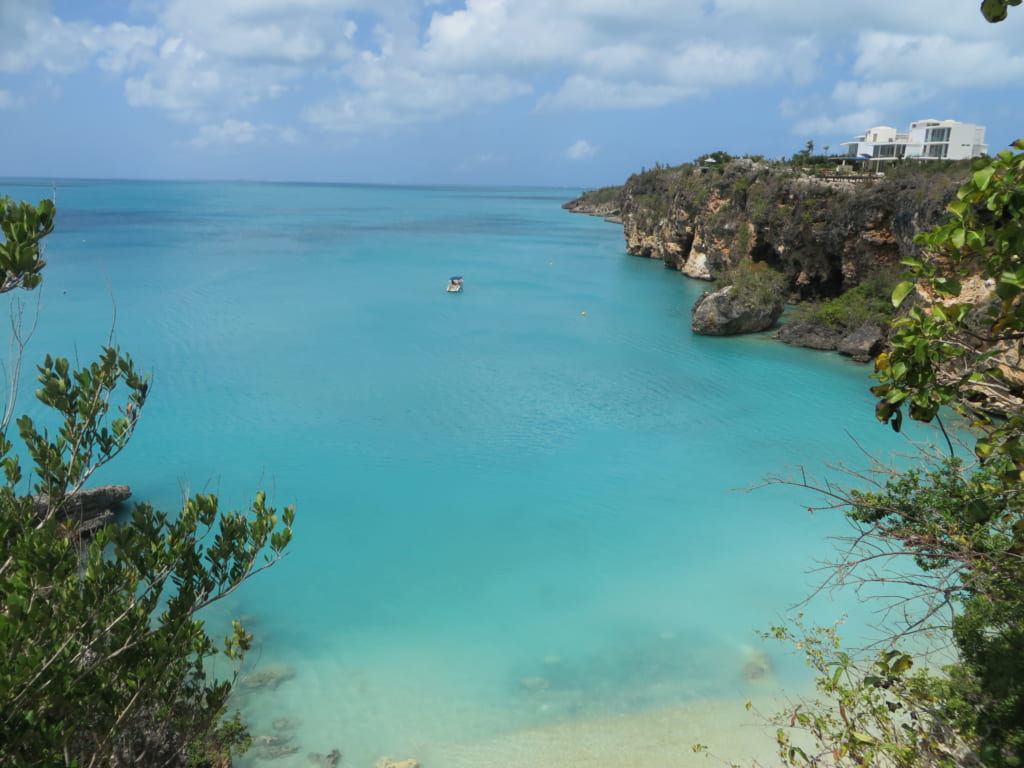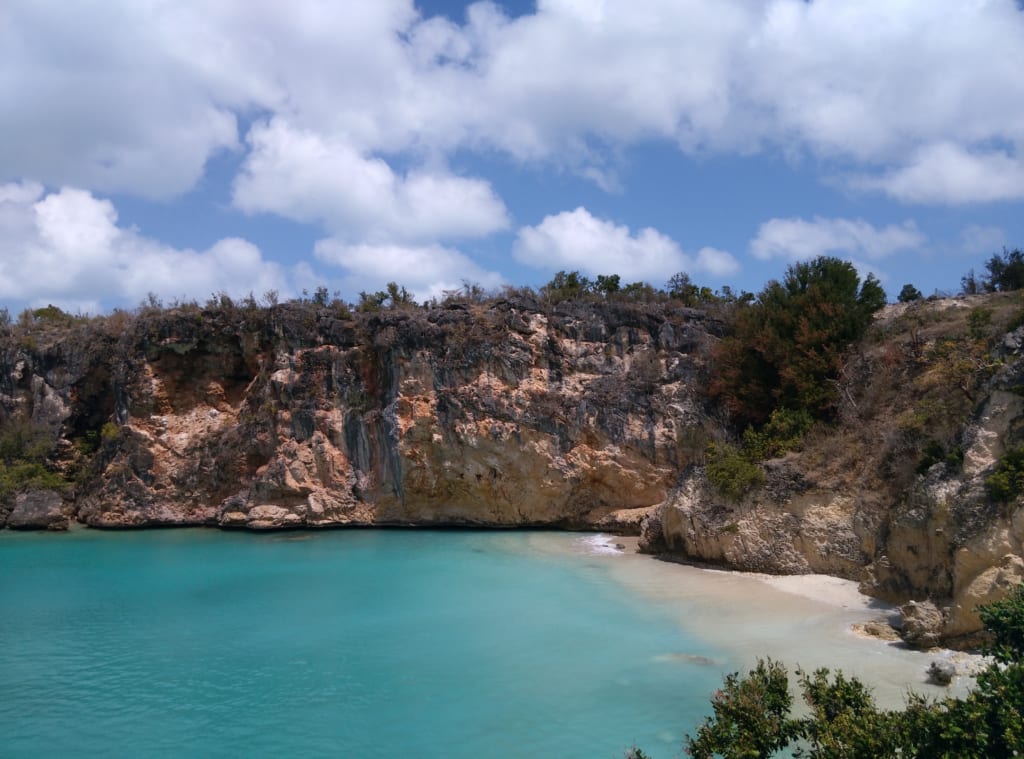 The clarity of the water is true Caribbean.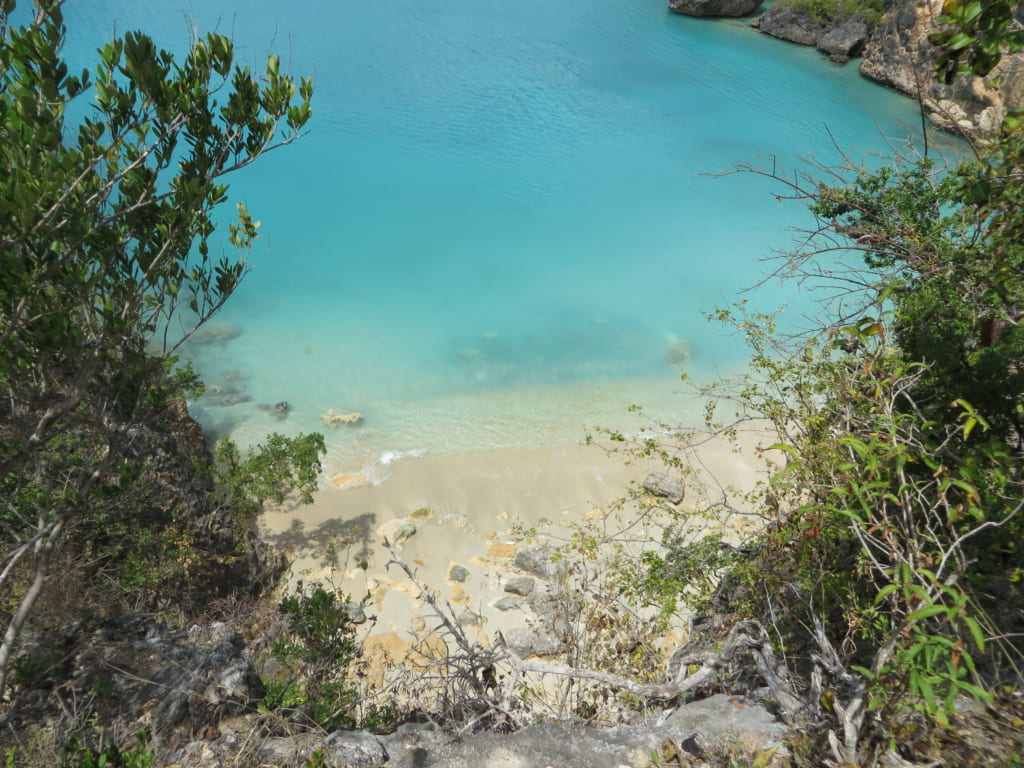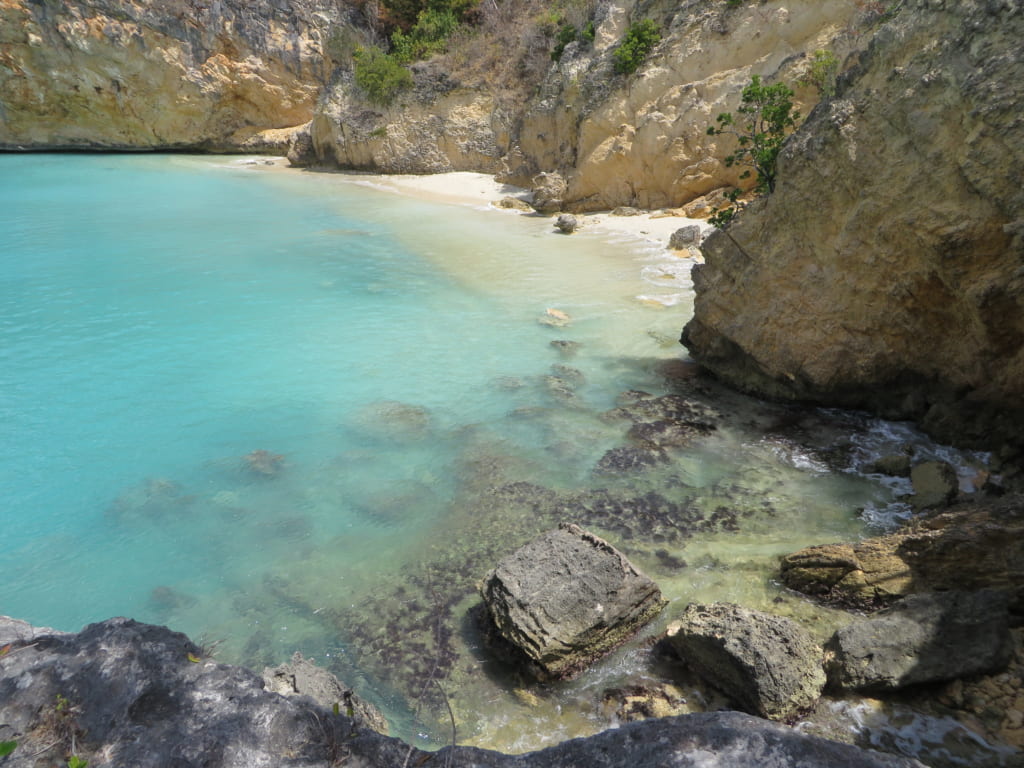 As far as I can see from the top of the cliff, there is not a single person. A perfect private beach!
Let's head down to Little Bay. Looking for the stairs, I spot a yellow rope.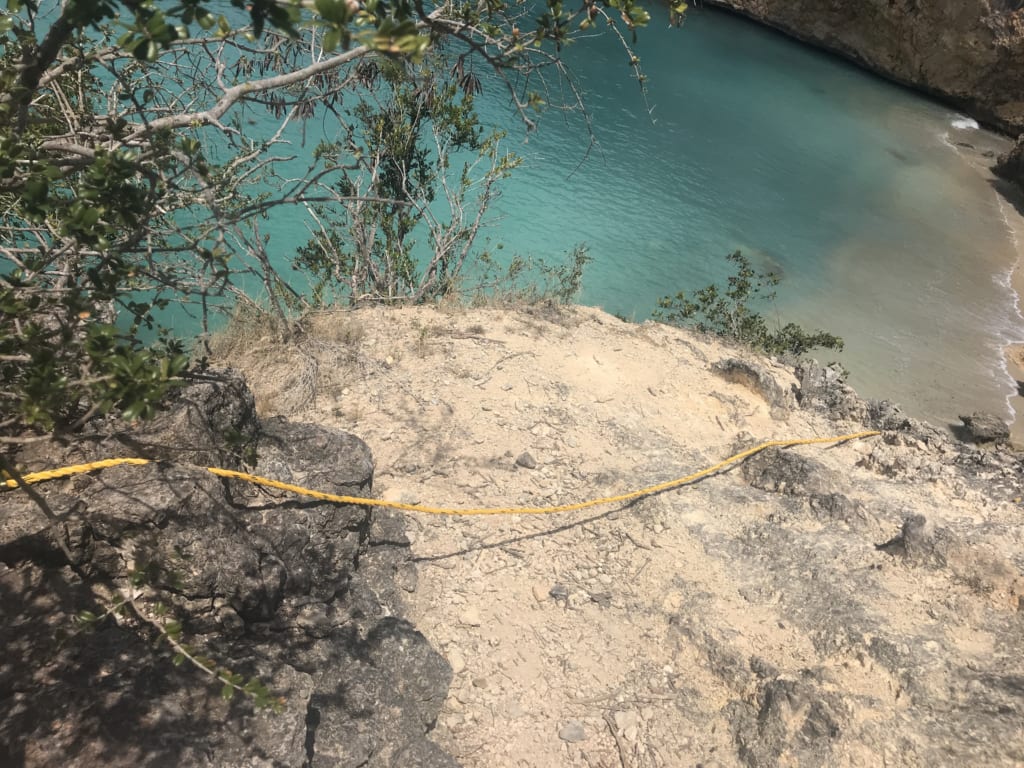 There are no stairs. There is no other way to get down this near vertical cliff than to hang on to this rope and climb down. In other words, only those who want the thrill of descending the cliff can reach Little Bay.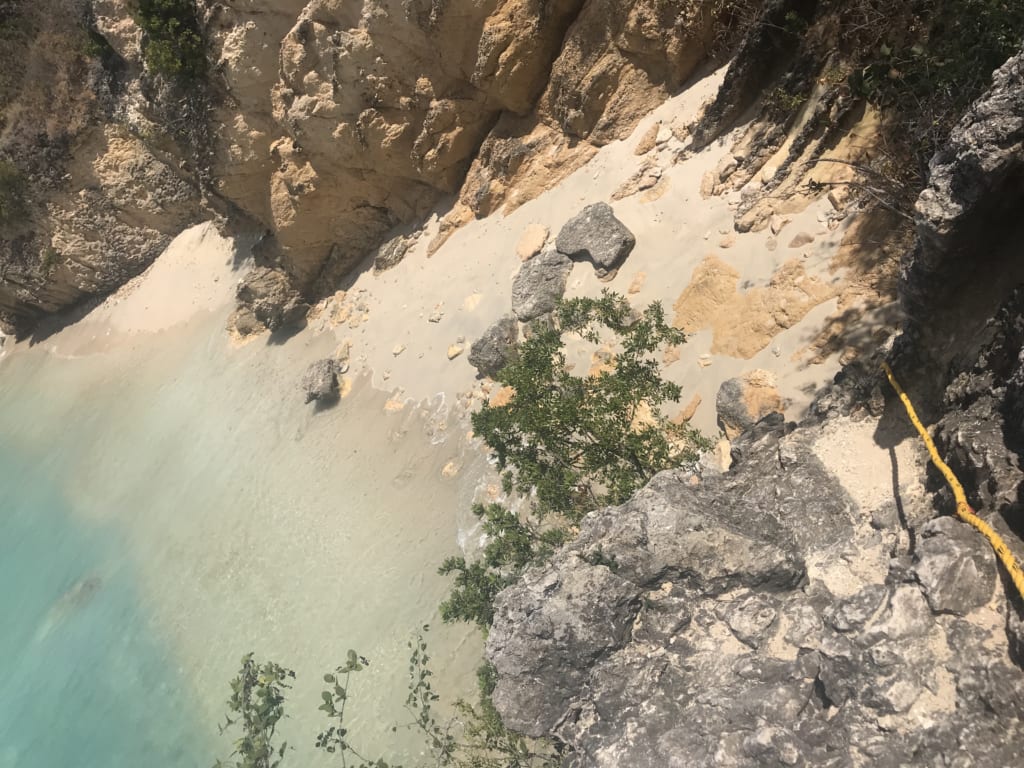 Of course, you have to climb back up the rope on the way back. No wonder there is no one on the beach.
360° camera
The beach I couldn't reach, Little Bay (Anguilla) – Spherical Image – RICOH THETA
◆Modern Art and an Expensive "Buddhist Statue Made in Japan"
Along Route 1 (the main road) near Meads Bay, you can find shops selling modern art and antiques.
First, "Cheddie's Carving Studio" which uses driftwood from the islands to make art.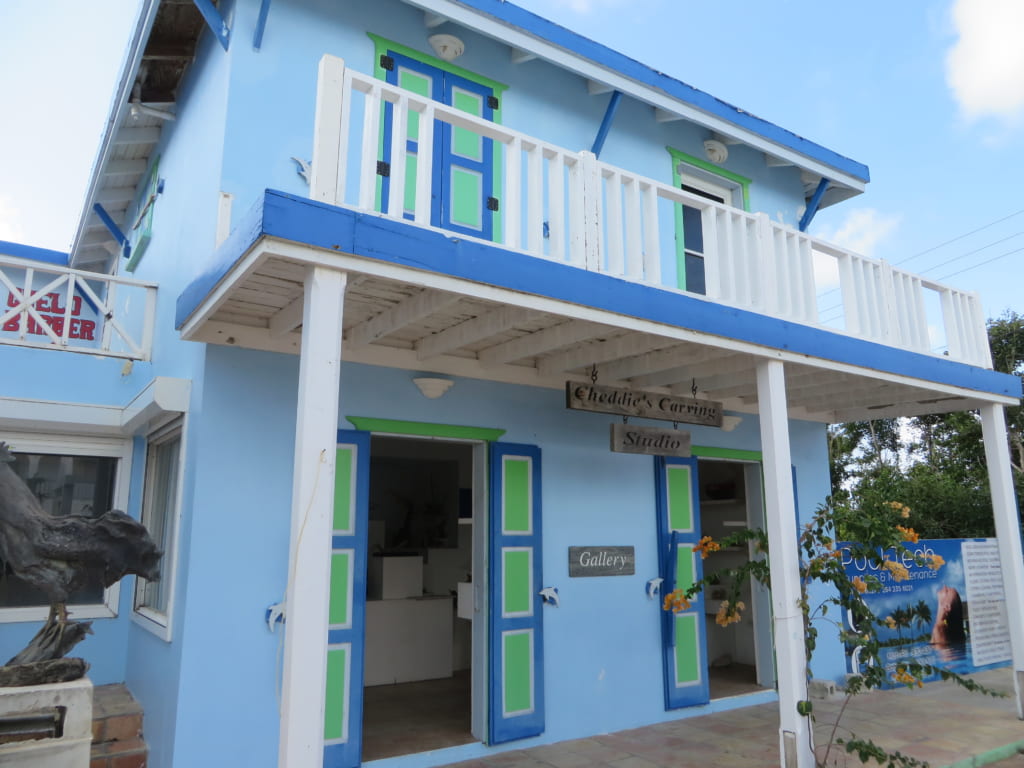 The inside of the store has an open space utilizing natural light, where creative works are on display. You can even buy these things. They might make good souvenirs.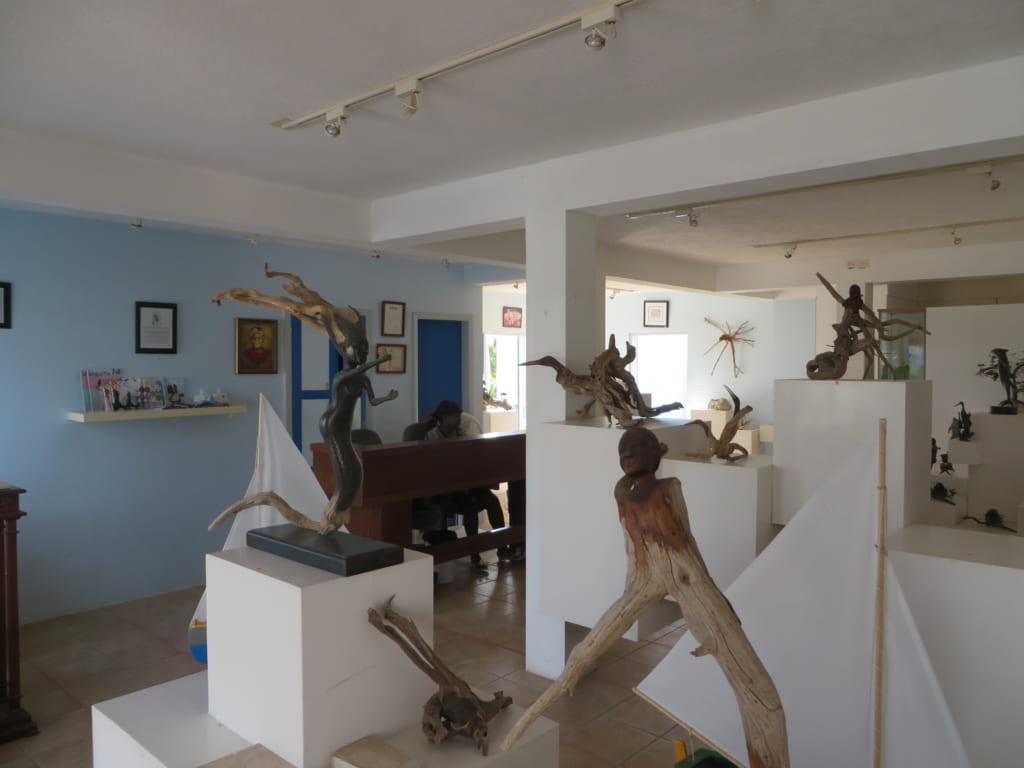 This is probably a cat. I was able to enjoy Anguilla's best modern art to my heart's content.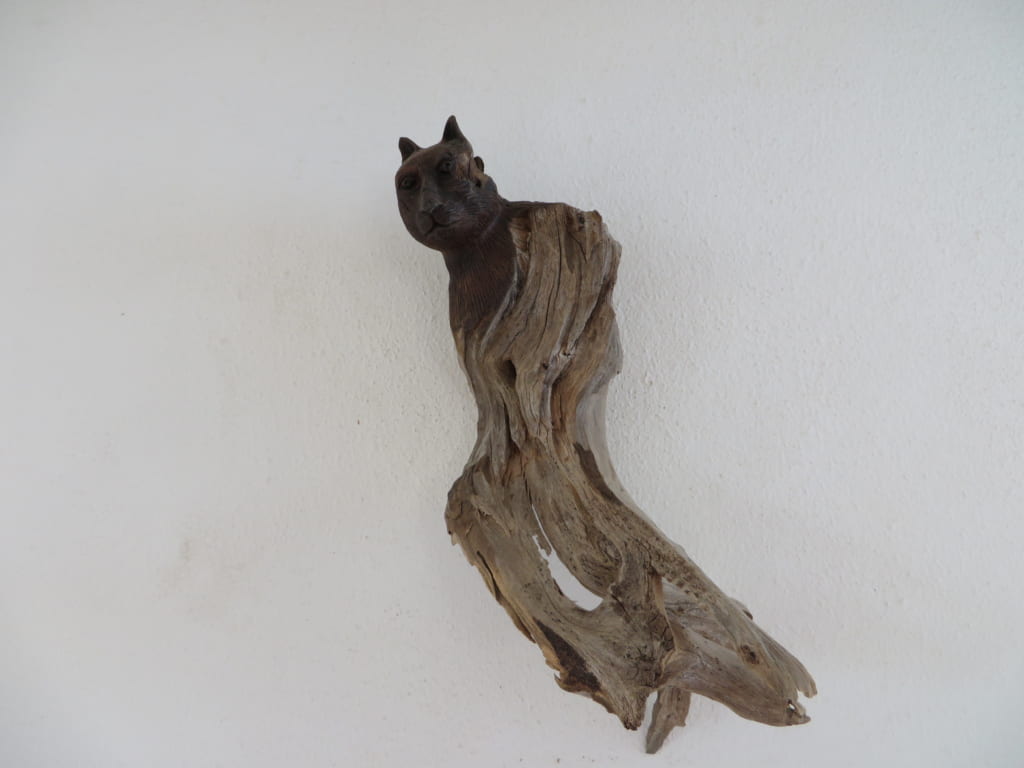 "The GALLERIA World Art & Antiques", a antique specialty shop is nearby.
The Caribbean makes me think of "pirates". Surely, "Antiques" equals "loot wrested from pirates". What kind of hidden treasures can we find?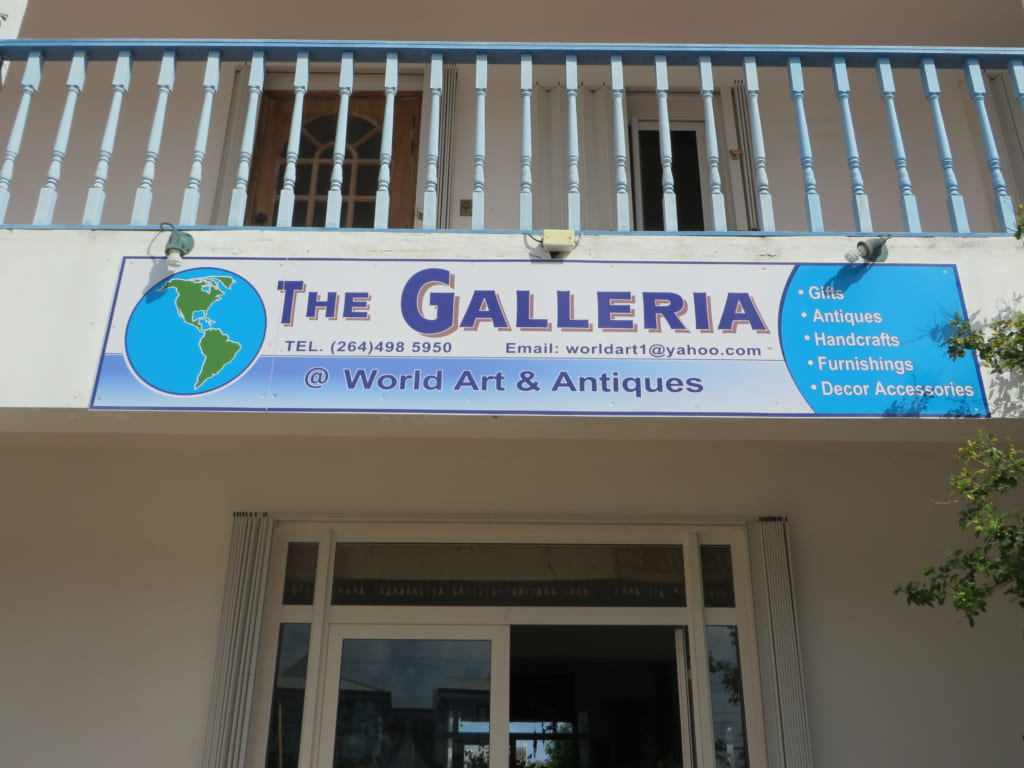 I enter the shop and antiques from various countries come into sight. Yes, definitely a pirate.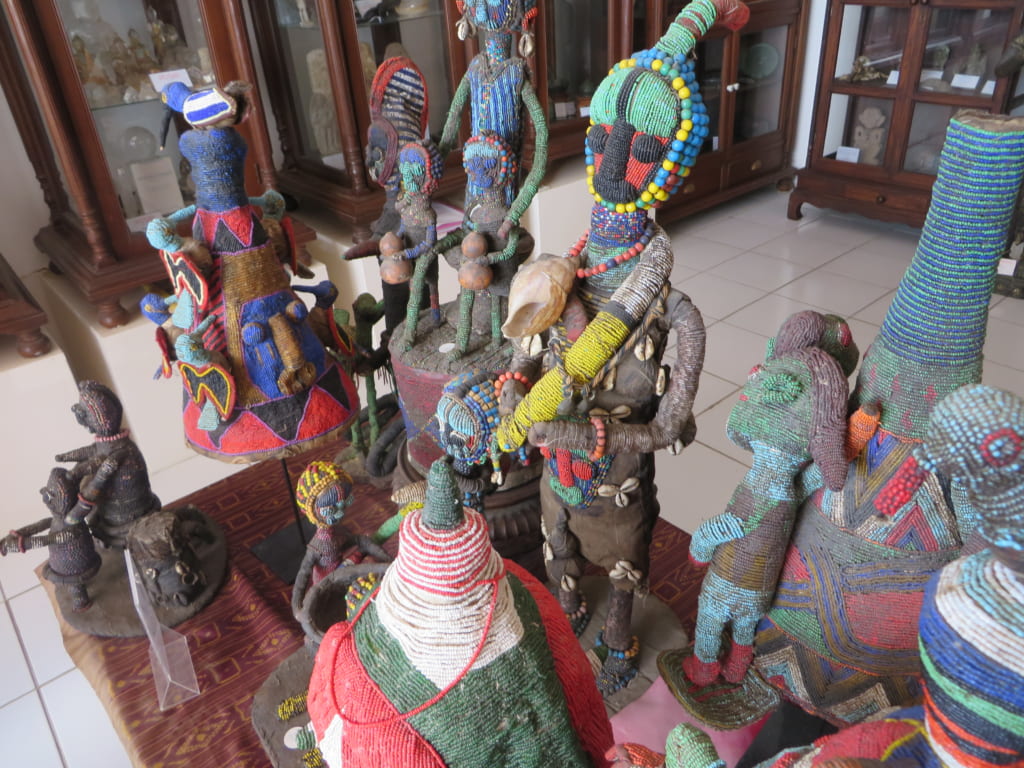 There were some relatively old Buddhist statues. When I asked the owner of the store, he told be the Buddhist statue from Japan is worth more than 2 million yen. However, when questioned closely, it came out that the things that are exhibited and sold here were bought by the shop owner in various countries. They were not "treasures wrested from the pirates of the Caribbean", but "treasures bought by the connoisseurs of the Caribbean". The shop owner also happily told me: "My niece is studying Japanese in Shinjuku."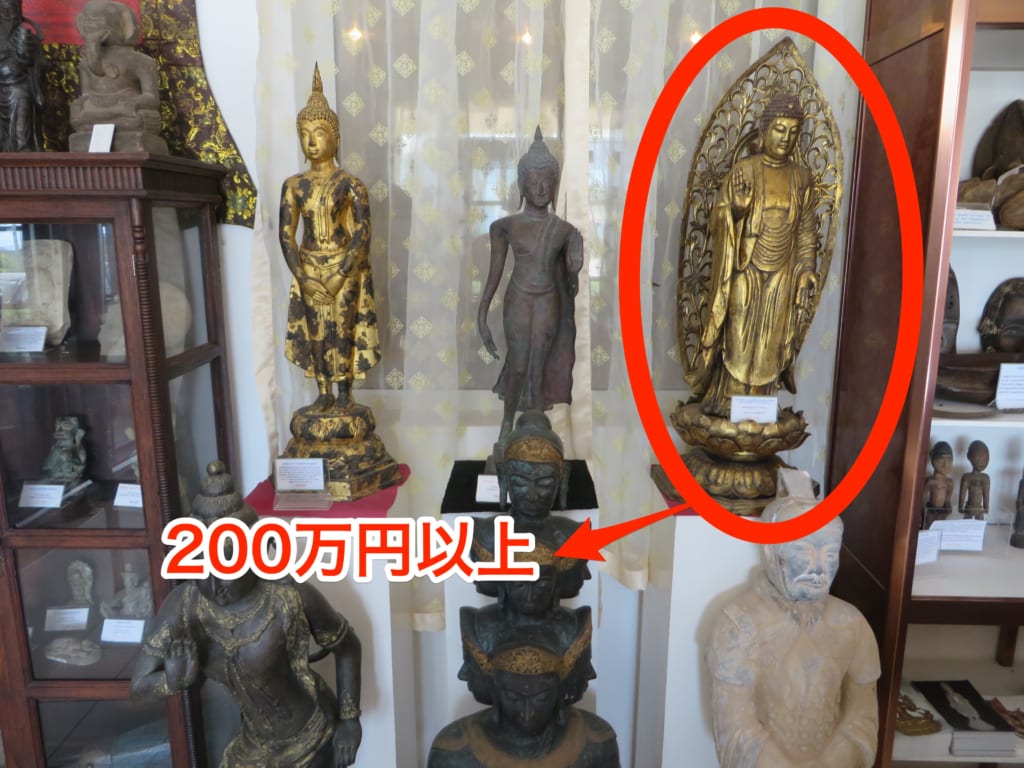 ◆ The Oldest House in Anguilla
In 1632, Anguilla was taken over by England and became a colony. While I was exploring the town, I found a remnant of the colonial period.
"Wallblake House", built in the late 1700s. It's the oldest house on the island.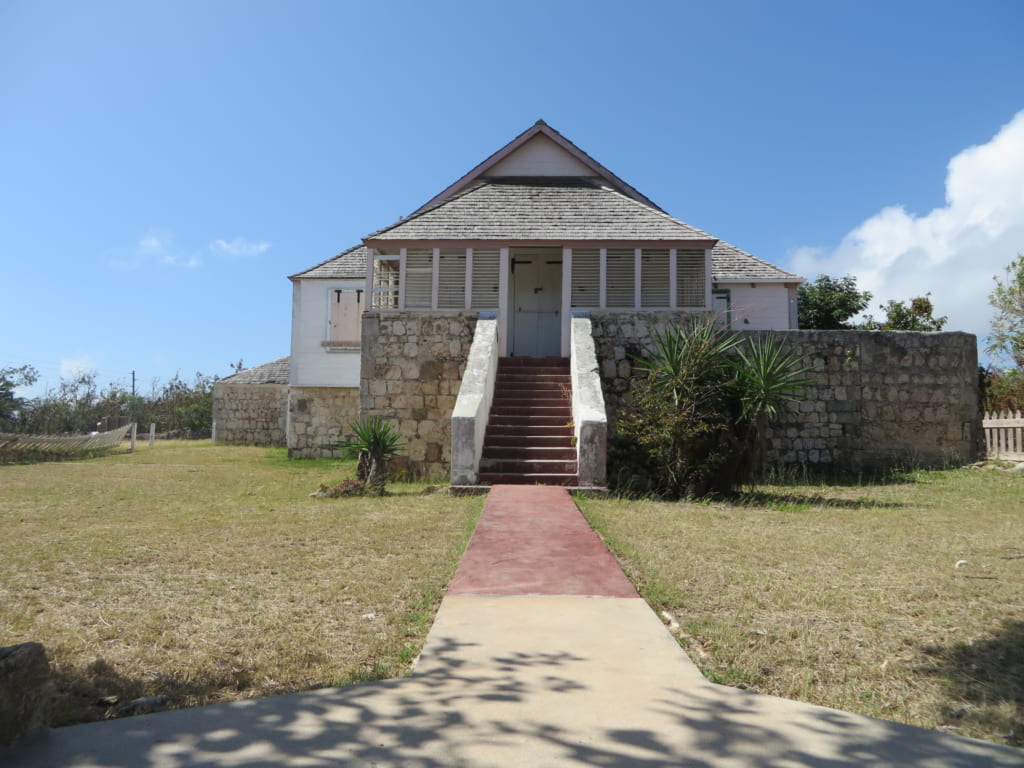 The stone monument states that this mansion was built by slave labour, and that sugar and cotton were cultivated on the plantation.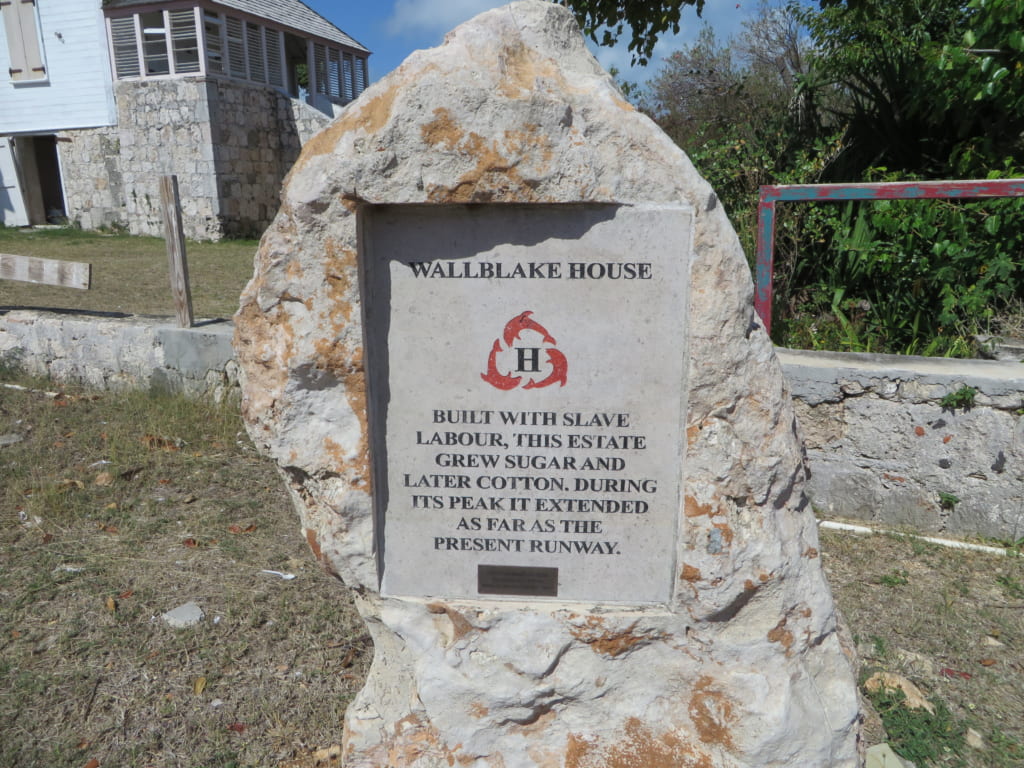 Next to Wallblake House there is a church that was built a few years later, it was full of the voices of people who came to pray.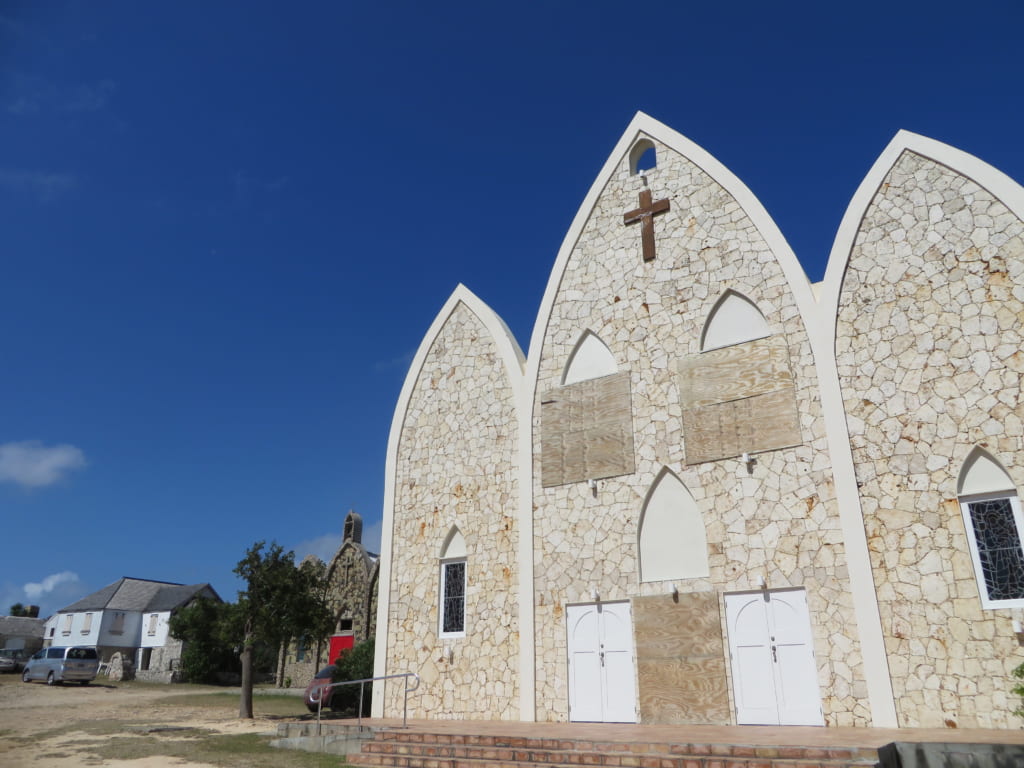 ◆Satisfied by the Caribbean Cuisine of a Popular Local Restaurant
What kind of dishes come to mind when you think of Caribbean cuisine? In Japan there are few such specialty restaurants so I had no idea. So, I went to a popular local restaurant called "Tasty's".
There is a bar counter at the front of the shop, and a dining area arranged at the back.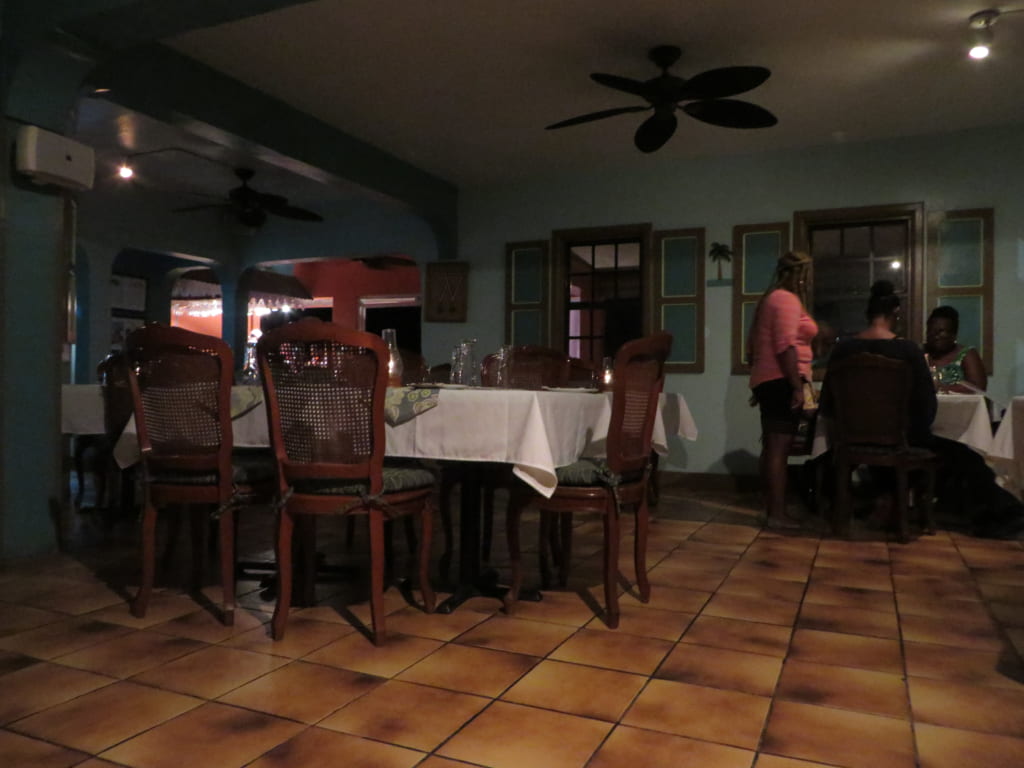 First, I ordered Bahamian cuisine, the renowned Conch fritters (16 dollars.) The conch shells that make natural jewelry were also used to elegantly decorate the interior of the restaurant.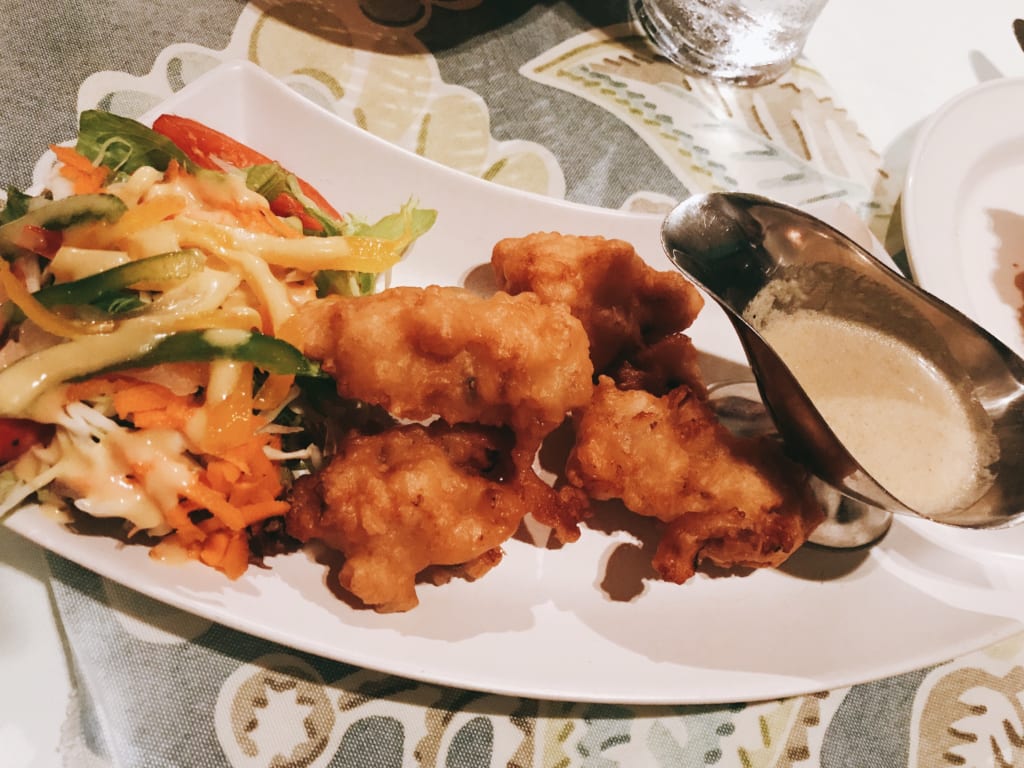 An abundance of springy conch snails encased in crisp coatings of batter.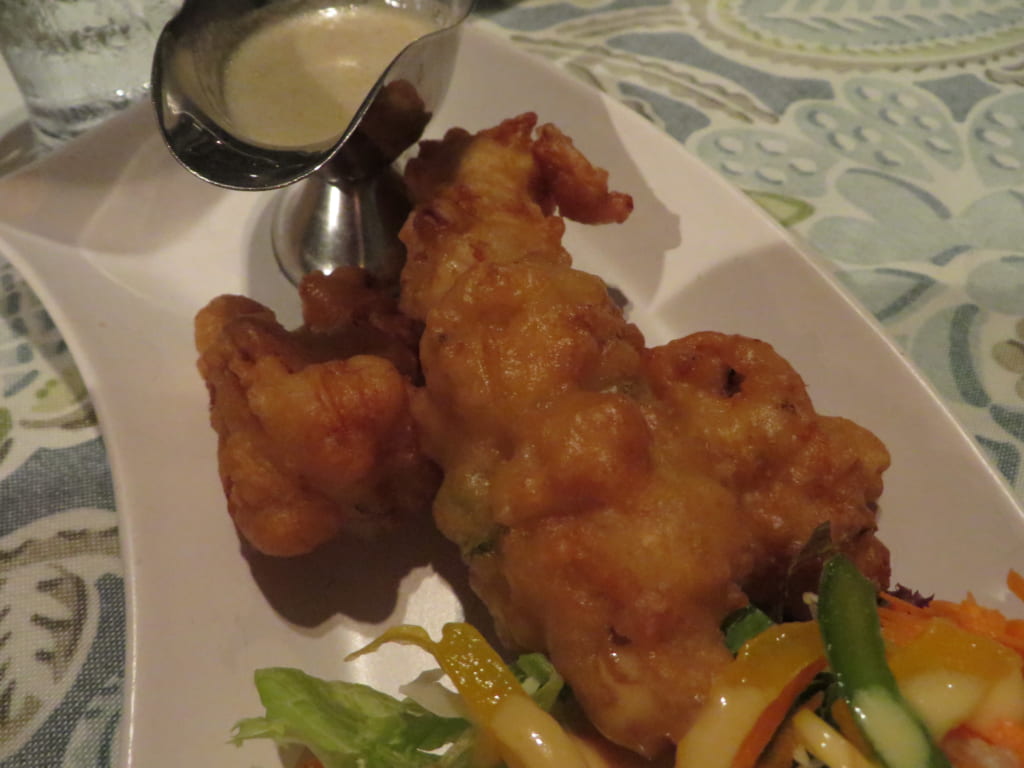 Next, a dish well known in Hawaii, "Mahi-mahi" (or dolphinfish.) Sprinkled with a kind of bean sauce (24 dollars.) Light and easy to eat with no fishy smell.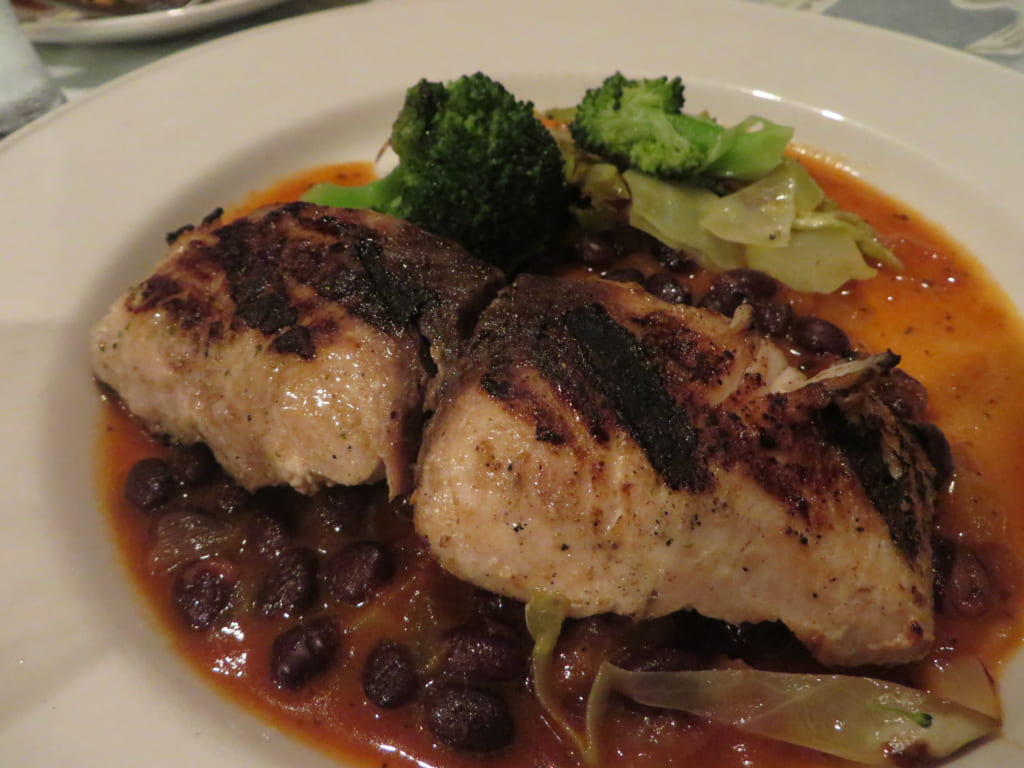 This one is "Shrimp sauté" (24 dollars.) Many dishes use seafood.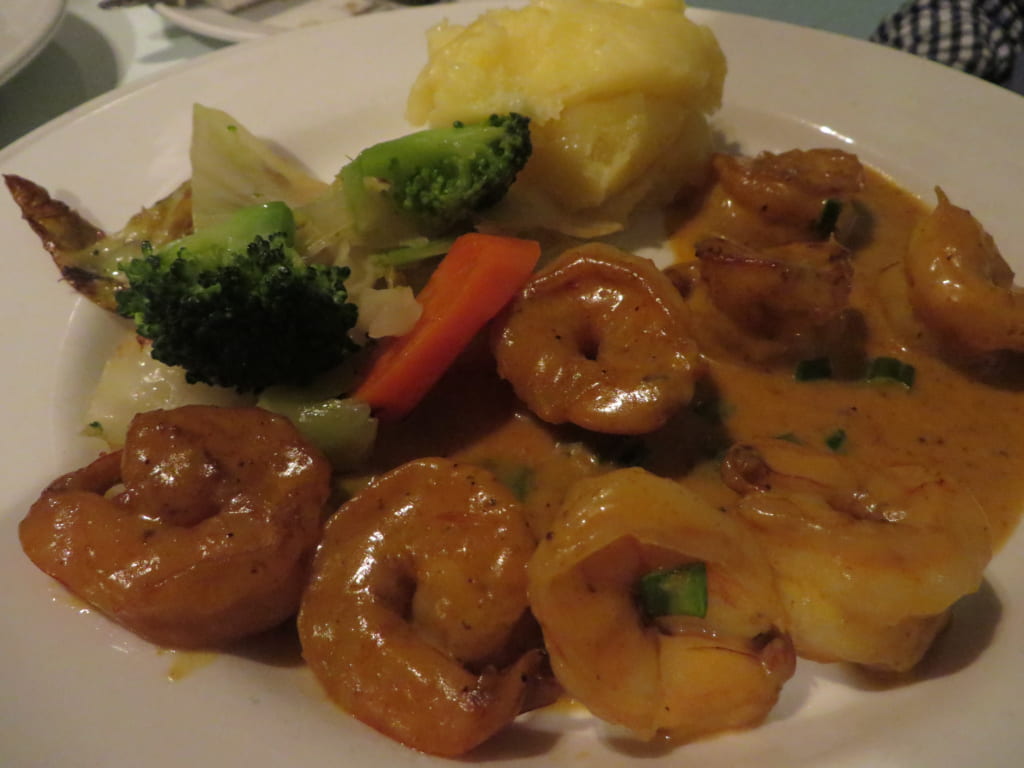 However, the meat dishes were not to be left behind. The thick but soft "Pork sauté" went wonderfully well with a sweet salsa-like sauce (24 dollars).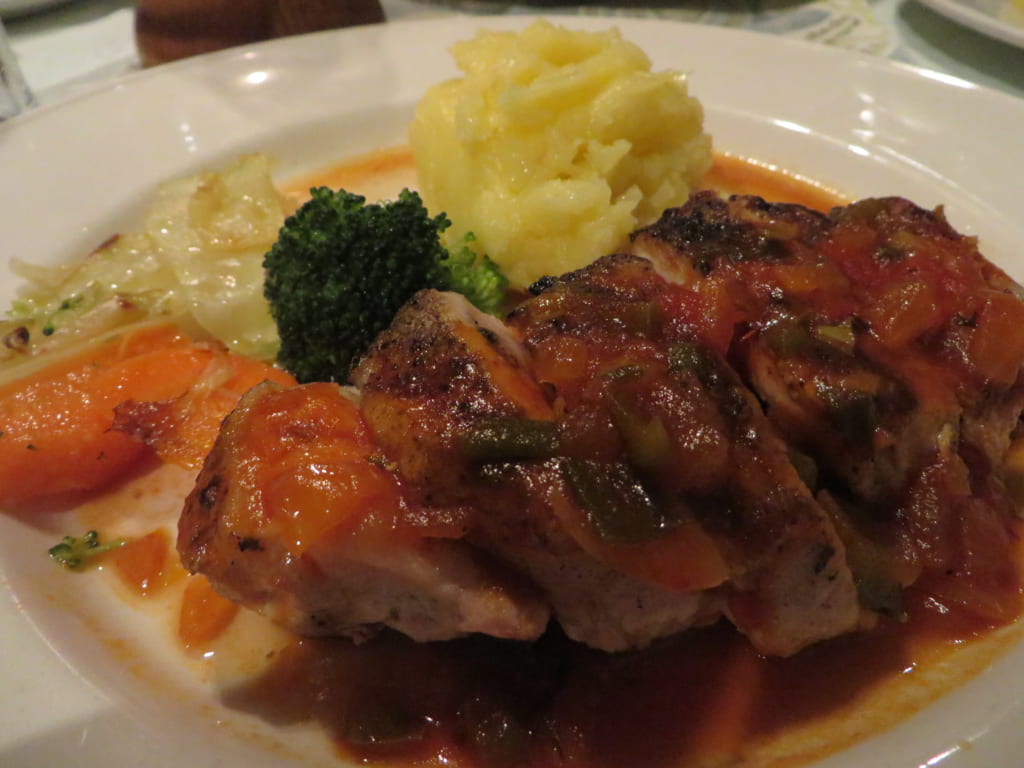 If you visit Anguilla, be sure to get your fill of delicious, locally sourced Caribbean cuisine.
◆Anguilla and Artificial Intelligence
Freshly picked coconuts on sale in the supermarket.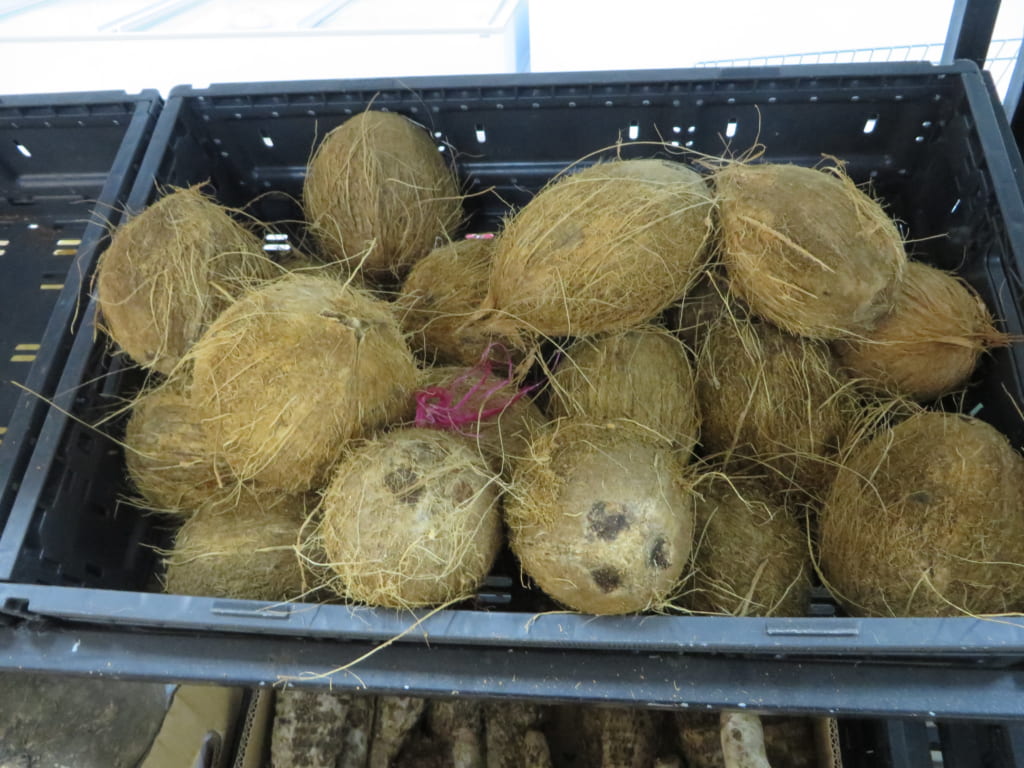 Instead of having a lot of traffic lights, there are "speed hump" zones. The size of these "humps" is much bigger than the ones in Japan, so be careful if you are driving and talking.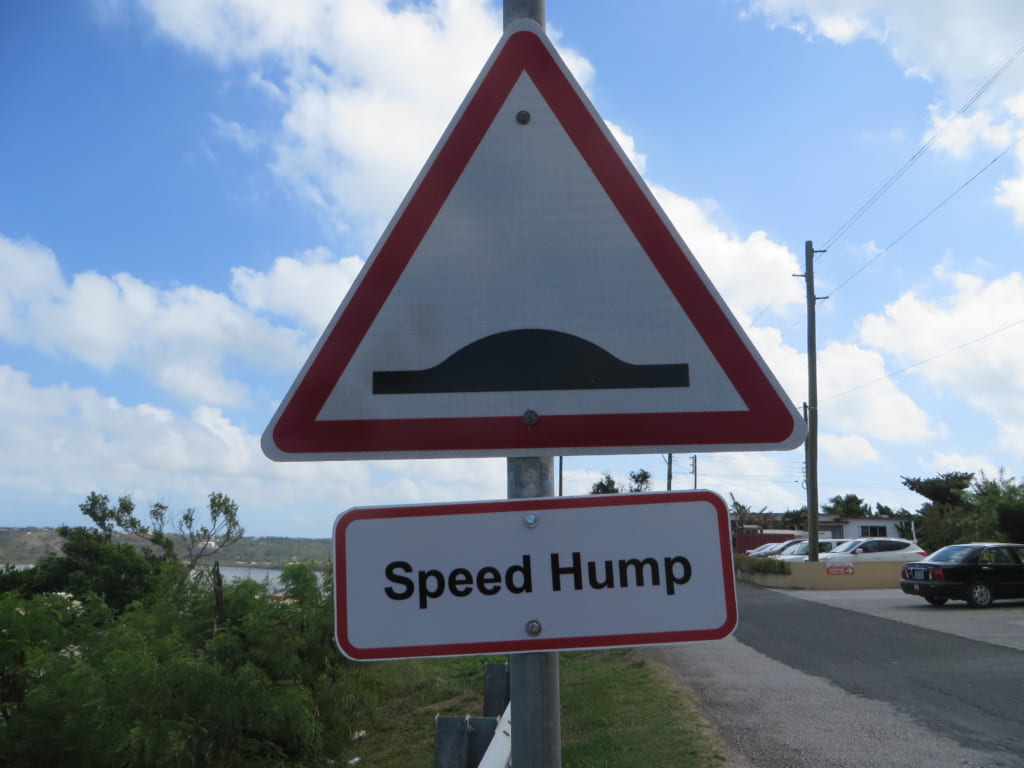 I stayed at the "Easy Corner Villas" equipped with Wi-Fi and TV. Unfortunately, I could not use the Wi-Fi or TV, so I spent a very quiet night ($180 / per night, / per person)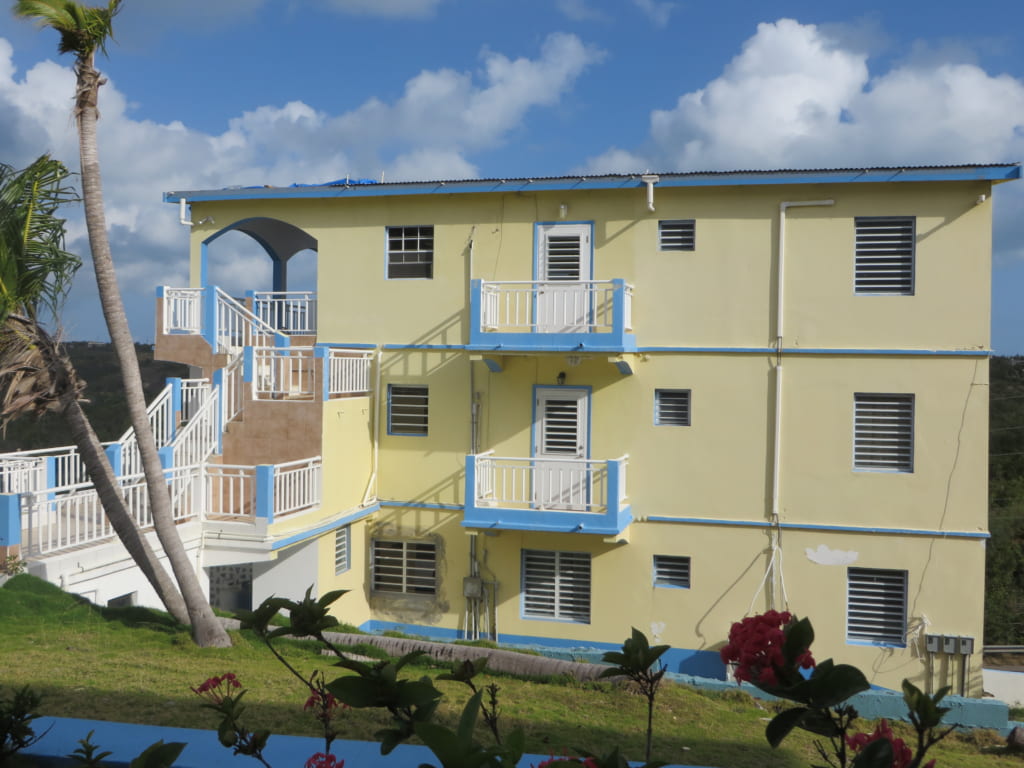 Mr. Conner honks his horn loudly when passing other cars and people. When I asked why, he said he was: "Greeting friends".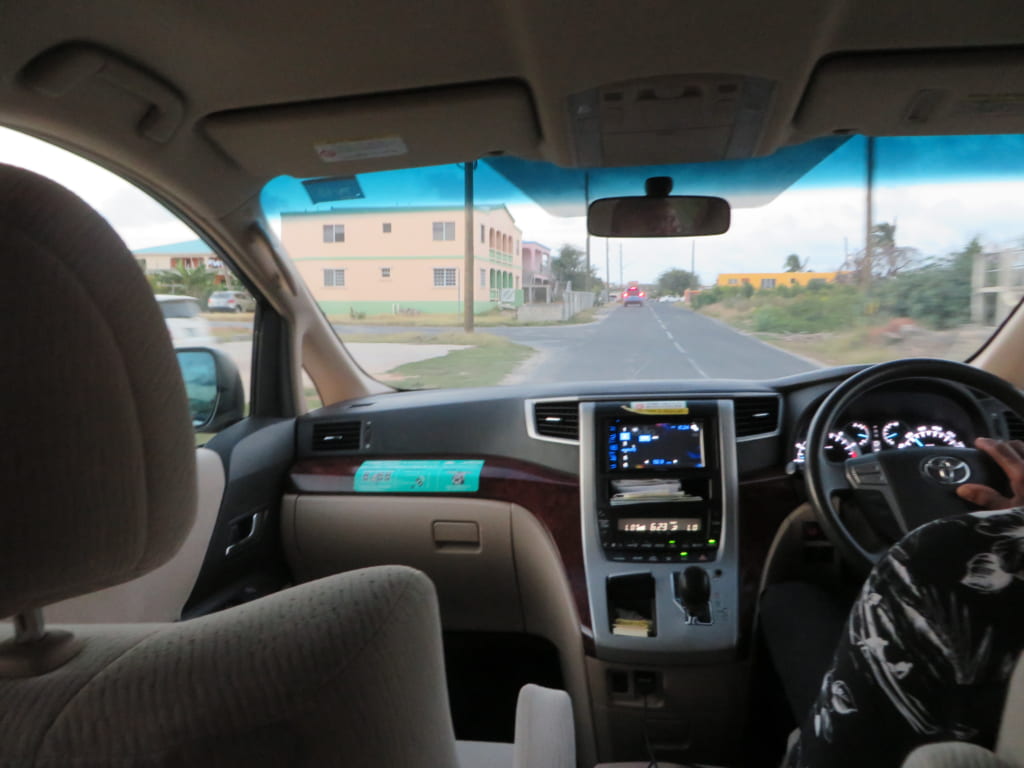 Since Anguilla provides the ".ai" domain, I thought that the people living here would be living in close association with AI, but as you can see, AI is in no way a part of their daily lives. From now on, ".ai" will continue to grow as a domain for artificial intelligence, and more people will know about "Anguilla". But, as the people of Anguilla themselves have no idea of such a thing, they are left to the quiet flow of life.
■For access to Anguilla click here
■For Anguilla's Domain ".ai" Click Here