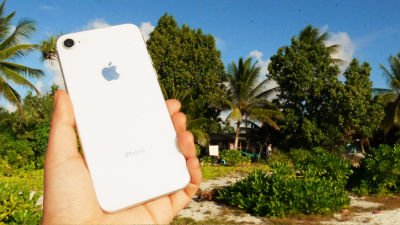 To get to Tuvalu, the "country disappearing into the sea" due to global warming, I first had to travel to Fiji, to connect to Tuvalu. Getting to Tuvalu is not easy. There are only three direct flights a week between Japan and Fiji, and the same between Fiji and Tuvalu. The total travel time is more than 40 hours each way, and the flight costs more than 250,000 yen round trip, which is not cheap. So, few Japanese people visit Tuvalu because the access is so bad. As a result, the kind of life people live in Tuvalu is still very mysterious, although the Internet is a normal part of everyday life.
I think many people might be wondering, "Where is Tuvalu?" So, let's check the location on Google maps. Tuvalu is here!
Zooming in ……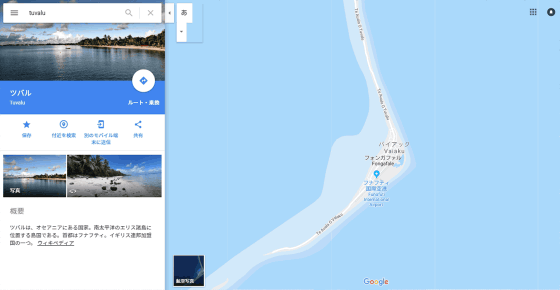 This is Tuvalu. There are a few pictures of the Federal Government buildings etc. But, mostly the pictures are of the ocean, so you really can't really tell what kind of island it is.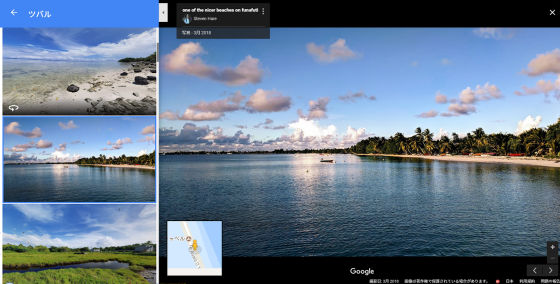 So, I went to Tuvalu to check if iPhones can be used on the island, and to see what kind of life people have in Tuvalu, etc.
Table of Contents
◆More than 40 hours to Tuvalu
◆Can iPhones Be Used in Tuvalu?
◆Looking For an Internet Cafe
◆Food – What do People Enjoy Eating in Tuvalu?
◆Do People in Tuvalu have TV at Home?
◆Representative of the Tuvalu ".tv" Domain Name Registry
◆Got to Tuvalu!
In order to get to Tuvalu from Japan, first, I needed to fly to Nadi, Fiji on a 9-hour direct flight from Narita Airport (Japan), which started from July 2018. Then, from Nadi, I traveled to Fiji's capital "Suva" by air on a 30-minute flight and stayed overnight. Finally, the next day, I caught a flight from Suva to Tuvalu's capital "Funafuti". In all, it took more than 40 hours to get to Tuvalu from Japan because the lack of flight options poor transit connections. This is the airplane in Suva.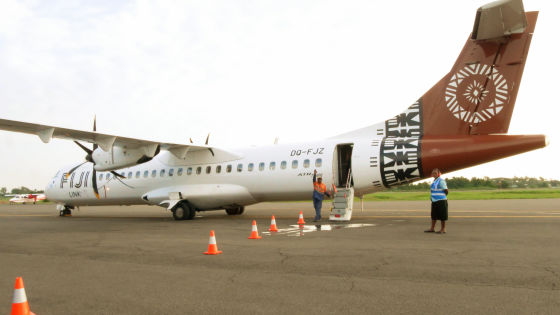 A small propeller airplane with four seats per row.
This is my seat. Only one pillow for 2 seats. Since the people of Fiji have a strong mindset about sharing, this might be a message to "Share Your Pillow!"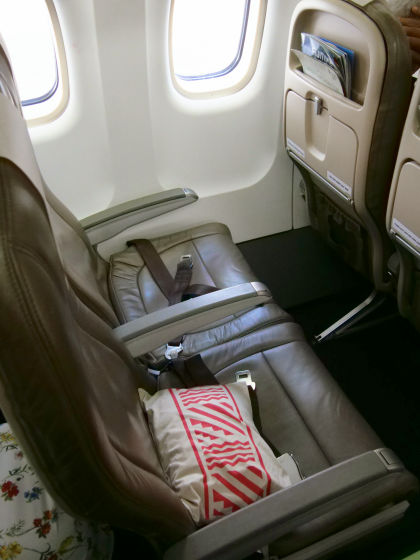 About 2 and half hours from Suva to Tuvalu's capital Funafuti. As a light meal, I enjoyed an egg muffin-sandwich.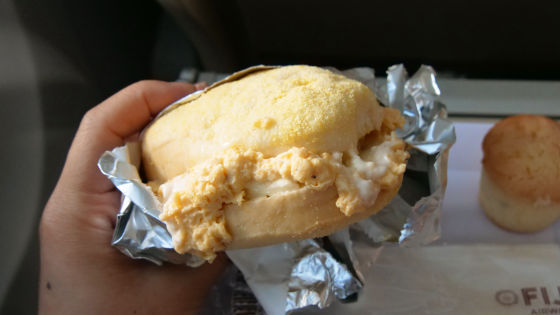 Flying over the wide empty ocean ……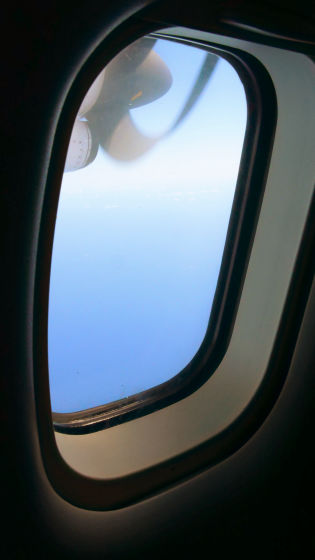 I can see an elongated island or a long, narrow sandy beach.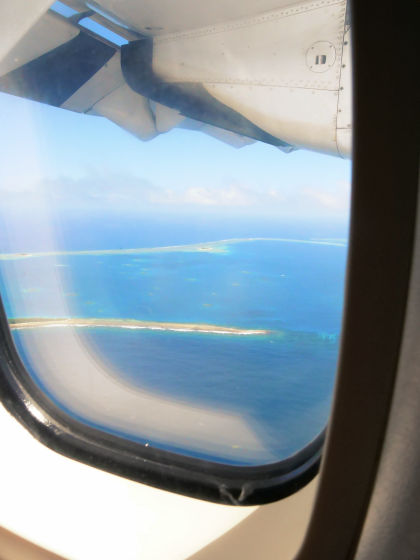 Right over the residential areas……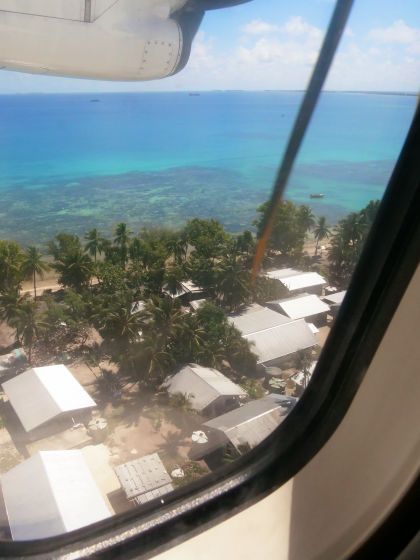 Landing!!
I arrived in Tuvalu!! You can take a look at Funafuti airport with the following 360-degree image.
Post from RICOH THETA. – Spherical Image – RICOH THETA
This is Funafuti town, where there are mainly one-story houses with tin roofs. I can clearly see the beautiful sky because there are no high buildings at all.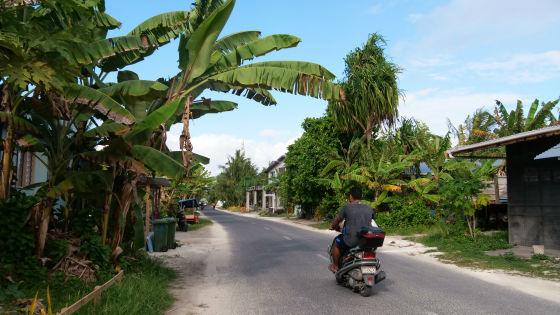 People in Tuvalu are so friendly!! I wonder "is there no evil in this world?" "Talofa (Hello)!!" Everyone greeted me with a smile, and because I usually spend my time in front of my computer, my cheeks cramped up trying to smile when returning greetings.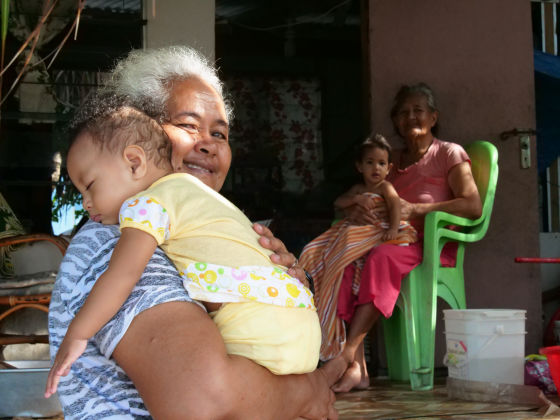 In addition, the peaceful condition of Tuvalu is evident by the fact that the airport runway becomes a playground for all in the early morning and cooler hours of the evening. Grown-up teams play soccer, and nearby ……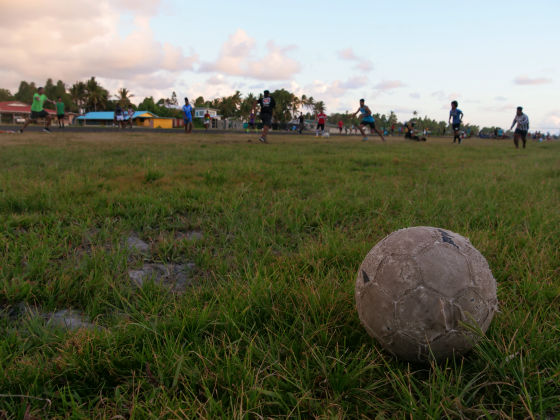 Children put their heart into rugby.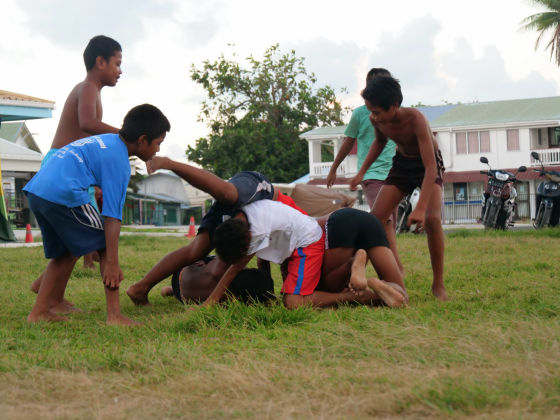 Please check out the following video to see the airport runway become a soccer field.
The runway of Tuvalu international airport becomes a soccer field – YouTube

This is a video filmed from the air using a drone.
People are playing rugby on the runway of Tuvalu Funafuti International Airport – YouTube

People's houses are about 10 meters from the runway, they enjoy talking and relaxing in the evening.
The waters off the beaches of Funafuti are not so clear, but the more isolated islands have beautiful clear water where you can enjoy snorkeling.
Underwater near the isolated islands of Tuvalu – YouTube

◆Can iPhones Be Used in Tuvalu?
Tuvalu Telecommunications Corporation (TTC), which is the state-owned company, is the only company which provides communication services in Tuvalu. So, let's look for TTC! In high spirits, I left the airport and asked someone where to find TTC. He said "Over there, by that broadcasting tower!", pointing out a building near the airport.
Just 10 minutes on foot from the airport.

This is the TTC building.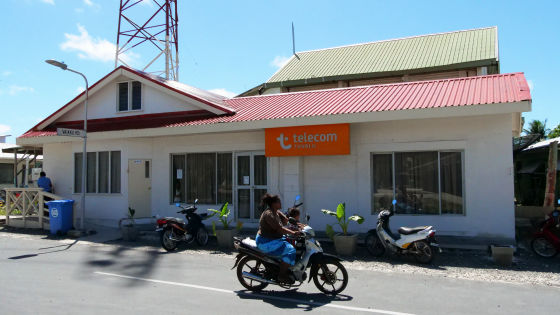 Opening hours are from 9:00am to 15:00pm on weekdays, from 10:00am to 13:00pm on Saturday, and from 14:00pm to 17:00pm on Sunday.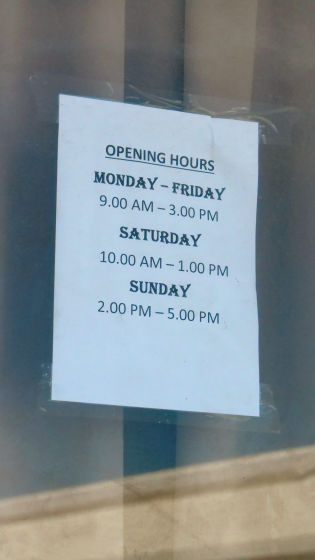 Going inside ……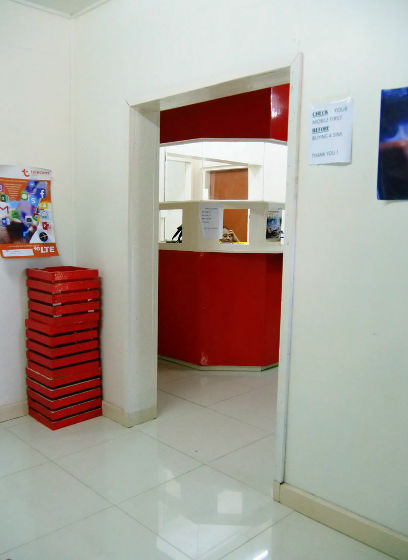 Wow, 4G LTE service is available!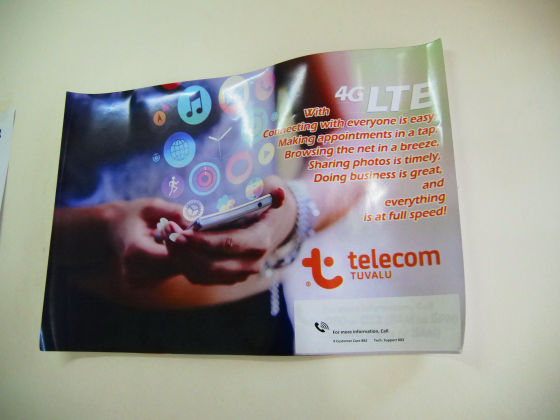 So, that means, I think that the internet environment here is pretty good …… Going to the next room, I stop at the service counter ……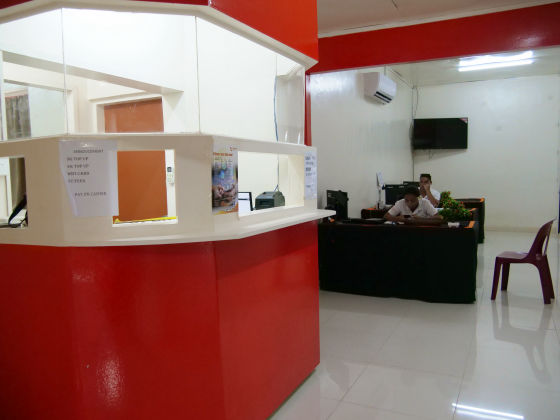 Oh, there are several plans; plans with data communications, and plans with voice communications. I asked at the service counter if I could purchase a SIM card. He said, please talk to the person in charge over there.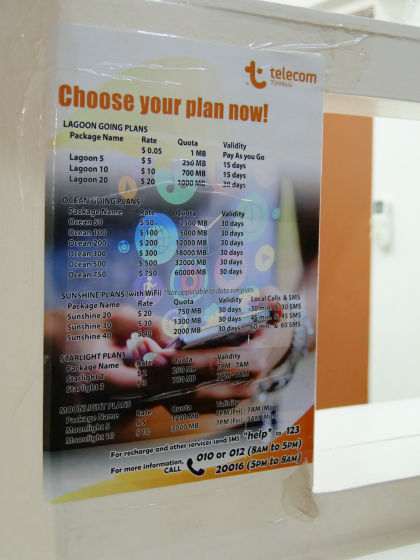 It seems that SIM cards can be used with some devices, but not with others. So, the staff first check compatibility, then the customer can purchase a SIM card.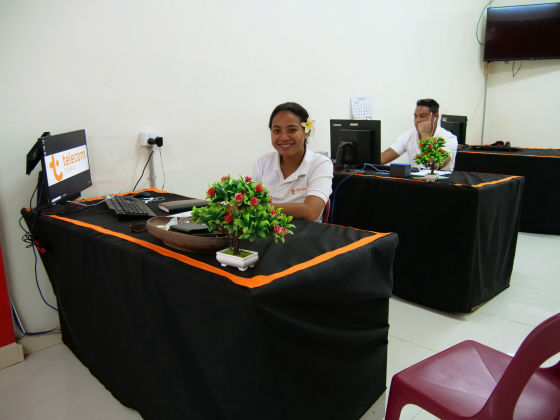 I handed over my device, OnePlus 5 ……
A SIM card is inserted to my device to test it out, and he checks if this SIM card is compatible or not.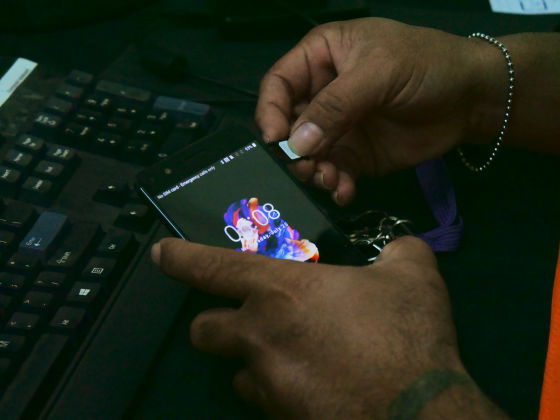 A SIM card is inserted to my device to test it out, and he checks if this SIM card is compatible or not.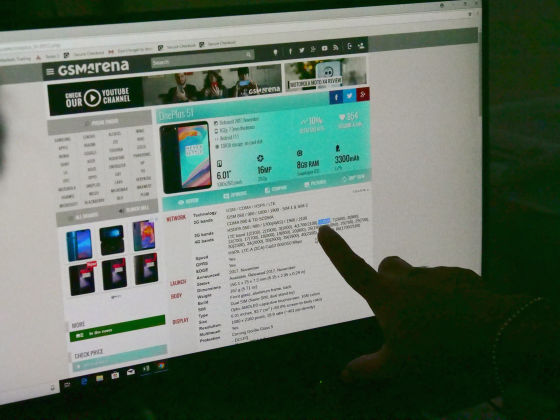 Back to the service counter, and I've got a SIM card. Then, the service staff inserts the SIM card into my device ……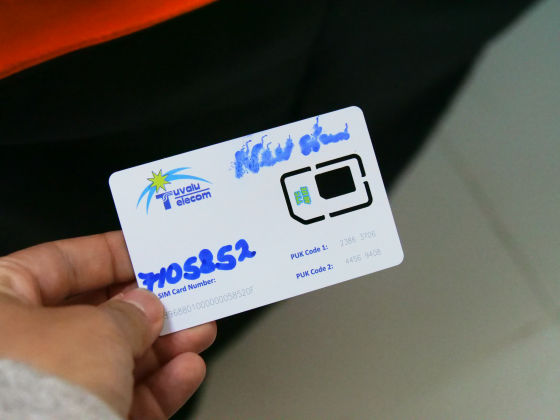 I checked the communication speed in front of the TTC building, it was 1.4Mbps, pretty quick. This time I purchased the Lagoon 10 package (10 AUD / about 830 yen) with 15 days / 700MB. There are other packages, such as the Lagoon 5 package (5 AUD / about 410 yen) with 15 days / 250MB, and the Lagoon 20 package (20 AUD / about 1,700 yen) with 30 days / 1,000MB.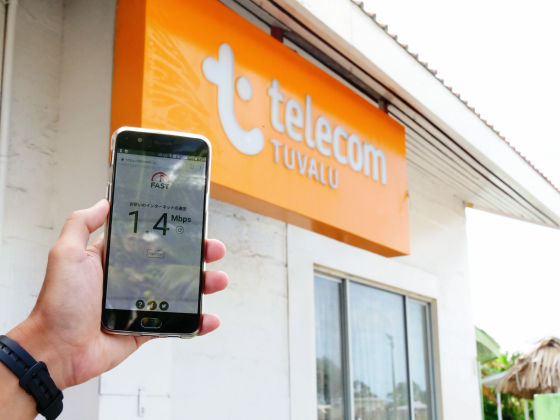 So, how about an iPhone? A little excited, I asked the staff about an iPhone. To my surprise, he said "No, you cannot use an iPhone." In Tuvalu, a 3G communication network was used for a long time, and just recently switched to 4G. So, TTC is still waiting for permission from Apple. How about a 3G SIM card? Unfortunately, out of stock. The staff said, "Next month, you can use a 4G SIM card with your iPhone!" But actually, it seems that the staff have been saying "Next month!" since May of this year. So, mobile users may be able to use an iPhone in near future, but as of July, 2018, visitors cannot by SIM cards for the iPhone in Tuvalu.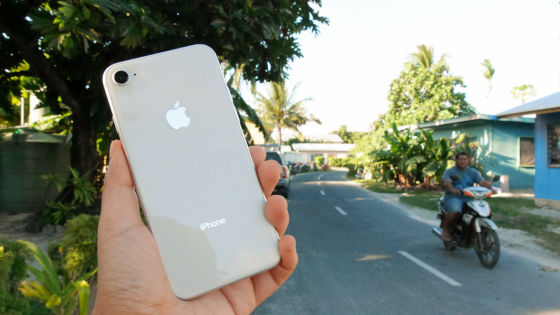 Then, what can I do if I want to access to the Internet using an iPhone? The staff suggested purchasing a "Wi-Fi card".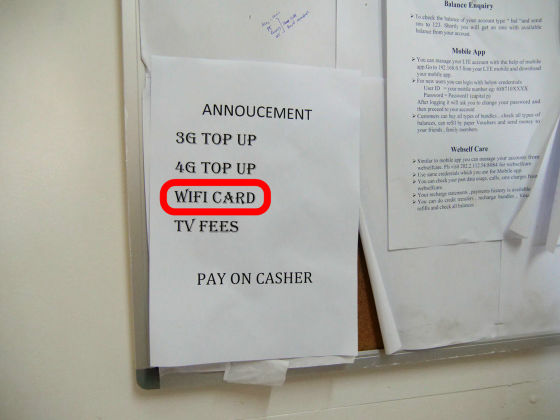 This is a Wi-Fi card. Actually, this is a piece of paper, which the lady at the service counter cut off for me. There are many TTC Wi-Fi hot spots in Tuvalu, so I can use the Internet if I am near one these Wi-Fi hot spots. The cost for this card is 5 AUD (about 410 yen) for 50MB, 10 AUD (about 830 yen) for 100MB, and 20 AUD (about 1,700 yen) for 215MB. At night, I tried to connect to the Internet near a hot spot ……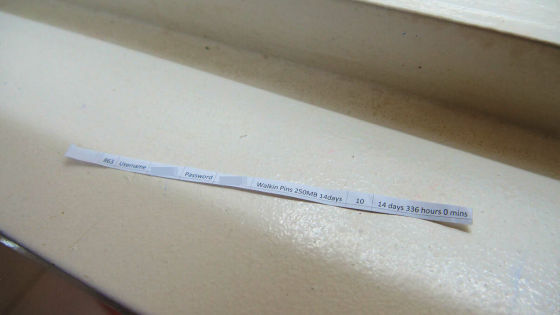 "Cannot connect", shows up on the screen repeatedly, and the data communication speed was 3kbps. Sending and receiving messages via LINE took several minutes. I purchased a 100MB Wi-Fi card and I initially thought, "There won't be enough data!" And, "this is so expensive!" But quickly realized that I won't be able to use 100MB of data.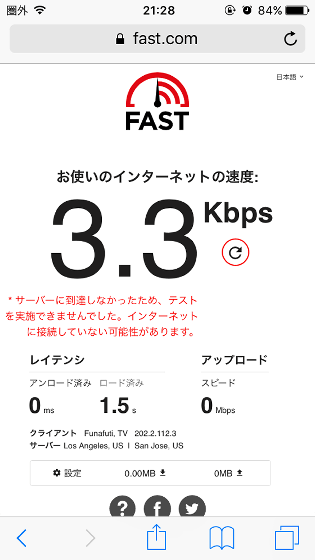 I tried to use this Wi-Fi card at different times of the day, and I found it was not possible to connect to the Internet by Wi-Fi card particularly at times of the day and night when many people access the Internet. But, the speed of data communication in the early morning (when many people are asleep) was max 270kbps, so if you carefully choose the time to use the Internet, it is possible to communicate with people in other places.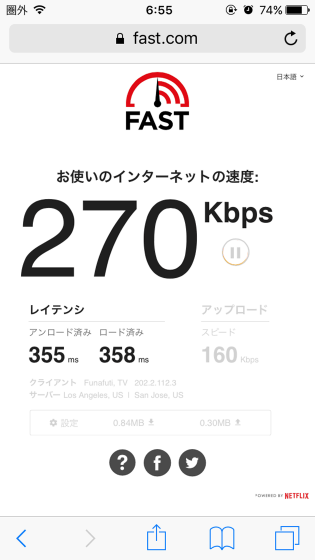 ◆Looking for an Internet Cafe
During the day trying to use the iPhone was too hopeless…, so I tried looking for an internet cafe. According to the search I did while in Japan, there are several internet cafes including one called the "Coconut Wireless Internet Cafe". I asked some locals, who told me it was "near the post office".
Going to the post office and walking around…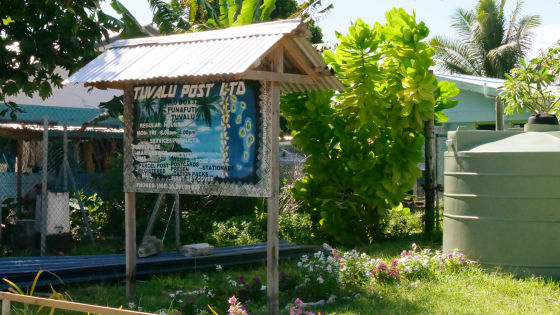 Behind the post office was an Internet cafe.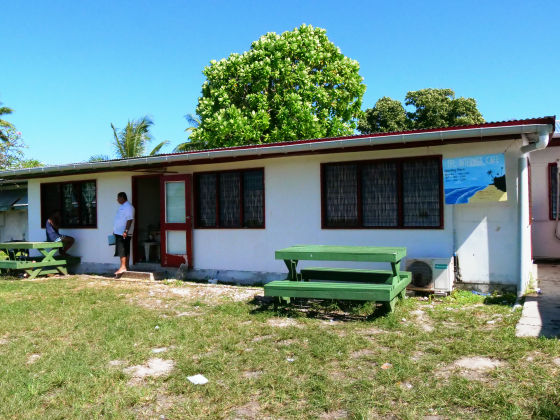 It was not the "Coconut Wireless Internet Cafe", instead I found an Internet cafe called the "TPL INTERNET CAFE".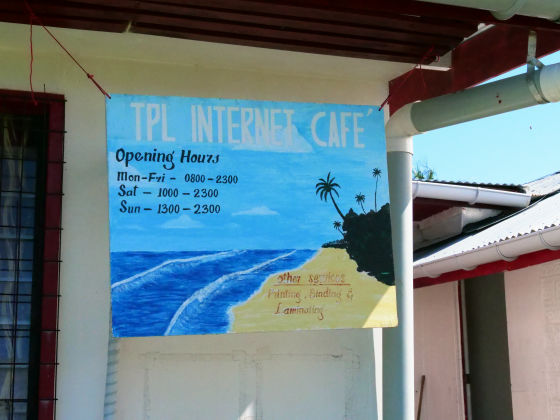 I went inside.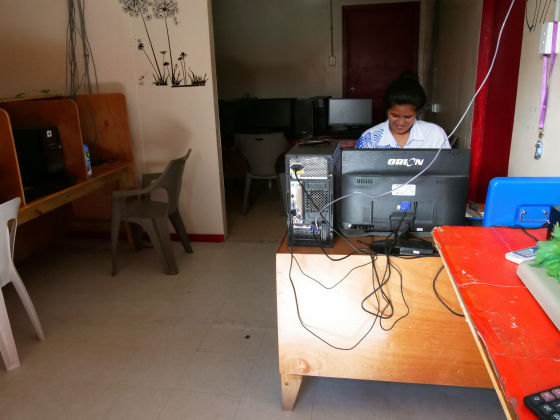 Desktop PC were lined up inside.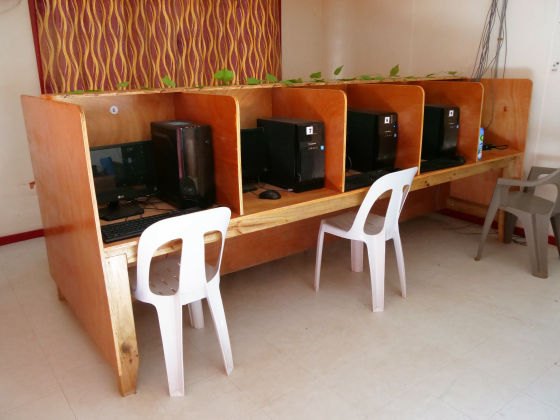 When I asked the staff, they said there were no Wi-Fi services, only the desktop PCs. The price was 10 cents AUD per minute (about 8 yen).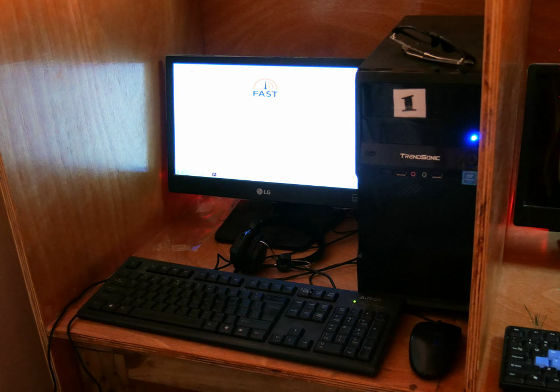 I measured the speed, it was 670 Kbps. It's faster than TTC's Wi-Fi, but slower than the Android smartphone.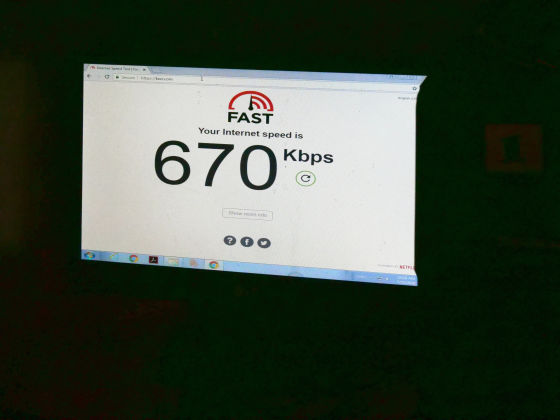 I was able to open GIGAZINE.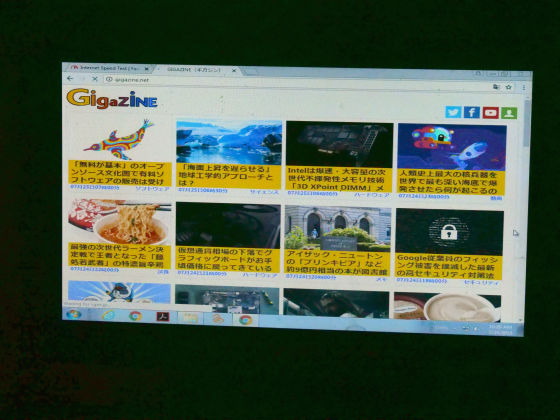 It seems that the printer can be used for 30 cents AUD (about 25 yen).
I asked the TPL staff and they told me that TPL is located on the south side of the island, but that there are Internet cafes in the center and on the north side of the island. So, in search of the remaining two Internet cafes, I take a walk through the airport and along the road.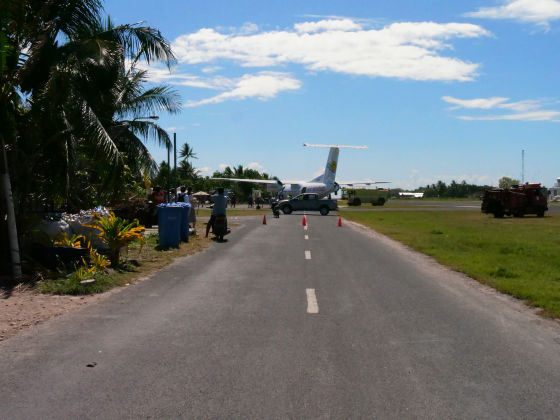 However, even on a small island, it's a fair distance to go on foot ……. The violent sunshine here has 17 times more UV rays than in Japan, so my energy was quickly exhausted.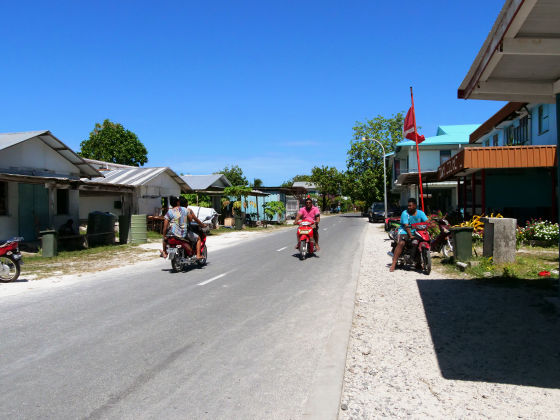 The sunlight is so strong that no one swims during the day, those who go in the water do so with a sun umbrella in hand.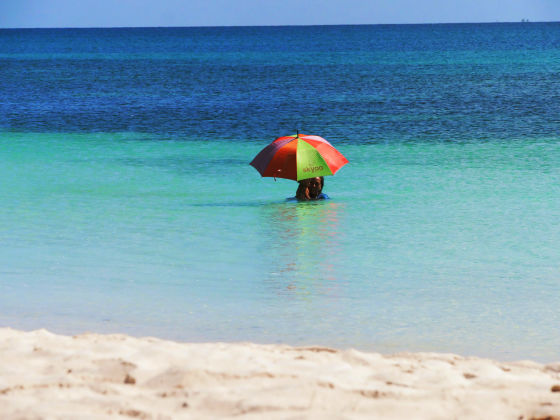 Since I only had rough information about the locations; "around the center and in the north part of the Island", I found a place called the "Media Center" near the Federal Government buildings and went in to ask more details.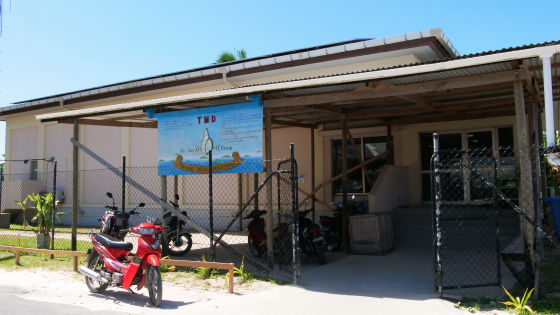 What is this media center? It was a Radio Broadcasting Station. It seems that "in Tuvalu you cannot watch television", so radio is an important source of information and entertainment.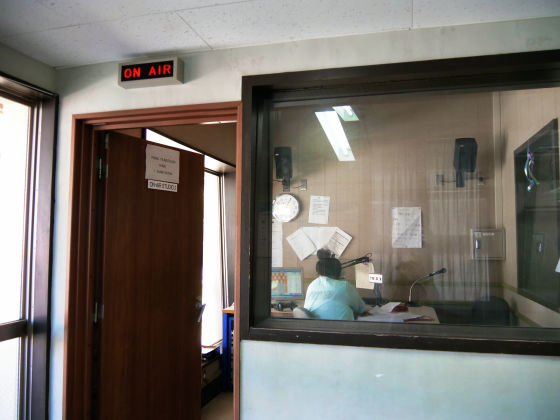 However, when I asked the Media Center staff about the location of other two Internet Cafes, they answered with: "We don't know" …… Also, the Coconut Wireless Internet Cafe has already closed.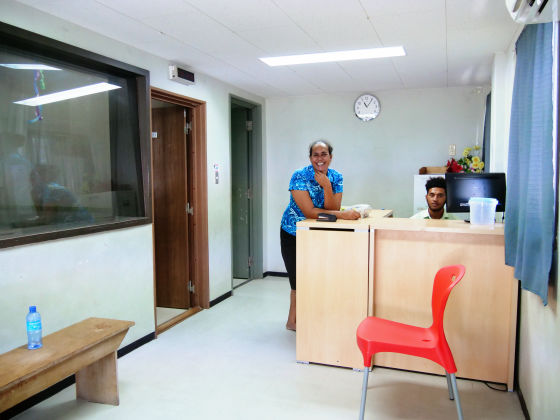 I thought that the only option for getting around was on my own two feet, but… Oh! A nice surprise,… a couple in a car saw me walking and offered to take me to the Internet Cafes. I felt that the people of Tuvalu are the personification of kindness. Several times walking along, I would suddenly hear a voice asking "do you need a ride?" The reason for this kindness maybe connected to their roots in Christianity.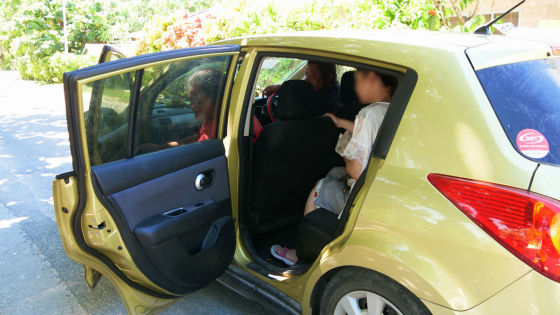 Many of the cars are secondhand cars from Japan, so when the driver backs up, you can hear "bakku shimasu, go chui kudasai" (I'm backing up, please be careful in Japanese).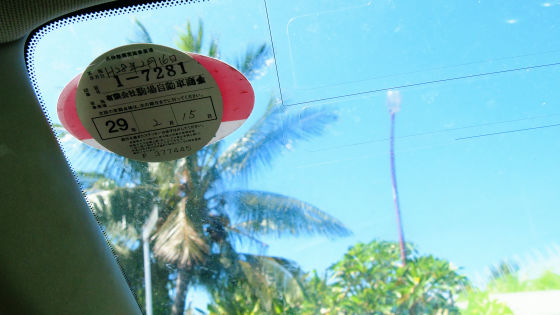 They took me to the Internet Cafe in the center of the Island.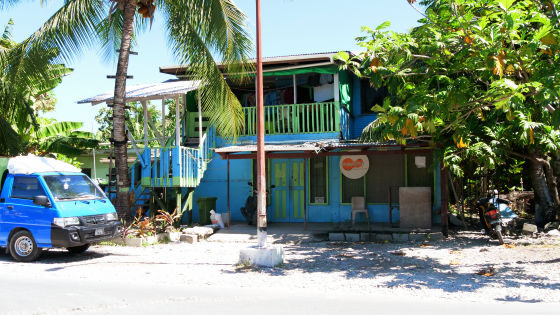 However, a sign saying "CLOSED" is posted in the window. Actually, this cafe was managed by the ambassador from Taiwan, but it seems the ambassador went home and the cafe was closed.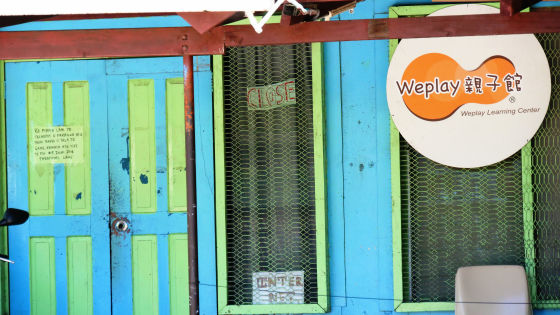 And the north side internet cafe…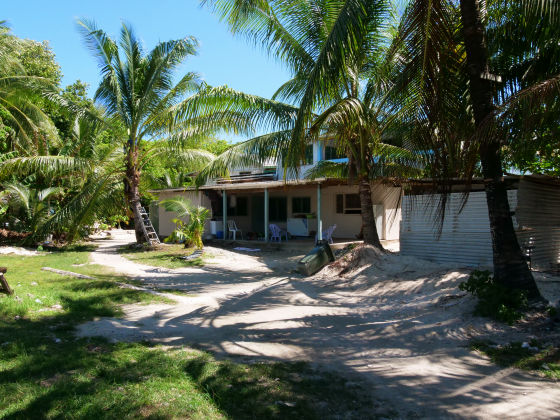 Oh boy, closed here too.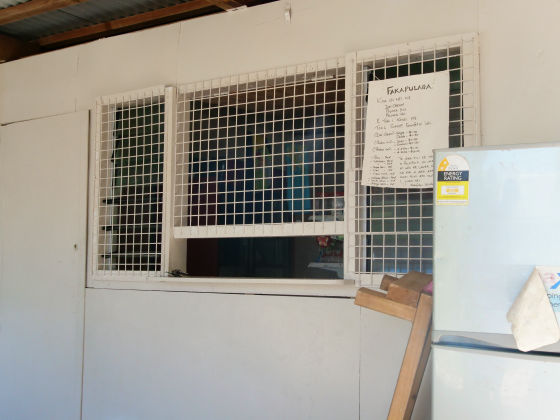 Two ladies were taking a nap in front of the building.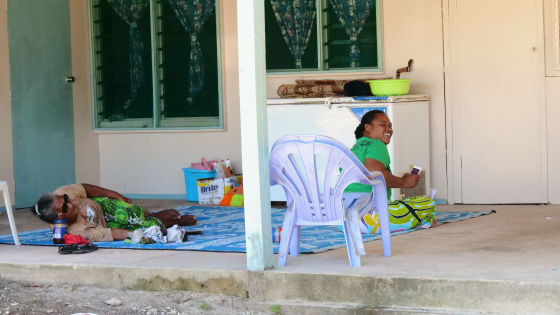 As a result of my investigation, in spite of the local people not knowing much about it, it seems there are several Internet Cafes that have closed, including the Coconut Wireless Internet Cafe. As of the end of July 2018, the only Internet Cafe open for business is the "TPL INTERNET CAFE", Tuvalu / Funafuti islet, Fongafale Is. It's a tough place for net addicted iPhone users, but a great place if you want the opportunity to disconnect from the outside world.
◆What do People Enjoy Eating in Tuvalu?
Only 5,000 to 6,000 people live in Tuvalu's capital city, Funafuti, but they still manage to have a prison. In spite of seeming to be such a friendly and crime free country, as of July 2018, there were 9 people locked up in the prison, mainly for drunkenness and disorderly conduct.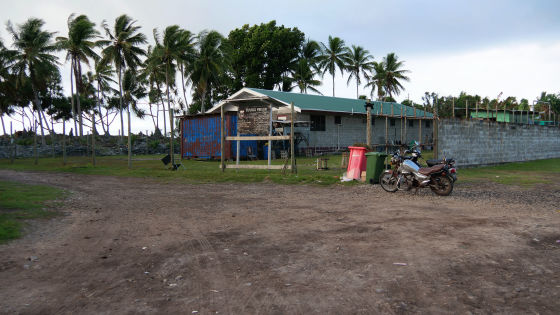 "TUVALU PRISON"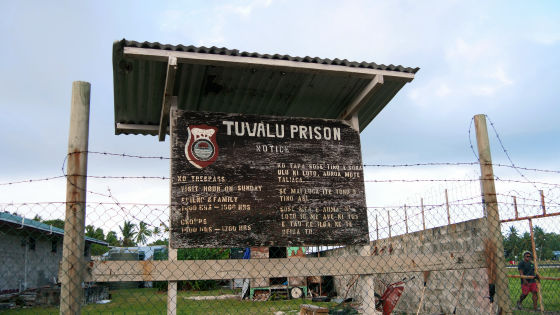 Tuvalu's prison has a relaxed atmosphere, and the inmates are often outside.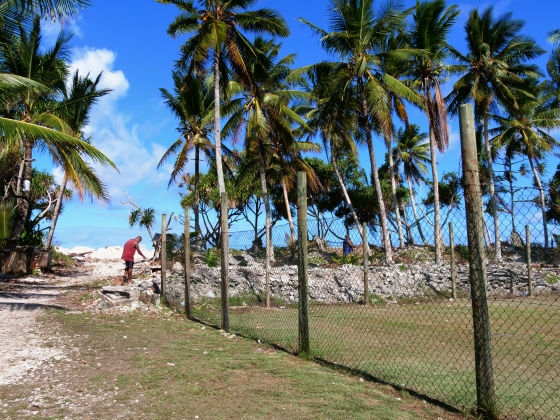 An inmate collects palm sap from a bottle on a palm tree.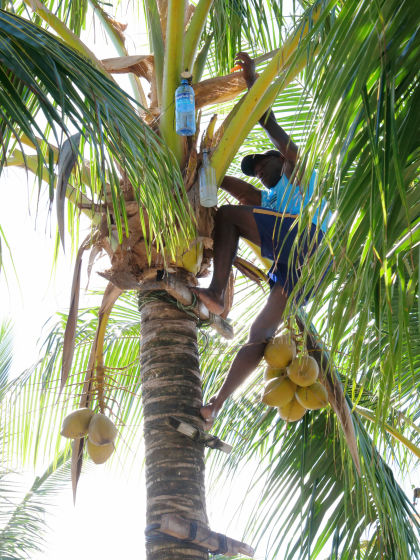 This whitish liquid is sap.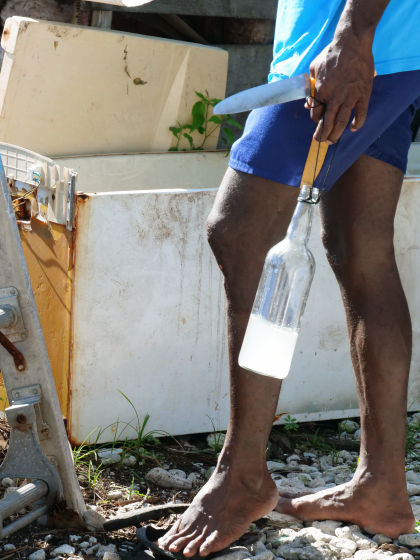 When I asked: "Can I try some?", The inmate answered, "Ok!" And was kind enough to bring a cup and a strainer from the prison to give me some sap.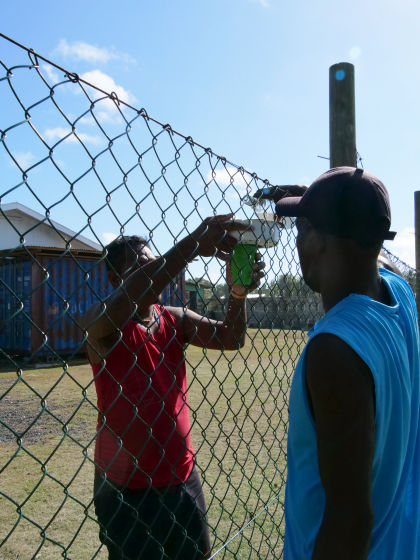 After I drank it, I wondered, did this really come from nature? It was so incredibly sweet. Earlier I drank a "Fanta, Pineapple" drink, and I thought that drinks in other countries are very sweet, but this was even sweeter. Because it was fresh, the temperature was tepid. I thought if it were chilled and ice cold it would be nice to drink when you feel too hot.
In addition, there is a hammock in the prison, and it seems that the guards are only there a few hours a day, so you can't help thinking "Is this some kind of training camp?"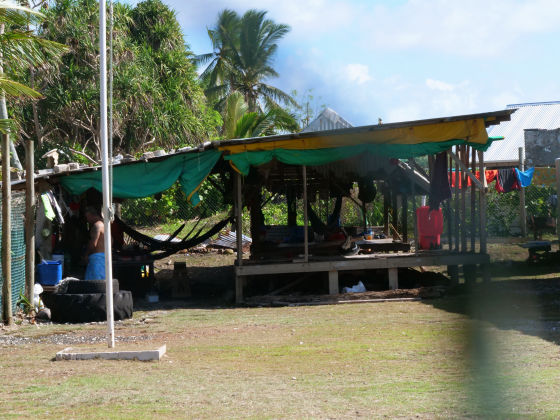 Then, I wanted to know, what do normal people usually eat? I was kindly taught about that.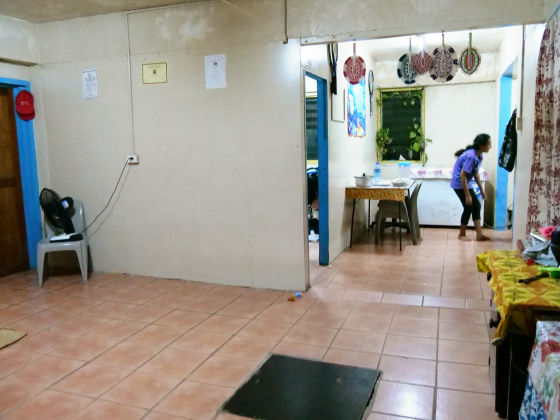 Ladies cooking a meal. The woman on the right seems to be the niece of former President Anote Tong of Kiribati.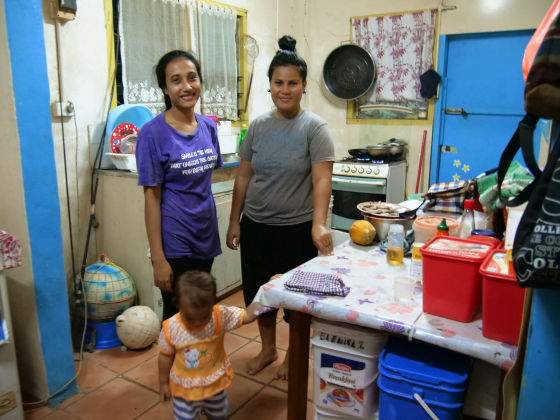 So, this is dinner.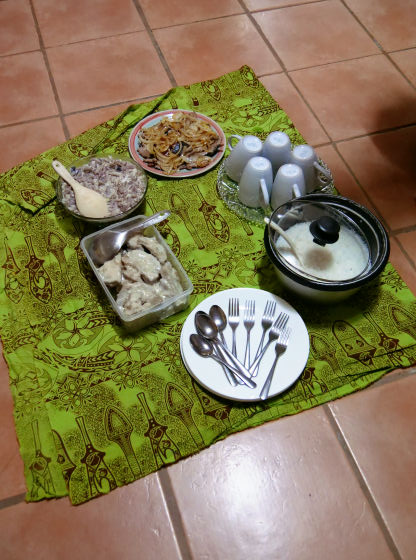 It looks like this on the plate.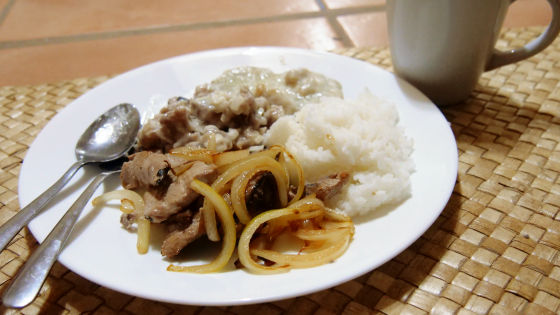 The main dish is Skipjack tuna (bonito) and vegetables, stir fried. The seasoning is a bit Chinese style, and it goes very well with rice.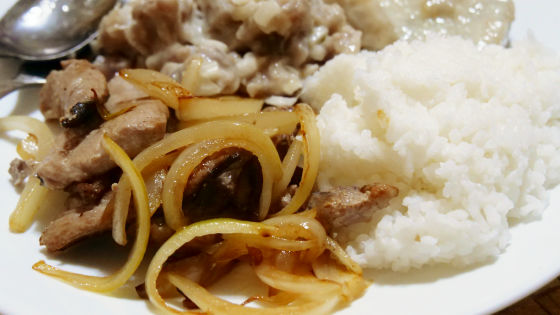 The side dish is chopped raw fish, dressed with coconut milk, onion, lime, red chili peppers etc.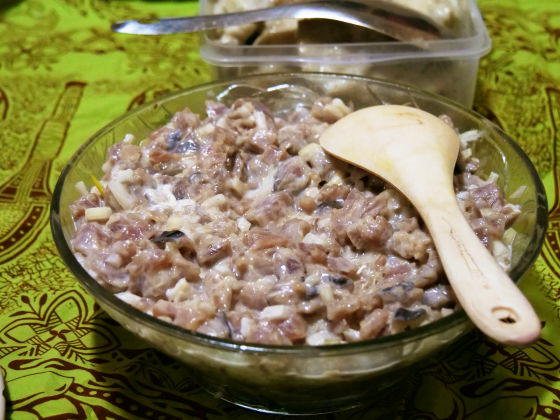 I discovered for the first time that coconut milk tastes like mayonnaise when mixed with lime and salt. There's something tangy in there that gives it a bit of a kick, I felt like it would go well with salad.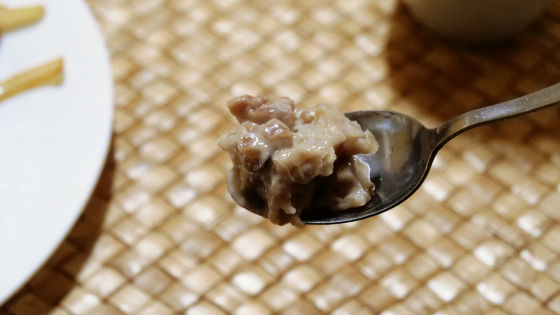 Also, in Oceania, the popular taro potato is dressed with coconut milk. Due to its sweet flavor it seems like a dessert. The combination of the light taro texture and the sweetness of the creamy coconut milk reminds me of sweet potatoes.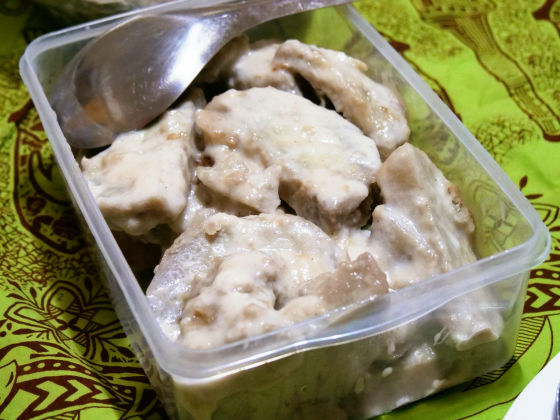 Also, the palm sap that the inmate gave me turns into liquor after leaving it outside for 2 or 3 days. A slight sourness is added to the sweet, and it becomes a little fizzy. Although the alcohol content is fairly high, it's easy to drink, and could easily become a habit.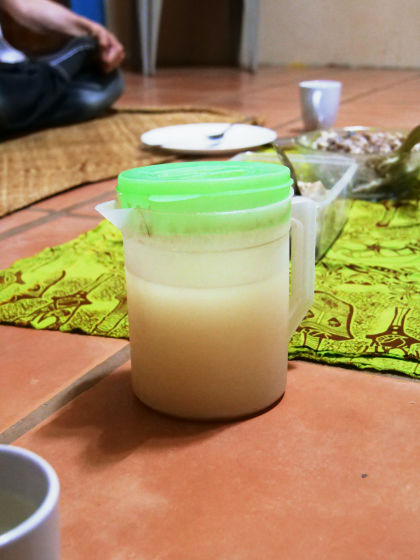 I had breakfast at a different house.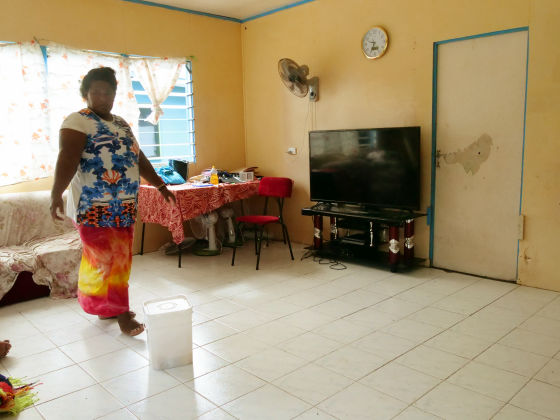 It seems that drinking juice is more common than drinking tea, even at breakfast they drink juice. It tastes a bit like old fashioned candy or the syrup of shaved ice.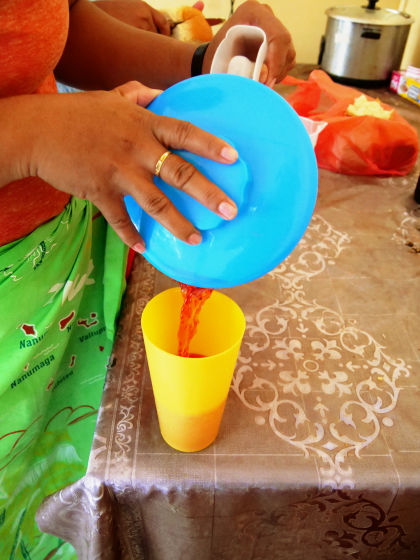 Although the island is small, I heard that there is a bakery, so I got some sort of fluffy bread slathered in canned butter.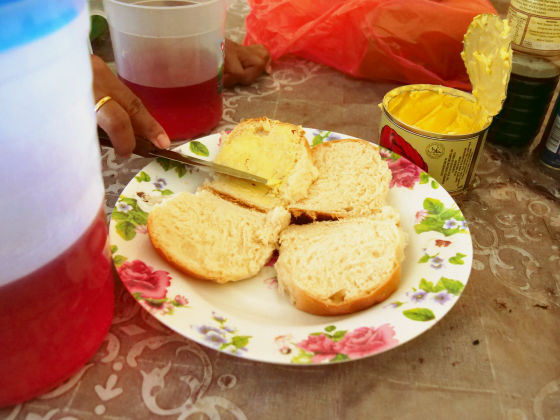 As a lot of the food is imported from overseas, even the bread at the hotel tended to be stale and hard, so it was a relief to eat this soft sweet bread.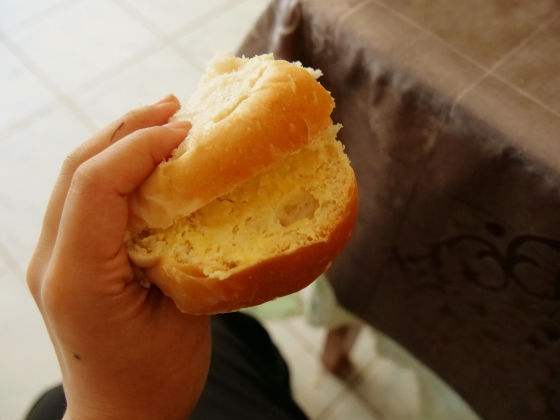 Then there are some food stalls under the big tree….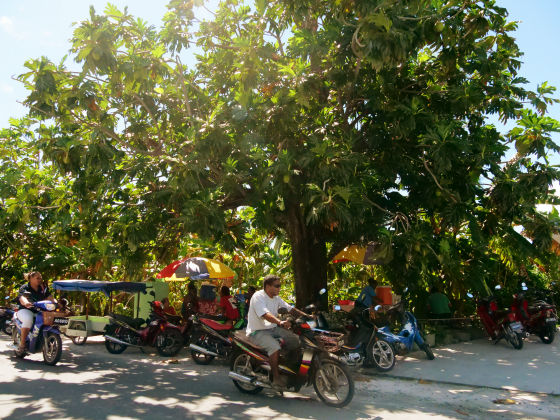 Then there are some food stalls under the big tree….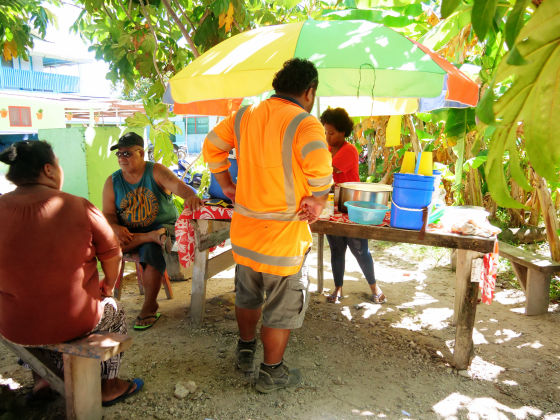 There's plenty of lamb curry on rice and raw fish with coconut milk. This was about 7 AUD (about 580 yen.)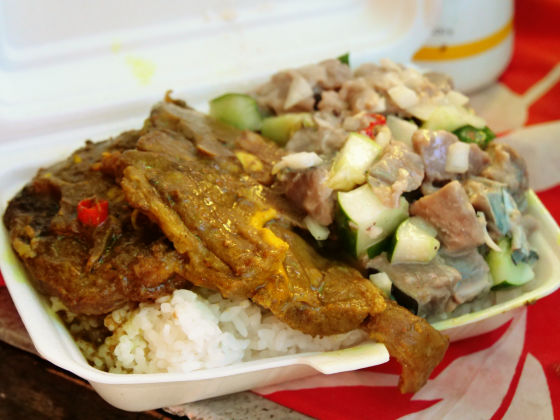 Tuvalu has elementary, junior and high schools, as well as a university. There were some small shops in front of the university…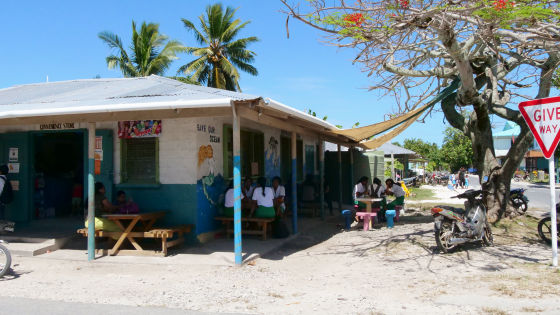 You can find food and daily necessities.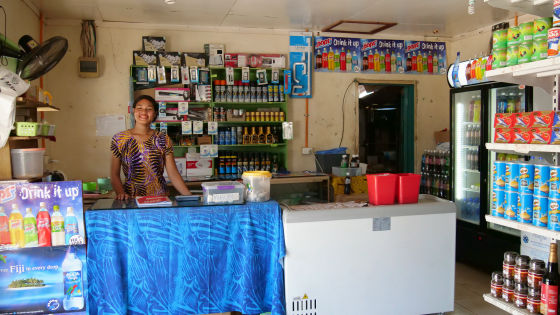 Also, some light meals for the students.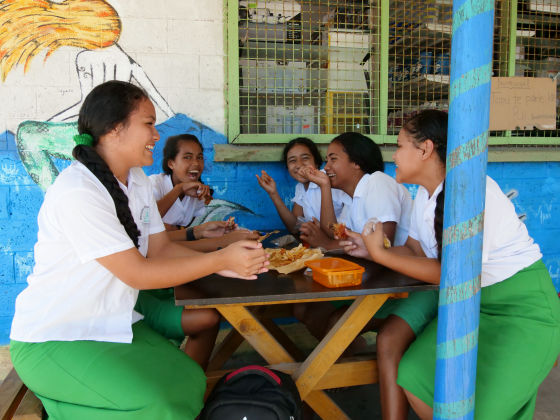 On a container in front of the cash register "MUSUBI" is written.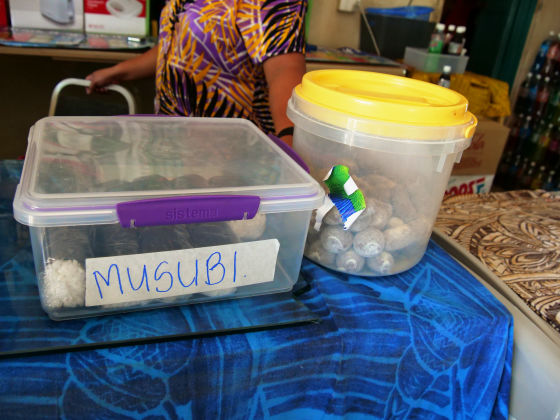 It looks like this. One costs 1 AUD (about 170 yen.)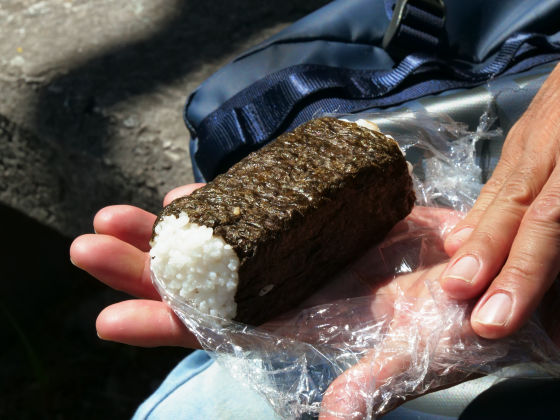 Rice and spam covered with seaweed, a real "Omusubi" (rice ball.) The rice is a little salty, so it's true that you can eat Japanese food even on an isolated island. I was little touched.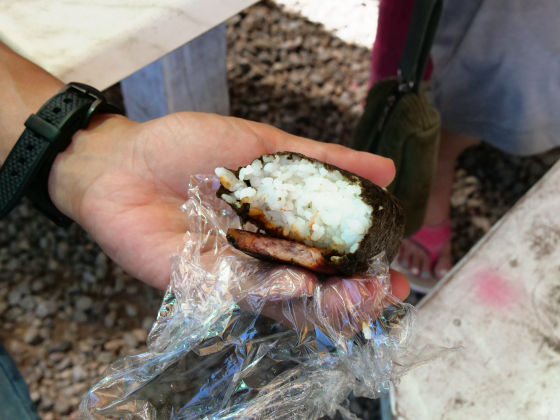 This shop has a kitchen, so…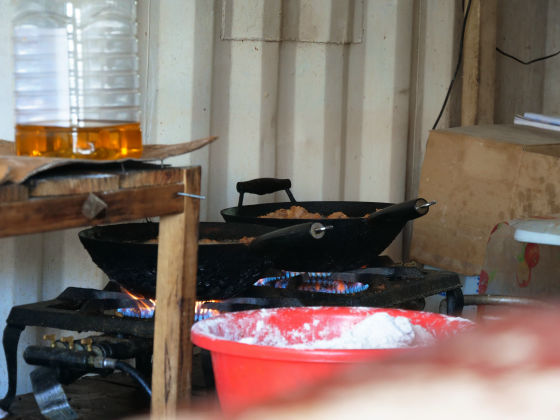 You can have hot, freshly-fried chicken & chips. This was 4 AUD (about 330 yen.)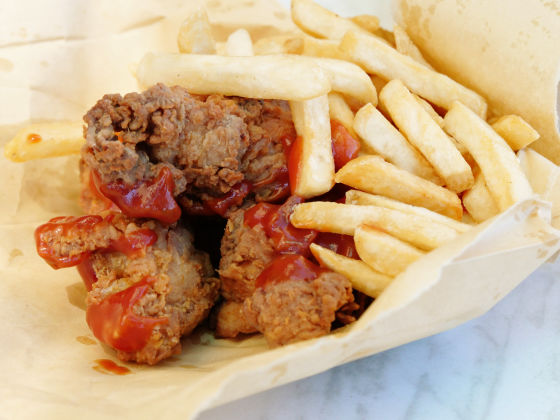 Then I went to the elementary school. Children were playing in a spacious school yard.
They seemed to be buying something, so I went to investigate…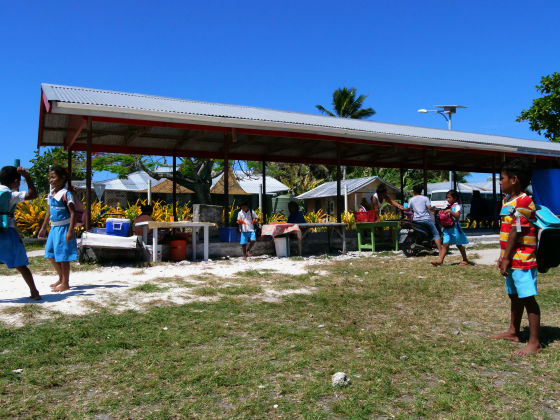 It was juice in a plastic bag. This was nostalgic for me somehow, in that unique orange color, tastes like "amedama" candy and powdered juice, the price was 20 cents AUD (about 16 yen.)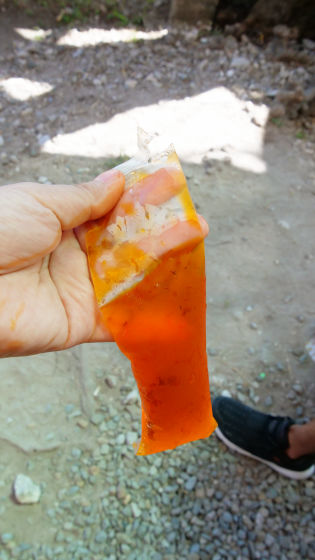 There are several restaurants, but not for local cuisine, two restaurants were Chinese cuisine.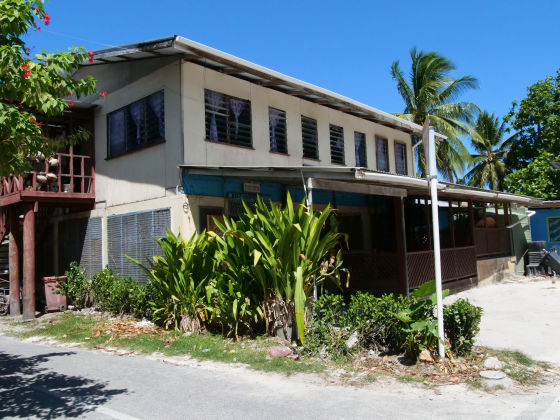 The first one is "BLUE OCEAN". This one is on Google maps, but the location is off somewhat so I had to go around the block looking for it.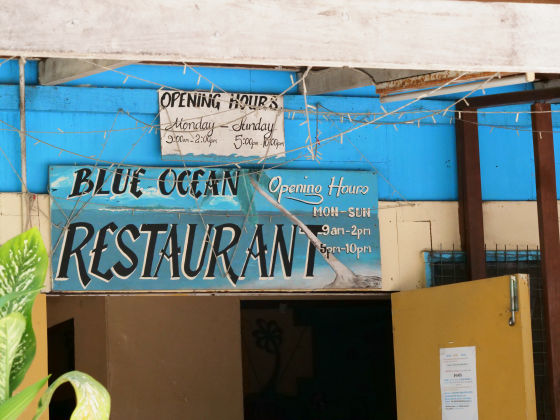 I ate Chinese style Yakisoba (fried soba) here. It was pretty authentic Chinese taste, but they used instant noodles. It was an interesting dish you wouldn't be able to find easily in Japan. In Tuvalu farming is difficult and leafy vegetables are rare and valuable, so it's good to go to a restaurant sometimes to eat vegetables.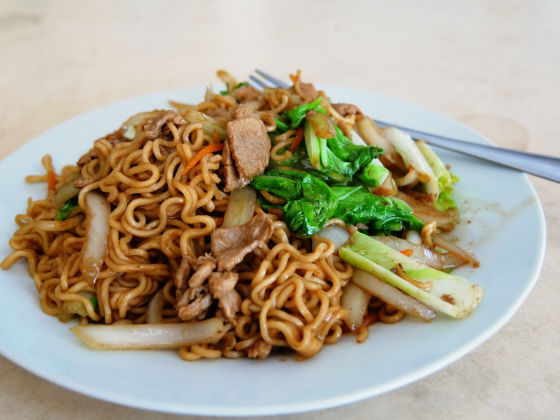 The second restaurant was in this kind of building.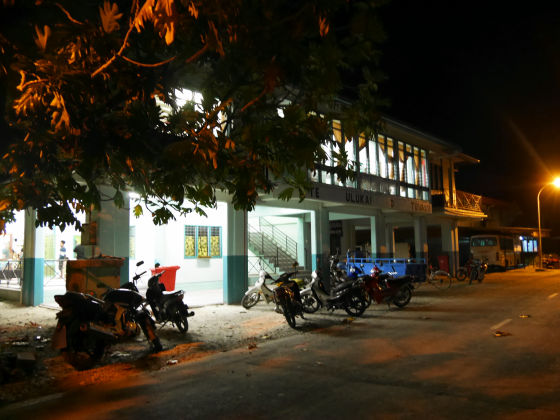 This is inside. "3 T's Funafuti" is the most famous restaurant in Tuvalu, and the only one on the island registered on Trip Advisor. When state or official guests arrive from other countries they are entertained here.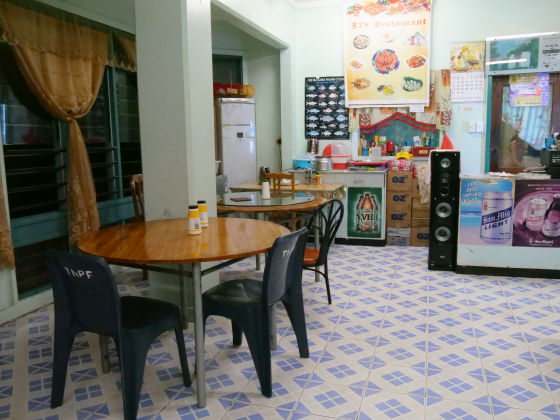 The "RESERVED" sign has a rustic handmade feel to it.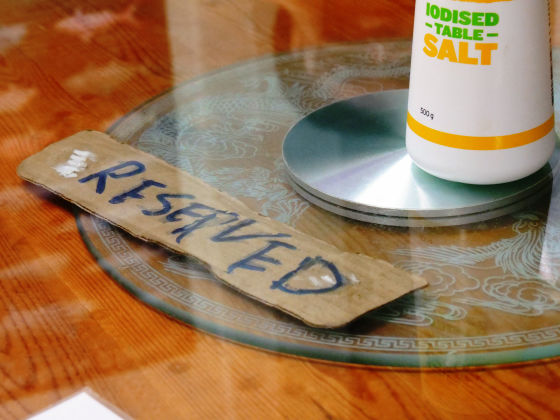 Chinese style stir-fried meat and fish…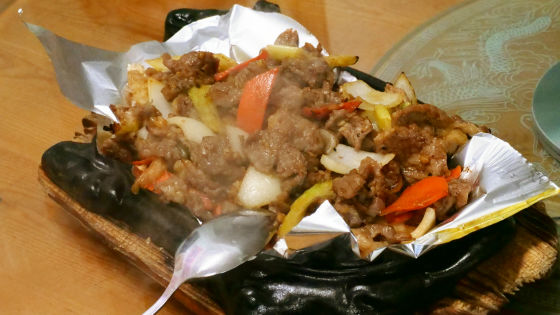 Stir-fried vegetables with plenty of leafy greens.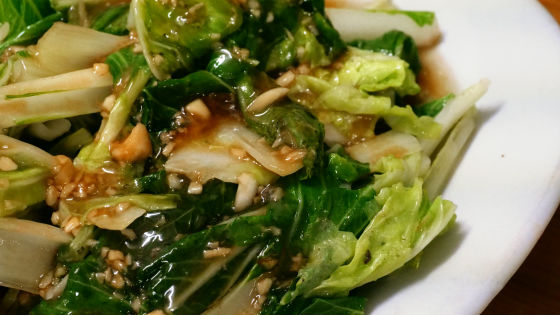 And fried rice etc. The taste was also authentic. Because this restaurant is the most famous in Tuvalu, when asking local people "Where can I find a restaurant?", they almost always bring you here.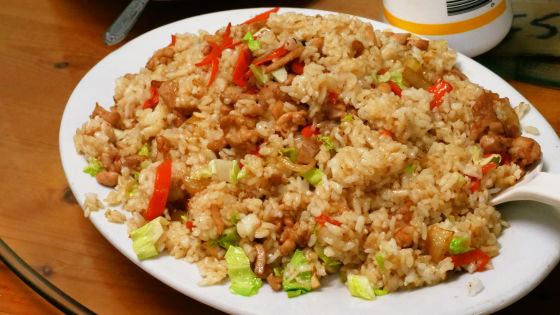 ◆Do People in Tuvalu have TV at Home?
There is no television station and there are no terrestrial (ground) waves in Tuvalu, which floats alone in the South Pacific Ocean, so I was told that "You cannot watch TV on Tuvalu." But as I walked around I found an antenna.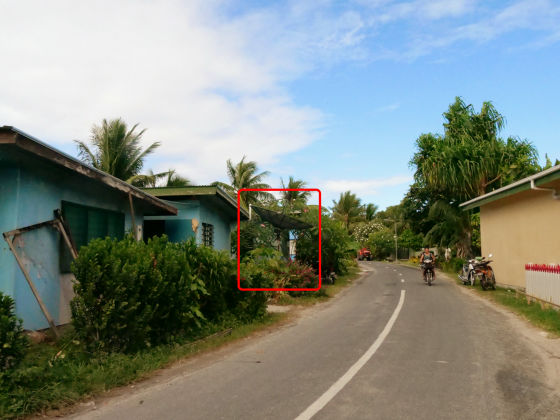 And when I asked for a look inside the house, I found a flat screen TV placed as you would anywhere.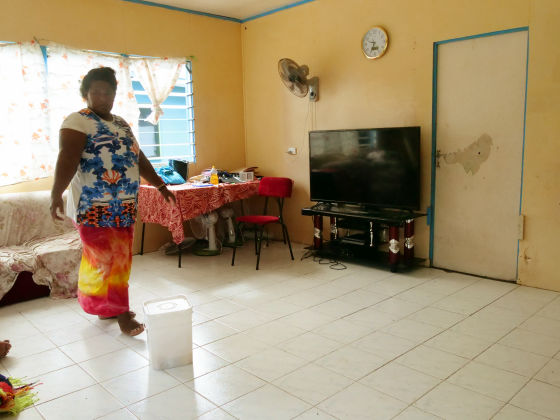 "As a matter of fact, they have TV!" I was somewhat disappointed, but the lady pointed out a Play Station 4 under the TV. Actually, this TV is just for video games and movies. The antenna that I found outside belonged the house next door, this house has no antenna so they cannot watch TV. In Tuvalu, flat screen TVs like this are used exclusively for video games and movies.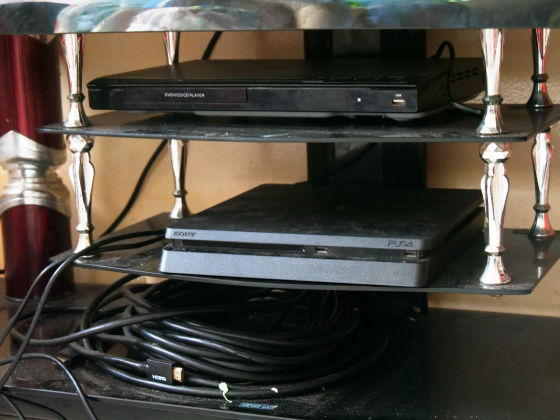 "Come to my cousin's house if you want to watch TV!" she said, and took me there on her motor bike.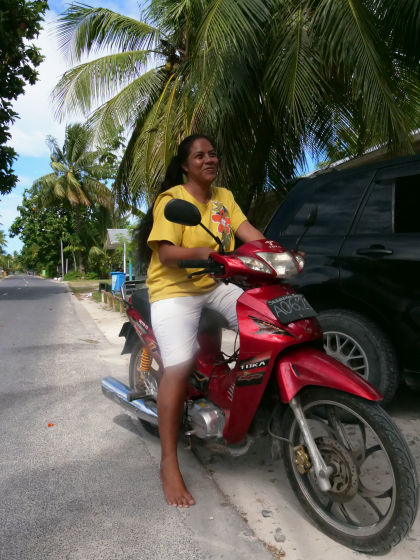 When I arrived at 9 o'clock in the morning, it was TV time at the cousin's house.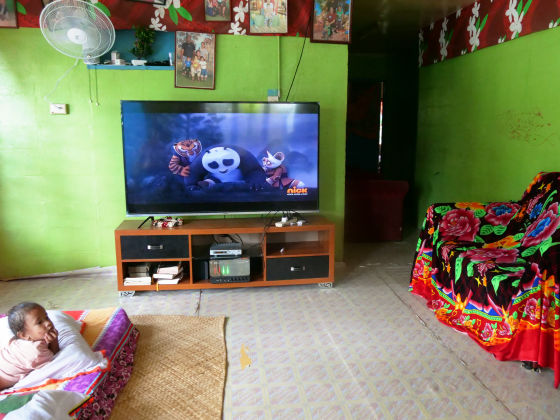 This house has no antenna, he seems to be watching satellite broadcasting with a decoder.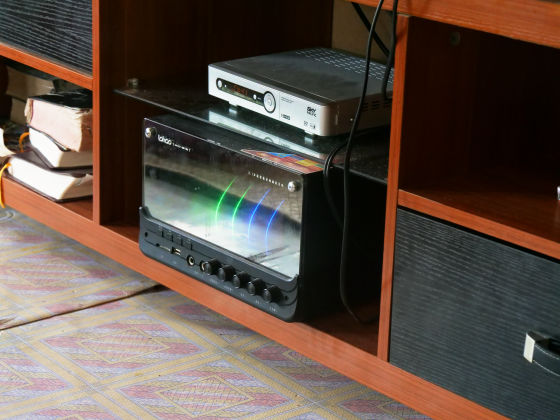 More unusual, I found a big house with two stories, not just one. There was an antenna installed there.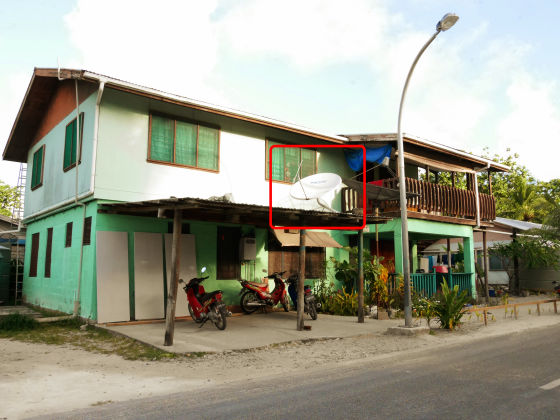 There was a TV inside, and it was possible to watch TV without a problem.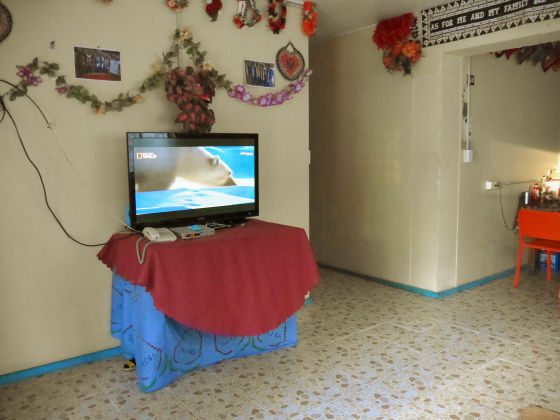 These two own the house. Tuvalu also seems to be made up of both rich and poor, in the big house near the Federal Government buildings there was an antenna for satellite broadcasting and I could watch TV, but when I went towards the edge of the island there were no more TVs. Nonetheless, the answer to the question "Can I watch TV on Tuvalu?" is likely to be "Yes" at least for some.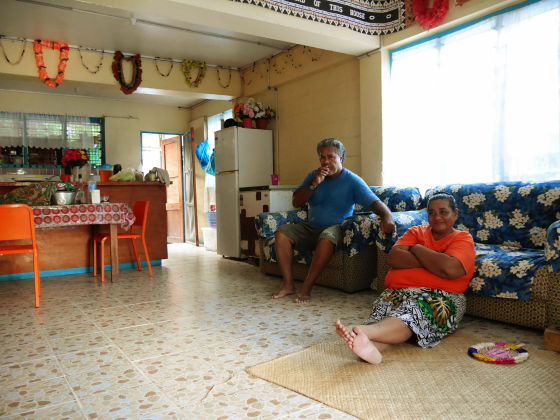 ◆Representative of the Tuvalu ".tv" Domain Name Registry
Anyways, the purpose of this trip was to descend upon the Representative of the Tuvalu ".tv" Domain Name Registry without an appointment, so I decided to do that. One the way, I encountered boys on their way home from school.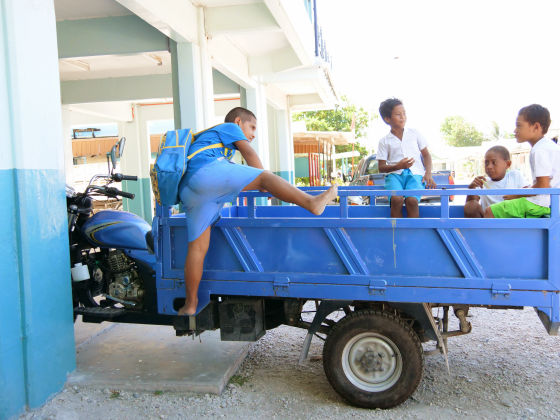 When I gave them Interlink Co., Ltd. domain ".moe" stickers, a battle for the stickers ensued…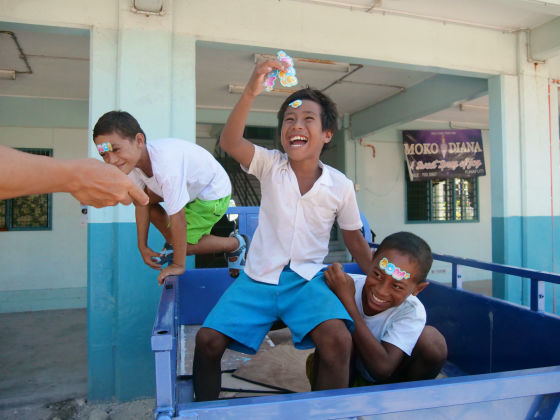 In the end, they were playing with the stickers on their faces.
The ".tv" domain name registry was once under the control of TTC, but since the American company dotTV bought the exclusive right to register domains from Tuvalu in 2000, it now comes under the control of the Ministry of Works, Communications and Transport. So, my destination is not TTC, but the Federal Government buildings.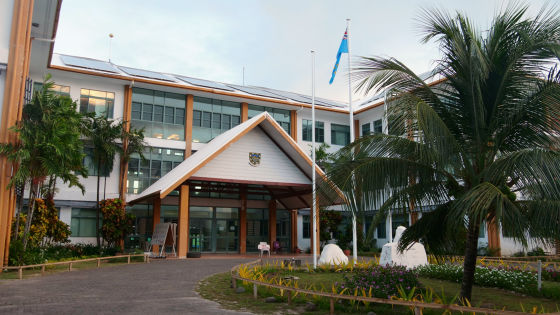 Down a narrow passage way…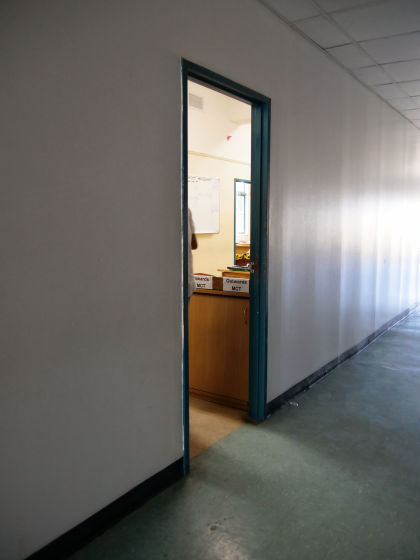 Mr. Falasese Tupau, Assistant Secretary of State was kindly waiting for me.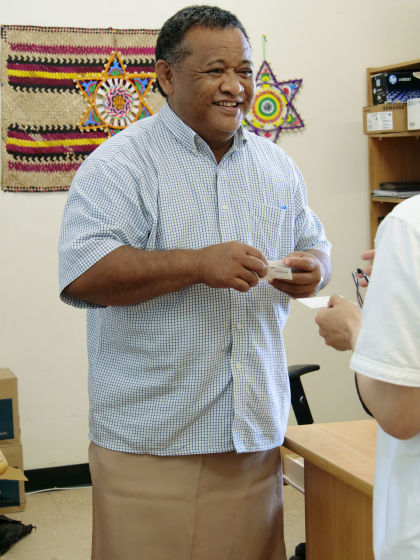 I also gave him ".moe" stickers.
After the '.tv' domain was bought by dotTV, in 2002 Verisign, Inc. acquired the entire enterprise including the company that has the usage rights. According to Mr. Tupau, the contract does not allow the government of Tuvalu to access the domain data, which is quite unfair, but in 2021 the contract will be finished. So, this was good timing for Interlink Co., Ltd. to visit! Here's to the success of future business!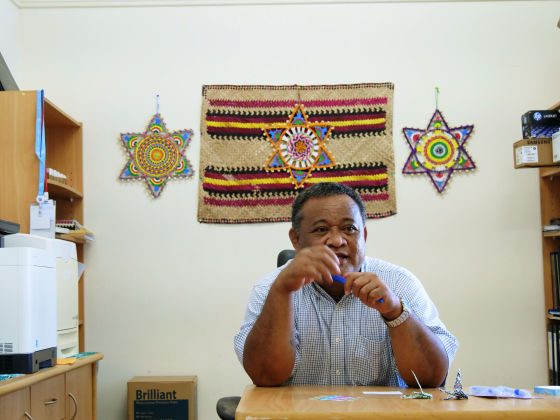 ■Access to Tuvalu – Click Here
■The Tuvalu ".tv" –Click Here