As we get older, there are less opportunities to get gifts.
During childhood, Santa Claus would bring us gifts, but those days fade. It's a harsh reality for a grown-up child.
The origin of the word "Santa Claus" is said to have come from father "Saint Nicholas" around the year AD 300. "Saint," abbreviated "St."means sacred or holy, is often used in region names or holiday names.
"St. Martin" is one example.
■Where is St. Martin?
St. Martin is an island in the Caribbean Leeward Islands.
This island was discovered by Christopher Columbus on November 11, 1493, coincidentally on the "Saint Martin's day", so, this island was named "San Martín"(Spanish).
Today, half of this island belongs to France, and the other half to Netherlands — very unique! Each country has a different name for this island:
・France: Collectivité de Saint-Martin
・Netherlands: Sint Maarten
* English "Saint Martin"

Have you ever seen this photo?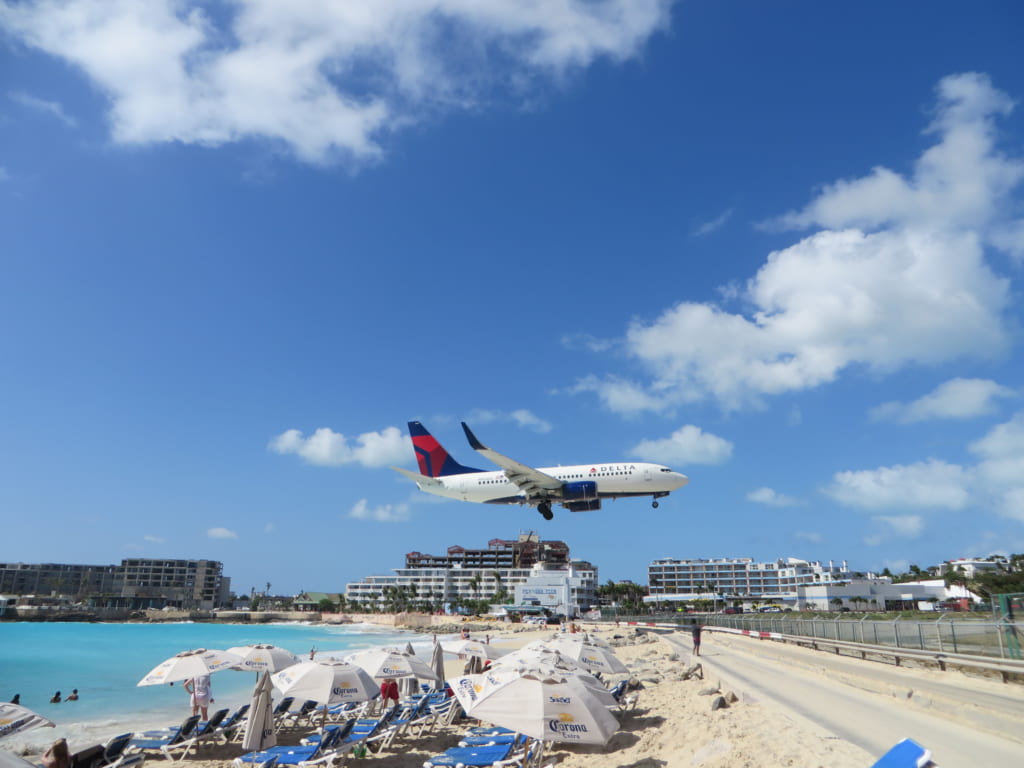 ■The World's Most Dangerous Beach
A special spot in St. Martin is "Maho Beach".
It's a familiar sight to see airplanes passing just above the people enjoying the beach.
I arrived at "Sunset Bar and Grill" on Maho Beach — just a few minutes by taxi from Princess Juliana International Airport.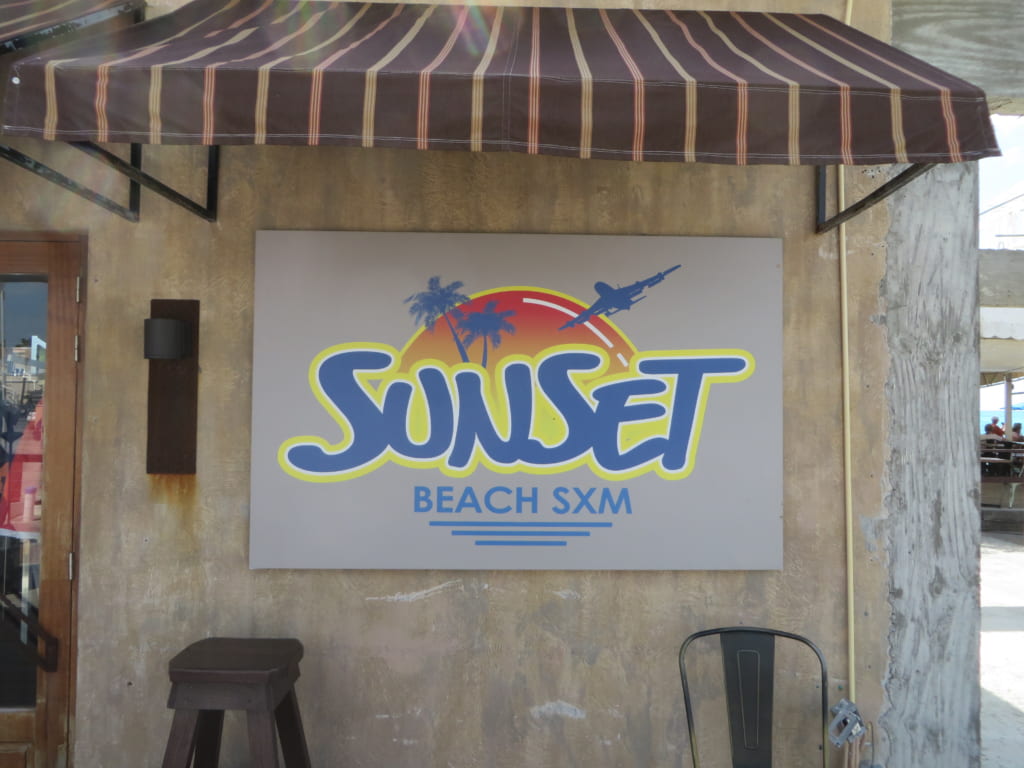 Mr. Morgan (who looks like Captain Hook) welcomed us!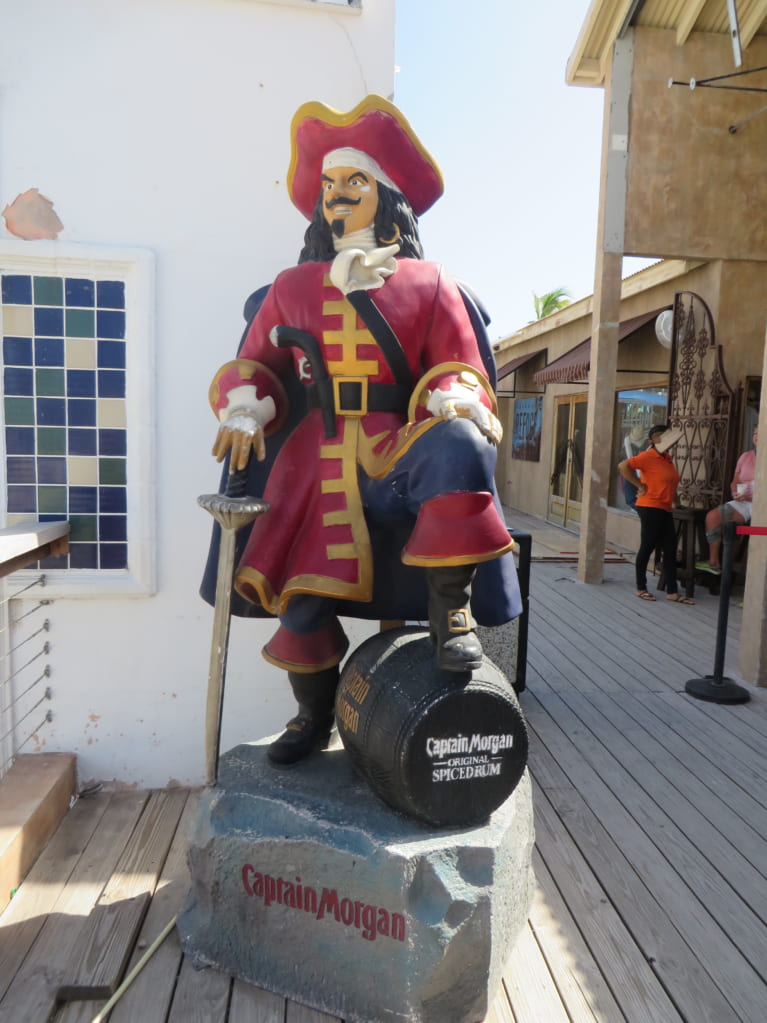 The restaurant is full of cheerful and happy people. First, I ordered a meal.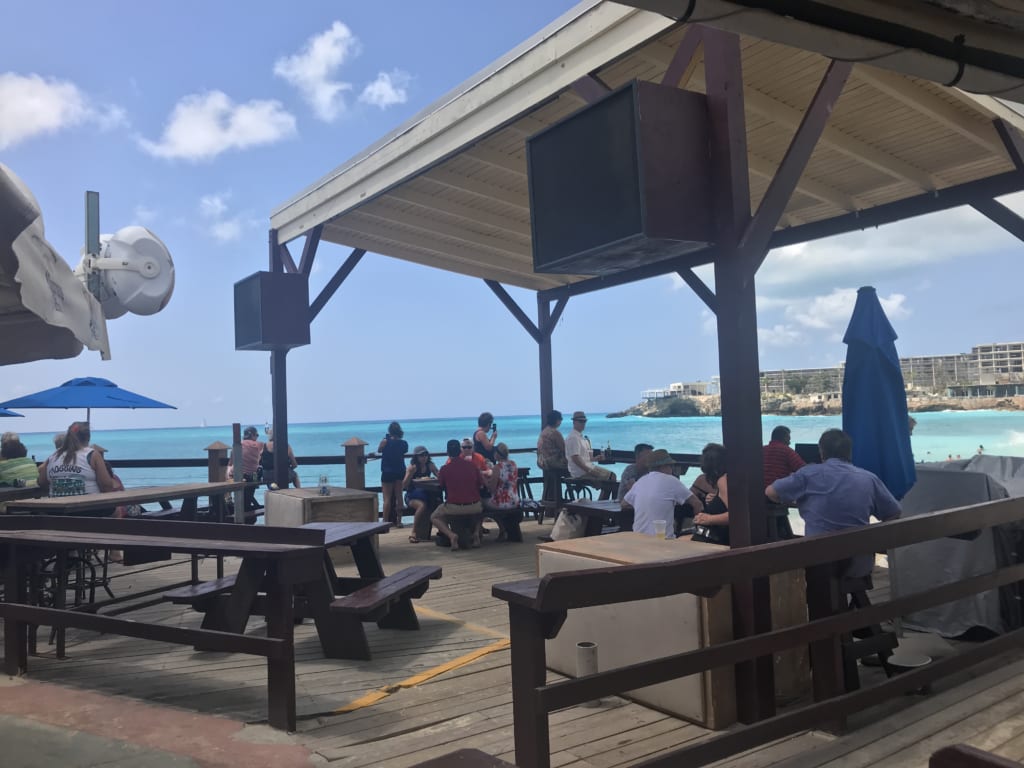 The pizzas on the menu are named for the airline companies that arrive and depart from St. Martin. Funny! Caribbean jokes!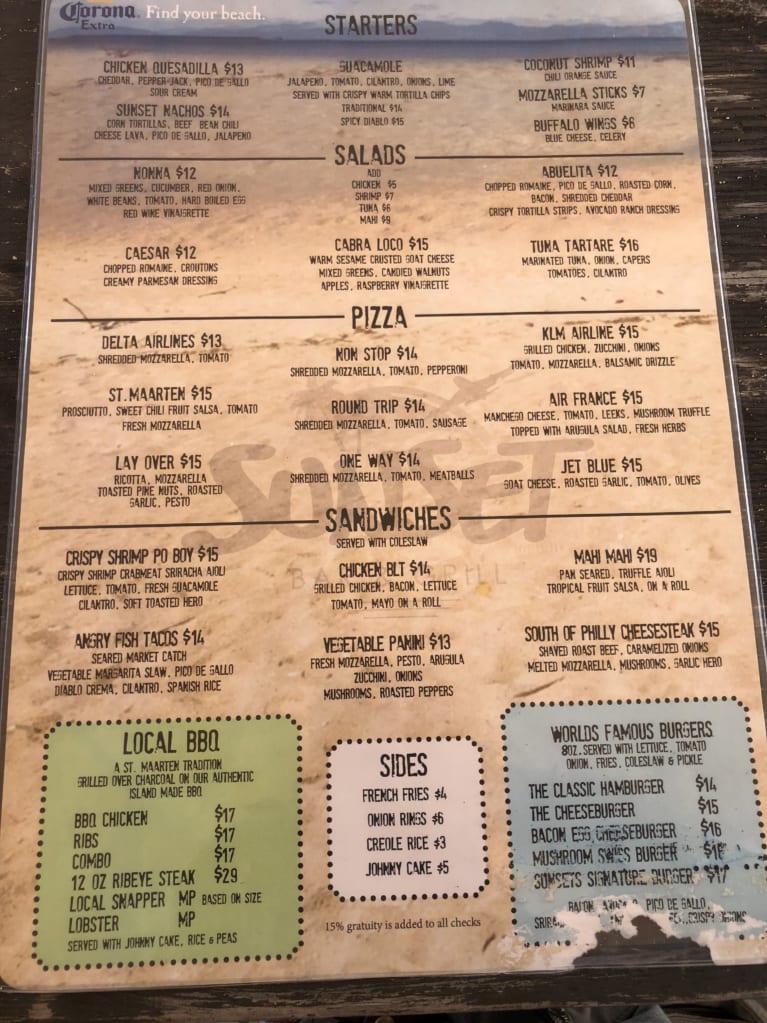 After a few minutes' wait, my meals came, two pizzas and an extra large-size plate of nachos.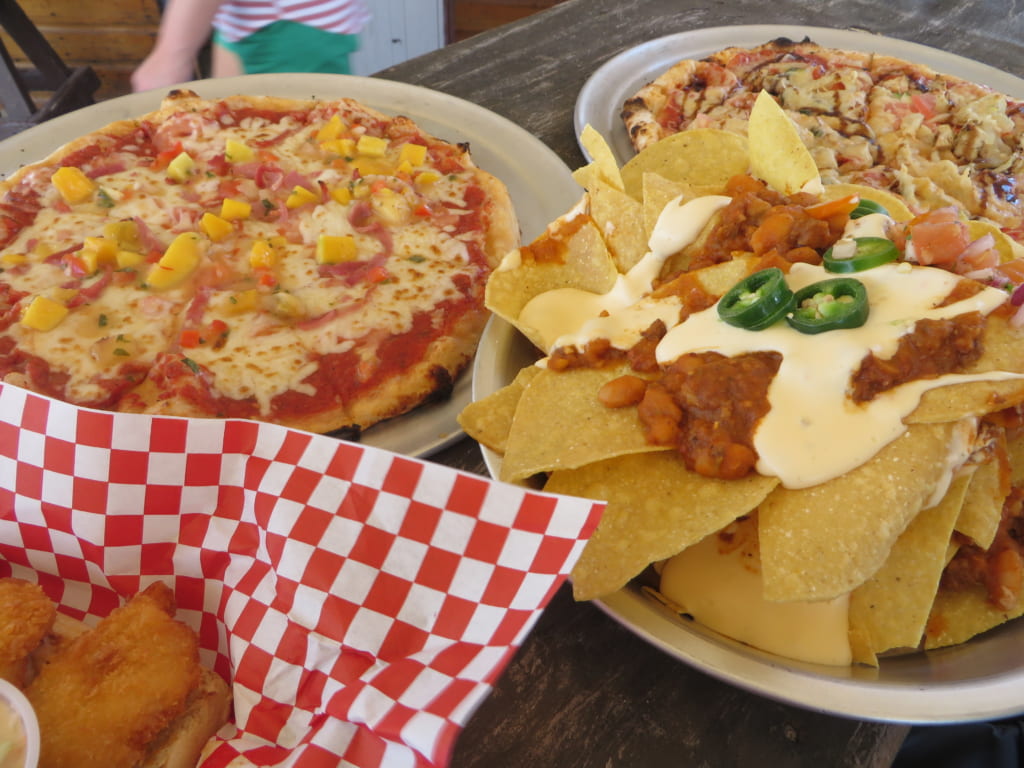 And, a crispy shrimp sandwitch! All together just about 60 dollars (way too much food!)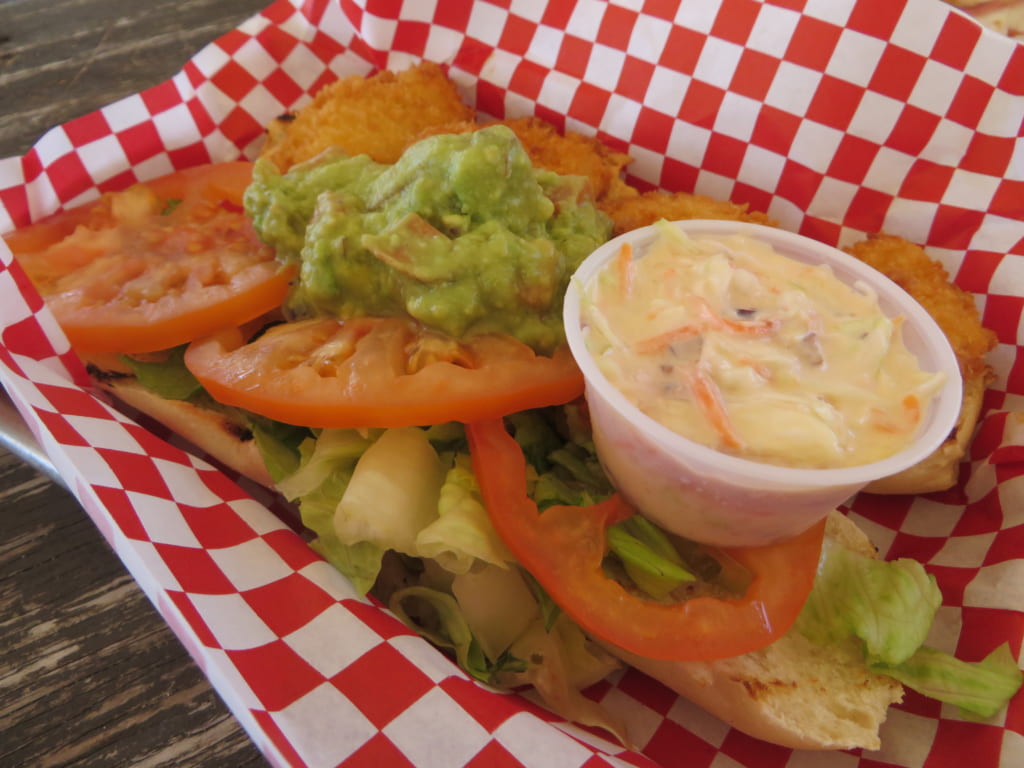 I did my best and managed to eat the pizzas up, then took a walk on the beach.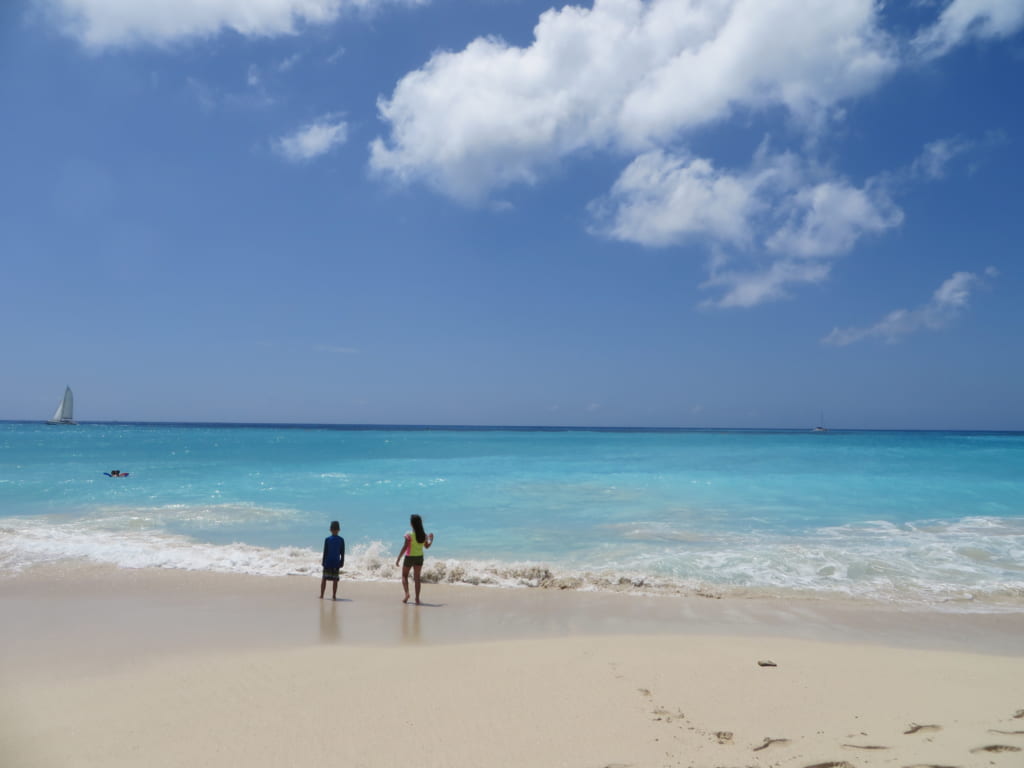 Look! I found a surfboard with airplane arrival times.
A Royal Dutch Airline (KLM) plane should be arriving soon.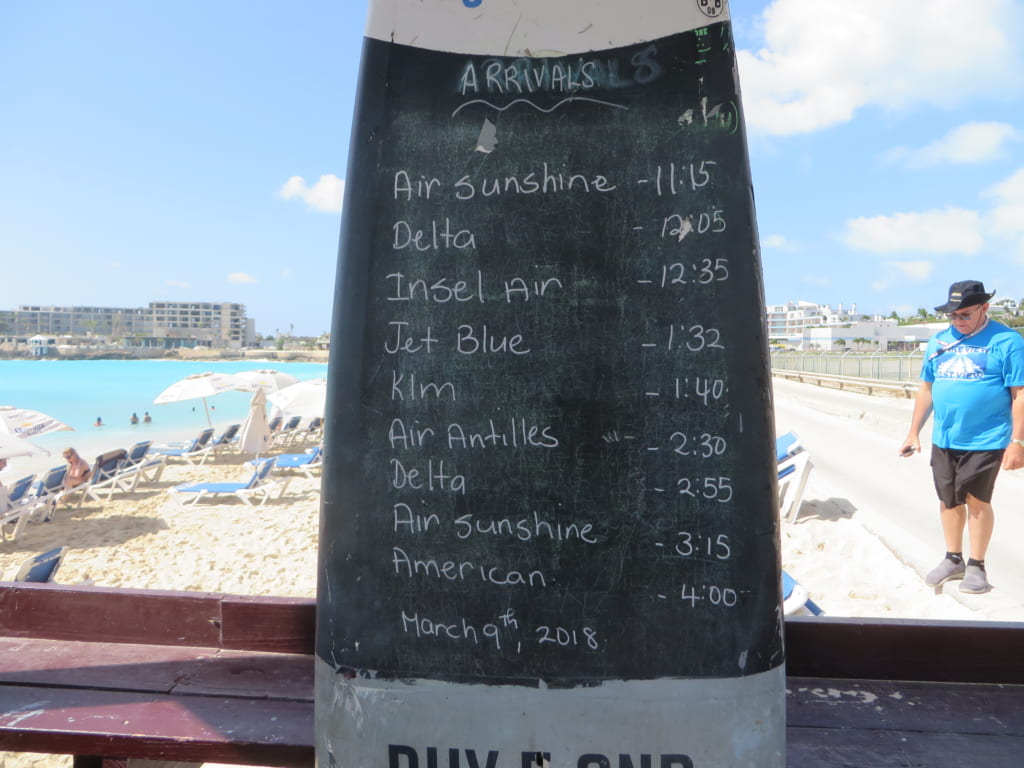 More and more people accumulate on the beach.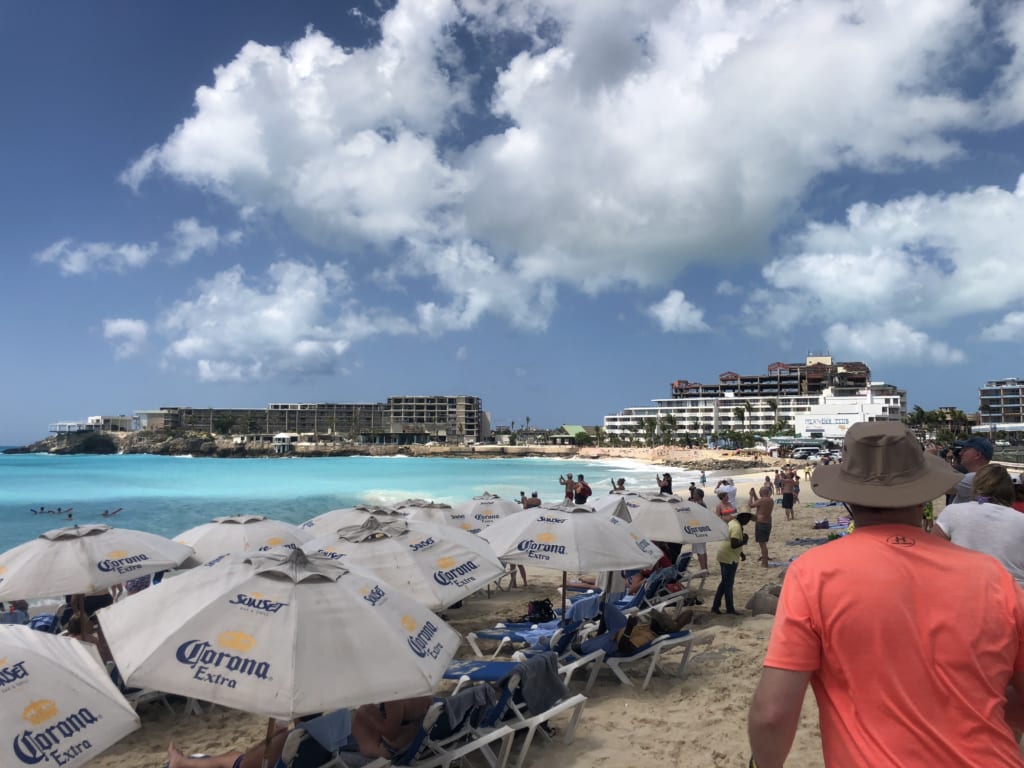 Then, we hear a thunderous roar from the distant sky.

Oh my —- !! A huge airplane just above my head!! I thought there would be a strong wind, but there was no wind at all!!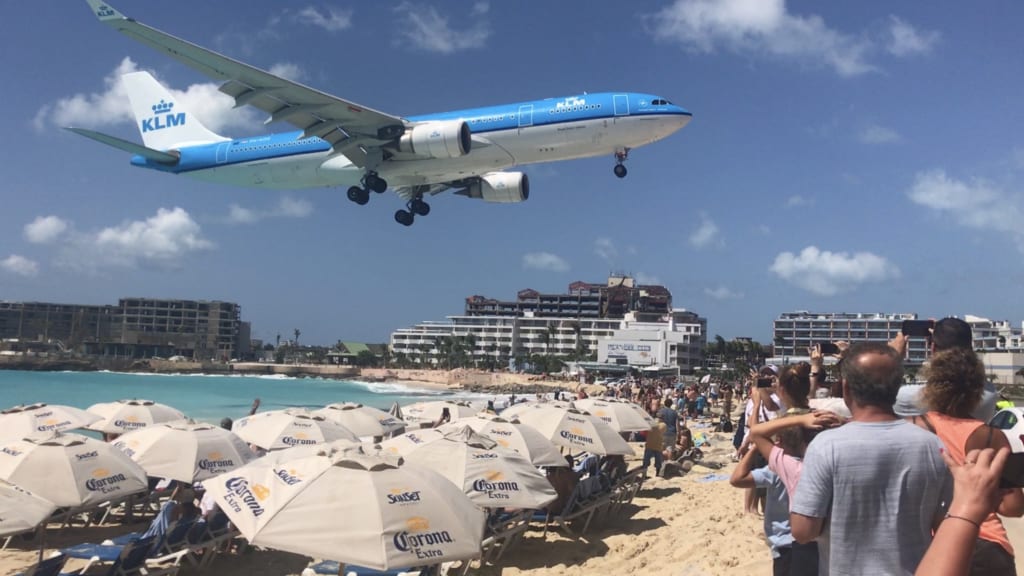 You can't experience anything like this in Japan, what a thrill of fear and excitment! I strongly recommend experiencing this! By the way, this is the view of the beach from the airplane.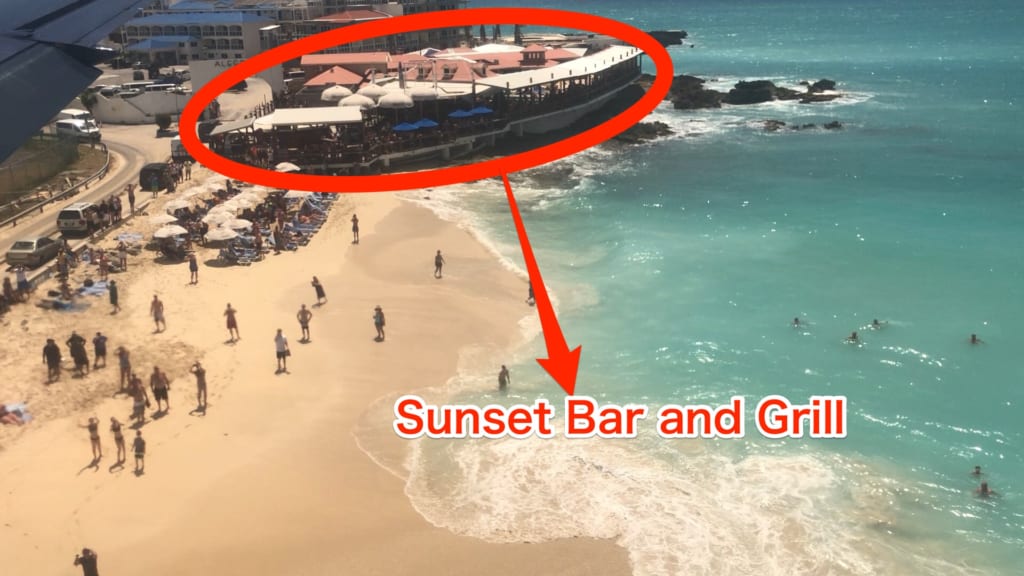 Be careful, as there might be strong winds depending on the airplane.

"We're waiting for you!" a waitress from the Sunset Bar and Grill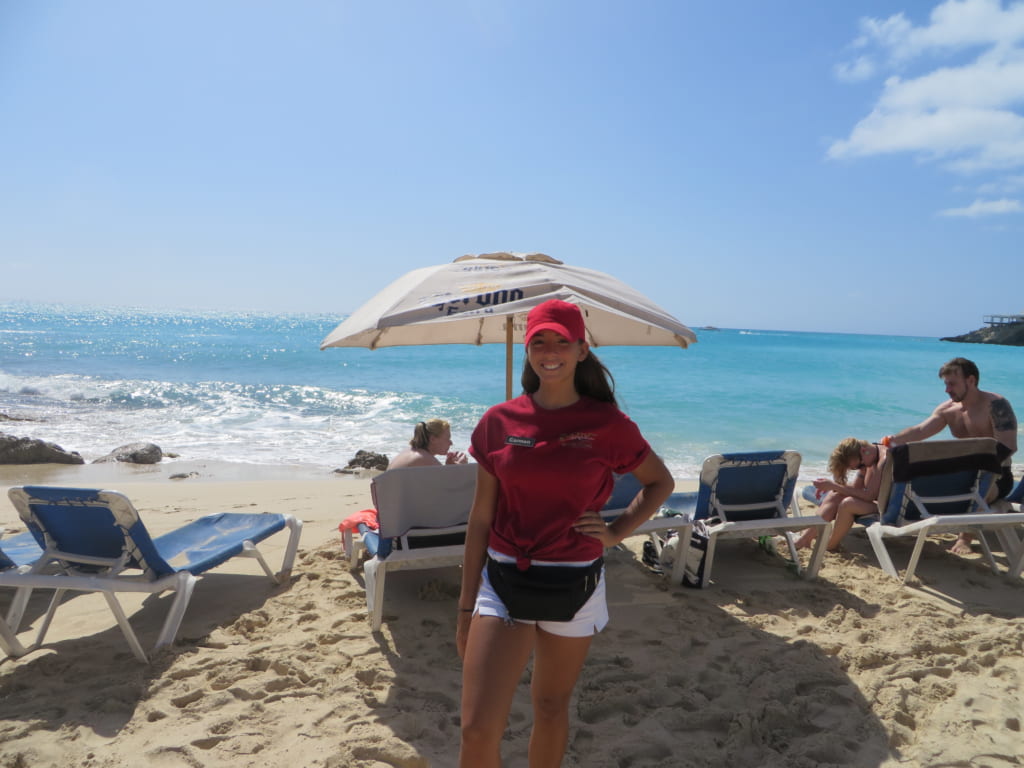 ■Hurricane Scars
After the excitement of Maho beach, we continue to the "Great Bay Beach".
There were many souvenir stalls at the "Philipsburg Market Place", I couldn't take my eyes off all the vivid colors.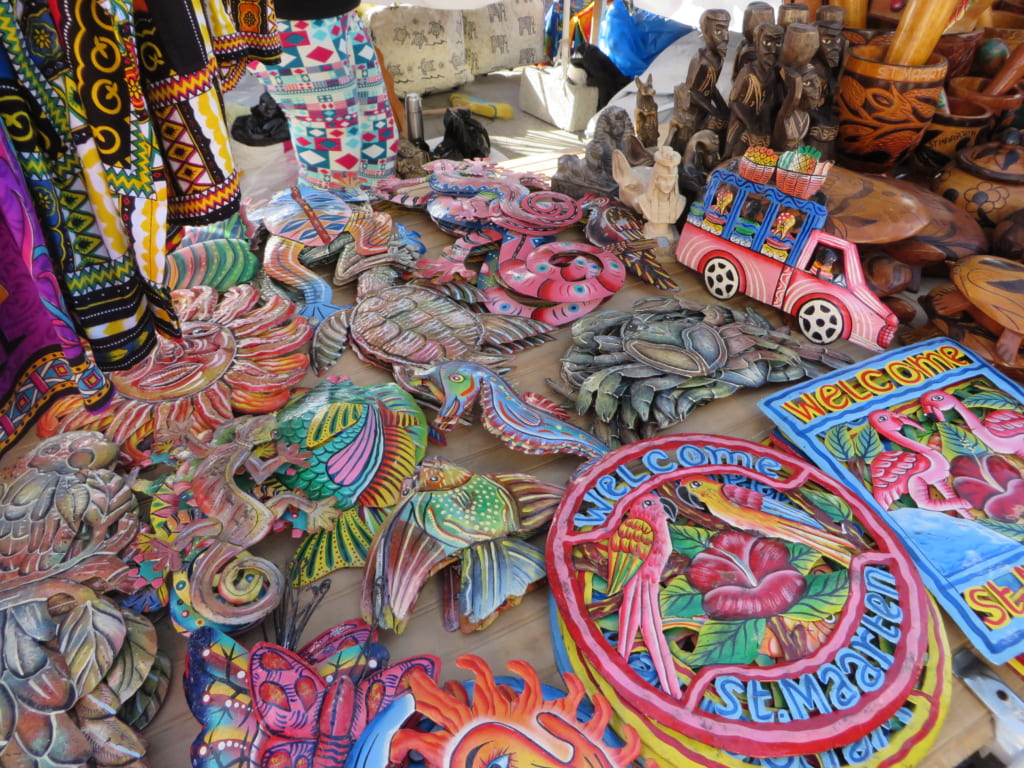 But the beach was very calm. Not many people on the street.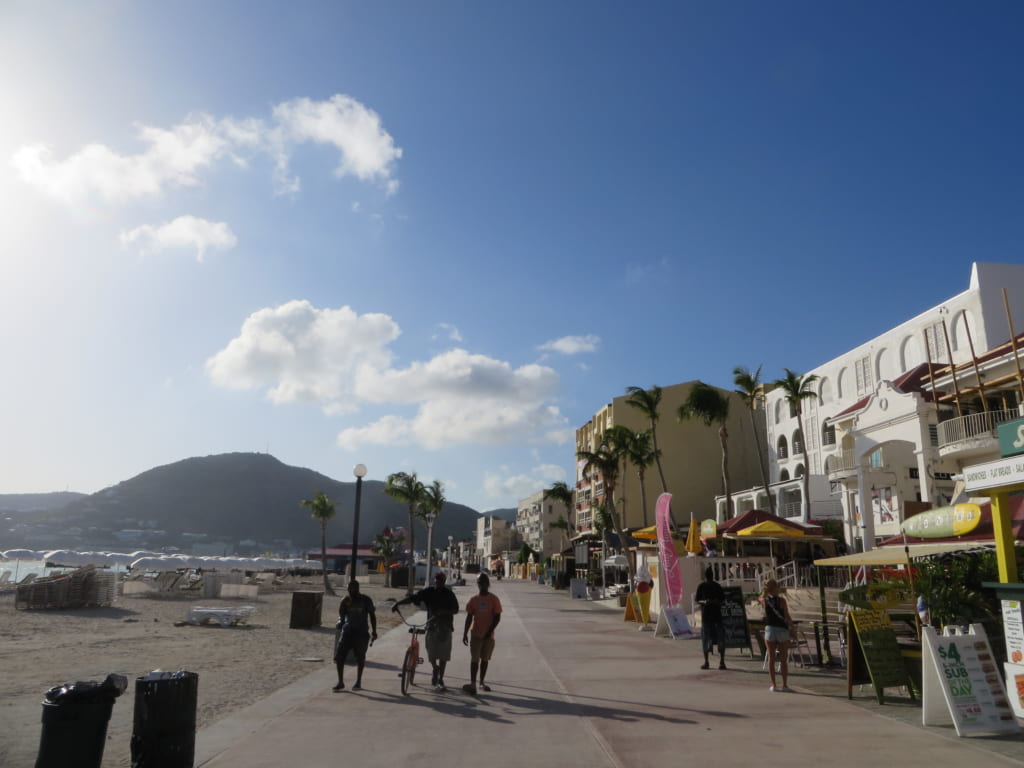 Actually, not only St. Martin, but many Caribbean islands suffered a lot of damage due to a hurricane in September last year.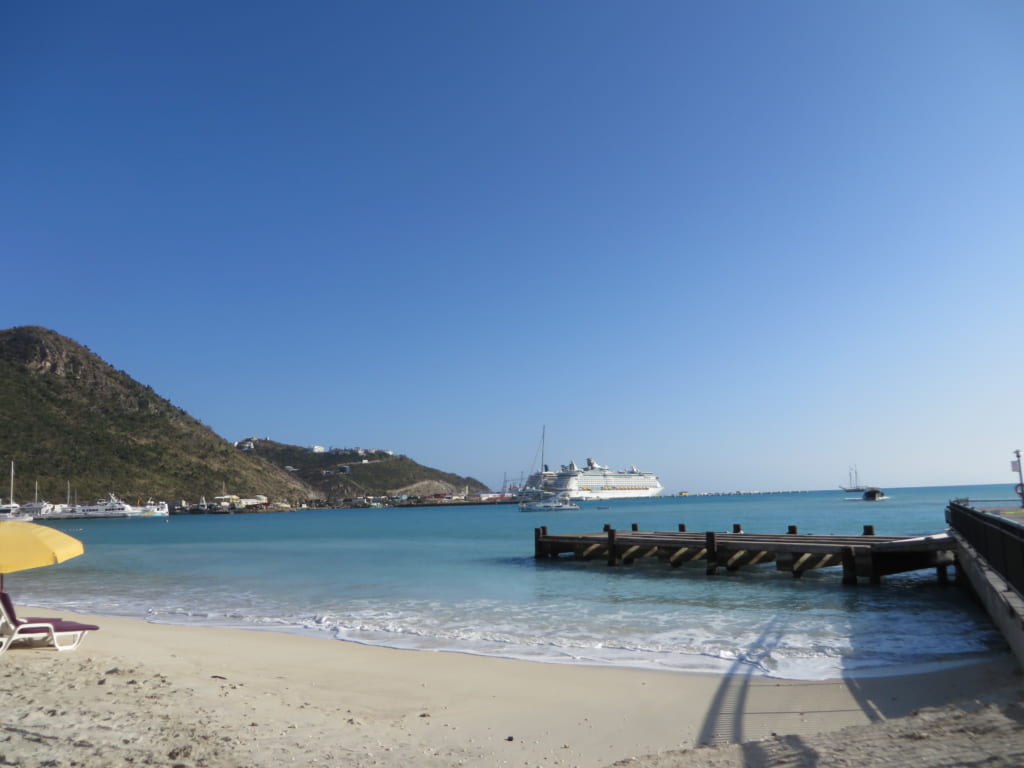 Many of the shops in Philipsburg, next to the Great Bay Beach, are still partially damaged, I think that is why there are not many tourists.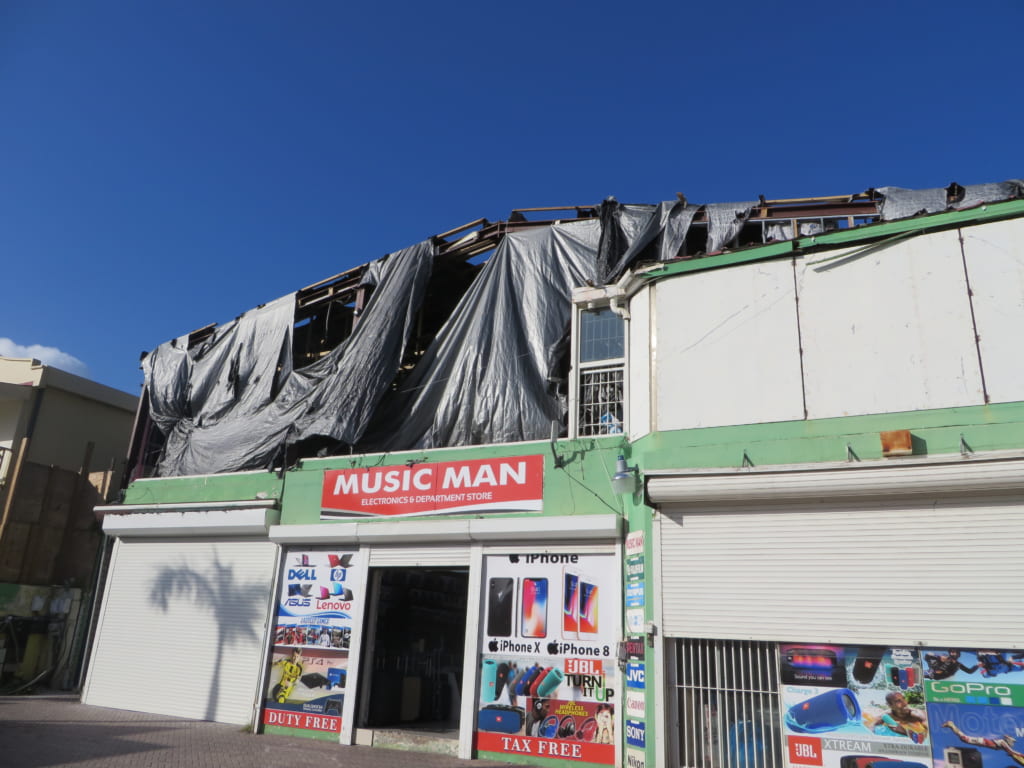 The Cartier shop has damage to the windows, maybe the strong winds caused something to slam into them.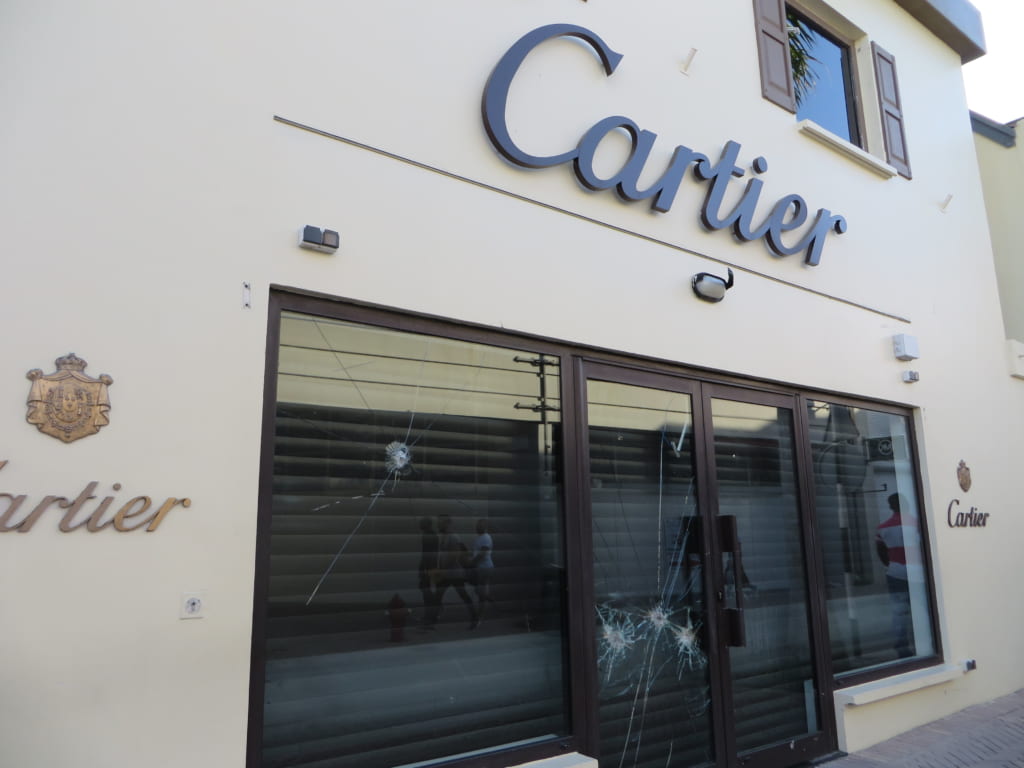 This is Tiffany's. All the goods are gone, and the clean up is still going on.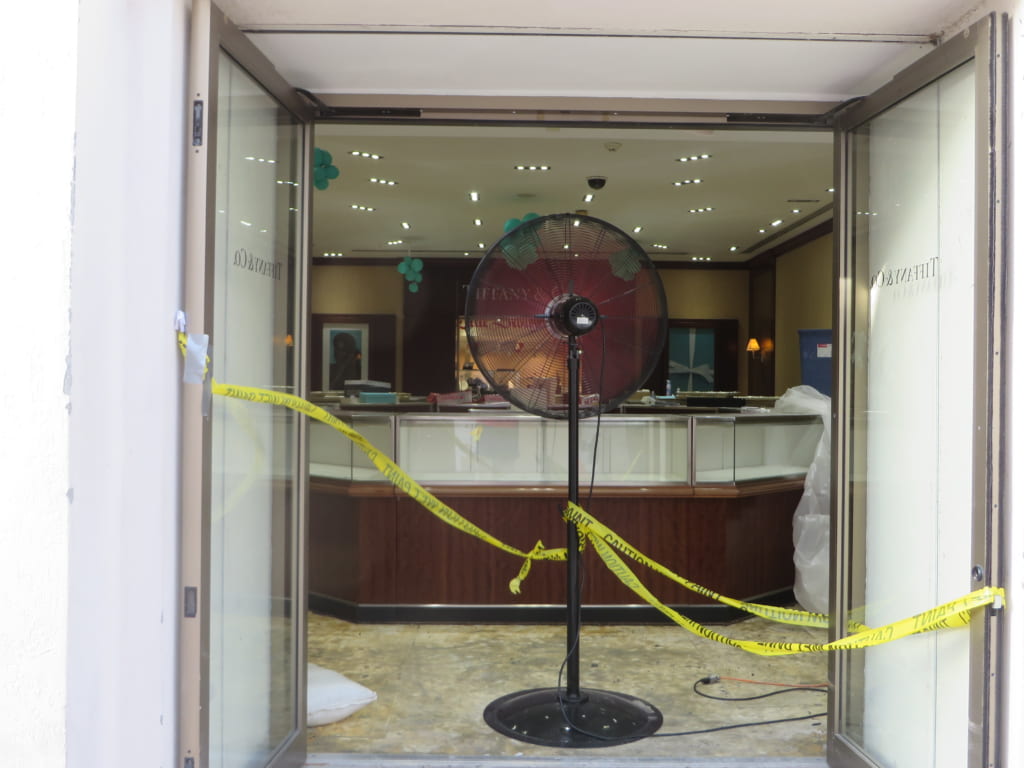 A few shops are open, but there are not many people.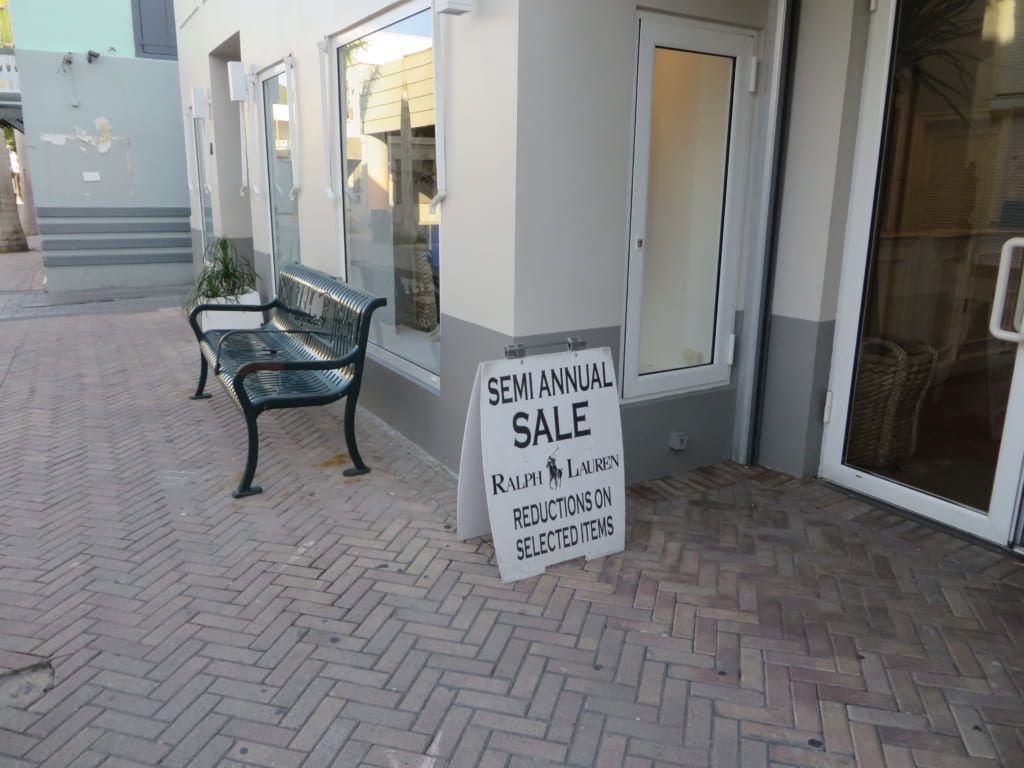 As Japan is in the middle of recovering from the great earthquake, I wish a full recovery from the hurricane for the Caribbean islands.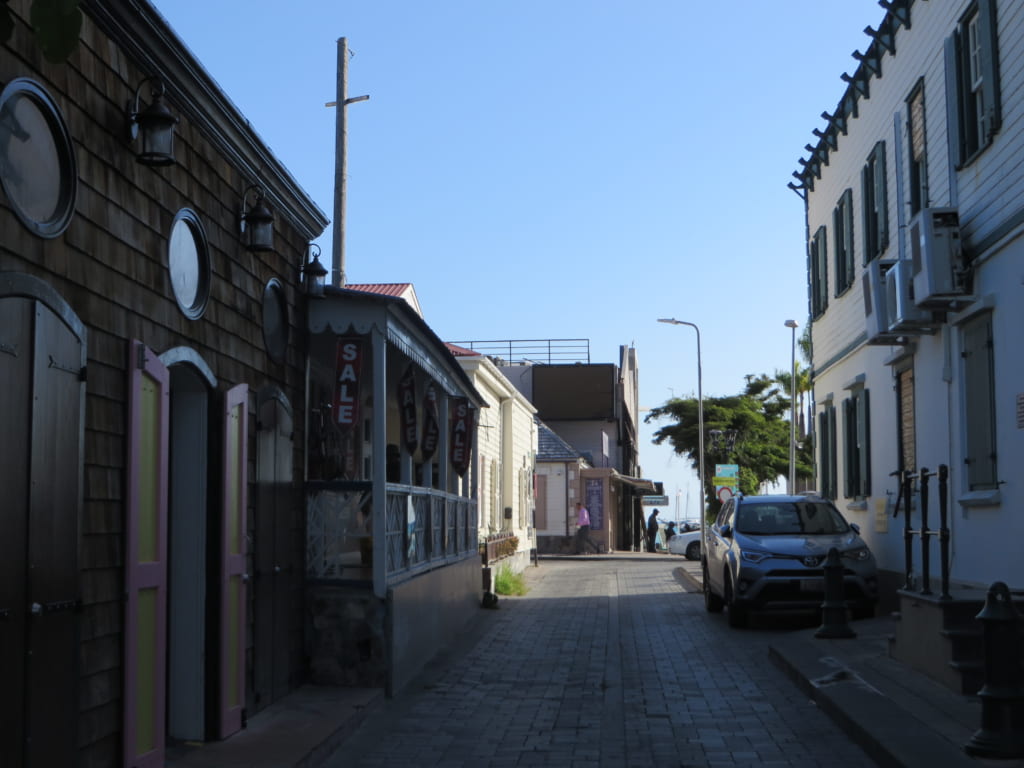 ■May the Force be with You
As I continued walking around Philipsburg, I found a suspicious building.
Who is "Yoda Guy" …. ?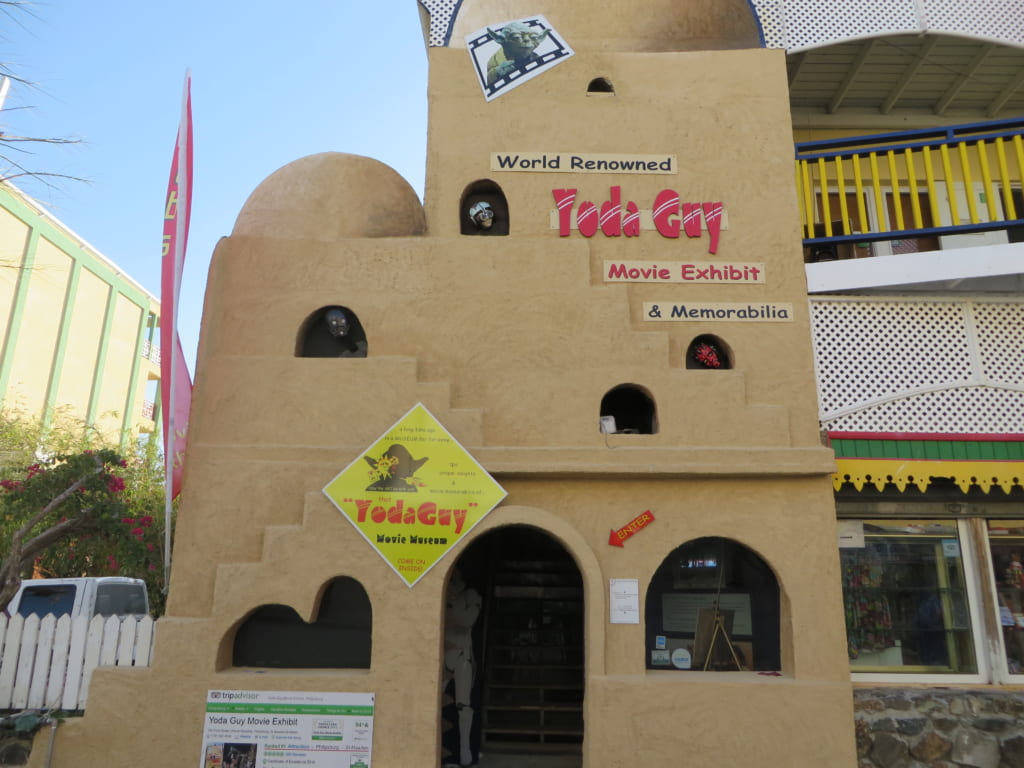 Curious, and with a firm tread, I went step by step up the stairs.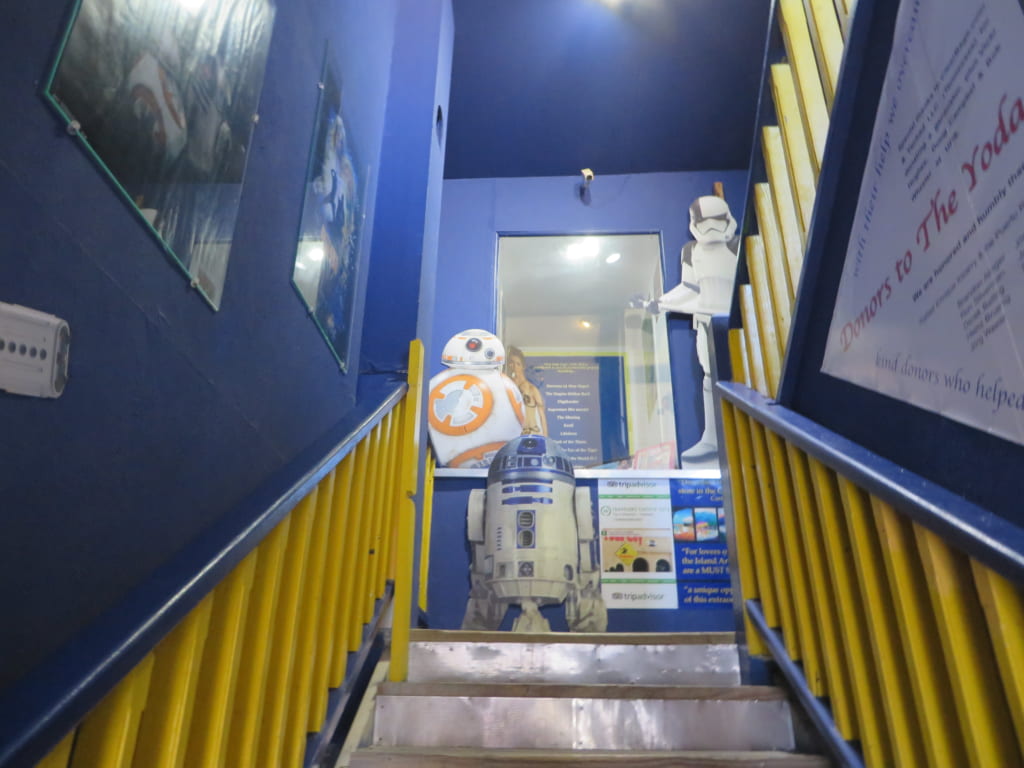 Straight off, there was Darth Vader, ready-for-battle. I told him: "I am not your enemy".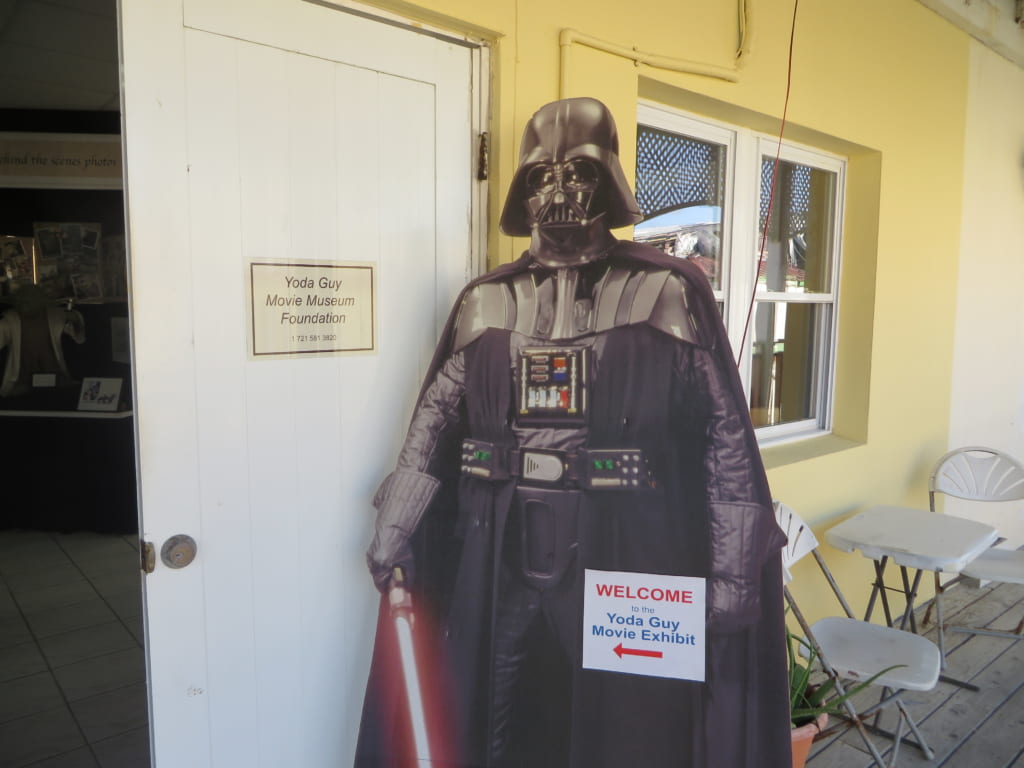 Inside, Master Yoda and a man with nice smile welcome me. His name is Nick Murray.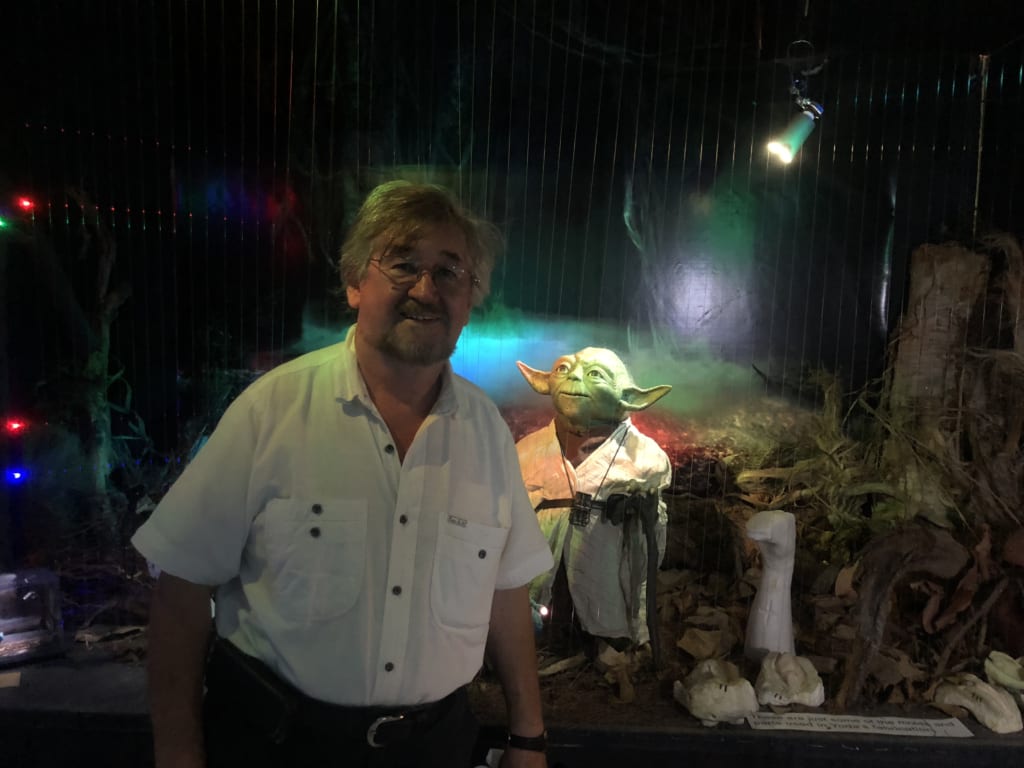 His story was amazing. Nick was in charge of special make-up for the original Star Wars Trilogy! What a surprise! It made my day! !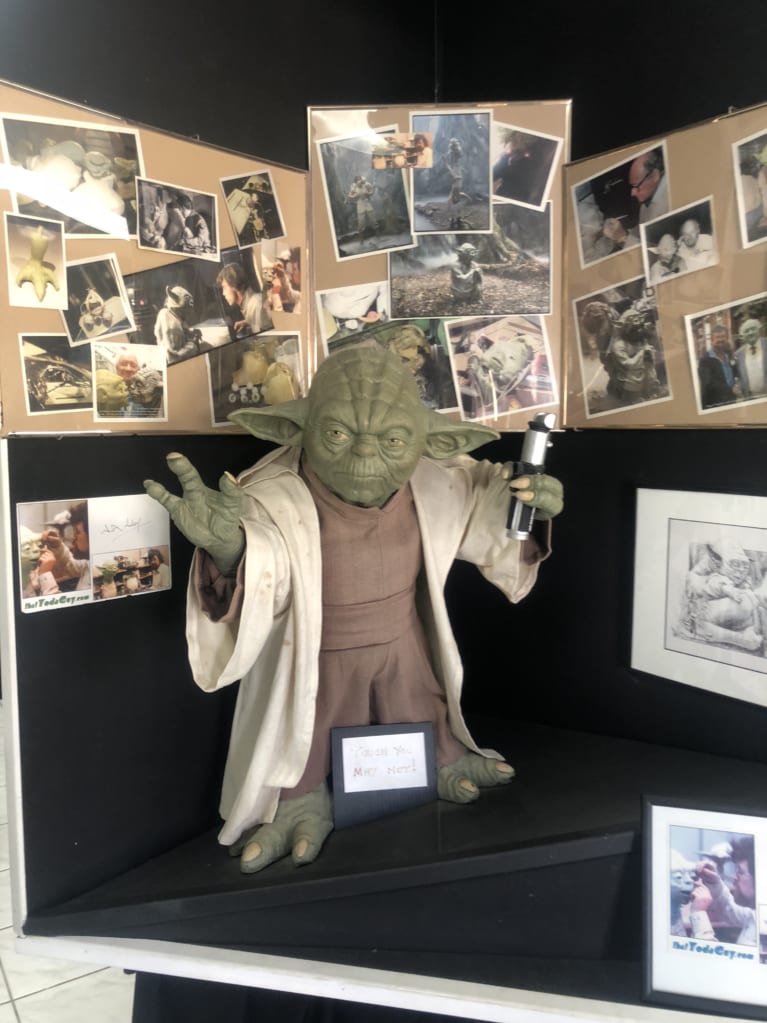 This is a museum called the "Yoda Guy Movie Exhibit", and Nick is the director. Admission is $10.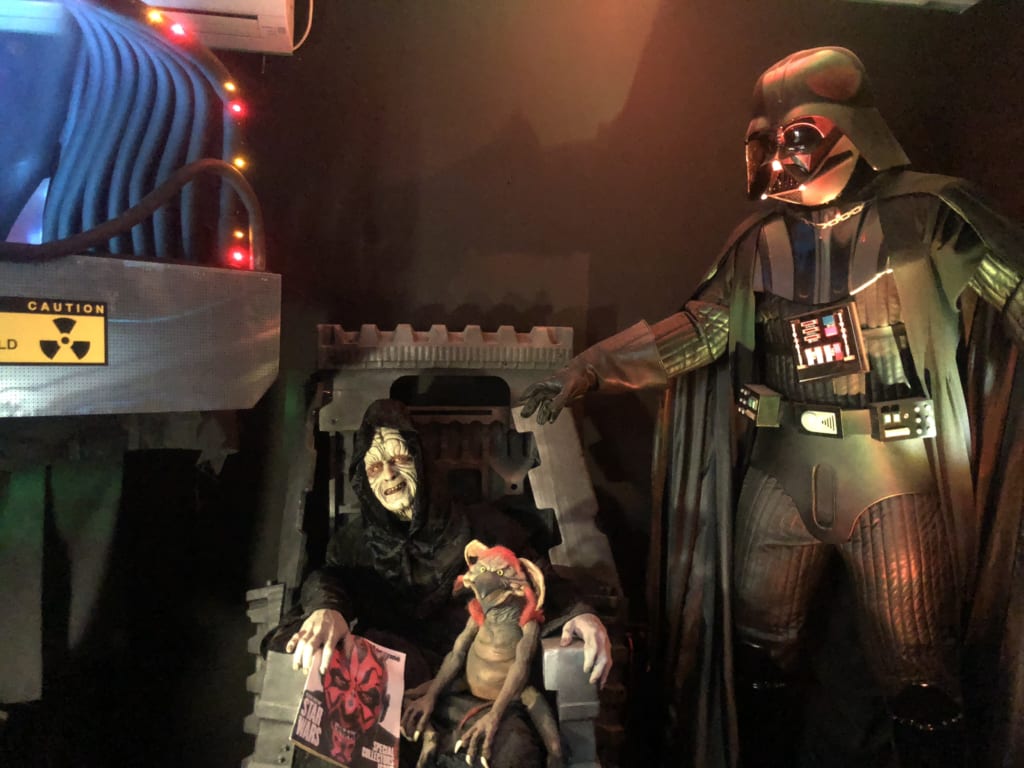 Memorabilia and costumes from Star Wars and various other movies are on display.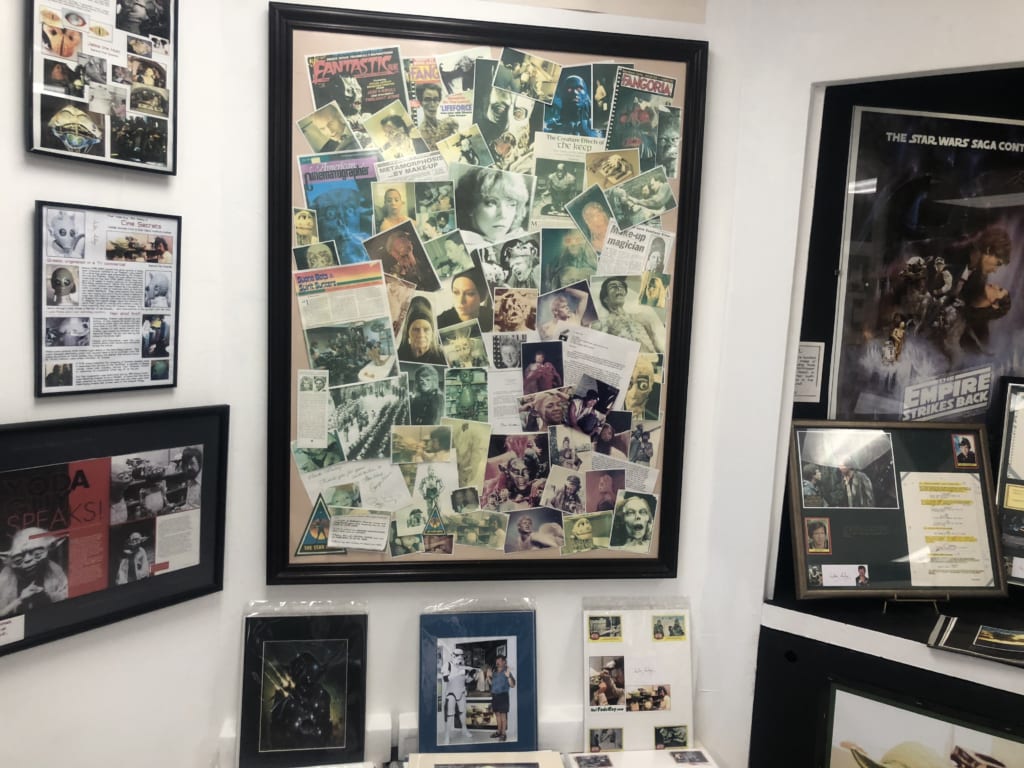 Oh, Finn! Memorabilia and costumes up to "The Force Awakens".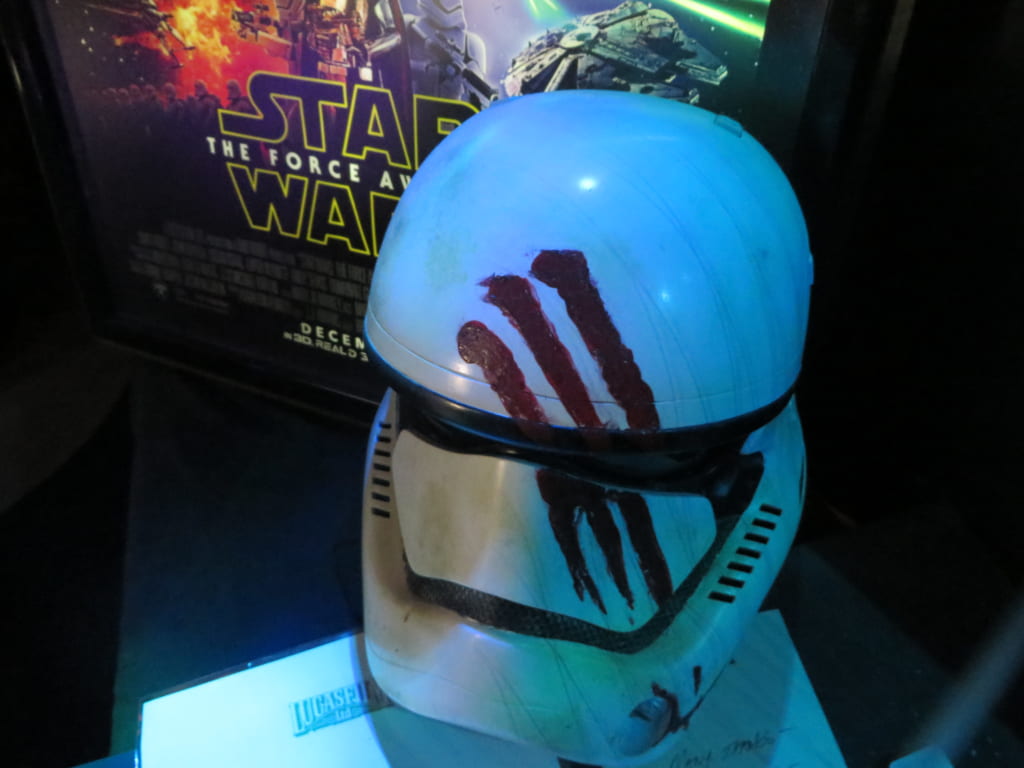 And, Sand People!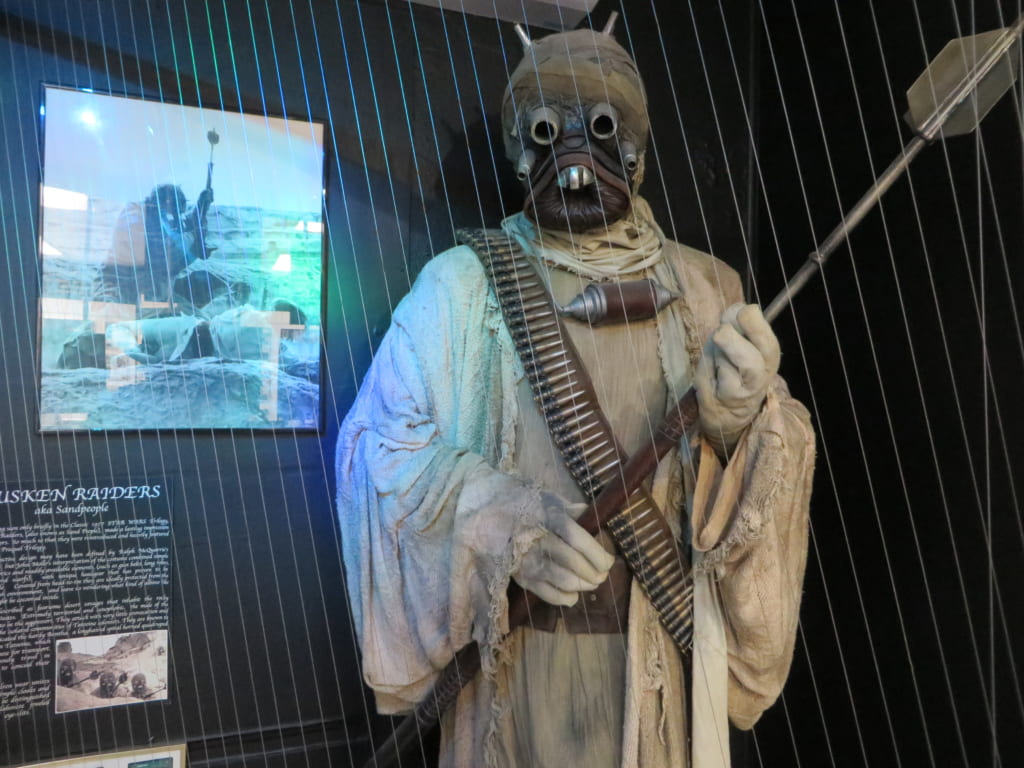 Han Solo frozen in carbonite! I wonder if it was actually used in the movie…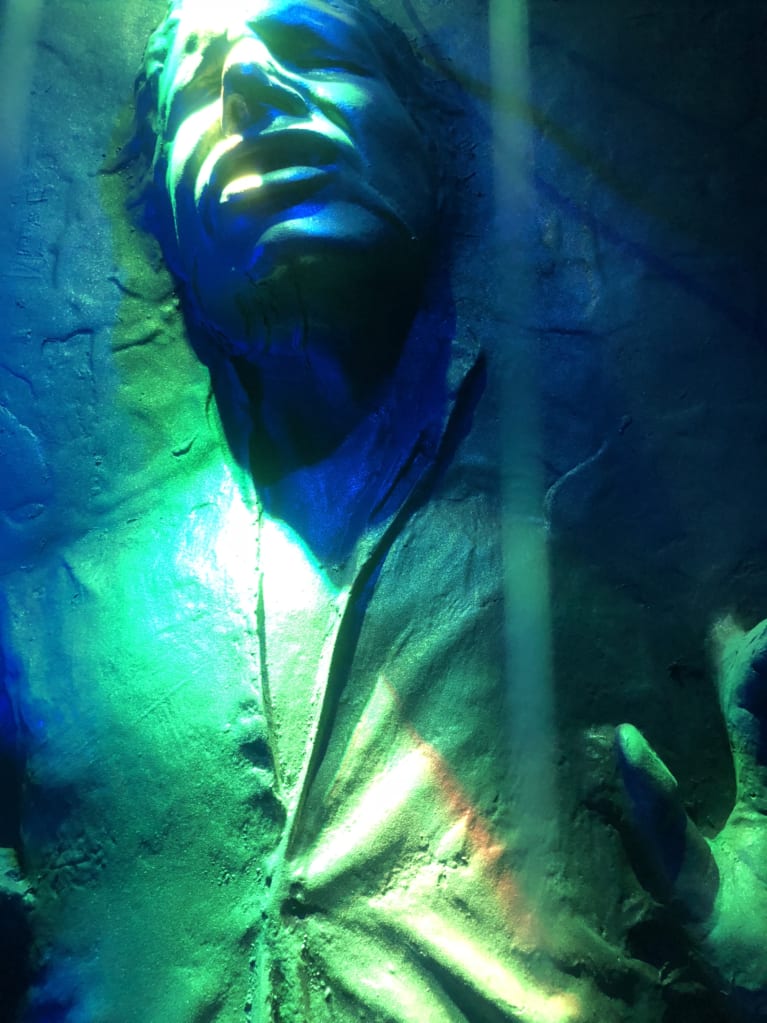 Actually, Nick made Yoda's puppet for the Original Trilogy. That's why he is called the "Yoda Guy".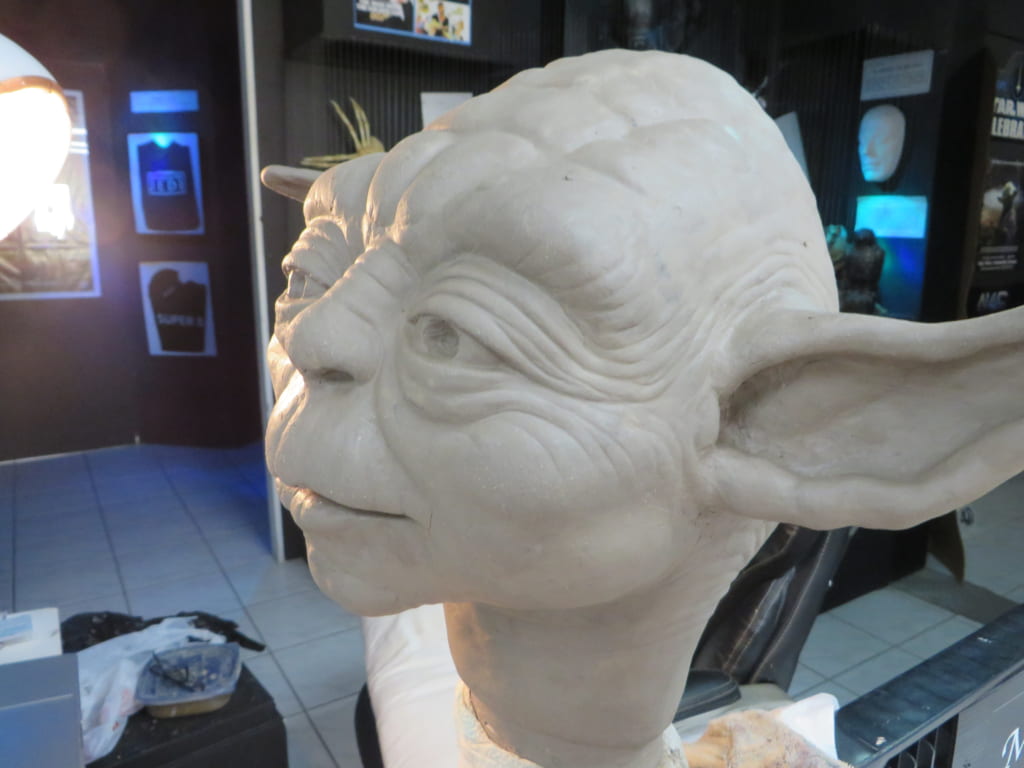 Although the appearance of the building was simple, it was a wonderful museum, don't miss it if you are a Star Wars geek!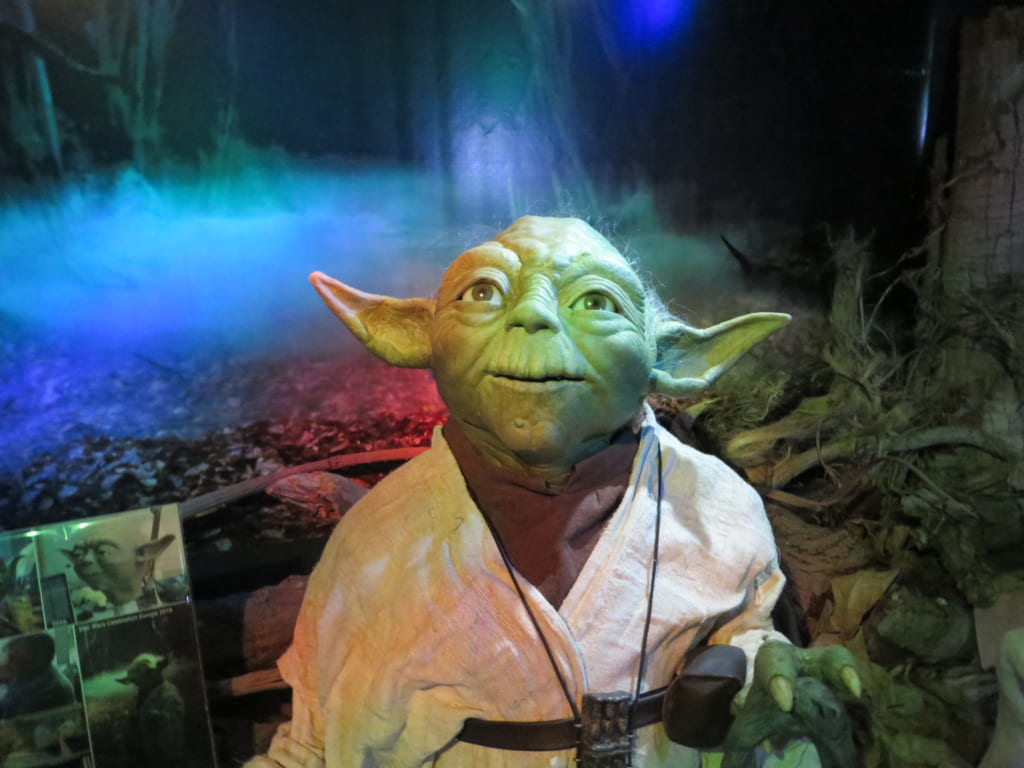 "May the Force Be with You" from the receptionist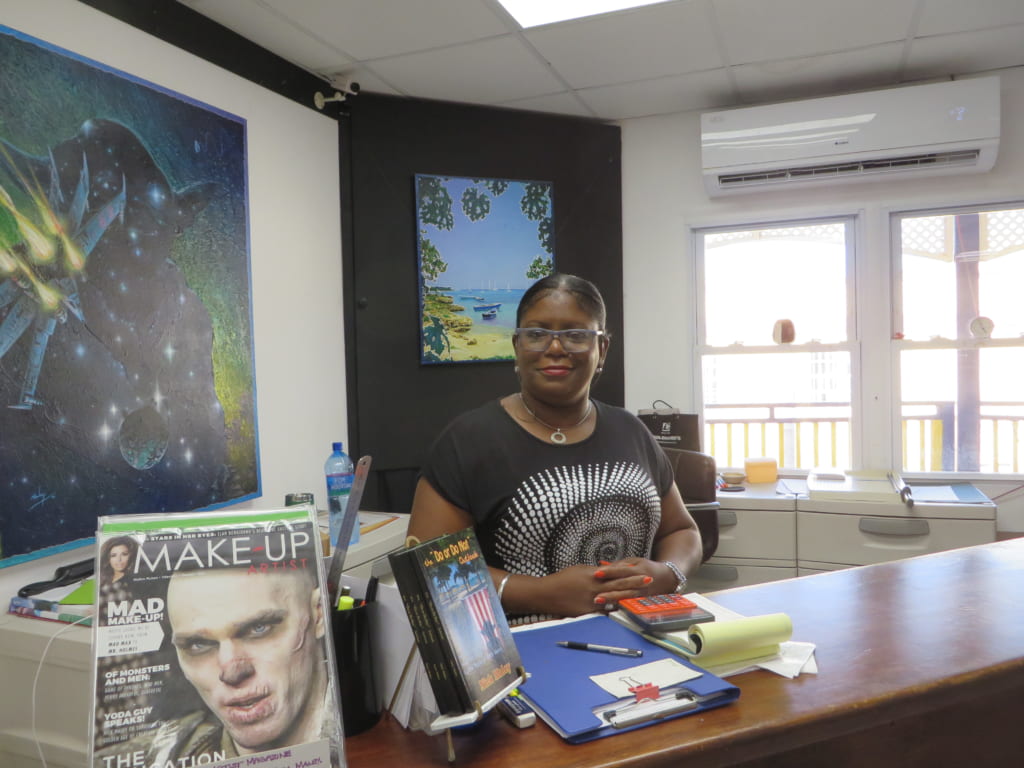 ■Something a little strange in St. Martin
A photo at Maho Beach. DANGER sign "Be careful of the jet blasts of airplane engines" It can result in death.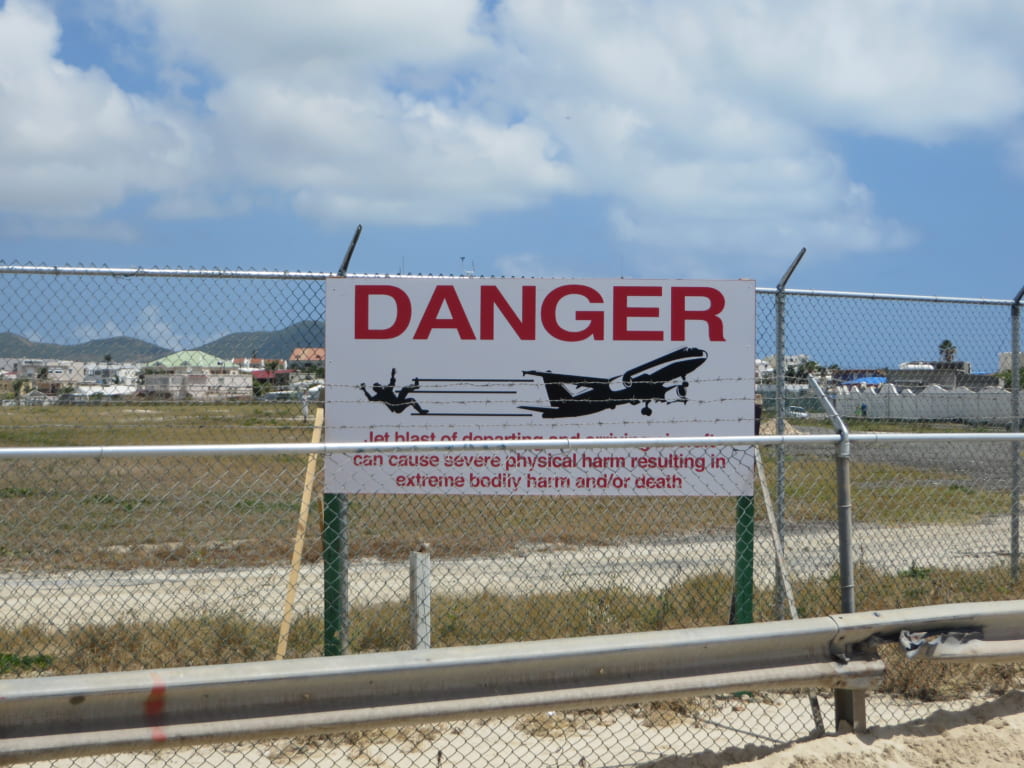 A McDonalds where it seems I can buy only ice cream. Special marketing maybe.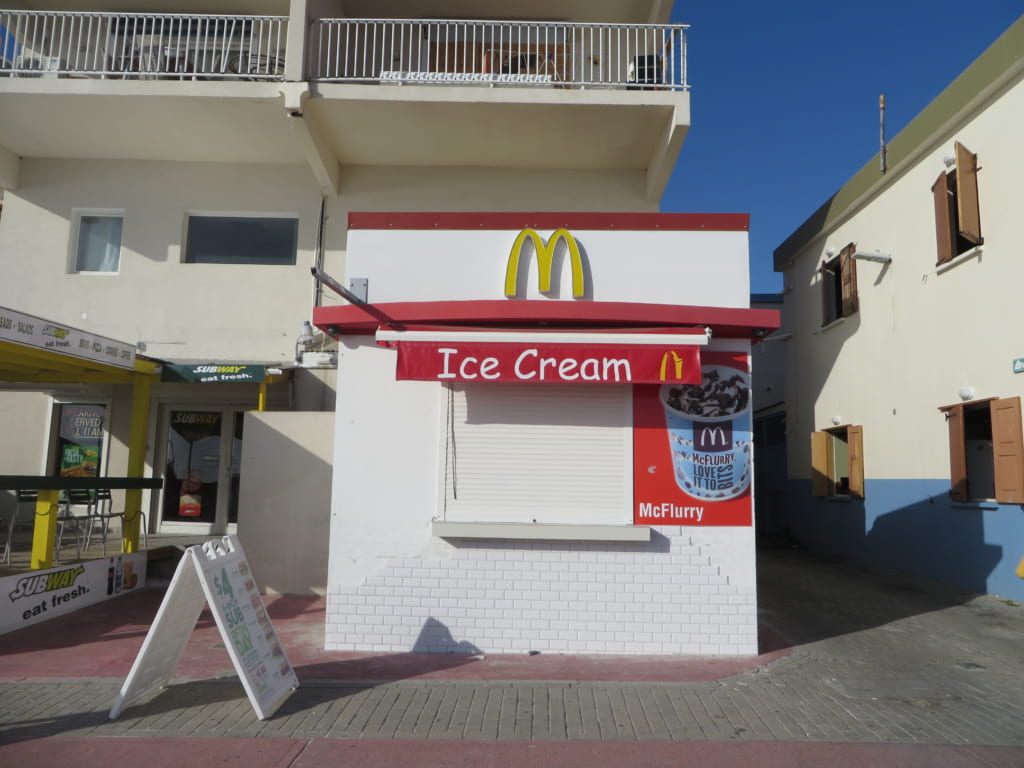 Above the Sand People, you can see the air-conditioning!! Something strange in their world!!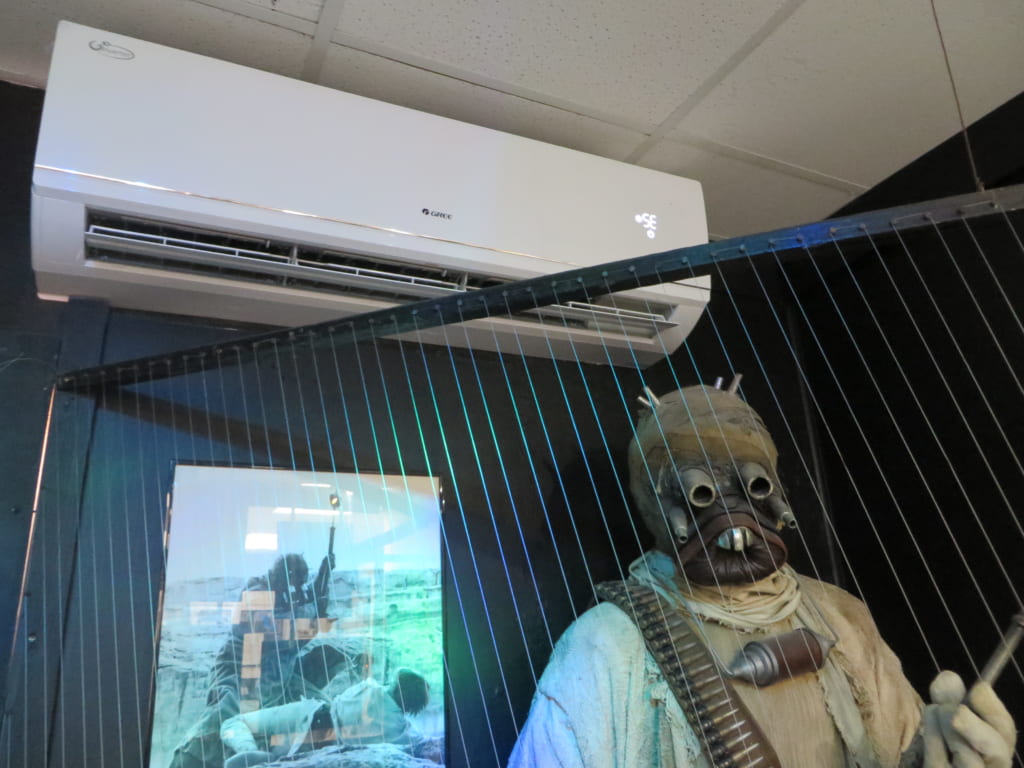 Men who danced out the sunroof, probably tourists, with their music at max. A taxi driver shouted, "What a bunch of crazies!" Very strange.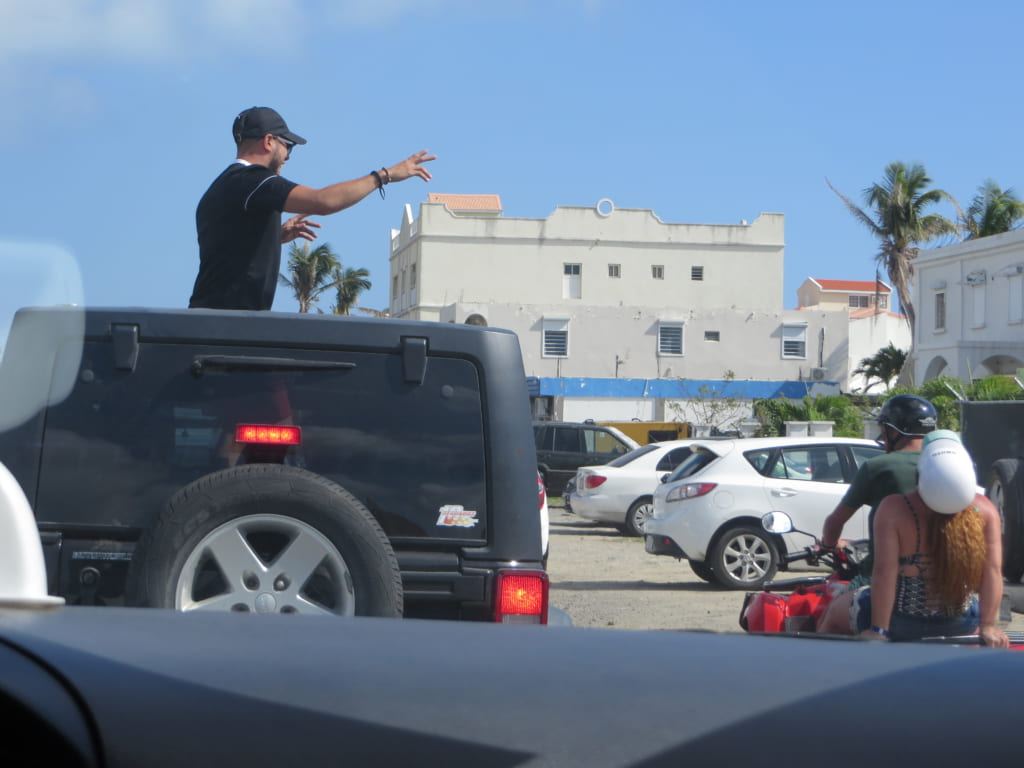 ■New Hope
The country code top-level domain (ccTLD) of St. Martin is ".sx".
Properly, the code should be registered as ".sm" (Saint Martin), but the San Marino Republic already uses ".sm", so ".sx" was selected instead. "sx" is derived from the IATA airport code.
I visited the management company (domain name registry) without an appointment.
I searched the address in advance, and arrived at a construction site on the beach.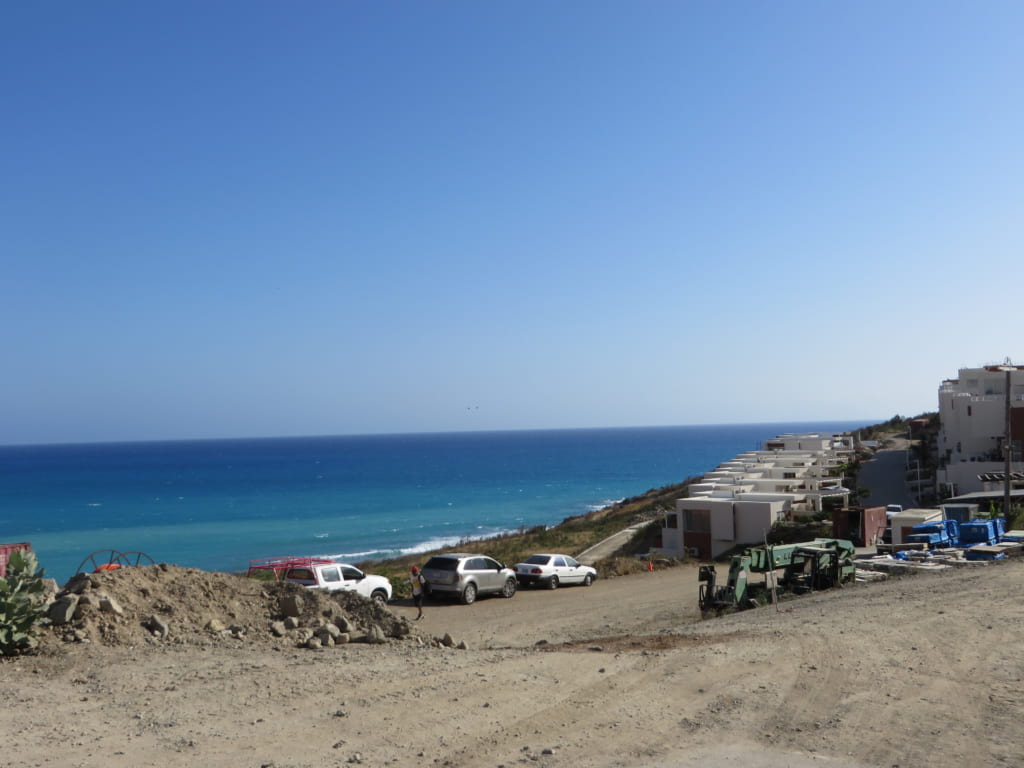 Looking around, I found what seems like an office. I checked around cautiously, yes, bingo! An office!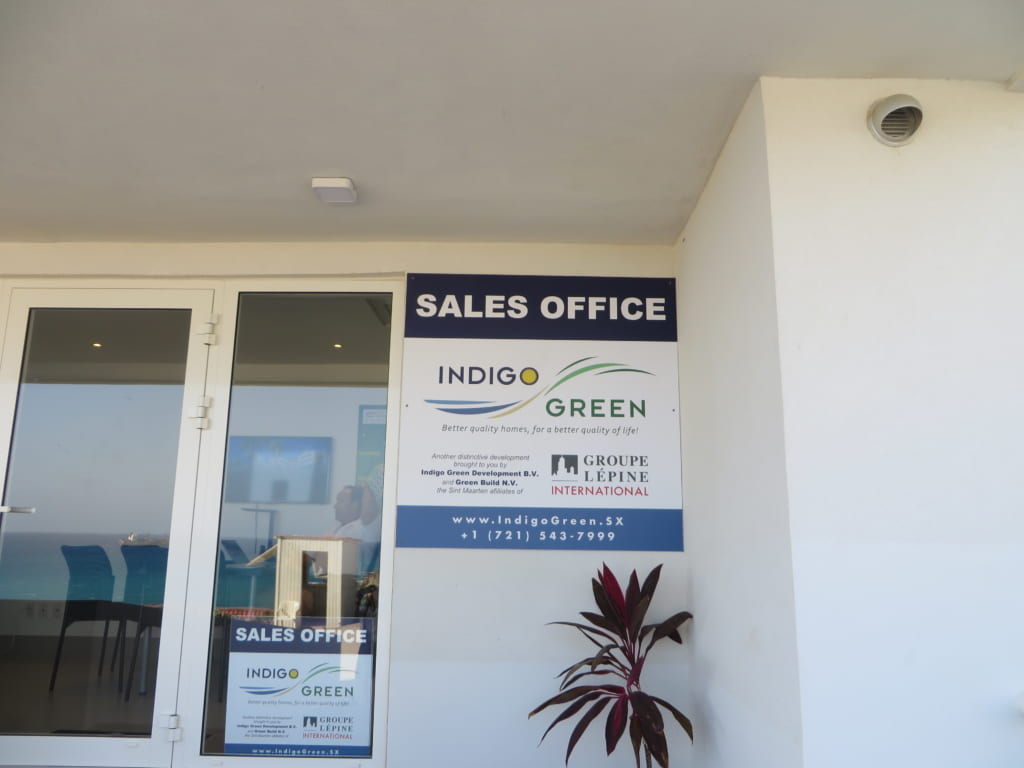 This is Mr. René Lepine, of the ".sx" domain name registry. He said that relative to other domains ".sx" still has many great domain names available for registration. Please get yours now!"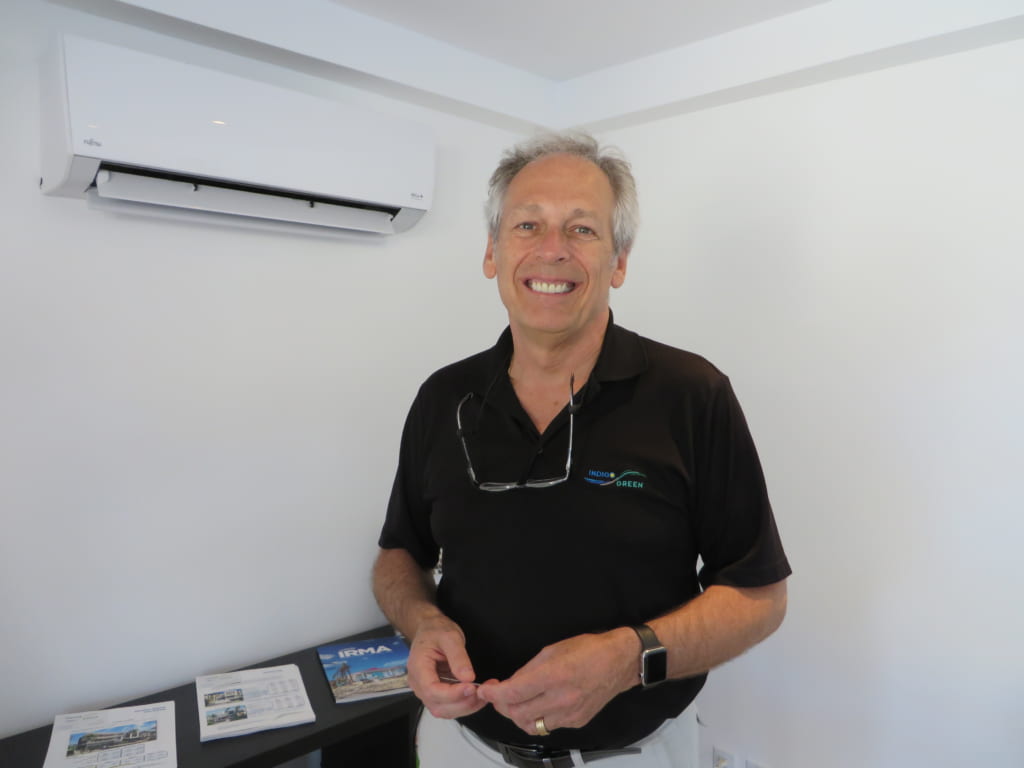 Thank you so much, Rene! I deeply appreciate your kind welcome even without an appointment.
The ".sx" domain is not a widely used country code top-level domain (ccTLD),
so you can still register many good domain names. In that sense, the demand for ".sx" domain names may increase in the future and become a source of income for St. Martin as well as for Maho beach.
For St. Martin, damaged by the hurricane, this domain will become a "New Hope" for the future.
■Access to St. Martin – Click Here
■The St. Martin Domain ".sx" – Click Here