Once popular Montserrat is now the 4th least-visited country in the world, in spite of being nicknamed "The Emerald Isle of the Caribbean". Since the late 1980s, hurricanes and volcanic eruptions have caused catastrophic damage, scaring all the tourists away. It's difficult to even make a hotel reservation. Nowadays, are there any sights to be seen on Montserrat? We went to find out. The ccTLD (Country Code Top Level Domain) for Montserrat is ".ms".
* This fact-finding mission was undertaken in early February, 2020.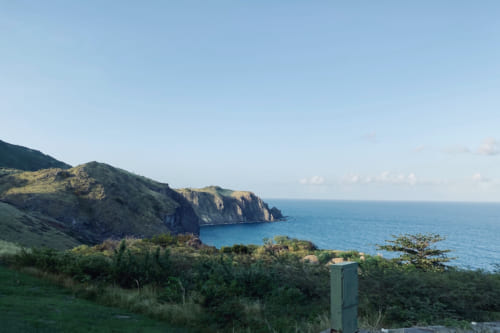 ◆Where is Montserrat?
Montserrat is a volcanic island in the Caribbean Sea between north and south America. It is a British overseas territory. The local language is English and the currency is East Caribbean dollars.
= Table of Contents =
---
◆#8 on the List of Shortest International Flights
To get to Montserrat from Japan, you need to fly via Antigua and Barbuda. It takes 49 hours, 25 minutes to get from Japan to Antigua and Barbuda. From Antigua and Barbuda, the distance to Montserrat is about 48km and the flight takes 30 minutes. The flight is operated by Liat Airlines, which operates many of the flights around the Caribbean. This route is ranked #8 on the "10 Shortest International Flights in the World".
In order to balance the plane, small passenger aircraft usually weigh passengers at check-in (also known as the "Getting Weighed in Public Humiliation").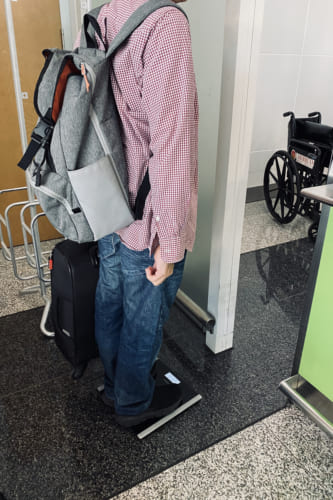 We can see the propeller plane we are going to board.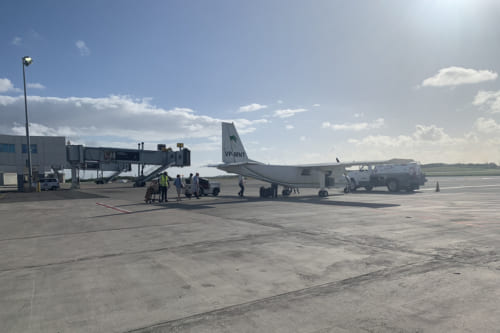 The pilot today is a lady. Very cool.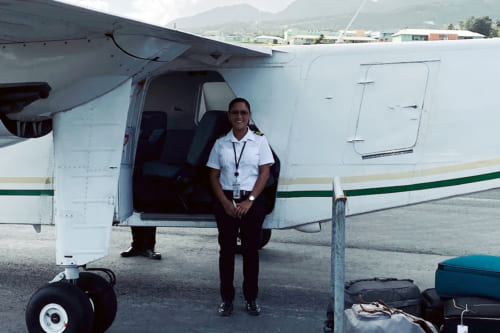 Including the pilots, only 8 can fit into the small cabin.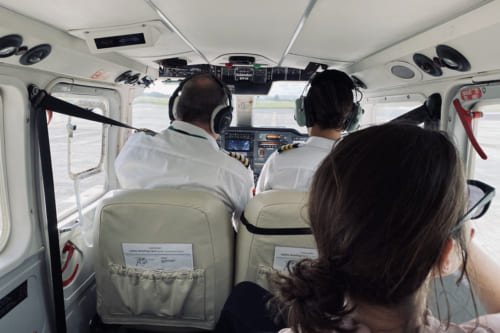 After takeoff, we can soon see Montserrat.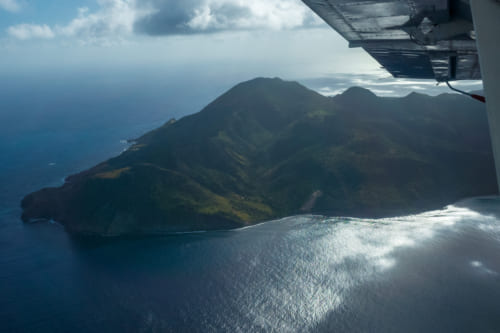 And we are ready to land.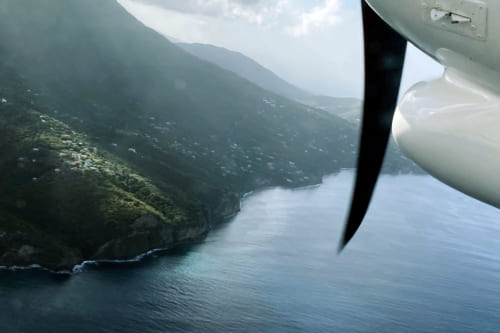 We arrive at the John A. Osborne Airport of Montserrat after about 30 minutes. It takes about 1 hour from Haneda Airport to Osaka International (Itami) Airport, but we made it to another country in 30 minutes. This airport is the smallest yet on the Domain Island Tour, it looks like a house.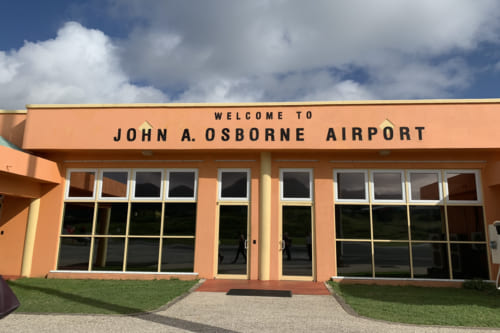 ---
◆Difficulty Making a Hotel Reservation Online
For our tour of Montserrat, I tried to book a hotel through the usual large booking sites, but everything came up for Montserrat in Buenos Aires, Argentine, not Montserrat the island. I could not make a reservation. Even remote places like Ascension Island and Tuvalu could be booked through such sites… Finally, I took a look at the Montserrat Tourism website, and found two hotels listed.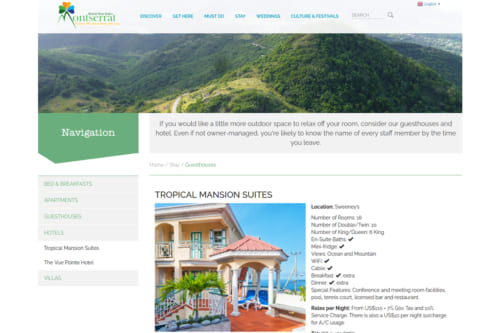 I chose the "TROPICAL MANSION SUITES" because they have a homepage. After inquiring by email, I was able to make a reservation. The hotel is about 1 km from the airport.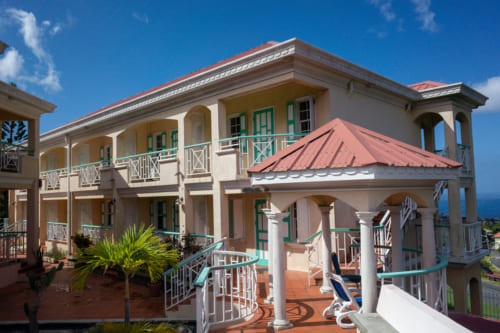 The reception staff welcomed us with a smile. Check-in went smoothly.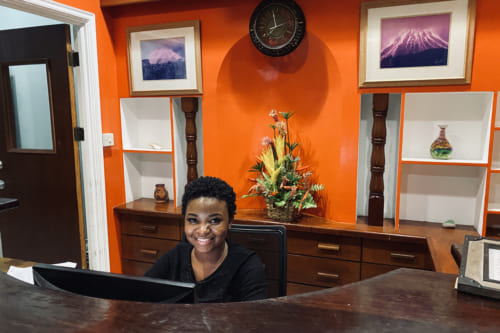 The large and spacious room was fully air-conditioned. Very comfortable. The bathroom was very clean, and the water pressure in the shower was excellent. If you can't find accommodations on the usual hotel reservation sites, I recommend checking the official tourism website.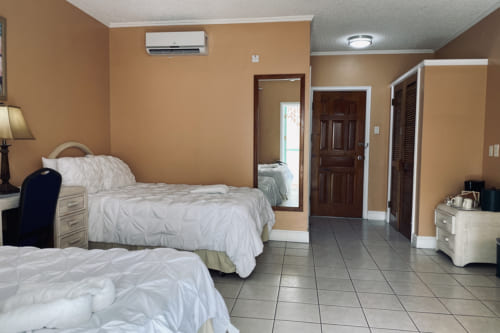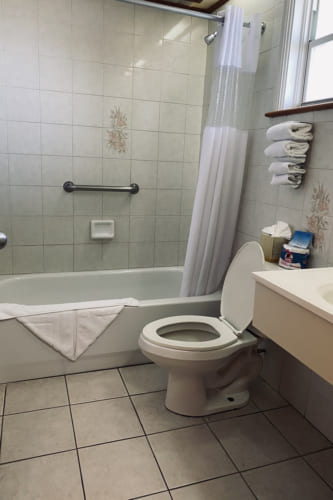 ---
◆The Old Capital Plymouth – A Ghost Town / The New Capital Little Bay – Under Construction
In September 1989, hurricane "Hugo", with wind speeds of up to 60 m/s or more, hit Montserrat and caused damage to more than 90% of the island. Then, in July 1995, Soufrière Hills, a volcano 915m high, erupted for the first time in 300 years. At that time, two thirds of the population had to be evacuated, and Britain sent warships to help rescue people from the disaster. Two years later, in 1997, the volcano erupted again. Plymouth, the capital city, was overrun by volcanic ash. Again, in 2003, the volcano had a major eruption. Many buildings were destroyed.
To see the damage, we first take a walk on the north side of Soufrière Hills. The buildings seem to have gently returned to nature, and some have almost completely disintegrated.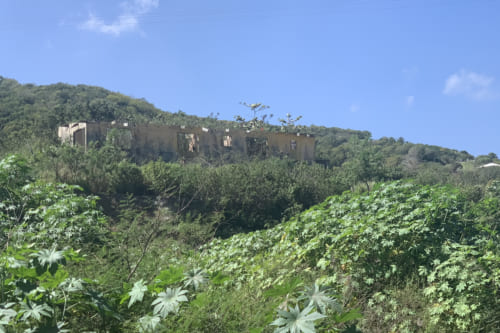 An abandoned hotel.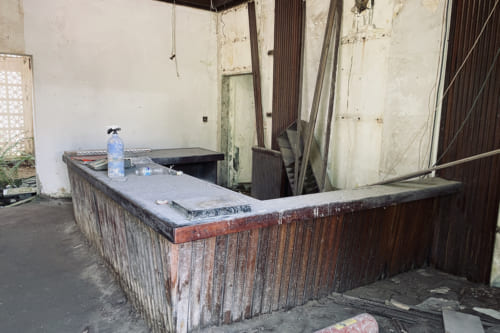 There are all kinds of ruined building to be found here.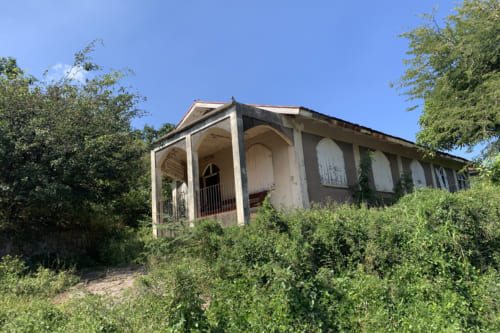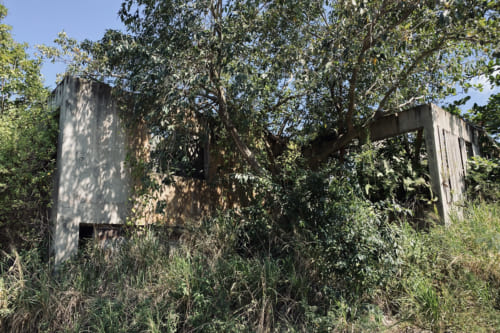 "Zone V" on the south side of the island is a no-entry zone.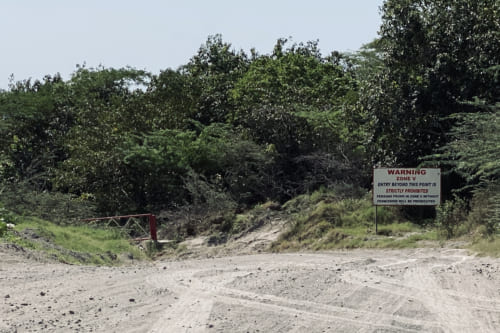 Inside this zone, there used to be a recording studio called "AIR Studios (Associated Independent Recording)" owned by George Martin (the producer for the Beatles), but it was forced to close by the 1989 eruption.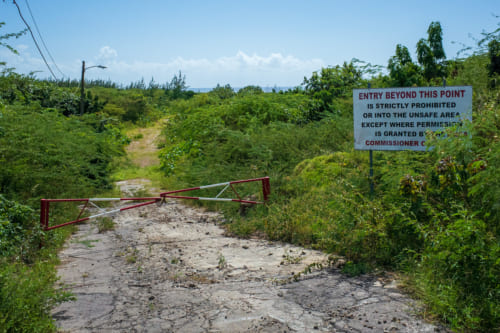 A Sugar mill dome, formerly used to crush sugar cane and to make sugar. A flock of free-range goats passed in front of me.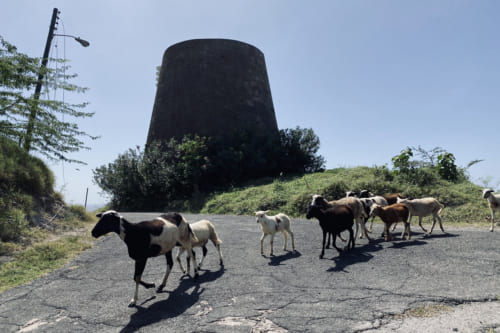 Currently, Brades is the temporary capital, but we're going to Little Bay, which is now under construction as the new capital. Little Bay is north of Plymouth, the former capital.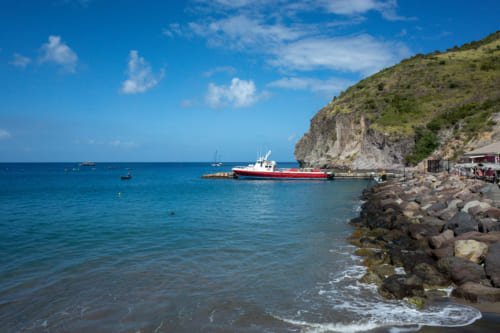 The police station, fire department, post office and prison are all in the same spot.
The police station.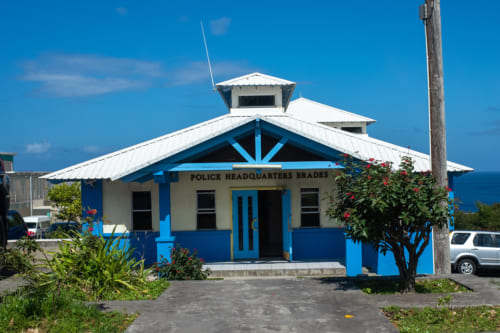 The fire department.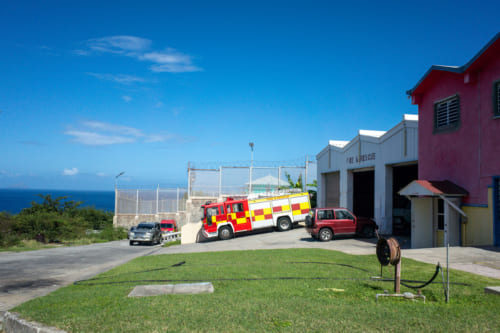 The prison. Barbed wire wrapped around a high fence.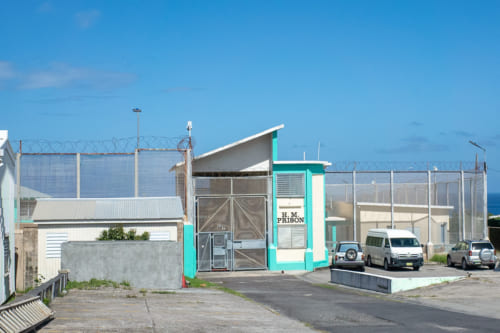 ---
◆Water that will Make you Want to Come Back to Montserrat
Are there any tourist spots on the current version of Montserrat? I checked a pamphlet I found at the hotel reception entitled: "Top 50 things to do in Montserrat", and decided to try some of the suggestions.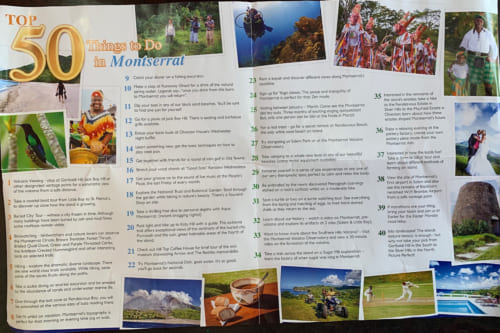 First, we head to Jack Boy Hill, where the local young people like to barbecue. We went by taxi. The charter fee for a day was 200 USD.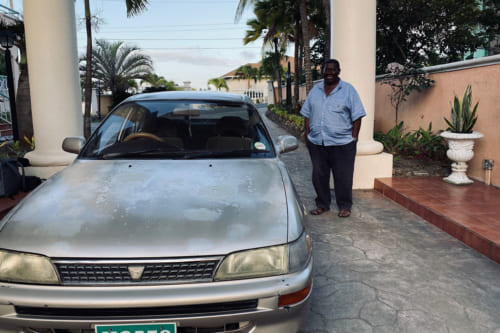 Jack Boy Hill, complete with roaring reggae music. The music isn't coming from the barbecue area, it's from the speaker system on the car of someone who came to hang out. Nice sound system.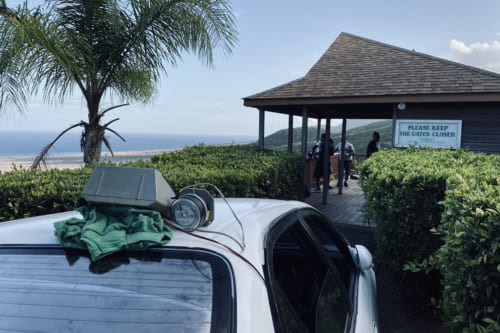 Quite a few of the local young people are barbecuing.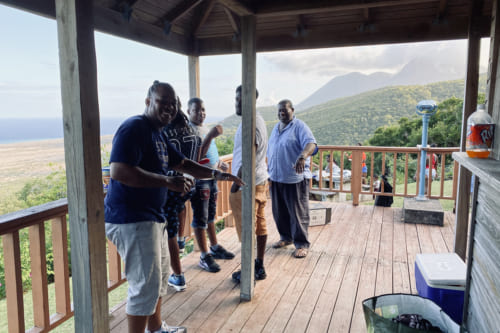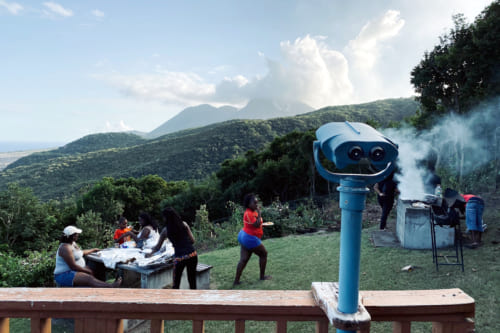 The chicken was kindly given to us by a young lady. The sweet and spicy barbecue sauce was delicious!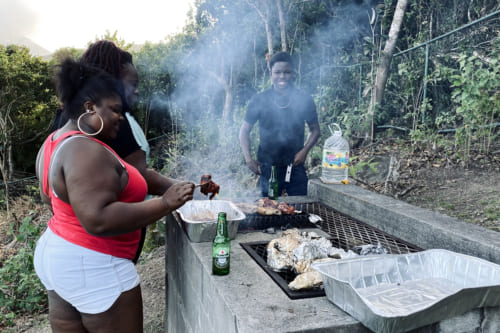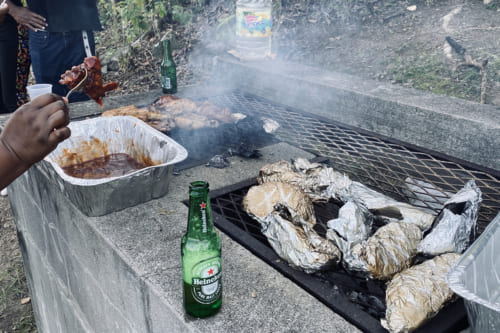 I gave them some Japanese chocolate as a token of our gratitude and it was soon gone.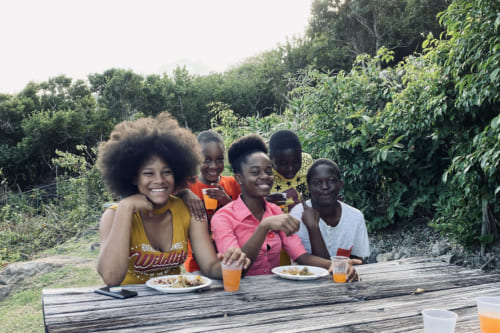 For tourists, Jack Boy Hill is a scenic spot overlooking the gorgeous seas of Montserrat and the Soufrière Hills volcano.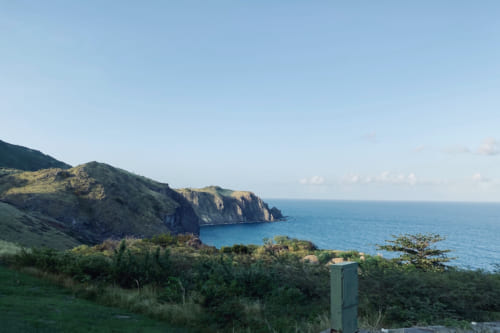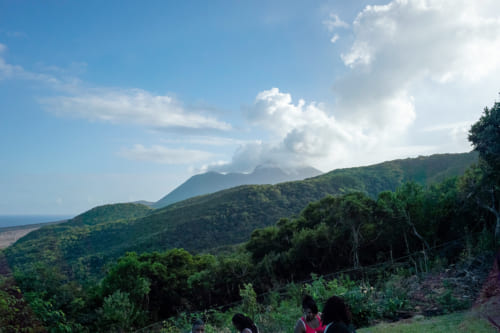 After Jack Boy Hill, we went to the nearby Runaway Ghaut. There is a legend that if you drink the natural water here you will surely return to Montserrat again.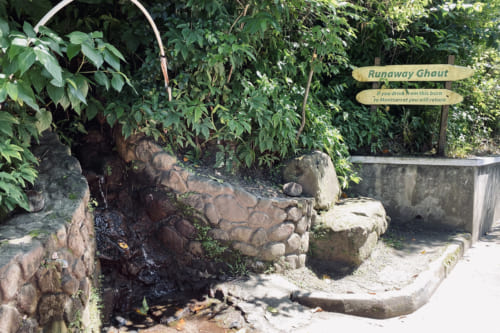 So anyways, I drank some.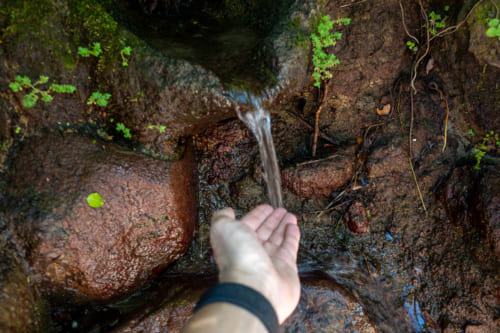 ---
◆What to Eat on Montserrat? Why is there "Yakitori"?
As a British overseas territory, Montserrat cuisine revolves around British and Caribbean food.
We enjoyed some local cuisine at Isles Bay Beach Bar, recommended to us by the taxi driver.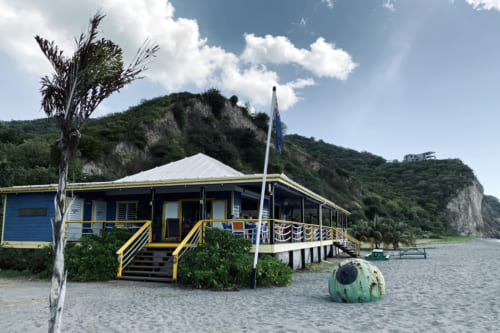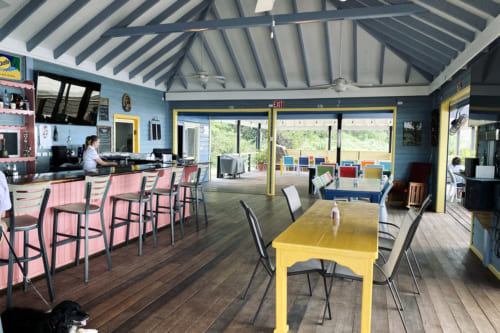 Fish & Chips, $45 East Caribbean dollars.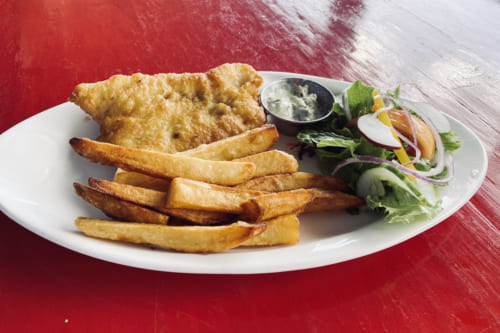 I ate mine with malt vinegar, a vinegar of fermented barley malt and corn extract. It's one of those things, fish and chips in the UK can't be eaten without it. The flavor is like malt and vinegar.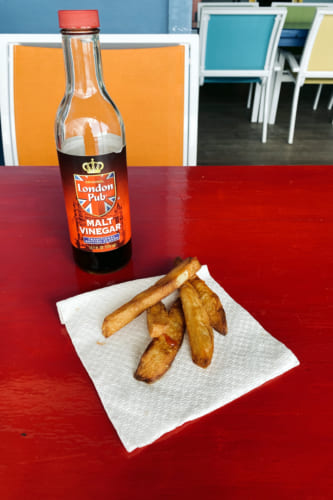 Today's Grilled Fish lunch. $35 East Caribbean dollars. A very tasty white fish, with no odor.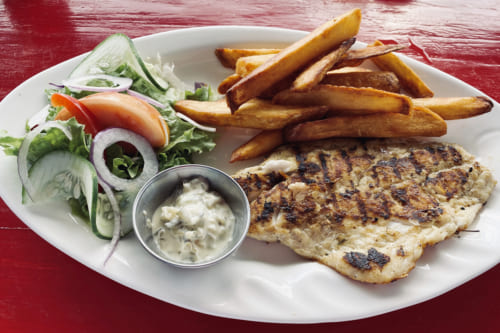 Someone swimming waved at me.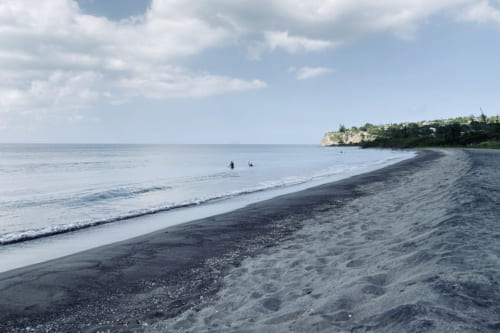 I thought we could eat dinner at one of the restaurants around the hotel, but the restaurants I found on Google Maps were all closed. It's a Sunday night so not only the restaurants but pretty much all the shops are closed. Only the Richard Samuel Shop was open.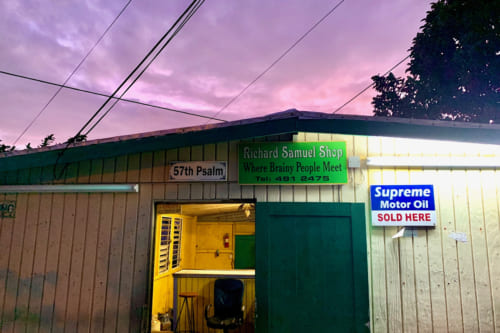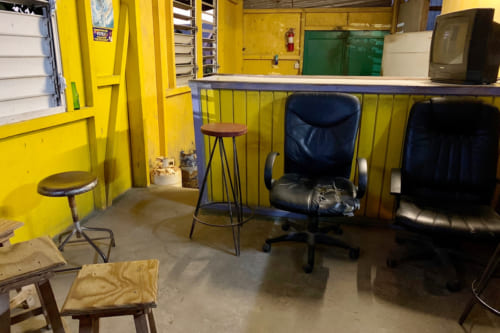 So, for tonight's dinner, we chose the hotel restaurant.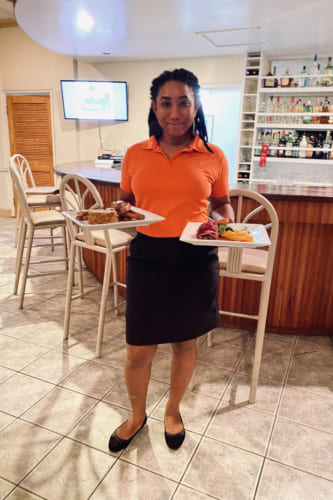 "Blackened Catch of the Day" was the special. $55 East Caribbean dollars. The fish is perfectly grilled and easy to eat, soft inside like chicken and again, no fishy odor. The side vegetables were also fresh and delicious.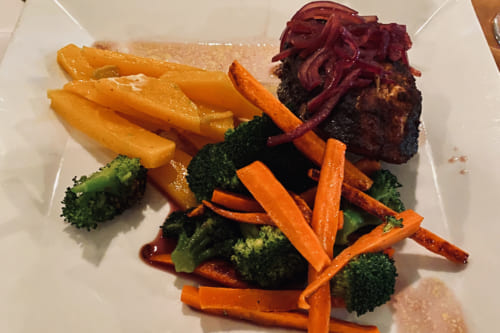 "Chicken Yakatori". $50 East Caribbean dollars. "Yakatori" I assume is meant to be "Yakitori". Although it looks a bit too brown, it was delicious with a grilled ginger flavor. I was surprised to find Japanese food on the menu on an island with so few tourists, 14,000 km away from Japan.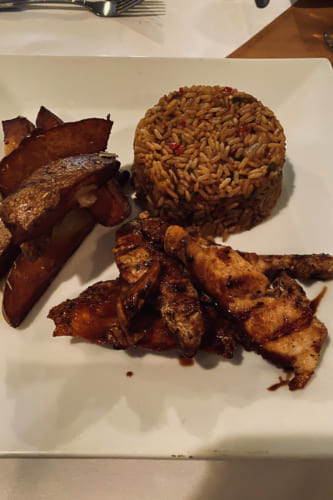 The Montserrat English breakfast. Johnny cake was served instead of toast. Johnny cake is a kind of cornmeal flatbread. It tastes a little like doughnuts, but drier.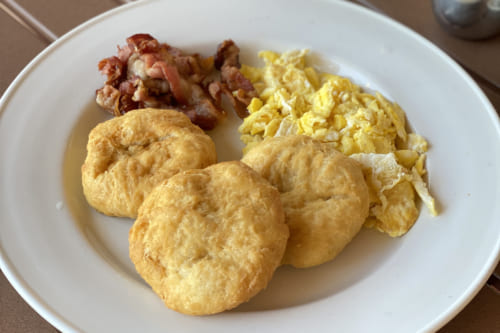 ---
◆Interesting Things Around Montserrat – Don't Forget Departure Tax and Your Tiny Boarding Pass
A made-in-Japan truck with "Taiyo Kenki Rent-A-Car" written on the side drove by.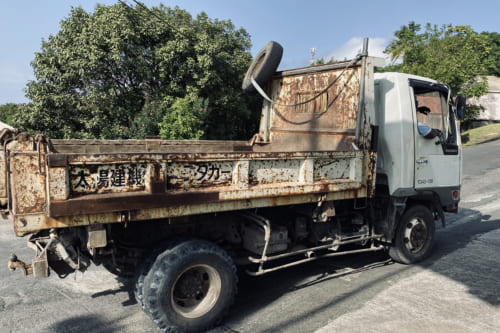 Supermarket "Aravins Enterprises Inc".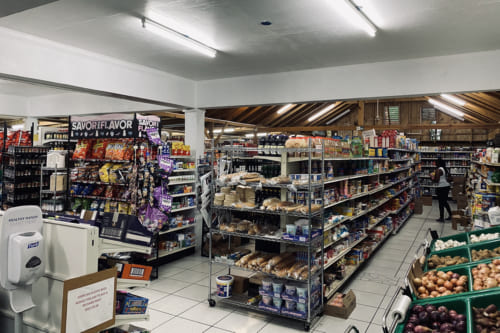 Vegetables are imported from Florida.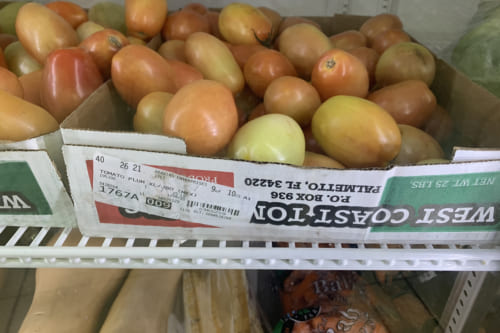 You can buy imitation crab too.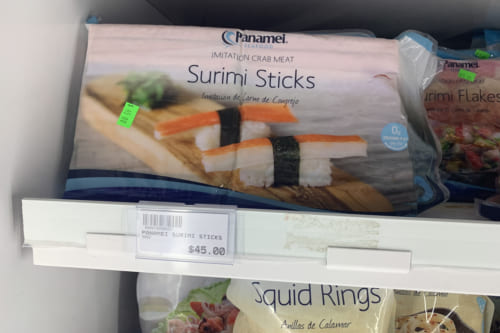 This is a spicy sauce that will set your mouth on fire like a volcano. $12 East Caribbean dollars.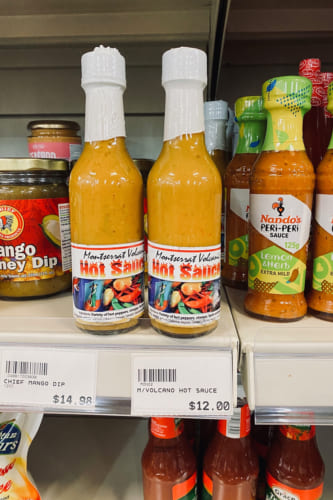 At first, I thought these guys were coming back from fishing, but it turns out they are mobile fishmongers.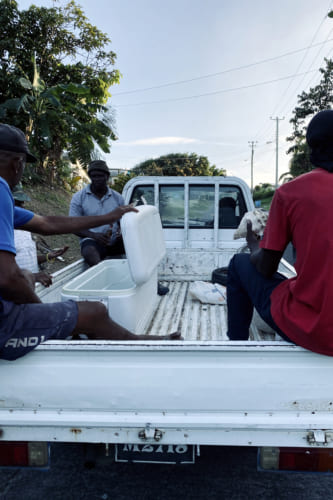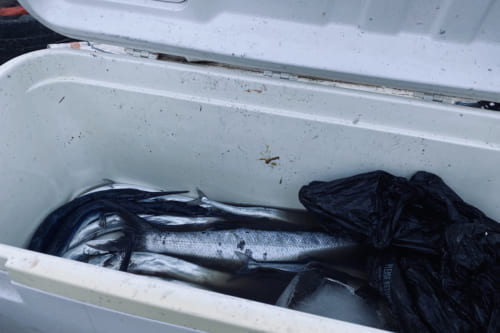 The local grown-ups playing a game. In Cyprus I saw people enjoying backgammon while sitting on their open terraces. What kind of game is this?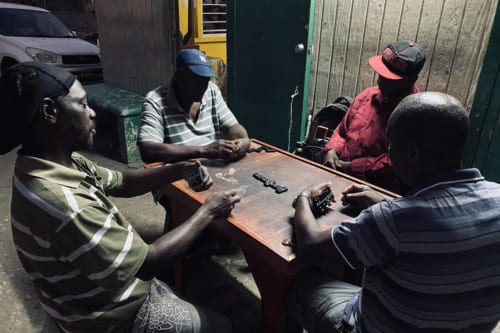 Souvenir shop "LAST CHANCE", near the airport.
There are no souvenir shops at the airport, so this is your last chance to buy souvenirs, as the name suggests.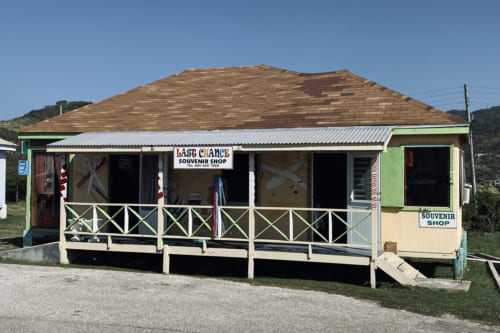 It's quite spacious inside.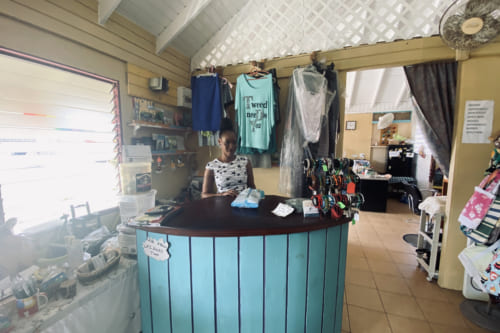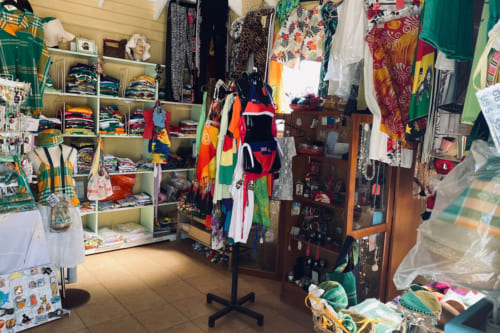 There's volcanic ash for sale. $13.5 East Caribbean Dollars.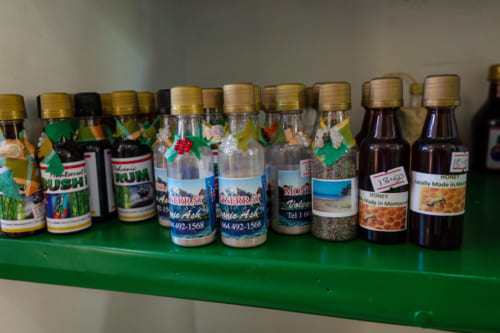 A carnival to celebrate St. John's Day is held every year in late December. It seems people go around wearing unique masks for this carnival.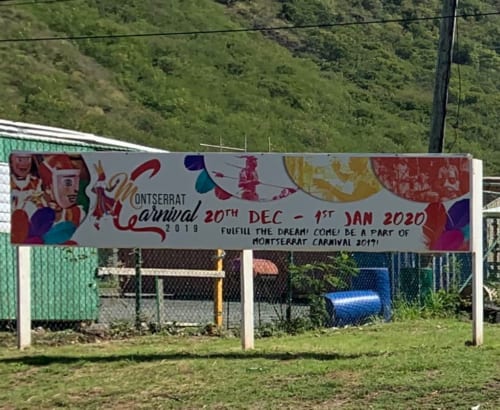 Black sand on Woodlands Beach.
Is it black because of the volcanic ash?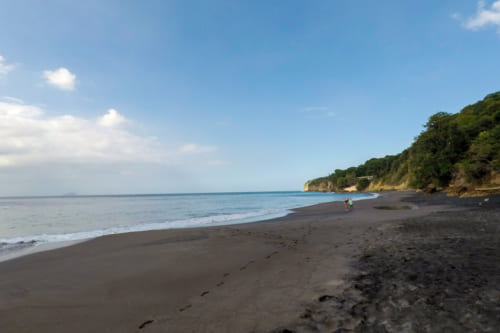 鮮やかな色をしたトカゲがいました。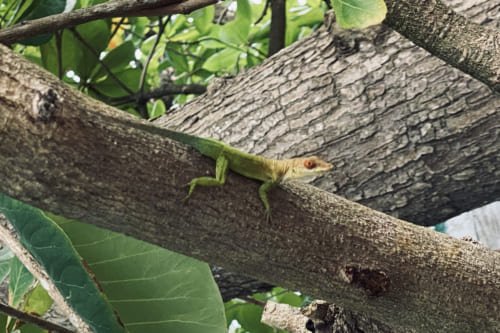 Non-reserved seats on the flight from Montserrat back to Antigua and Barbuda. Be careful not to lose it, as this small receipt will be your boarding pass (right side).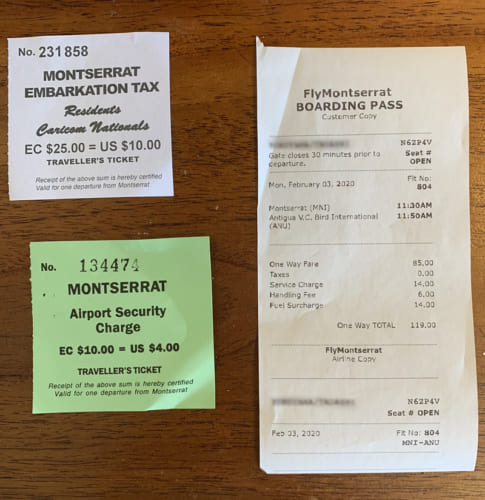 Also, there is a departure tax. Embarkation Tax is $10, Airport Tax is $4, for a total of $14, plus a $37.50 departure tax if you do not return to Antigua and Barbuda within 24 hours.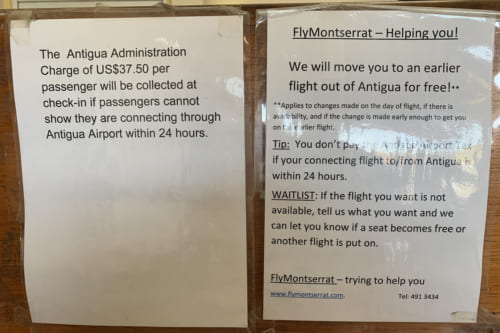 That's what it says at the immigration desk.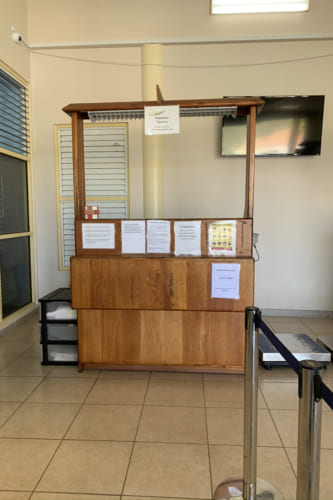 ---
◆Finding ".ms" Around Town
The ".ms" domain is often associated with Microsoft. However, ".ms" is the ccTLD domain (top level country domain) assigned to Montserrat. Which has nothing to do with Microsoft. But there are cases where Microsoft uses ".ms".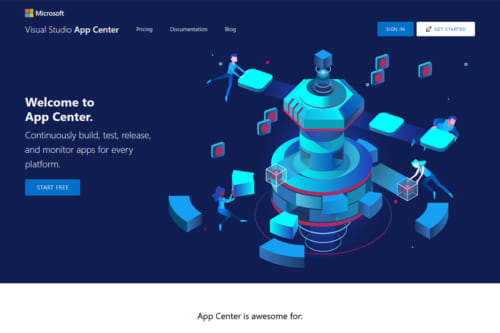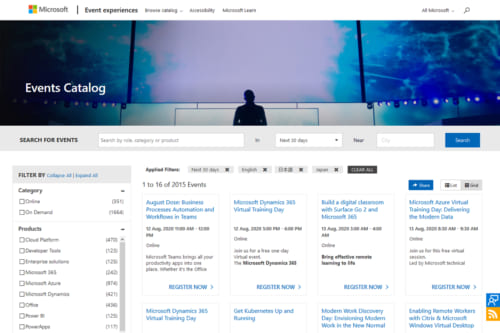 Microsoft also operates "xbx.ms" and "wndw.ms as URL shortening services. The ".ms" used by the people of Montserrat could be found everywhere on the island.

Montserrat Red Cross redcross.org.ms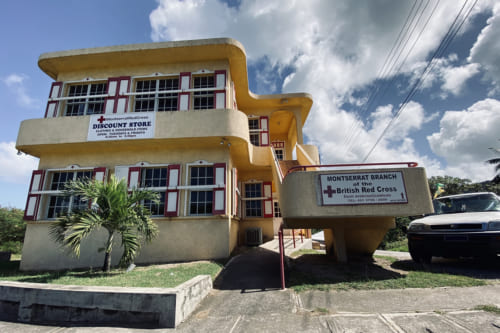 Water and Electric Company mul@mul.ms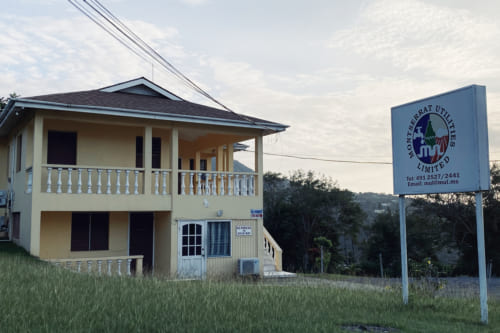 A Florist msjflowers@candw.ms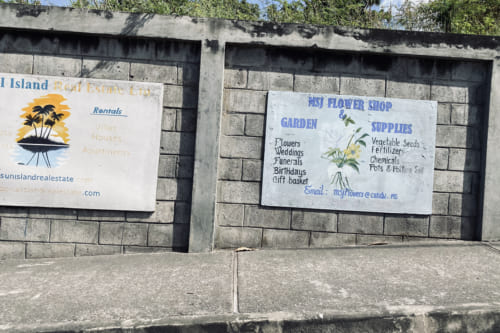 ---
◆How to Purchase a SIM & Test the Internet Speed
I bought a 3-day, 1 GB, local SIM at FLOW. It can be used on other Caribbean islands as well. $16 East Caribbean dollars.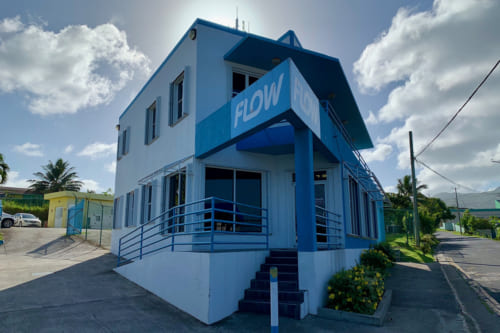 The speed is 2.8Mbps. It was nice and stable.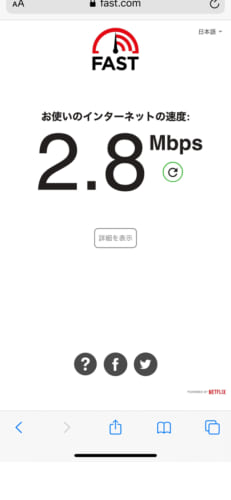 There's also a Digicel store on Montserrat. The Wi-Fi at the Montserrat Airport was 1.2Mbps. GigSky's eSIM was 7.1Mbps. Wi-Fi at the "Tropical Mansion Suites Hotel" where we stayed was 4.7Mbps. There's no difficulty connecting to the internet on Montserrat.
---
■ List of Places Visited
■ For access to Montserratclick here
■ For ".ms" domain details

click here
■ For ".com.ms" domain details

click here