An overseas territory of the French Republic, the name Martinique comes from the word Madinina, meaning 'island of flowers' or possibly Matinino "island of women". Explorer and trans-Atlantic voyager Christopher Columbus called this island "the most beautiful place on earth". Established as an overseas territorial collectivity of the French Republic in 1946, this island is an extension of French territory and is considered the same a France itself. We took a trip to Martinique, a French island located in the Caribbean about 6,800 kilometers from France, to see how France like it is. The ccTLD (country code top level domain) for Martinique is ".mq".
* This fact-finding mission was undertaken in early February, 2020.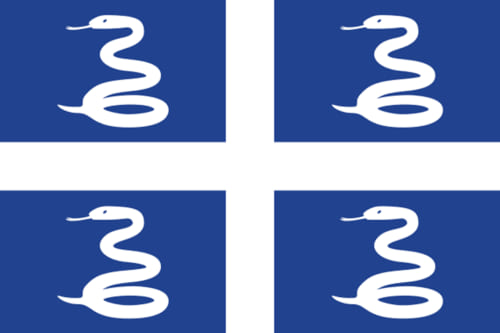 ◆Where is Martinique?
Martinique is an island of the Caribbean Sea located between North and South America. It is 1,128 square kilometers. Martinique is a part of France. The main language is French and the currency is the Euro.
= Table of Contents =
---
◆France of the South Seas with Modern Highways – Is it Better for Island Countries Not to be Independent?
We transferred to an Air Antilles ATR 72 3S 217 in Guadeloupe to get to Martinique.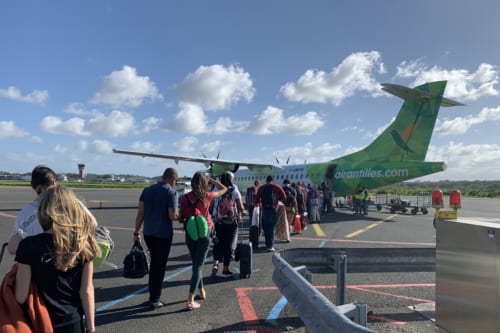 There is no seat assignment on this plane. You can choose freely where to sit!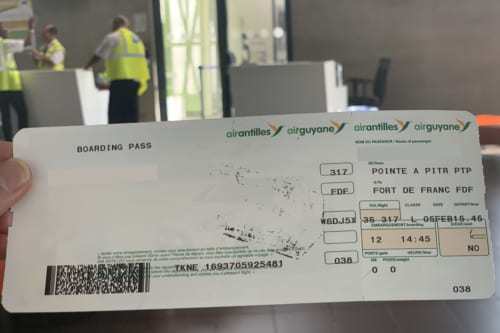 We arrived at the Martinique Aimé Césaire International Airport, which uses the ".fr" domain in its homepage address. As Martinique is an overseas territory of France, entering is as easy as entering the EU. There's no need for immigration documents.
At the airport, there were masks on display, they are used for the yearly carnival, held in early March.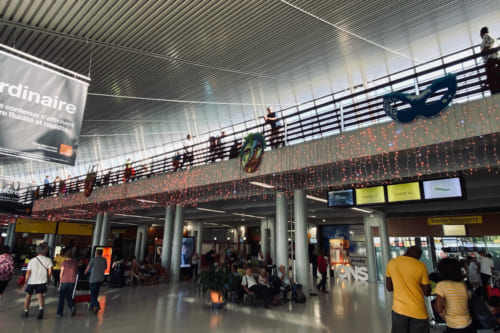 There are also direct flights from Paris, France and Montreal, Canada, as well as the surrounding islands.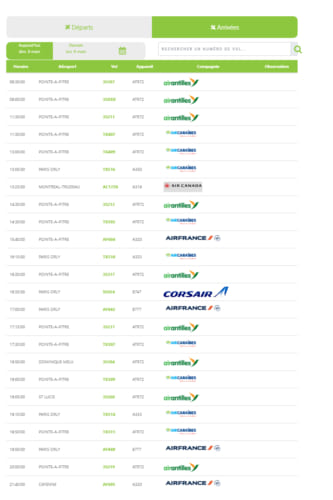 We ride a taxi from the airport to the hotel. When I spoke English to talk to the driver, he didn't understand. He said: "Please use French". I thought we would drive along a scenic coastline, but actually we took a spacious modern highway. It was more like driving in a large American city than an island, but maybe we just caught the rush hour commute. The highway was very well maintained.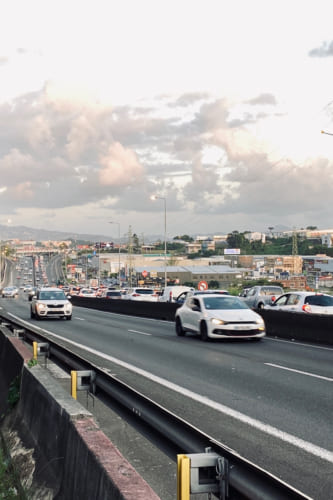 We arrive at the Karibea La Valmenière Hotel, alongside the highway. I was amazed by the modern, big-city hotel, which was like nothing I'd ever seen on an island before.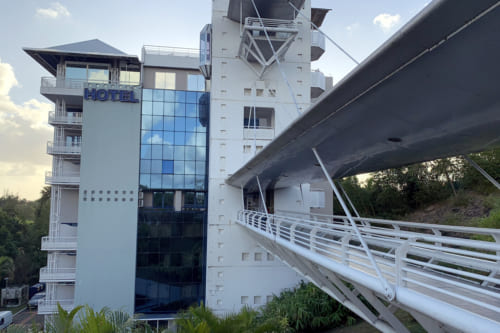 Inside the hotel, they've used wallpaper with a pineapple pattern, yes, its just like a fashionable French hotel.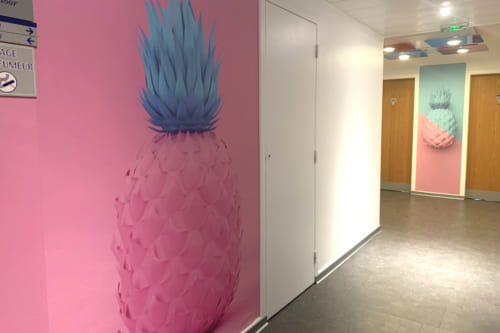 There are no shops alongside the highway, so its pitch black at night. We tried to walk a little, but it was too dangerous with the cars speeding by.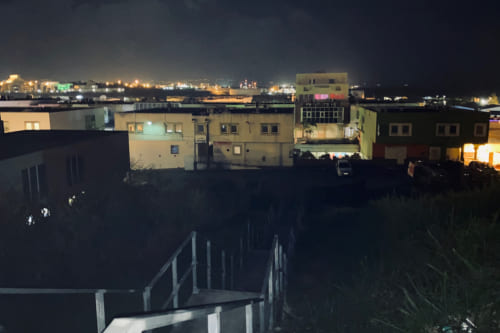 There was no one else but us. Its only 7:00 pm, but so quiet.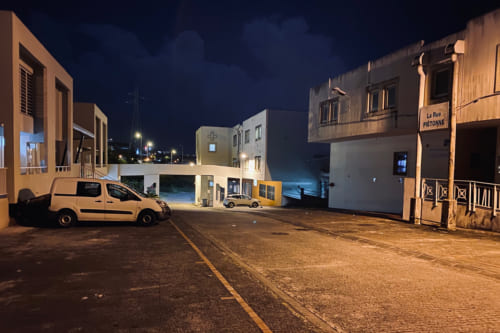 Martinique once had an independence movement but it was unsuccessful in achieving independence, due to opposition from mainland France.
But, is it so bad to stay under French control? Thanks to subsidies from France, the living standards and infrastructure are much better than other Caribbean islands, I was quite impressed. Besides that, residents of Martinique have the rights of French citizens, so they can come and go from mainland France as they please. Saint Lucia, next to Martinique, succeeded in gaining independence from Britain in February, 1979, but it can't be said that it is very well off.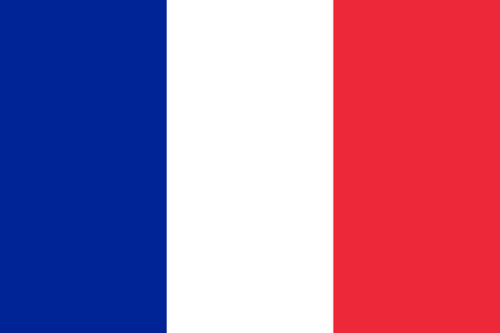 ---
◆With "He's Just a Boy" in Mind, We Take a Fast 4-hour Tour Around Martinique, an Island Visited by Columbus
When Christopher Columbus landed on Martinique June 15, 1502, he found it charming and called it the "the most beautiful place on earth". We take a spin around Martinique in just 4 hours.
There's a nice modern bus service. Tickets can be purchased at an automatic ticket machine. Credit card payment is OK too.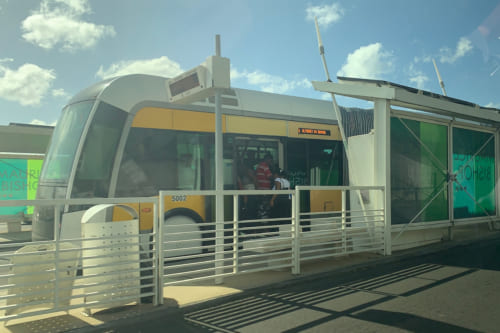 First, we head to the mountain side, north of the island. It seems there's a high-class residential area on the hill.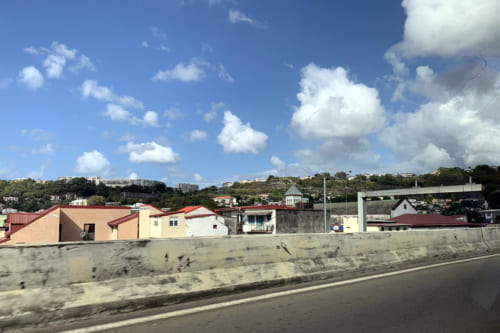 The church is built like a castle on the hill, 7 km from the center of Fort de France, the prefectural capital of Martinique.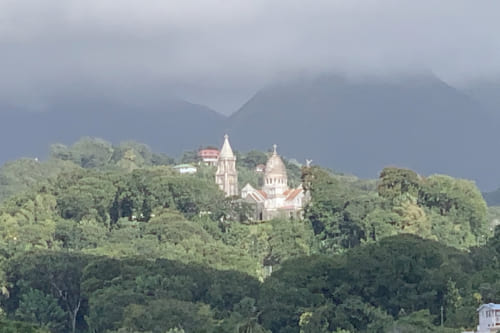 Built in a classic retro style, it's a lovely Catholic church.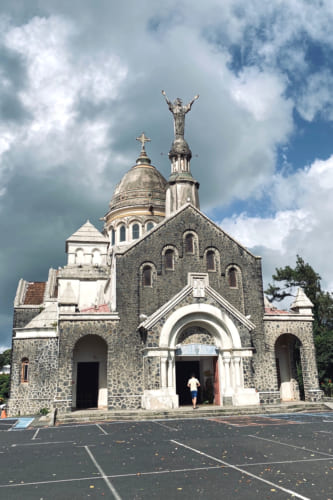 Going in, I felt a very solemn atmosphere. Entrance is free.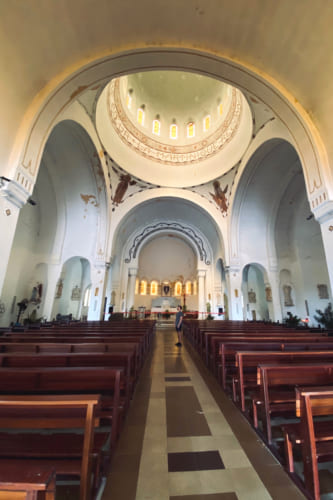 The Alma River is about 12 km from Balata Cathedral. You can enjoy a bath in the rainforest while listening to the murmur of the river.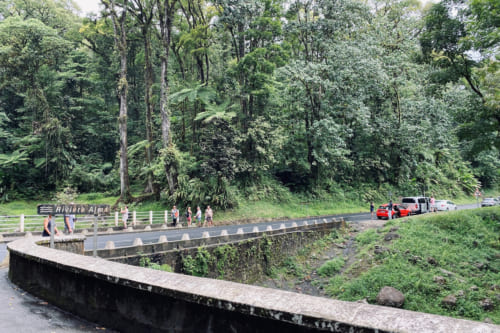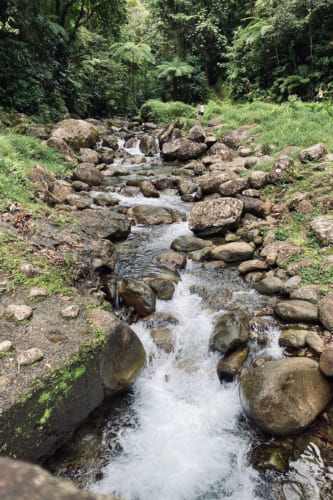 Walking about 100m down a steep stair, you come to the Saut Gendarme waterfall.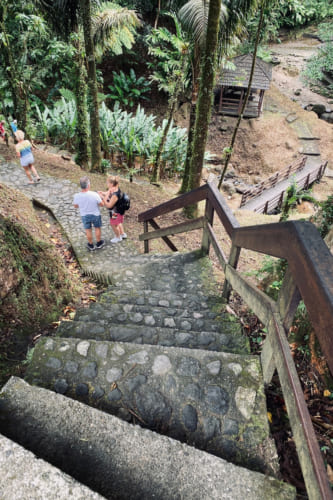 Taking photos in front of the waterfall. Dad did a cool pose…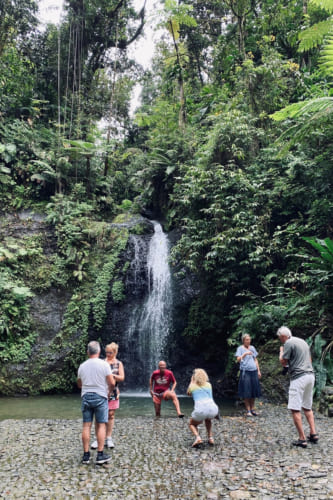 Some families were swimming.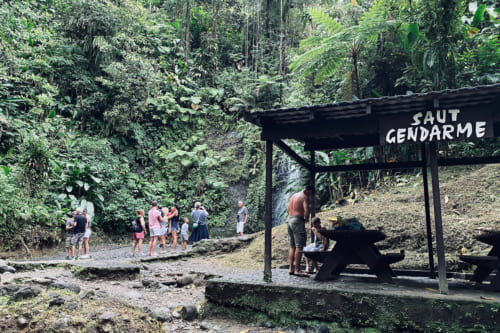 Heading to the next spot, we pass through the thick leaves of the rain forest. It seems that it rains here every day, but it didn't rain when we went.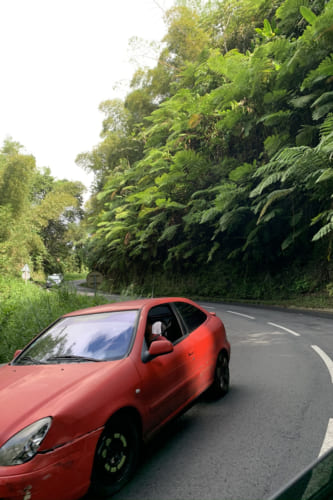 14km northwest of the Saut Gendarme waterfall is the Distillerie Depaz. This factory uses sugarcane to distill rum. You can visit for free.
https://www.depaz.fr/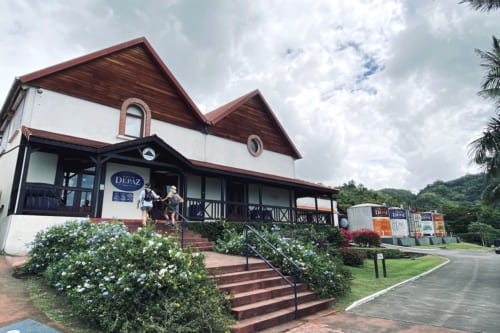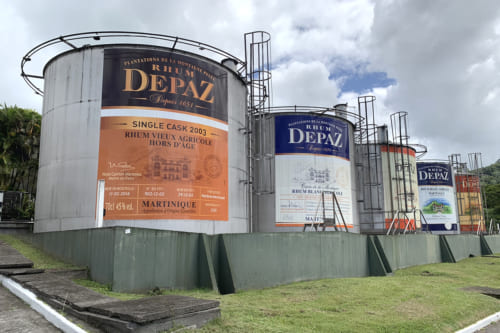 You can also sample the rum.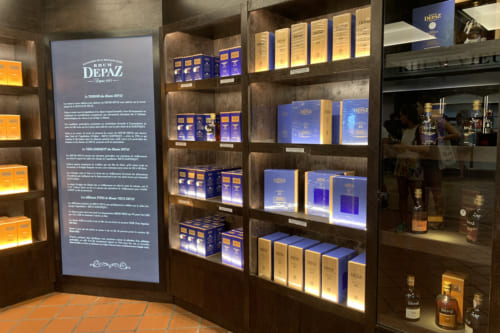 All around the factory were sugarcane fields.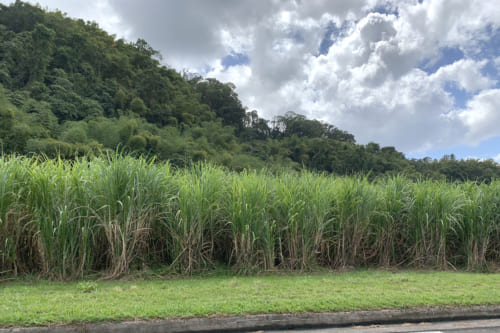 In a famous scene from the "Mobile Suit Gundam" TV Series, (No.12 "Zeon's Threat") Char Aznable drinks La Mauny rum while saying: "He's just a boy." That "La Mauny" rum is from Martinique.
The ruined remains of the fort of Saint-Pierre Church (L'église du Fort de Saint-Pierre). In May 1902, Mount Pelée on Martinique erupted. The pyroclastic flow killed about 30,000 people in Saint-Pierre, the prefectural capital at the time. Only three people survived the catastrophe, which is called the worst volcanic disaster of the 20th century. The city was completely destroyed and the capital was moved to Fort de France.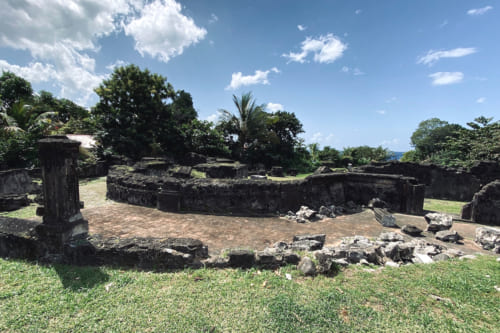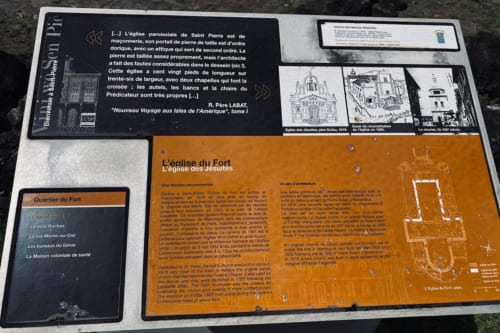 Nearby ruins are used as a parking lot.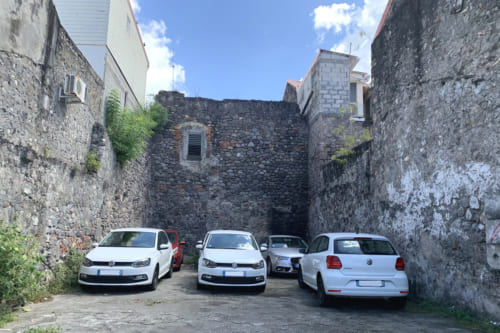 A luxury MSC Cruise ship anchored at the downdown port. There was also an MSC Cruise exhibition booth at the Martinique Aimé Césaire International Airport.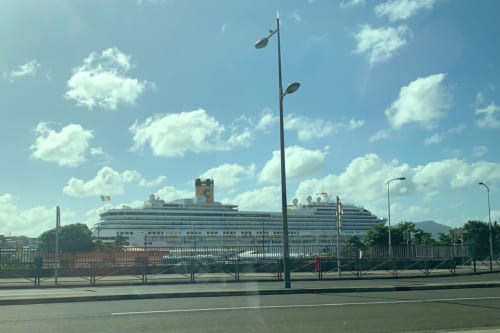 The beautiful waters of Martinique that so charmed Columbus.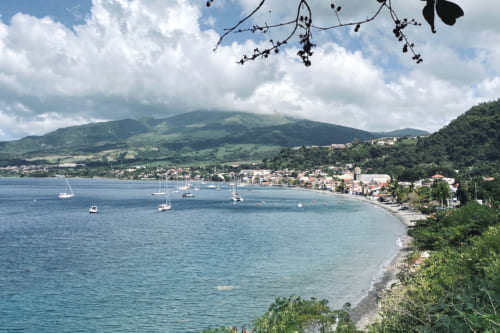 The "Herve Beuze Patrick Arneton" totem pole.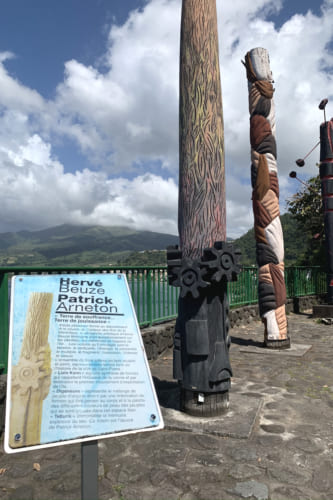 We took a stroll along the Rue Ernest Desproges, near the cruise ship port.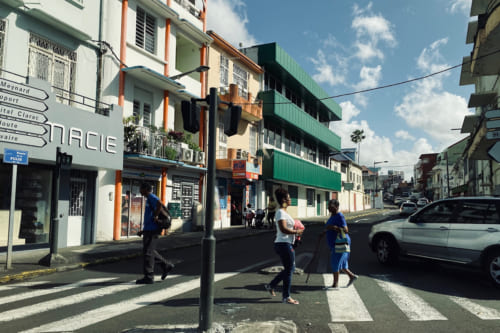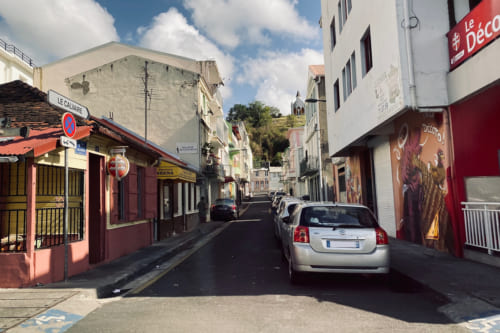 There was a demonstration at the La Savane park. "In France, they wear yellow vests to demonstrate, but here they wear red." the taxi driver told me.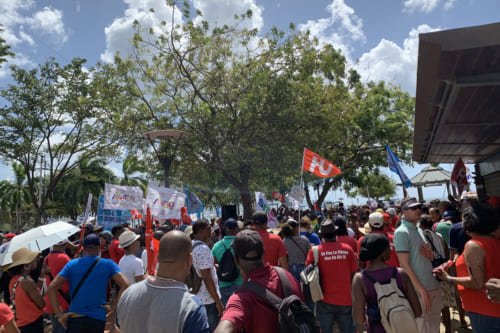 Children also participate.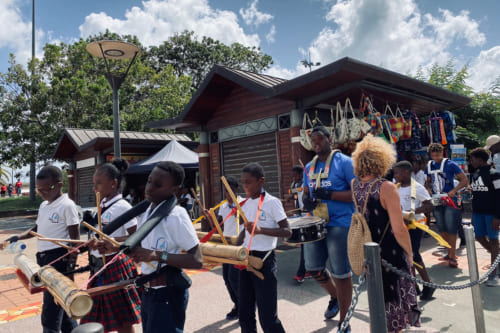 The flag of Martinique is officially the three-color flag of France. But actually, there is an informal symbolic flag of a white cross on a blue background. Instead of having four flags, they have four flags in one. The white snake is an endemic species found only on Martinique. It's similar to Harry Potter's Slytherin emblem. This time however, I couldn't find that flag. If independence from France had been achieved, this might have been the official flag.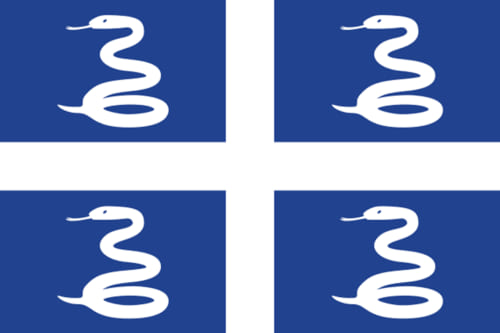 A devilish handsome taxi driver, who took us on a bullet fast tour of Martinique in just 4 hours.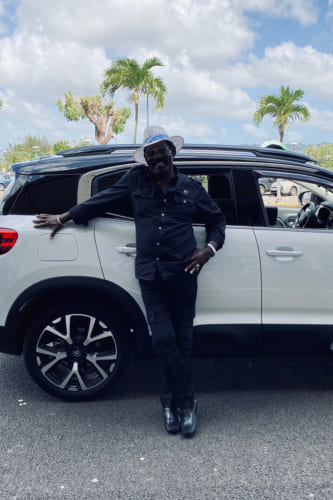 While driving, he played moody Latin American music, like "Begin the Beguine" which incorporates beguine, a kind of rhythm originating in Martinique.
Martinique is a kind of holiday destination for French people, where they can be refreshed by the ocean and mountains. Sort of like Bali in Asia.
---
◆The Food of Martinique – Banana Dishes French Style, etc
Martinique cuisine is basically Creole cuisine with a French twist.
We ate at the restaurant in the Karibea La Valmenière Hotel. When I asked for orange juice, I was given Orangina, the national soda of France. The darker one on the left is mango juice. 4.5 euros. It's a hotel so it's expensive.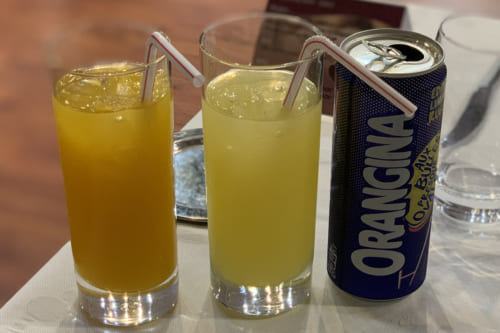 The menu. The courses are all French course meals.
An appetizer and main course costs 29 euros.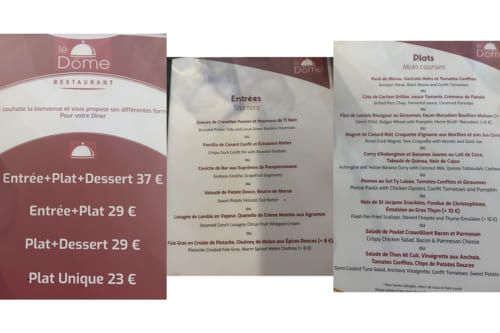 The main course incorporates bananas.
The appetizer is "Deep-fried shrimp and green banana hummus". There's a deep-fried shrimp on top of green bananas mashed liked potatoes. The green bananas taste like taro potatoes.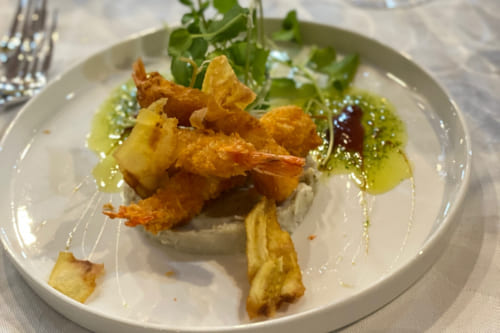 The main dish is "Yellow Banana Curry". A healthy dish with banana curry over couscous. It's not too spicy and the coconut goes well. When eating, there's a hint of saffron, with a fragrance that seems to fill the sinuses as well.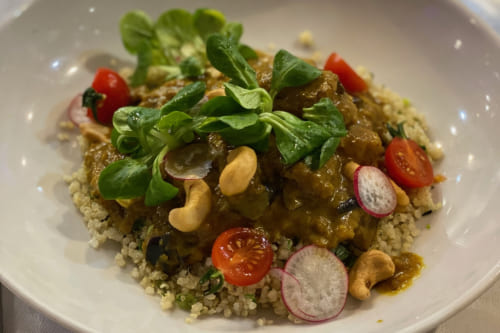 The hotel breakfast buffet offered many banana jams. They taste like boiled bananas.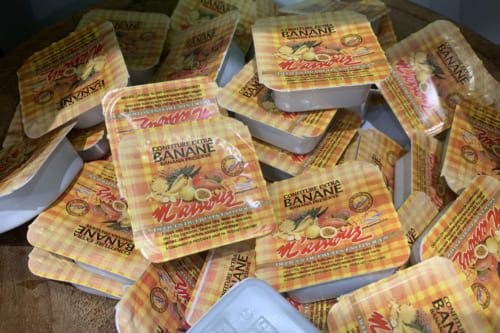 The coffee maker buttons are all in French.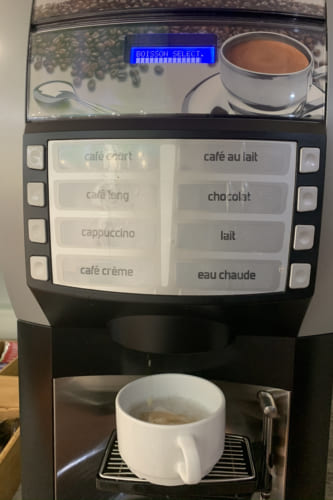 There's a small food court on the 2nd floor of the airport.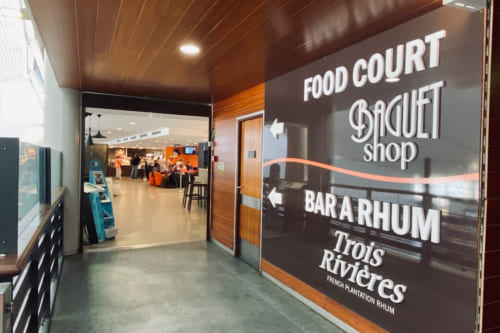 With 6 selections on the menu.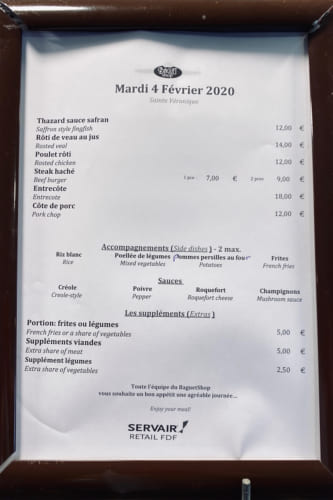 Chicken plate 12 euros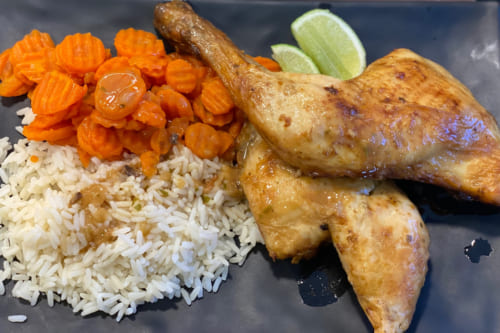 I recommend dried banana chips as a souvenir from Martinique. You can find them in the airport shop. 6.9 and 2 euro respectively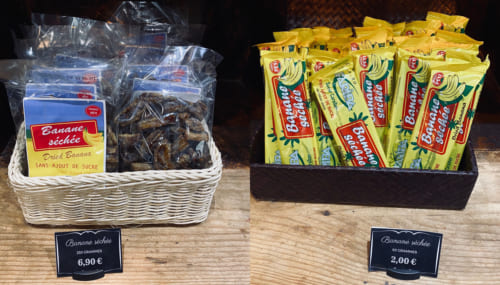 ---
◆How to Purchase a SIM & Test the Internet Speed
The airport Wi-Fi is 2.1 Mbps. I used Glocalme while on the island and I was able to access the internet at the same speed without any difficulty.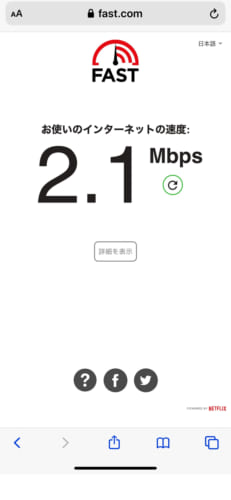 Digicel has stores in the airport and in town. However, they don't sell SIMs.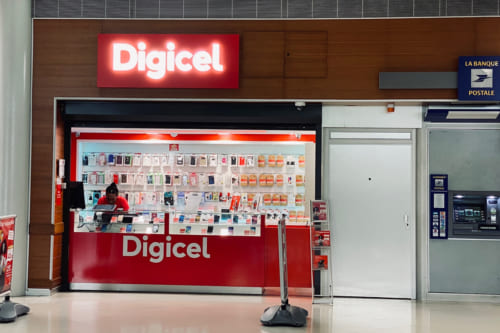 Martinique also has the largest of France's five telecommunications carriers; "Orange".
SIMs bought on the island can also be used in Paris.
---
◆Finding the ".mq" Domains was More Difficult than Finding Maltese Dogs on Malta
We decided to see how much the Martinique domain ".mq" was being used around the city.
We saw many ".com",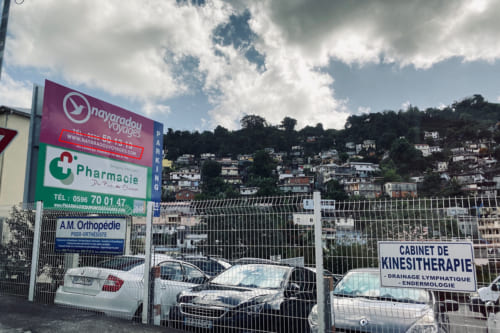 or the French ccTLD ".fr".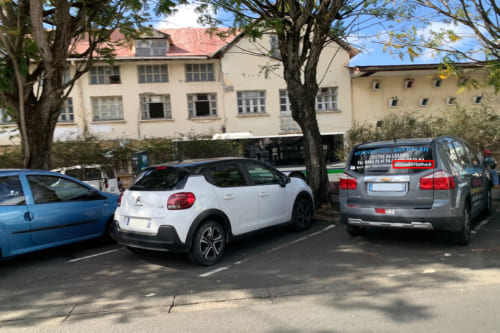 The telephone directory at the hotel also had only ".fr".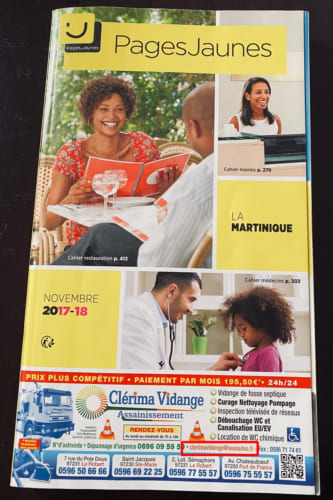 The bus company used Gmail.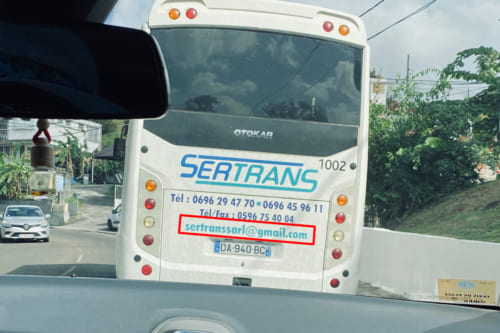 We couldn't find ".mq" at all. So, we went to the tourist information center to ask about ".mq". They are also using ".fr" instead of ".mq". Besides that, there is a ".center" domain used for the center.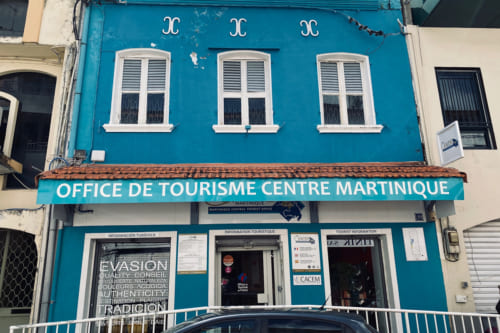 When I asked a young lady on staff "We are looking to find a ".mq" domain in use. Have you seen it being used?", she said, "No, everyone uses ".fr".
"Are you sure you haven't seen it anywhere?" I asked again, and another young lady listening in, said: "Doesn't the power company (eDF) use it?" Thank you! They might think that Japanese people have a strange interest in domain names.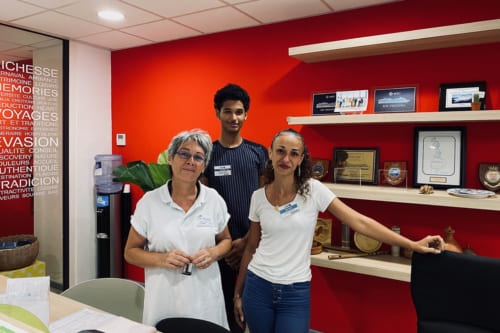 So, we head to the Power Company eDF, about a 5-minute walk from the Tourist Information Center.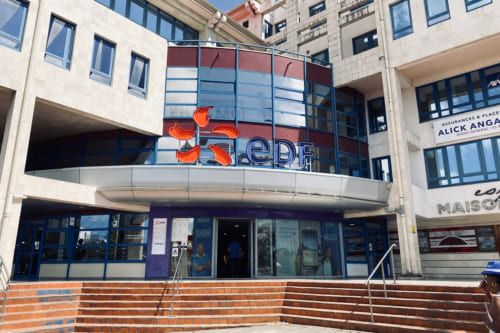 When we go inside, the sign says "www.edf.mq". We finally found the one and only ".mq" domain in this island tour!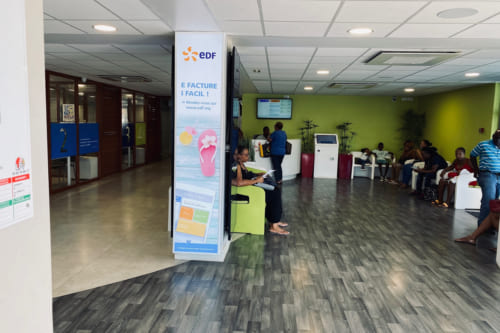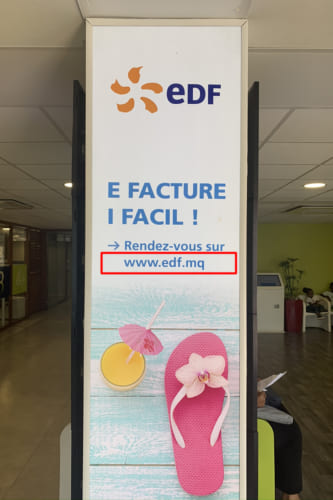 Currently, the registry that operates ".mq" is Mediaserv. However, when attempting to access the registry site nic.mq, an error notice "403 Forbidden" pops up and there is no information available. Sometimes when the registry site is hidden the domain is not available, but ".mq" is currently available and there are many sites in operation that use it.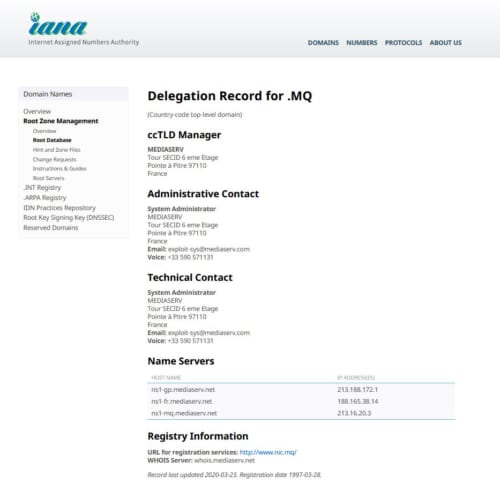 On a previous domain tour to Malta, I had a very hard time finding a Maltese dog
(https://islanddomains.earth/mt/), but it was even harder to find the ".mq" domain in Martinique.
---
■ List of Places Visited
■ For access to the Martinique

click here
■ For ".mq" domain details

click here