Réunion is an overseas territory of France and a popular resort destination. Created by underwater volcanic eruptions, Réunion is home to high mountains such as Piton des Neiges (3071m) and Piton Maïdo (2190m), rare for such a small island. These peaks, valleys and cliffs were registered as World Heritage sites in 2010. Our team was excited to explore this dramatic lunar-like landscape and also experience the island's fascinating Creole culture, which emerged from its historically multi-ethnic background. The ccTLD for Réunion is ".re".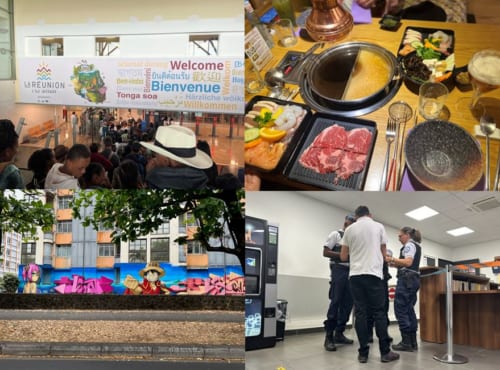 ◆Where is Réunion?
Réunion is a volcanic island located in the vast Indian Ocean, about 800km east of Madagascar and 175km west of Mauritius. It is an overseas department and a region of France. It has an area of 2,512㎢. That makes it about twice the size of Okinawa (1,205㎢) and it's home to 859,959 people (as of 2020). The capital is Saint-Denis. The official language is French, but Reunion Creole, derived from French, is also widely spoken. The currency in use is the Euro.
* As of October 2023.
= Table of Contents =
---
◆Multi-cultural Island Twice the Size of Okinawa
There are multiple ways to travel from Japan to Réunion, including via Bangkok, Paris or Mauritius. We chose to fly via Bangkok because the airfare was cheaper and the travel time shorter. We arrived in Bangkok after a 6.5-hour flight from Haneda. Here we took a connecting flight to Réunion.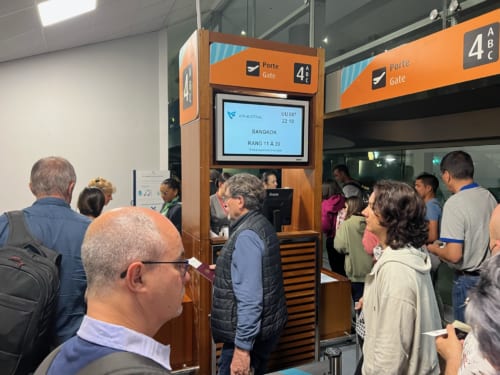 There are two direct flights per week on Air Austral from Bangkok to Réunion.
Air Austral was founded in 1974 and is based in the French territory of Reunion. It offers non-scheduled flights to East Africa and the Indian Ocean region, as well as direct flights to Paris since 2003.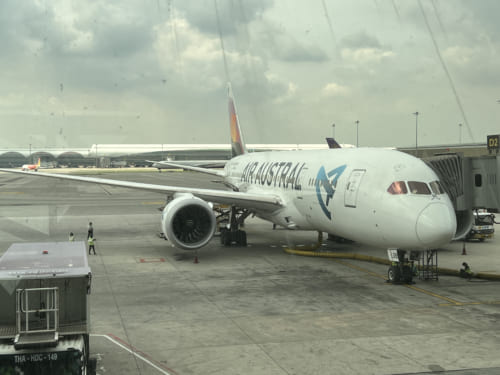 Our flight route from Asia to Africa through the Indian Ocean. It was very turbulent! Maybe due to the weather.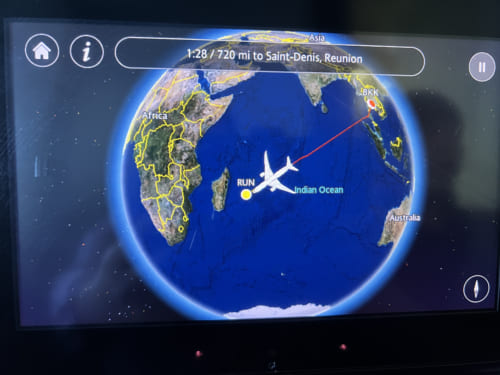 We've arrived at Roland Garros Airport. The flight was about 7.5 hours. The airport is named after Roland Garros, an aviator from Réunion. The airport welcome message is written in multiple languages as the island is home to people from Europe, Africa, Madagascar, India, China, and so on.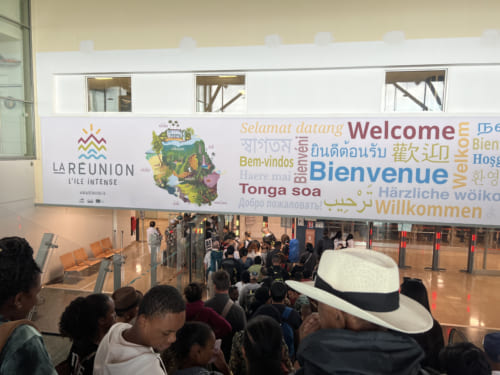 In the airport it seemed like 60% of the people were white, 30% black and 10% Asian. A uniquely multi-ethnic atmosphere.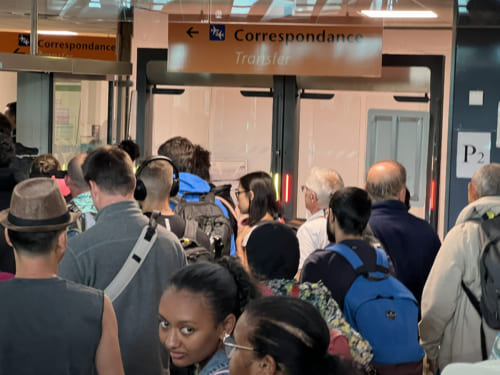 As we came outside, Kumamon was there to greet us. It's nice to see that local mascots from Japan are also loved on a small island in the Indian Ocean. But it's possible this was just a cute knock off version.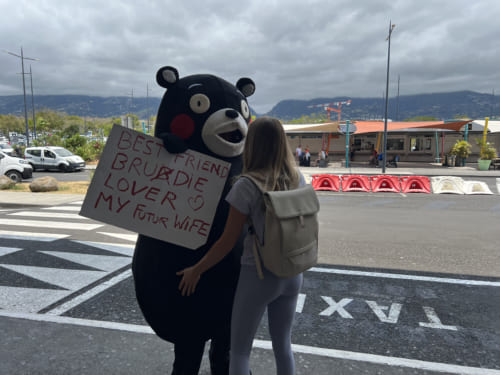 Announcement board for foreign participants of the "Grand Raid de la Réunion" mountain ultramarathon race.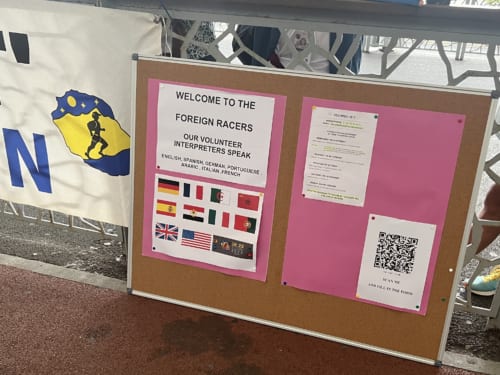 This race is held every year in October in Réunion, and today happened to be the very day of the race.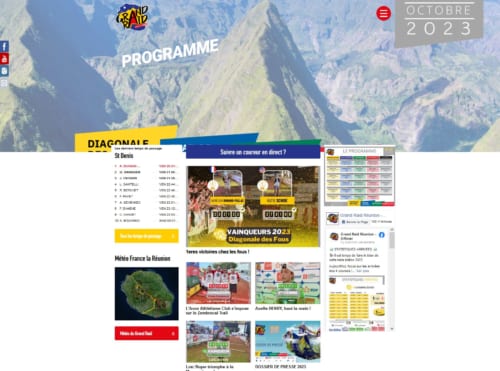 There weren't many taxis waiting outside the airport. Like other islands, Réunion doesn't have Uber either. We ended up sharing a taxi with a Caucasian man who looked like he was on vacation, and we headed towards the city center of Saint-Denis.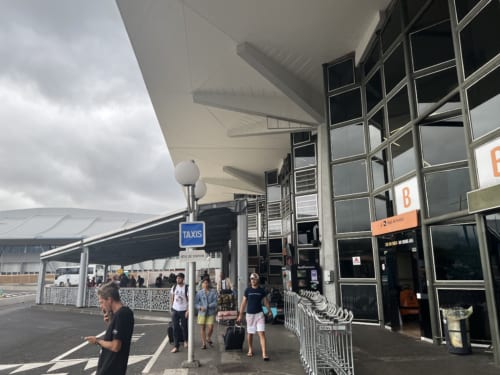 Traffic was heavy, as it is the capital, and most cars were traveling at speeds of 90km/h or more. The fare from the airport to the center of Saint-Denis was €35.
First, we checked into the Dina Morgabine Saint Denis. The room has beautiful panoramic views of the Indian Ocean. There's also hot water available! We've found on our island tours that some places don't have hot water, so it's important to check beforehand.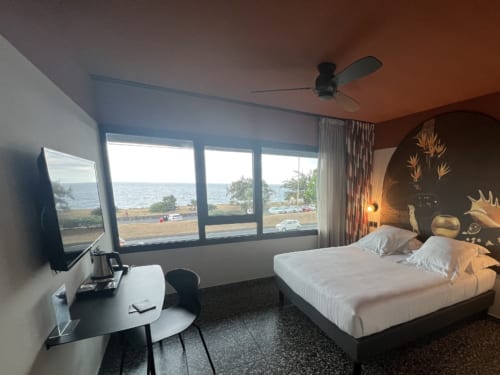 Hotel Bellepierre, where we stayed later on, had a luxurious resort-like atmosphere.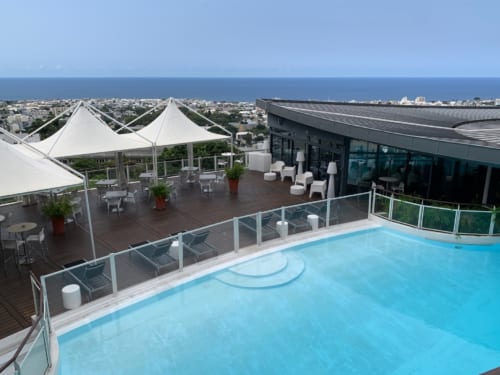 Similar to other French islands, there are no hair dryers in the room, so you must request one from the front desk. In Nauru, though, we weren't able to even borrow one. We recommend you bring one that is of a compatible voltage range.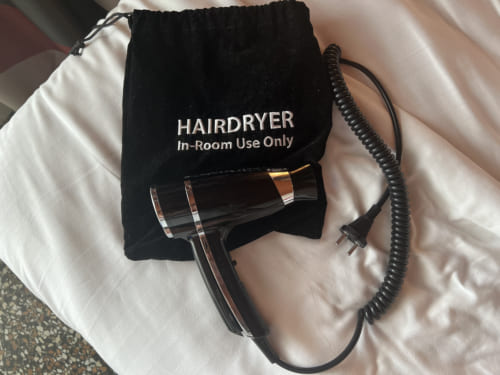 Let's take a walk around Saint-Denis. Here's a supermarket called "AA MARKET Distribution".
Let's take a look inside.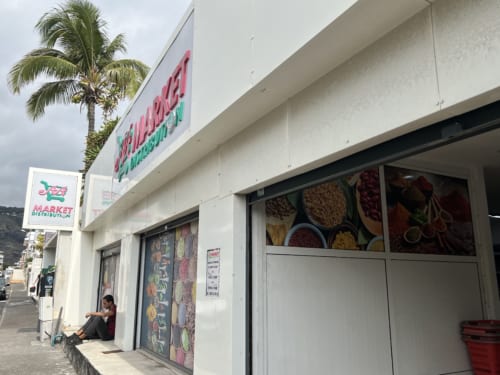 A large selection of products! The aroma from the variety of spices available makes us feel like we're in India.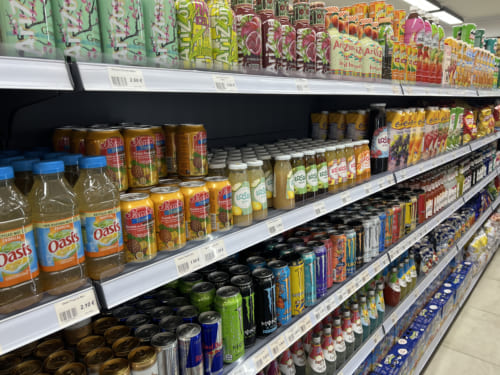 Authentic looking woks.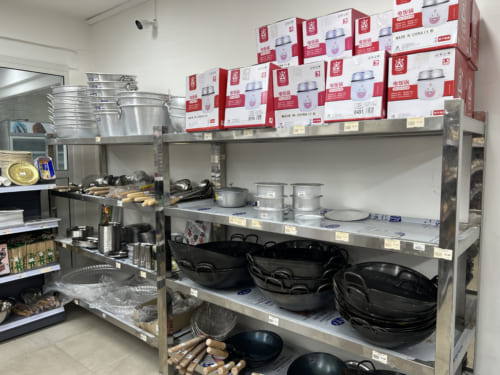 An umbrella sky in a Chinatown-like district. The origin of the umbrella sky is said to be an annual summer art festival in Águeda, Portugal, where they were used to protect people from the sun.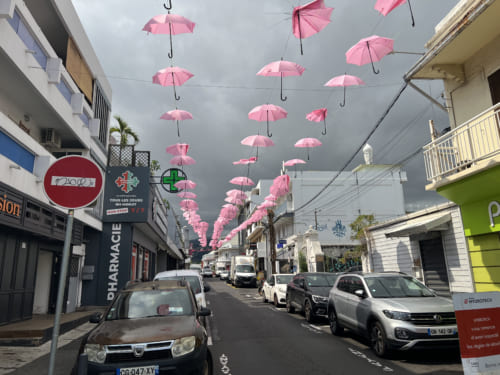 We visited the Grand Market, one of the most popular markets in Saint-Denis.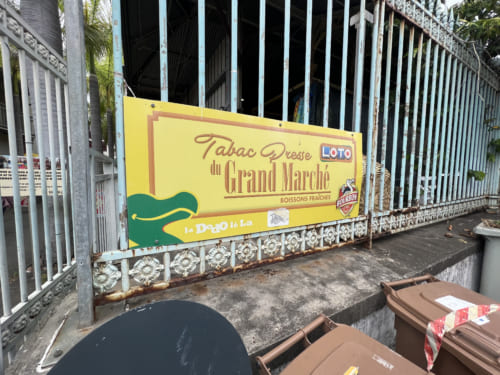 Wooden handicrafts, woven baskets, T-shirts, etc. are on display in a narrow arcade. There weren't any pushy shopkeepers like you tend to find in other countries. So, we were able to enjoy shopping quietly and at our own pace.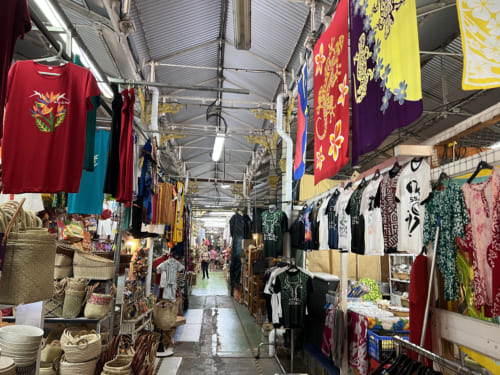 Bourbon vanilla, considered the best vanilla in the world, is refined here in Réunion, which was once known as Bourbon Island. As a side note, "Bourbon Corporation", a major confectionery manufacturer based in Kashiwazaki city in Niigata Prefecture, creator of popular snacks such as "Lumonde" and "Alfort" was not, in fact, named after Bourbon Island.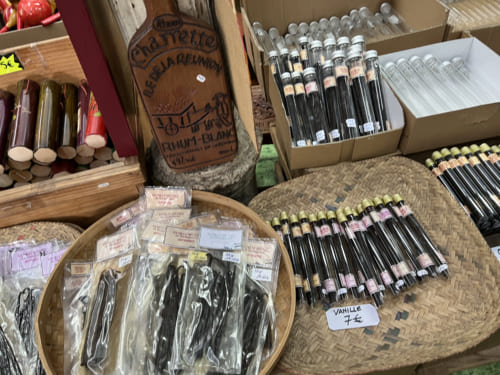 ---
◆One Piece is Hugely Popular – Anime Store Hopping
Outside a store, there's a sign in Japanese saying, "Kimetsu no Yaiba", meaning "Demon Slayer" in English. What kind of store could it be?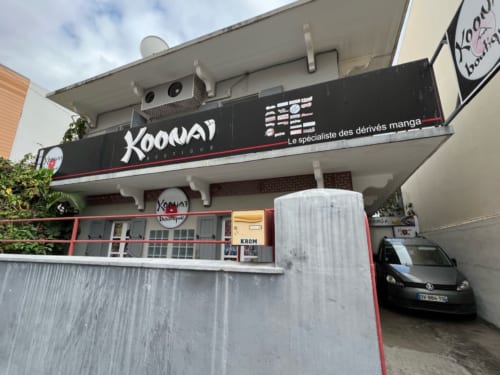 Visitors are greeted with a sign that has a picture of Mt Fuji and a message saying "Irasshaimase", meaning welcome in Japanese, which, incidentally, wasn't included on the airport welcome board…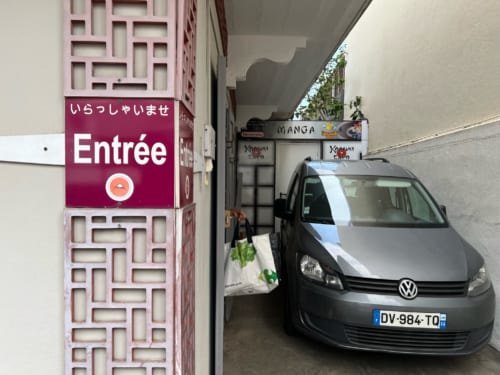 Inside, the shop is filled with anime-related goods.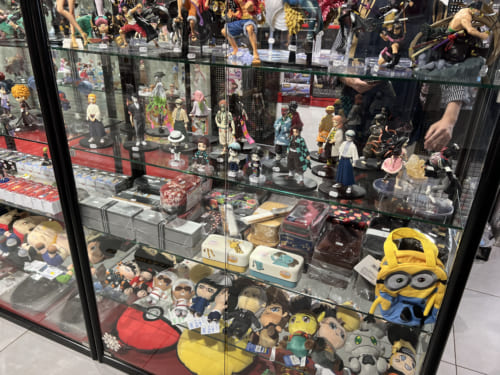 The name of the shop is KOONAI Boutique Saint-Denis. When I mentioned to Patrick, the cashier, that I was from Japan, he gave me the Naruto key chain I was about to buy as a gift.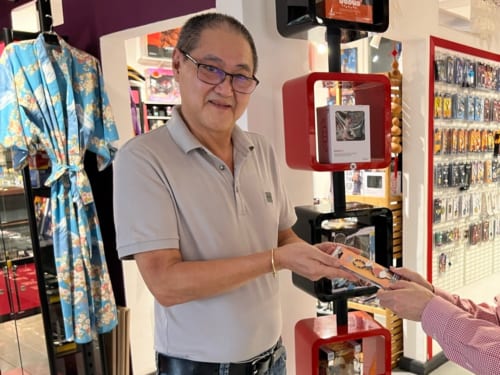 Patrick also told me there is a famous manga artist in Réunion called Staark.
Looking online, I did, in fact, come across an artist named Staark being interviewed as a Réunion-based manga artist.
We continue our tour, now as proud owners of a Naruto key chain. Next, we come across a sign for a manga cafe. Unfortunately, it seems to be closed.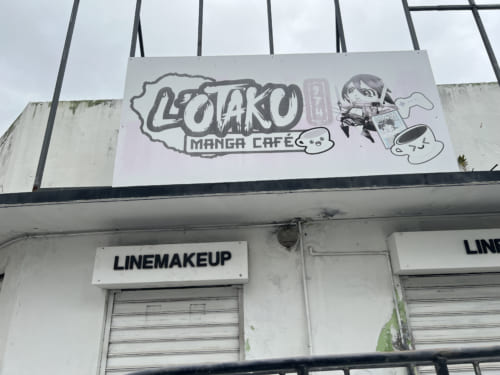 Here's another place that looks like it might be an anime shop. Interlink, from which comes the Domain Island Tour, is a big supporter of the anime community. Let's take a look inside.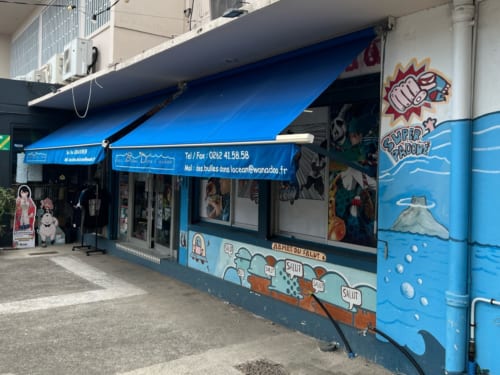 Our second anime shop of the day is called "Des Bulles dans l'Océan".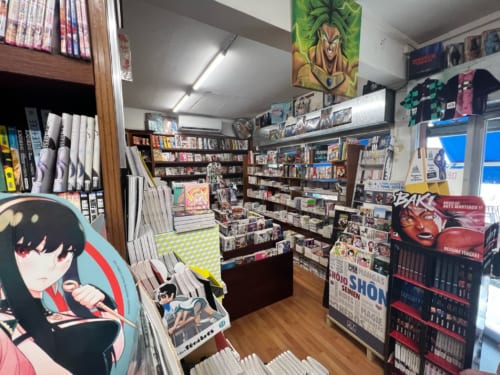 Here they mainly sell manga. When I told Lucas, the shop clerk, that I was from Japan, he greeted me with a big smile. He loves Dragon Ball. In Réunion, though, One Piece is the most popular manga.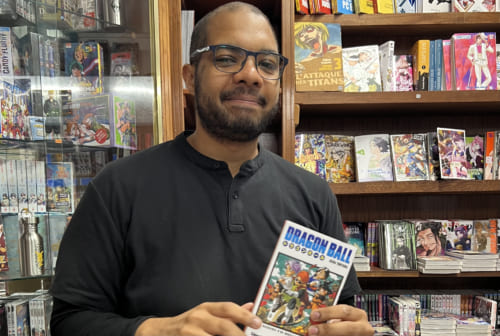 He tells us a recent big seller is a manga series called "Spy Family". Also, there's an anime event held every June and just the day before we arrived an event called "Otaku City Festival 2023" took place, too.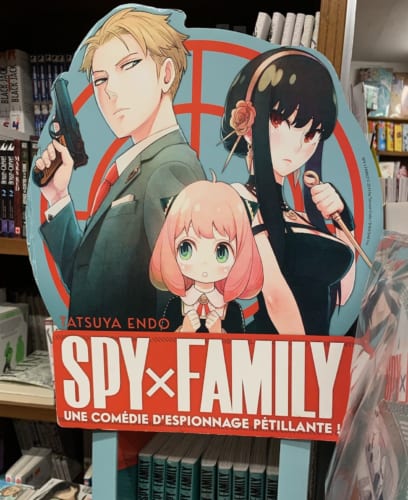 Outside we saw a mural of the anime One Piece. It really hit home just how much anime is loved around the world.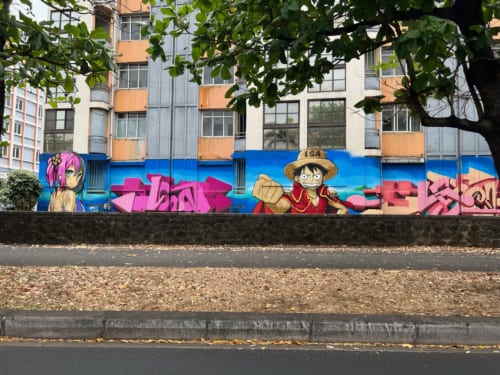 At the bus stop we met a girl who is learning karate. It's amazing to see karate being taught on a small island more than 10,000km away from Japan!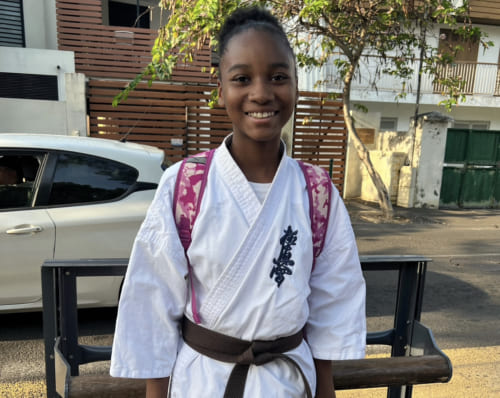 As we were taking pictures in the shopping district, a police officer riding a Suzuki motorbike also kindly let me take his photo. Thanks to the officers on patrol, the city felt very safe.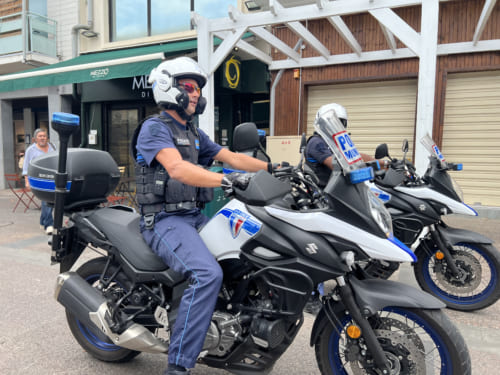 ---
◆Almost Arrested for Using Counterfeit Money
We took a bus to the airport, where we planned to rent a car. It was quite a hair-raising ride but it was by far the cheapest way to get there. The bus cost €5 vs €35 if we went by taxi.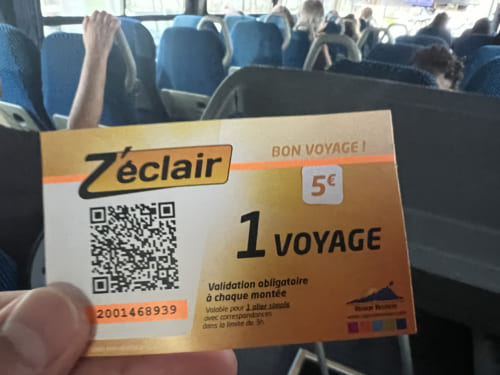 As we were making our way through the airport, a young man we didn't know suddenly starts yelling at us from behind. To see what was going on we used Google Translate. Apparently, it was the driver of the bus, yelling at us that we had used counterfeit money and now he was threatening to go to the police! For now, we decide to follow him calmly and without fuss.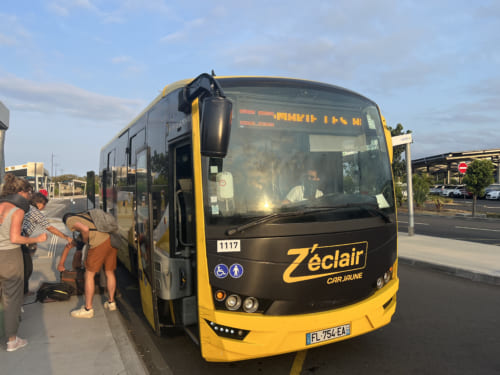 Arriving at the police box in the airport, four or five officers go through the notes in question. The bus driver is still yelling something at the police officers. They can't seem to come to any conclusion yet and one police officer takes the money into a different room to check it out further. Will our tour end with us arrested and locked up on a small island in the Indian Ocean?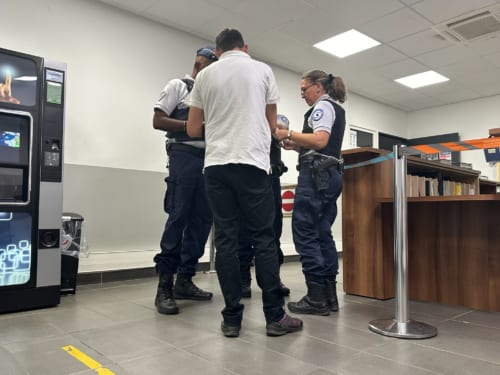 After more than 30 minutes it was eventually verified that it was not counterfeit money after all. We are cleared of all charges! The bus driver mumbles "excusez-moi" (sorry) in French and hurries away. The reason he was suspicious was because the bills we had used were old ones. They were one of the first notes issued in 2002 when the euro started being used on the island, but since they are rarely seen in Réunion these days they created some suspicion.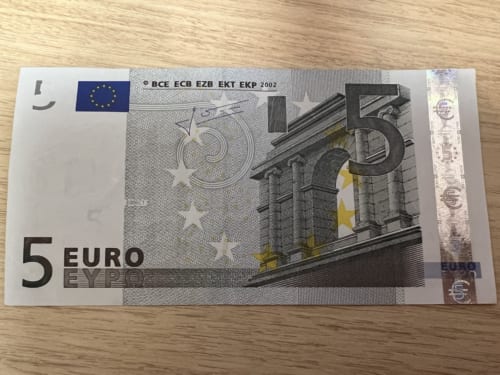 We were issued this money at a money exchange center in Tokyo. So please be aware that if you exchange money somewhere other than the airport, there's a chance you could be given older bills that are not often seen in circulation. Below is the current €5 note. Compared to the older note, the position of the yellow stars and the "5" is completely different, isn't it? Réunion became the first country in the world to have euro notes in circulation, due to the time difference. It's ironic that despite this distinction, people don't seem to know much about their money.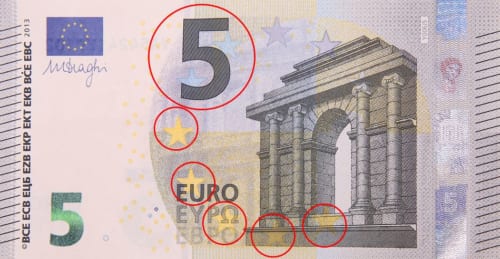 Anyway, we finally get our rental car sorted out. There were plenty of companies to choose from, but we decided to go with Jumbo Car. I was worried about communicating in French, but thankfully the lady at the reception desk also spoke fluent English, which was very helpful.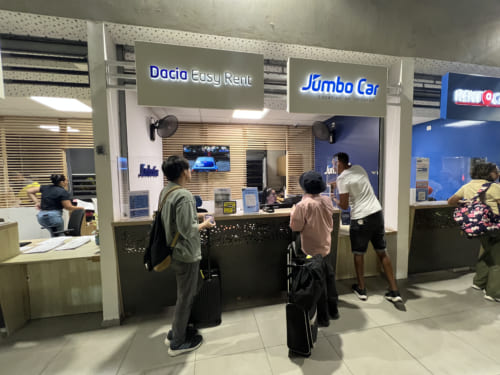 We chose the Renault Arkana. We were charged €114.60 for 24 hours, excluding gas. In Japan it's usual to check over the car with an employee of the rental company before leaving, but here in Réunion, we were simply told to take multiple photos to prevent any problems later on. We only came to the airport to rent a car, but we left exhausted.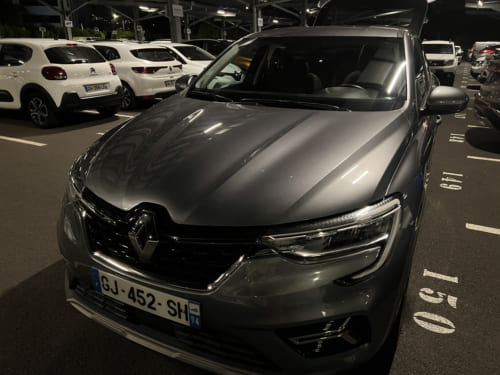 ---
◆Bizarre Shabu-shabu and Our First Domain Tour Sushi Train

We found a Shabu-shabu specialty restaurant in the center of Saint-Denis. It's called "Shäbu".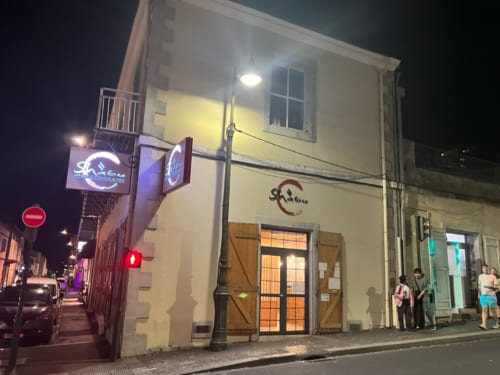 We ordered Ramune soda (€4.9), Iced Matcha (€5.5) and Belgian beer (€4.2).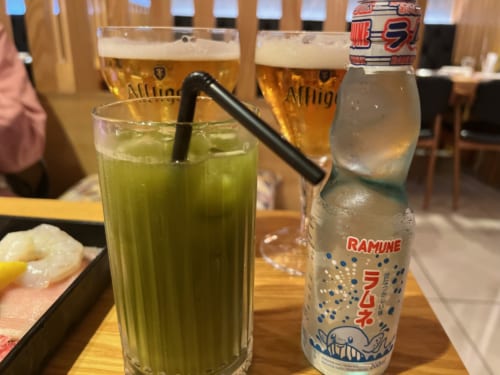 That reminds me, Japanese ramune soda is very popular in Réunion for some reason. I remember there were a lot being sold at the first supermarket we visited, AA MARKET Distribution.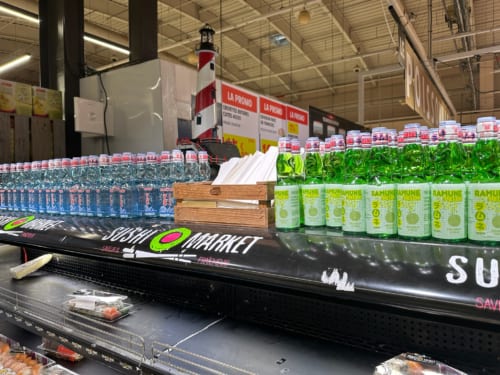 Here is our shabu-shabu set (€30.50). Huh? What's this? This hot pot looks a bit strange.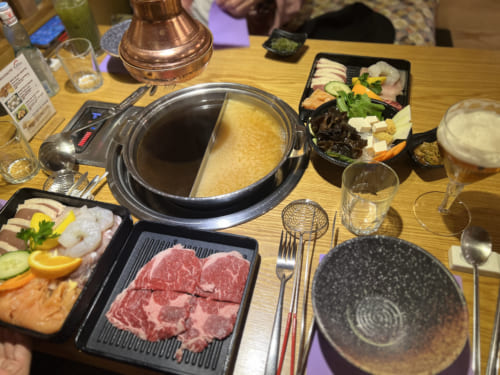 Looking closer, it seems it's Tom yum soup on the left and Miso soup on the right – how unusual! Is this normal on the islands of the Indian Ocean perhaps? No sesame, ponzu or any other sauce to be seen. It was rather unexpected and unfortunately not to our taste at all.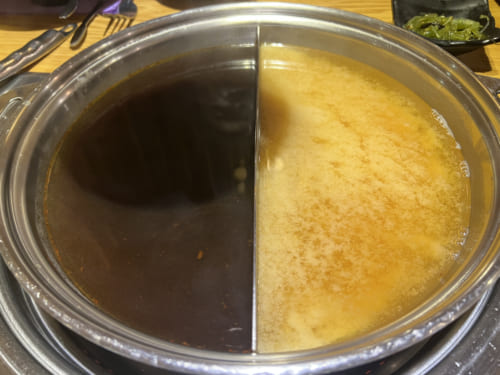 Leaving "Shäbu" with empty stomachs, we headed to "Osaka974 – Restaurant Japonais", just a short walk from the center of Saint-Denis. It's a sushi restaurant.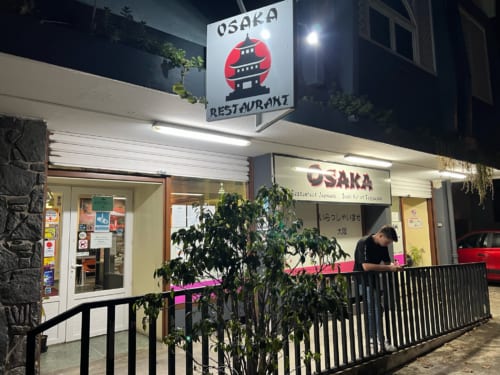 Entering the restaurant, we see sushi traveling around a conveyor belt! We've been to many sushi restaurants on our Domain Island Tour, but this is the first time to see a proper sushi train!
It must be a popular date spot as there were many couples. Hmm, what shall we order first?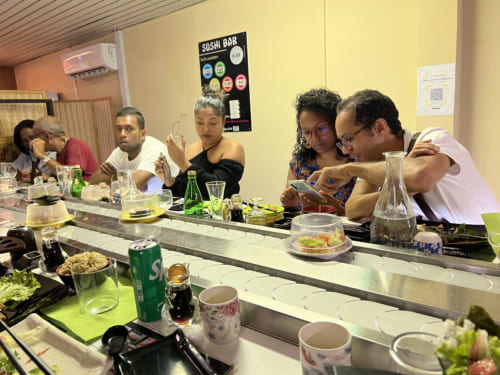 A mountain of Tonkatsu (€11.50) comes past us on the conveyor belt. Truly delicious and fried perfectly.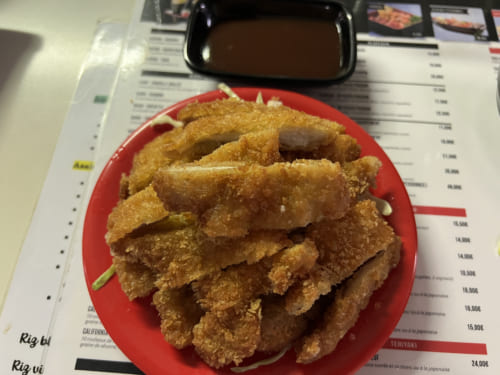 We then ordered hand-rolled sushi – two pieces of tuna (€7.5) and two salmon (€9). It tasted just as good as back in Japan.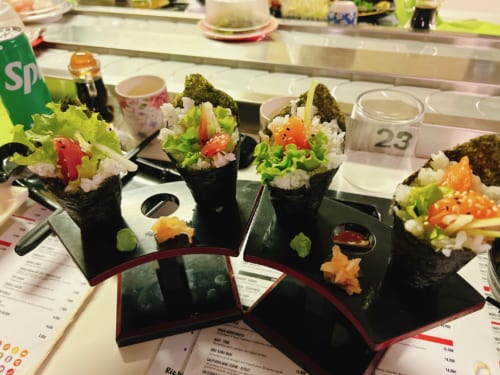 At the register there were One Piece posters, Japanese fans and dolls.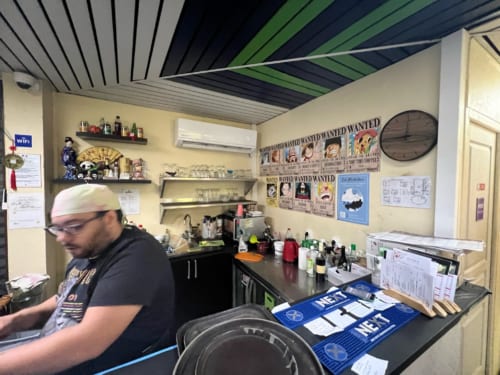 We also went to Bushido Ramen, a ramen restaurant in Saint-Pierre, the third largest city on Réunion.
Just 30 minutes before closing time and it's still pretty crowded.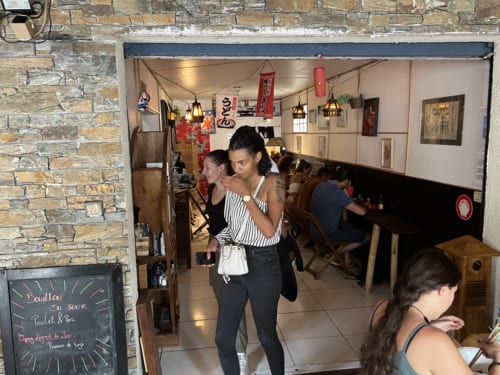 Authentic Miso Tsukemen (€16.50). The ramen was so delicious it was hard to believe we were eating it on an island in the Indian Ocean.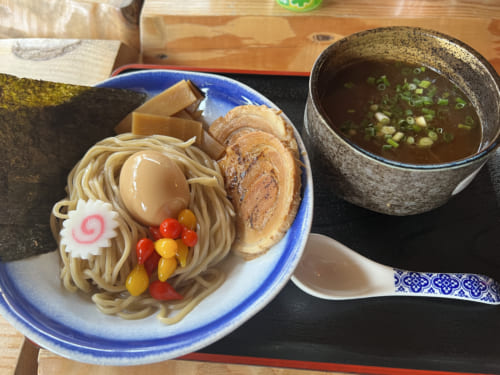 We also ordered Hakata Ramen (€17) from the menu. It's Tonkotsu ramen, but with thick rather than thin noodles.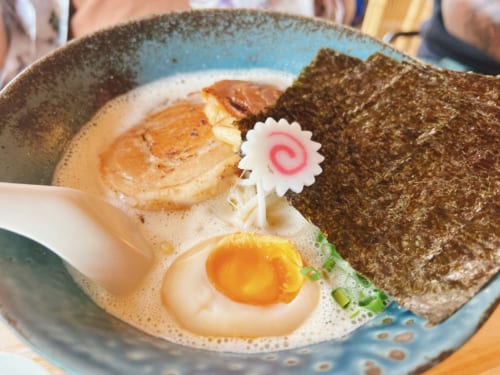 We also got chatting to two guys from Mauritius. The man on the right loves anime and could speak some simple Japanese.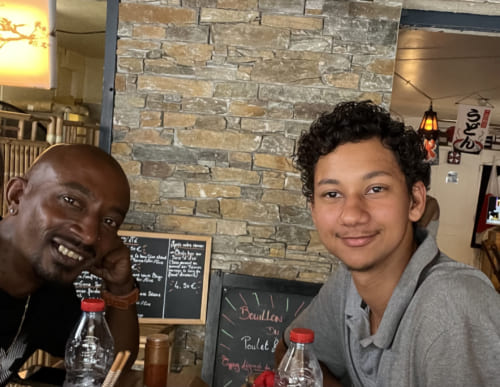 The restaurant is run by a couple who love Japan. They're a lovely couple and the husband can speak a little Japanese.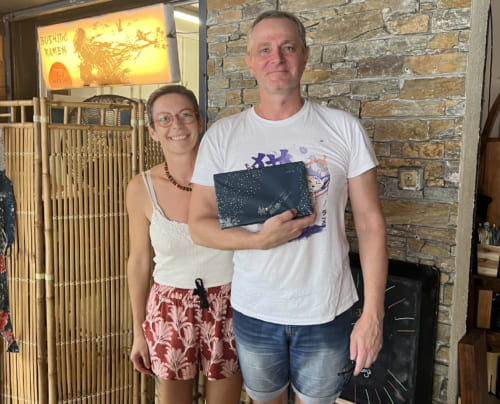 ■For ".re" domain details here