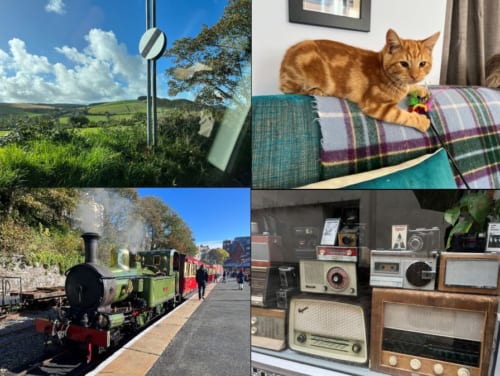 The Isle of Man is most famous for its Isle of Man Tourist Trophy, the world's most dangerous motorbike race, which has been held on the island since 1907. We of the Domain Expedition decided to explore attractions on the Isle of Man outside of bike racing, such as taking a look at trains modeled on Thomas & Friends and a cat café for Manx cats, a tail-less cat that originated on the island. The ccTLD for the Isle of Man is ".im".
It is used by quite a few messaging services such as arena、status、GapMessenger、Tocaro, etc.
---
= Table of Contents =
◆Where is the Isle of Man?
The Isle of Man is a British Crown Territory situated in the middle of the Irish Sea, between Great Britain and Ireland. It has a population of about 90,000 and covers an area of 572.39㎢, roughly the same size as Awaji Island in Japan. The isle's military and foreign affairs are outsourced to the UK and it is heavily dependent on the UK economically. The local currency is pound sterling.
---
◆Refugee Staff Member from Ukraine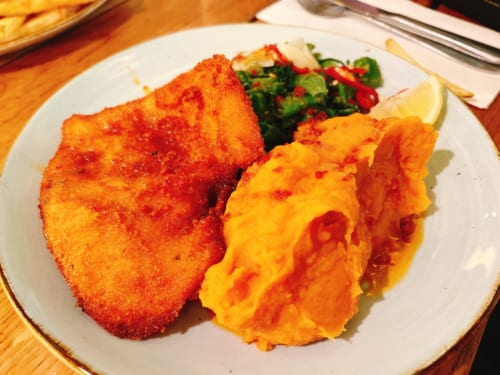 We arrive by the British low-cost airline, easyJet. Outside it's extremely cold and windy.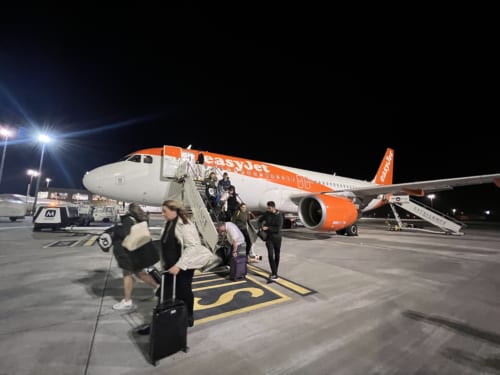 We want to go to our hotel by taxi. But where are the taxis…? Since the Isle of Man has more tourist attractions than Jersey or Guernsey, I honestly thought I'd get a taxi more easily. It's already past 9:30pm. The airport staff let us know that, like in Guernsey, there is a last bus of the day. Phew! Taking a Mercedes Benz bus to the hotel.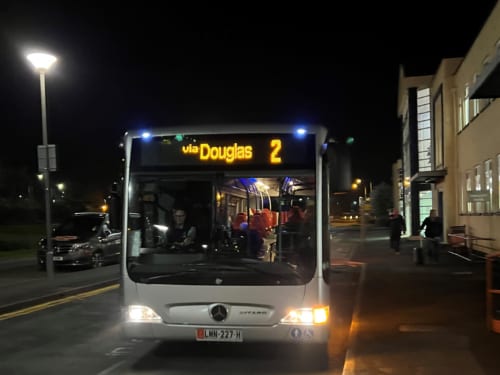 It takes about 30 minutes. We arrive at our hotel, . The heating isn't on so it's pretty cold inside. Perhaps they're conserving energy due to the situation with Russia?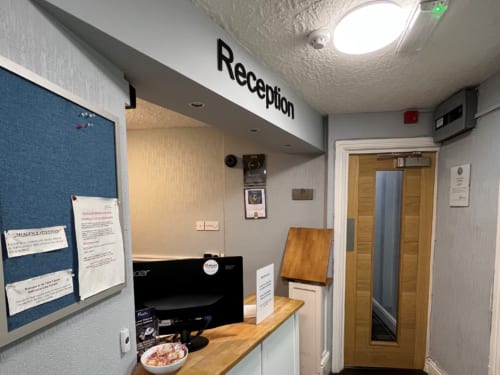 When I was chatting with one of the hotel staff members before breakfast, she told me I had the same name as her son – Yuri. Her son is called Yurii, which is a Slavic male name. In Japan, Yuri is a female name but it's a male name in Eastern Europe. The most famous male Yuri is probably Yurii Gagarin, the first man in space (Soviet Union), who said "the earth is blue". The lady I spoke with had been evacuated from Ukraine to the Isle of Man via Kraków, Poland. She nows lives with a host family and works in this hotel. Hearing that her son dreamt of going to India but is now unable to, made me realize I shouldn't take the ability to travel freely for granted. When I left the hotel, I shared some Japanese sweets with her as a parting gift.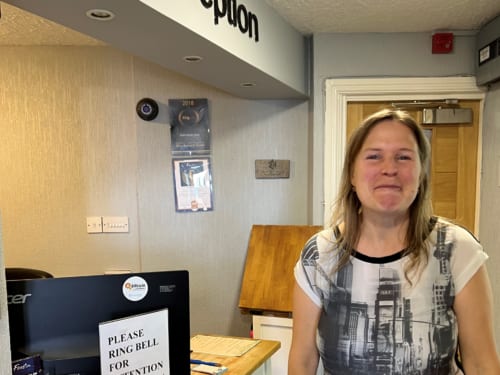 ---
◆Only 3 Motorbikes Seen on the Isle
Breakfast was fried and scrambled eggs, bacon and orange juice.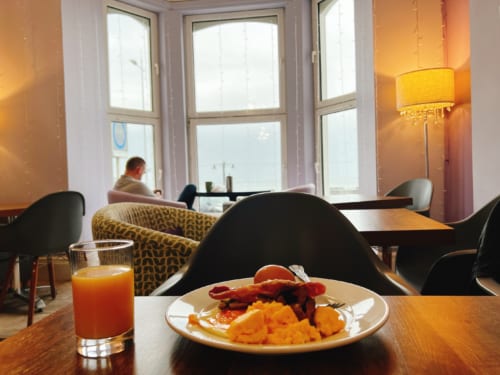 Unfortunately, going outside we see that it's raining now. We take a walk around the hotel.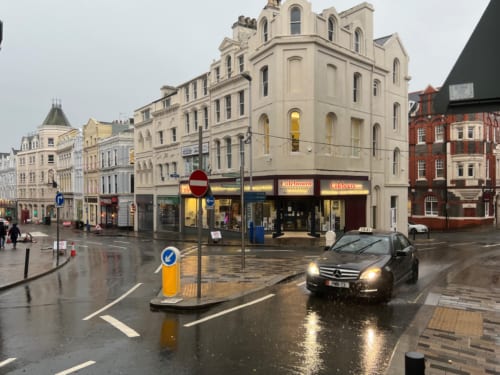 SPAR is the world's largest food retail chain, operating in more than 30 countries, mainly in Europe. We don't see them in Japan very often.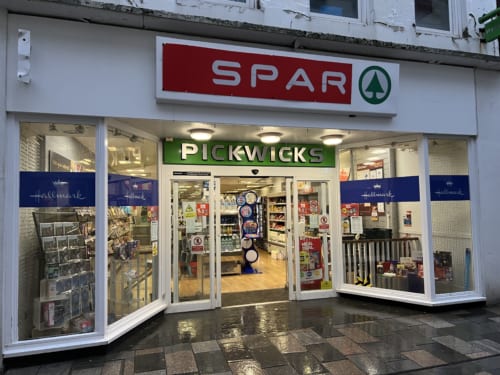 Here's an intriguing looking shop. It's called SOUND RECORDS.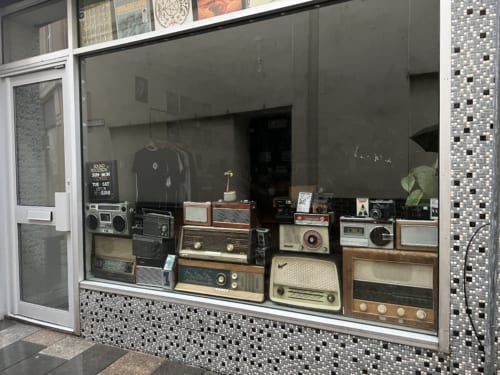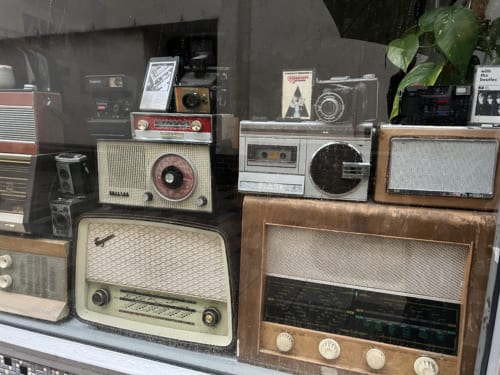 The radio-cassette player is marked with "OSHIMA". Maybe it's the previous owner's name.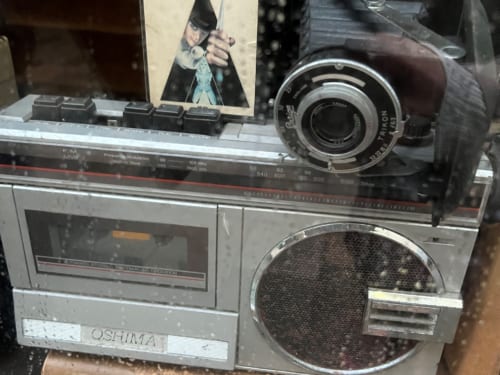 An expected sight on an isle famous for motorbike racing. Three men arrived on motorbike. They were on off-road motorbikes. How cool. I had wondered how many more will we see during our time here, but surprisingly, in the end we only saw those three.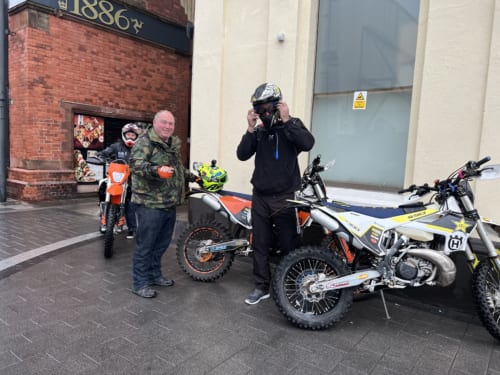 ---
◆"Manx Cat Café", the Isle of Man's First and Only Cat Café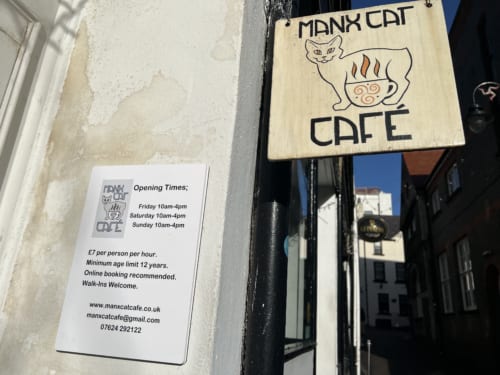 As you enter, there's a sign instructing customers to close the door behind them. It would be a problem if any of the cats got out.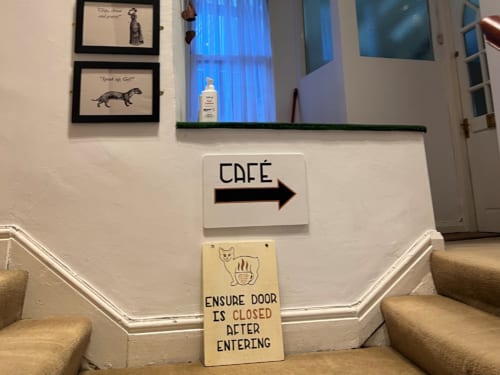 At the entrance to the cat café. We enter cautiously as I see there is a cat near the door.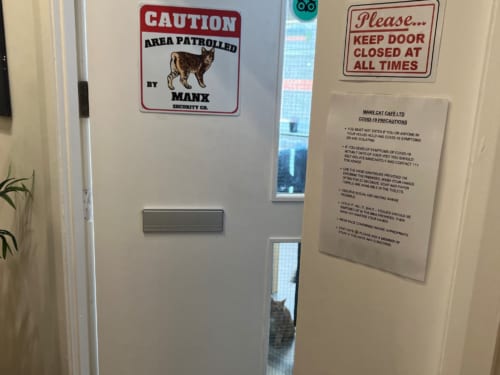 We paid an entrance fee of £7 at the counter. The price includes a drink, such as a cup of tea.
It's recommended that you book via the website.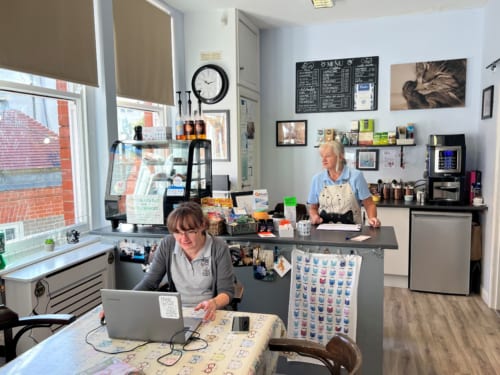 View of the café as seen from the reception counter. Today there are three cats wandering about freely.
I wonder where they all are?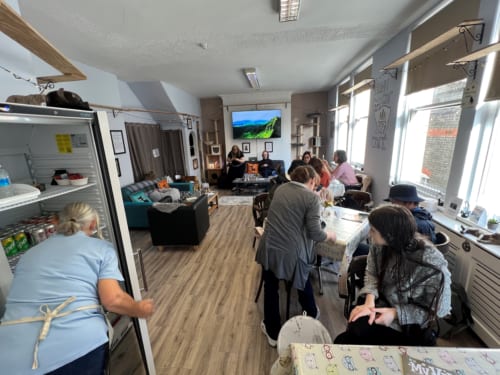 Here's one! An orange tabby Manx cat.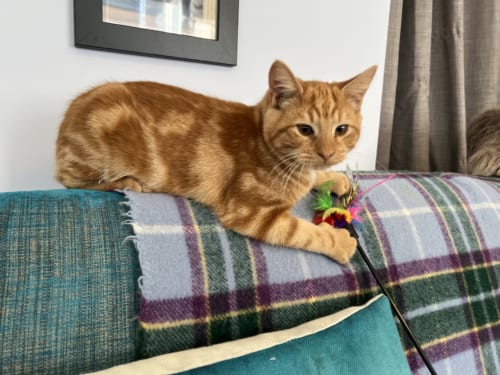 Next, a black Manx playing hide-and-seek.
And a grey Manx, taking a break. I found all three!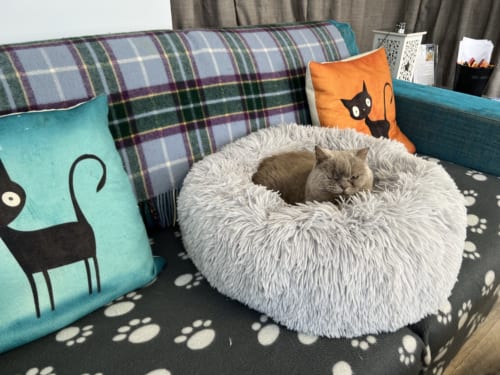 Kōtōbu enthusiasts (those who love the back of a cat's head) can enjoy the view for as long as they like.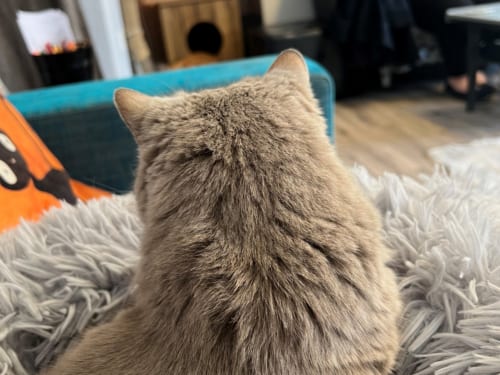 I tried to tempt him with some catnip, but was unsuccessful. It seems he keeps a clear distinction between work and break time.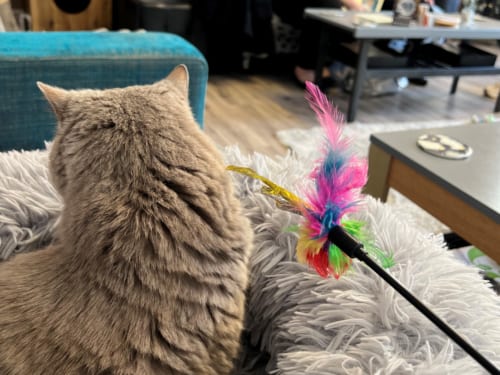 All three cats are here now. The Manx is a breed of tail-less cat that originated on the Isle of Man. All the cats here are authentic Isle of Man Manx cats. I tried the catnip again, but was ignored. Perhaps my way of tempting him was too Japanese?
Manx cats are known for being gentle and kind. There are many theories as to why they don't have a tail, the most famous being that when the last Manx cat jumped on board Noah's Ark, it lost its tail when it was caught in the door slamming shut.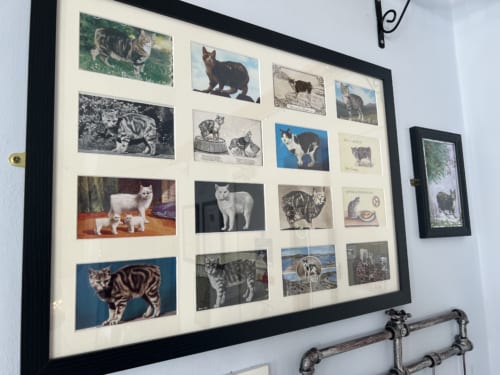 Three women enjoying delicious-looking toast and sandwiches. By the way, 20% of us here at Interlink Co., Ltd. are owned by cats.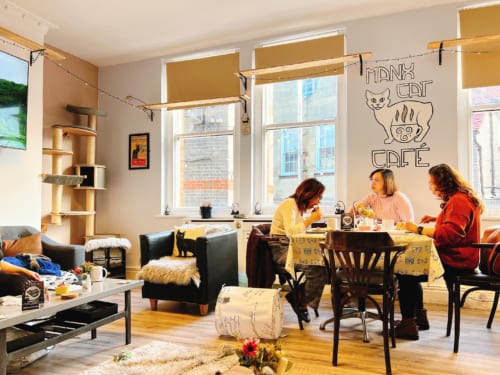 ---
◆Discover 10,000 Years of Isle of Man History
Under beautiful blue skies that belie the morning's rain, let's go and check out the Manx Museum, where we can learn about the history of the Isle of Man.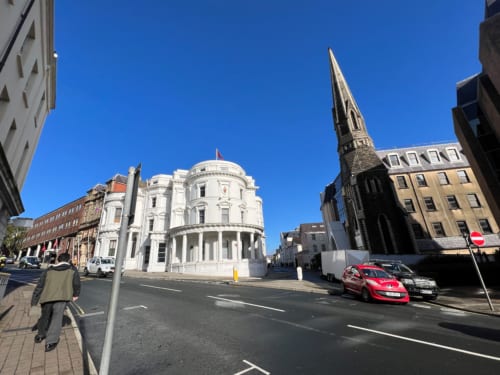 Here we are. Admission is free.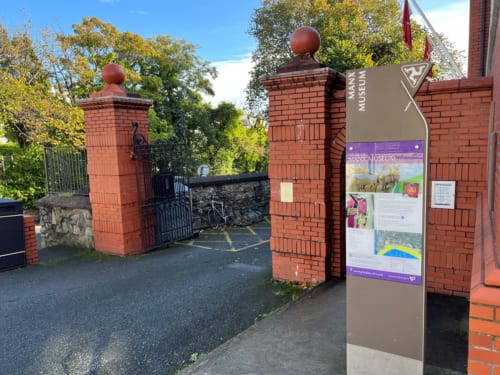 Many artefacts and treasures unique to the isle are on display.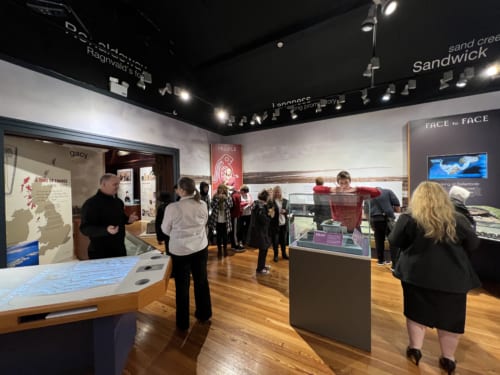 You can really get a sense of the 10,000 years of history on the Isle of Man.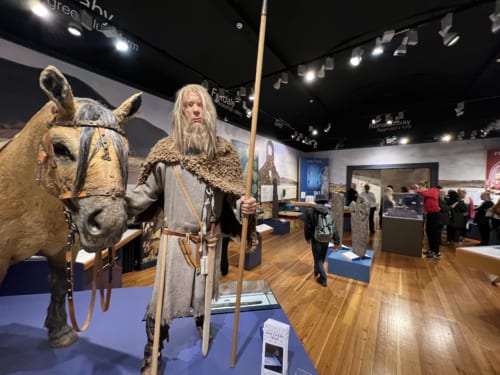 The story of Tynwald, the world's oldest continuous parliament.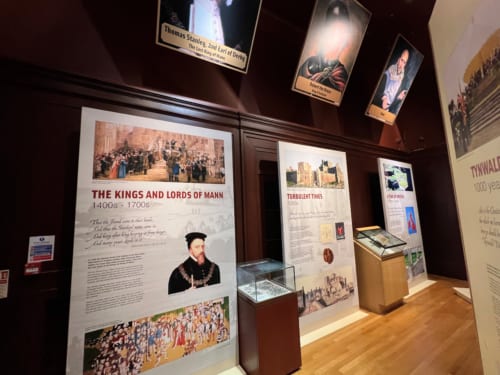 The Natural History Gallery showcases the island's landscape, wildlife and habitats.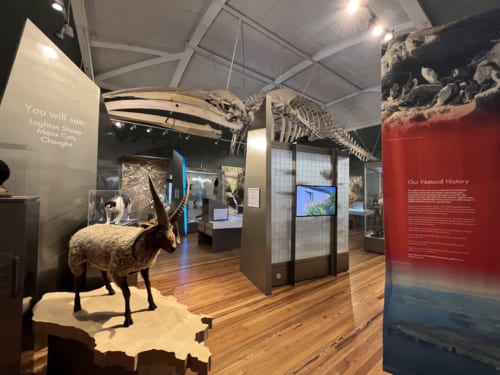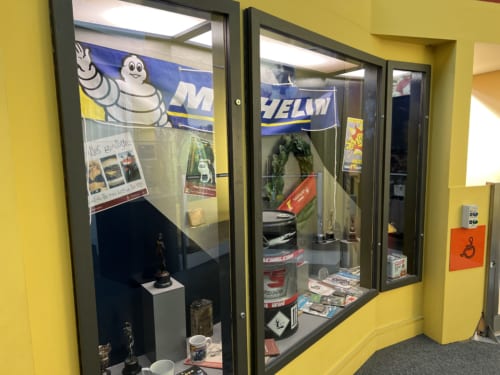 ---
◆ Is Thomas & Friends really modeled on the Trains From the Isle of Man?
To find out if the rumor is true – that Thomas & Friends was modeled on trains from the Isle of Man – we decided to visit the Isle of Man Steam Railway, arguably the most popular tourist attraction on the isle. First stop, Douglas Station. Magnificent brick arches give it a historic and grand atmosphere.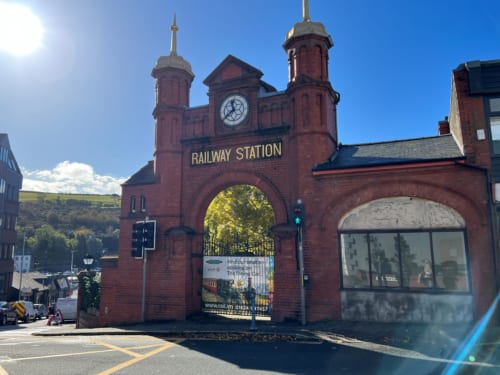 Let's enter the platform.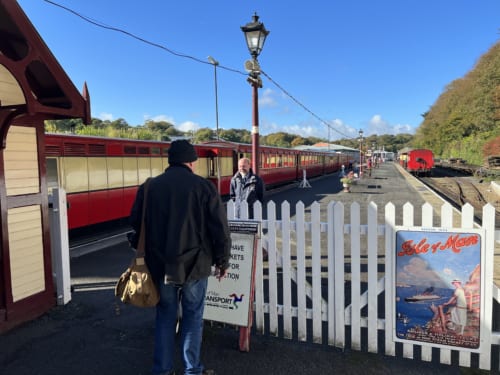 Some people are already on board. All seats are in private compartments. Each compartment has its own door for entry and exit. Pretty unusual!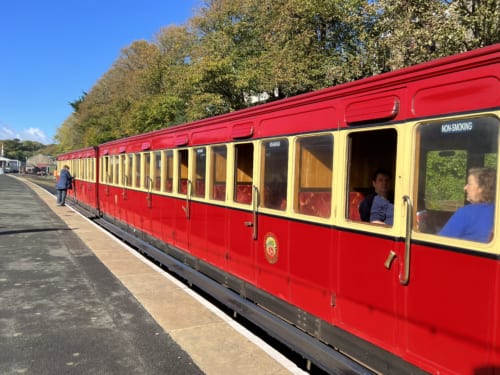 The leading steam carriage. It does look a bit like Thomas the Tank Engine. All of these steam trains were built around 1900.
The private compartments seat 4 to 6 people. The railway runs for 25km with 11 stations, but since we didn't have a lot of time we decided to just go from Douglas Station to Castletown and then come back again. The fare was £11.80 return.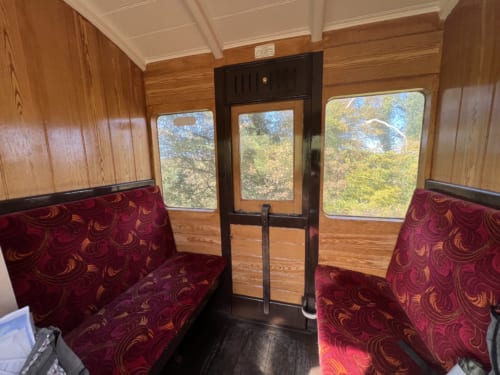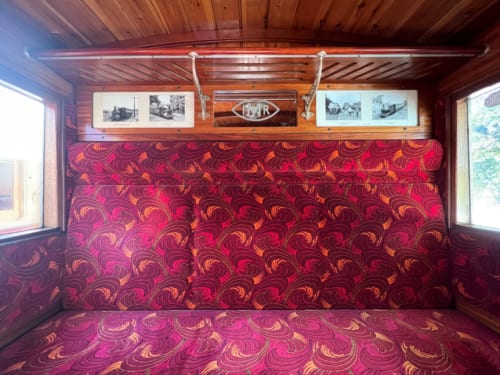 A short time after leaving the station we could see the sea. It looks like a framed picture but it was our actual view! The windows are designed to look like picture frames.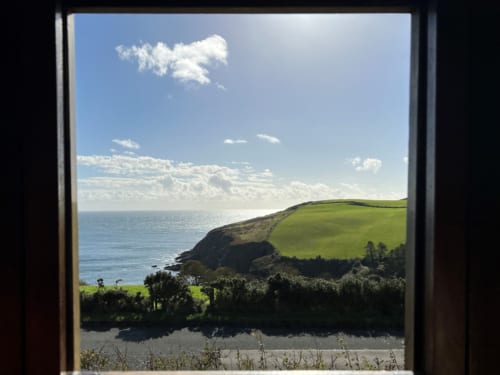 Passing through Port Soderick Station.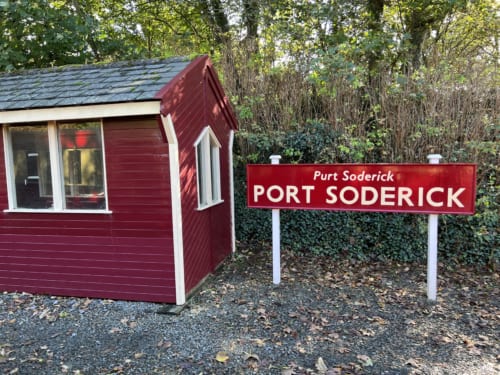 They're so small it's hard to see but there are sheep in the fields. The idyllic scenery continues.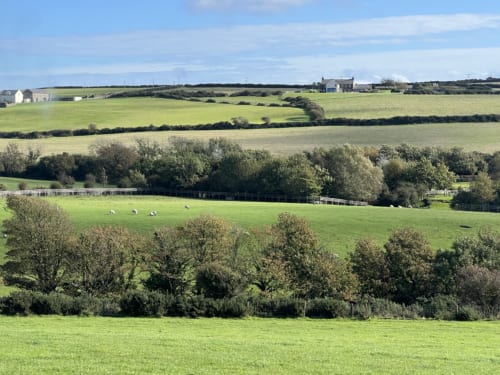 We've entered a residential area now.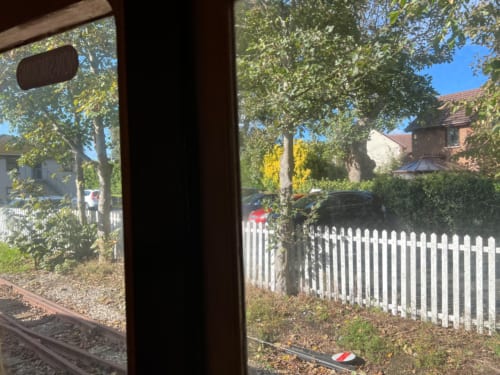 We arrive at Castletown Station.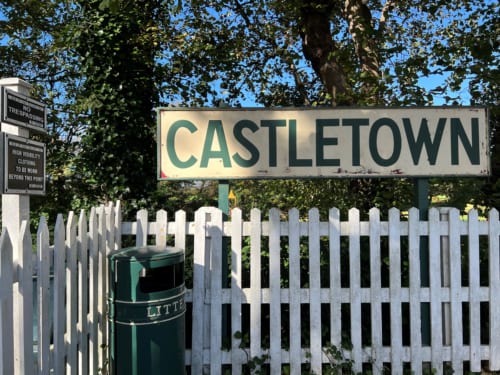 Castletown was the seat of the Isle of Man parliament until 1863. There was a stone building on the station grounds.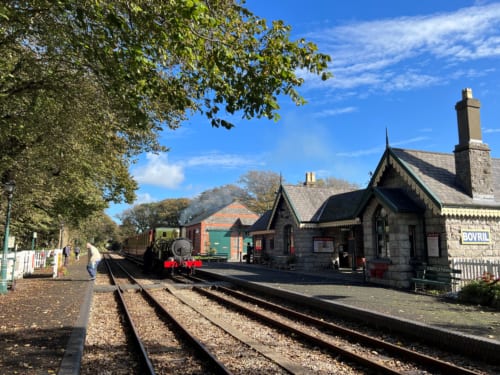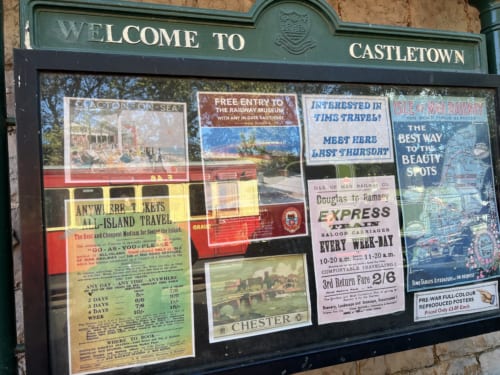 So, were the trains on the Isle of Man really the inspiration for Thomas & Friends? We talked to five staff members at Castletown Station and they all told us, "Yes, that's right". We were told the steam train "Southerland" on display at the Isle of Man Steam Railway Museum was the model for Thomas. Isle of Man Steam Railway Museum, which we unfortunately didn't have time to visit, is a one-minute walk from the railway's final station, Port Erin. If you're a Thomas fan you won't want to miss it.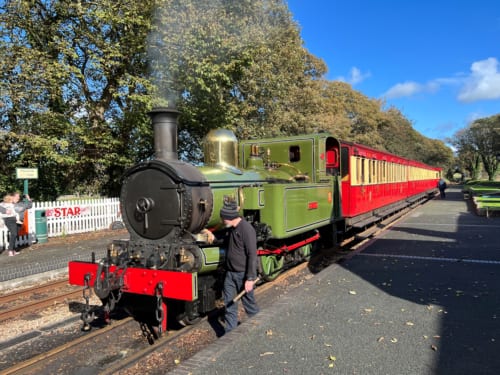 ---
◆Driving on Roads with "No Speed Limits"
Back in Douglas, we now head for the airport. In order to continue our exploration for as long as possible in the little time remaining, we book a taxi. Is it true that the roads on the Isle of Man have no speed limit? The speed limit on this road was 40 km/h.
Suddenly we see a white road sign with a black diagonal line.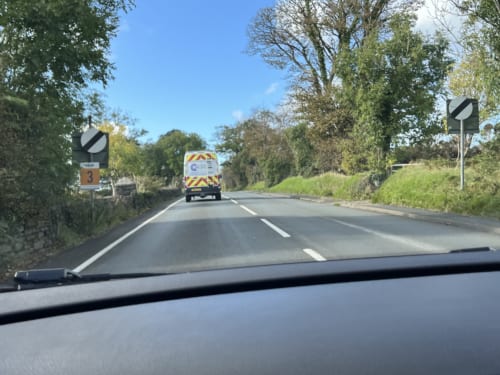 Then our driver starts going faster and faster!
That white road sign with a black stripe meant "No Speed Limit".
While drivers can go as fast as they like, it seemed like everyone was sticking to safe speeds.
You see a lot of these signs on the way to the airport.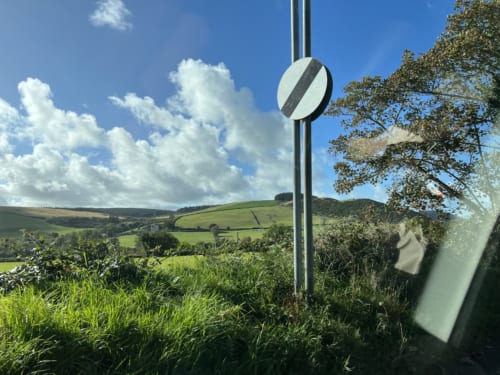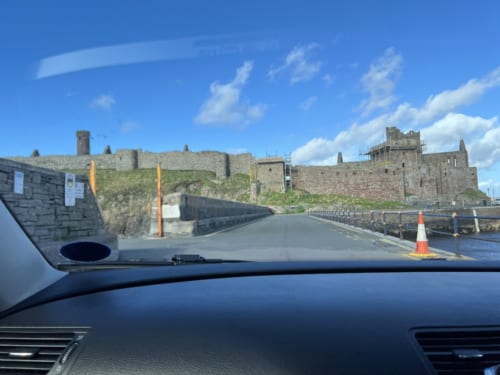 Since we didn't have enough time we didn't go inside, but we did take a stroll around the outside.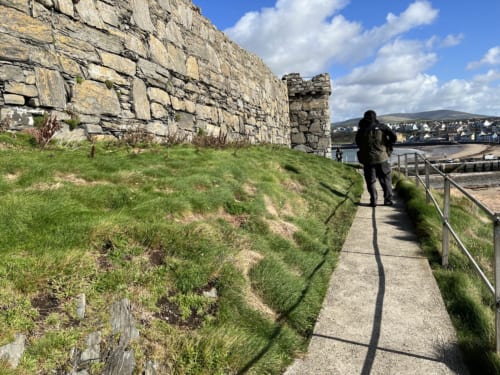 View of the sea from the outer wall. What a magnificent view!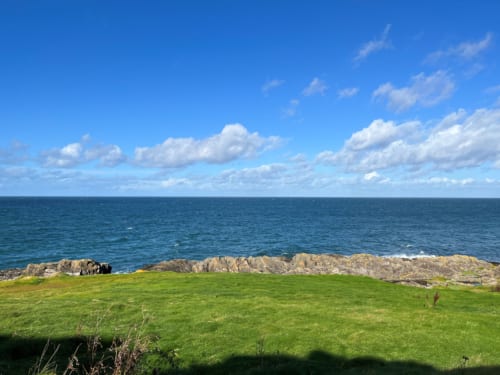 The famous prawn sandwiches were incredible, even if we had to eat them in a hurry.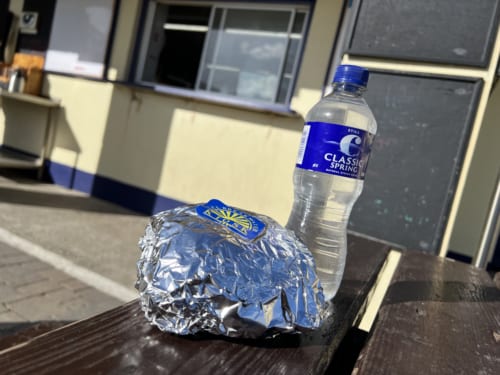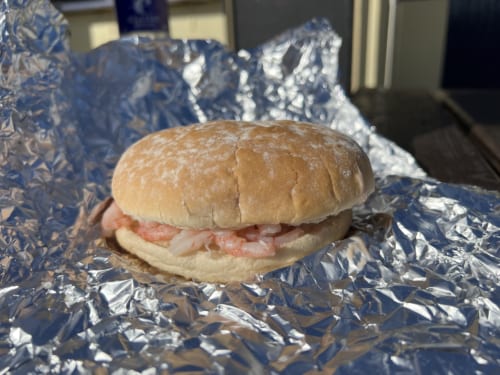 We walked 5 minutes to St. German's Cathedral.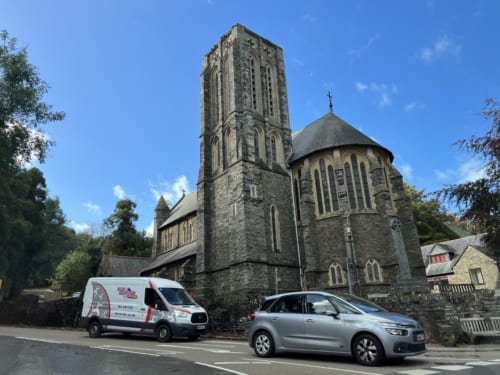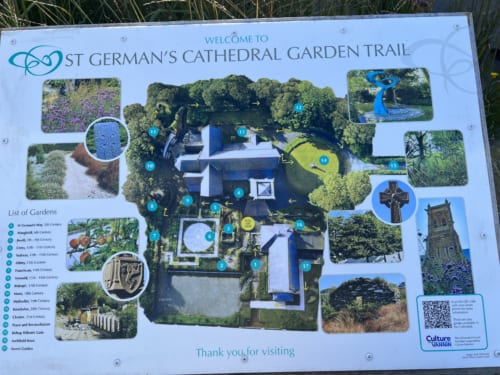 It's called the ruins of St. German, but it doesn't really look like ruins to me?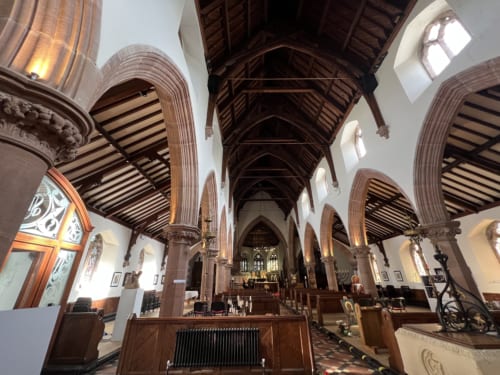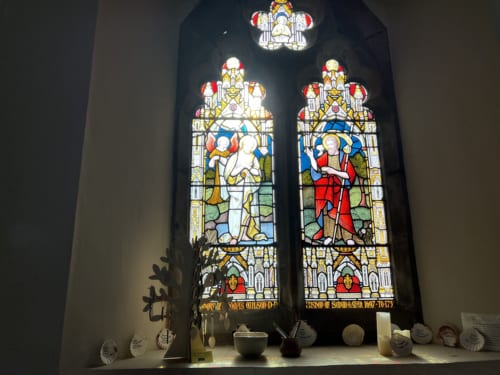 Ah, unsurprisingly, the ruins of St. German's Cathedral were located within Peel Castle.
The cathedral within Peel Castle dates back to the 12th century and was abandoned in the 18th century. It was decided not to rebuild within Peel Castle, and the present cathedral was build outside the castle between 1879 and 1884. Since we didn't go inside the castle, we didn't realize this. Keep this in mind if you are visiting the ruins of St. German's Cathedral.
Reference https://en.wikipedia.org/wiki/Peel_Cathedral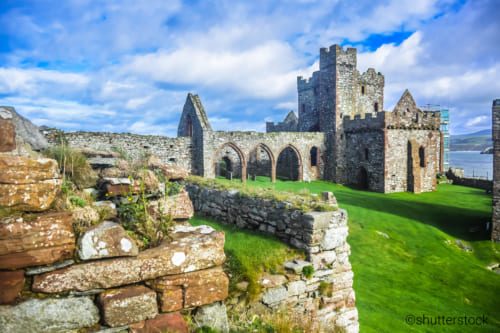 Finally we visit , which manages the ".im" domain.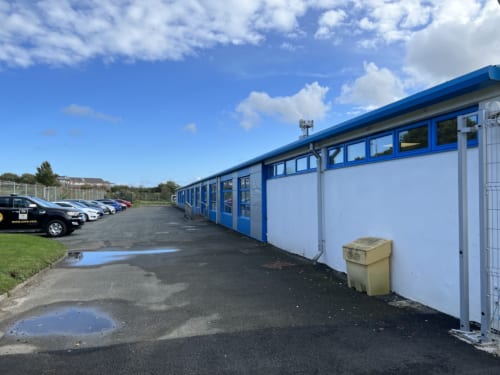 We didn't have an appointment so we explain the purpose of our visit over the intercom.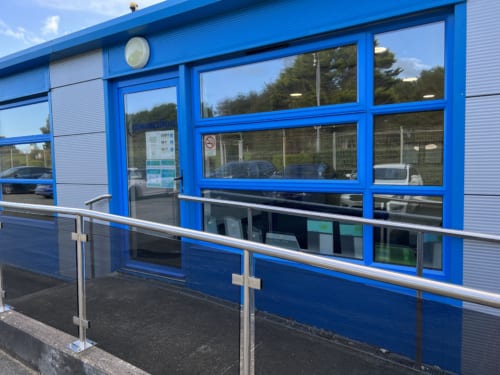 The director was out, but David, the Senior Manager was there to greet us with a smile. We gave them some Japanese souvenirs and talked about our Domain Island Tour. A few days later we received an e-mail from the director of Domicilium Ltd Isle of Man Datacentre apologizing for not being there after we had traveled all the way from Japan.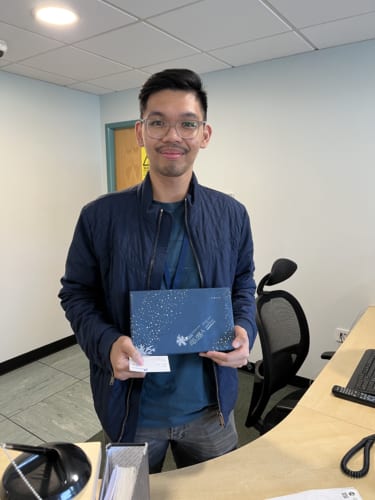 ---
◆Finding ".im" Around Town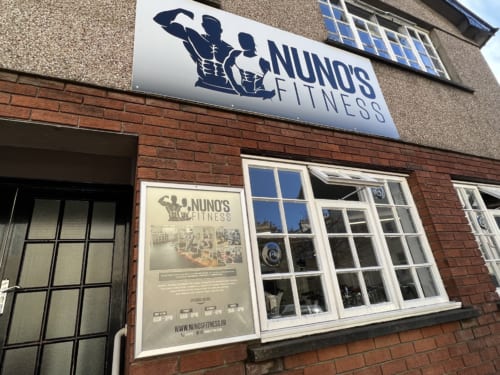 The largest building contractor on the Isle of Man.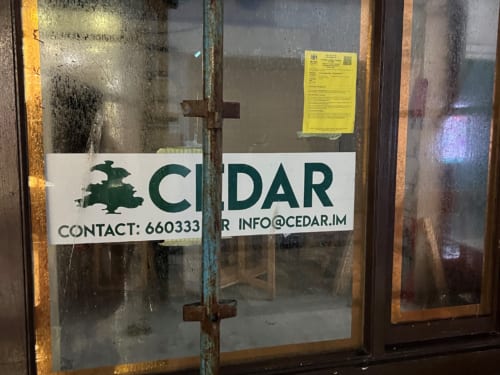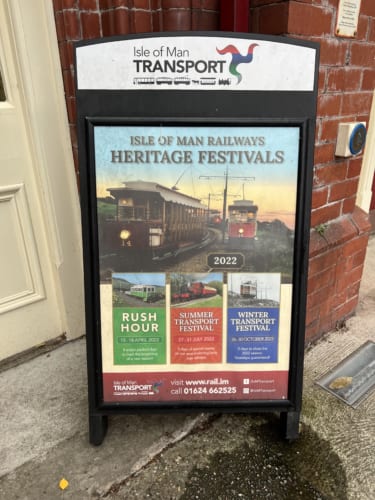 Isle of Man tourism website, which I saw at the airport.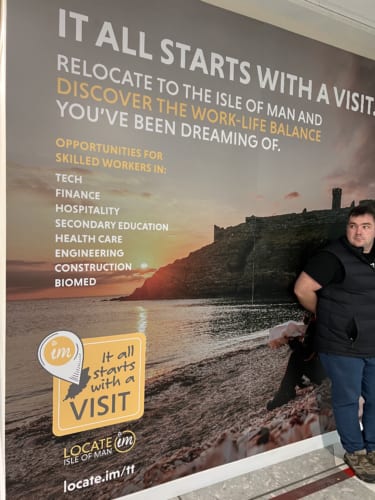 ---
◆How to Purchase an eSIM & Test the Internet Speed
Domain Island Tours have reported on how to find and purchase local SIM cards from June 2018 to September 2020. However, since it takes a surprisingly long time to find a store and buy one, from now on we'll use eSIMs. Switching to eSIM made it easy to sign up for a connection that works in the Isle of Man. The one I used this time was Airalo for the Isle of Man (Isle of Man compatible, 1 GB, 7 days, $5 USD) Isle of Man eSIM speeds as measured at Isle of Man Airport (Ronaldsway Airport). It was 51 Mbps.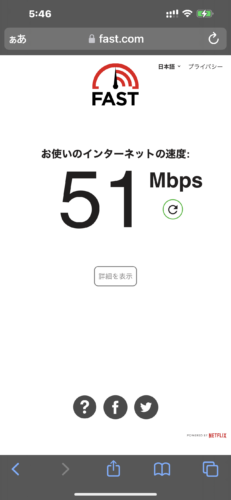 ---
■List of Places Visited
■ For ".im" domain details

click here